10.30.15
The Workspace of Canadian Ceramic Artist Lindsey Hampton
We first featured the ceramics of Lindsey Hampton back in 2013, and two years down the line —  having received gorgeous photos of her new studio in Vancouver — we decided to catch up with her to find out more about her practice and influences. Hampton is an adaptable designer who started out in graphics but is now known almost exclusively for her ceramics. The pots and housewares she makes strike a balance between digital precision and charming tactility, with gradients and stenciled patterns that bring the pieces to life. We spoke with Hampton about the parallels of the printer and kiln, getting to know different mediums, and the therapeutic joy of smashing pots that don't work, then interspersed her answers with both those studio shots and images of her latest works.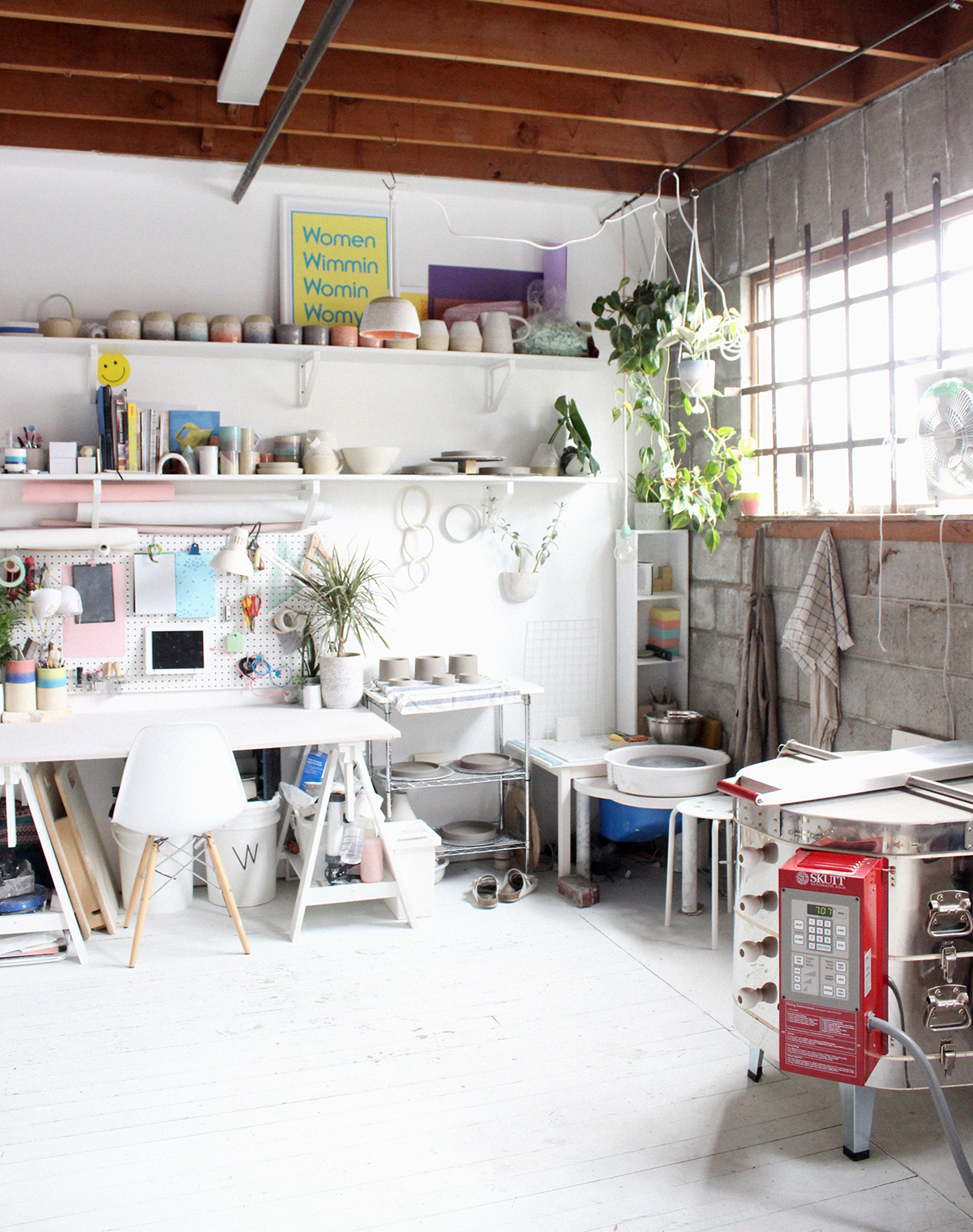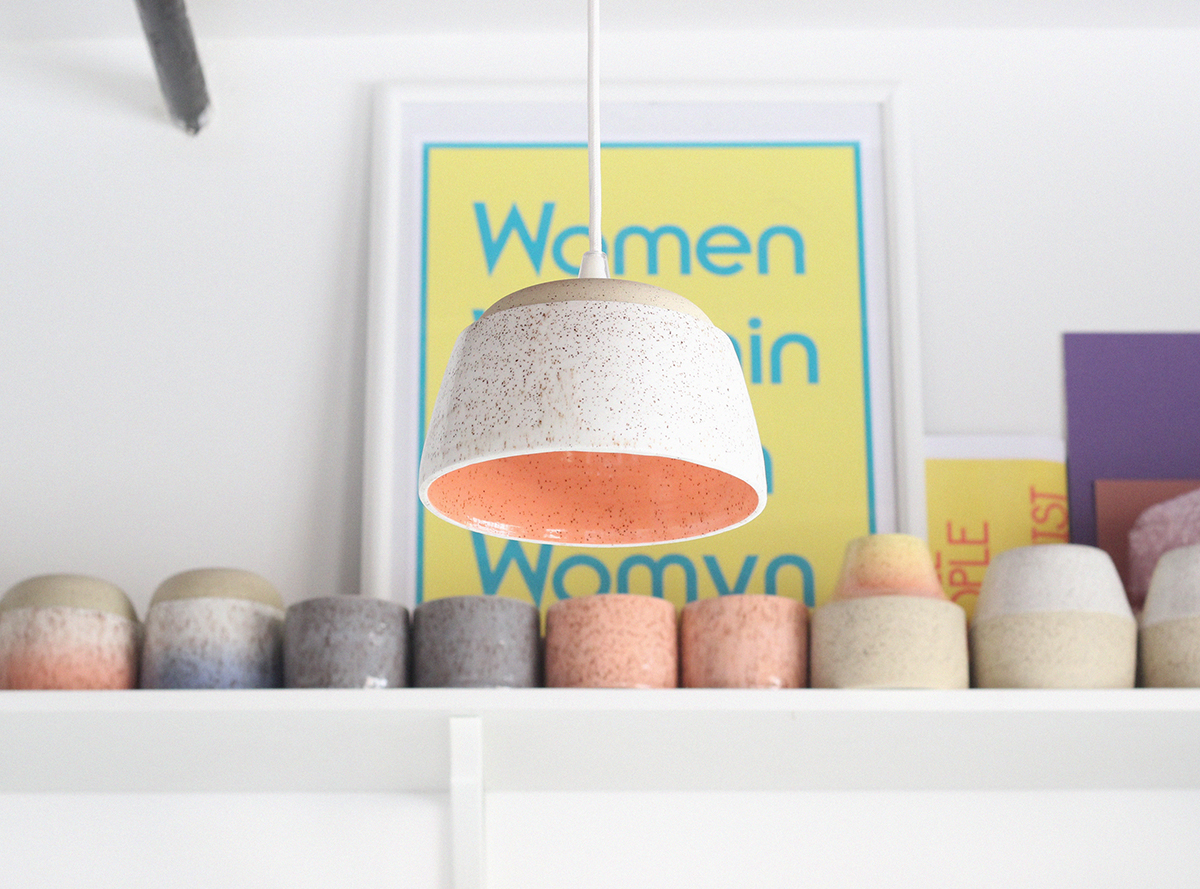 You grew up on Vancouver Island — how did this influence the work you make?
I grew up in an unincorporated seaside town of about 1,500 people. I don't actually think about it that much in regards to my work but I suppose there has to be some deep rooted influences. It probably comes out more in the way I approach work as opposed to the aesthetic end result. I was allotted a certain kind of freedom growing up, the kind where from morning until night I was out building tree forts, booby traps and bike jumps, swimming in the ocean or foraging up the river with my brothers and neighbourhood kids. I think growing up like that I just learned how to figure things out and to be tough about it. I also learned how to be alone and be quiet and create my own fun.
Your background is in graphic design and you've managed to translate your aesthetic to the ceramics you make. Do you think the digital tools you use on the computer influence the handcrafted pieces you make?
My design background has 100% influenced my ceramic work. I didn't set out to make that happen, it was a very natural progression. As I was learning how to work with clay I didn't make the connection right away and I thought pieces were supposed to be earthy and organic. This was previous to the new wave of contemporary ceramics, Instagram and Pinterest and it was harder to come across things that weren't as traditional. As I became more comfortable with the medium I was able to have more control and pieces started to actually turn out how I wanted them to and that's when I was able to spend more time with my own aesthetic and experiment. Since I already had an informed visual sense of identity, the two just flowed together. The process of hand-making ceramics throws up all sorts of new challenges, glazes reacting in unexpected ways, clay warping in the kiln etc.
How do you overcome the practical difficulties of working in a different medium?
The best thing I ever did was stop caring. I don't mean that in an apathetic way but that I learned to not be too precious about anything. Things break and get messed up or just fail and all I can do is try to figure out why and troubleshoot. It's easy to get stressed out when other people's deadlines are involved but I just try to remind myself that I'm a one woman operation that does handmade ceramics and if anyone gets too mad they probably shouldn't be buying into such a delicate, patient process. I also take great pleasure in purposely smashing things that didn't turn out the way I wanted so it's kind of a win-win.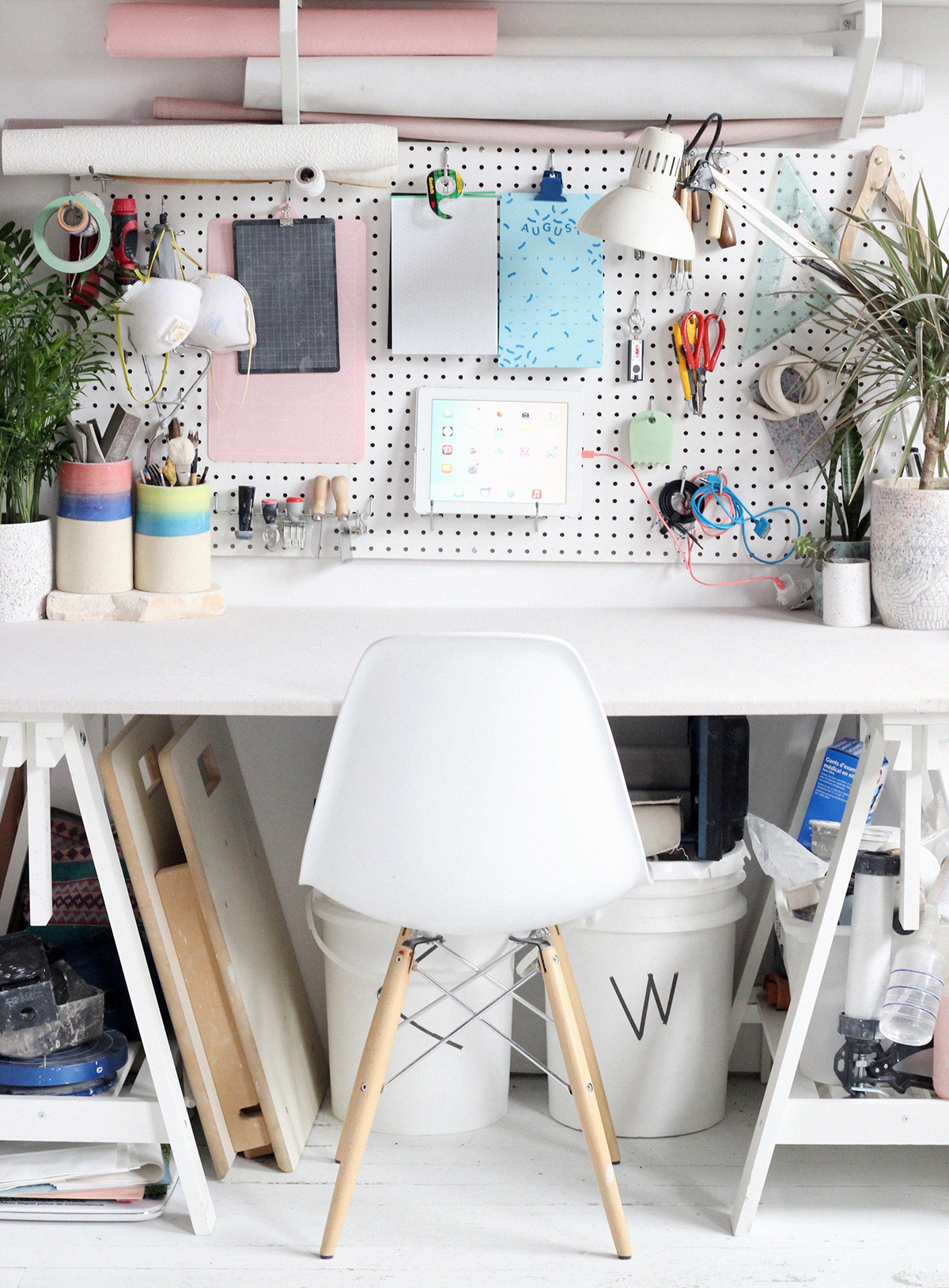 What's a day in the studio like for you? Can you take us through your daily routine?
Since there are so many steps to a completed object, the day-to-day can really change. If I'm working on an order I make a list and throw as much as I can each day and cross things off as I go. If I have enough foresight I will bring lots of snacks with me so I never have to leave in a clay covered panicked hunger, but most of the time I don't. I listen to a lot of podcasts on these days and I'm usually exhausted by the end of it. Other days I'll spend sanding and underglazing, those times I usually watch really bad movies or Dawson's Creek. Then there's glazing days and photographing days and packing days. It never gets too monotonous because there's just so much to do.
How do you come about selecting a color palette for your work? Is it intuitive or planned? Do you pin up inspiration or go straight to color chart?
I've been using the same brand of commercial underglazes for a few years now and I've just learned through trial and error what they all look like and how they mix or how much white to add to them, so now I don't give it more than a moment's thought. I glaze everything clear or white. My process is pretty streamlined at the moment. Which means it's probably time to really mix things up!
With graphics, I suppose once you hand a file over, the final outcome is in the hands of the printer. Would you work with a ceramics manufacturer to realize mass-produced pieces, or is the hands-on process important to you?
I think mass-producing a piece would be an amazing experience, but it would be very separate from my relationship with ceramics. It would be a new thing. Not only is the hands-on process something I really enjoy but the relationship I have with people who buy my work I think is unique to handmade pieces, it's a little more personal. I wouldn't want to lose that. (I never realized until just now that in a way the printer and the kiln are very similar processes, the outcome is all based on the work I did beforehand and having a somewhat acute sense of detail. They're both machines that yield a finished product but their inner workings seem kind of secret, that's cool!)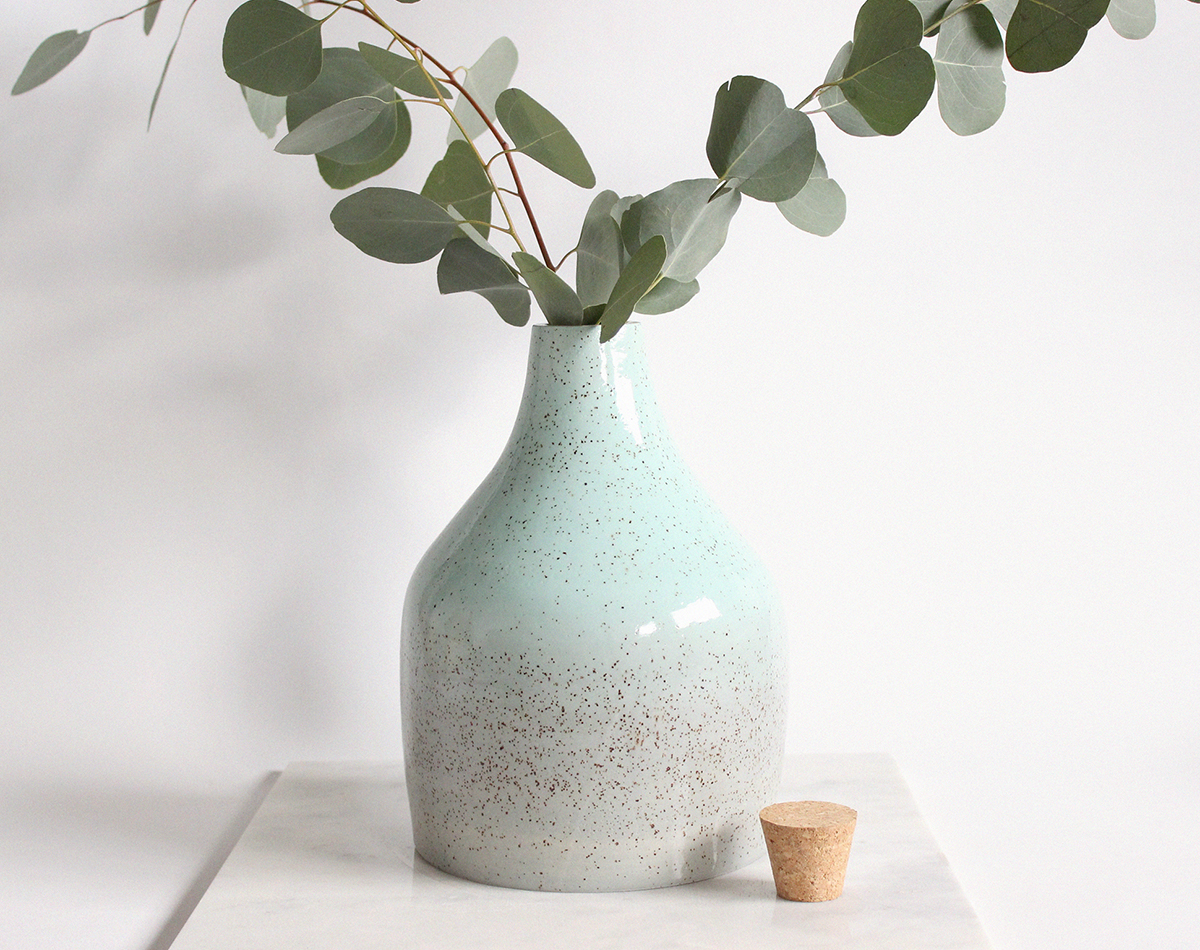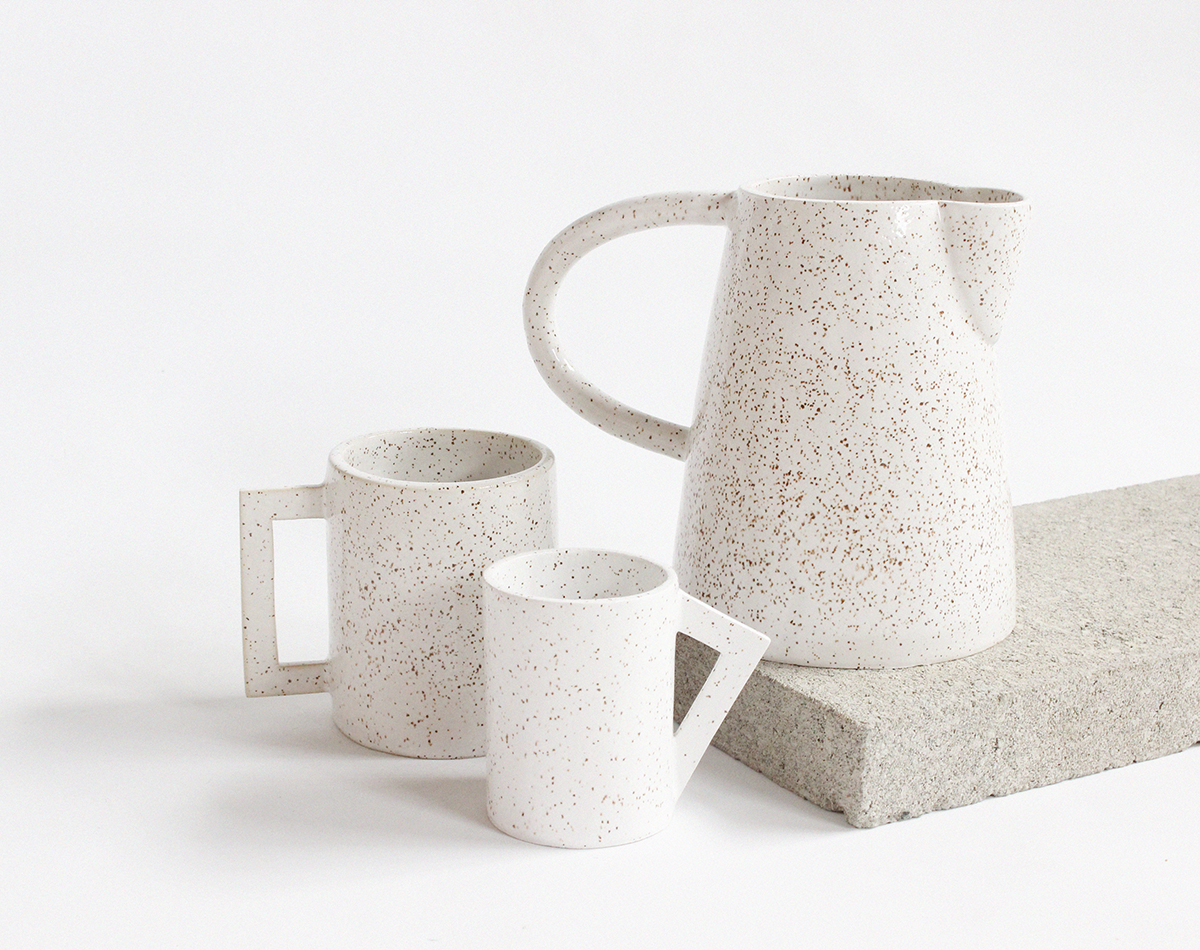 Could you tell us a bit about the characterful flecked clay you use, and what you like about it?
For the first few years of doing ceramics, I worked out of a communal studio and I had to purchase clay through them, so my options were limited. Once I moved out and set up my own studio I spent a bit of time experimenting with different clay bodies and the buff coloured manganese speckled one really stuck with me. I'm a sucker for a little texture which is why I leave parts unglazed a lot. I've just tested a few new clay bodies that I really like and will be introduced in some new work.
I've read that you like people to use the vessels you make in their own way, to determine the function through using it. Do you think this informs the shapes you make? Are you drawn to ambiguity and multi-functional shapes?
I like knowing that a vessel can just be a vessel and that its function is determined by how it fits into your life and home. There are certain things I make, that I've purposely made with that idea in mind, and other things that have a more obvious function or others that are purely sculptural. I love it when people tell me they use a mug as a plant pot or a plant pot as a soup bowl or a soup bowl as…anything. The world is everyone's ceramic oyster!
Your cleanly styled photography works well on screen, which is an important consideration for many artists and designers now. Is your aesthetic influenced by what works in a digital space as well as what is really pleasing to drink your cup of morning coffee out of?
Styling and photographing my work is a major part of the process for me. I don't think about it beforehand, though — I design the tangible objects to be physically interacted with and work around that in a photo. I do agree that presenting your work well in a digital platform is important, since that's what people often see first. But I wouldn't want to start thinking about the cart before the horse. Things should always be better IRL. It's a fun challenge to make a 3-D object compelling and relatable in 2-D. Not feeling guilty for constantly buying props is also really fun.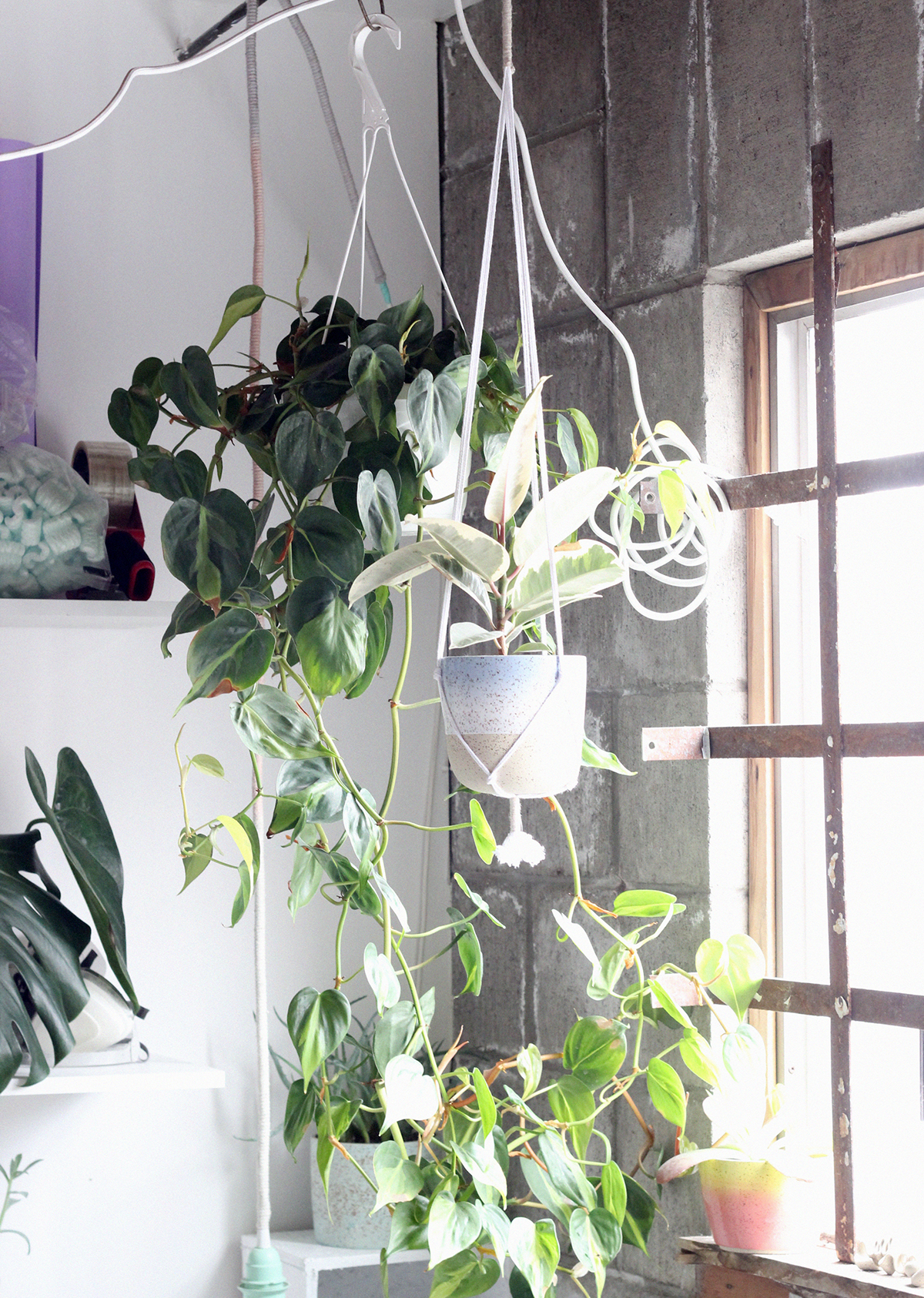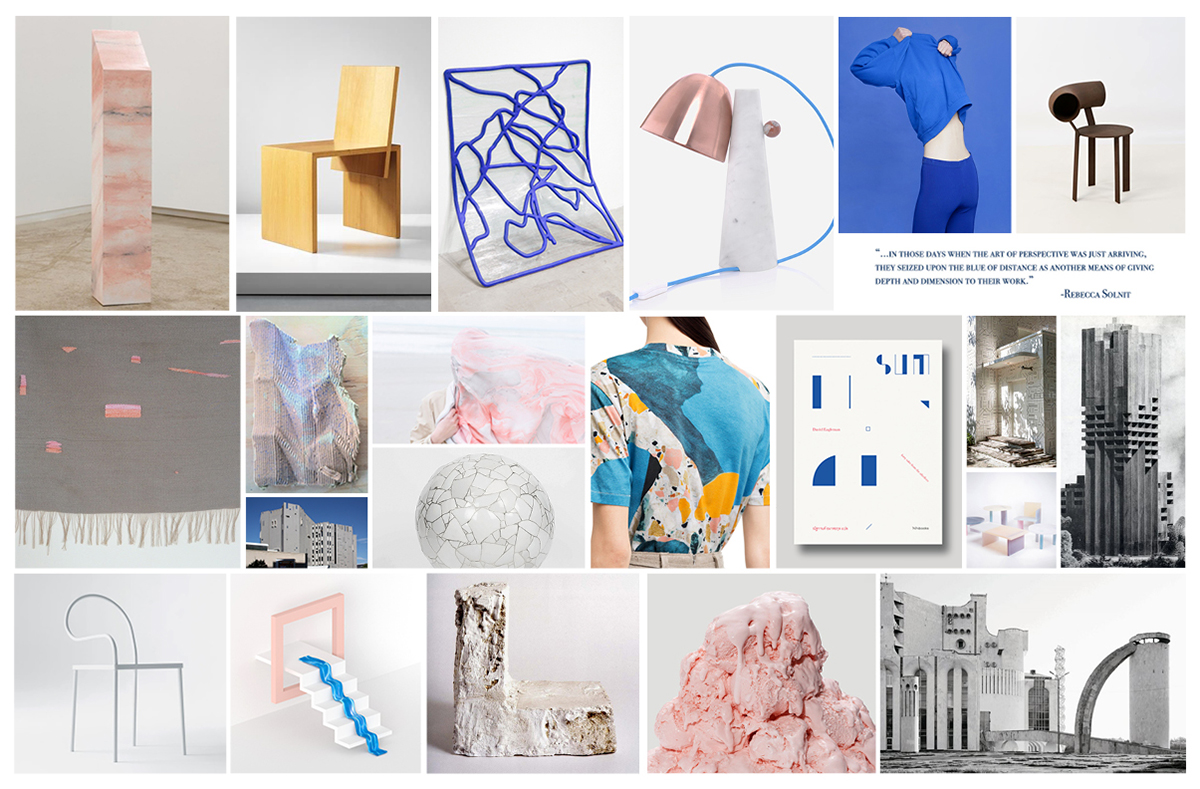 Your beautifully curated Tumblr offers insight into what inspires you. Do you keep some stuff back that you feel is particularly fresh for future work?
I'm working on an SS16 collection, and for the first time, I made a specific mood board (pictured above). I don't know what will come of it or how it will influence things beyond what's already in my head. All the images I pulled were from my Tumblr page. I've had that thing going for about 5 years, so there's a lot to comb through. I don't keep things back, though, because I think being transparent with your influences is really important. There's so much to look at and take in these days and it's good to be very aware of where your ideas are coming from. I think it creates a nice trust, with yourself as well as your peers and clients.
You adapt your vision to many different mediums, including music. Is there a new medium, process, or craft that you're attracted to?
I've wanted to spend more time on larger-scale sculptural work, using varied materials. It's not a good time right now, because my working spaces are limited. Maybe it's something I'll get into when I'm grown up.