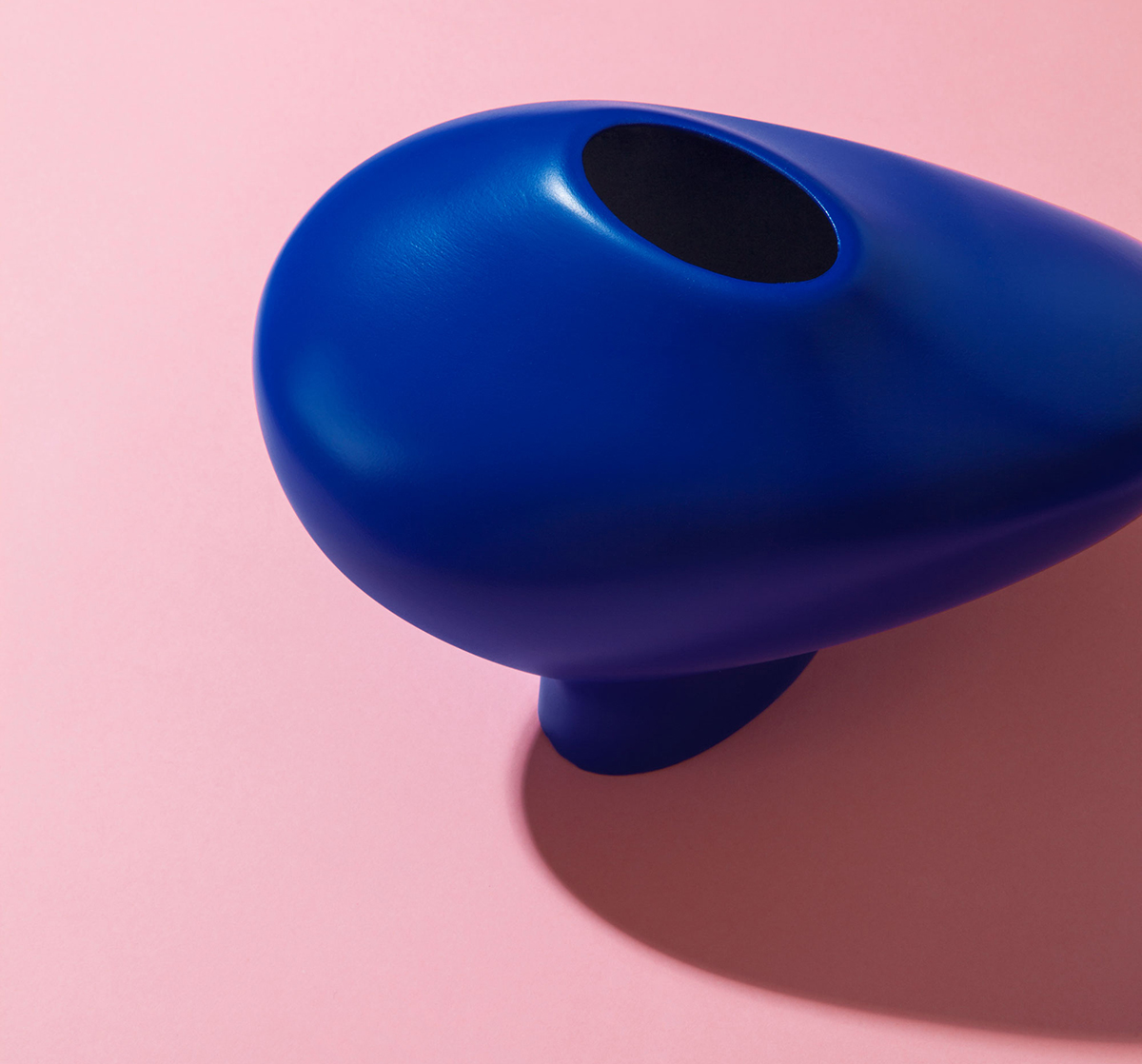 A weekly Saturday recap to share with you our favorite links, discoveries, exhibitions, and more from the past seven days. This week: a chance to own your very own piece of design history, a renovation that knocked our socks off, and lots of the color blue, including the vessel pictured above. 
Discoveries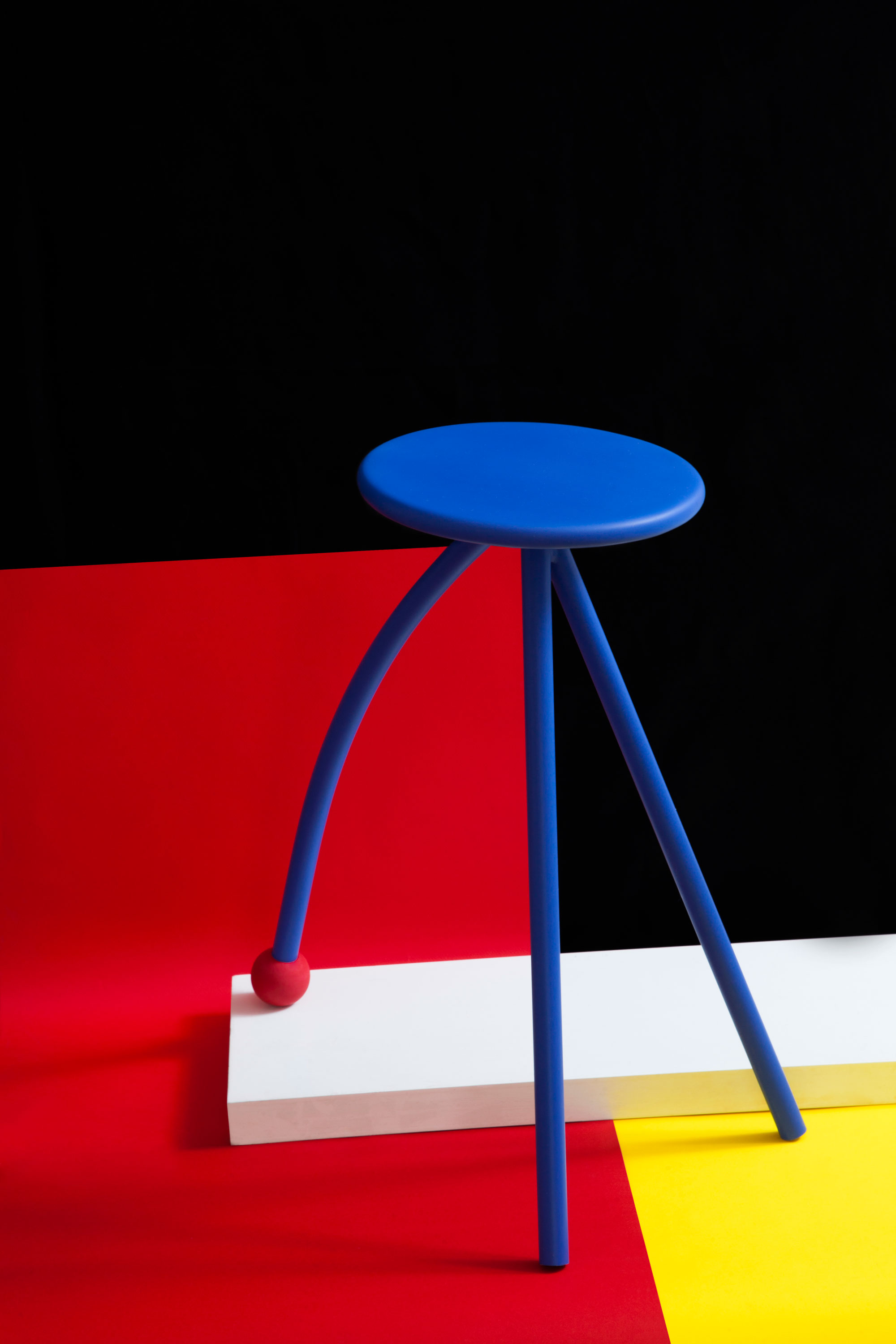 In our submissions box this week: Work from the young Chilean designer Alberto Vitelio, whose offbeat stool (pictured above) and bulbous ceramic vase at the top of this post are two of a suite of new works of his that have never been published elsewhere before. (Bonus points for his use of electric blue, one of our favorite Sight Unseen Pinterest boards.)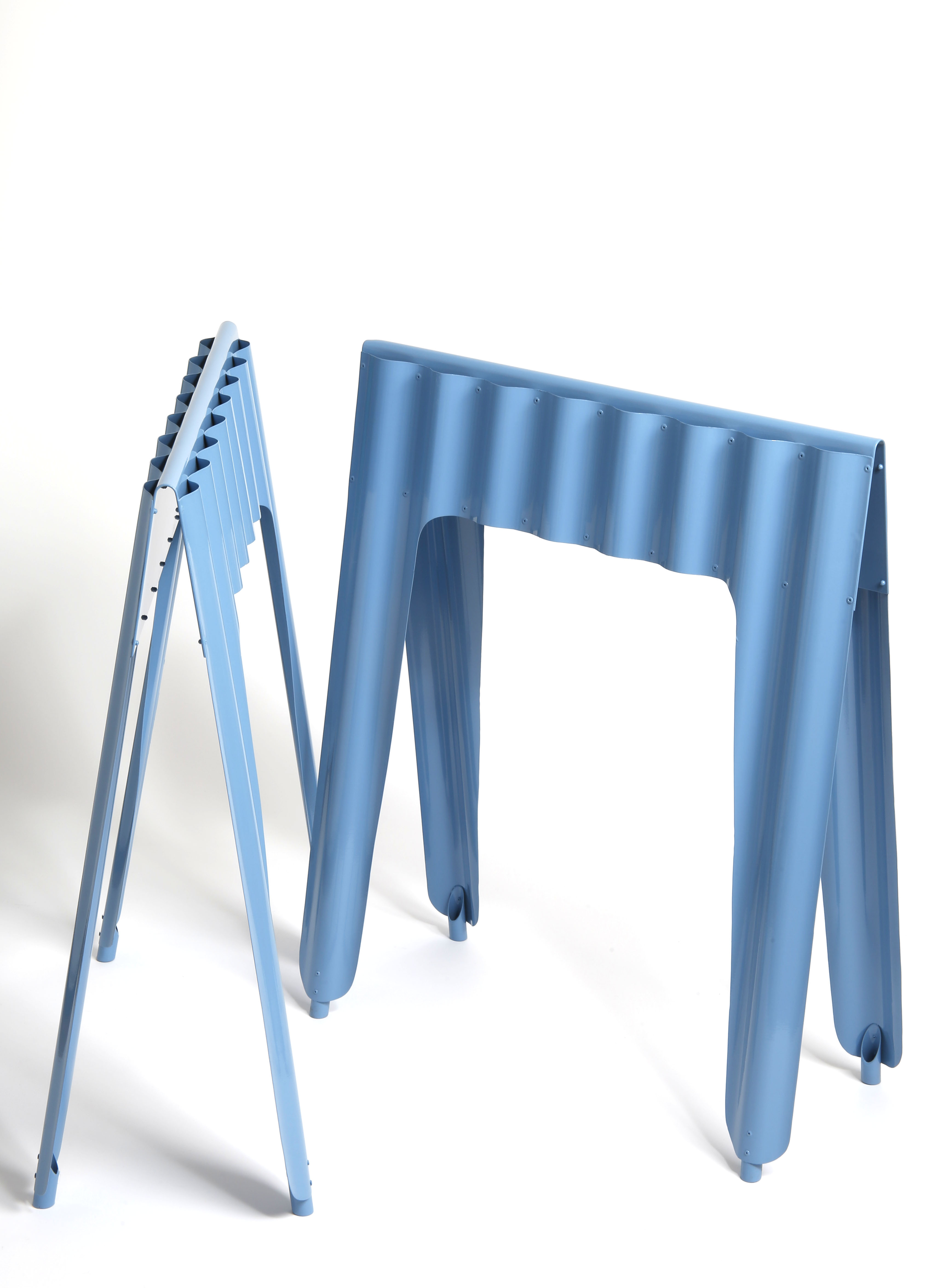 Trestle table legs have been a staple for such a long time that you'd think designers would have given up trying to reinvent them.  Lo and behold, French designer Jules Levasseur created a new set that incorporates corrugated steel laquered in robin's egg blue to create a wavy yet extra-strong table base that looks much nicer than the usual utilitarian versions.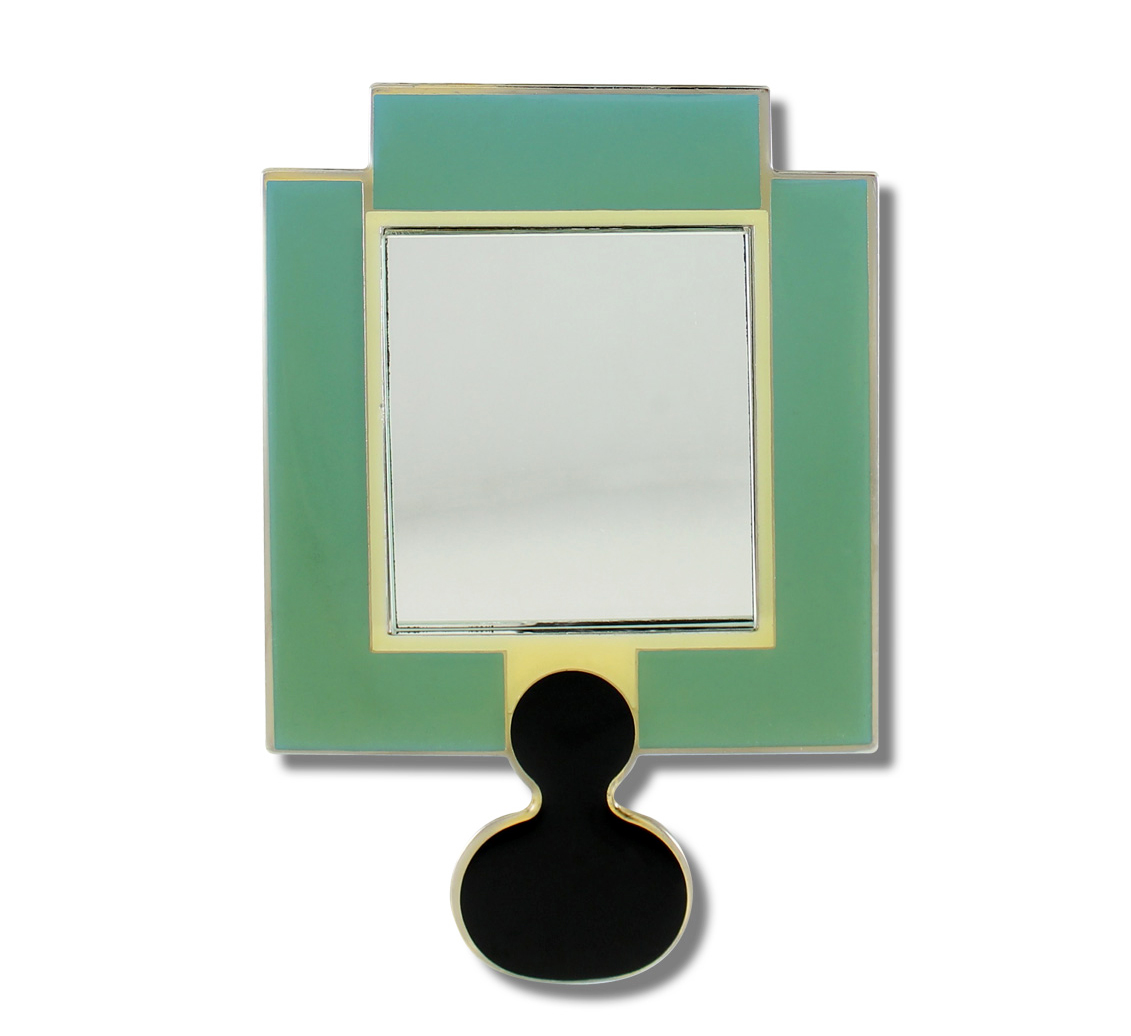 We've posted about the treasure troves of dead stock objects slowly being released Acme before, but we received an email in our inbox this week alerting us to a new batch, which includes this fantastic Michele de Lucci mirror. If you've ever wanted a piece of design history in your personal collection, Acme's Legacy Collection is one of your best chances.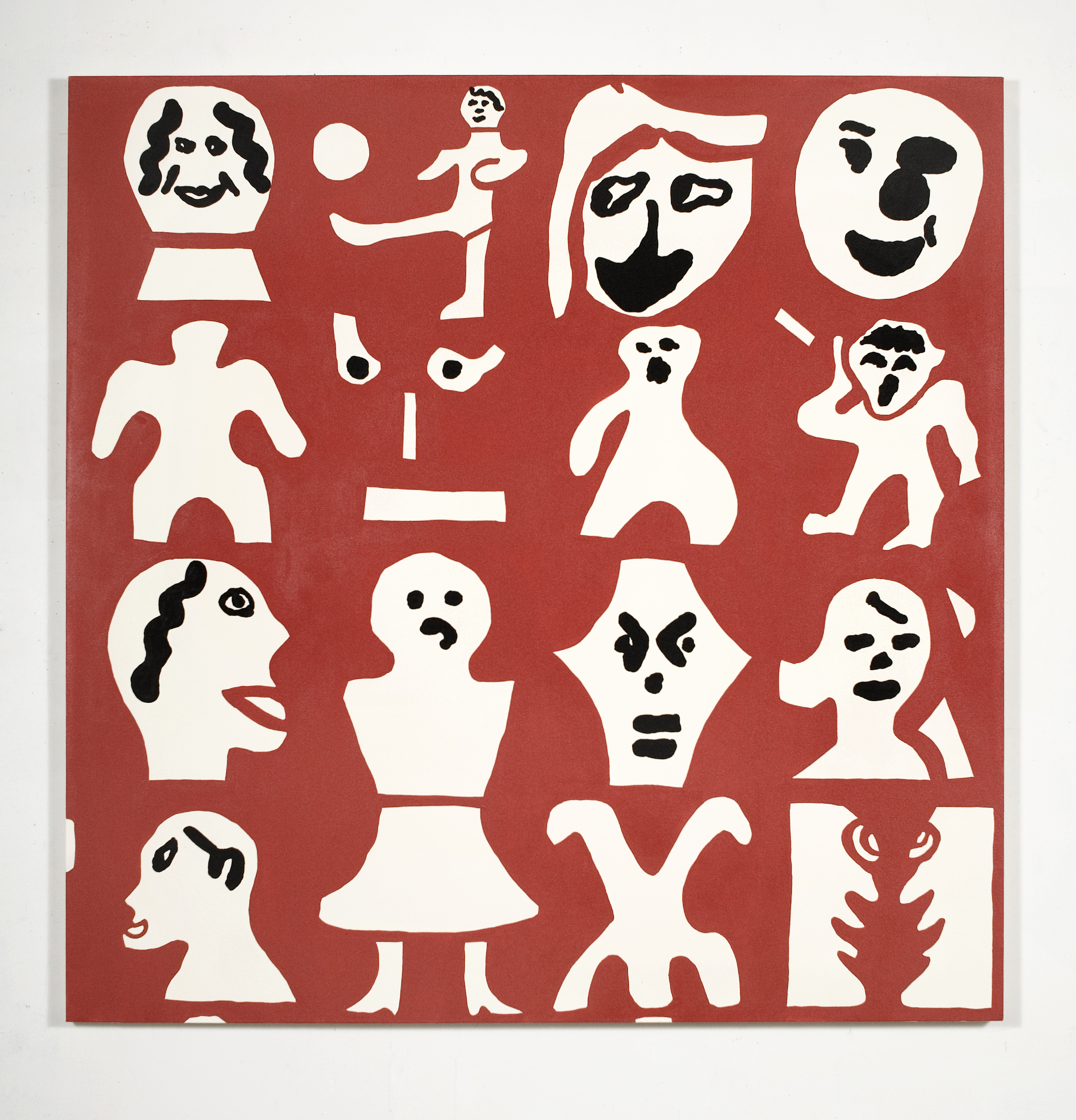 I've been fan of Brooklyn artist James Ulmer for quite some time, and came across the piece above this week while getting lost in an Artsy wormhole. Bold and naïve, Ulmer's flat compositions of shapes and figures find fodder in family photos, found images, and his imagination. (Sight Unseen pro tip: He also has some extremely affordable prints available on his Etsy shop, in case you want to bypass the galleries and treat yourself.)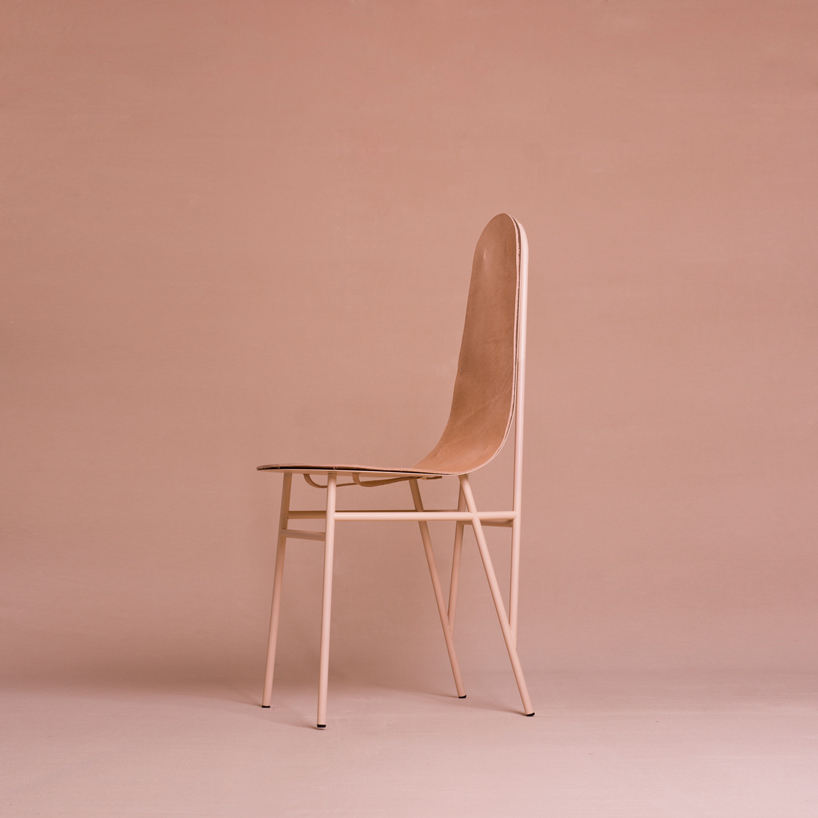 Copenhagen-based designer Kevin Hviid recently launched a collection consisting of four chairs all based around the concept of the architectural line. Using the same materials and method of constructing, each differs slightly in size and geometry, resulting in four cohesive but unique chairs named King, Queen, Jack, and Ace.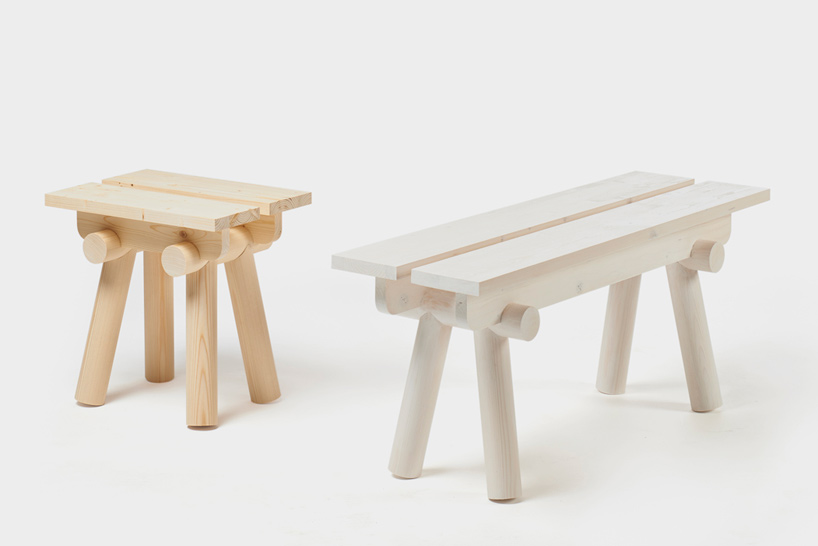 Unveiled recently at Designblok 15 — Prague's fashion and design week — Tomas Kral's Torii collection for Czech brand Krecky references traditional Japanese carpentry and architecture. Incorporating thick dowels and sharp-edged planks, it's hard to miss the connection between his furniture and the dolmens and shrine gates of Japan.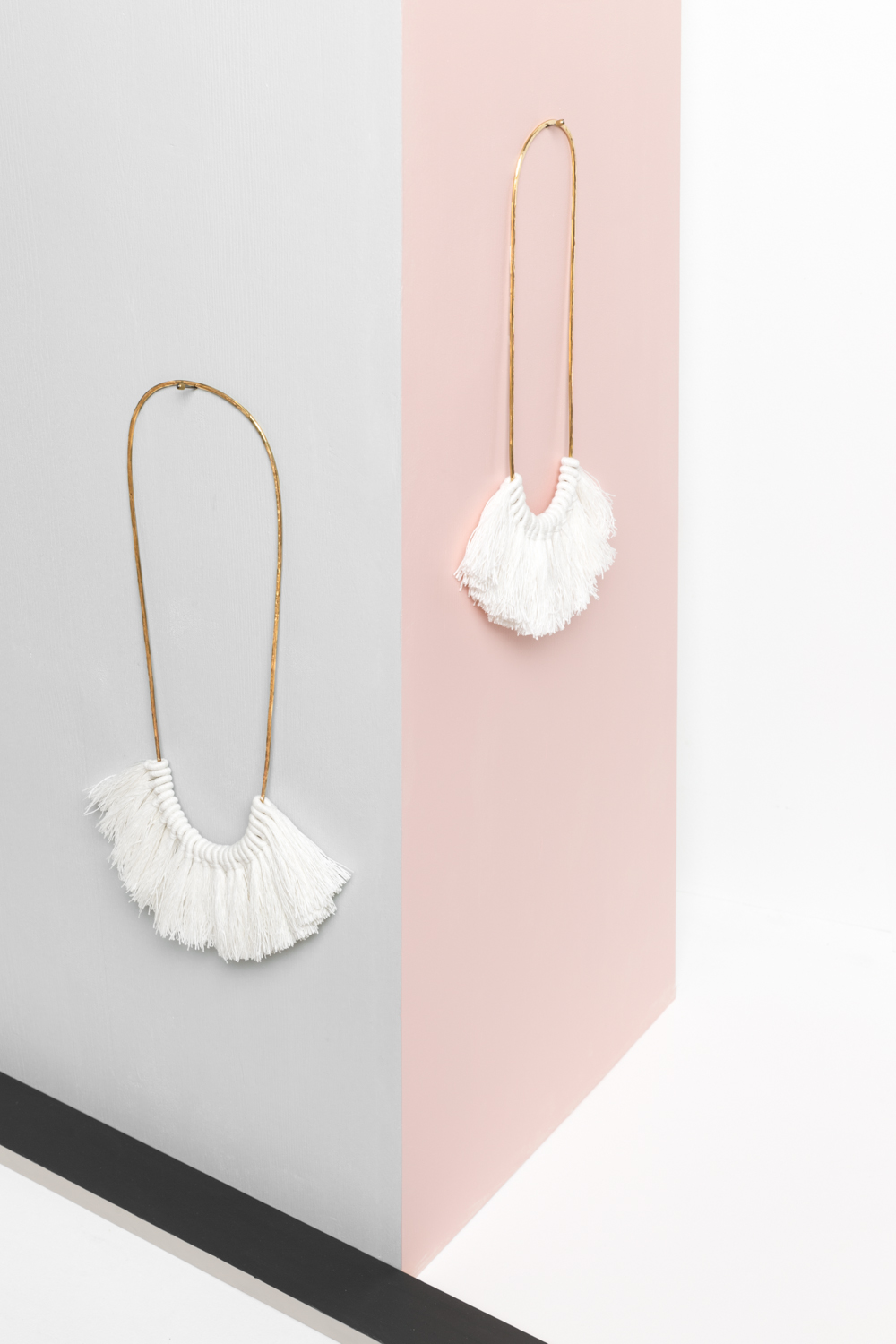 Cindy Hsu Zell of WKNDLA sent us an email this week letting us know about her new line of wall hangings, LINE|N. Incorporating clean lines, brass, and natural linen, they look almost like necklaces displayed on the wall.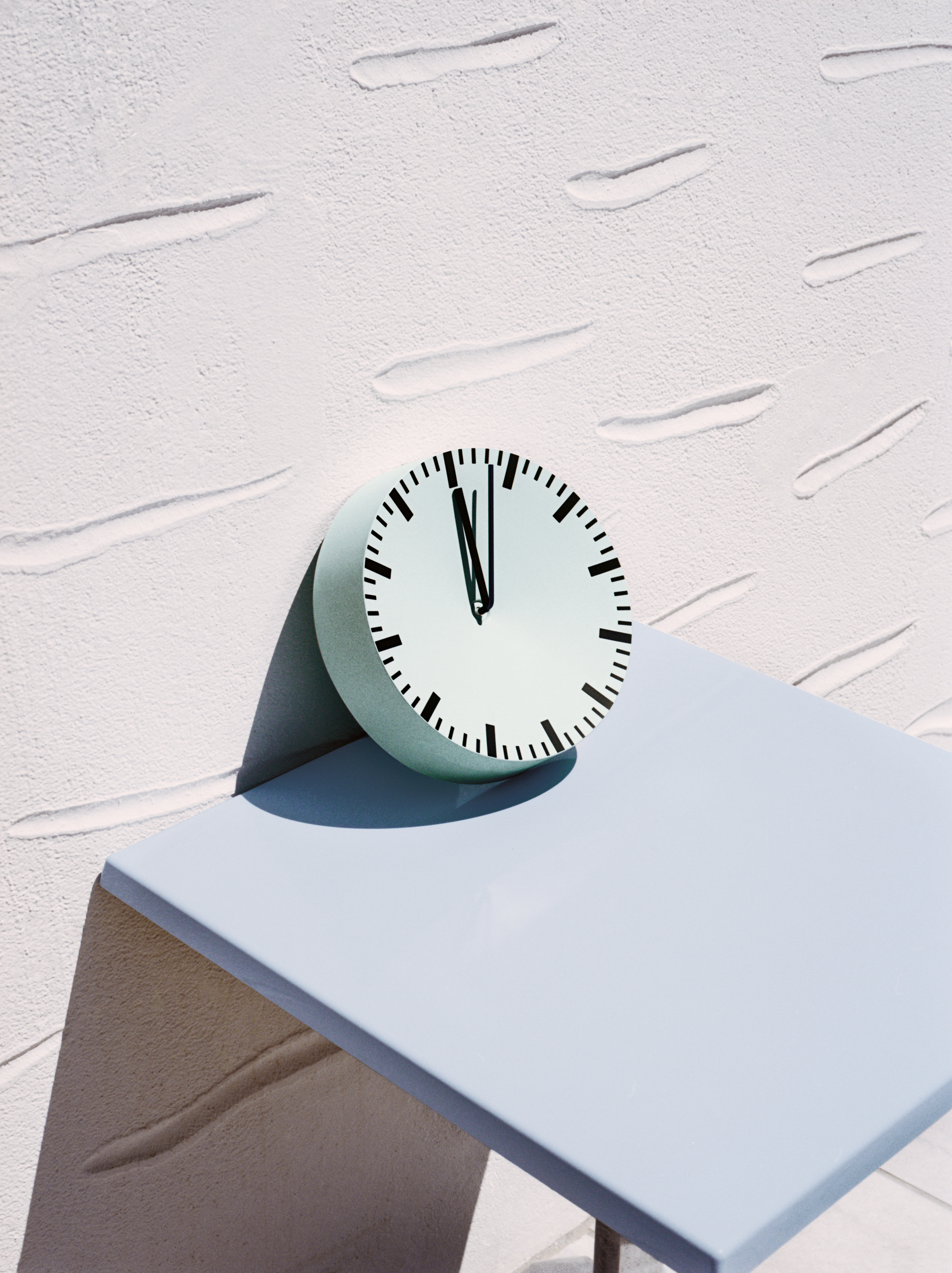 This week we stumbled across the gorgeous photographs of Osma Harvilahti, who collaborated with Hay to create a series of lookbook shots. The handmade effect portrayed in the images is a nice refresher in a world of crisp and over-styled product photography.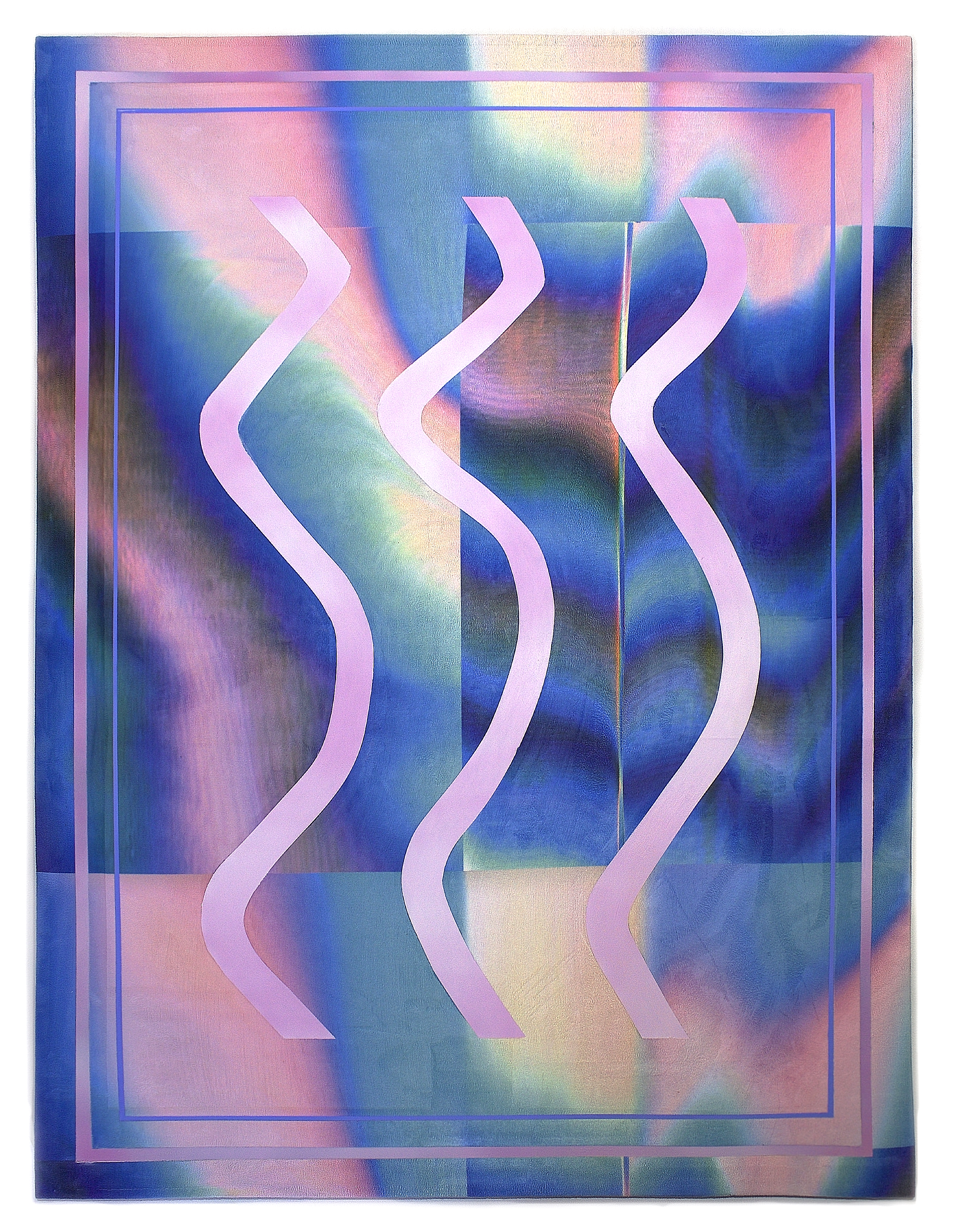 We found artist Anne Vieux via Esther Ruiz's Instagram earlier this week and couldn't believe we'd never seen her work before. The Brooklyn-based artist makes digital paintings that are equal parts glitchy and whimsical.
Links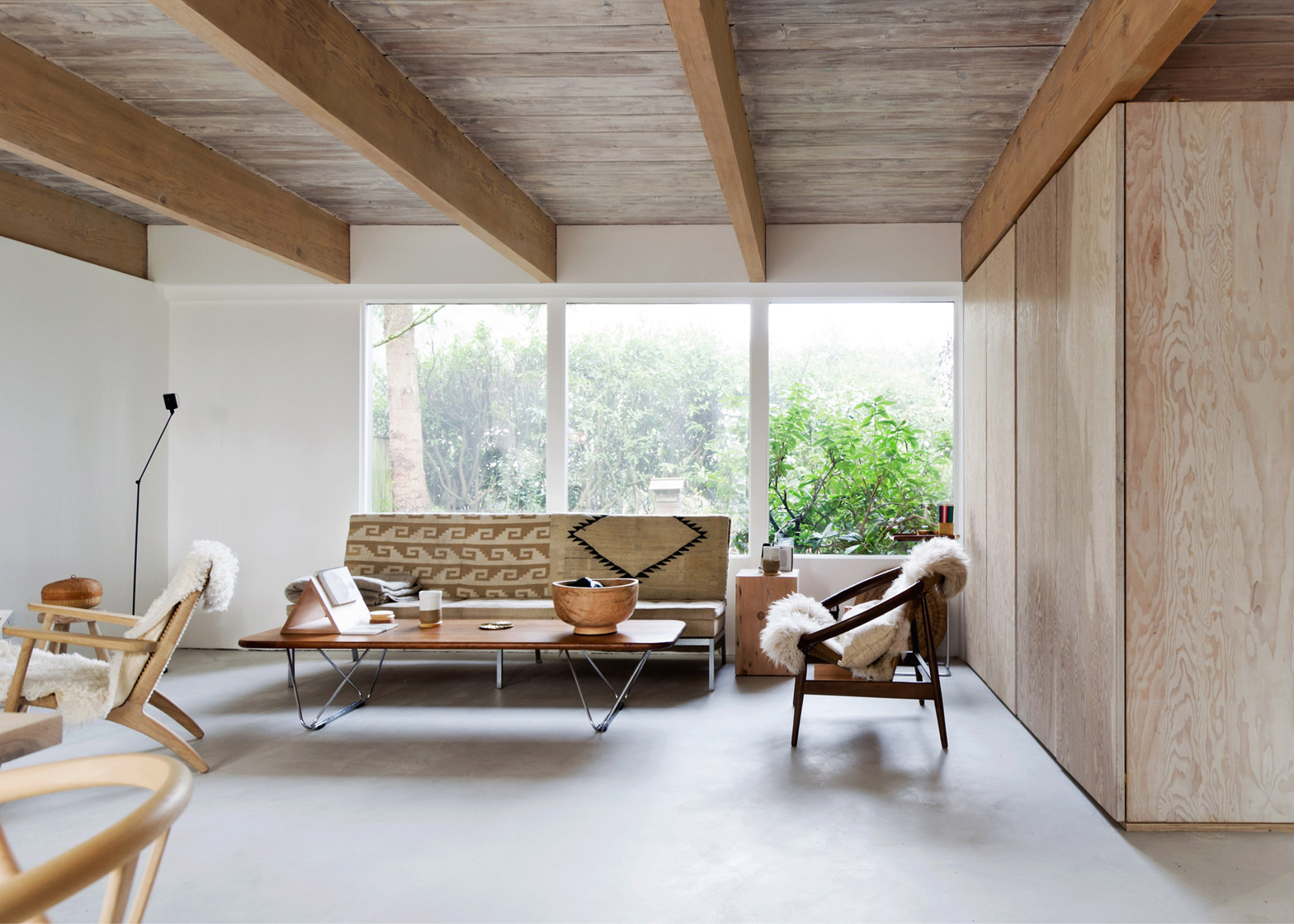 Dezeen recently showcased a renovation done by Scott and Scott in the suburbs of Vancouver that mixes white-washed Douglas Fir and marble, with the wood intended to wear visibly over time. It was the textiles that really got us, though — so cozy-chic.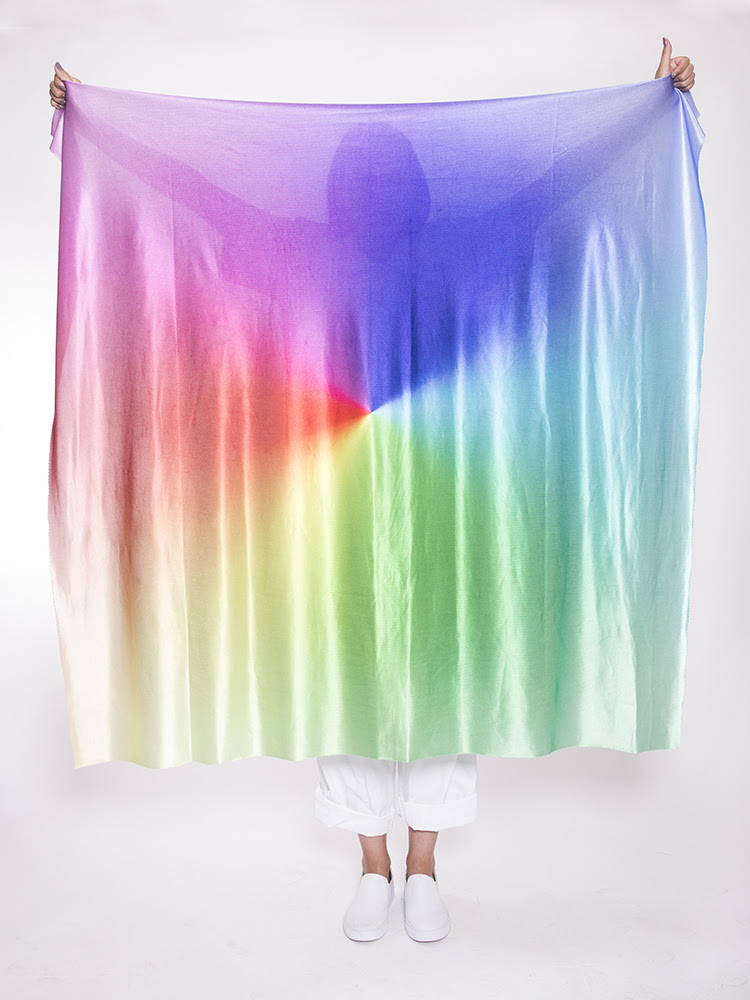 Our sometime collaborators Print All Over Me launched a new branch of their all-over-printed business model this week. Now you can design and print not just clothing but loose fabrics — it works just like the rest of the site, but with 23 different materials to print on, available by the yard.
Exhibitions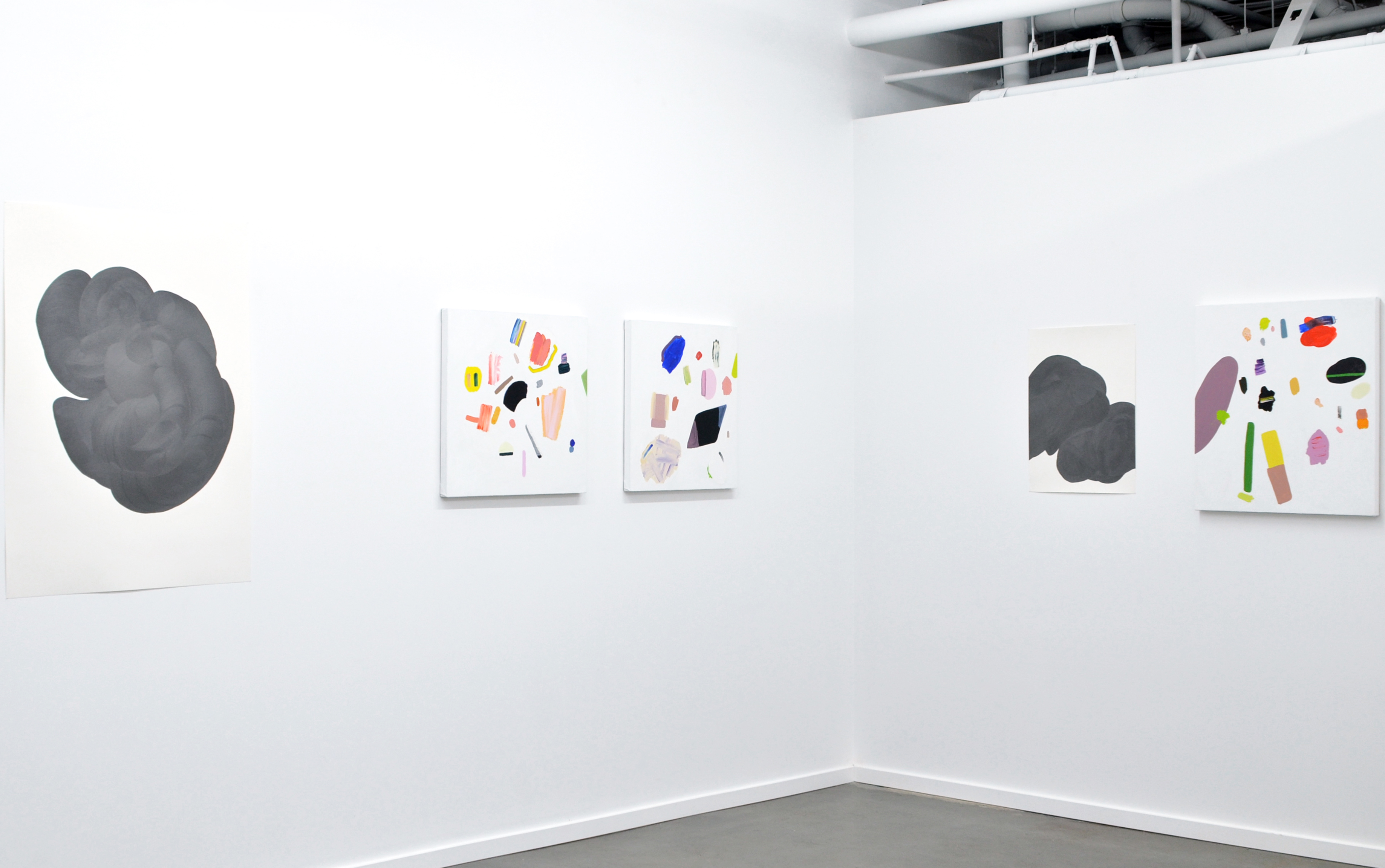 One of our favorite Portland galleries, Nationale, is currently hosting a joint show by artists Amy Bernstein and Patrick Kelly, The Liminalists. Bernstein and Kelly's work somehow balances each other out — Kelly's large, monochromatic works on paper contrasting with Bernstein's colorful, organic compositions.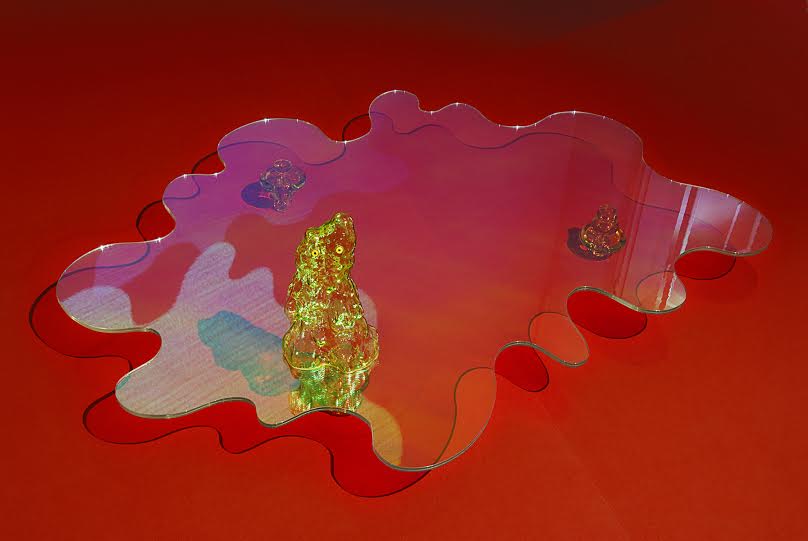 If you're currently wondering exactly what you're looking at above, don't worry, we had the same thought. The glass/neon creation is a table by Swedish craft artist Frida Fjellman, who's currently having a solo show at the Gustavsbergs Konsthall. The exhibition also includes life-size sculptures of bears and dogs, set against a red stage curtain, exploring "fundamental states of mind like extreme fear, vulnerability, and a need for security," the artist says. Photo: Cathrine Edvall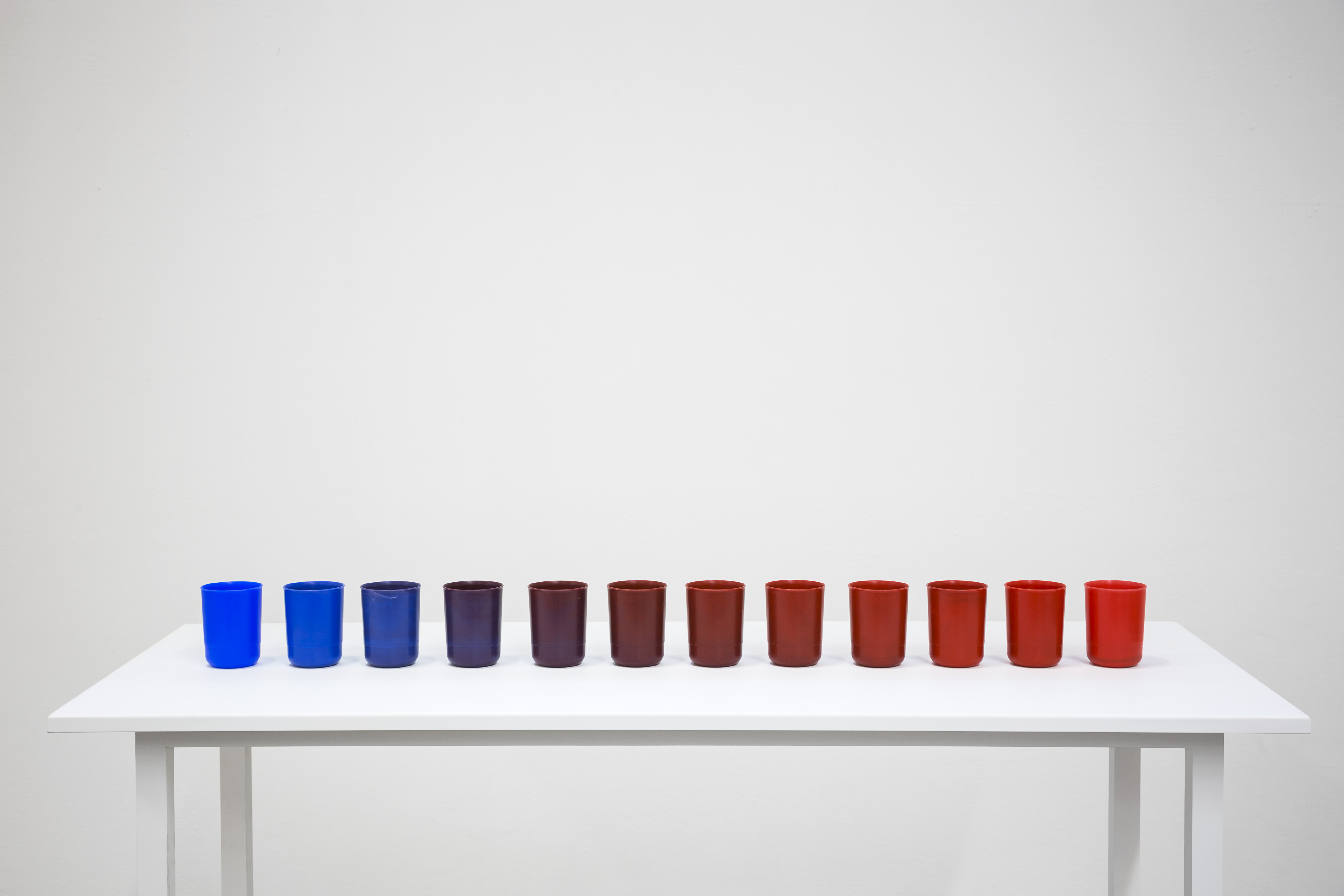 Opened this week at Beirut's Carwan Gallery, the Belgian artist collective Rotor is exhibiting a collection of what they refer to as "specimens" — discarded building materials and byproducts of production lines that they've extracted with the aim of placing them into different contexts. The show incorporates both older works and new ones created in Lebanon, including this series of twelve off-color plastic cups, arranged from blue to red, that the group collected on one of their many reasearch outings.