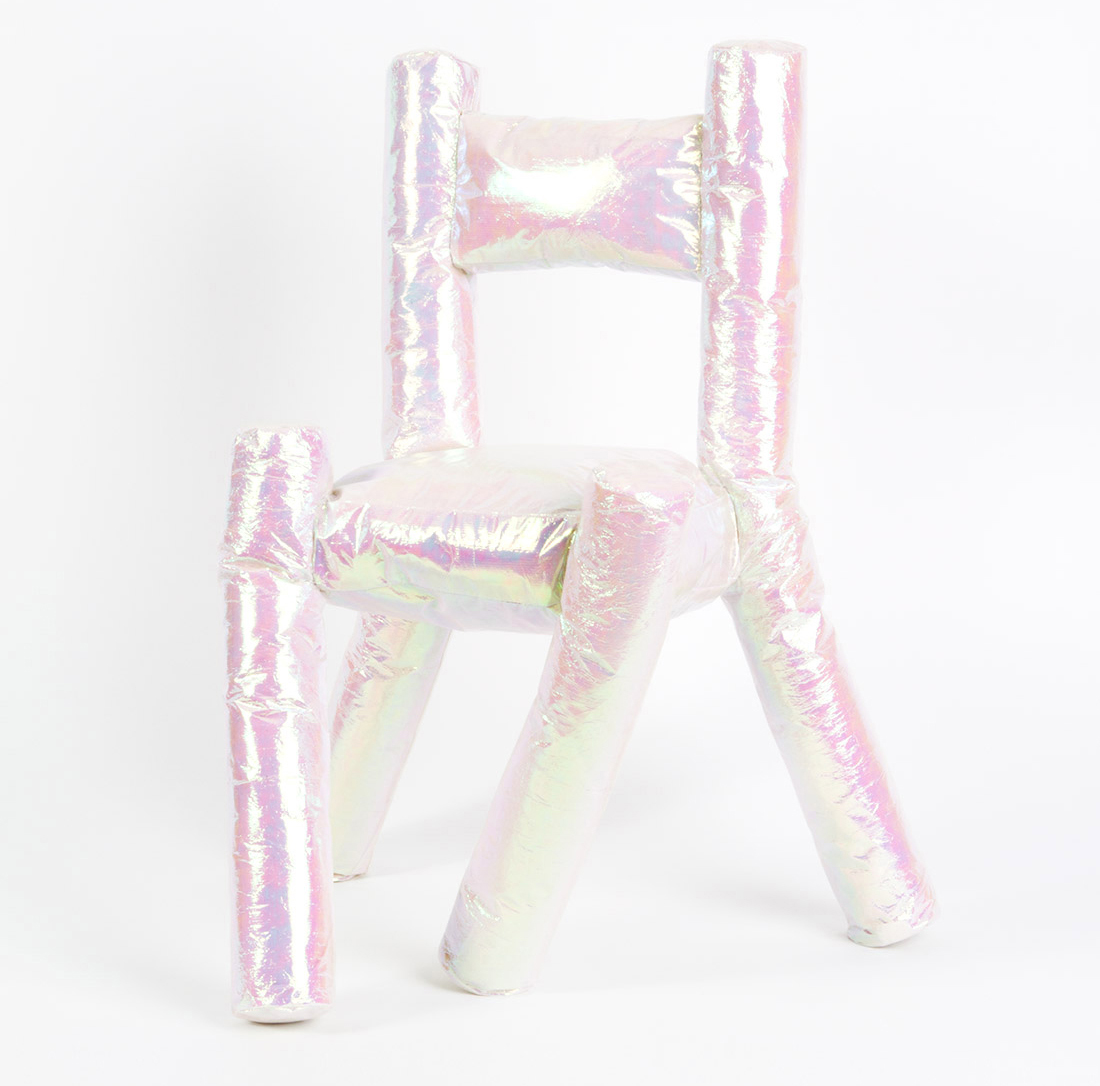 A weekly Saturday recap to share with you our favorite links, discoveries, exhibitions, and more from the past seven days. This week: chairs knit from sweaters, furniture made from kitchen flooring, and a sculpture fabricated by a robot and installed by a crane.
Discoveries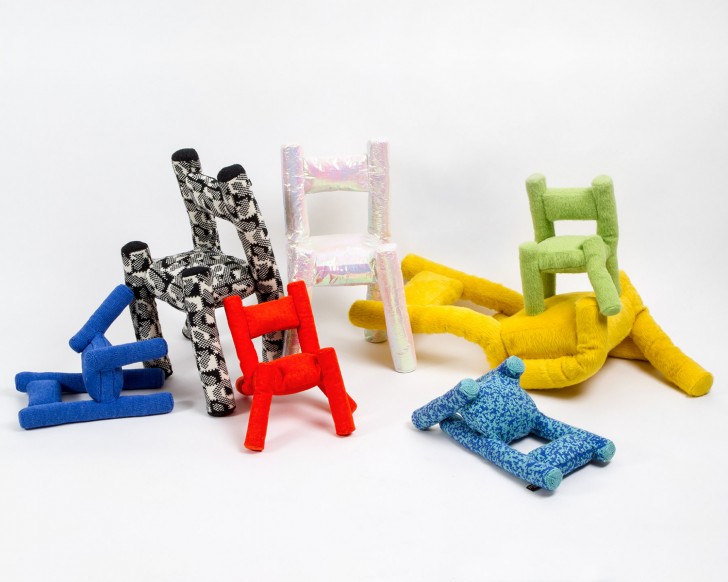 Brooklyn designer Katie Stout is having kind of a big month. On the 26th, you'll be able to see her compete with five other designers on a new HGTV show dreamed up by Ellen DeGeneres; before that happens, and Stout becomes even more deservedly famous than she already is, maybe you should pick up one of the amazing Stuffed Chairs she recently debuted at Project no. 8, created in collaboration with knitwear designer (and fellow RISD grad) Zev Schwartz. The open edition comes in variations like knit, alpaca, and corduroy but we're partial to the synthetic iridescent awesomeness at the top of this post.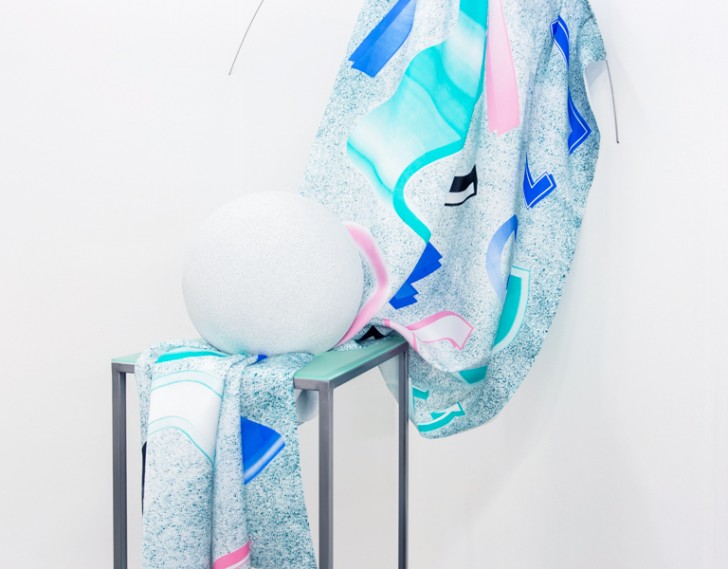 For us, having holiday time off from work doesn't necessarily mean stepping away from the computer entirely. We actually like having that down time to just poke around the internet, obsessively pinning and delving deep into things like Wallpaper's Graduate Directory, where we found plenty of new talents to scope. We were especially taken with the graduate collection of Fran Buss, a Chelsea College of the Arts textile grad whose screen-printed fabric patterns are generated from the reproduction of material surfaces like marble and fur.

Japanese designer Koichi Futatsumata has been practicing architecture (to stunning effect) since 2000, but a few years back he also set up a separate design studio to further develop his product line. His latest offerings are our favorites yet, including a copper-leaf version of his shoe stool and this aqua oak prototype stool above. Called Toco, it's named after the species of toucan whose curved legs its resembles.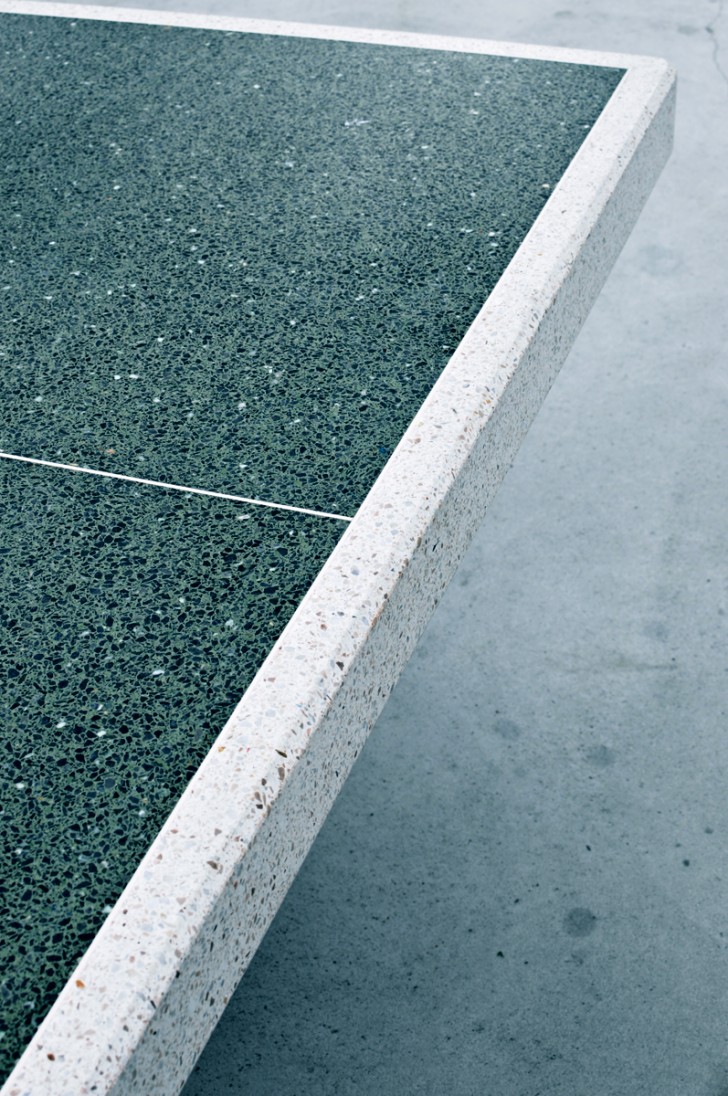 Milan-based fashion and beauty photographer Fabrizio Raschetti reached out to us over the holidays, and though there isn't that much information out there about him, we highly recommend his Tumblr, where work for clients like Acne and Nike is mixed in with super-stylized personal work like the ping-pong shot above.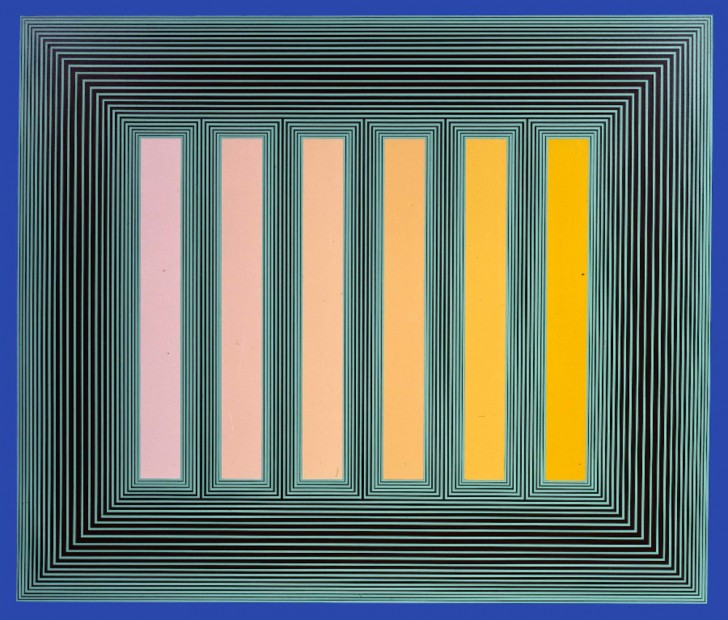 Perhaps owing to the fact that The Whitney doesn't currently have a physical presence in New York (its Marcel Breuer HQ is dunzo while the Renzo Piano–designed building won't open until May), the museum of American art recently expanded its online collection from about 700 to more than 20,000 works of art. We didn't even make it through the As before we found a new (to us) obsession: Richard Anuszkiewicz, the Albers-tutored, Yale-educated printer, painter and sculptor. His well-documented website is a serious source of inspiration.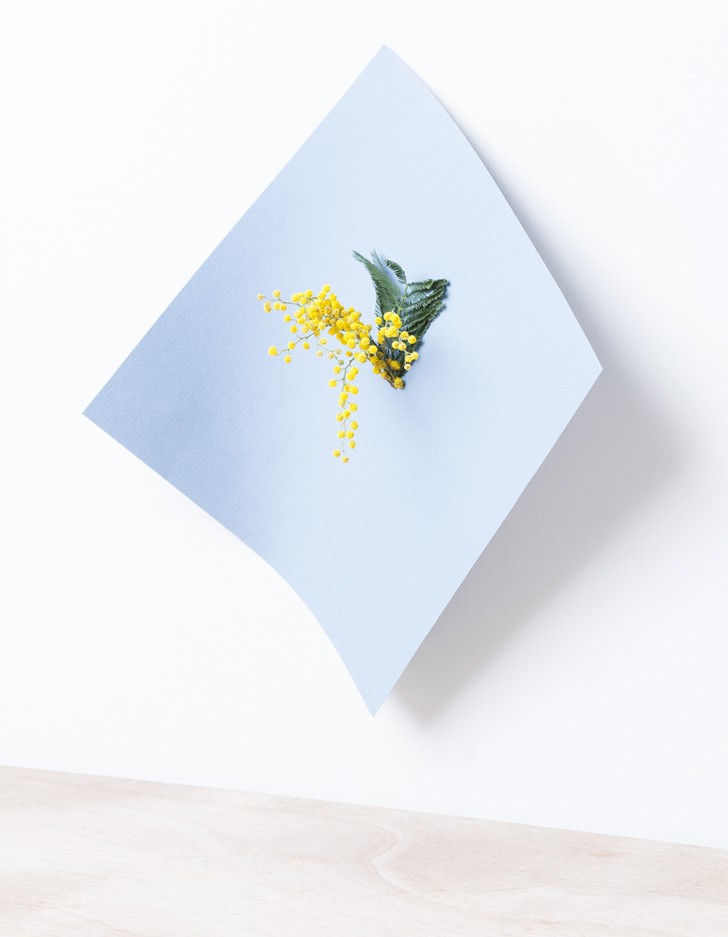 Another excellent photography submission from Central Saint Martins grad Martina Lang, whose Plant Paper series takes two of the simplest styling premises and turns them into something novel.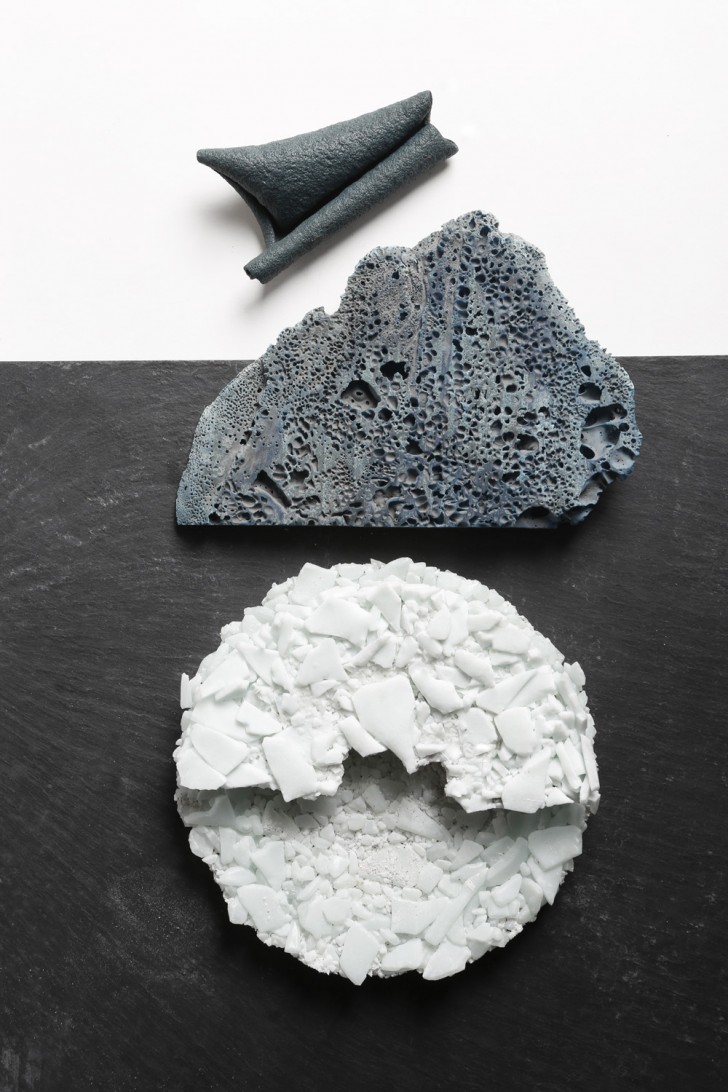 We somehow missed this excellent project, which debuted during the London Design Festival from another Central Saint Martins grad, Sophie Rowley. For Material Illusions, Rowley transformed common everyday materials to simulate textures normally found in nature: denim offcuts made to resemble Bahia blue marble, compressed newspaper and resin to mimic silverwood, and blue modeling foam, melted and sanded to look like Indo-Pacific coral, among others.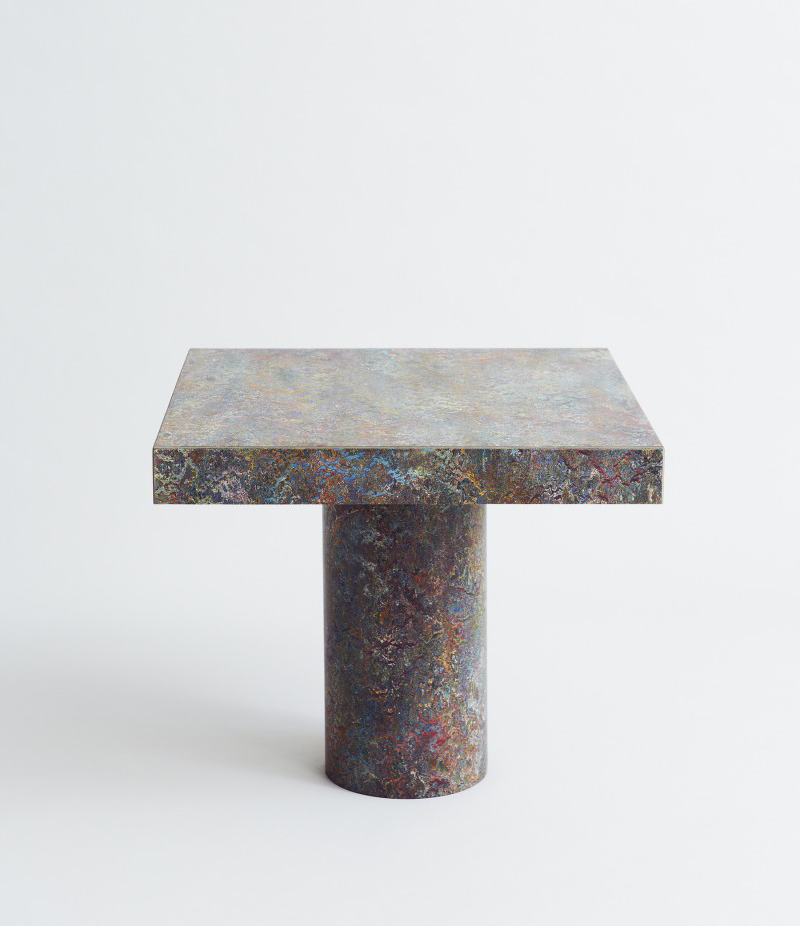 The last time we caught up with British designer James Shaw, he was shooting molten plastic through an extrusion gun to excellent effect. Since then, Shaw's been both refining that process and going in a different direction entirely. Says the designer: "Traditional linoleum is a surprising material; made from wood flour and linseed oil, its environmental credentials are strong. In a small flooring factory in North London I found the last roll of a crazy pattern. Looking like a psychedelic marble this material bridges the line between manufactured and organic and for some people is just what they wanted on their bathroom floor. I have been producing a range of furniture items with the lino as a surface."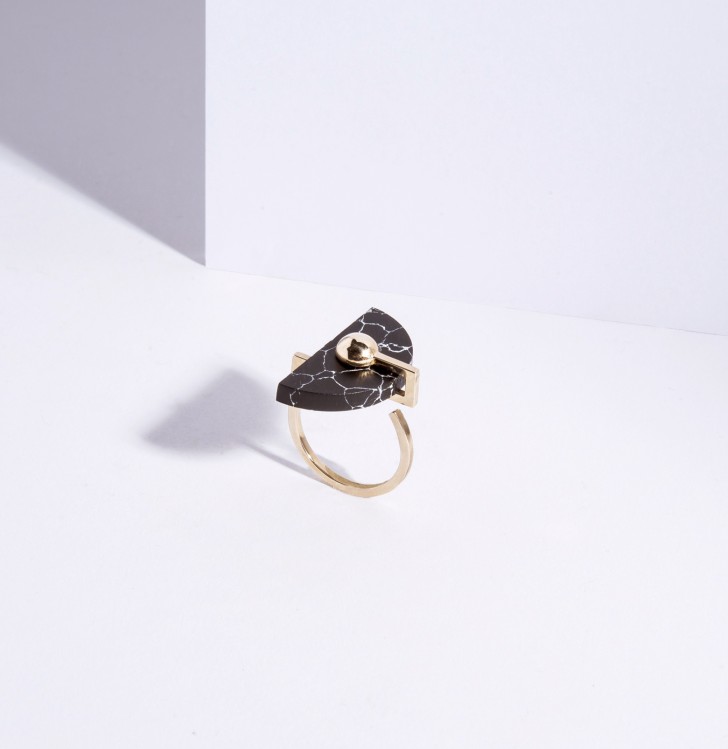 Readers of this site might remember Astrid Chastka from Upstate, the beautiful shibori line she used to design with fellow Brooklynite Kalen Kaminski. Chastka is now one half of the jewelry duo Metalepsis, which she designs in collaboration with Victoria Cho of Los Angeles, also a former architect. The two have released three collections together, but we're most psyched about the forthcoming elements from their Orbital collection, which mix different hues of engineered stone with their usual architectural metals. Seriously digging their Split Atom ring, shown above.
Links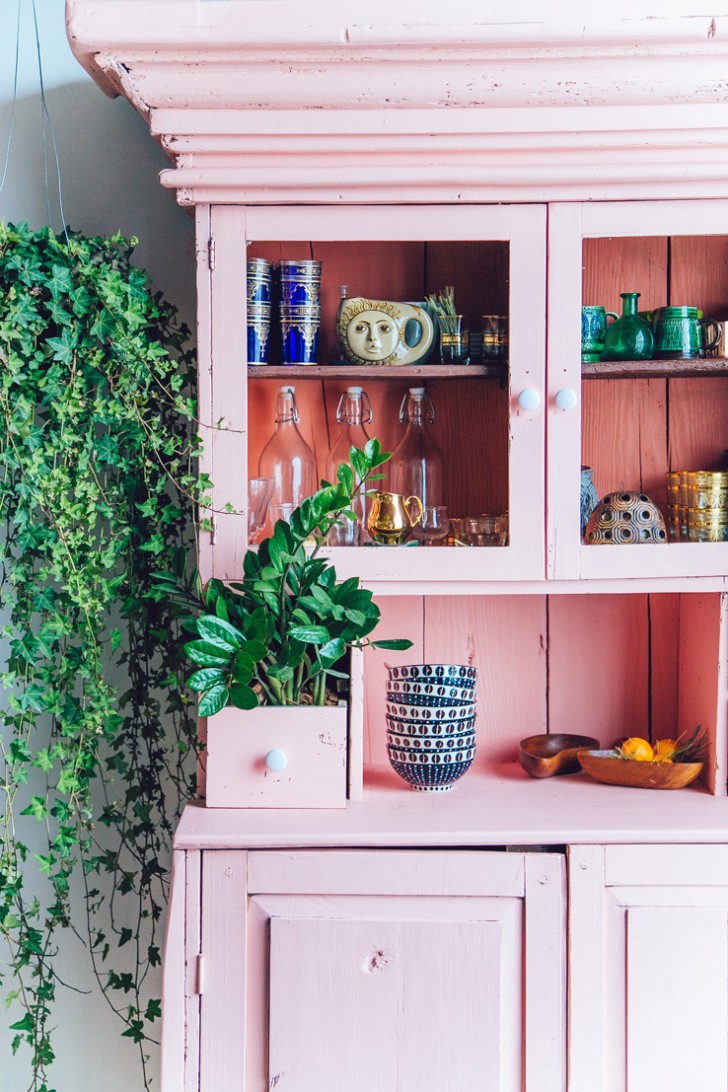 We've recently been way into West Elm's Instagram takeovers, where a blogger or photographer documents the transformation of their studio over a single weekend (with West Elm merch included, natch). First it was Laure Joliet, one of our LA photographers, and more recently they handed over the reins to Justina Blakeney, whose studio makeover included painting this Mexican hutch the perfect color pink. Cute!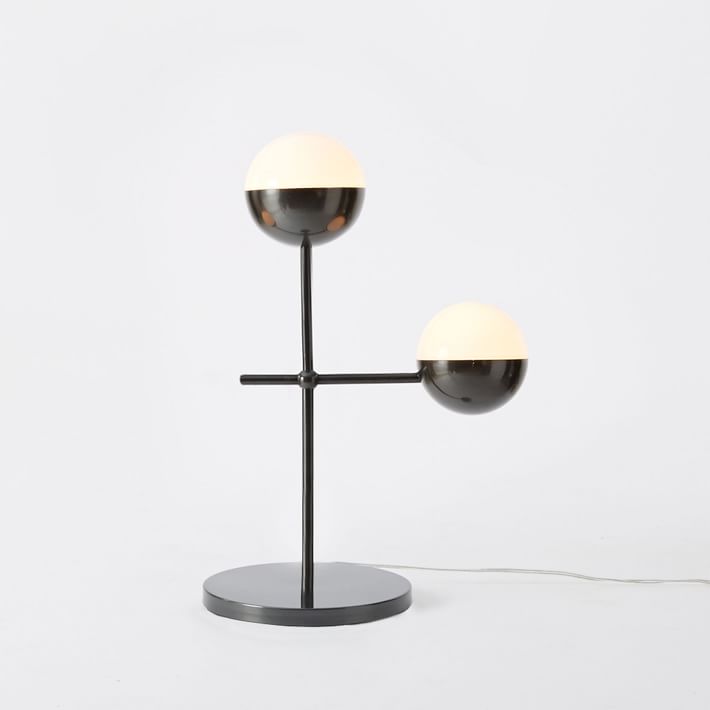 Speaking of West Elm, they also recently debuted their homeware collab with Kate Spade Saturday. We particularly like these Globe Table Lights, which were inspired by subway entrance lamps.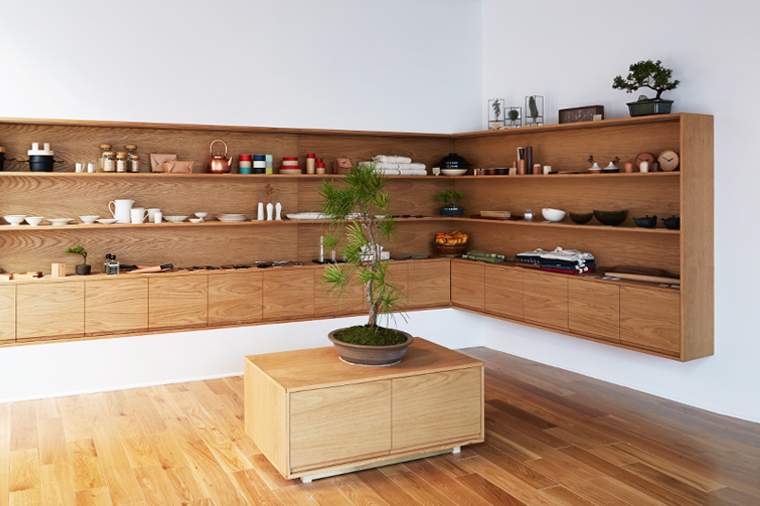 Leave it to a California-based blog to introduce us to something in our own backyard: SF Girl by Bay this week spotlighted the brand new housewares shop Nalata Nalata, which is located approximately half a mile from my house, and features all the brass Japanese housewares of your dreams.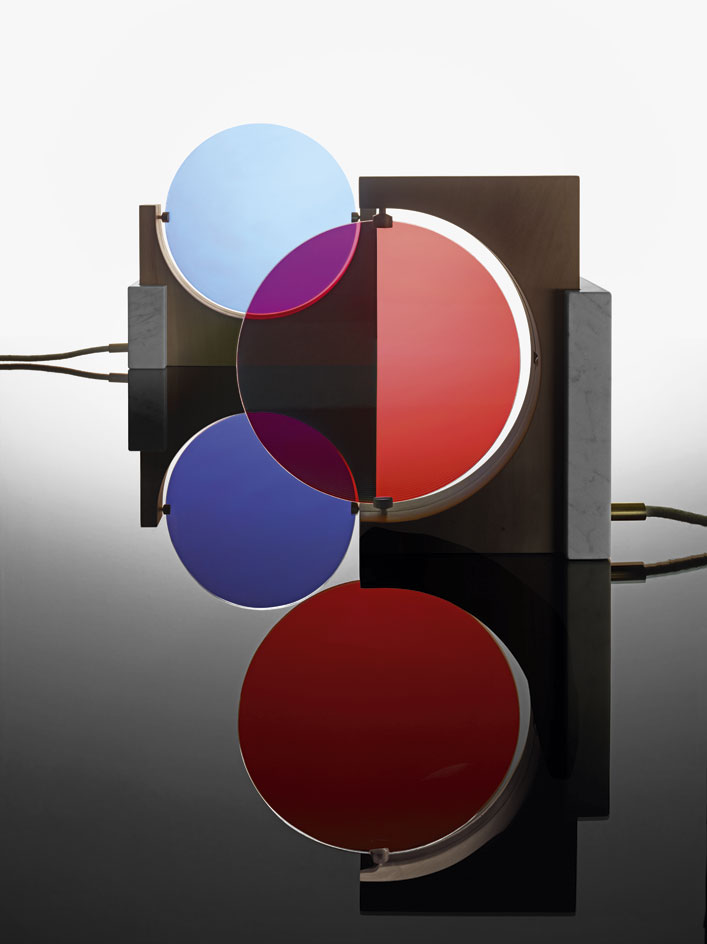 Wallpaper's Design Awards are out this week, and while some of the choices are somewhat random (Edwardian grooming set, anyone?) we can fully get behind the "Life Enhancer of the Year" by Éléonore Delisse, who created this gorgeous lamp to combat Seasonal Affective Disorder as part of her Design Academy Eindhoven. The Day & Night light glows blue in the morning to encourage wakefulness and soft orange at night to lull you to sleep.
Exhibitions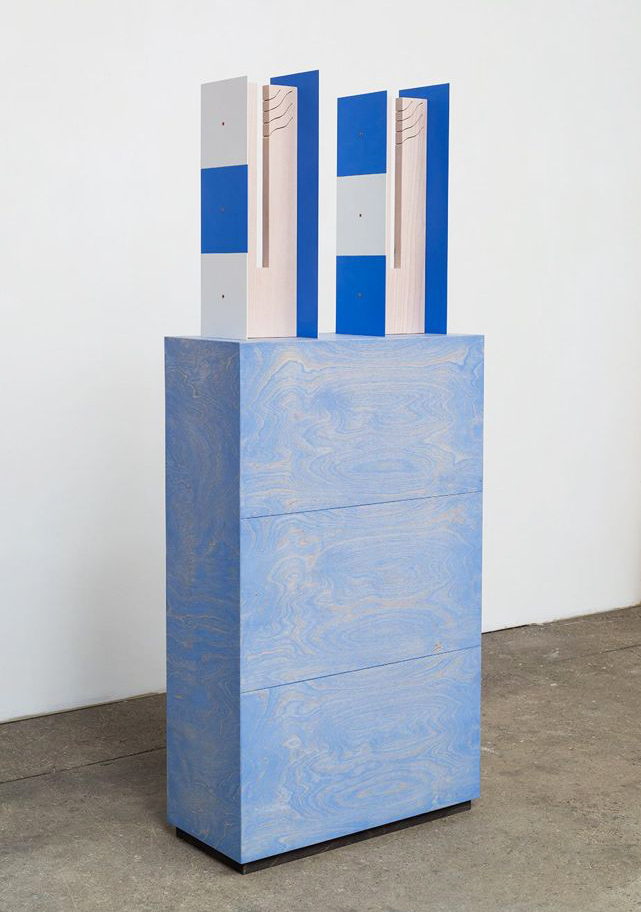 An exhibition that opened last night at Wallspace gallery in Chelsea brings together several of our favorite contemporary artists under one roof: Rebecca Morris, Zachary Leener, and Matt Paweski, whose blue cabinet is shown above. Called "The Curve," the exhibition explores objects by these artists and four others.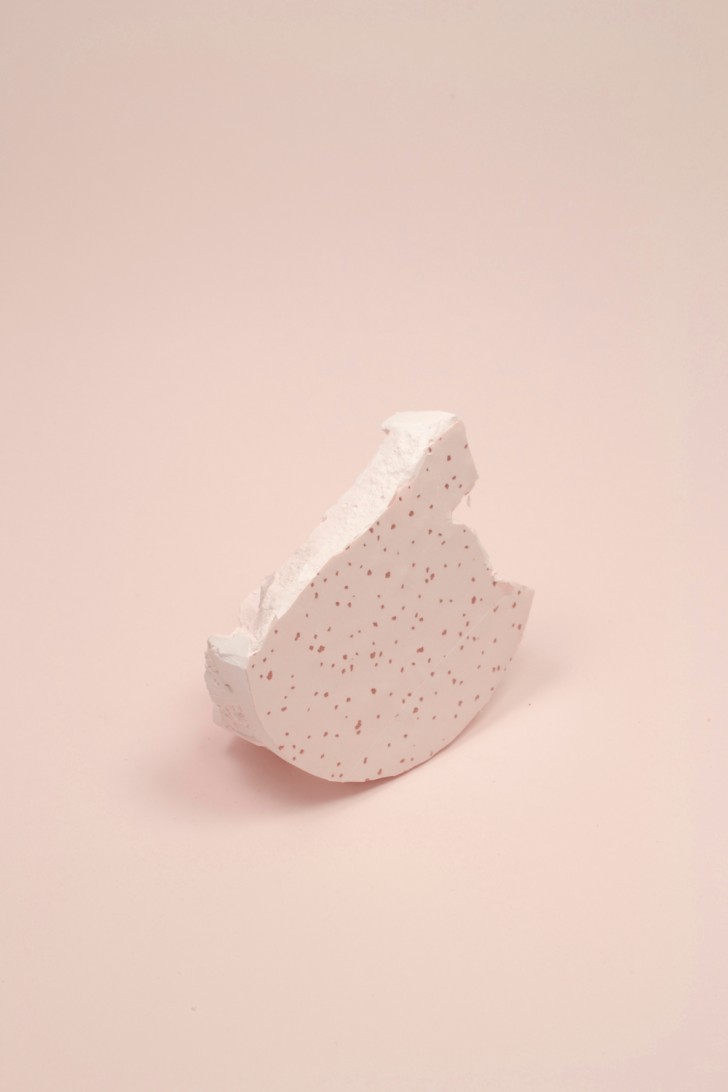 Though Mist Gallery is technically based in Richmond, Virginia, its exhibitions, featuring emerging artists, exist solely online. The gallery's current exhibition "This is What is Not," is on view until the end of the month, and includes this lovely archival print by Portland, Oregon–based Clay Mahn.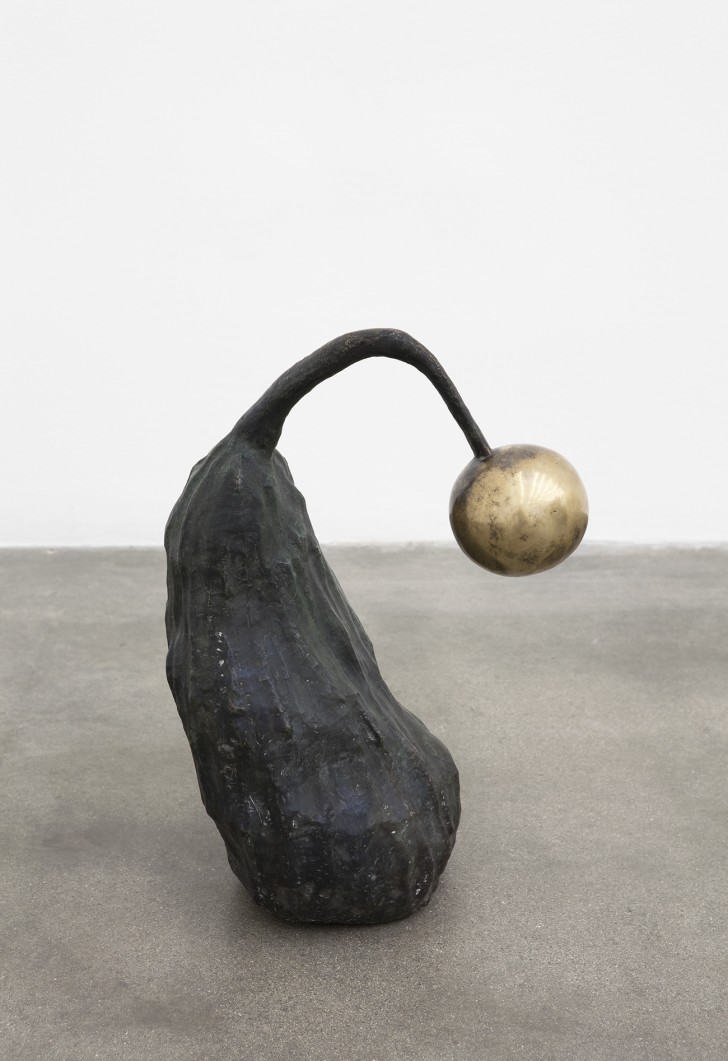 We were at first tempted to show Su Wu's awesome Instagram of the installation-by-crane happening for Alma Allen's first solo gallery presentation in LA, which opens tonight at Blum & Poe. But then we saw the pieces themselves and had to share. "Many of Allen's new sculptures, made of marble, travertine, and Claro walnut, weigh several tons. Despite their solidity, the works appear to undulate and vibrate, as if they are about to be sucked in or pushed out by some external force to the point of dissipation," say the accompanying exhibition notes, which also reveal a facet of Allen's work we weren't aware of: "After repeated injury from obsessive over-carving left Allen unable to use his hands for extended periods, the artist built a large-scale robotic system out of spare assembly-line parts and developed its proprietary software as a mechanized extension of hand carving. The feat of engineering with emerging technology, rather than relying on third-party fabricators, allows Allen to continue his devotion to immediacy and reckless intuition in the creation of labor-intensive sculptures." COOL.