03.02.16
Colorful, Geometric Designs by a German Studio On the Rise
Though Julia Mülling and Niklas Jessen of the German studio Schneid consider themselves makers of all things — from textiles to furniture to the amazing, stackable dishware set above — it's lighting that fills the majority of their portfolio. Creating a lamp, they say, "feels very free, almost like making a piece of art — where you don't have to follow the rules like when you design a chair." So it's no wonder that when we ask who their influences might be, they don't first cite Ettore Sottsass or some other member of the Memphis Group who could have inspired their colorful, totemic Junit series, but rather light artists like James Turrell and Olafur Eliasson. "When you see their art, you realize how affected you can be by the use of light and color," Mülling says. "That's very inspirational to us. We emphasize the kind of minimalist, geometric forms that originate from a German design tradition. But despite that, we also love to use color to create a mood or atmosphere."
Schneid's expansive approach might be due, in part, to the couple's multidisciplinary backgrounds — Jessen trained in architecture and carpentry while Mülling studied literature before realizing her passion for art, photography, and design. The couple met in 2011 and soon moved to Lübeck, Germany to form the company. "There is a certain harmony and naturalness between us that makes it very comfortable to work together," Mülling says. "But due to our different backgrounds, we also have different views, approaches, and knowledge." What this translates to is a collection of objects that draw from different eras but share the same essential DNA, with a commitment to sustainability and to the idea that users should have a bit of fun with the things they choose to put in their homes. We recently caught up with the young couple to find out more.
Describe your most recent project and how it was made.
Our most recent project is the Junit light, a modular pendant lamp that consists of eight different elements. The units are turned from high-quality ash wood and painted in a German workshop, not far from our own studio. The elements of the Junit series come in a natural, clear finish and each in a different color. The bulb complements the colorful lamp with its oversized, milky glass that produces warm, ambient light. To complete the individual look of the lamp, the user can choose from eight different textile cable colors.
We created five versions of Junit lamp, according to our own aesthetic and sense of form, that are available as curated variants. By combining the archetypal forms, the lighting takes on a new meaning that can evoke the memory of the viewer. The curated variations of the lighting are a perfect example: The "Column" lamp, for instance, is reminiscent of ancient columns — the colors, blue and white, encourage this association by reminding of the Greek national colors. 
The lamps invite users to play with the elements, and, by using their own creativity and interacting with the units, the user experiences the product in a different way — he relates to it and thereby gives it a personality. This way, the interaction between man and object enables not only an experience of independent creation, but also the integration of a product in the home, to which the user has already established a relationship.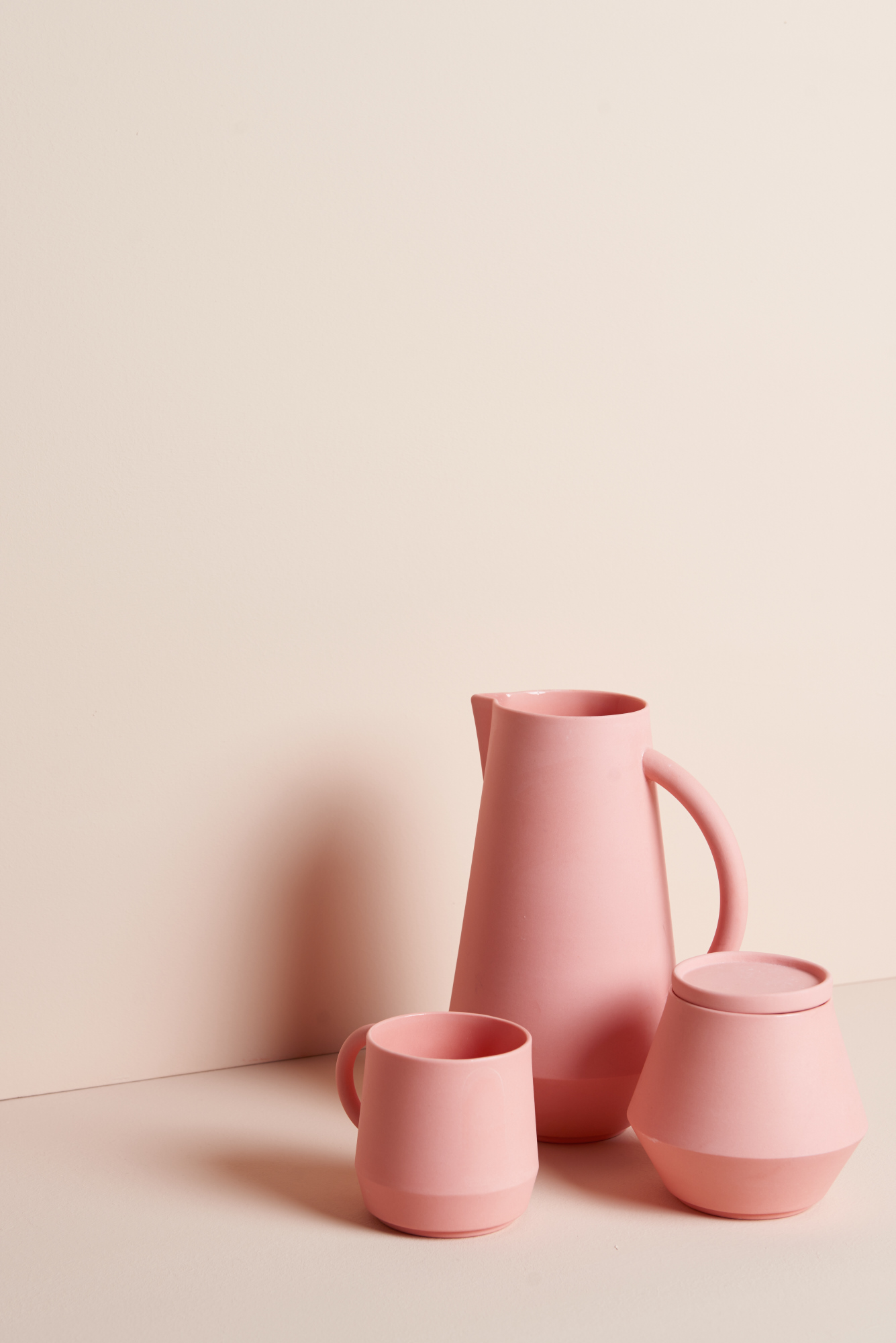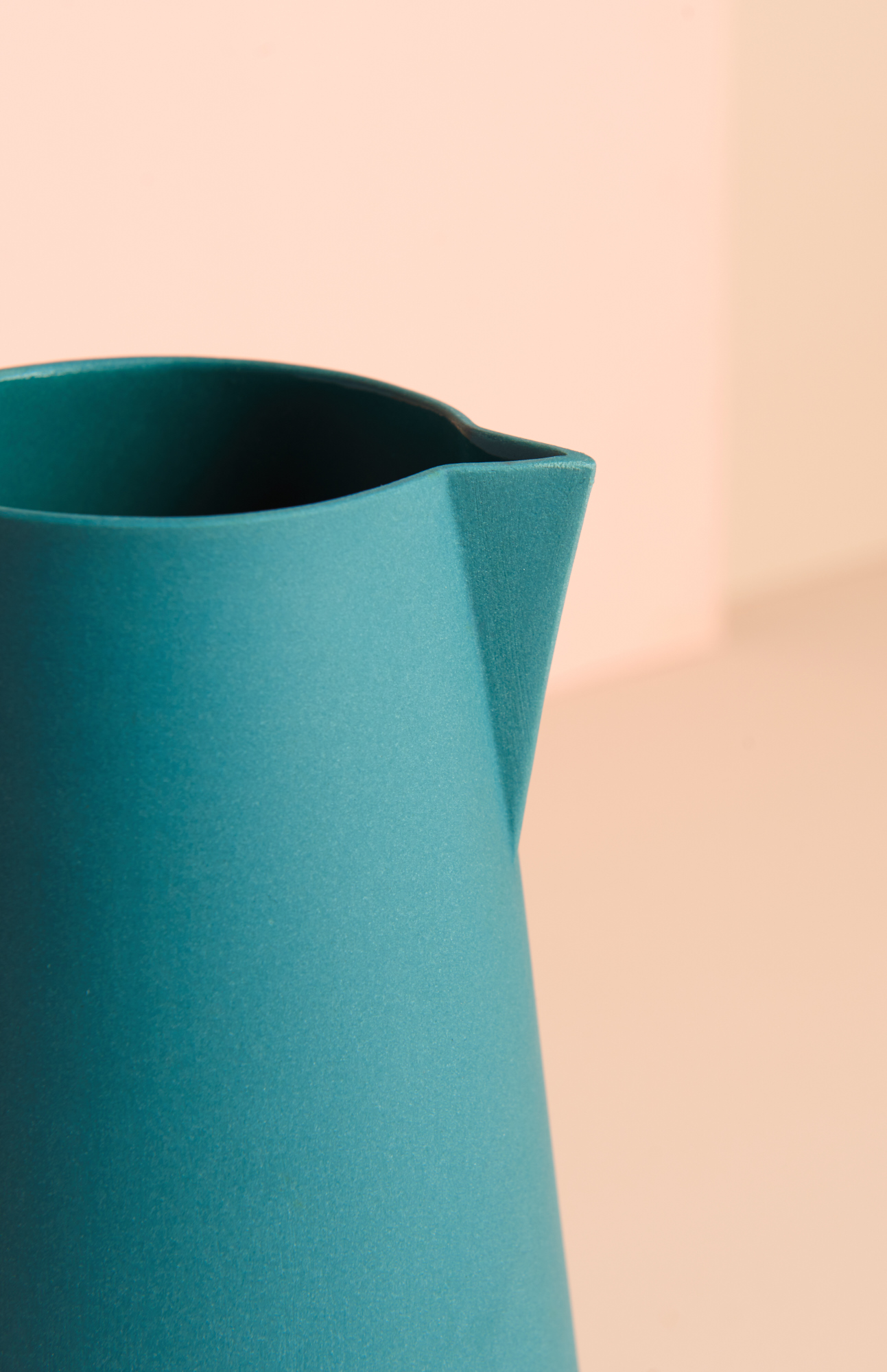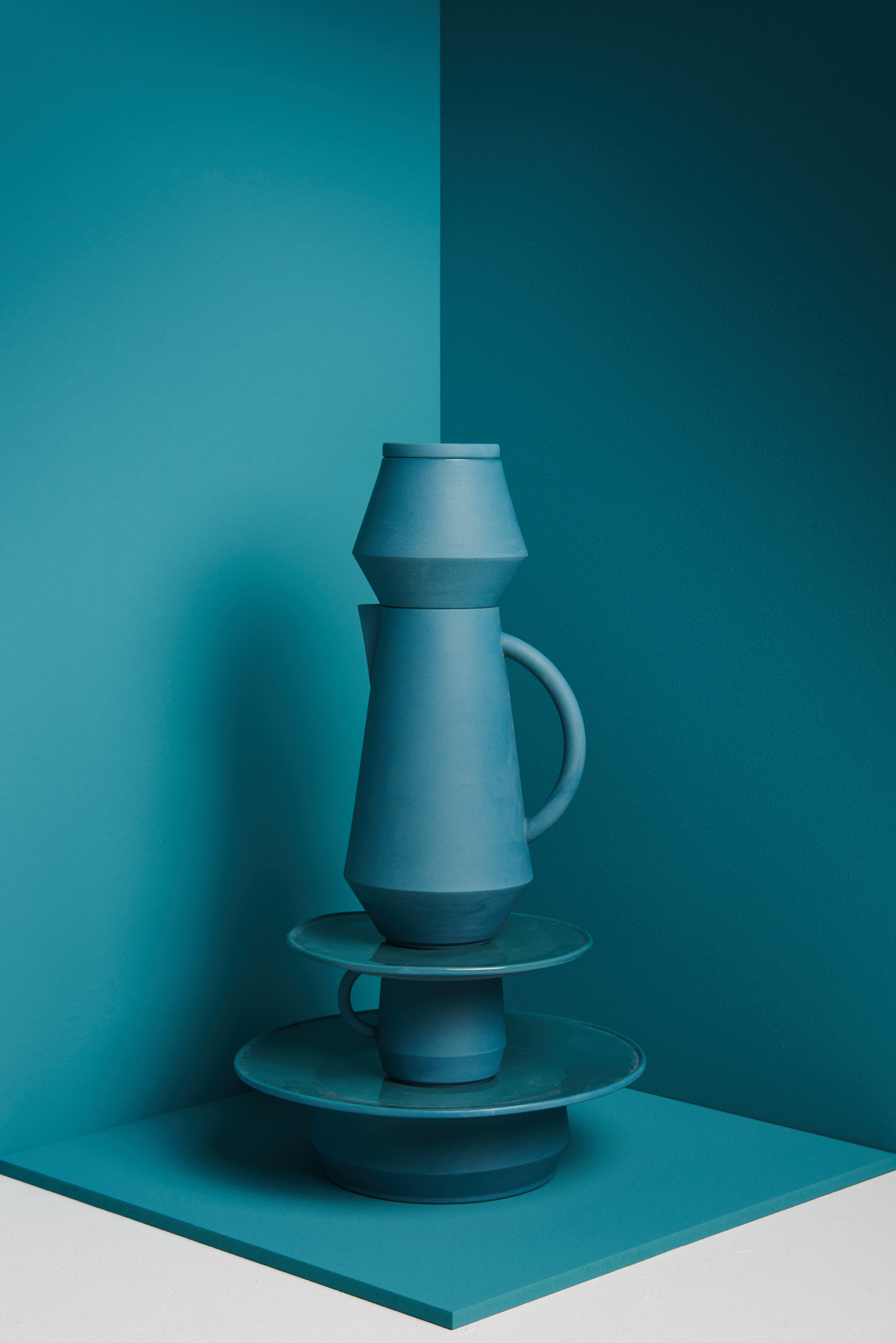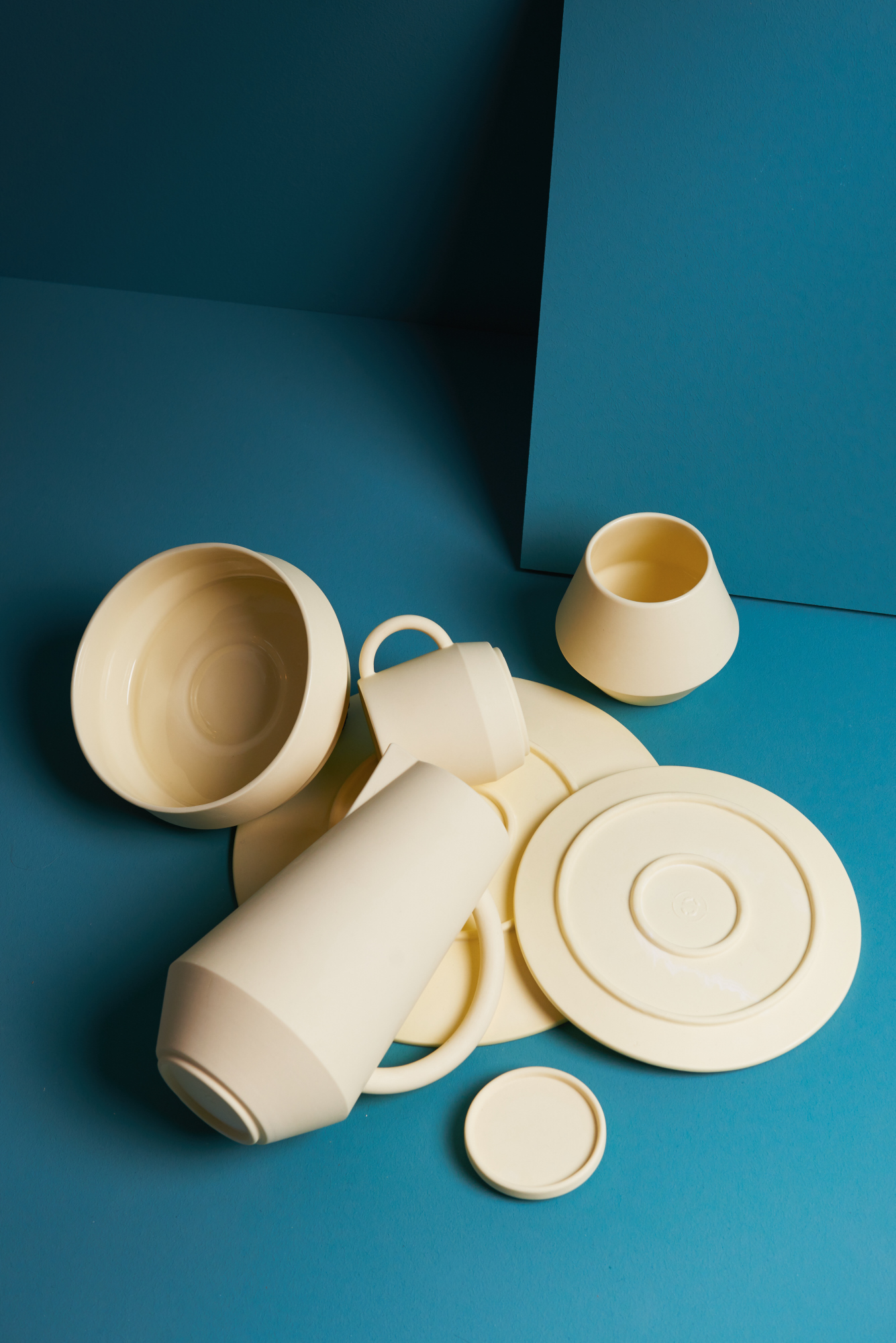 Describe your next project and how you're currently making it. 
The Unison set is a porcelain tableware collection with seven different pieces. It consists of a coffee pot, big and small plates, soup bowl, sugar bowl, cup and a cover piece. The porcelain is stained with color pigments and available in five special colors, all mixed by hand in a local workshop. Only the inside of the pieces are glazed; the outer surface is untreated and raw. All parts of the collection are stackable and fit into each other. This way, the elements can be combined as desired to form a striking and artful object.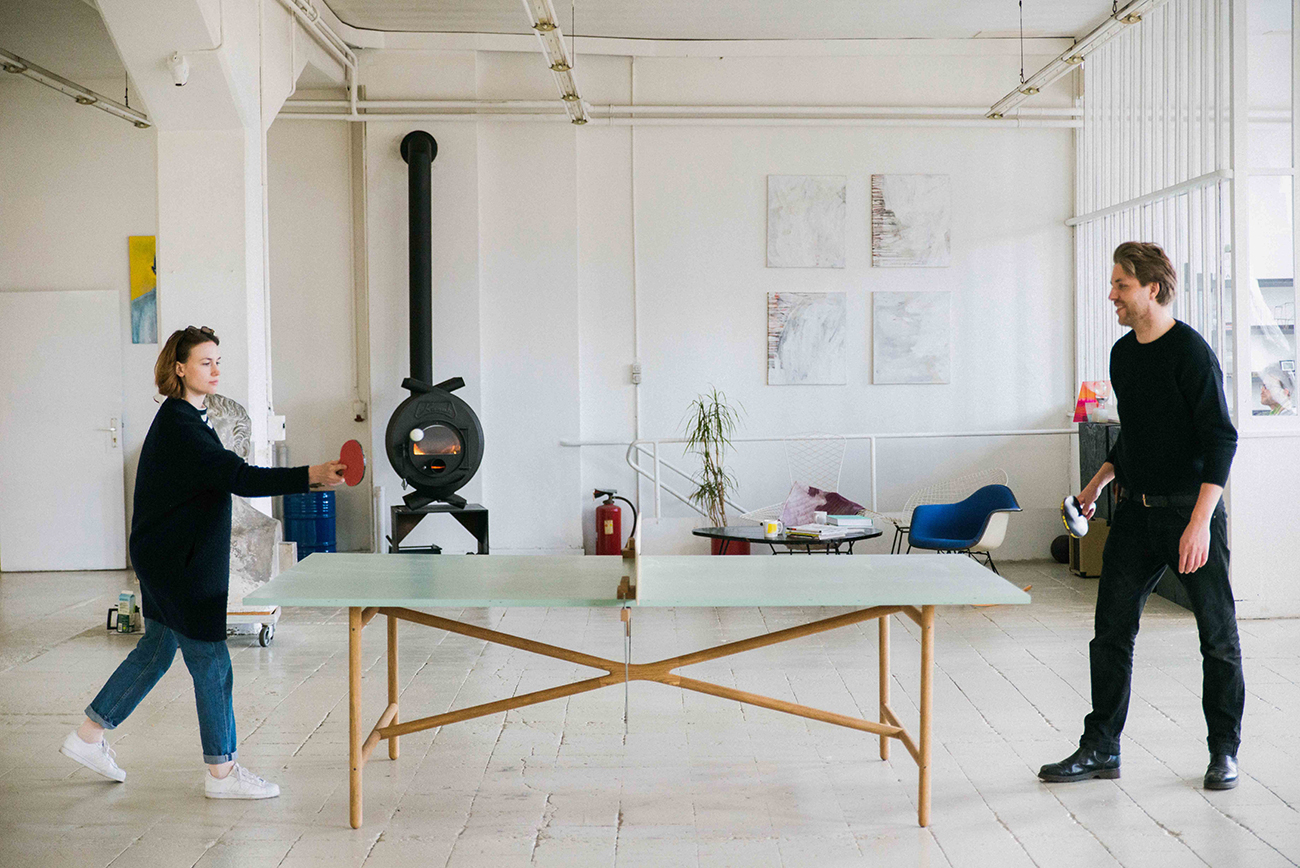 Tell us one thing that's been inspiring you lately and why.
As we have a little baby now, we can say that this little person is the most inspirational thing we have ever experienced. She has opened a whole new world to us and is of course influencing our work in many ways. Our everyday working structure has totally changed; we spend less time together in our studio with our employees. But this means we are more and more mixing up our "free time" with talking about the studio, the designs, and new ideas and concepts, moving our business discussions to the outdoors, when we take walks with our baby in the baby carrier. These carefree conversations in nature are very inspiring to us. 
But there is also the way she watches and contemplates everyday things for a long time and discovers every detail of it. This makes us wonder about these objects as well and inspires us to rethink them from the ground up. Sometimes this is a very helpful approach and starting point for a new design concept.
Show us your studio and tell us what you like about it.
Our studio is located in Lübeck, a historical city with a harbor that was very important in the Middle Ages, but also in the era of industrialization. Our studio is located in this old industrial zone of the city and has a very historical character as well, since it was built in 1873 and intended as a training workshop for the metal industry. It is a great coincidence that Julia's great-grandfather once was a trainee in this place. 
We restored this 4,500-square-foot factory building last year and have been working in this space since October 2014. As a design studio, we were very lucky to find this space because we discovered great furniture — like workbenches and cabinets from the old workshop — that we could easily restore by giving them a fresh coat of paint. But we also felt that it was important to keep the original spirit of this space, so we renovated all of the beautiful old windows and didn't simply exchange them for new ones. It was our aim to have a big, open, and bright room, where we would be able to work and to spend our free time.
The size of the building is another great feature — it makes it possible to have everything we need together in one building. We have our workshop next to our kitchen. When we go upstairs we can relax on our roof terrace. This way, our workspace serves not only as our office, but also as our workshop, photo studio, showroom and warehouse. Every member of the Schneid team works in this building — the product designer, graphic designer, dispatcher and employees in the workshop. So we can work very closely with our team of young and creative people, and also spend time together while cooking in our kitchen for our lunch break.