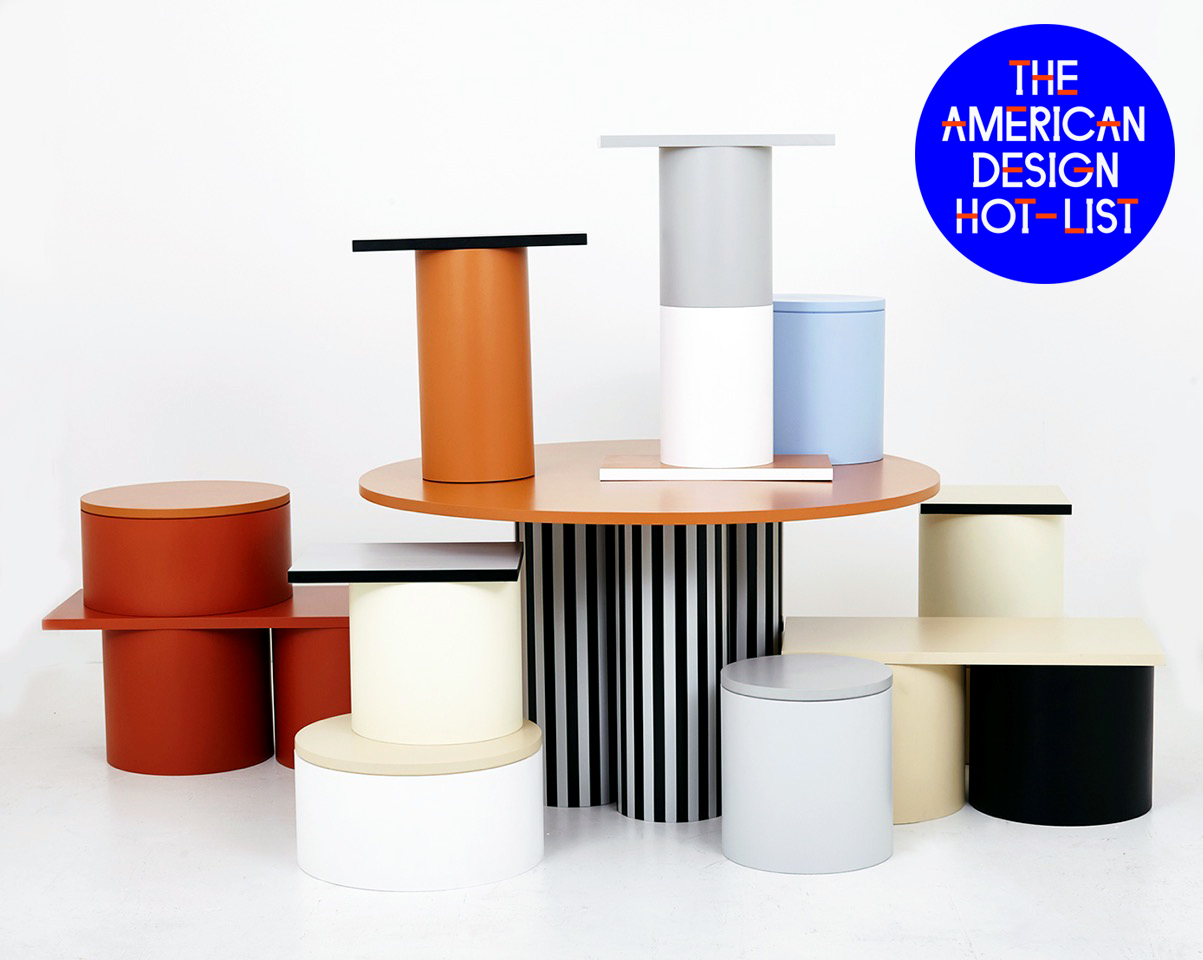 This week we announced our 2016 American Design Hot List, Sight Unseen's unapologetically subjective annual editorial award for the 20 names to know now in American design, presented in partnership with Herman Miller. We're devoting an entire week to interviews with this year's honorees — get to know the first four Hot List designers here, then hop on over to our Pinterest, our Instagram, and Herman Miller's social media accounts for even more coverage.
Ana Kraš
New York, anakras.com
The Serbian-born model and photographer, who moves back and forth between design and art, is the author of one of our favorite collections to date, the Slon collection for Matter Made. A new collection in metal and laminate is in the works. 
What is American design to you, and what excites you about it?
When I think of American design, the first thing that comes to my mind is Frank Lloyd Wright and Frank Gehry. When I think of America I think of the large scale; I think of architecture.
I see contemporary American design as a mix of international influences because of all the people who brought those influences with them to America. And that's what's most exciting about it at the same time.
What are your plans and highlights for the upcoming year?
I'm very happy about a few projects and collaborations that will be launched in the next year. I like to keep it secret until its ready. Lately I've been working on glass and laminate pieces and I hope to explore that more in the next year. I'm very curious about applying laminates to glass surfaces.

What inspires or informs your work in general?
Architecture is what inspires me the most when it comes to shapes and volumes. By that I don't mean only the masterpieces of the greats; what's even more inspiring is vernacular architecture in different places in the world. I grew up in Belgrade, Serbia, and architecture was always my big influence. There is a lot of freedom in architecture in that area of the world. People build things that are easy and inexpensive to construct and so they come up with very interesting decisions that result in very unusual shapes and finishes. There are a lot of Communist Brutalist buildings there, which I love, but there's also a human touch to it because people there tend to freely alter their homes to nurture their needs. So one would add a wall to the terrace and paint it apricot, another one would add a reflective bronze glass to it, the third one would plant a mini garden, so the facade ends up looking like a patchwork.
When I traveled to Haiti last year, I was blown away by the metalwork and fences there. I couldn't stop staring at them. They make these fences that are full of geometrical ornaments and they put them on terraces, too, so the fences overlap and make this beautiful mesh of very graphic patterns on top of each other. It inspired a big series of my drawings.
Visiting Brazil, I was mesmerized by subtle design choices in architecture — tiles, use of stone, column shapes, brown glass — all that in simple residential buildings. I could go on forever. Each place I visit, the first thing I stare at is the architecture.
ASH NYC
New York, ashnyc.com
The up-and-coming interior design firm — run by Ari S. Heckman, Jonathan Minkoff, and Will Cooper — has quietly been developing an impressive furniture collection, marked by clean, almost Shaker-inspired lines (like their Marbicle side table, above!)
What is American design to you, and what excites you about it?
Will: American design, to me, is really about fusion. We are a country that is defined as a melting pot of culture — and our design is an extension of that. We don't really have a set of rules to abide by or norms to adhere to; the influences come from places near and far. I do think we are a derivative culture and that is okay. Design today is both reactionary and derivative, with nuances that are relevant to culture as it stands now. Access to so much imagery via the internet, social media, etc. has made it increasingly difficult to be unique. On one hand, we have the most unabridged resource at our fingertips, but on the other, the over-saturation of information blurs the line of research and knowledge vs. observation and regurgitation.
What excites us about American design is that it offers endless possibilities. There's more than one way to skin a cat. We typically design out of necessity as opposed to designing for the sake of designing. The brief or problem presents itself in a project and we as a team tackle that and design from there.
What are your plans and highlights for the upcoming year?
We have a lot of projects coming online in the coming year, which is very exciting. Our second hotel (following The Dean in Providence, RI) will open this summer in Detroit, MI. It has been a labor of love for the past two-plus years and we are excited to show everyone what we've been working on. It will have 106 rooms and four unique food and beverage spaces developed and designed by us.
We also have a very cool private residence coming to the eyes of the public next year — over three years in the making with the most wonderful client. It was a full gut renovation and design of a beautiful space in an infamous neoclassical building from 1927 on the Upper East Side.
The last highlight we will share is the launch of several furniture and lighting pieces we have been working on for the past couple of years. Seeing as we have so many different disciplines under one roof, there is never a perfect time to launch something new. Alas, we are going to finally bite the bullet and share some new design pieces that will be for sale through us and select stockists.
What inspires or informs your work in general?
I always give them same answer for this: travel. It is a way to clear my head and make room for new ideas and influences. I am very fortunate to be able to travel abroad and see what other facets of the world are doing. Europe, in particular, is so old and storied that no matter where I find myself, my mind is racing and cataloguing everything I see and translating how it relates to what we are working on. I recently got back from a tour of England, Italy, France and Belgium and my head was spinning with fresh ideas as soon as I set foot in London. In today's world, design is really a global enterprise and playing ball on the international field is an important part of what keeps our practice inspired and moving forward. There is something in the way that Europeans design that has a sort of nonchalance that doesn't exist in the US. We are so constricted by code and regulations that the nuances that exist and are allowed in Europe don't translate here. It is a constant struggle to artfully circumvent those structures and allow for a little chance to inform our design.
Bari Ziperstein
Los Angeles, bzippyandcompany.com
In both her design and fine art practices, Ziperstein is constantly reinventing what a piece of ceramic art can, and ought, to be.

What is American design to you, and what excites you about it?
To me, American design is about a focused moxie to break rules in terms of scale, material choices, and stretching new outlets to sell or display one's work. Having the ability to move between the fine art and design worlds (or the space between design, art, craft), where materials that are traditionally functional have a different use, value, and output. With a conceptual education at Cal Arts, rather than a traditional ceramics technical background – my investment in ceramics is less weighted in showing off technical tricks. Rather it's about creating a new ceramic silhouette with unexpected processes that excites me.
What are your plans and highlights for the upcoming year?
I'm working on my next collection of large-scale pottery, with a continued investigation into terracotta, rope, and scale, and I'm participating in Rachel Comey's ceramic event in both Los Angeles and New York City, opening December 5 through the new year. A few projects are still in the planning stages including several hotel and restaurant commissions.
This upcoming year I have a solo museum show at UCSB Museum of Art, Architecture, and Design. It will be my first solo show in more than four years, since distinguishing between my fine art practice and my editioned design works. "Fair Trade" consists of new work related to communist propaganda I researched while at the Wende Museum, a repository of Cold War artifacts. Using posters and ephemera as my starting point, I'm creating a dynamic installation that brings together a series of ceramic sculptures — vessels and decorative panels — that borrow from, and manipulate government-sanctioned images of women. These works form part of a faux trade show booth, which is based on specifications for Soviet Russian public information displays and industrial fairs. Complementing the installation are Soviet propaganda posters on special loan from the Wende that inspired portions of the project.
What inspires or informs your work in general?
The transformation of clay and testing its technical limits informs so much of my practice, from testing how to make a flat 28-inch ceramic slab to making a three-foot leather embossed image with equal pressure and consistency. With both practices, the experimentation of combining soft woven ropes with hard ceramic materials has been an ongoing point of inspiration — a collaging of sorts. I have an ongoing interest in Brutalist architecture, Soviet propaganda posters, and this primitive futurist style of terra cotta raw pottery. Artists like Imi Knoebel, Patti Smith, Marimekko, Robert Irwin, Moira Dryer, Marisol Escobar, Otto Lindig, Eva Hesse, and Superstudio are always sources of historic moxie.
Bianco Light & Space
Millerton, New York, biancolightspace.com
Anthony Bianco's glass work — which encompasses sculpture, lighting, and functional art — takes shape under the influence of a range of sources, from Italian Futurism to the beauty of the Berkshires.
What is American design to you, and what excites you about it?
I think American design has yet to be clearly and fully defined. So many of my contemporaries have taken the role of either being the designer/maker/artist or as the designer of mass-produced goods. The historical separation that has existed between mass production versus studio practice seems to be evolving into a more ethical and moral approach to theory practice and production.
Maybe one not-so-different precedent is the makers from the Arts and Crafts Movement of the early 1900s, where the value in craftsmanship, the handmade, and the beauty of natural materials were paramount. These makers rejected the forms of mechanization that diminished the quality of their livelihoods and trade. During the Studio Glass movement in the early 1960s — with the advent of the small-scale glass blowing furnace in 1962 — glass which had only been previously accessible through European factory settings now became available. For the first time ever the artist/designer could also be the maker of glass without the factory as an institution.
American design today represents a shift from the industrialized form of making a product in a large scale to sourcing and producing work locally and in small quantities. To me the value of supporting the local economy is essential in addition to keeping handmade traditions alive while working in a studio setting.
What are your plans and highlights for the upcoming year?
Producing large-scale glass sculptures in addition to introducing handmade furniture to my product line.
What inspires or informs your work in general?
I am inspired by having my own studio, having the ability to work with unique chemistries for glass making, the mold-making process, the endless possibilities of working with shapes and forms, manipulating light through the medium of glass, and most importantly to hone my skills as a glass maker on a daily basis.




The 2016 American Design Hot List is presented in partnership with Herman Miller, a company known for partnering with burgeoning design practices to create industrial design classics. Having collaborated with designers including Ray and Charles Eames, Alexander Girard, George Nelson, Yves Béhar, and many others, the company continues to foster relationships with new talents to explore purposeful solutions for modern living. Herman Miller believes that makers such as those on Sight Unseen's American Design Hot List provide a new lens through which to view emerging design challenges.