01.24.18
A Belgian Designer in Morocco On What It's Like to Run a Global Brand Via Instagram
When we initially found Laurence Leenaert's modern textiles and accessories line, LRNCE, we thrilled to the designer's eye for modernity, suffused with a sun-kissed nonchalance that feels retro yet worldly. Working from the center of a medina in Marrakech might not seem like the most straightforward way to achieve international acclaim, but with an aesthetic that walks right up to an Anthro catalog, then takes a sharp left towards Picasso, Leenaert has done just that. After studying at KASK in Ghent, Belgium and interning for the fashion label Bless in Berlin, Leenaert decided to strike out on her own, initially working on a line of bags. Her designs have progressed quickly, from emphasizing lines and grids to embracing more abstracted, almost anthropomorphic forms that cover everything from textiles, carpets, and pottery to kimonos and sandals. An artist at heart, Leenaert's own drawings and compositions inform many of the designs she puts into production (a new addition to her line of mirrors is simply called "blurred shape.") We caught up with Leenaert in her showroom-cum-studio to find out what it's like to run a global brand via Instagram, how she stays inspired, and why she can't imagine being anywhere else.
PHOTOS BY BASTIEN LATTANZIO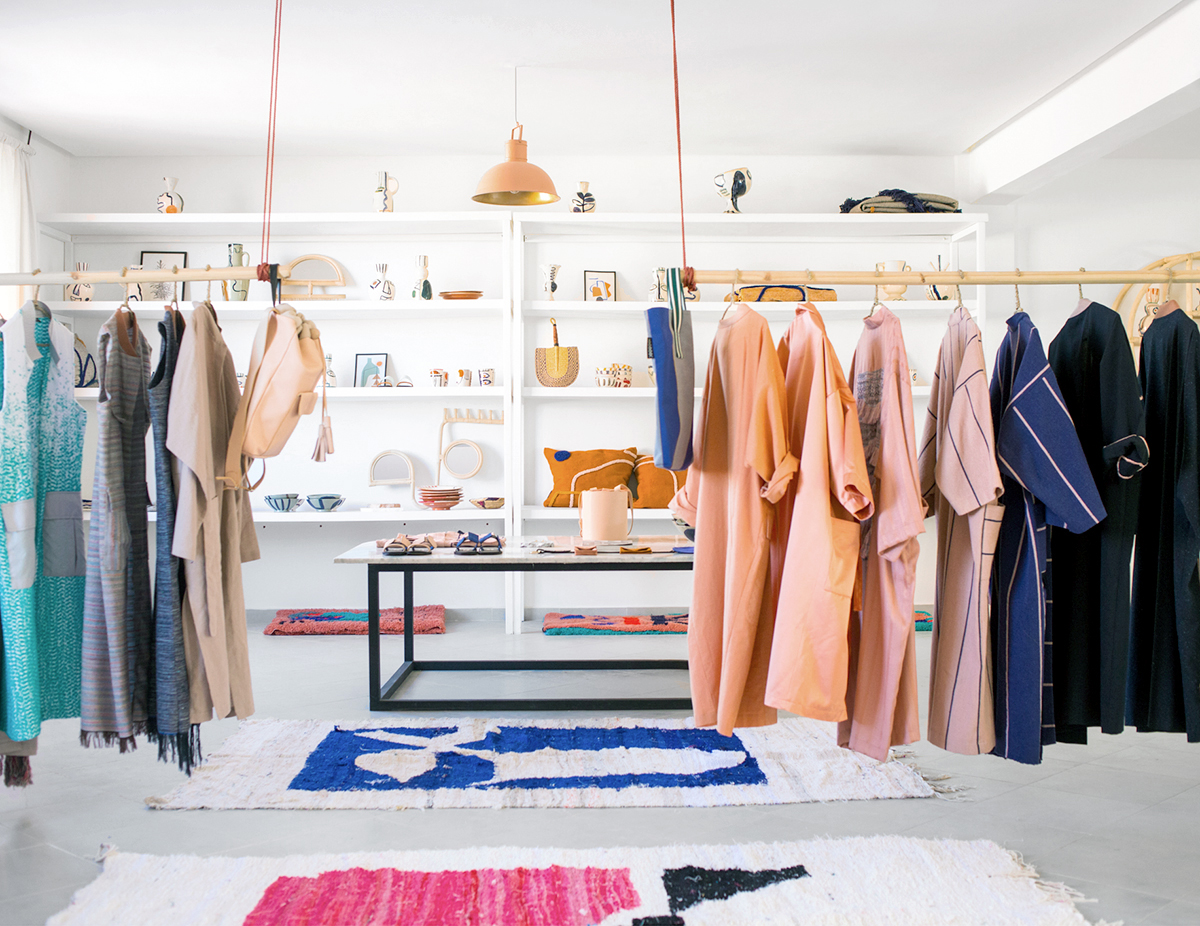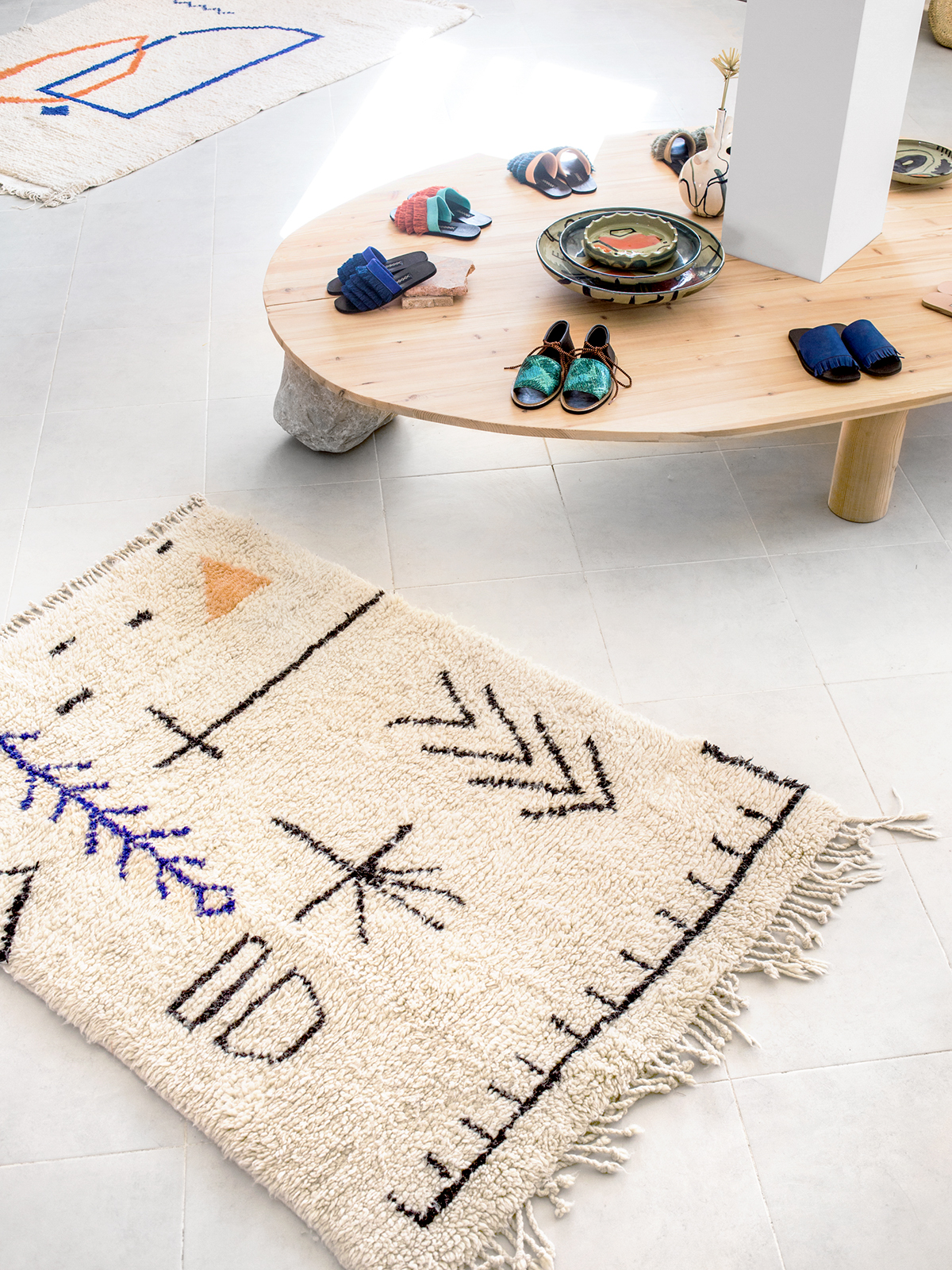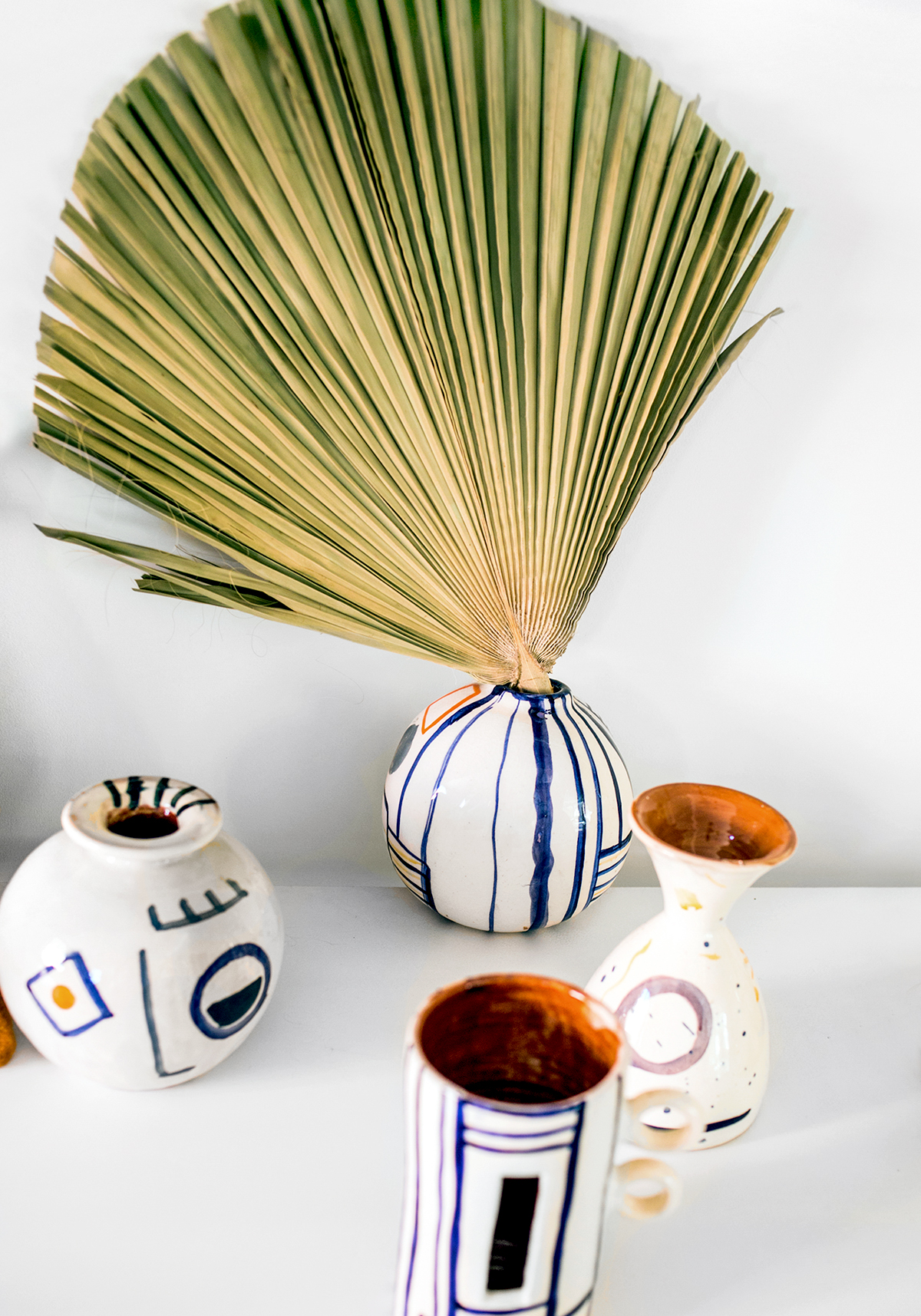 You started your label in 2013. How did you initially get it off the ground?
After my internship with Bless, I went back to Belgium and found a studio to launch my label with bags. That was four years ago. I had a good feeling about Morocco and the city of Marrakech, so I just went for it. I thought I would design bags and work only with leather and fabrics from Belgium, but when I arrived here I saw there were so many possibilities and I could receive so much input. I saved enough money to make samples of textiles, so I could make ceramics and a carpet when I had enough. And it's grown from there.
How is it running the business in Marrakech — balancing inspiration, design, and production?
Living here in Morocco, inspiration is a natural process. I promised myself when I moved here that I would take the time and give myself the freedom to do and create whatever I feel like. Since there is now more structure to the brand with the showroom and studio, and I'm not running the brand by myself anymore, I have more time to design. But I have difficulties delegating because I want to follow up on everything myself, so I spend a lot of time on production, too.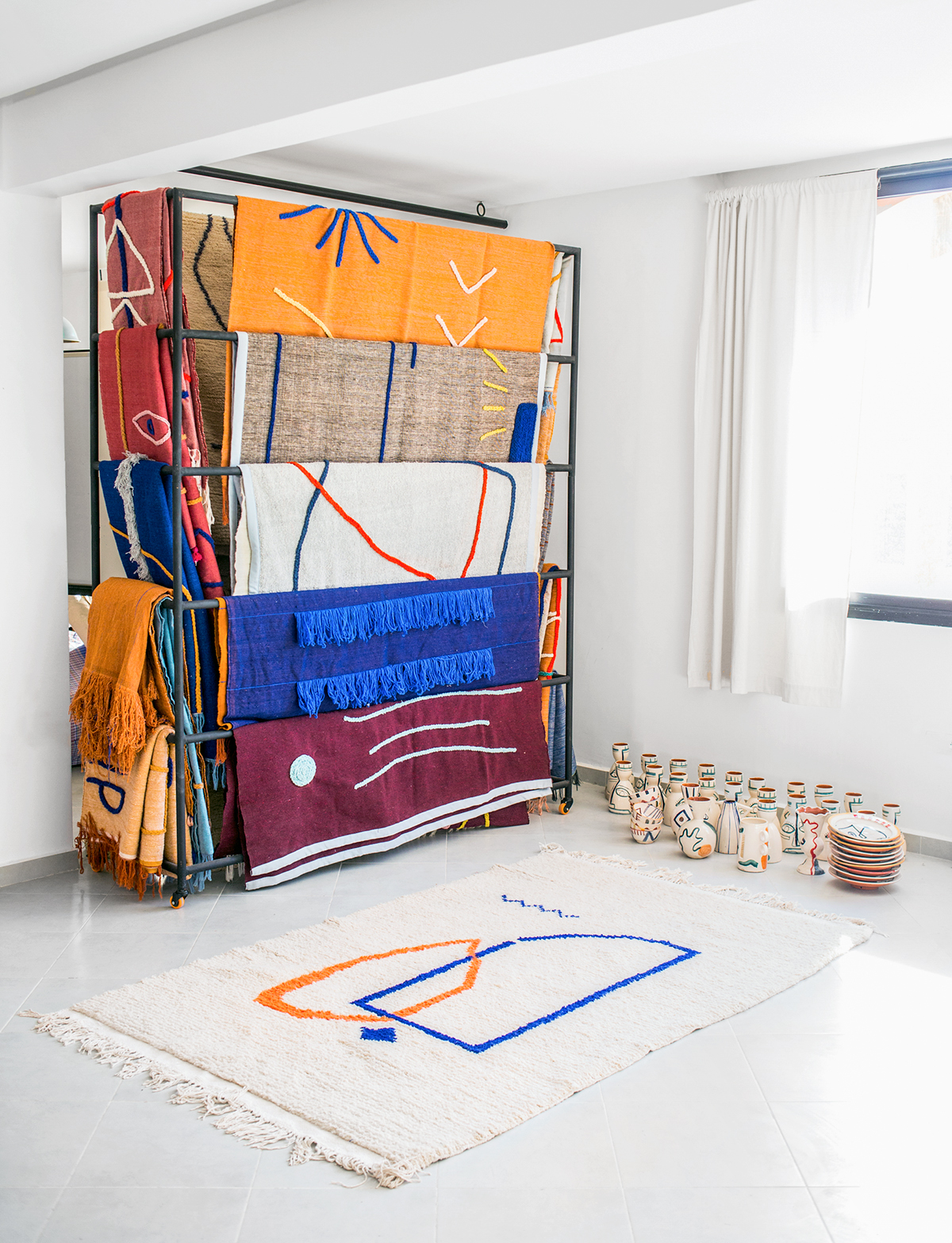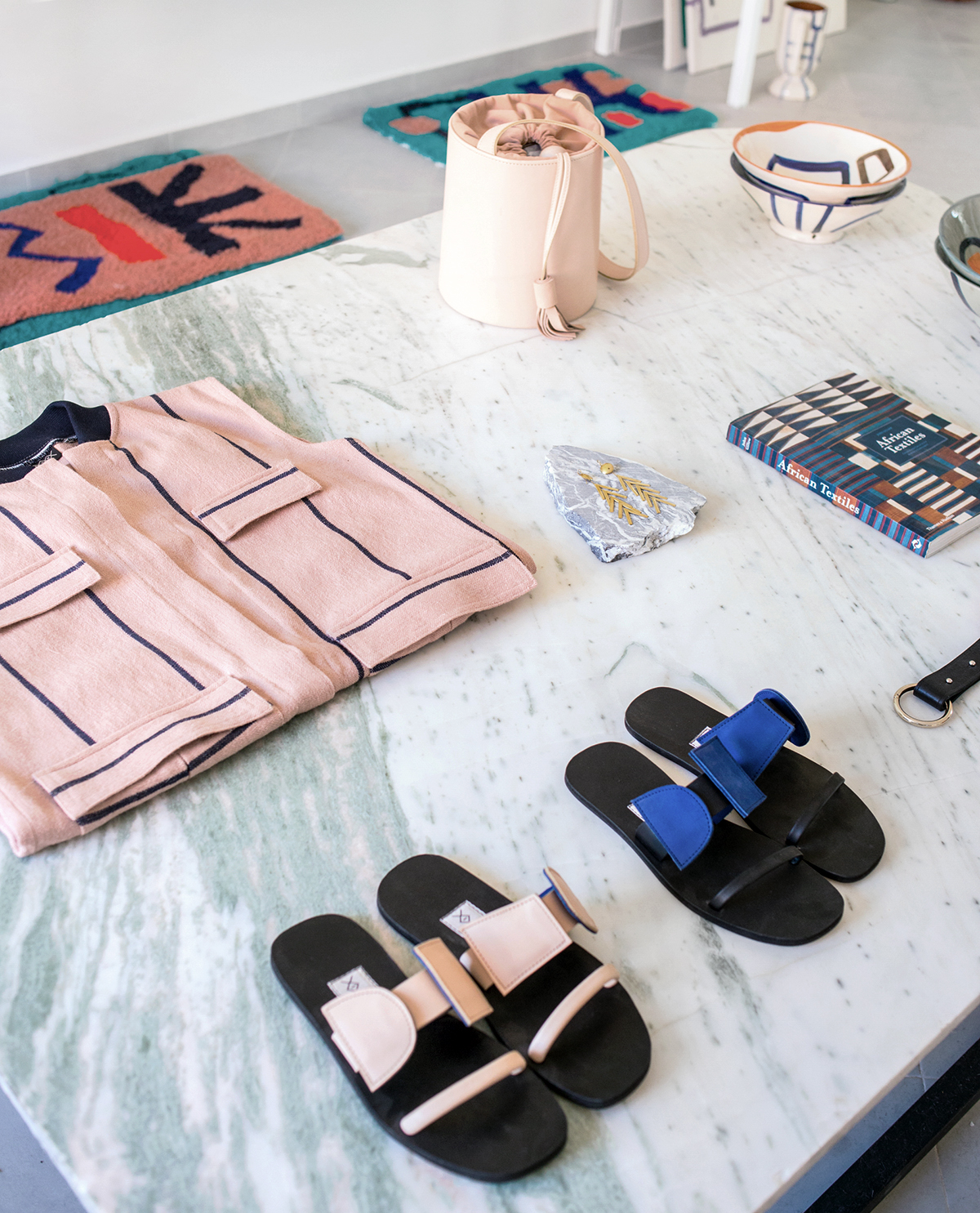 So your studio space functions as a showroom as well?
Yes, the big part of our space is our studio, where I design and organize the brand. The other part is a showroom, so we can receive people who want to get to know the brand and can buy. We have a lot of unique pieces in the studio for sale. I'm happy to see everything together in one space, from sandals, to mirrors to all the textiles. It gives me motivation to work and create more.
How many mediums do you work with in total?
My main focus at the moment is on the textiles and ceramics. Everything is connected to each other and it's great to see how everything evolves together. Working with textiles I can create sandals, blankets, pillows, clothes, and carpets; the ceramics I can incorporate into my paintings, drawings, the designs for the blankets and the prints for the kimonos. Everything is linked to each other and moves in the same direction.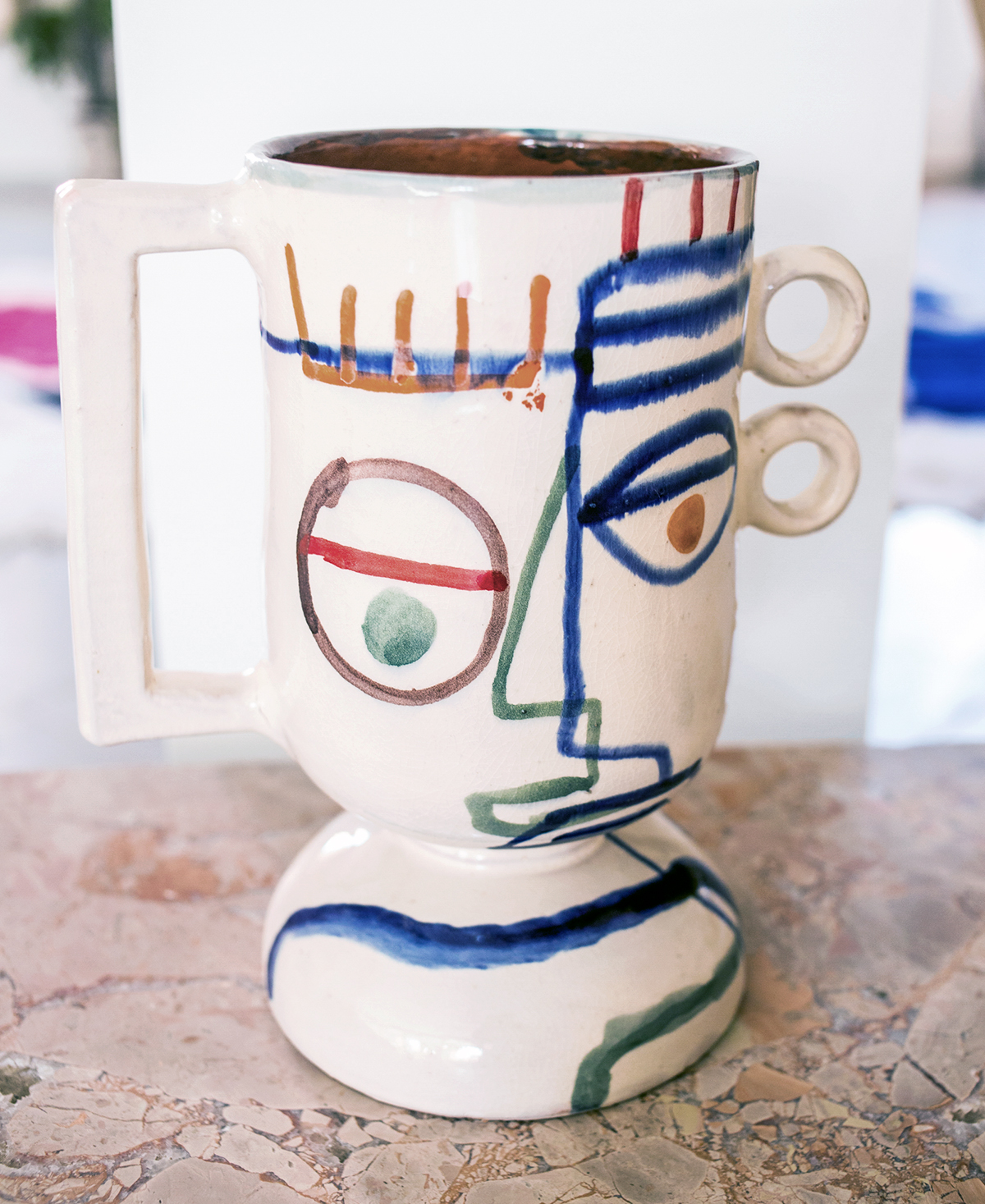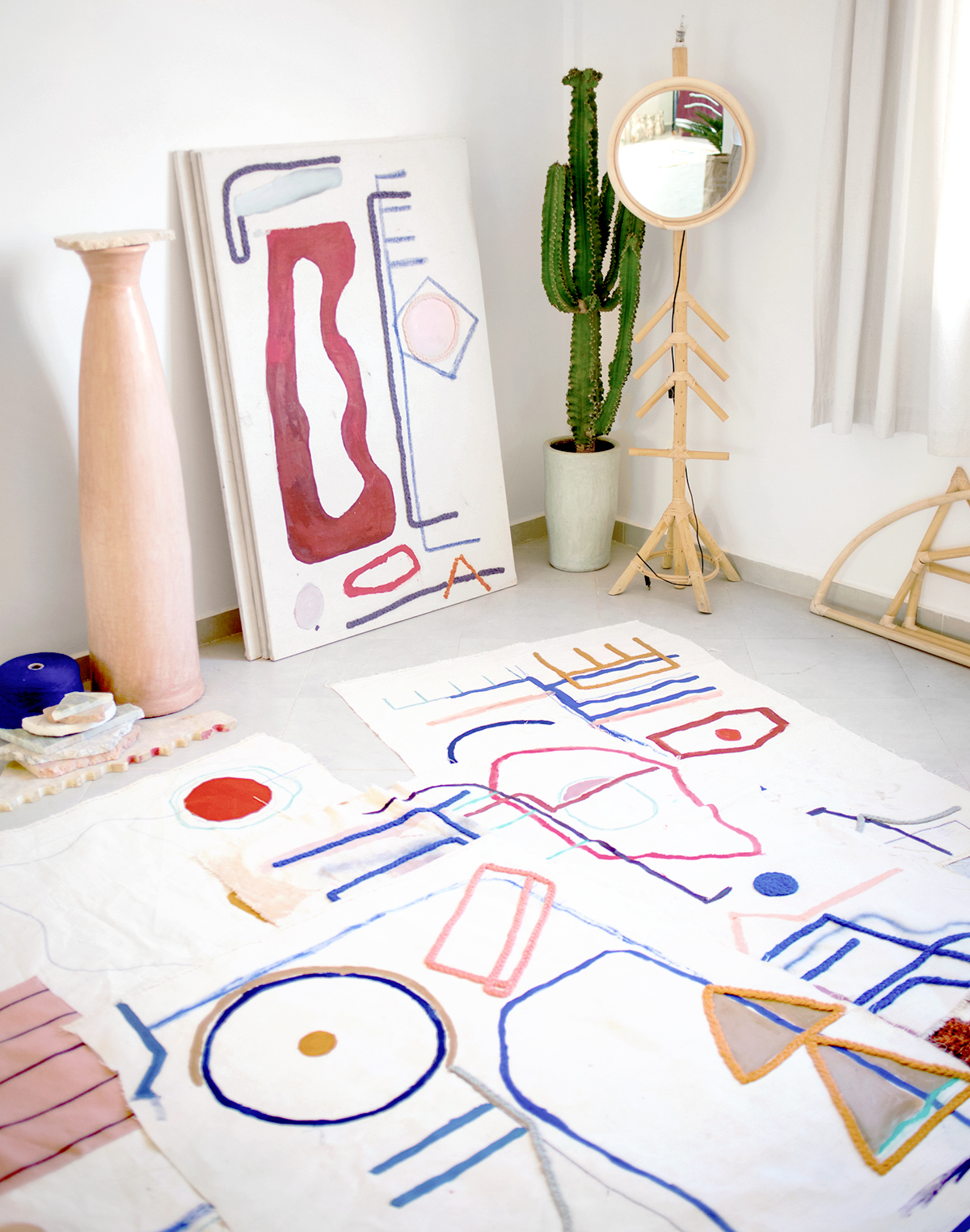 What's your process like?
I always make studies with paint, embroidery, fabrics and chalk for the carpets and blankets before we weave them. So, I have a lot of studies and drawings in the studio on paper, cotton, leather, and cardboard. I'm very bad with the computer, so actually nothing happens on the computer. But on the other side, I'm very into graphics and typography, so for this we work together with a graphic designer who takes care of the website and [business] cards. It's also an important part of the brand, I think.
How much does the local crafts community influence the work you're producing?
The difference between Belgium and here is that I'm more concentrated, closer to the manufacturing process, and more dedicated to my work. Everything is handmade and we are able to oversee even the smallest details of production. Details are very important to me and I like to be around to make things more my way. I have a lot of respect for the people I work with; they have so much patience and knowledge and they want to share it with us.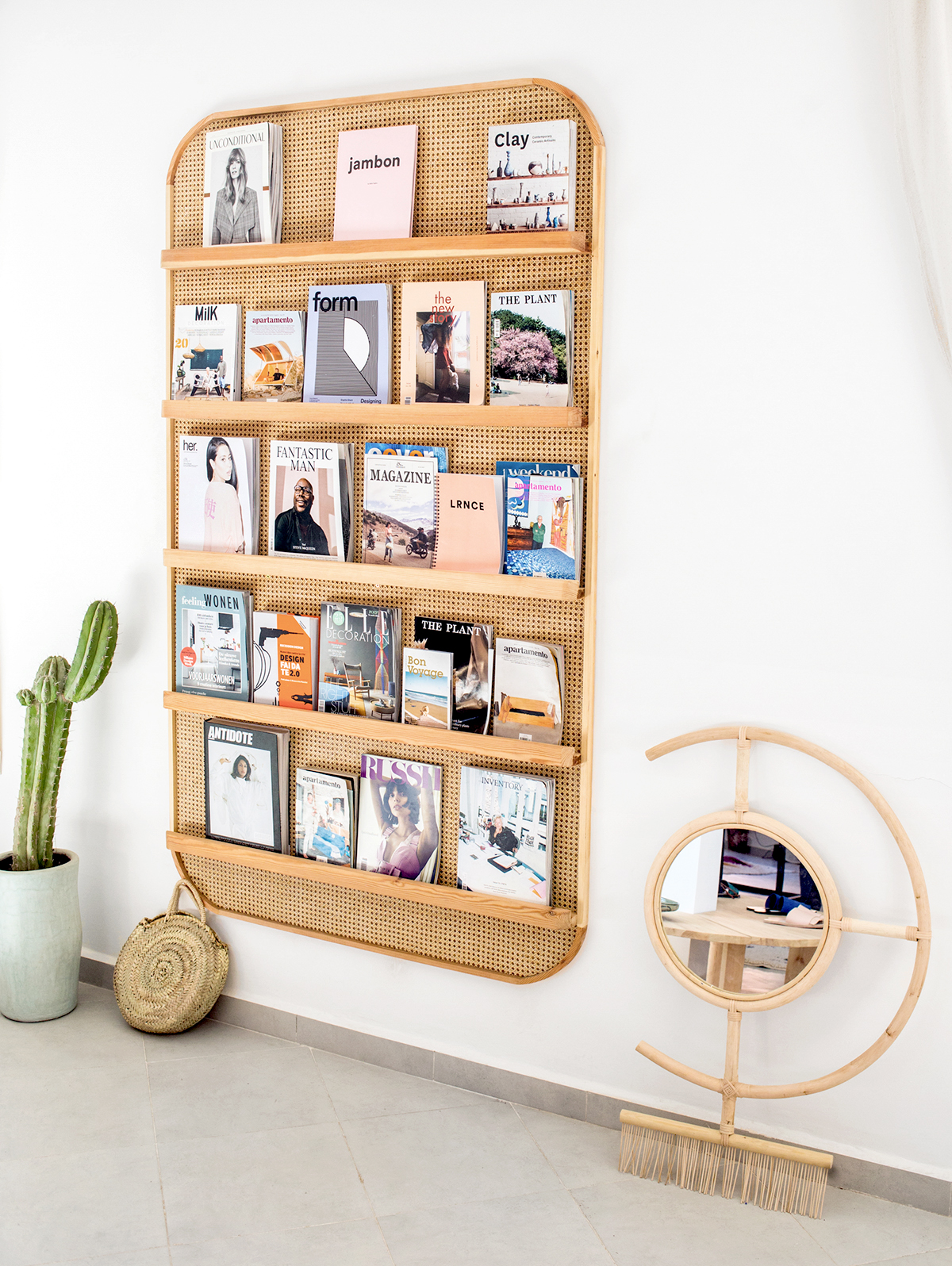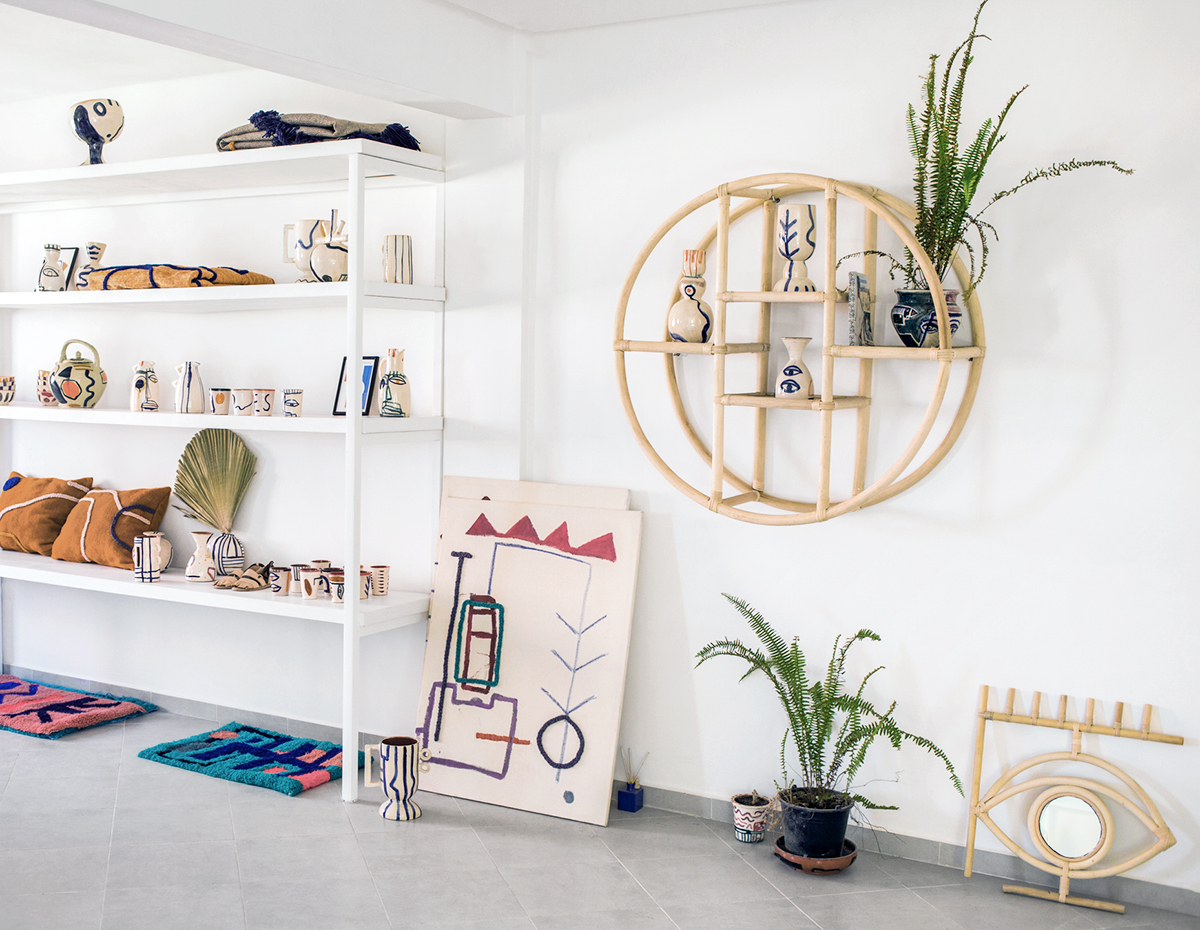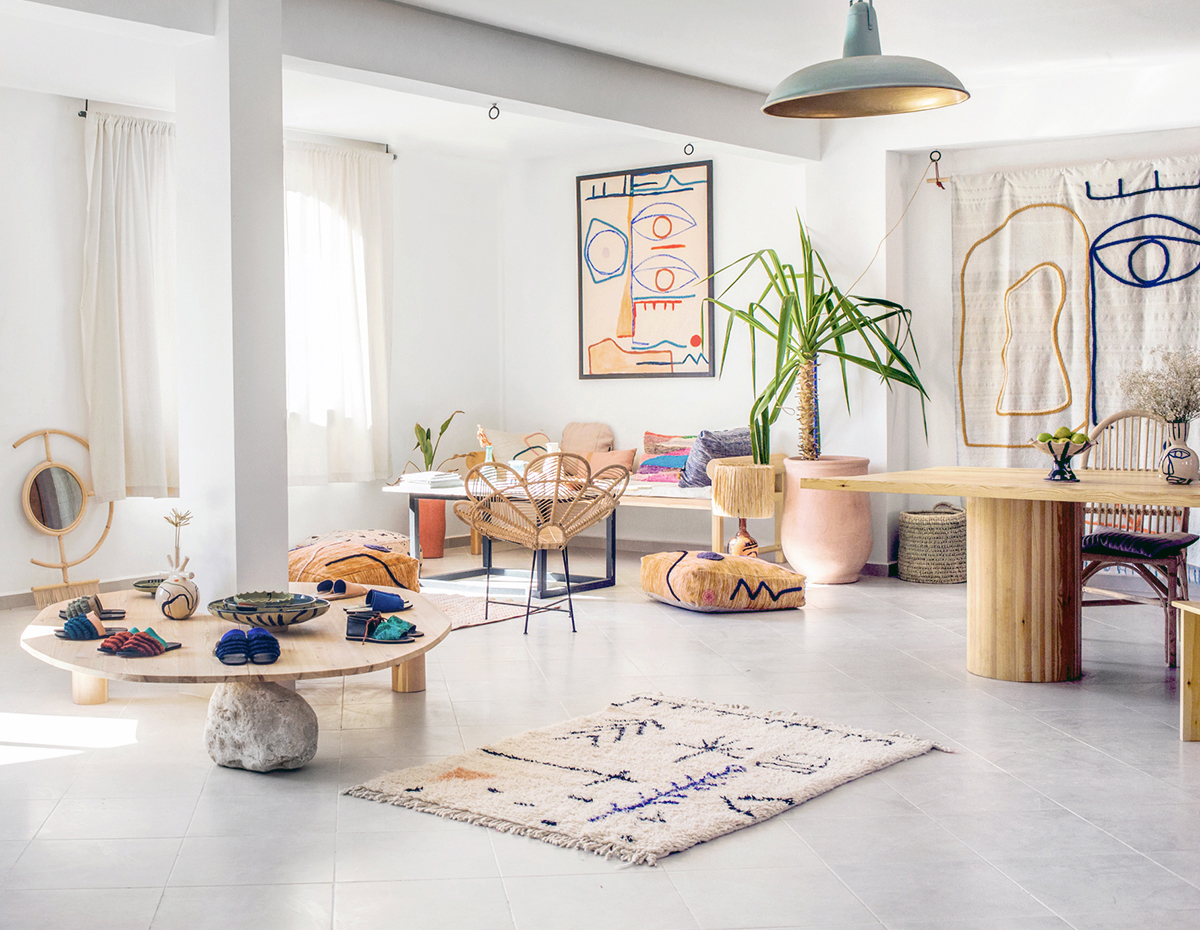 Talk to me about the mirrors. What were these inspired by? How did they get picked up by international stockists?
I met an artisan called Hicham who weaves palm leaves, working with rattan furniture. He makes beautiful things and of course after I met him I was very intrigued by him and his work.  A month later I went back to his workspace outside Marrakech with a lot of drawings and designs for mirrors. I showed them to him and we talked about how we could realize them. A month later I had the first three mirrors. A big thanks to Instagram, as I was able to get in touch with great people and international stores. In New York, we have Totokaelo and in Pari, Le Bon Marché; in London, we'll be in The Conran Shop very soon.
Tell me about those incredible tables in the studio.
The big table in our showroom is made out of wood, 'bois rouge'. We wanted to have a big table in the middle of the studio with a lot of light to work together there. The other lower table we made to save space; the concrete pillar gives it a 'function'. The rock we found randomly on our way to the seaside and we took it with us. Afterwards we thought it would be a great idea to use it, as I really like the wood combined with something very organic.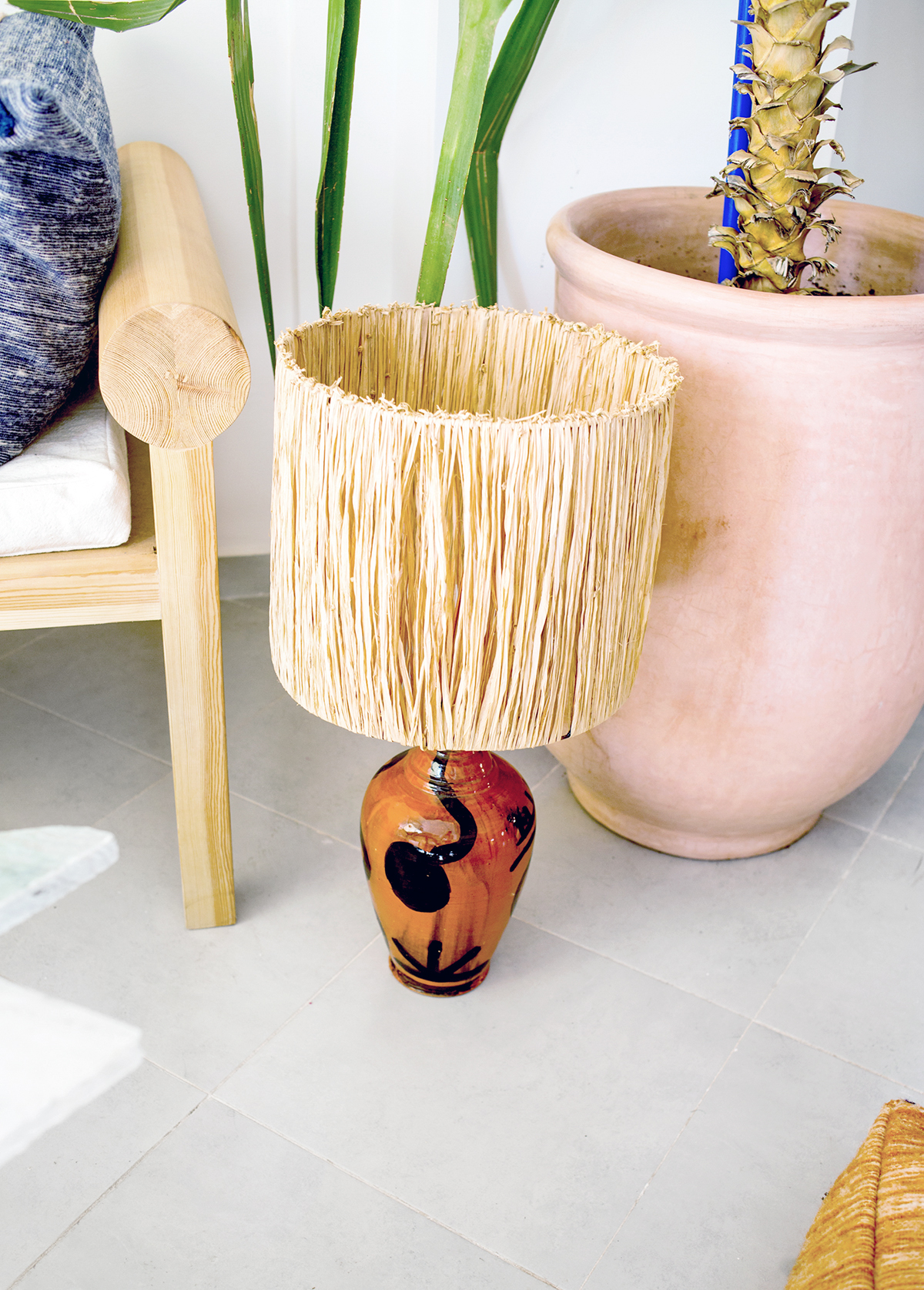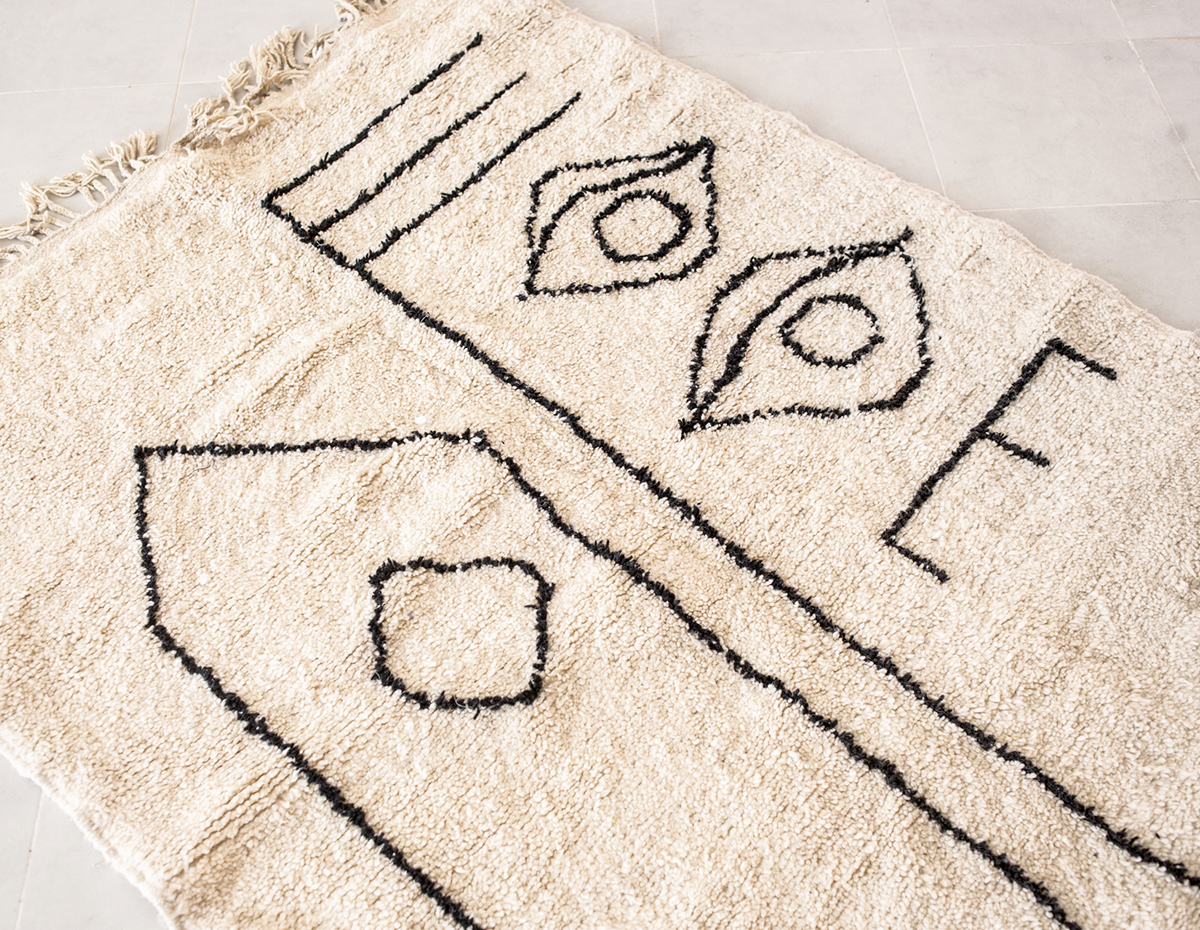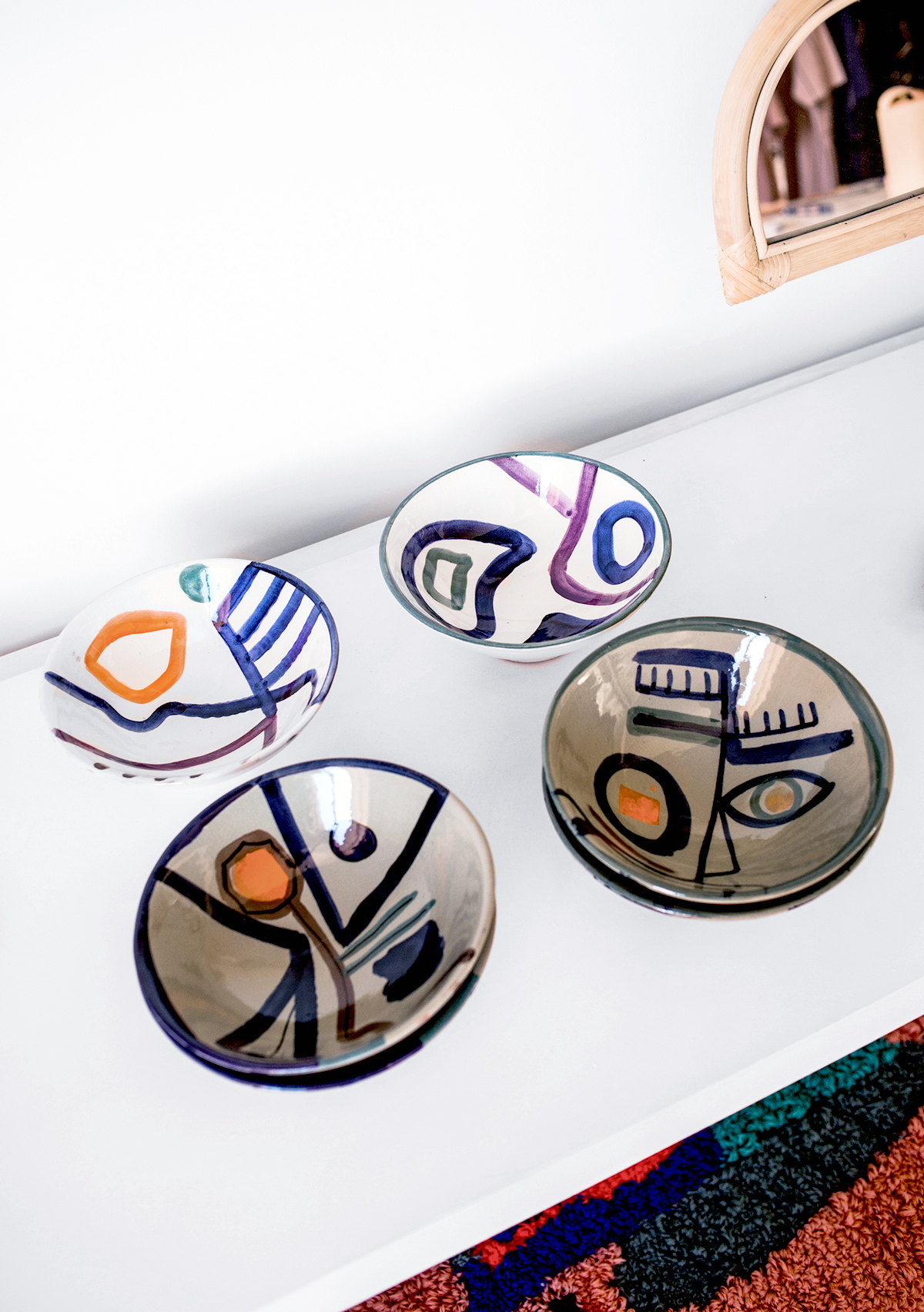 What's next for the brand?
At the moment we are in Paris at Maison et Objet; afterwards we'll go to New York for NY NOW. It's our first time there, so it's quite exciting! We are focusing on the development of the products and making a lot of samples — new types of products. We want to expand our studio, and we have some ideas in mind to create something in Marrakech — more than a studio, something bigger. But I can't yet give you more details!