10.09.18
Meet RIES, the Studio That Sparked Our Fascination With Contemporary South American Design
In January 2016, our interest in the South American design scene was reignited when we came across the debut of a young Argentinian furniture studio whose work seemed to appear out of nowhere. RIES didn't have a website back then, but we had a feeling it would only be a matter of time before we'd be seeing them everywhere.
Two OFFSITE showcases and a shoutout in T Magazine later, the Buenos Aires–based designers, Marcos Altgelt and Tasio Picollo, are at the top of a rapidly exploding South American design scene. Their ability to turn geometry, the arrangement of shapes, and thin, black steel frames into engaging tables and seating is impressive. From the Aro Chair, with its velvety upholstered seat upon three tubular steel legs, to the Cruz Coffee Table, with its Nero Marquina marble top framed by a striking criss cross of brass supports, we are constantly inspired by their work (not to mention the shockingly cute floor pillows (!) at the top of this post). Here, Altgelt speaks about their paths and processes, their inspirations and representations, and the exciting projects studio RIES is designing and dreaming about going forward.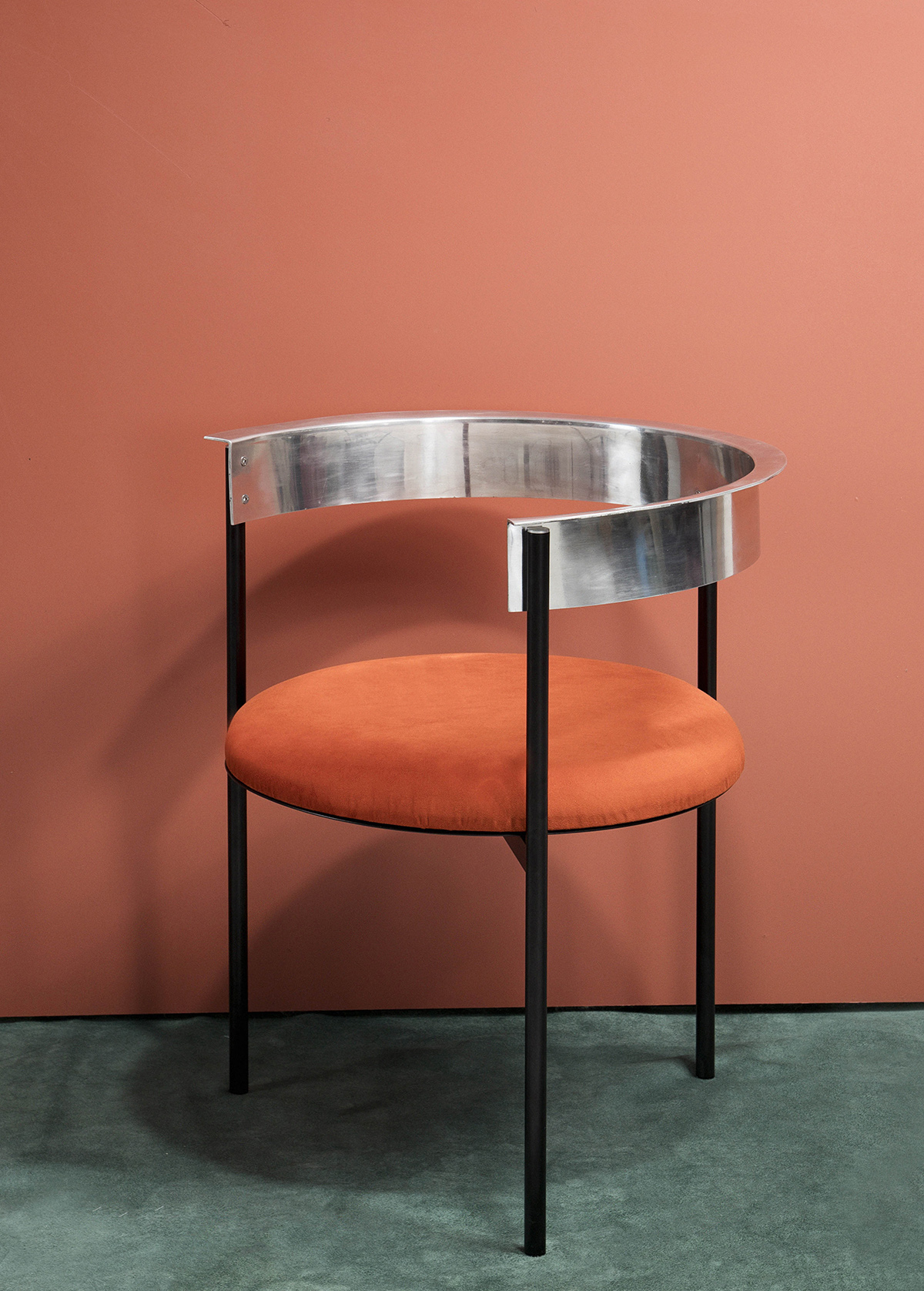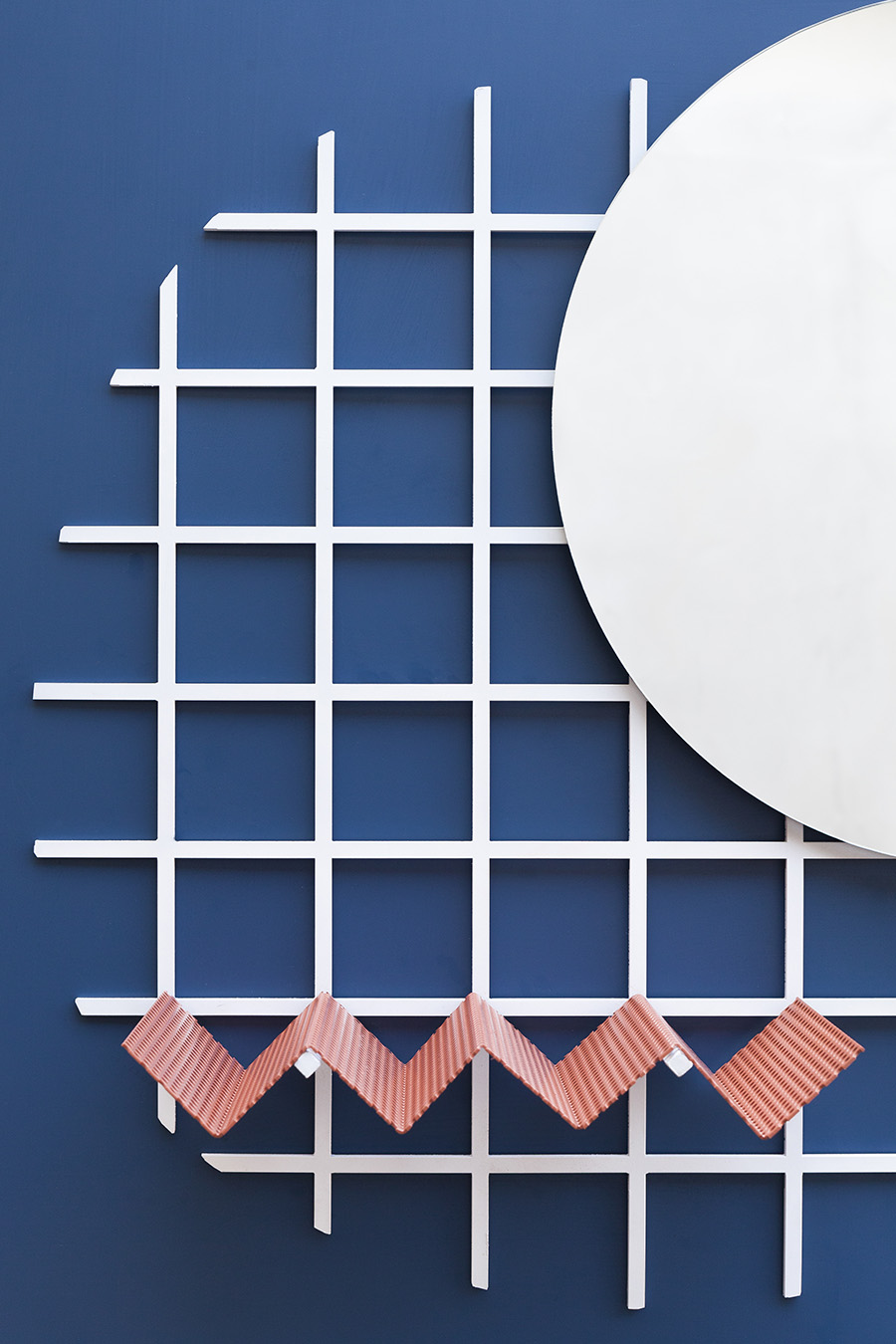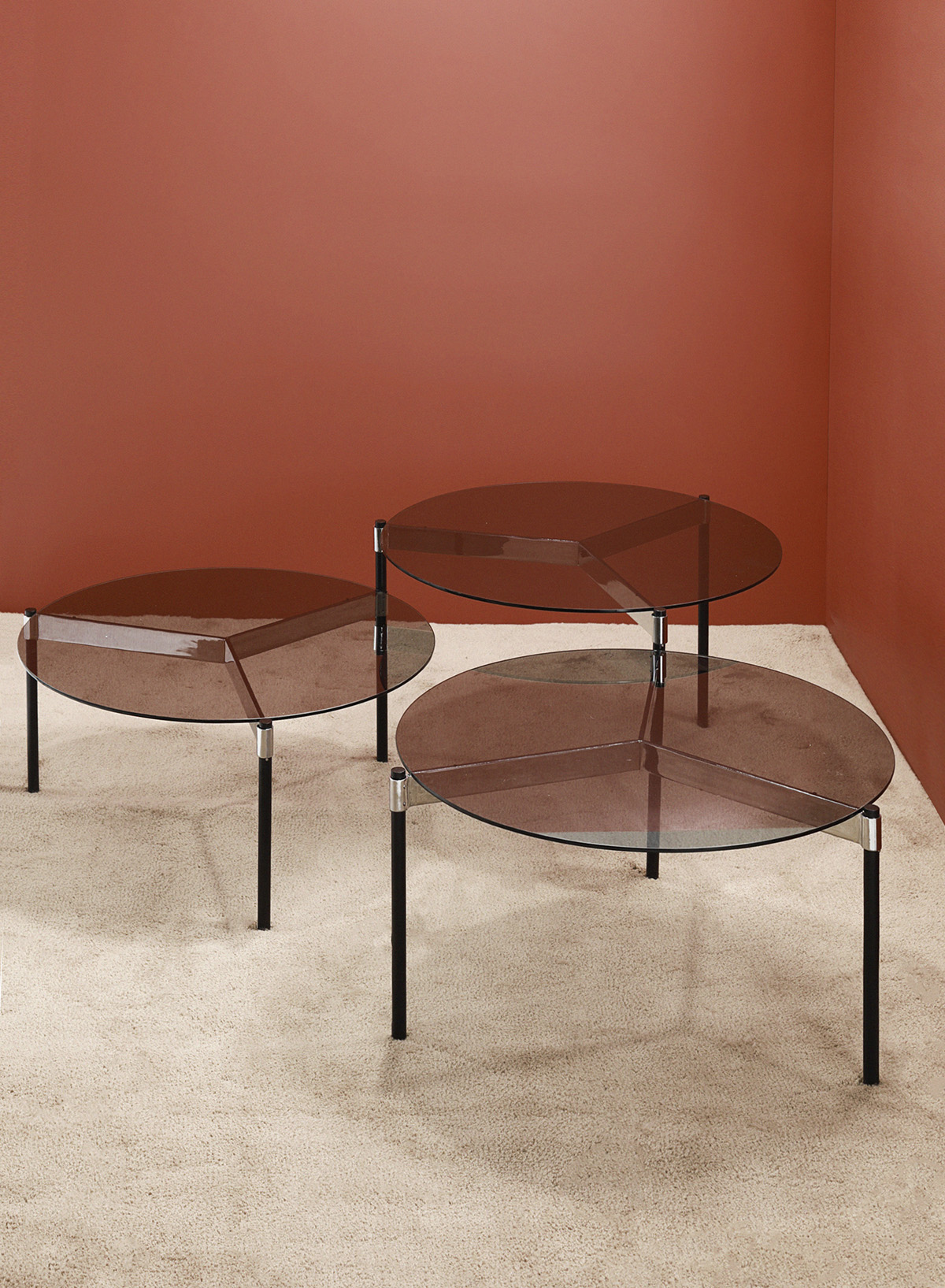 How would you describe your creative path?
Tasio and I both studied architecture at the University of Buenos Aires, but strangely didn't meet there. While studying, I used to work at Estudio Normal, a studio that mostly focuses on experimental installations using everyday objects, and Tasio worked at the shop of La Feliz, a lighting/furniture studio. At some point, because our ex-bosses often collaborated together, we were seeing each other and had conversations about doing something, but nothing happened primarily because we lacked a space to work in. Tasio continued to work at La Feliz and I started working as a collaborator at adamo-faiden, which is one of the most renowned architecture studios in Argentina. I worked on more large-scale projects than I was used to, but always with an emphasis on the technical/constructive aspect of them. These were really formative years for both of us.
It wasn't until late 2015 that, while still working respectively at our studios as collaborators, we had the chance to actually do our own stuff. Tasio had a very tiny/trashed out garage near his house, but still that became the perfect space for us to start doing something. We used to get together on weekends and that's when we prototyped Alpina, our first collection. When we thought we were done with it, we took pictures of the collection, put a name to our "studio" and sent it over to all the design blogs, without expecting much of it. Unexpectedly, it had a massive response and was shown everywhere! This struck us as we thought "OK, maybe there's something here." That same week we got invited to participate at Sight Unseen OFFSITE, and that was the breaking point when we both decided to quit our jobs to start doing this full-time.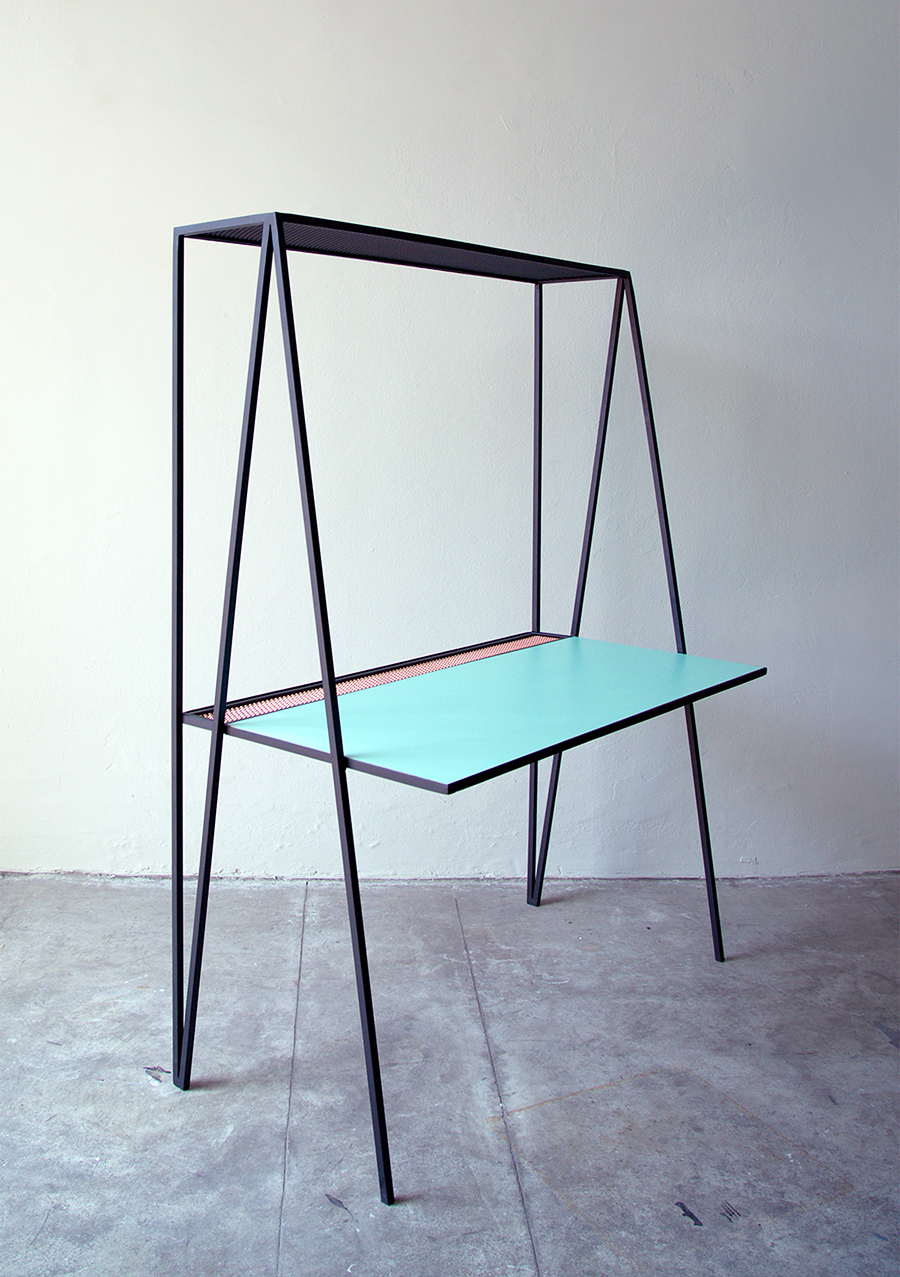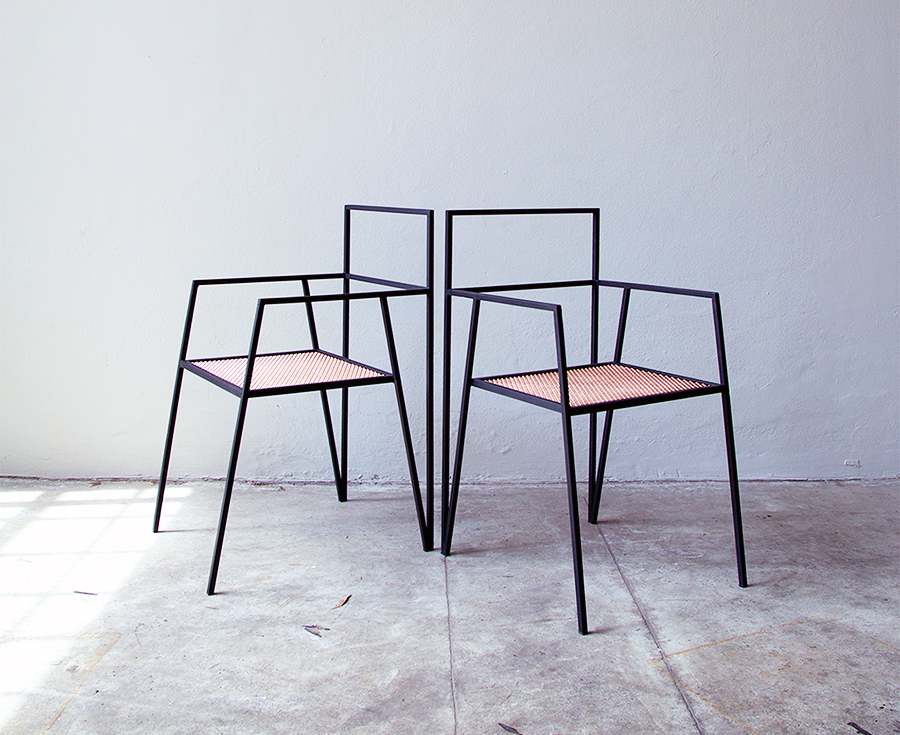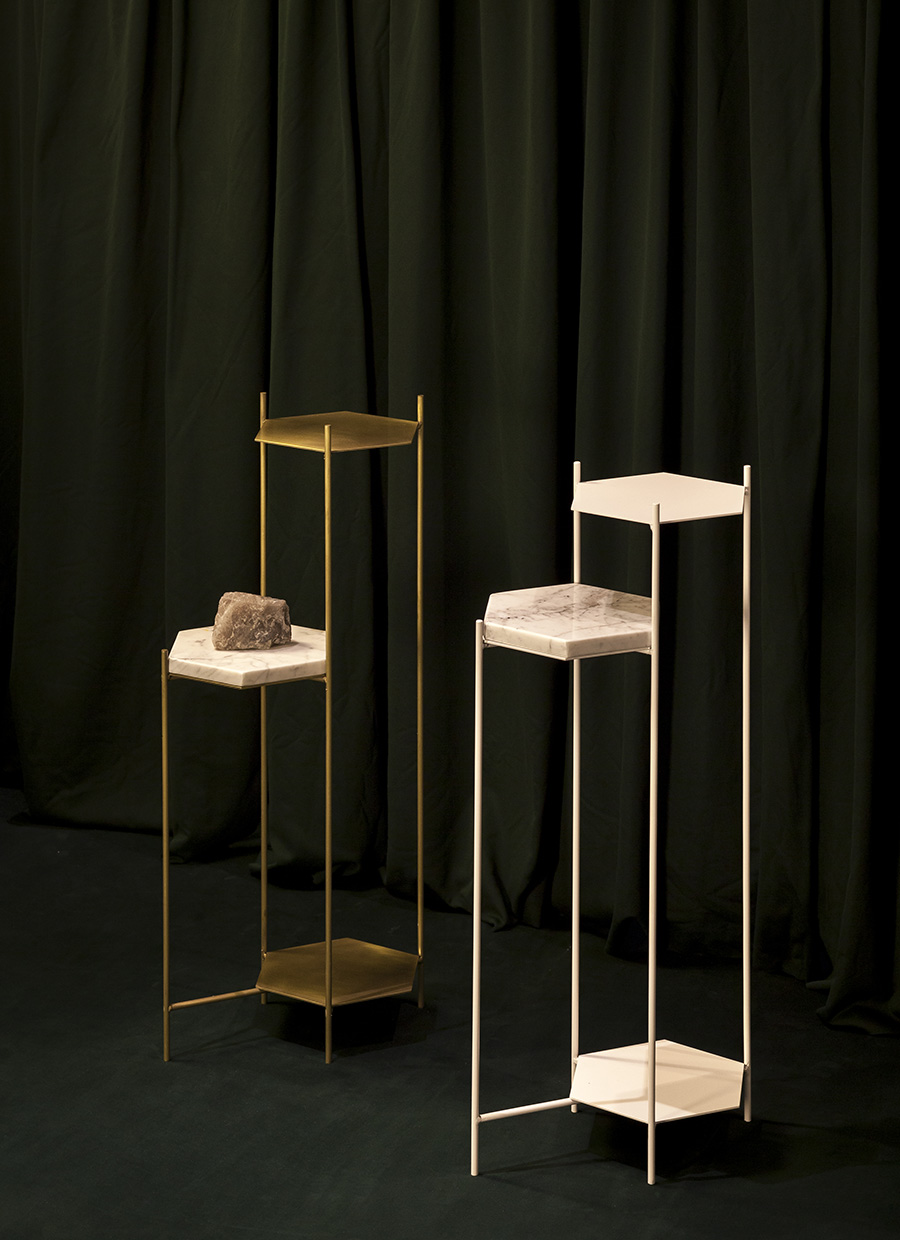 Can you tell us about your process? How do you collaborate? Are there ways that you work together or ways that you differ that propel the work?
We have very distinct roles. I am more in charge of the design process, the image of the company, handling clients, and Tasio is more in charge of managing production, vendors, and accounting. I often bounce ideas about a collection or whatever to Tasio and if we both like the idea, we start to figure out if it makes sense production-wise. If it does, we'll move on to the next step, polish constructive details, and work on more accurate costs and margins for the piece or collection. Then we start prototyping it here in our shop to see how it looks, test it, etc. It is also important to mention that our team is comprised of four more people: two of them work in the shop, and the other two at the office. We have a very horizontal relationship with all of them, which makes the job really easy because they are all very capable and often propose ideas or resolutions that we end up taking into account.
What drives the choices you make in your work — color, textures, shapes, symbols, patterns, mediums?
There's a very nice drawing by Charles Eames that puts it perfectly. It is a combination of factors: the interests of our studio at a particular moment, the interests of the client, and the concerns of society in general as a whole. Maybe having studied architecture also drives those choices. I think we have a very architectural way of conceiving our work. It's always about the structure at the beginning, and then trying to figure out which other materials will "fill" that structure. We are always trying to combine them in new ways. Also geometry plays a big role.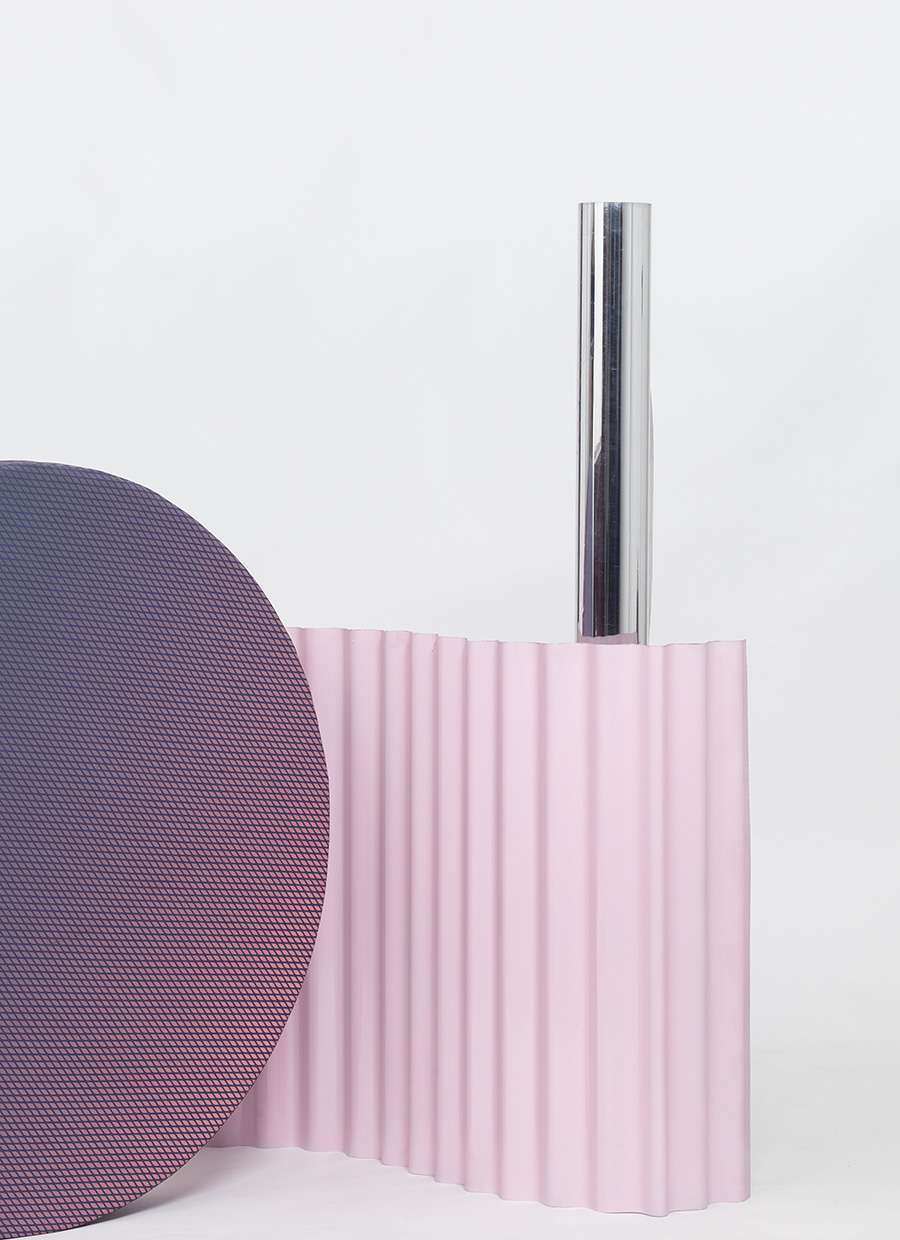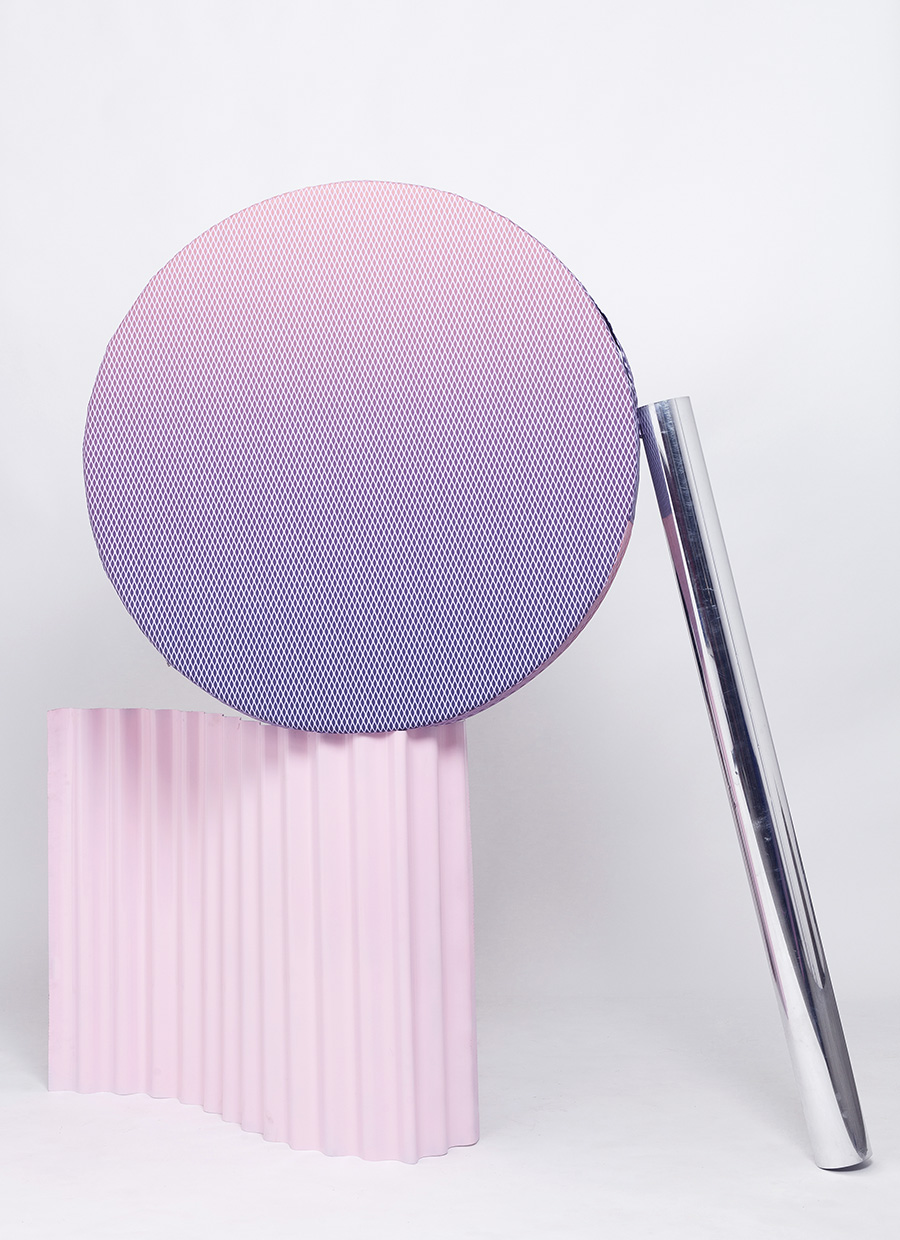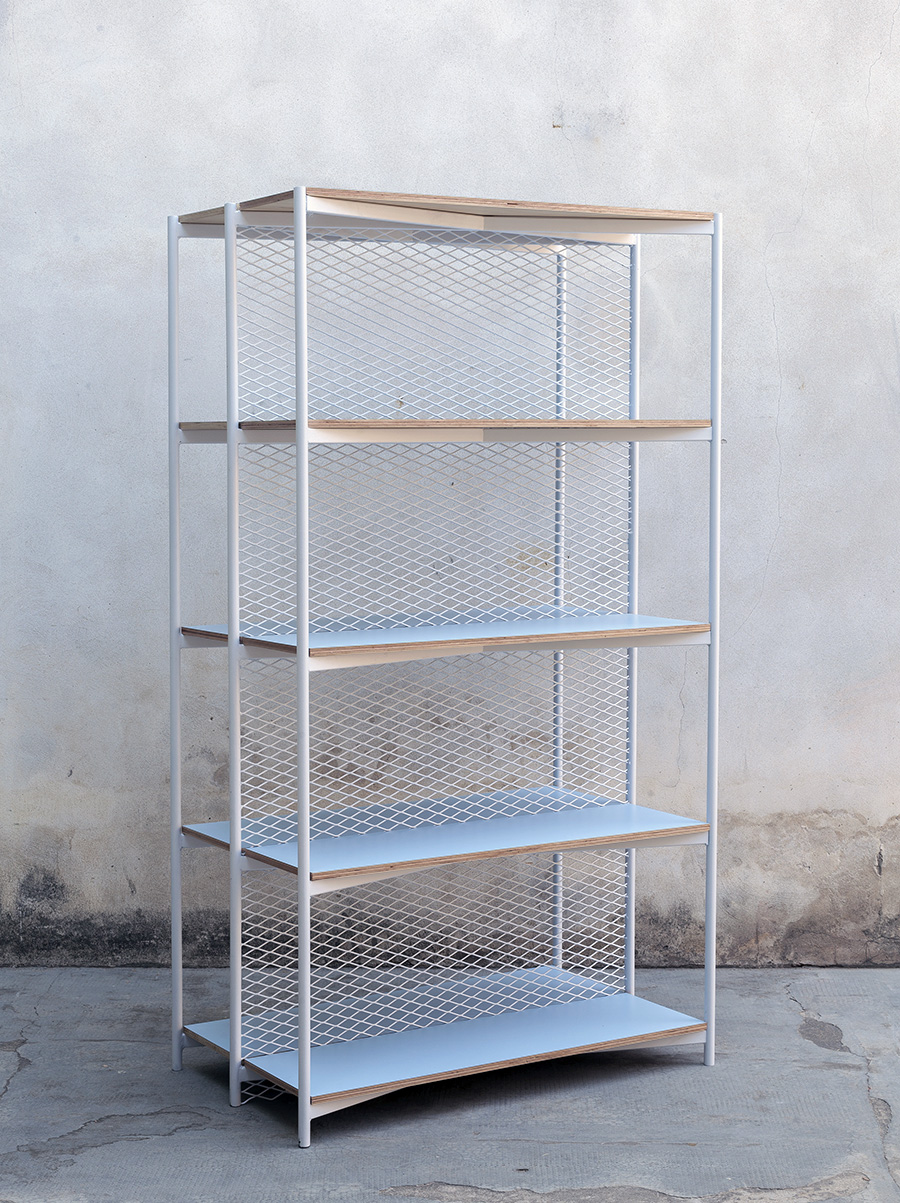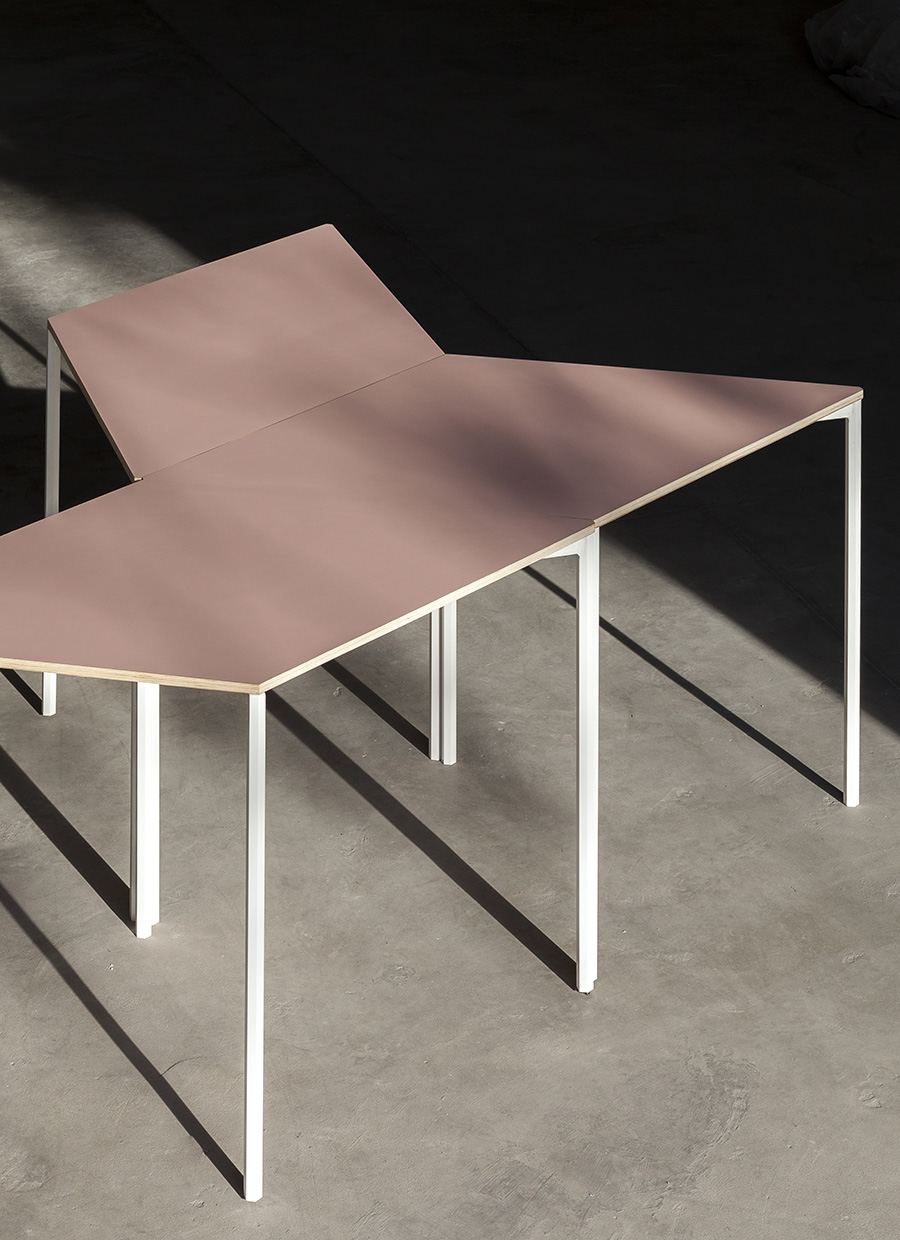 Have your collections always been so cohesive? Was there ever a point that it was totally different?
It is something that just happens naturally. We are not pursuing a certain aesthetic; it has more to do with a certain way of thinking. It's not that we design something and say, "Oh no, this is so not RIES." We don't discard ideas just because they don't look like the previous work we've done, as crazy or as weird-looking as they can be. But sure, everything looks cohesive mostly because all the pieces or collections we make, in some way, inform the following ones. It could be a shape, like the Bee side tables and one of the 10 chairs (below), or a constructive detail as in the Aro chair and the Moon coffee table. There have been some exceptions though, like those floor pillows we designed for WeWork.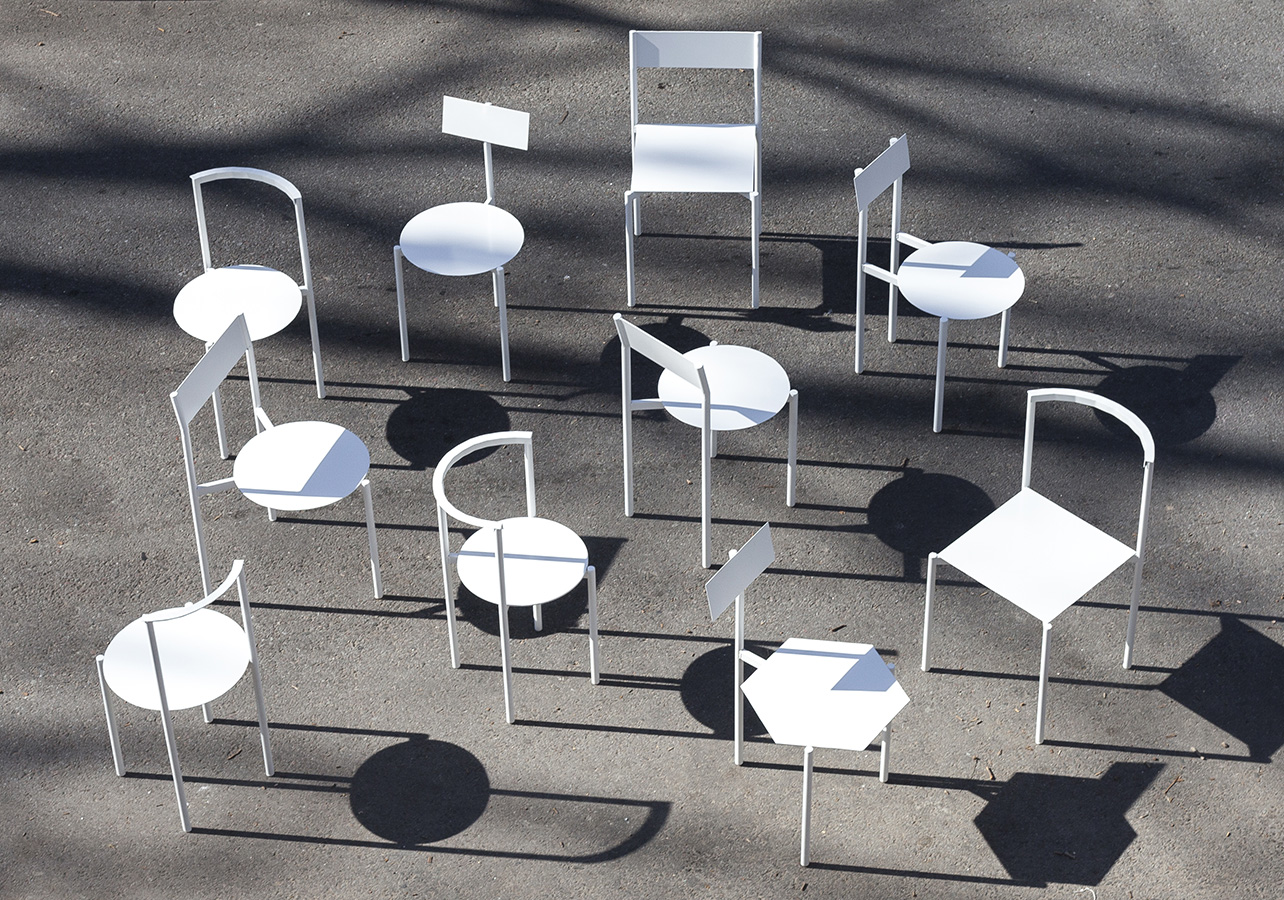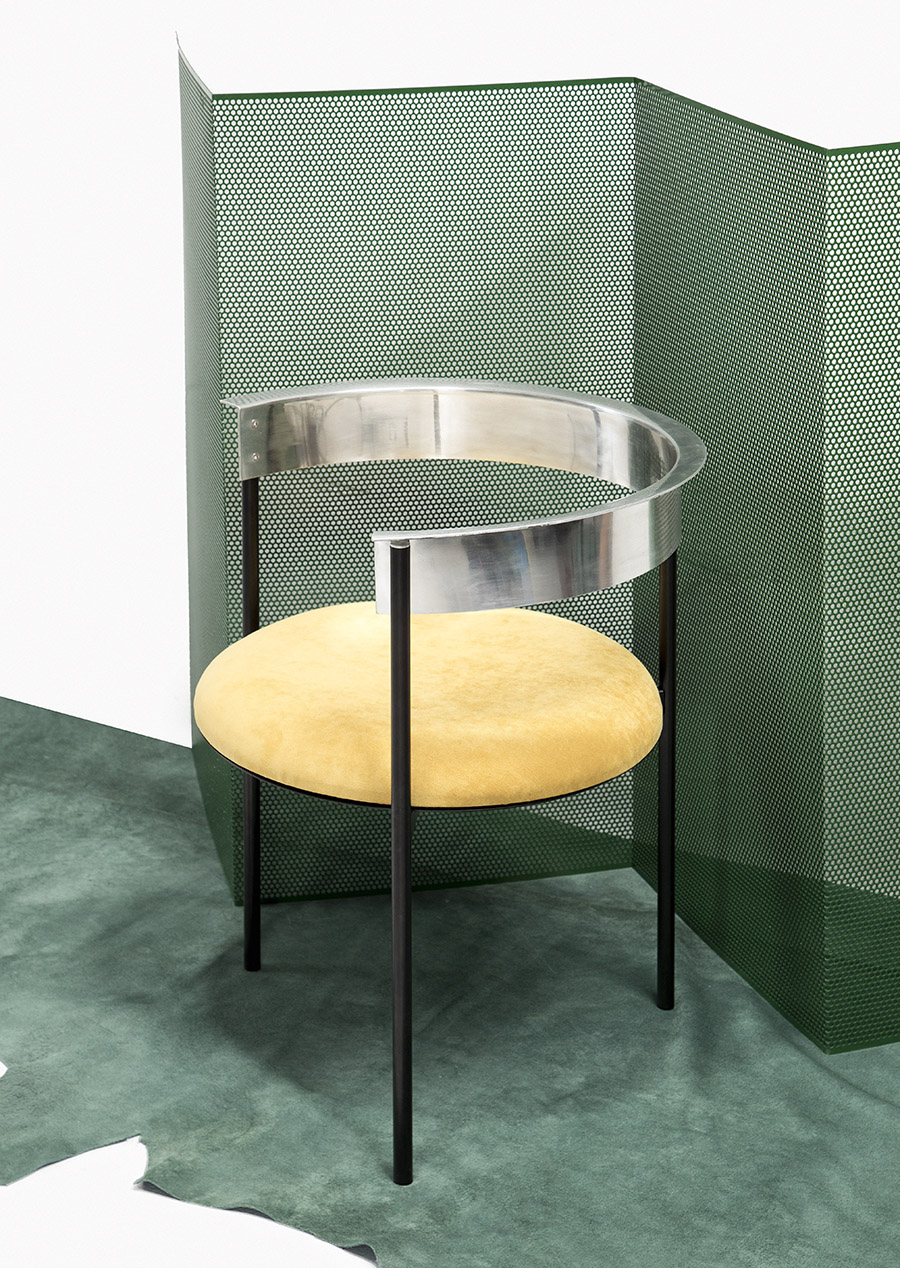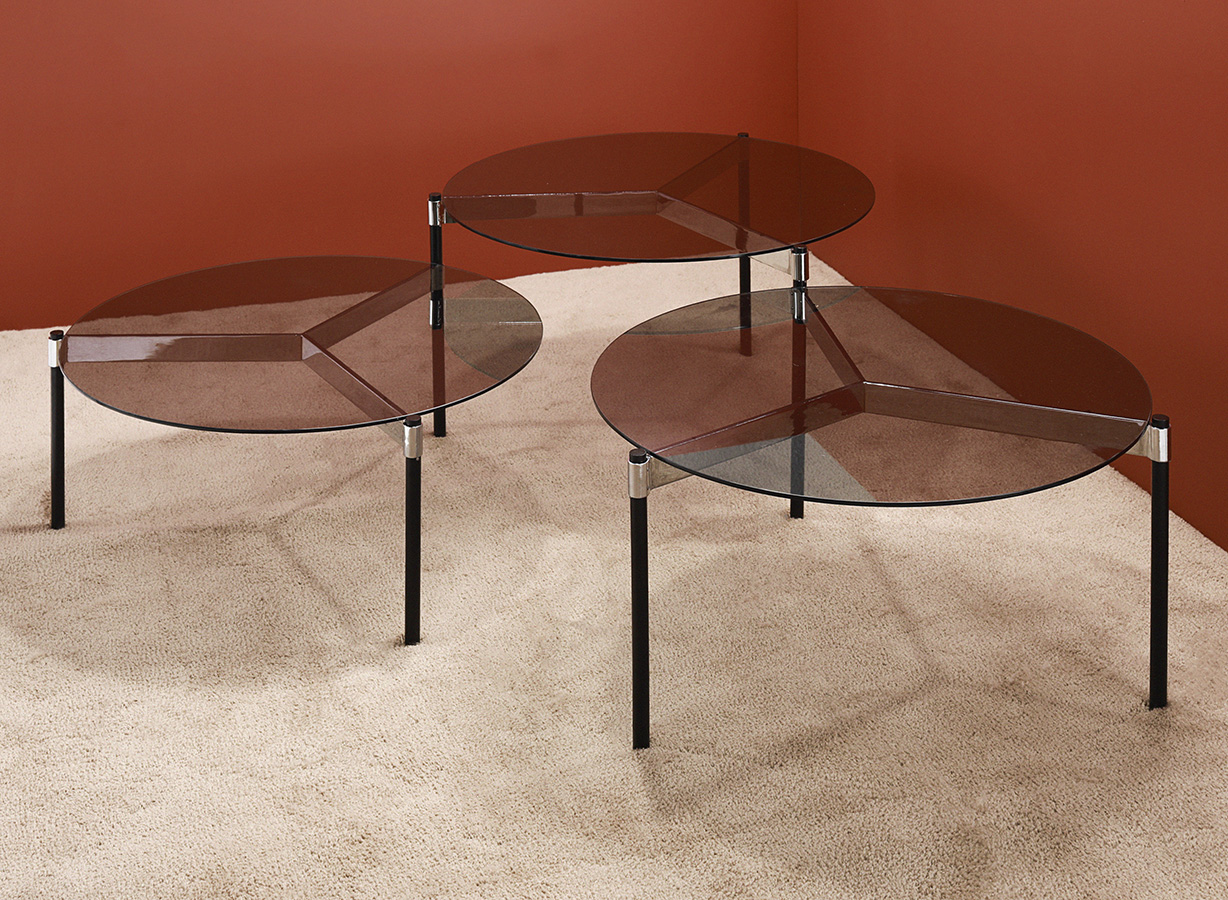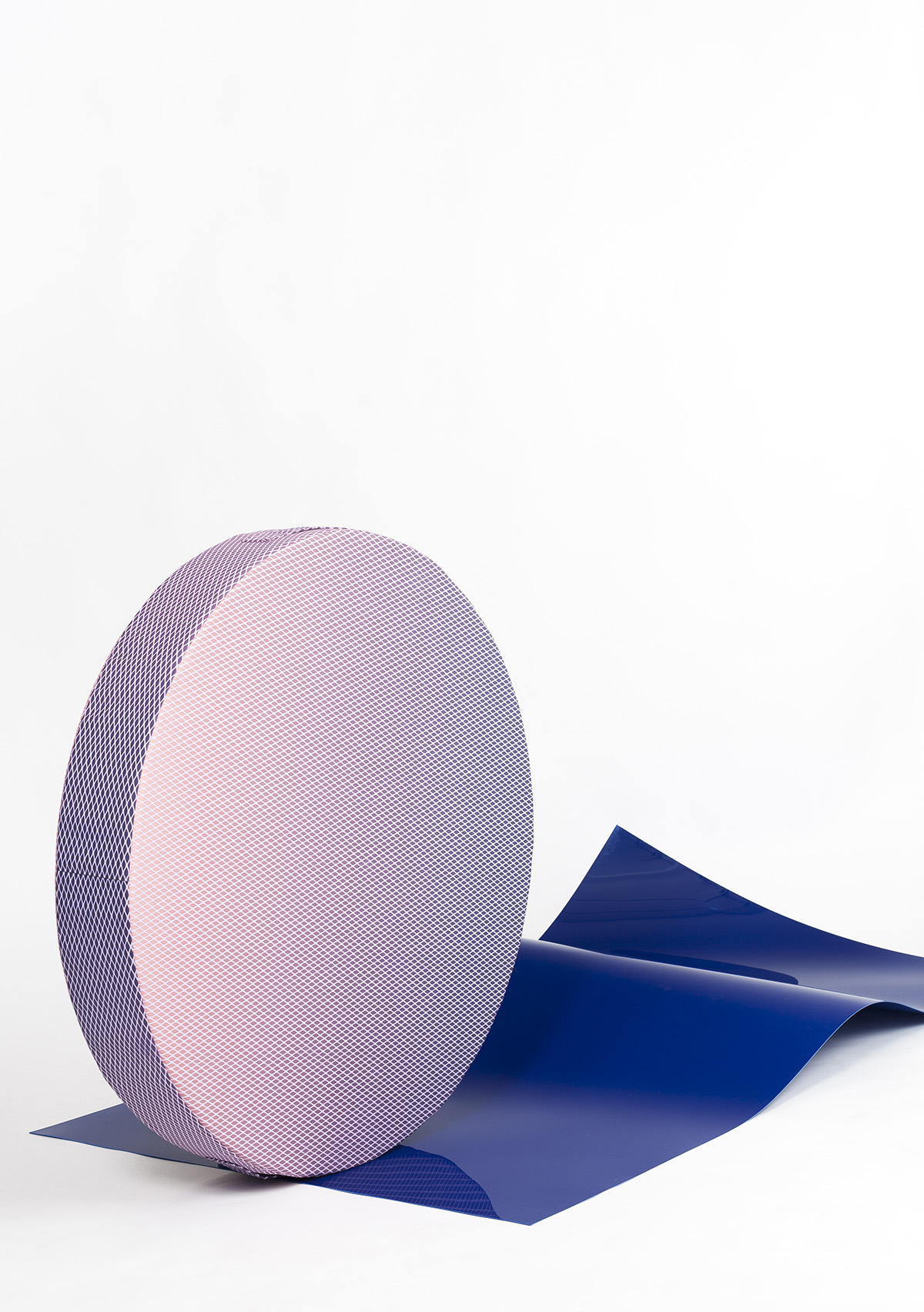 Is there anything specific that prompted this direction in your work?
Collaboration. It was the first time we designed something with someone outside of furniture. It was so fun. We digitized the pattern of the expanded metal mesh we use in some of our pieces, added an ombré hue to the background, then printed that and used it as the cover for these pillows. They ended up looking as something very, very abstract, the photos almost look like renderings.
To what extent is your work created physically vs. digitally?
I'd say half and half nowadays. Almost nobody knows this, but a lot of our pieces were created by accident. Like, the hexagonal surfaces of the Bee side tables were at first leftovers of a steel factory. Those early prototypes looked really bad, you can't even imagine. It wasn't until we had the finished product that we started laser-cutting them. Something similar happened with our Janus mirror: we had these really short square steel rod leftovers, and we begun playing around welding them and making a circle-shaped grid. Then found a polished stainless steel scrap circle, put it on top of it, and thought 'this is cool!' We then developed it further with the tray and of course laser-cutting the grid.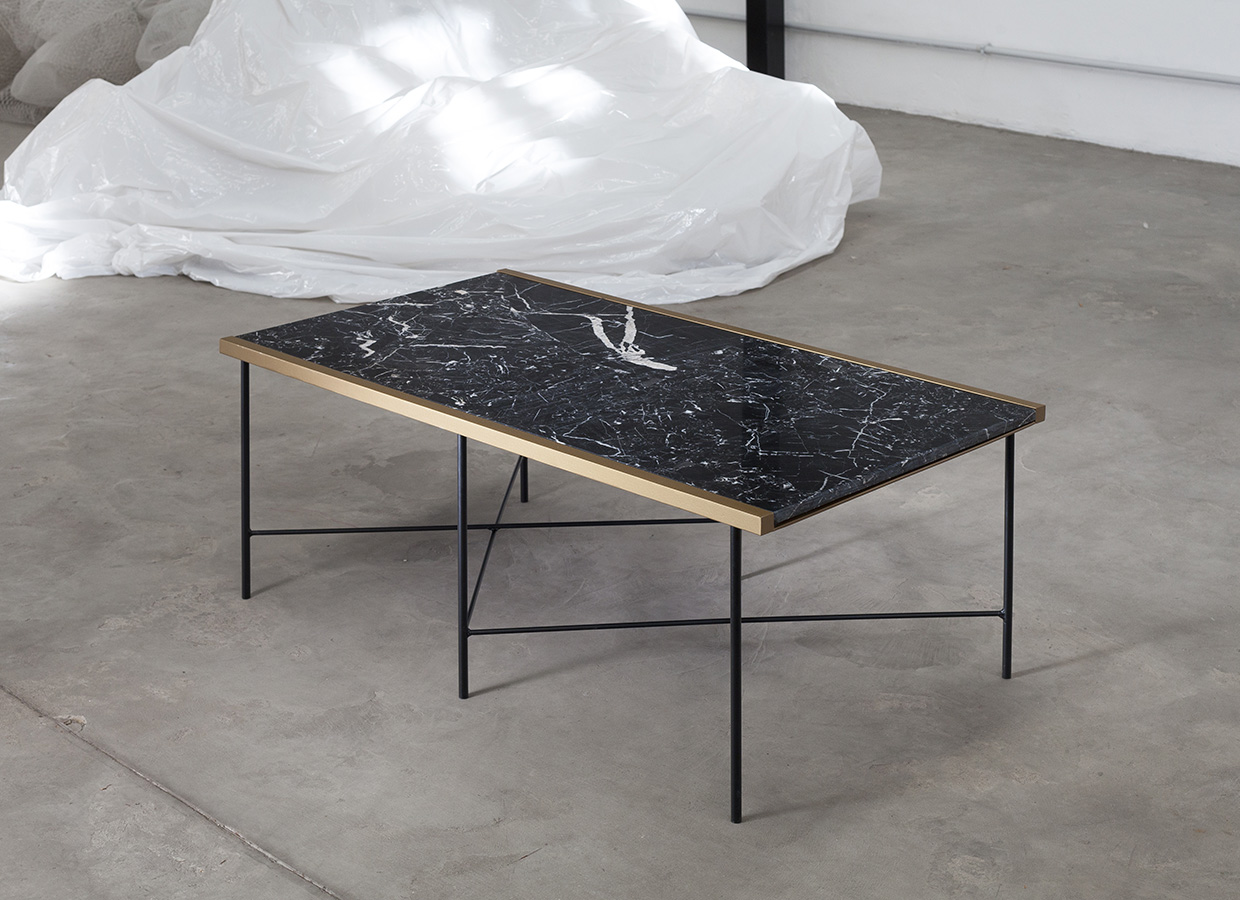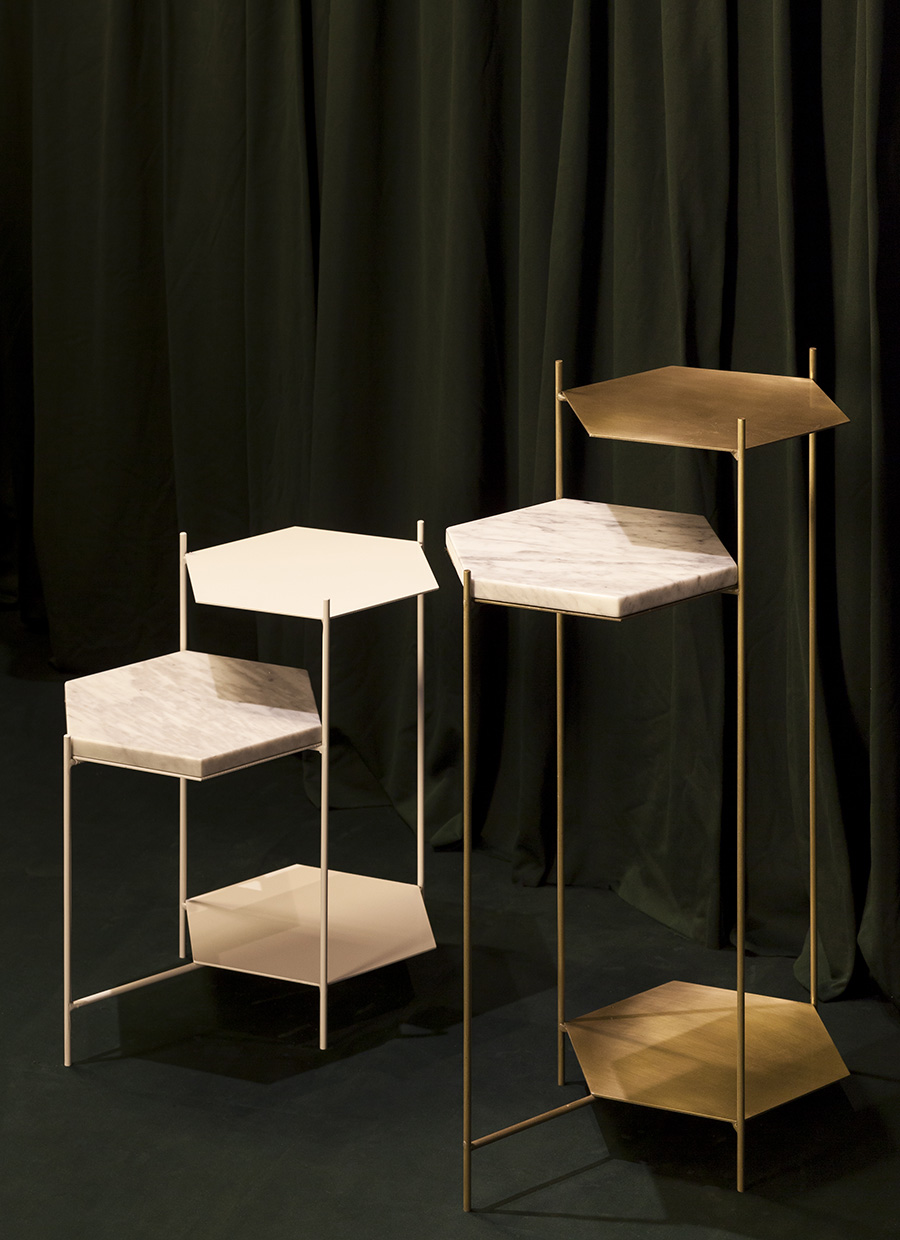 You've done various projects for co-working spaces, like WeWork (who you met at Sight Unseen OFFSITE!) Are there other venues you'd like to design projects for?
We'd love to do a restaurant! Maybe also a fashion store. Both feel like very conceptual venues where you don't only design the furniture for it, but also the environment that relates to that furniture as well. It's all about creating environments. We're slowly getting there.
Is there one piece that resonates with you particularly strongly?
Well… it's not easy to talk objectively about our own stuff, so I'm going to say Shiro Kuramata's Sofa With Arms. It is just perfect.
Do you keep anything around your studio or home for inspiration?
Mostly books at home. It's always a great source of inspiration. Of any kind, not necessarily design ones. In the studio it's really different because you can never find the time to open a book for an hour or so. But accidental leftovers or pieces in process will often pop crazy ideas.
Do you ever feel inspired to design pieces based on something unrelated to furniture like films or places or elements of nature?
I think all things we experience in our everyday life inform our work. And this is applicable to anyone. It's just life, you know? But if I had to say something, architecture and films would take a big part. We were born in a city, grew up in a city, and live in a city, so nature is something we pursue when we want to go on vacation or escape a little. Architecture is something that is around us all the time, whether we want it or not, and that informs what we do everyday in great measure.
Do you feel like you represent Argentina in your designs? Do you think Argentina has a strong style in design?
No, we don't feel that way—we don't feel we are representing anything or anyone. We're just doing our thing and just happened to have a local practice with an international conversation going on. When you think of it in terms of geography, it is actually really important for us to somehow be part of or related to what's going on in the world, and by "the world" I mean North America and Europe, because most of the important design stuff happens there. Being located so far away from everything really makes it hard for us in some ways, and there's also the economic side of it; it's so much effort for us to go participate in a fair, but we still feel it is really important to do it, even as an exercise. We try to do it at least once a year because we learn so much from it, meeting the other studios, going to their shops, looking at their ways of producing, etc. It has been — and still is — a very enlightening experience for us.
I also don't think Argentina has a specific style in design like Scandinavia or Japan — which both have a very defined style. Our country has a very brief history compared to other ones, and it also is a mixture of a lot of different cultures. We had a very strong European immigration wave, mostly from Italy and Spain, so that fact in history largely defined us: we have always been a mixture of other styles and cultures that we made our own, because we put all of those manners and traditions into our context — whatever that may be — so then the result is something that is not European or Argentinian or anything.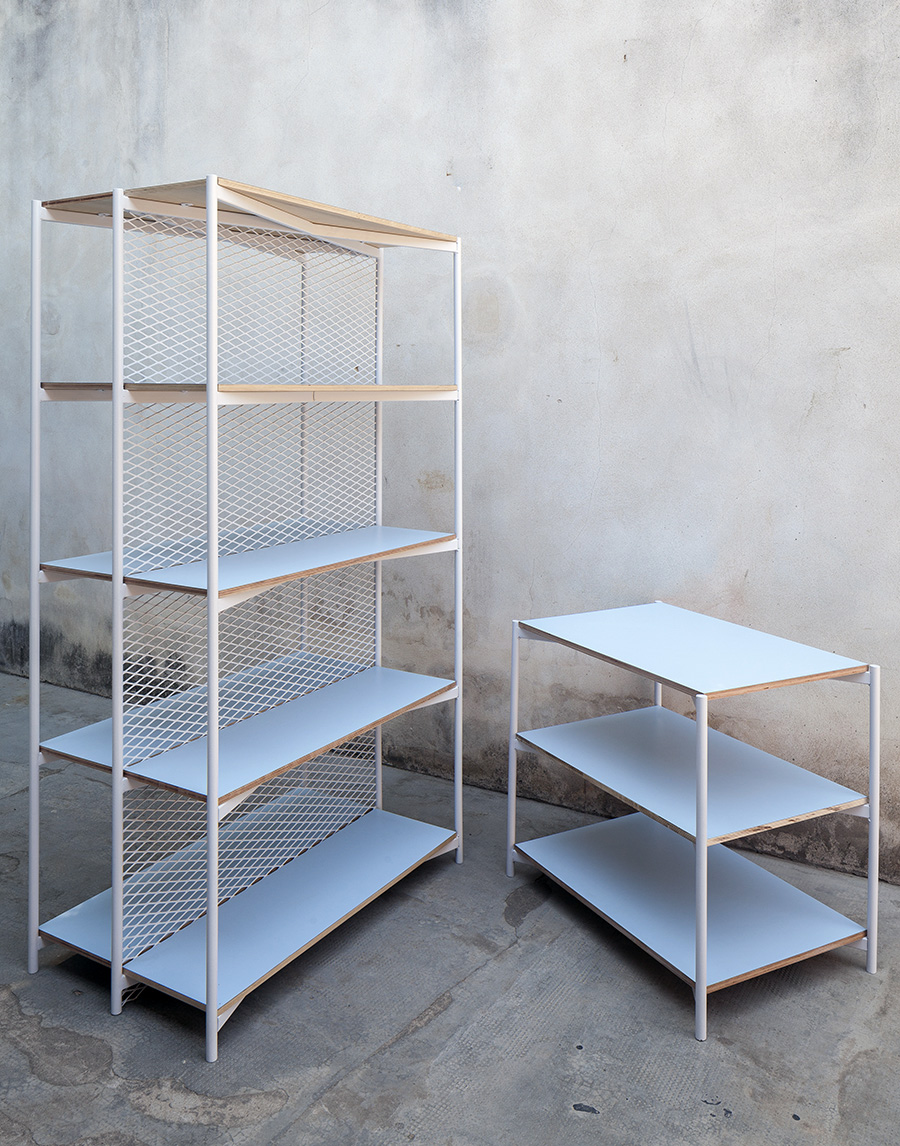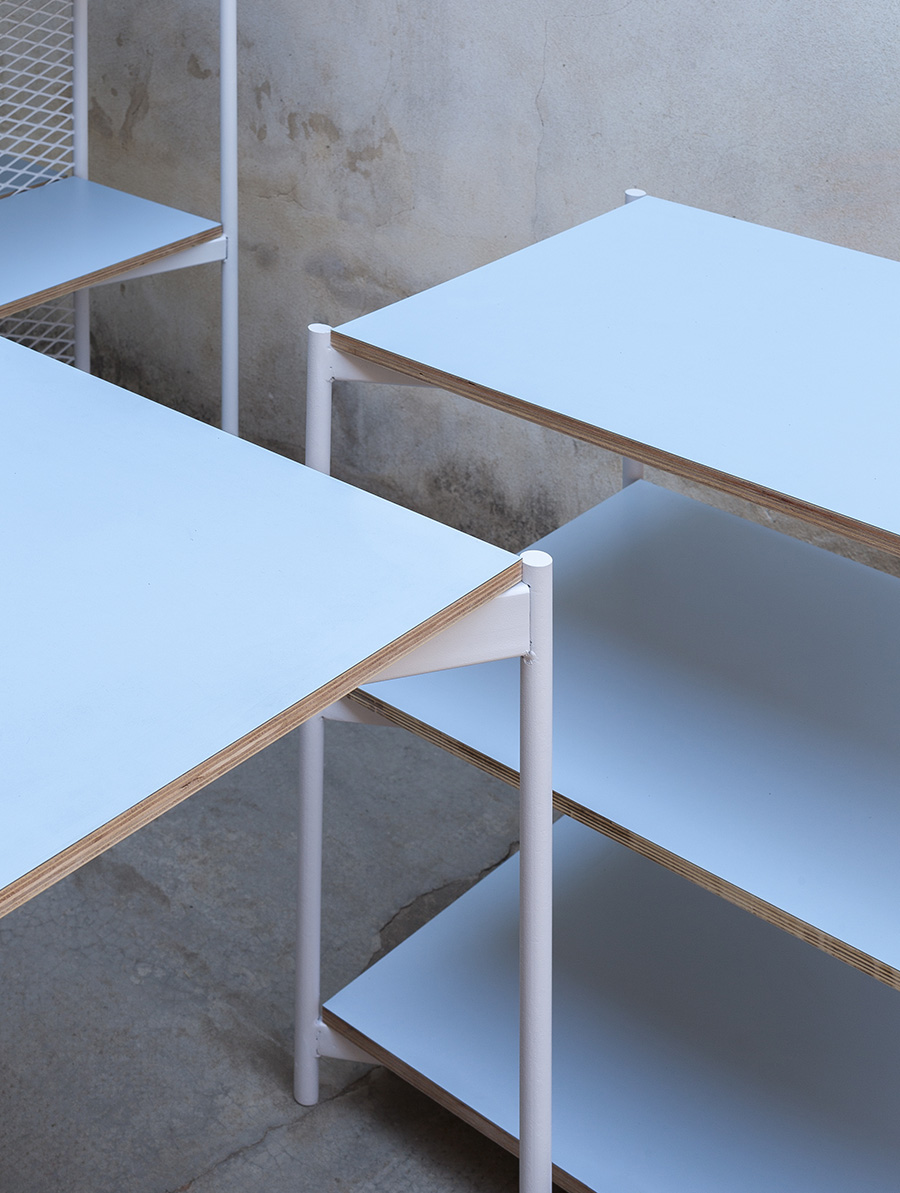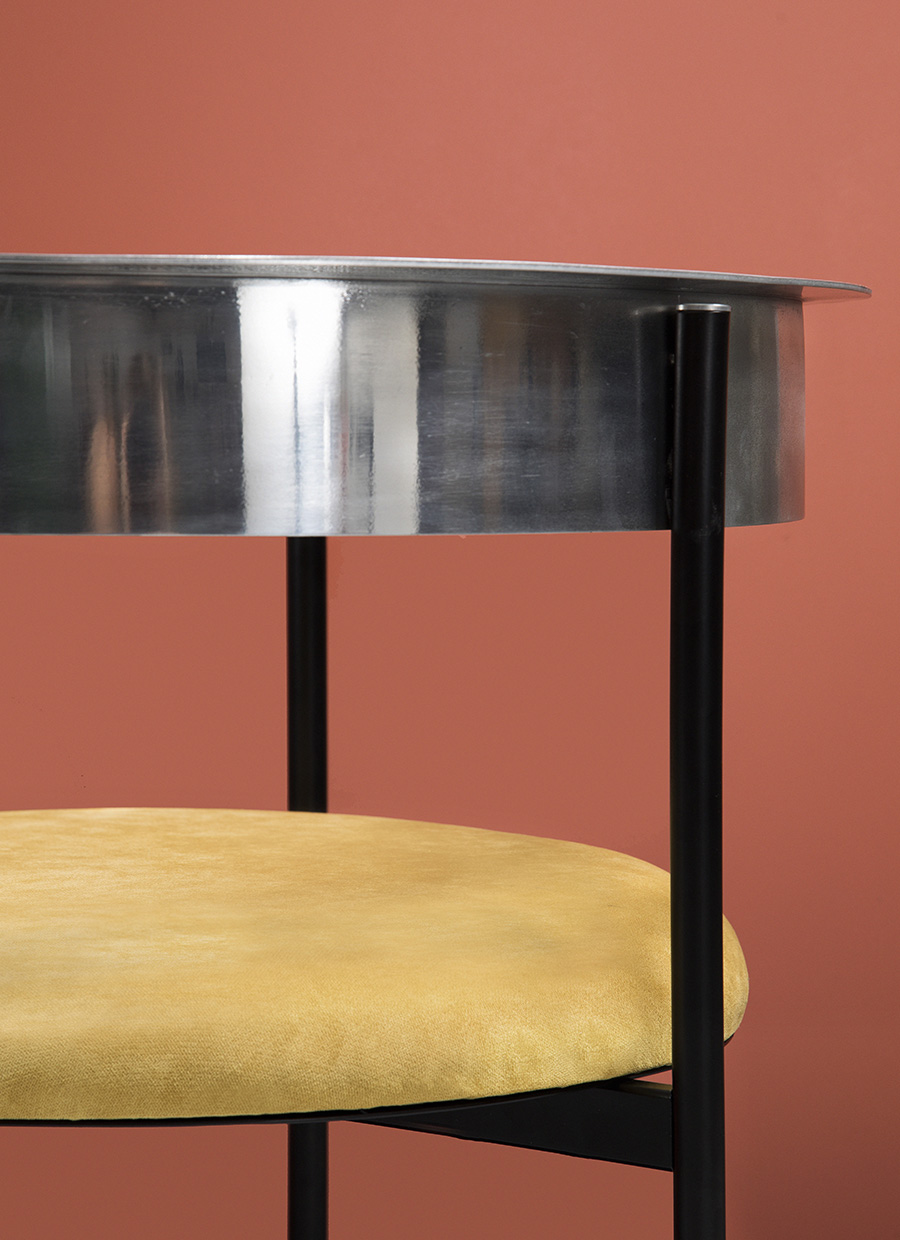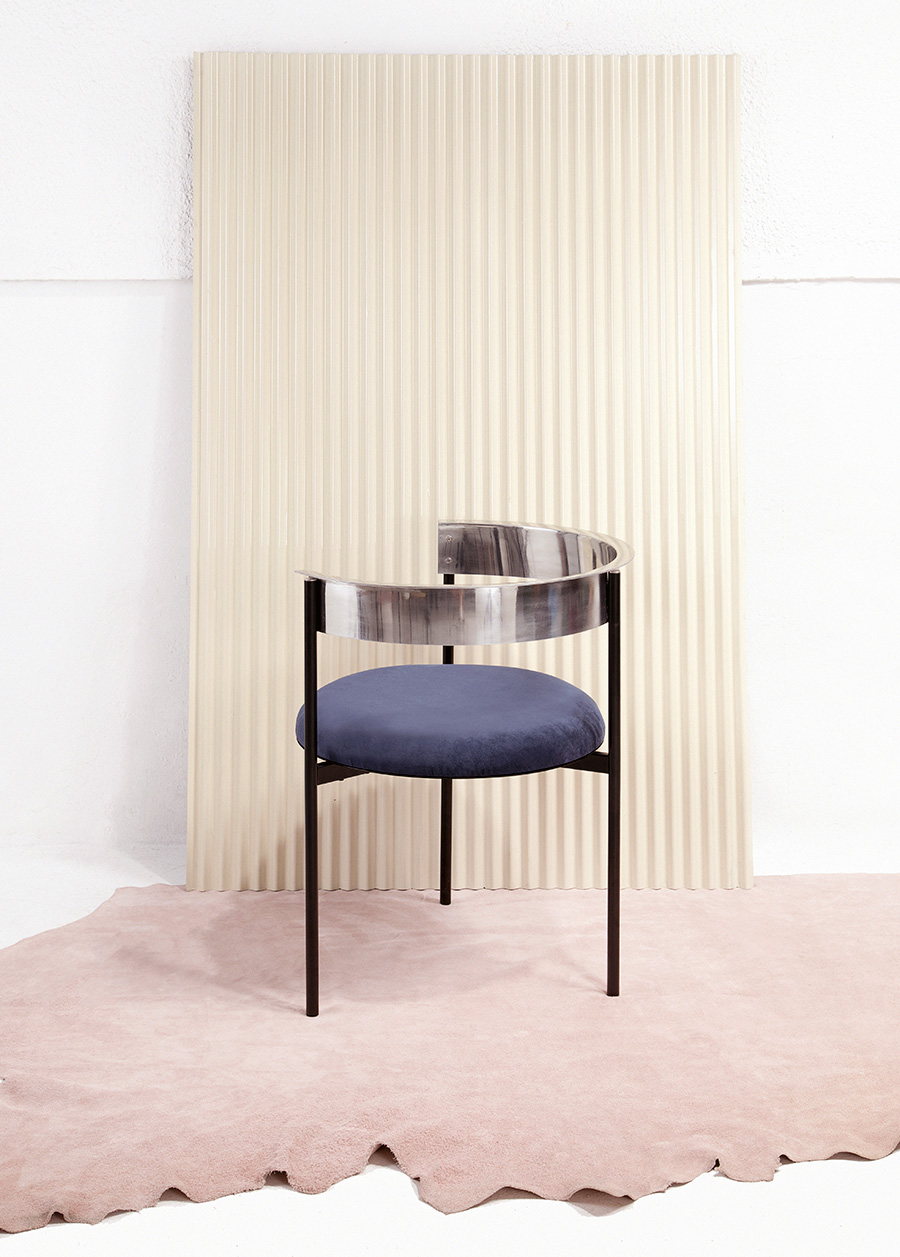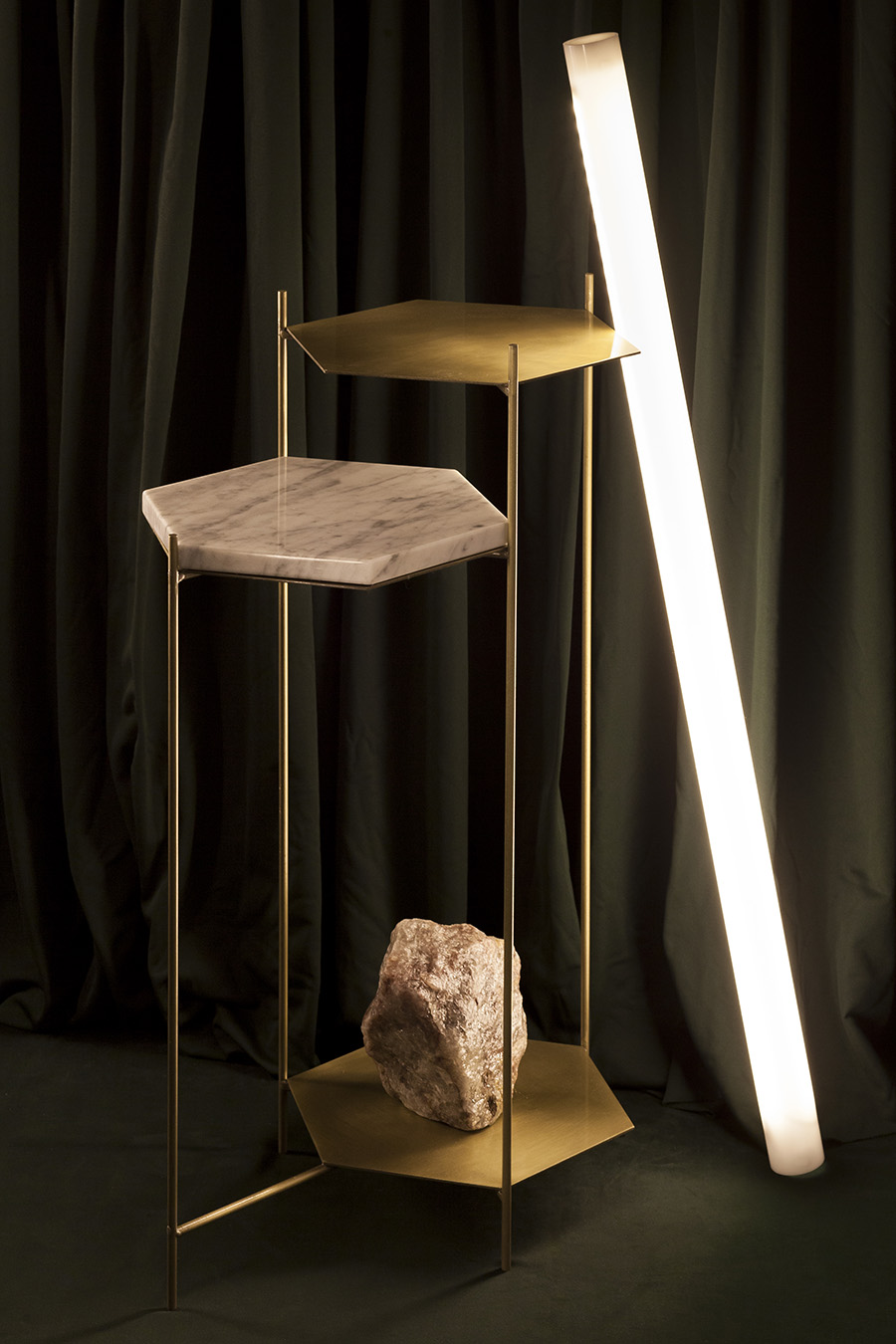 Would you say that it is important for your designs to be commercial viable/make a profit?
Of course it is. Actually, when we first designed Alpina, our first collection, we had no idea of costs. We didn't think at all of that aspect while we were doing it. Which in a way was a mistake, but somehow it also gave us a lot of identity. So now, after having released more pieces and collections, we understand that sometimes one piece will sell better and others will just exist to build and give shape to our identity, and we have absolutely no problem with that. Also, it is almost impossible to anticipate what piece will sell and which one will not, but of course we now design taking costs into account because we now have a real studio with real people working on projects. It is the only way to maintain it and keep it going.
What sorts of spaces do you feel best do them justice? (a home, an office, a terrace, etc)
It really depends on the piece, but at the heart of it I feel most of them work well for homes. Also nowadays workspaces are shifting away from looking like traditional offices and are looking more and more like homes, which in a way is good for us because it proves that our pieces are versatile. I think this is a very important aspect to furniture in general: the higher level of appropriation a piece has, then the more environments it will fit in without standing out for itself.
What are you currently working on and what is next for you?
We are currently working in some cool projects! We are doing the kitchen for Armando Bo's new house, the screenwriter for Birdman. It's something really different from everything that we've done to date and it's really fun — it is huge. We are also in the design phase of a storage system we'll build for the upper level of Casa Ponce, by the Chilean architect Mathias Klotz. Finally, Juan Garcia Mosqueda, the owner of Chamber Gallery, is now designing a pizza restaurant and asked us to design the furniture for it. We're really happy to work with him. And still doing some projects for WeWork, which has been one of our best clients over these years.