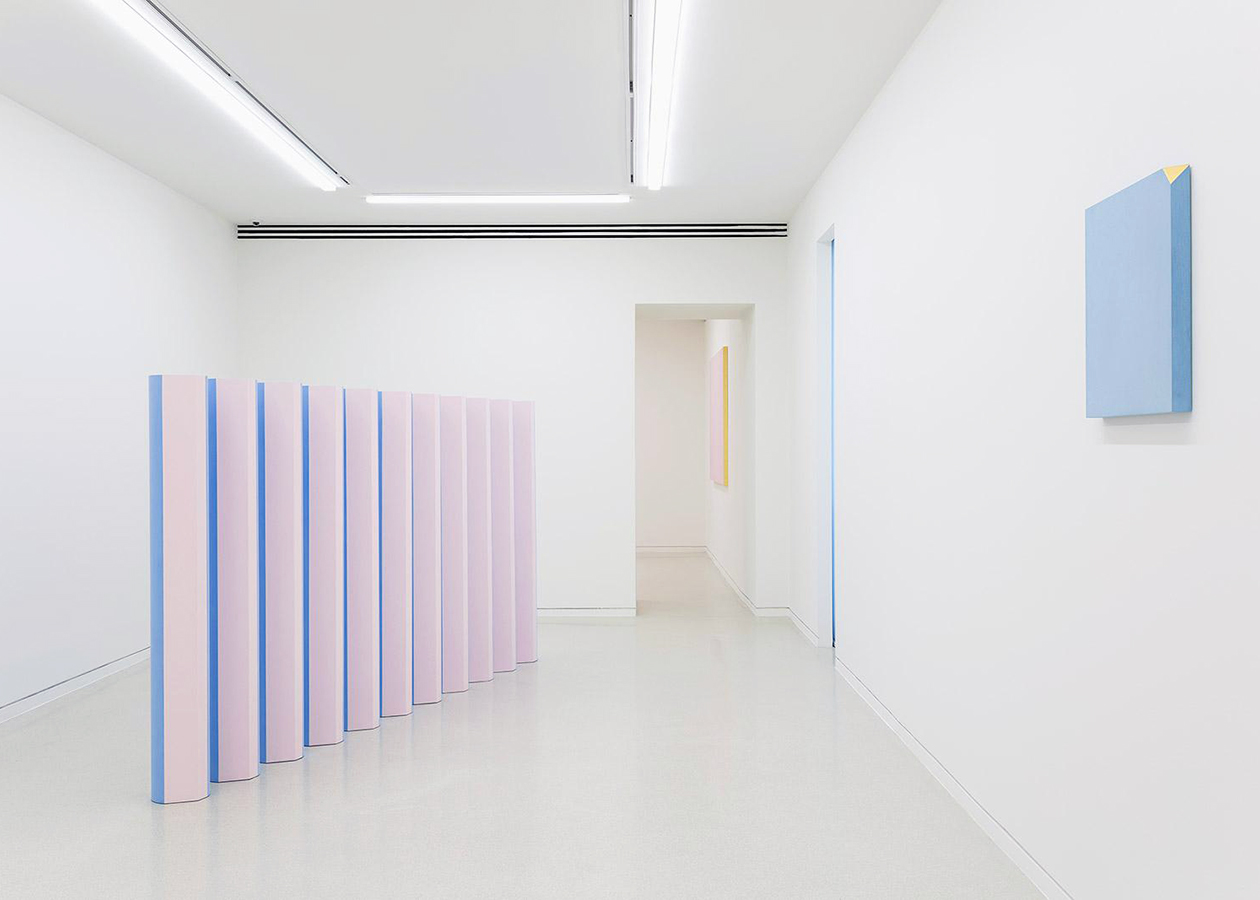 A weekly Saturday recap to share with you our favorite links, discoveries, exhibitions, and more from the past seven days. This week: A design hotel to support our new Italian coastal lifestyle, an actually perfect mustard-velvet sofa, and a DIY company that hopes to encourage Enzo Mari–esque self-production — not to mention critical thought about design, consumption, and production.
Exhibitions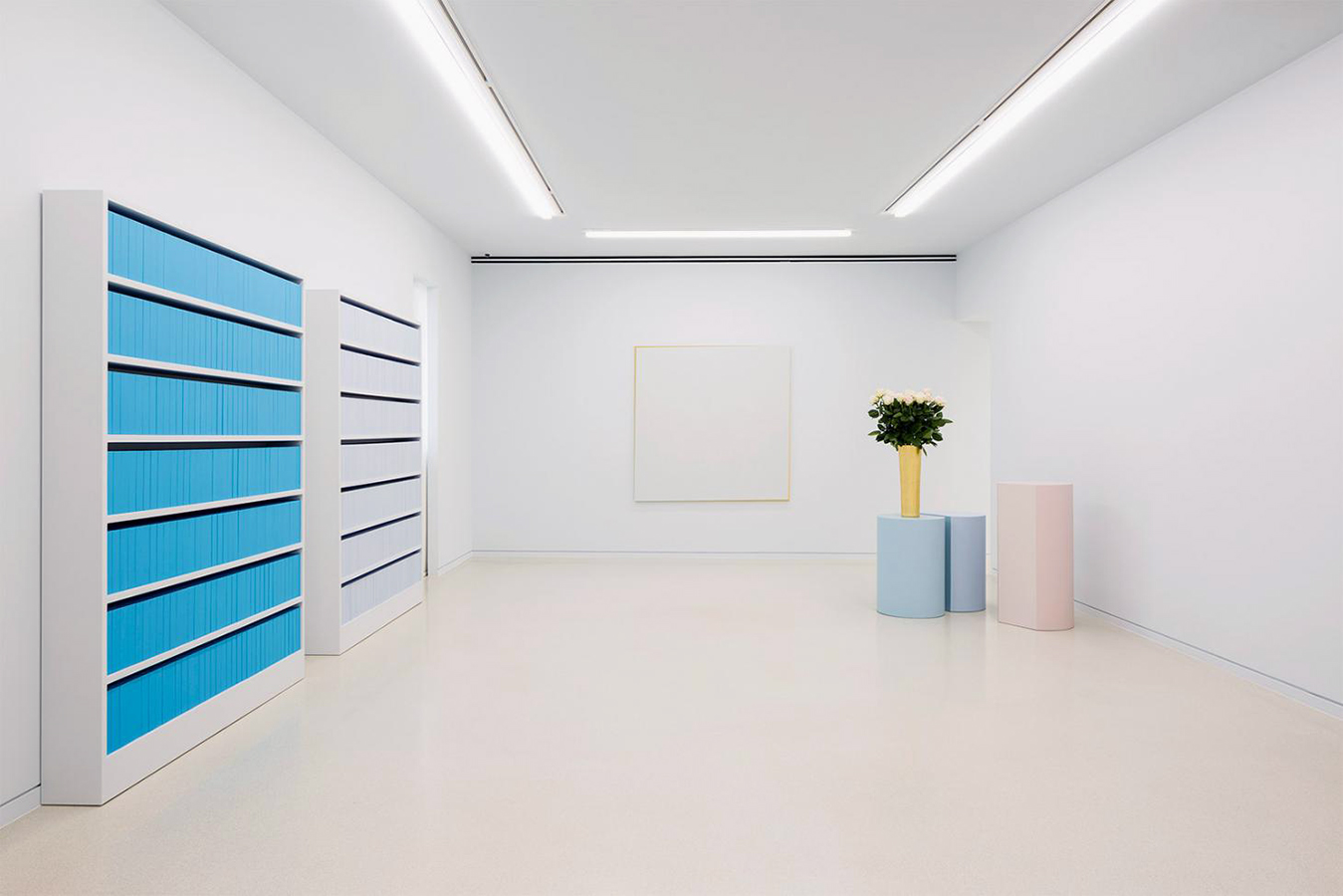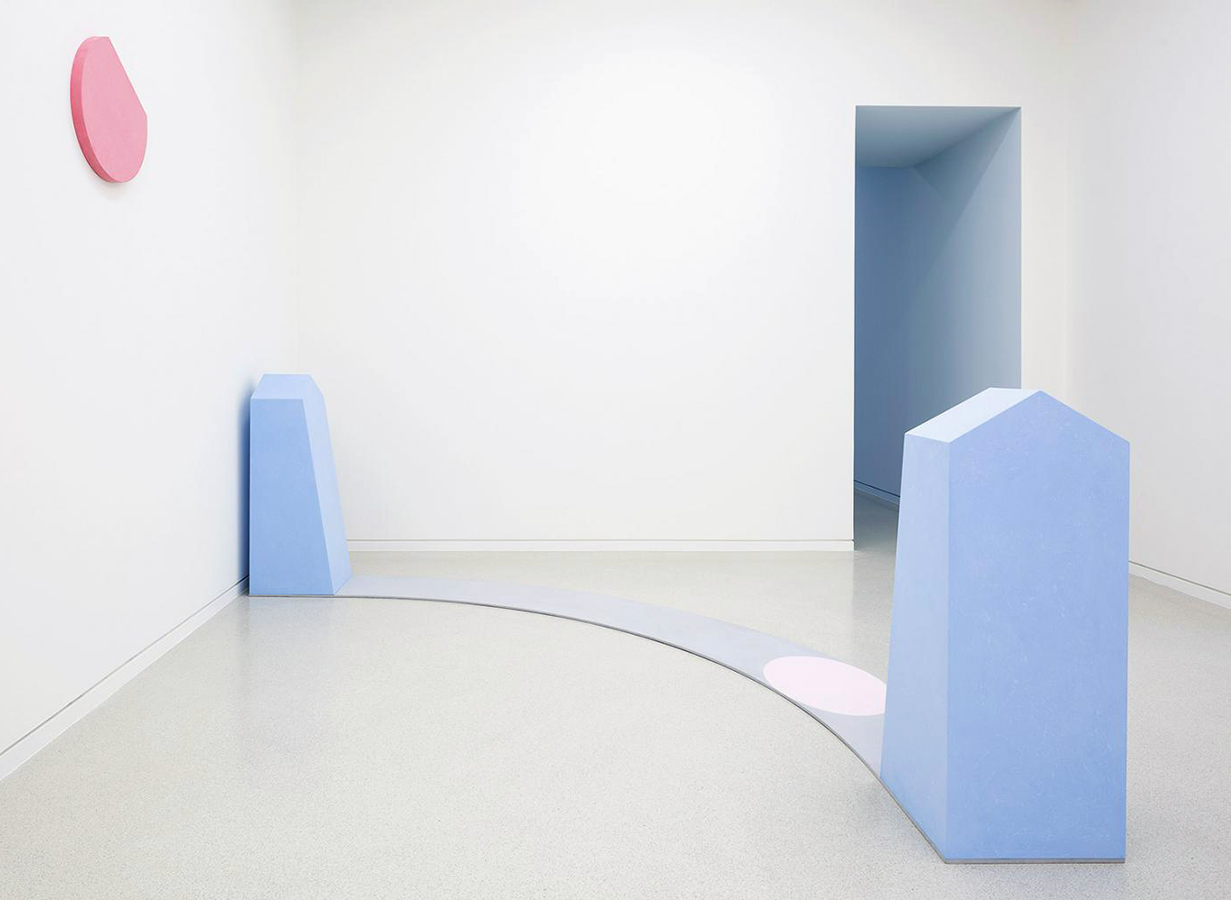 Slightly obsessed with this new exhibition by the Italian artist Ettore Spaletti, on view now at the Nouveau Musée National de Monaco's Villa Paloma. What started as a retrospective evolved into a showcase of new work in which Spaletti responded to the light and atmosphere of the museum itself. Spaletti is known for his frequent use of pink, blue and gray, and for the layer-by-layer impasto process by which those tones are achieved; these pieces seem a perfect encapsulation of that aesthetic.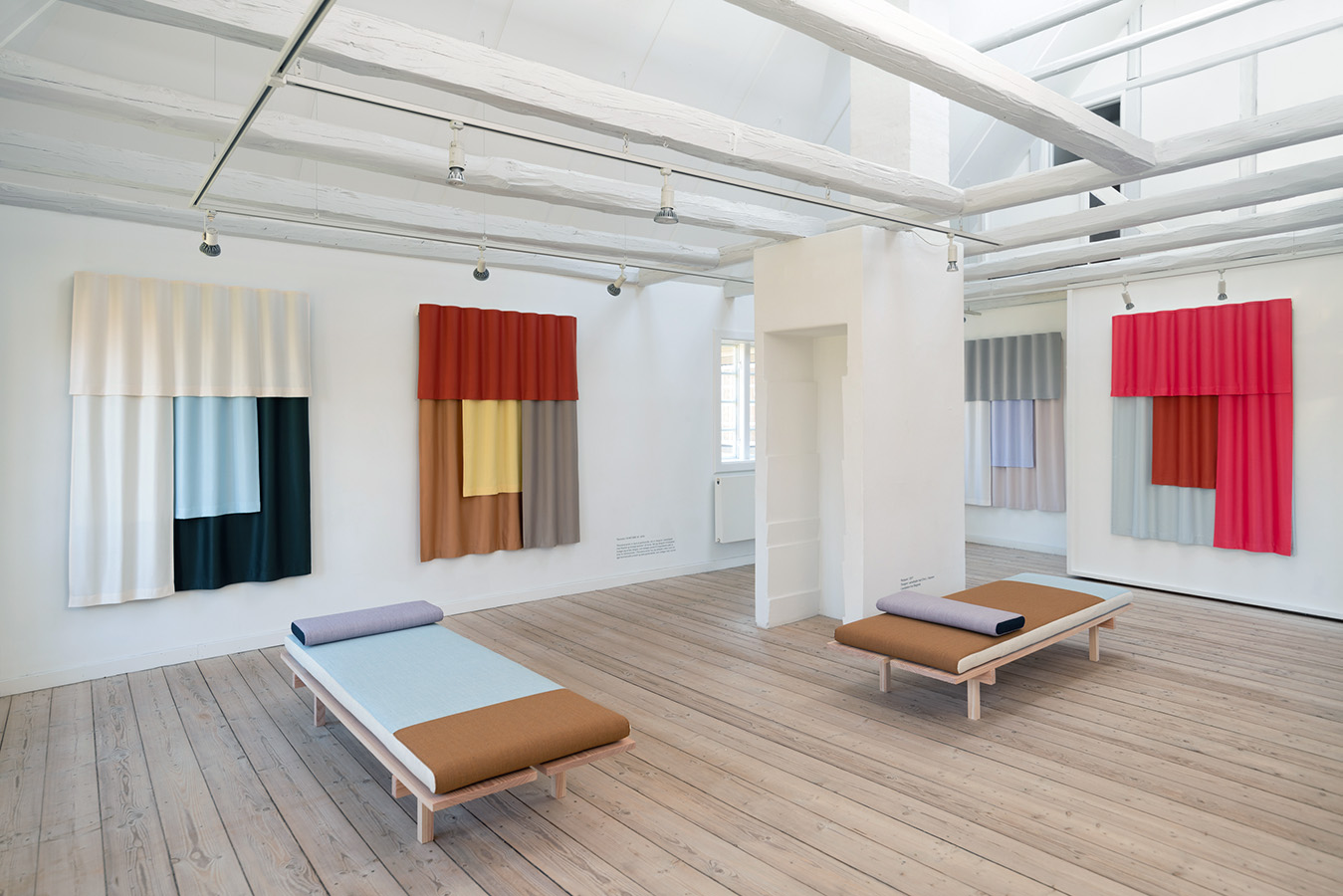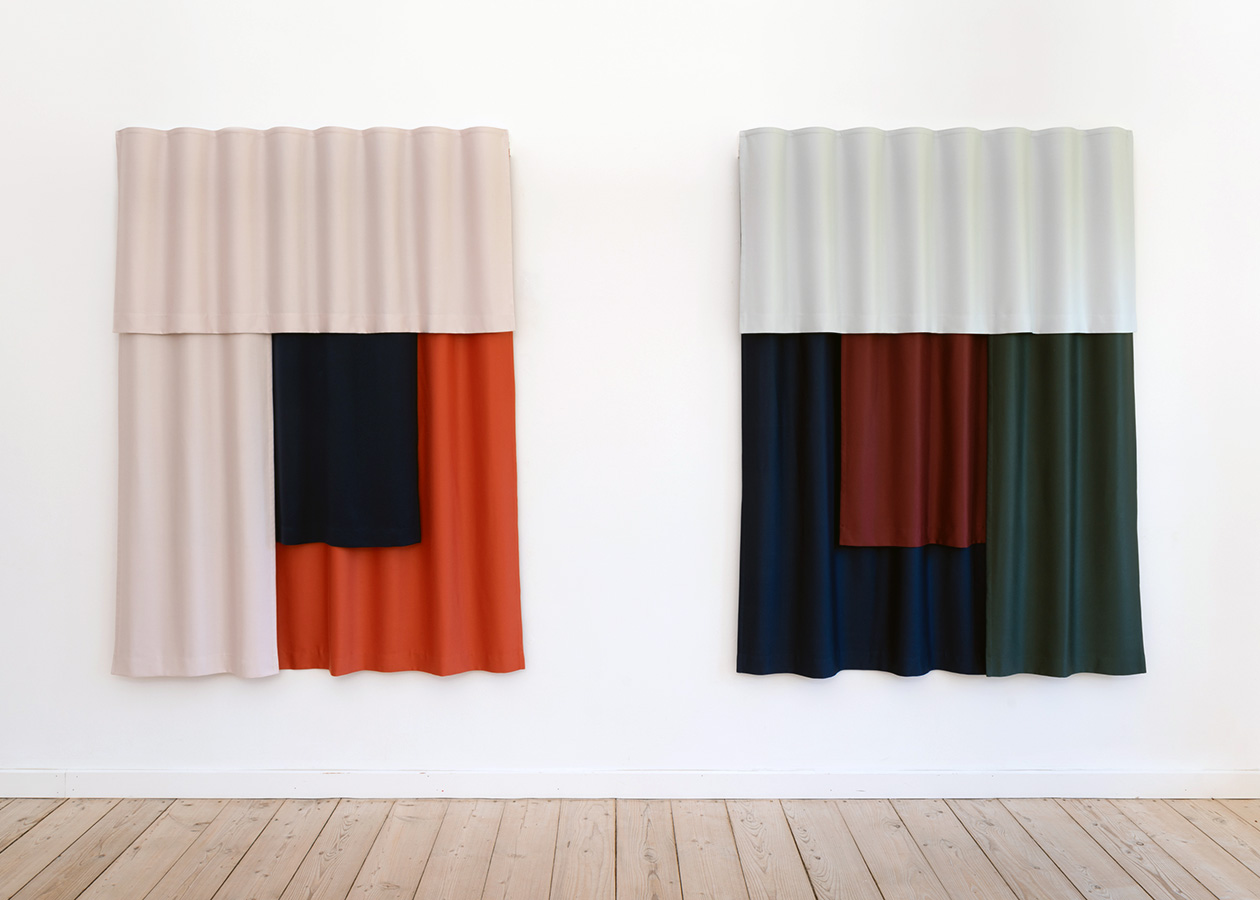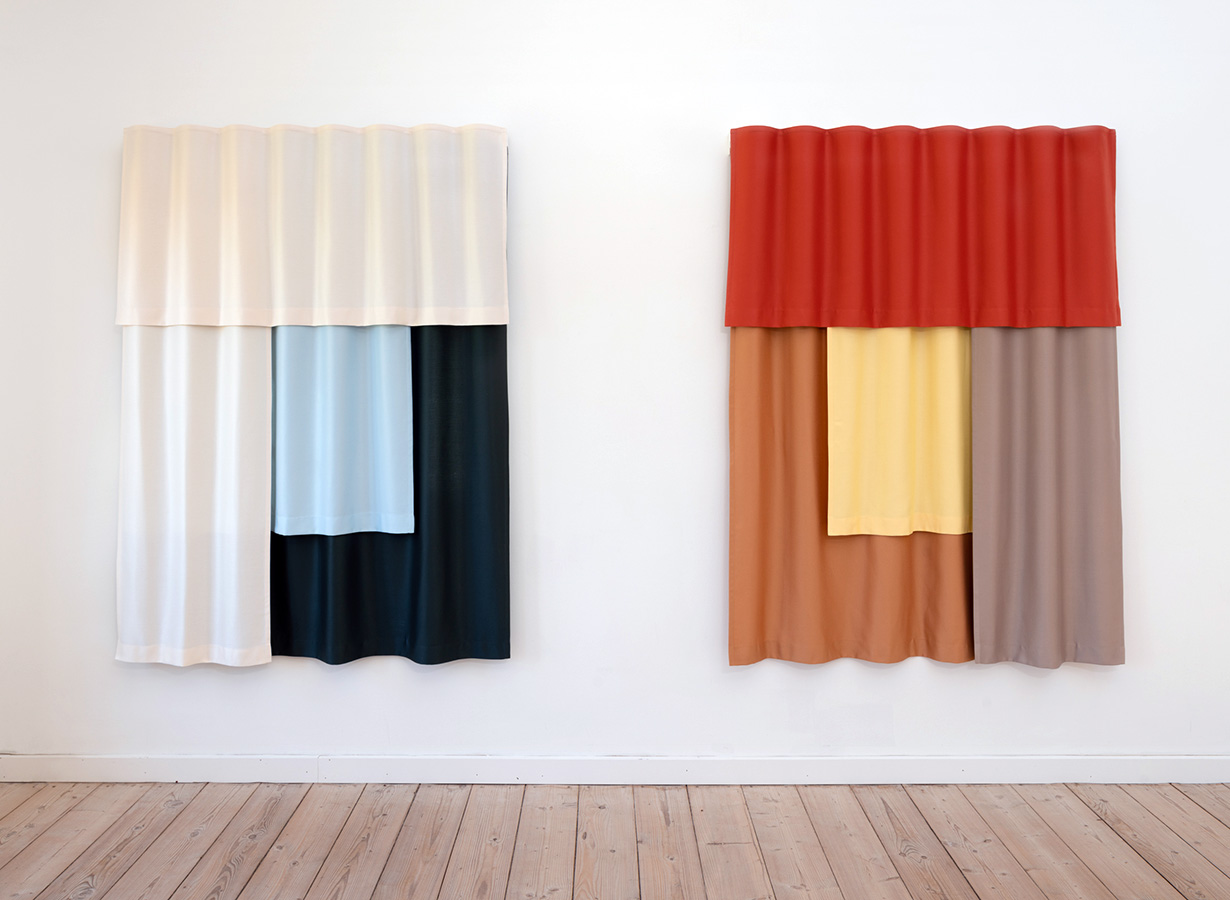 We first came across the color-blocked daybed in the top photo when we visited the Objects showroom in Brooklyn a few weeks ago and fell hard; it came as no surprise when we found out it was by textile designer Margrethe Odgaard (in collaboration with furniture designer Chris Halstrom), who's been doing beautiful textile work and installations for Kvadrat. These images are from Odgaard's solo exhibition on view now at Munkeruphus outside of Copenhagen.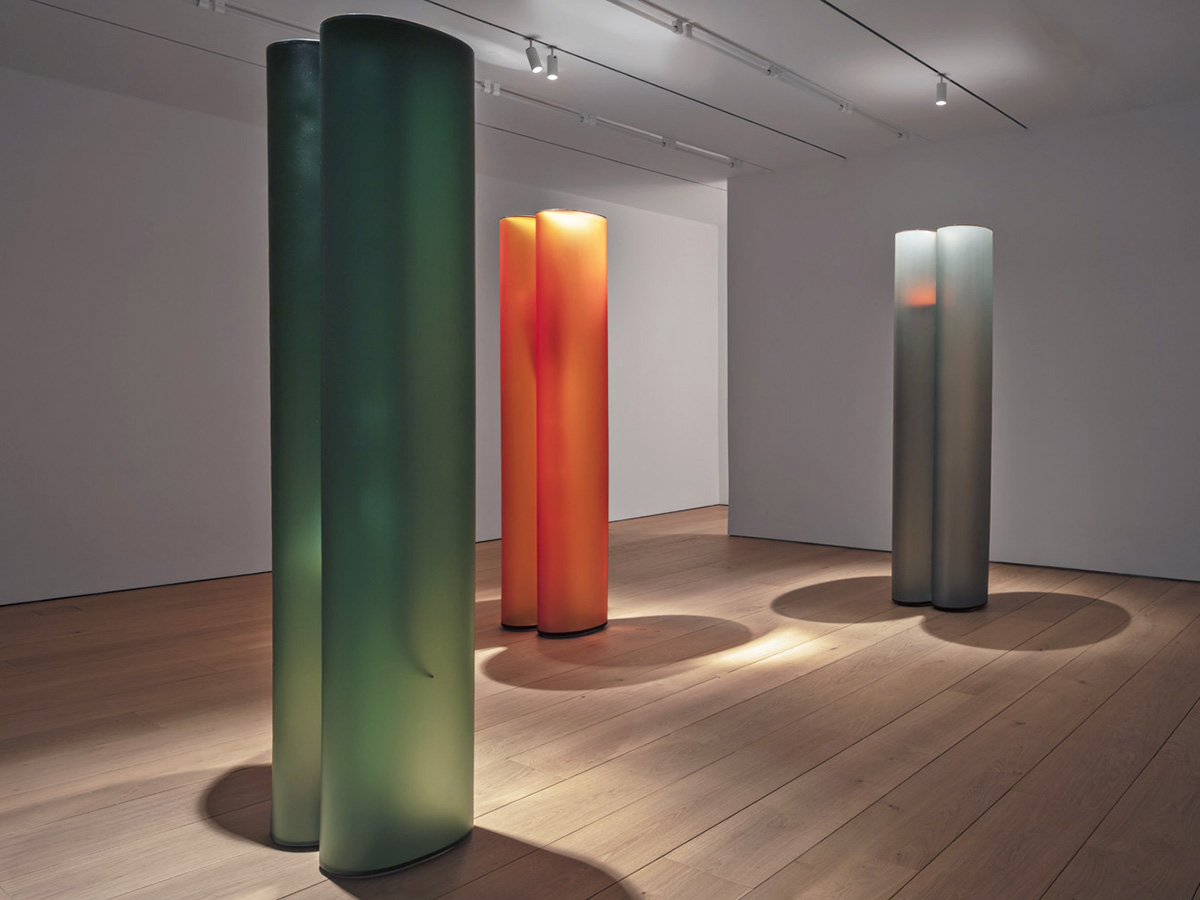 In advance of the work Lehmann Maupin will show by California Light & Space artist Helen Pashgian at Frieze New York, the gallery recently launched a small exhibition of her work in its Manhattan gallery space, called In Focus. The installation focuses on Pashgian's 2009 column works, which represent the most recent evolution of her practice.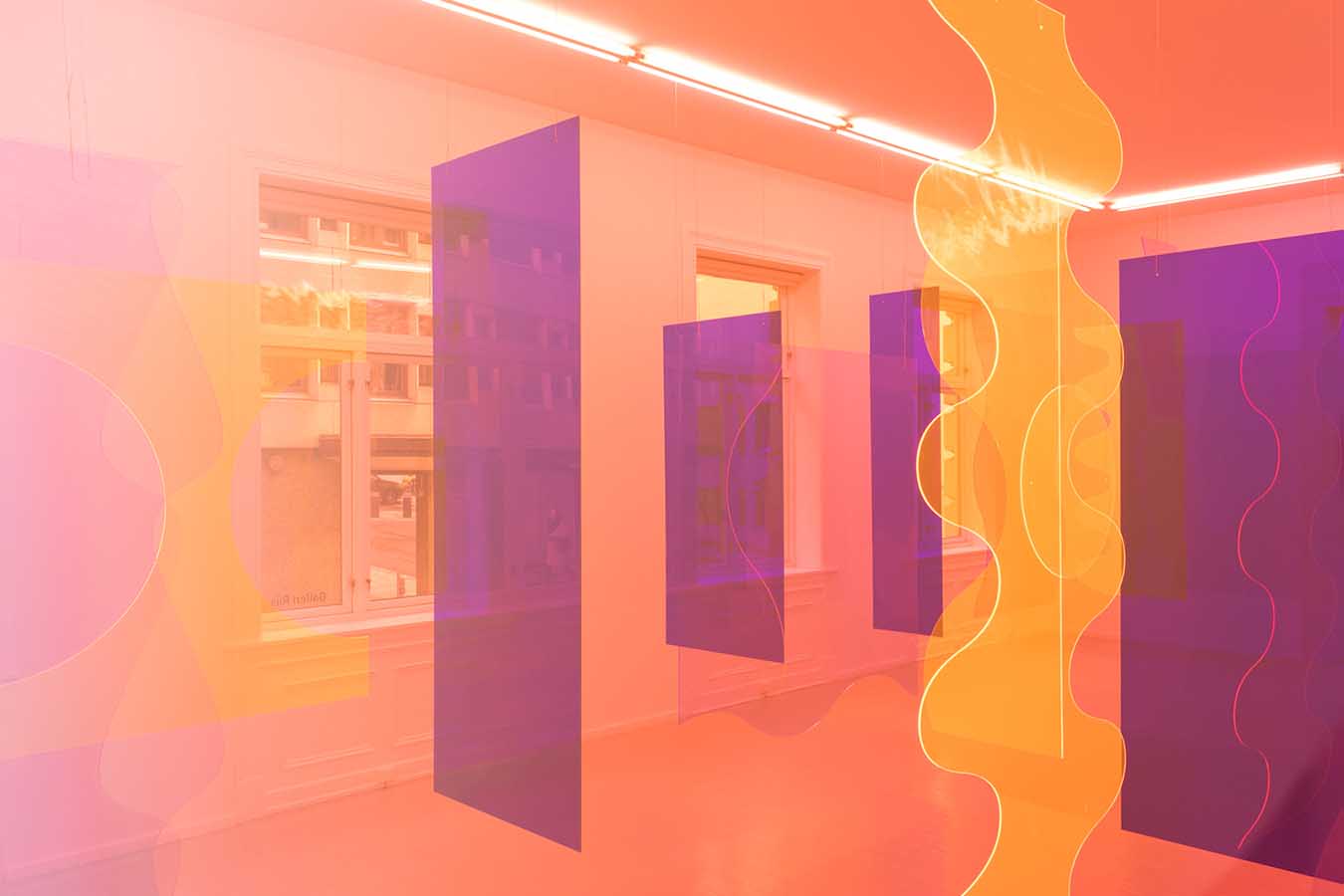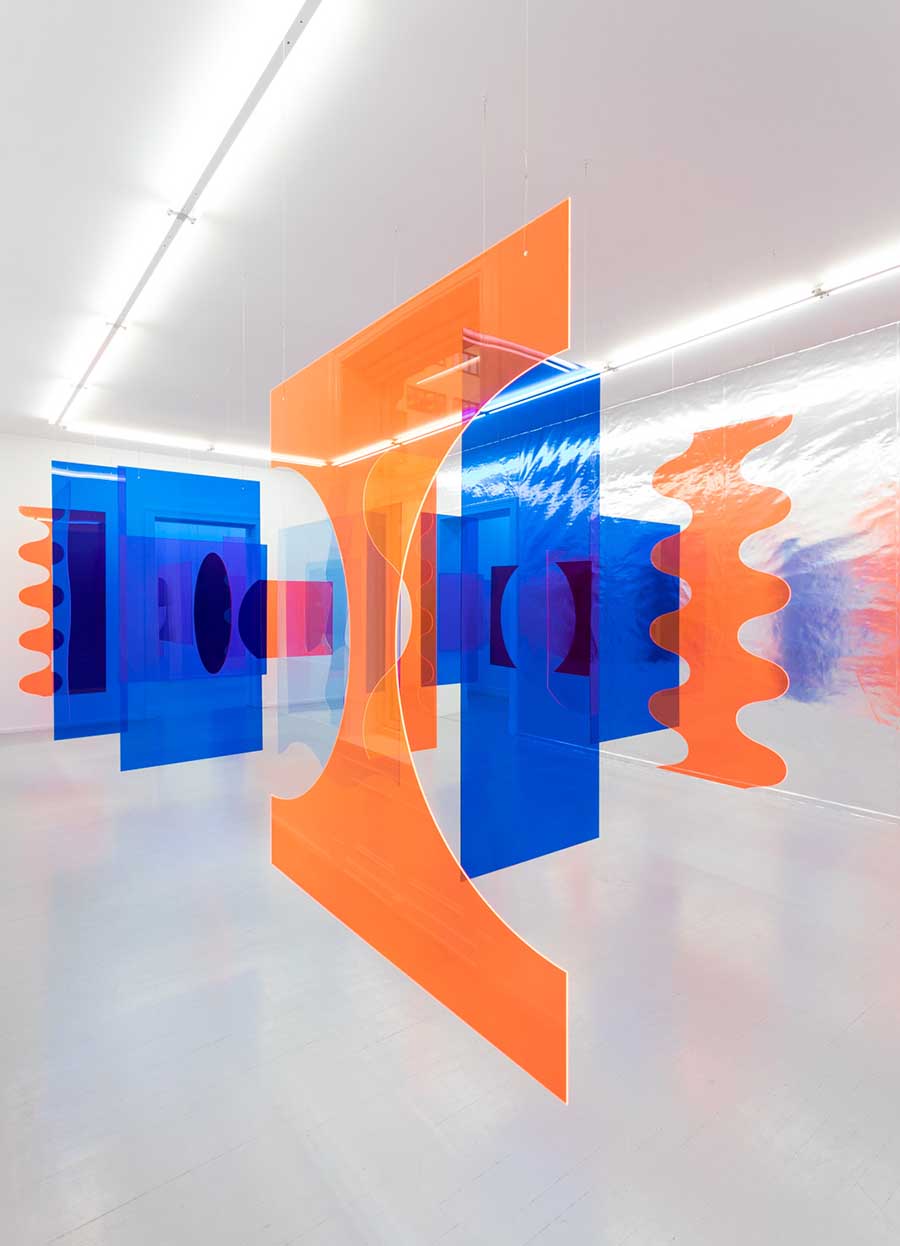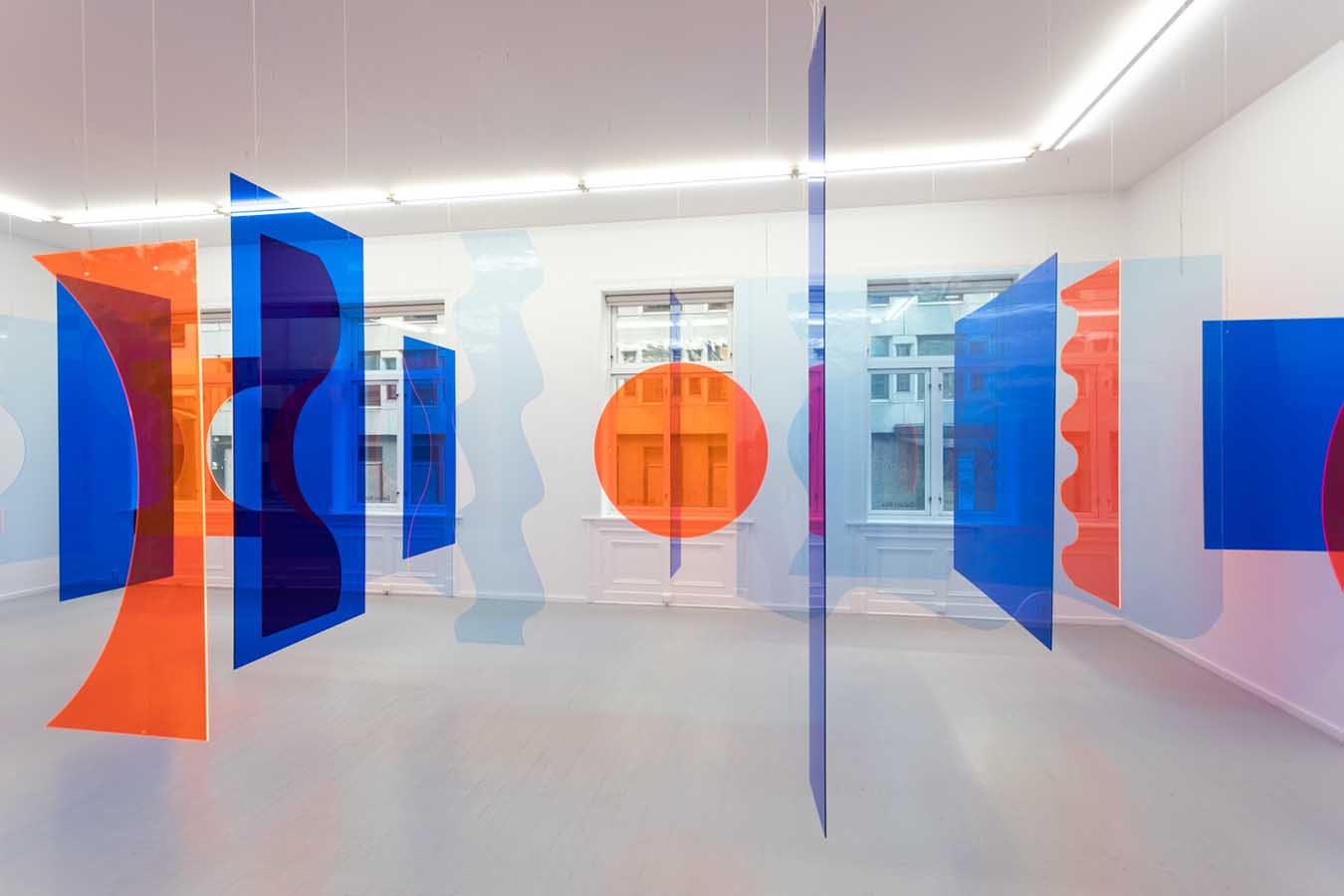 Today was unfortunately the last day to visit Norwegian artist Siri Aurdal's exhibition at Galleri Riis in Oslo. While open, visitors were invited to weave among Aurdal's cut Plexiglas shapes, which formed a sort of neon geometric hanging forest. Fun fact — the artist's breakthrough exhibition, way back in 1969, was held at one of our favorite Oslo haunts, Kunstnernes Hus.
Discoveries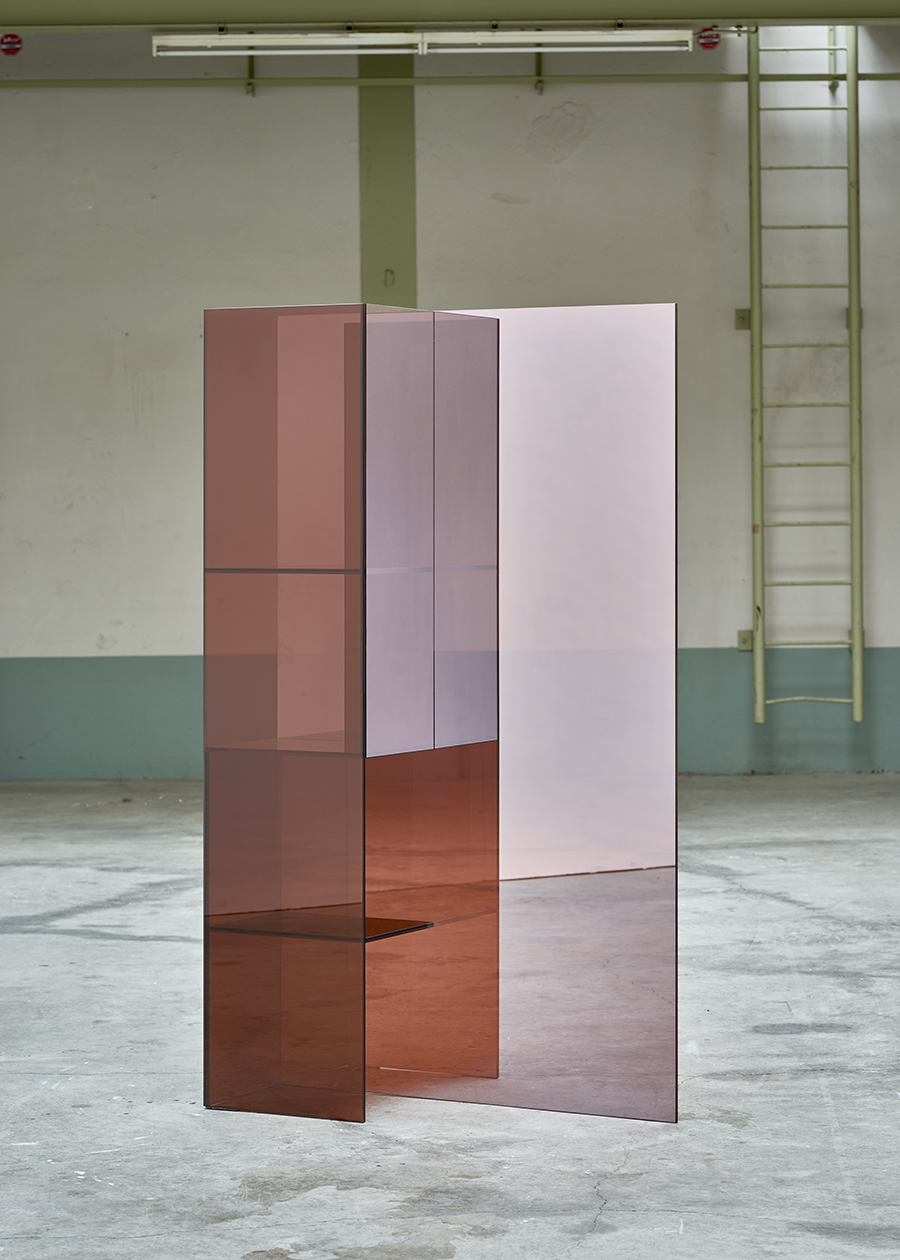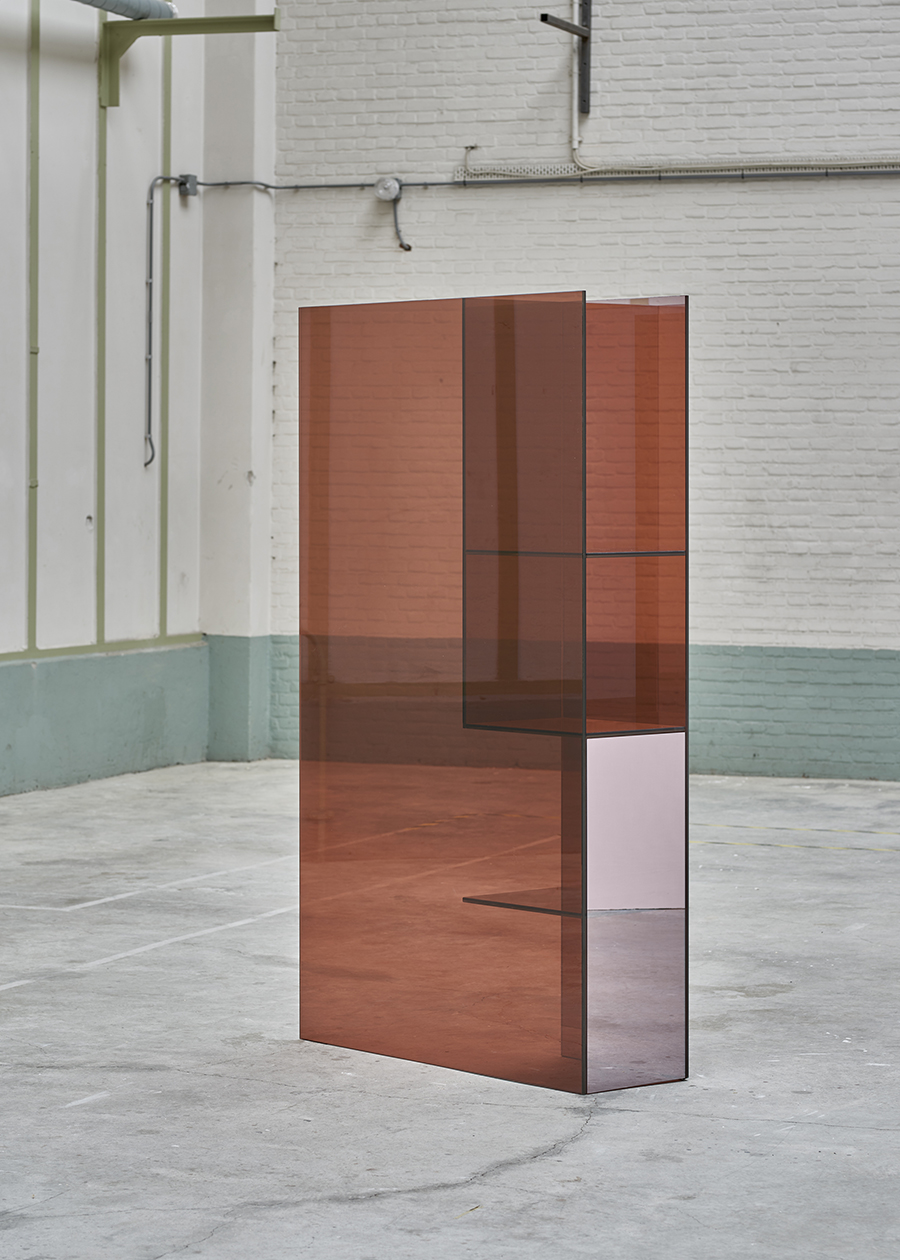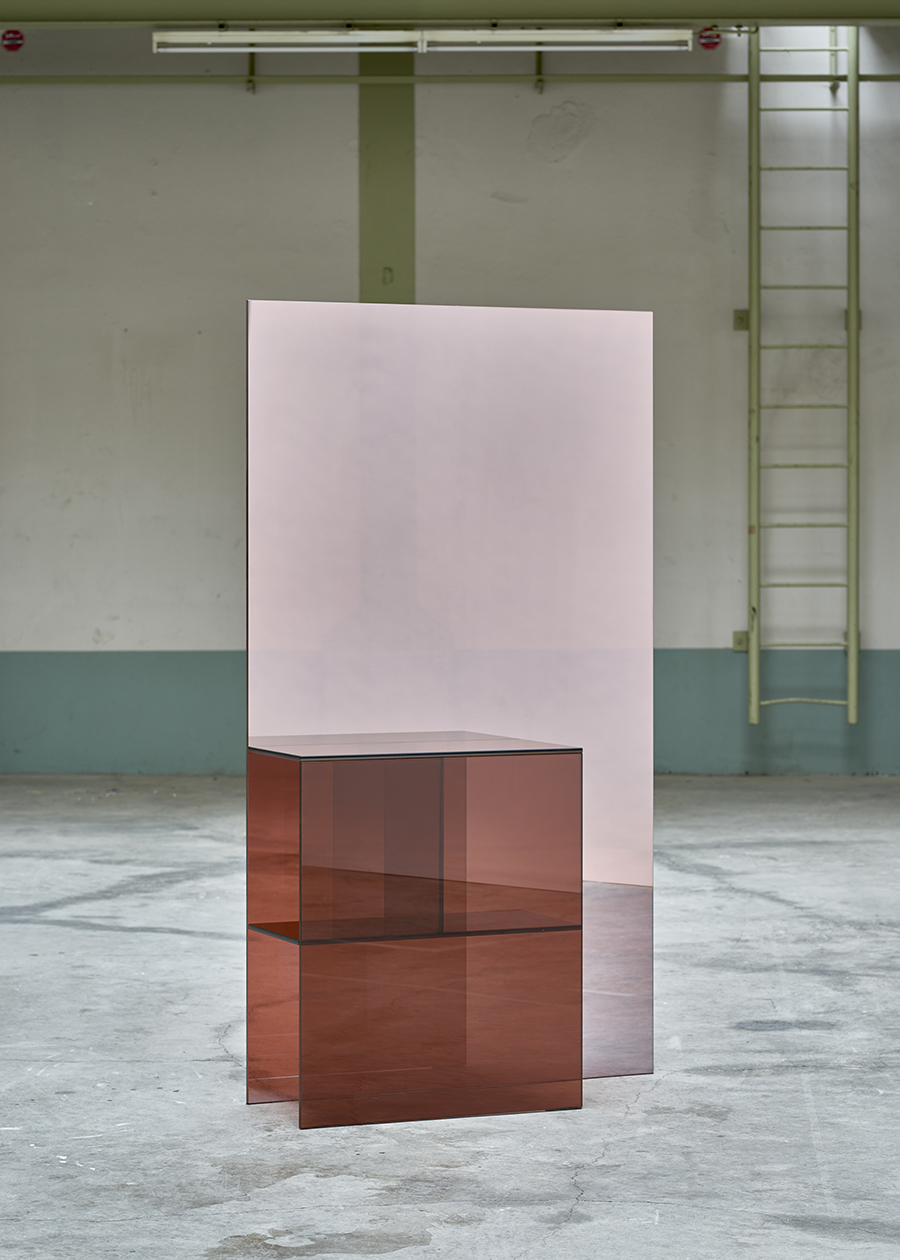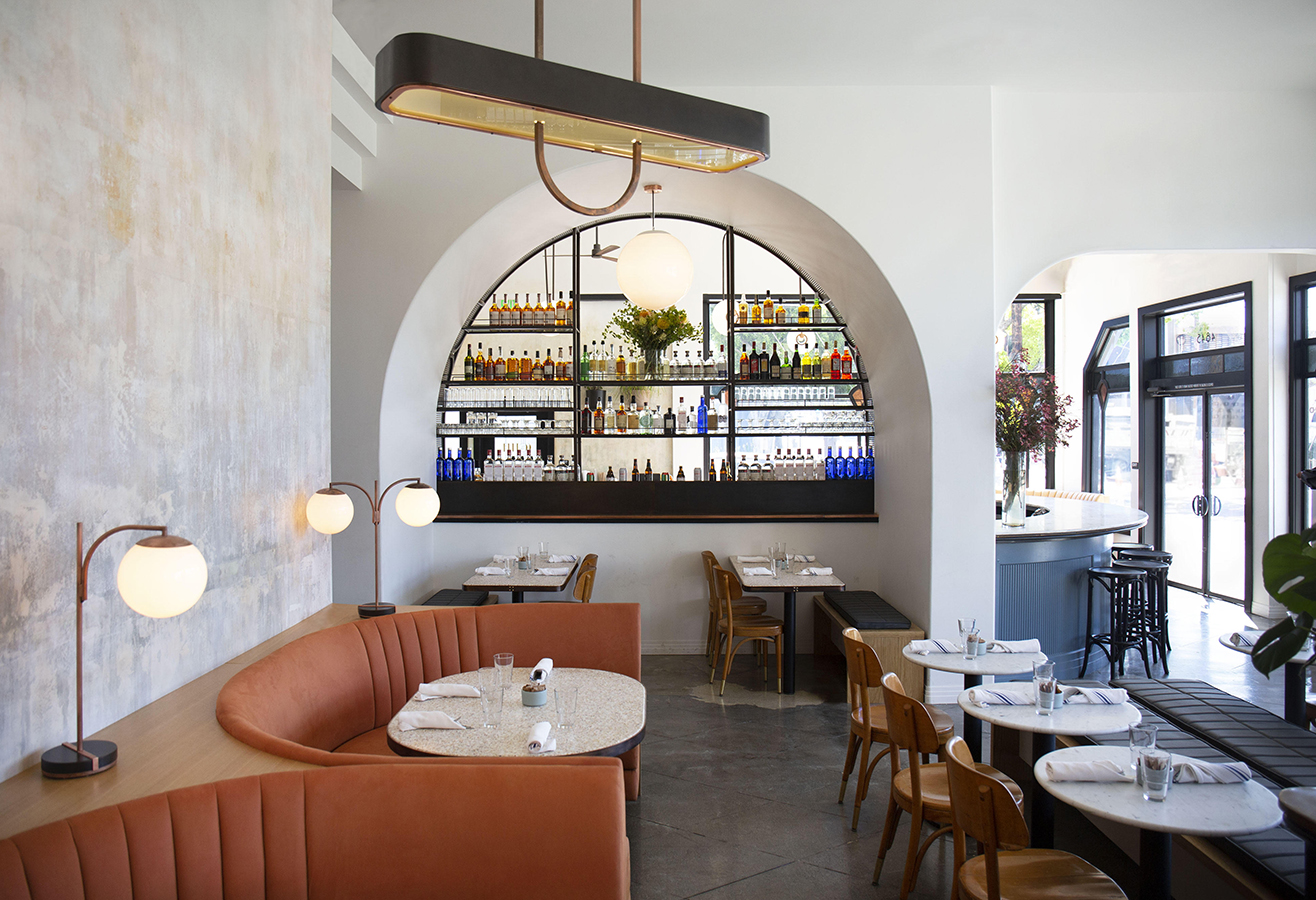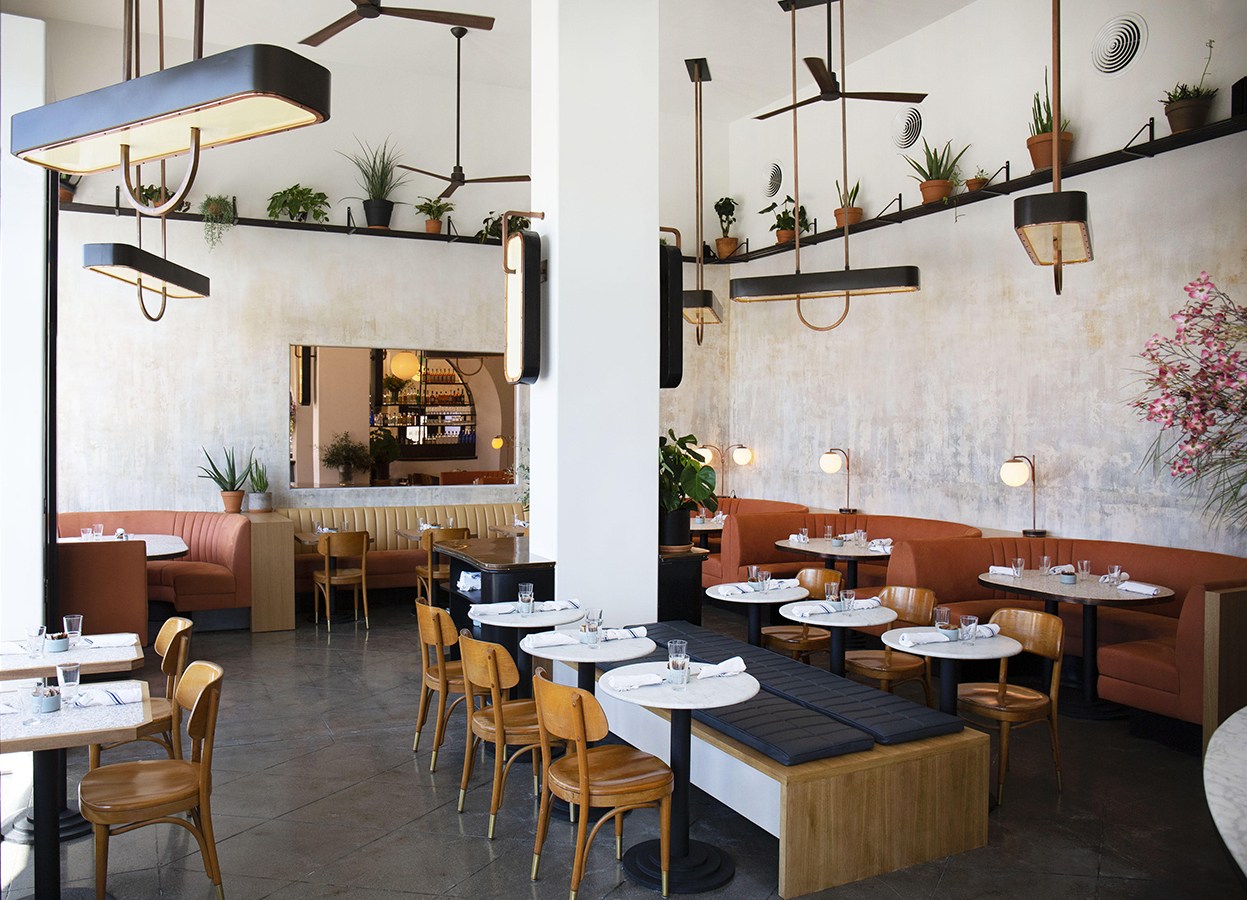 The Greenpoint restaurant Five Leaves recently opened an outpost in Los Angeles, although outpost seems too small a word to describe a restaurant that appears to be about 25 times the size of the Brooklyn original. The design is by Home Studios, and it features many wonderful things including a giant blue wraparound bar, and banquette seats in shades of peach, caramel, and blue.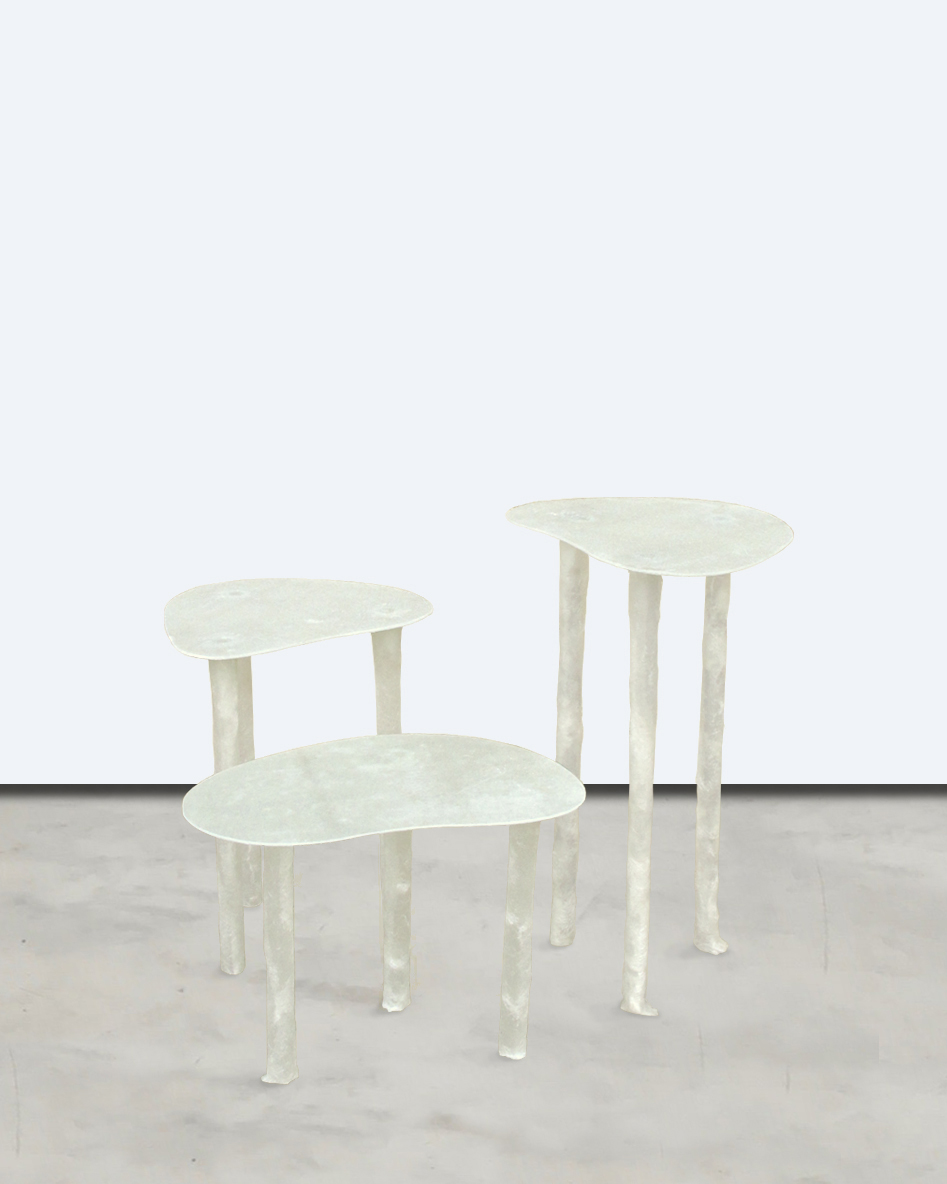 Fiberglass has been low-key trending for a while now, and we're happy to see young designers now experimenting with the material. These tables were designed by Max Enrich for a recent exhibition on "Functional Art" at the Madrid-based gallery 6más1.
The guys behind the New York vintage store Love House recently unveiled the first piece from their in-house furniture line, and we've never met a staggered asymmetrical leg combo we didn't like. Don't currently see it on their site for purchase, but inquire for purchase!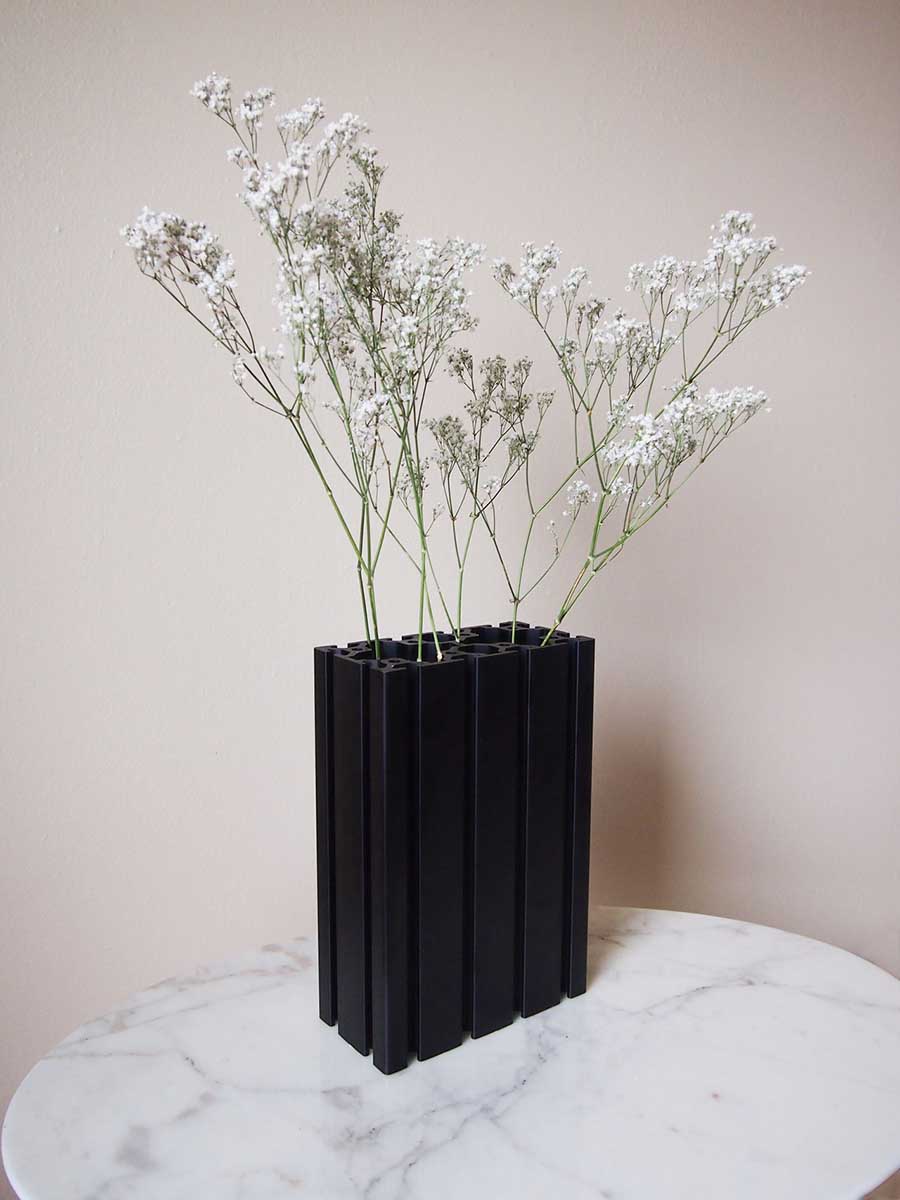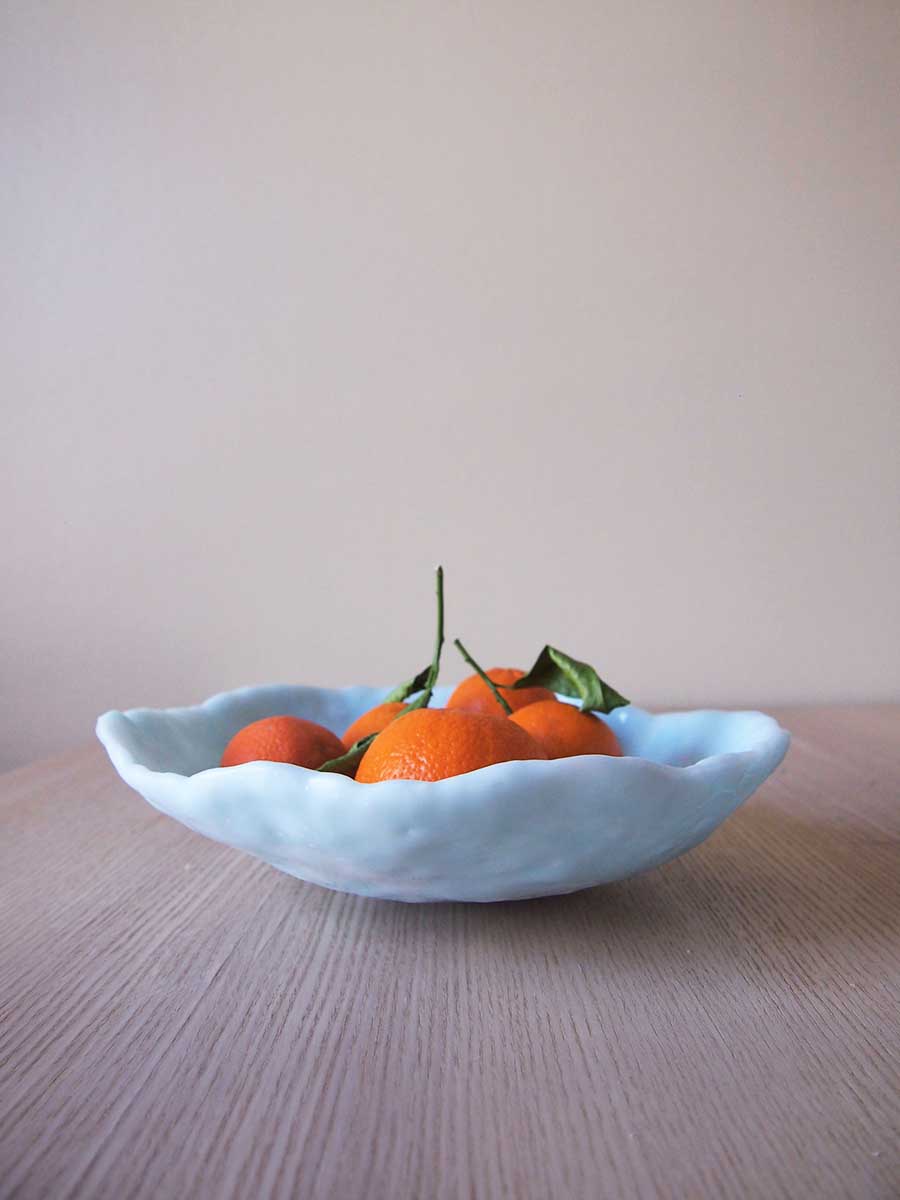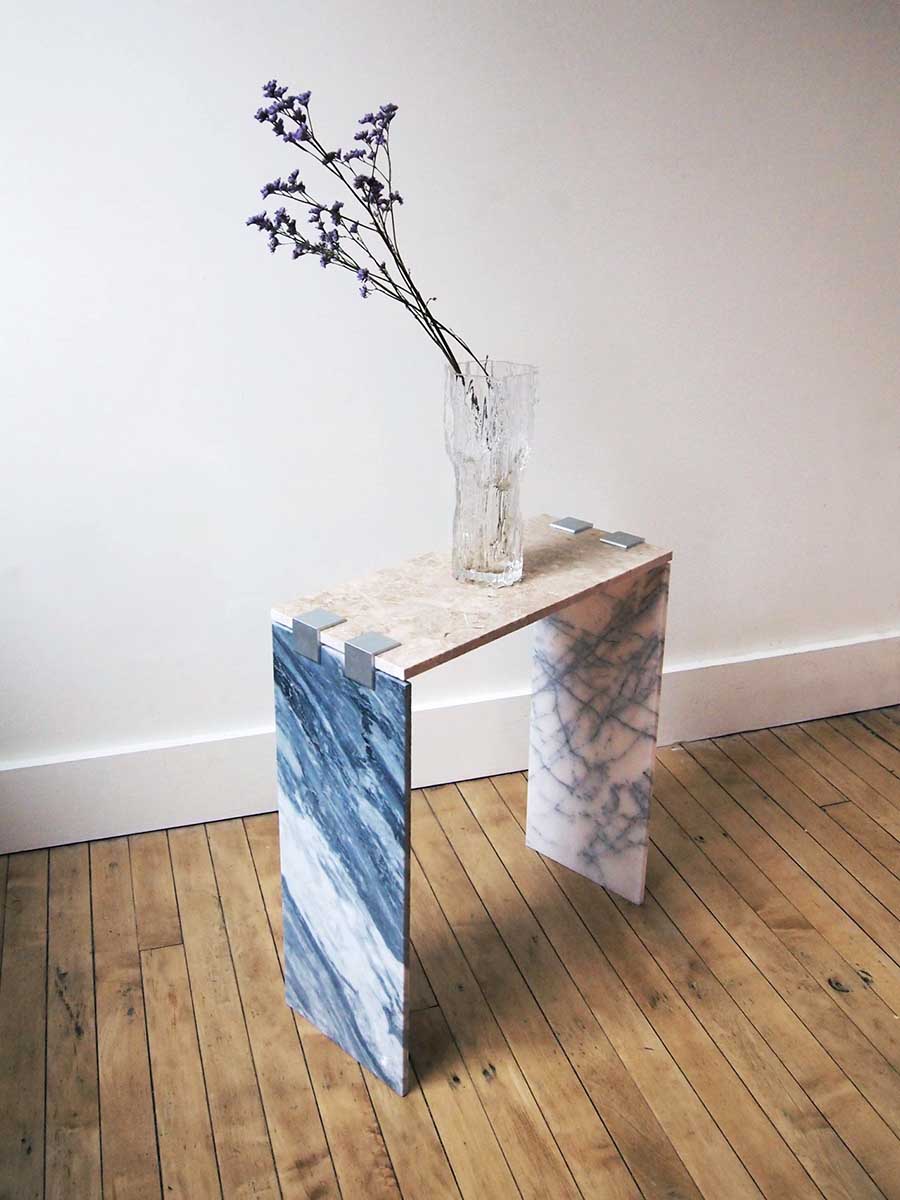 Last time we spoke with Ian Anderson, he was designing ceramic cups that would later become viral Pinterest gold. But Anderson has recently been doing some thinking: "When we reflect on the impact design has had in the last century, we find that it is far more destructive than productive," he writes in the introduction to his new company, Self-Assembly. Anderson designed the first collection himself, and has published the materials list and instructions for DIY assembly of those objects, in the hopes that a user's implication in the design process will lead to greater recognizance of our role in creating waste. The products range from easy-to assemble extruded aluminum vases to more difficult pieces made from moldable plastic pellets.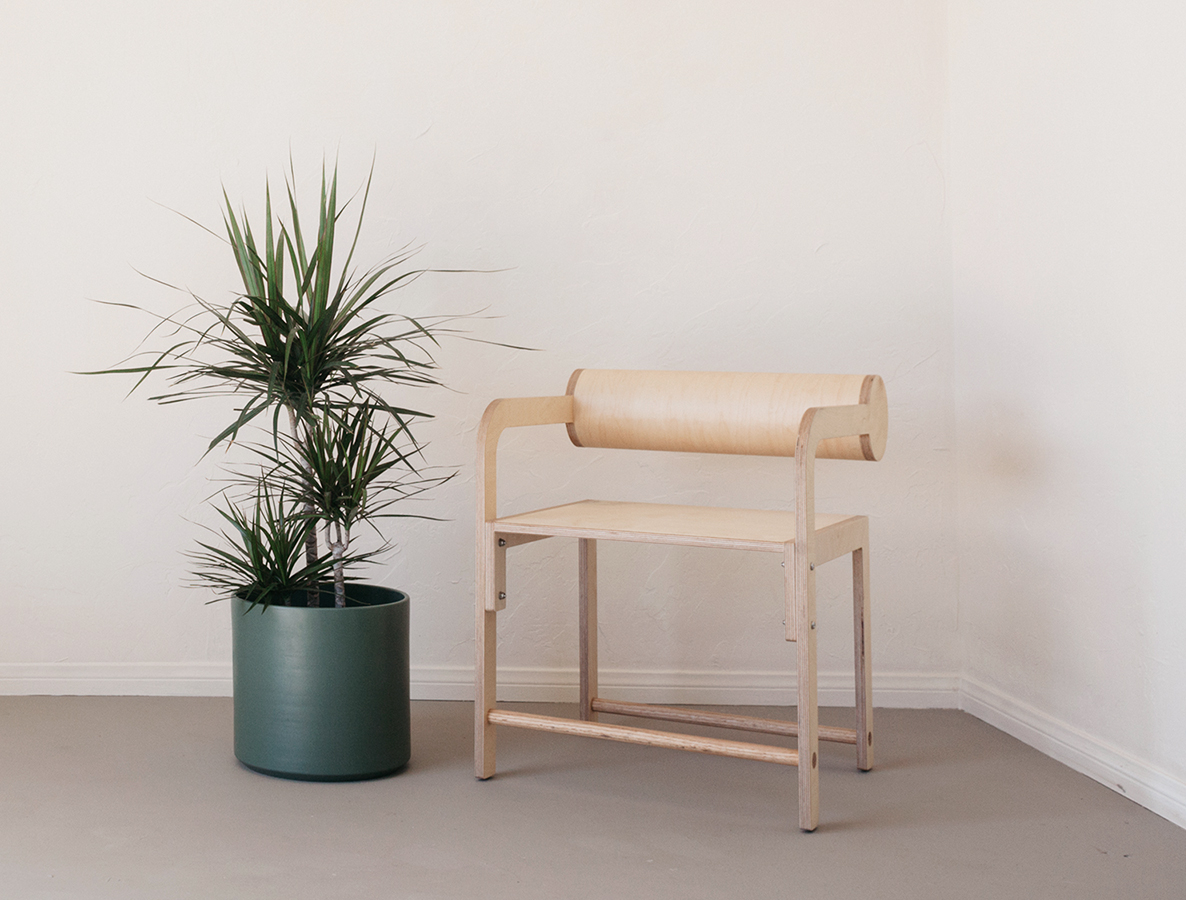 We were recently quoted in New York Magazine as calling Norden "the normcore planter of choice;" the California-based brand recently released its signature planter in more trendy hues, including cobalt and forest green, shown here next to one of our favorite Waka Waka chairs.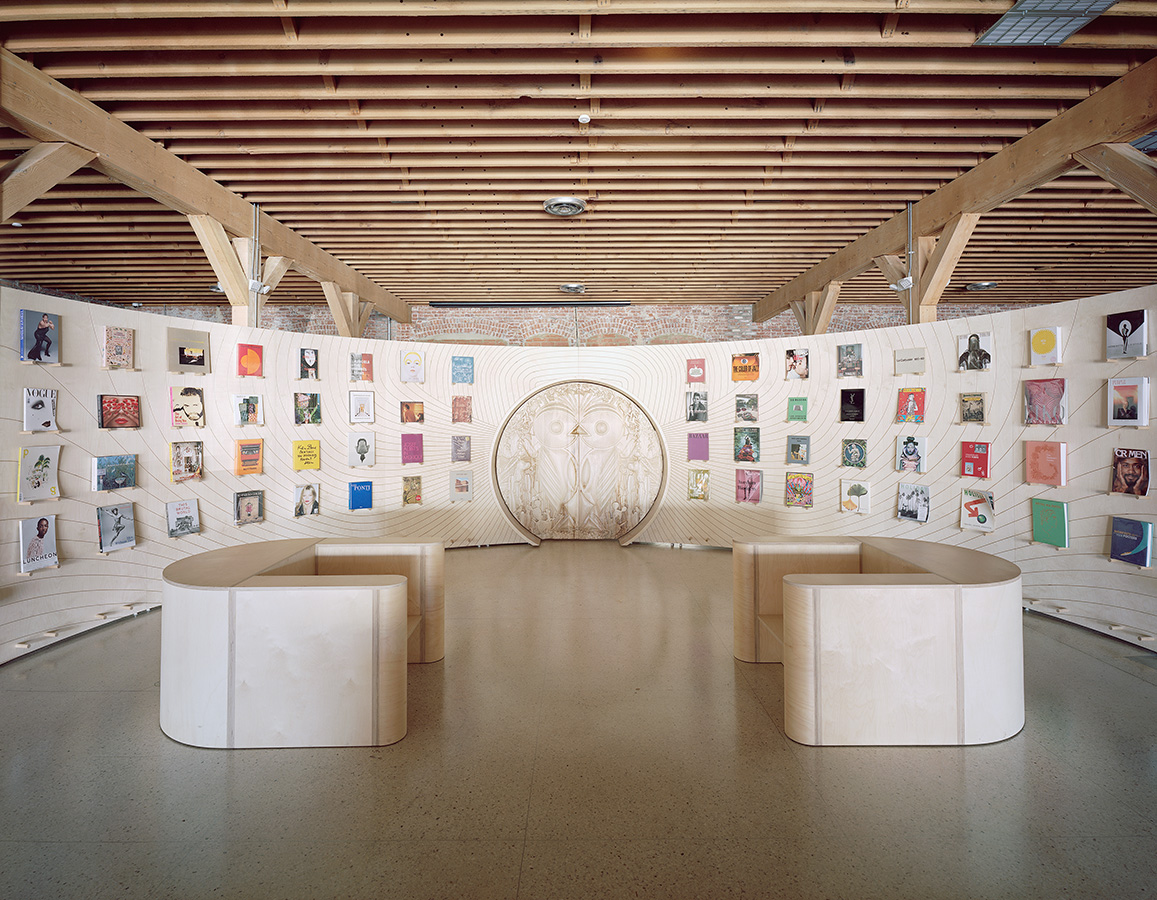 Speaking of Waka Waka, how good are these custom armchairs by the LA-based designer? They're sitting inside the new Owl Bureau, a mixed-use storefront in Highland Park that serves as a bookshop, exhibition space, artist's residency, an HQ for Chandelier Creative. (Also, can someone please send me a copy of that blue Gio Ponti book on the bottom row? K thx.) Photo by David Benjamin Sherry
Links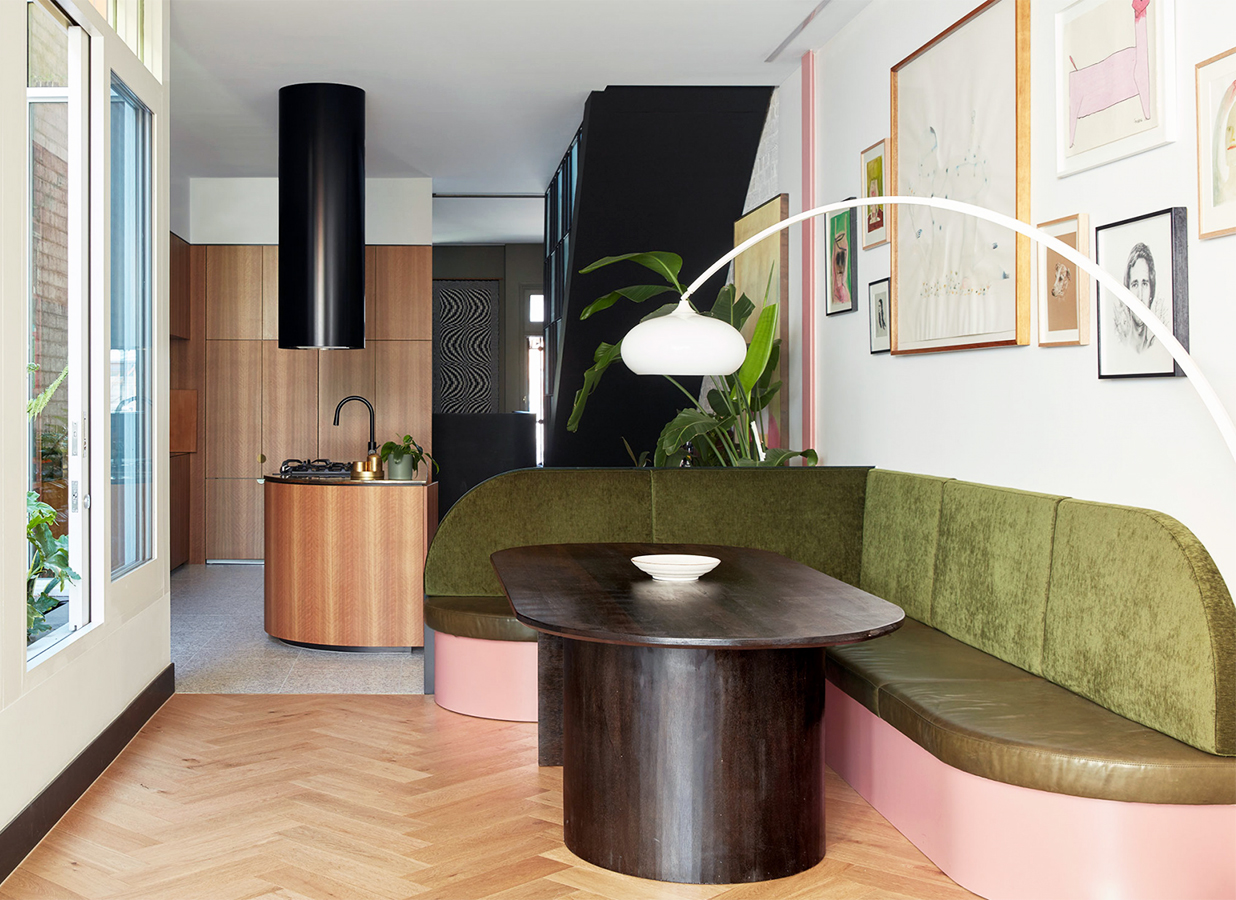 The Design Files peeked this week inside an Australian home designed by Fieldwork Architecture, and we honestly cannot get enough of this custom kitchen banquette in pink and different textures of moss green fabric.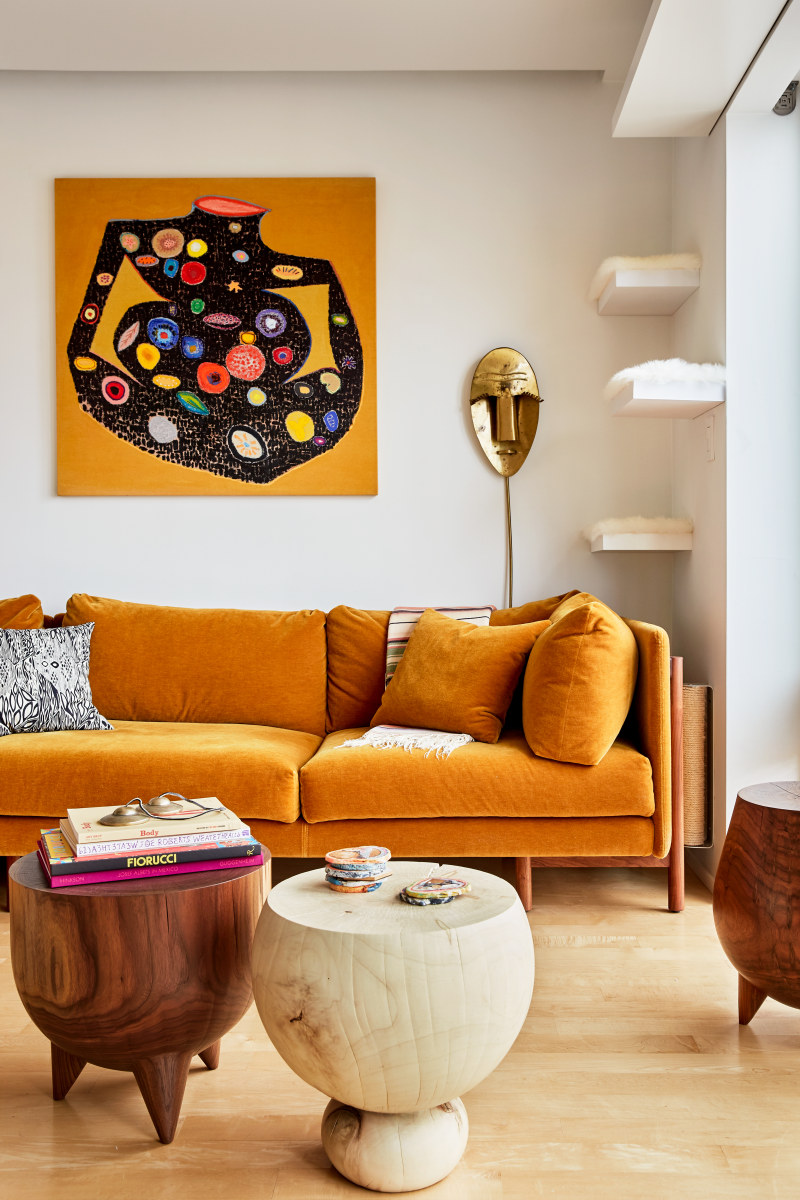 We've been stalking our friends Caitlin Mociun and Tammer Hijazi's mustard velvet De La Espada sofa hardcore on Instagram, so we were happy to see their home pop up on Domino this week so we could appreciate it — and its accompanying brass face sconce, what — in all its glory. Considering Mociun is our favorite jeweler and Hijazi is one of our favorite furniture designers, it's unsurprising that their home is picture perfect.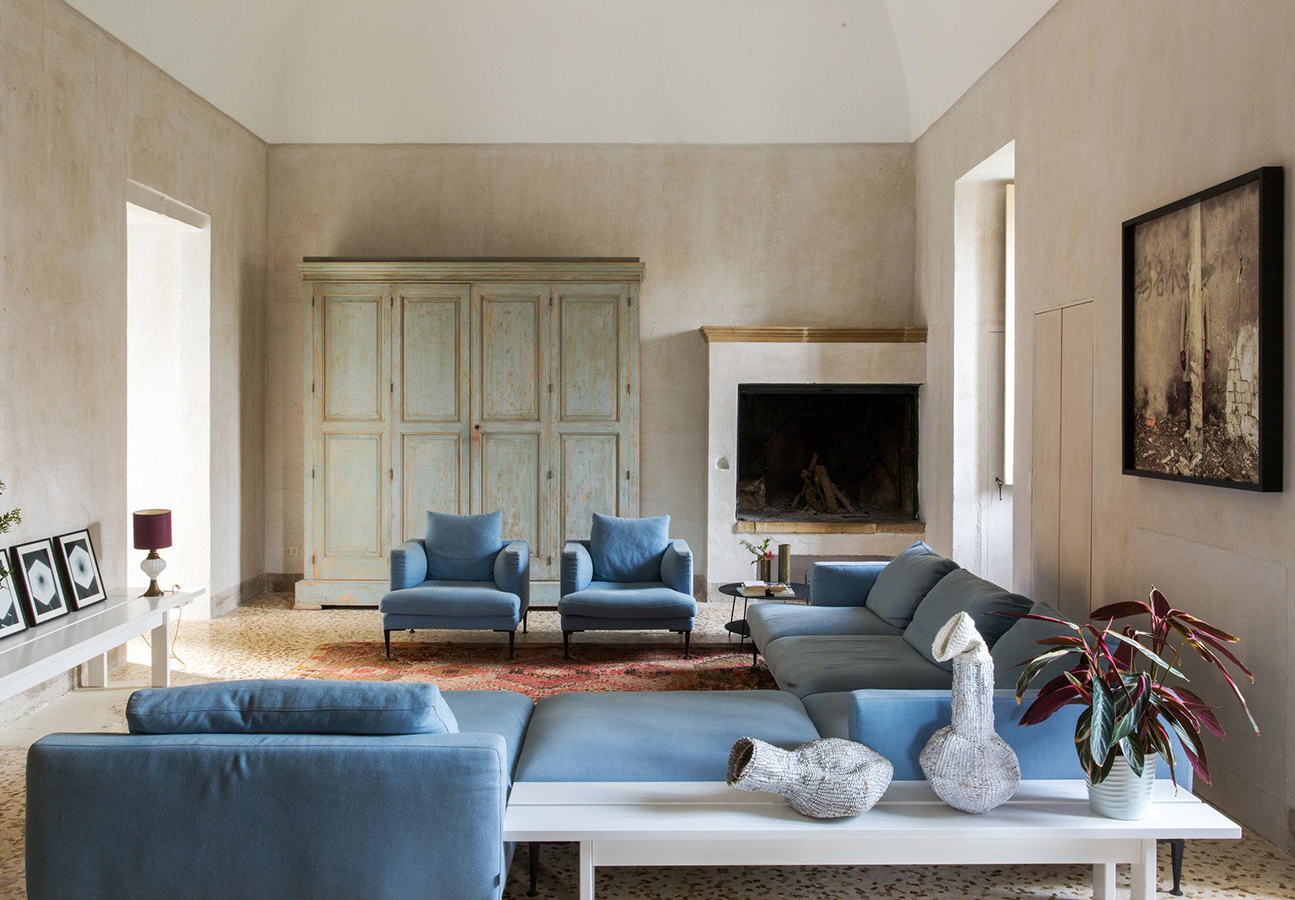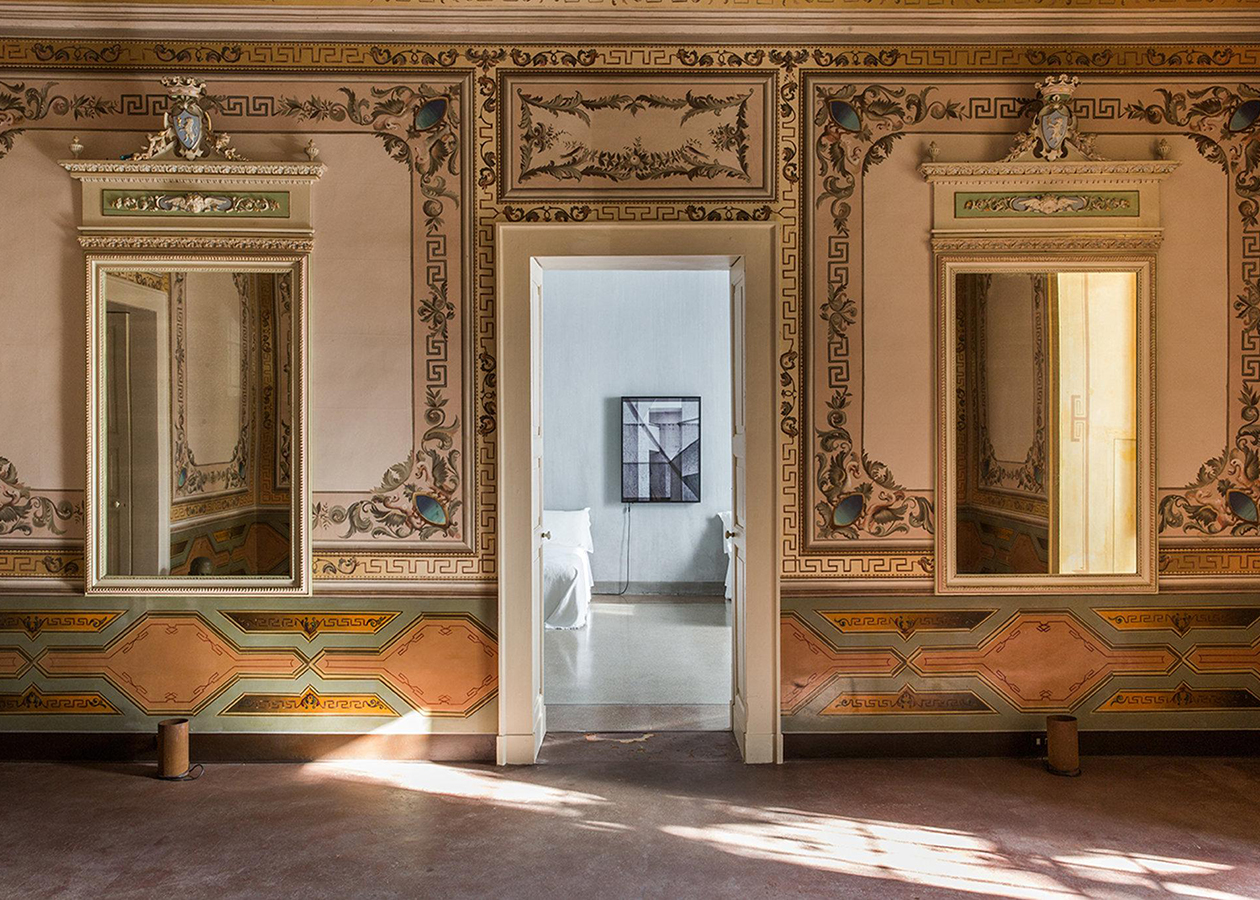 After spending 48 hours post-Milan in Lake Como, we're pretty committed to exploring the Italian coastal lifestyle. Perhaps our next trip will be to this 19th century palazzo-turned–design hotel in Puglia, which was featured in T Magazine this week.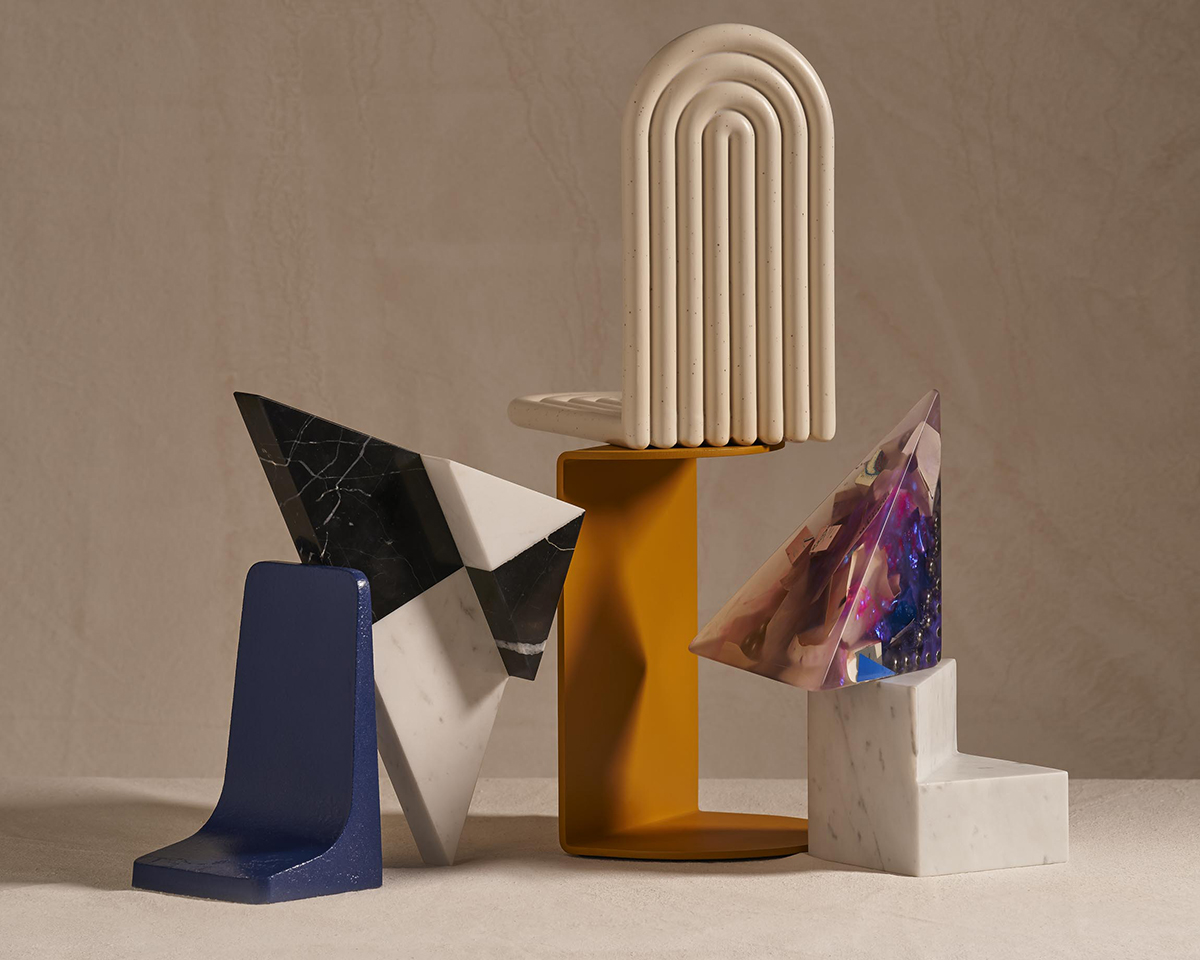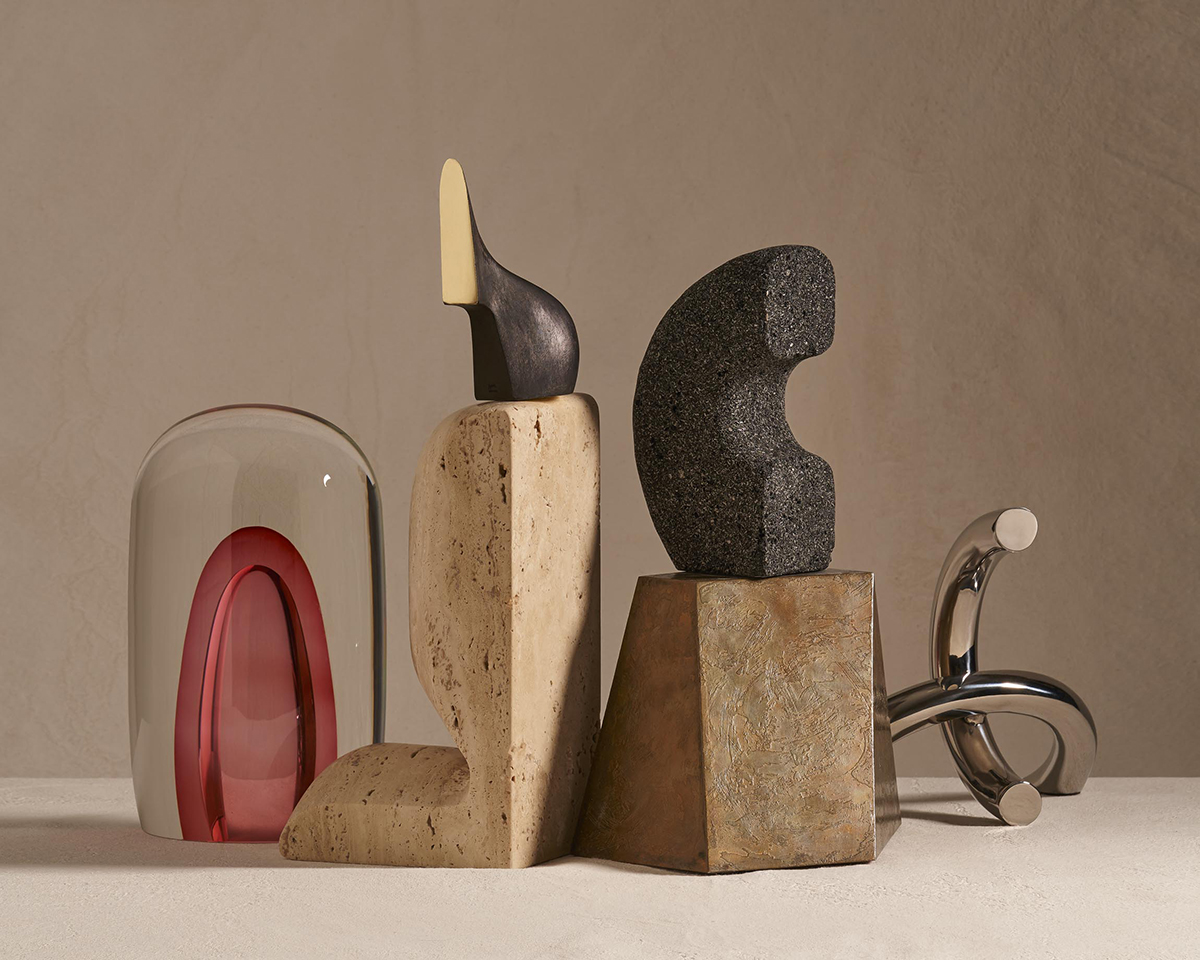 A recent editorial in Bloomberg Businessweek — put together by Monica! — features pretty much every bookend you could ever need, including a sparkly, unicorn-like pair by Chen & Kai for The Whitney, a heavy-duty set in iron by Henry Julier for Areaware, and probably the best thing currently available at Restoration Hardware.