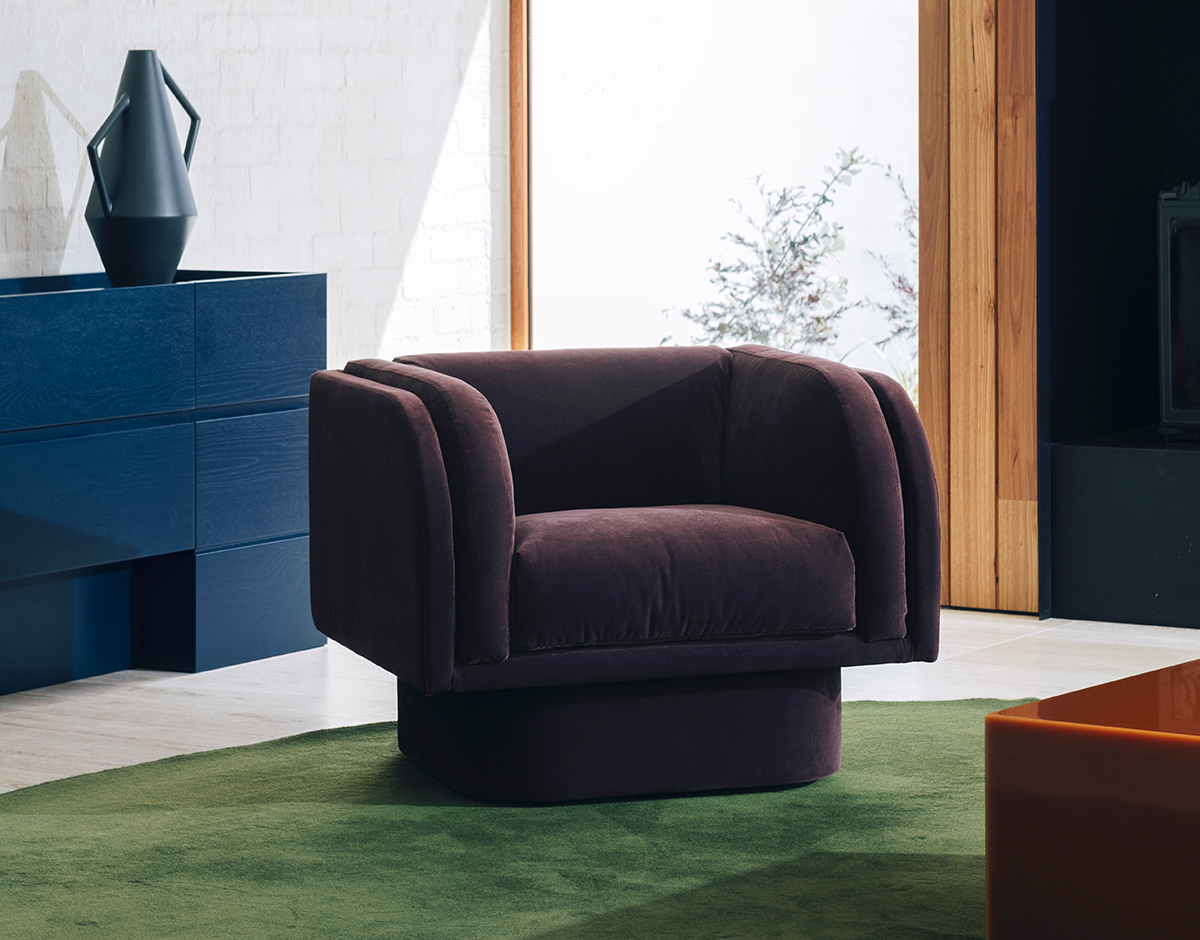 A weekly Saturday recap to share with you our favorite links, discoveries, exhibitions, and more from the past seven days. This week: A tour of Suzanne Demisch's East Village home, our top finds from the upcoming Phillips design auction, a Meccano-esque DIY furniture kit, and chair (above) whose photo set we deeply wish we could live in.
Interiors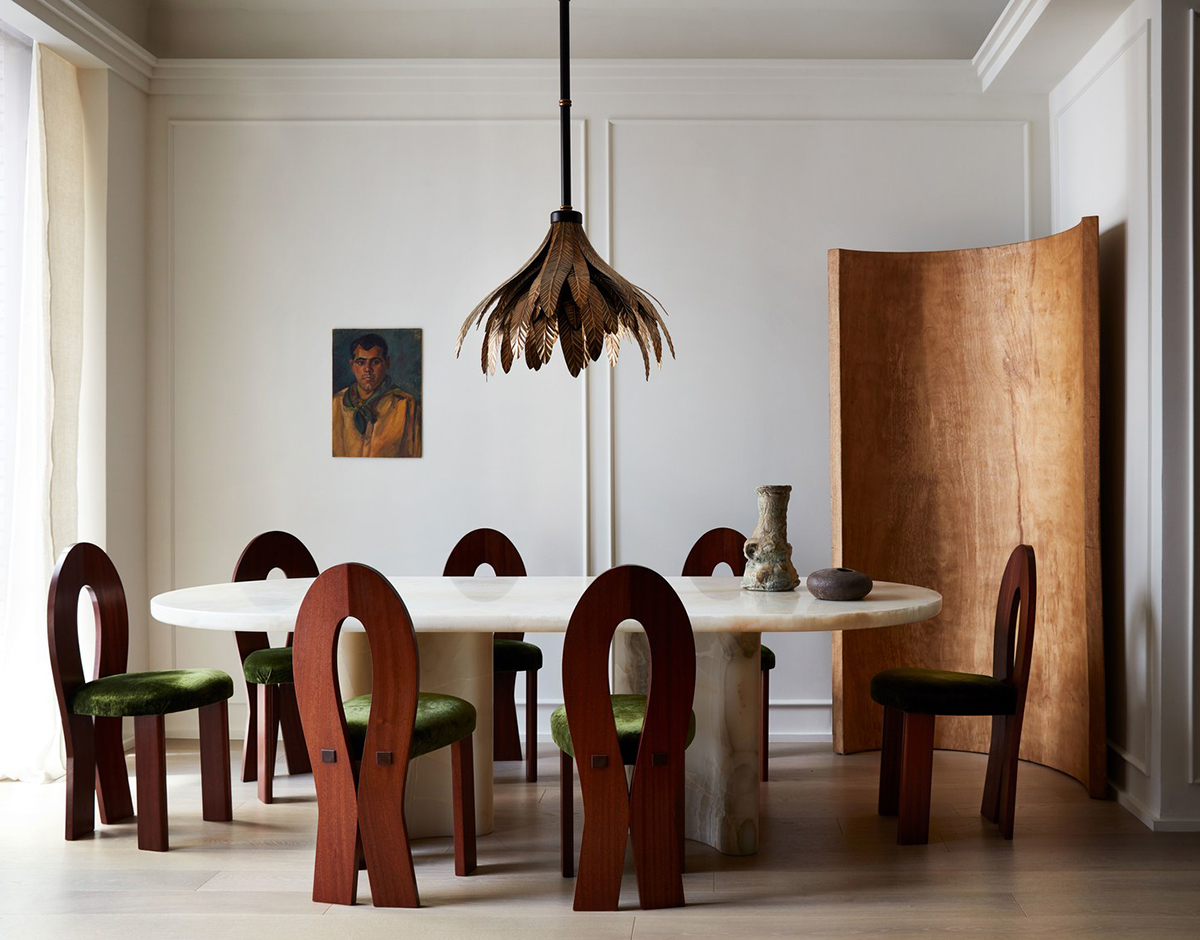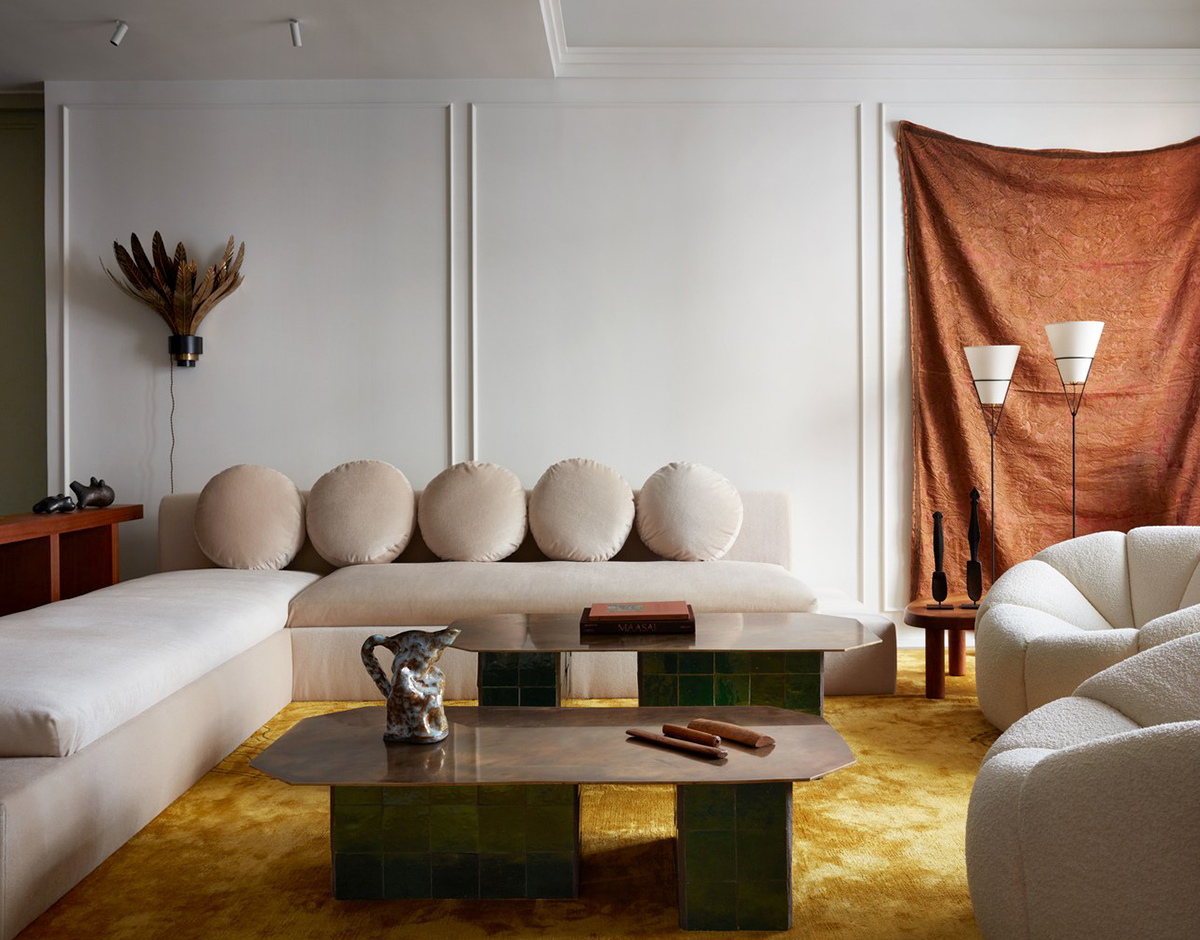 We thought our love for Giancarlo Valle's work couldn't get much stronger than when we saw his own home published in AD last year, but then AD came back last month with this beauty — an apartment in Noho for a young creative couple, complete with Dimore feather light fixtures, lime green and mustard yellow carpets, and dining room chairs designed by Valle himself. (Photos by Stephen Kent Johnson)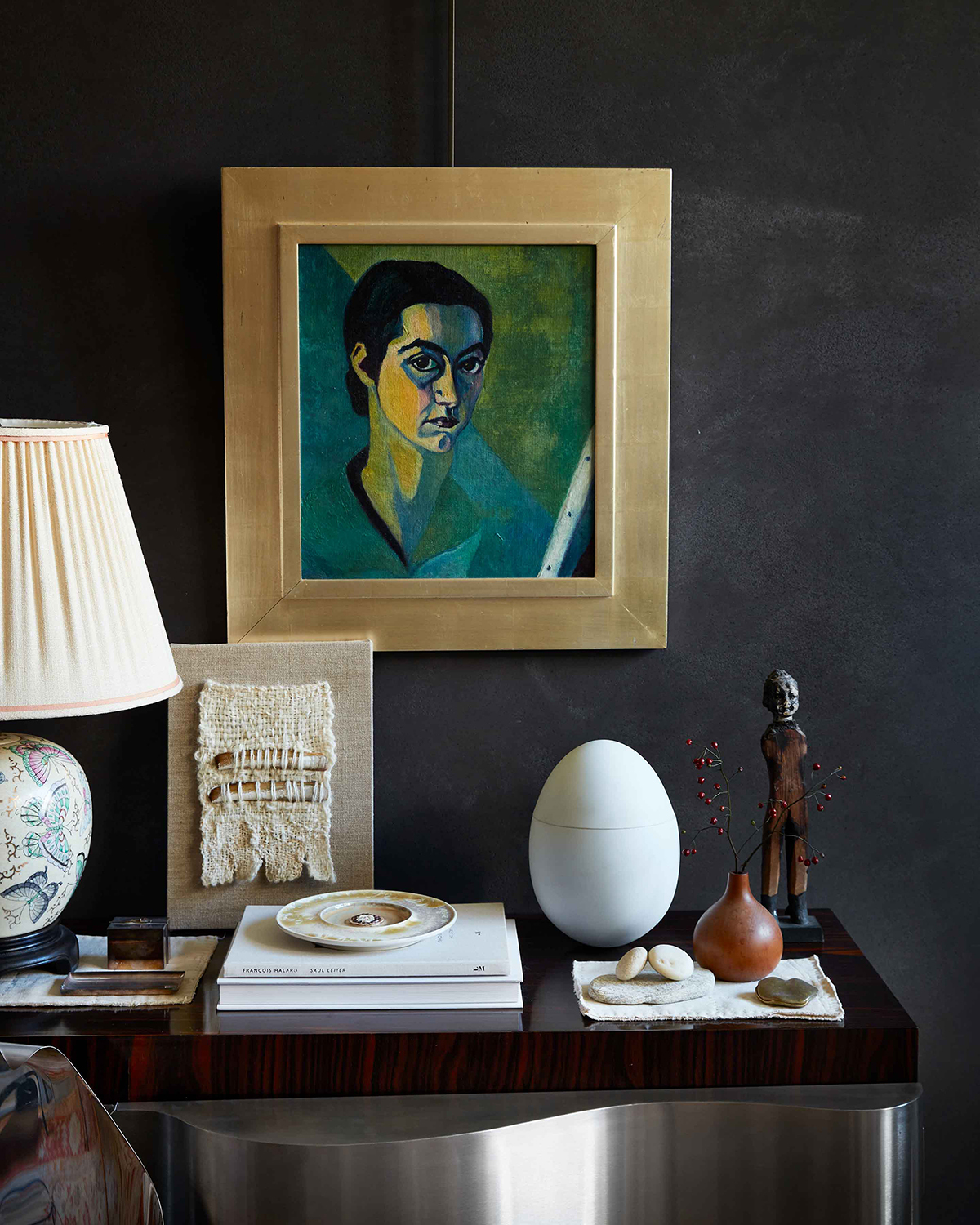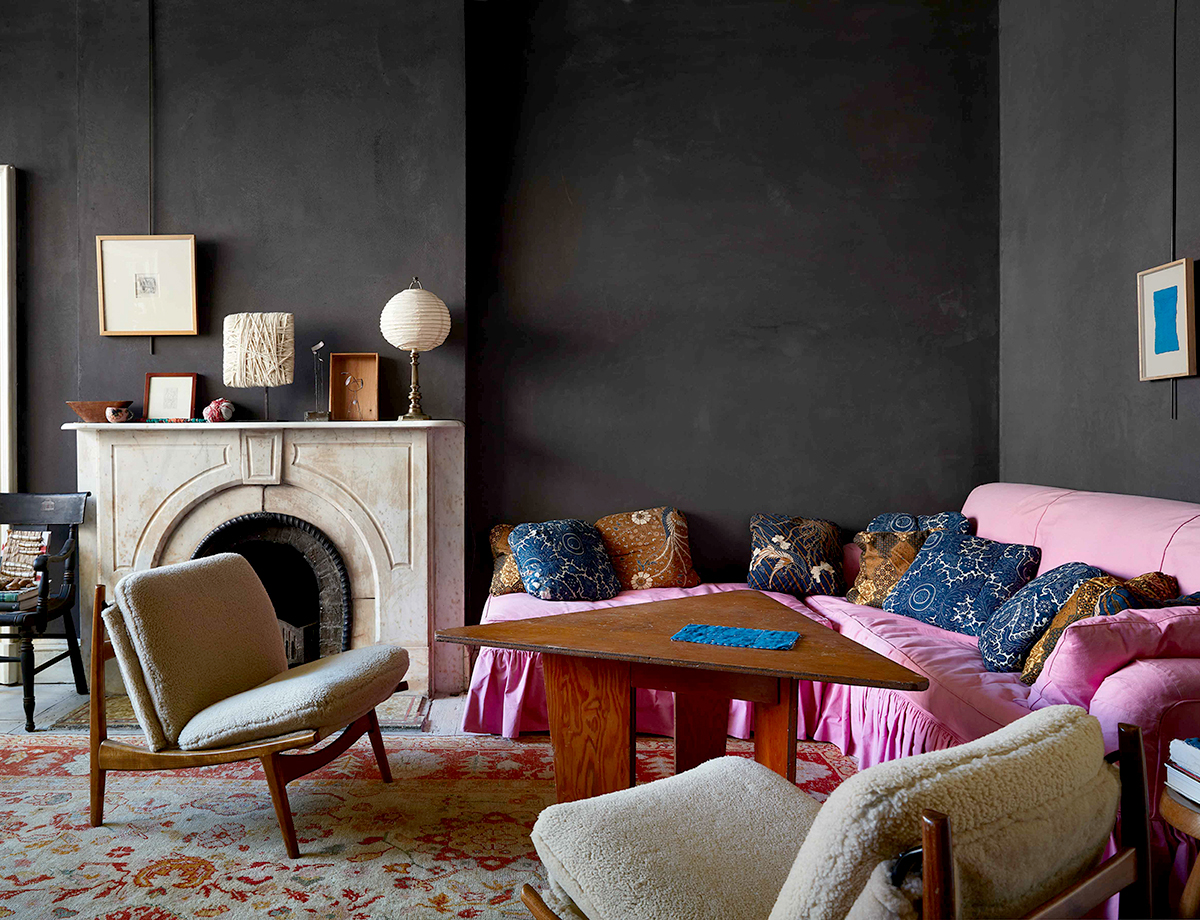 Surface recently documented Sheila Hicks paying a visit to the East Village apartment of Suzanne Demisch, founder of Demisch Danant gallery, and interviewing her about it. Demisch tells a lot of stories about the objects she lives with — like the Frank Lloyd Wright triangular table and Maria Pergay cabinet prototype pictured above, but one of our favorite moments is actually a quote from Hicks: "I think of household objects like a dinner party. The question is, how does a new addition walk into the door and make friends with all these treasures you've accumulated?" (Photos by Stephen Kent Johnson)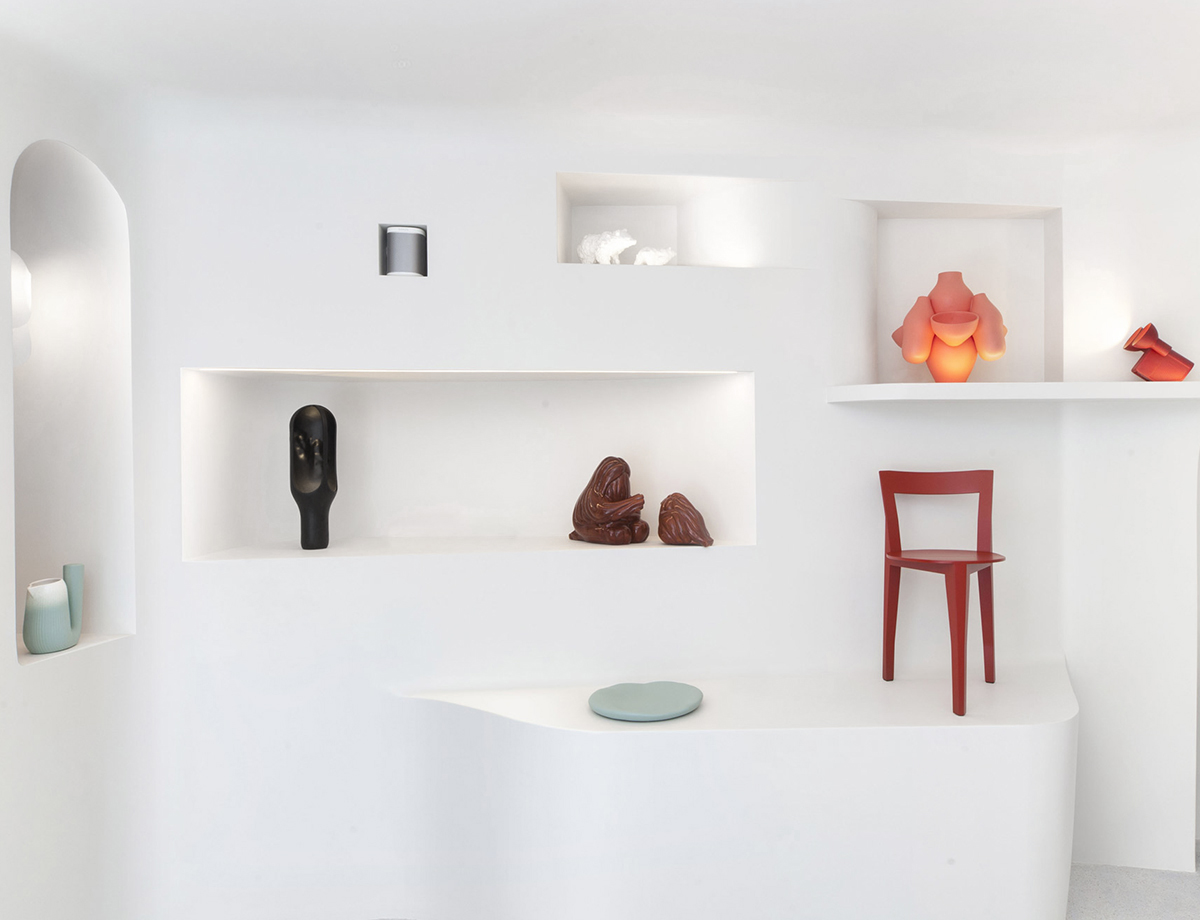 Spotted on Dezeen this week, French design brand Moustache got a chic new store in Paris with an interior — designed by En Bande Organisée and Julien Dufresne Architecte — that's part Valentine Schlegel and part Cycladic architecture. It's sort of a thing right now, if you consider Jacquemus's new Oursin restaurant, also in Paris, that we shared with you in September. Similar vibes.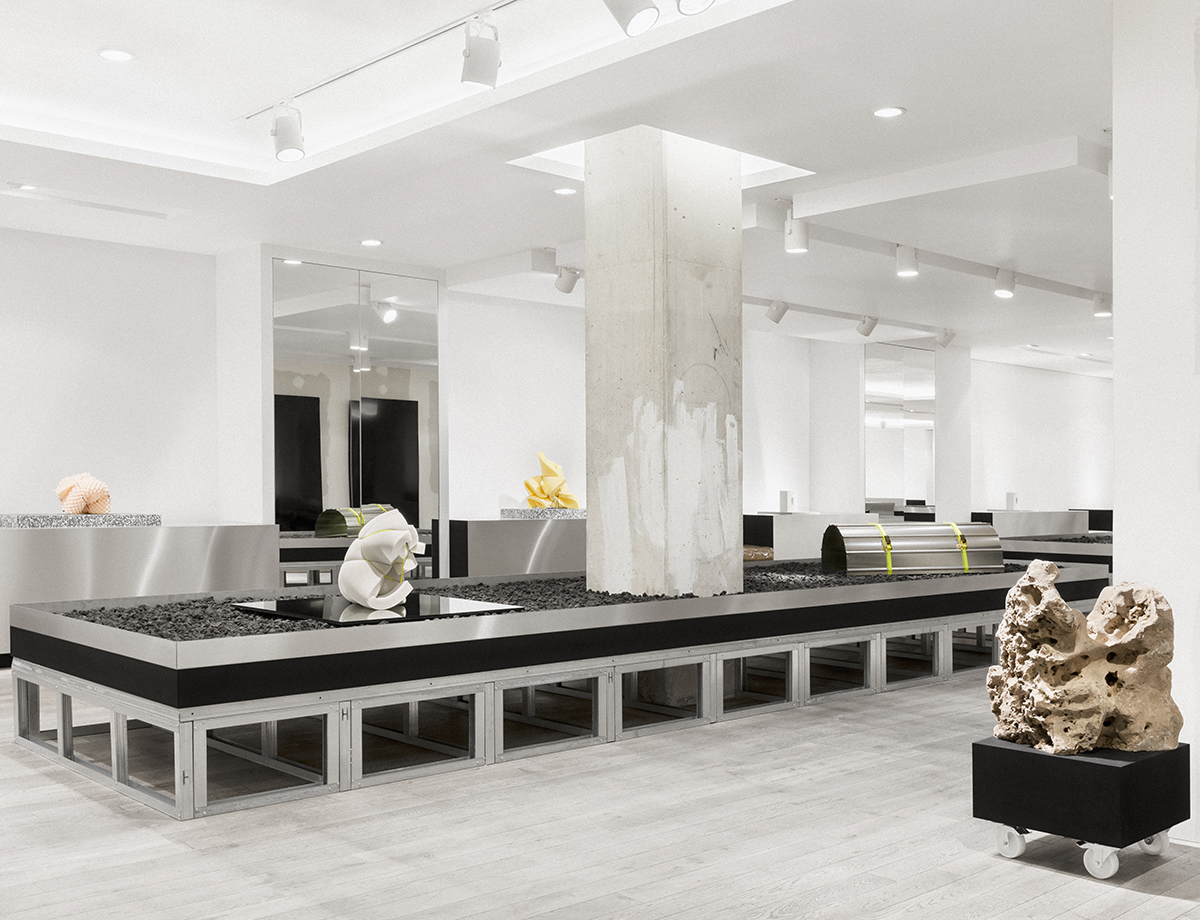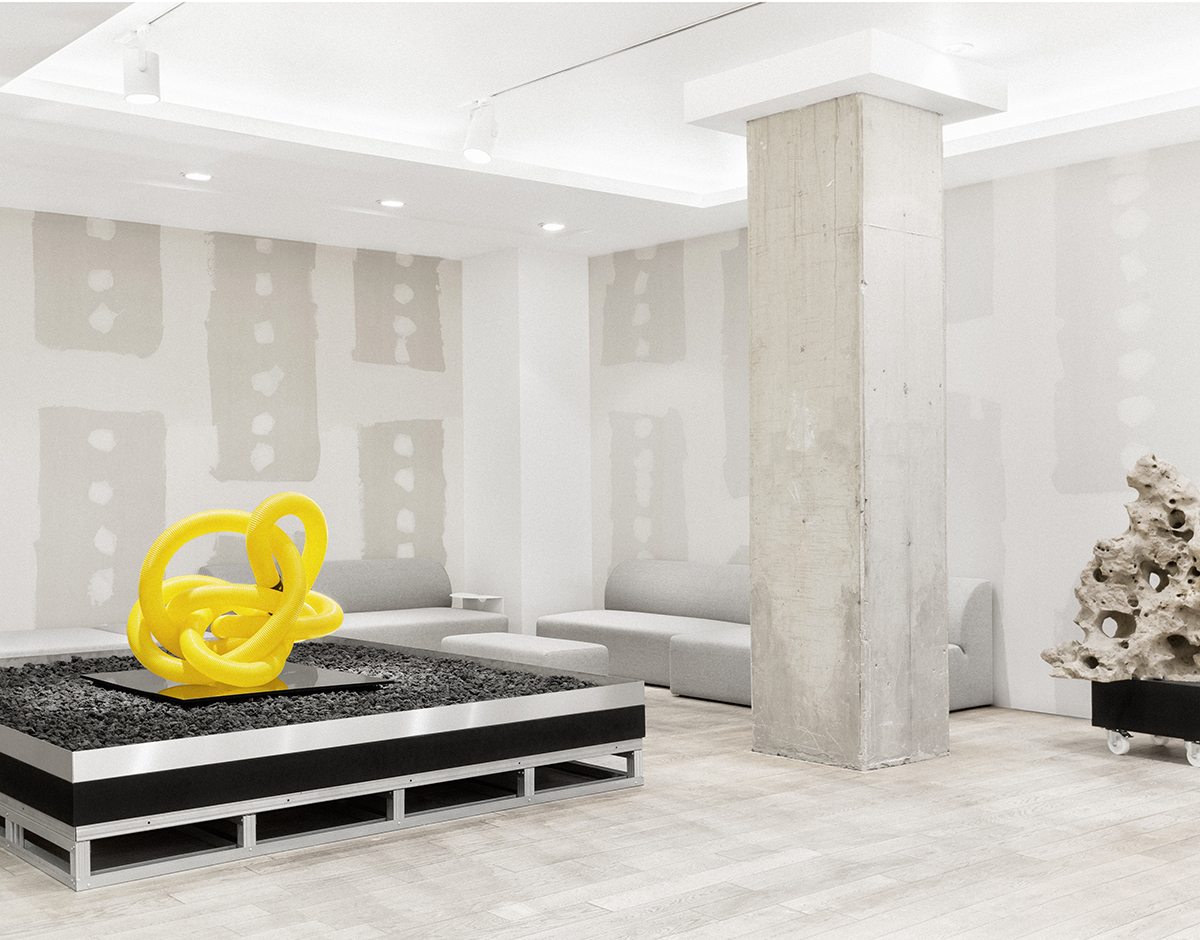 In October we showed you an agency's office that Berlin studio Vaust transformed into something more closely resembling an art gallery, and now they've worked similar magic on a new store in Hanover: Combining sleek industrial construction components with strange, raw sculptures of their own creation, the designers have created a space that you'd never realize, at first glance, was a shop selling electronics and housewares by startups.
Discoveries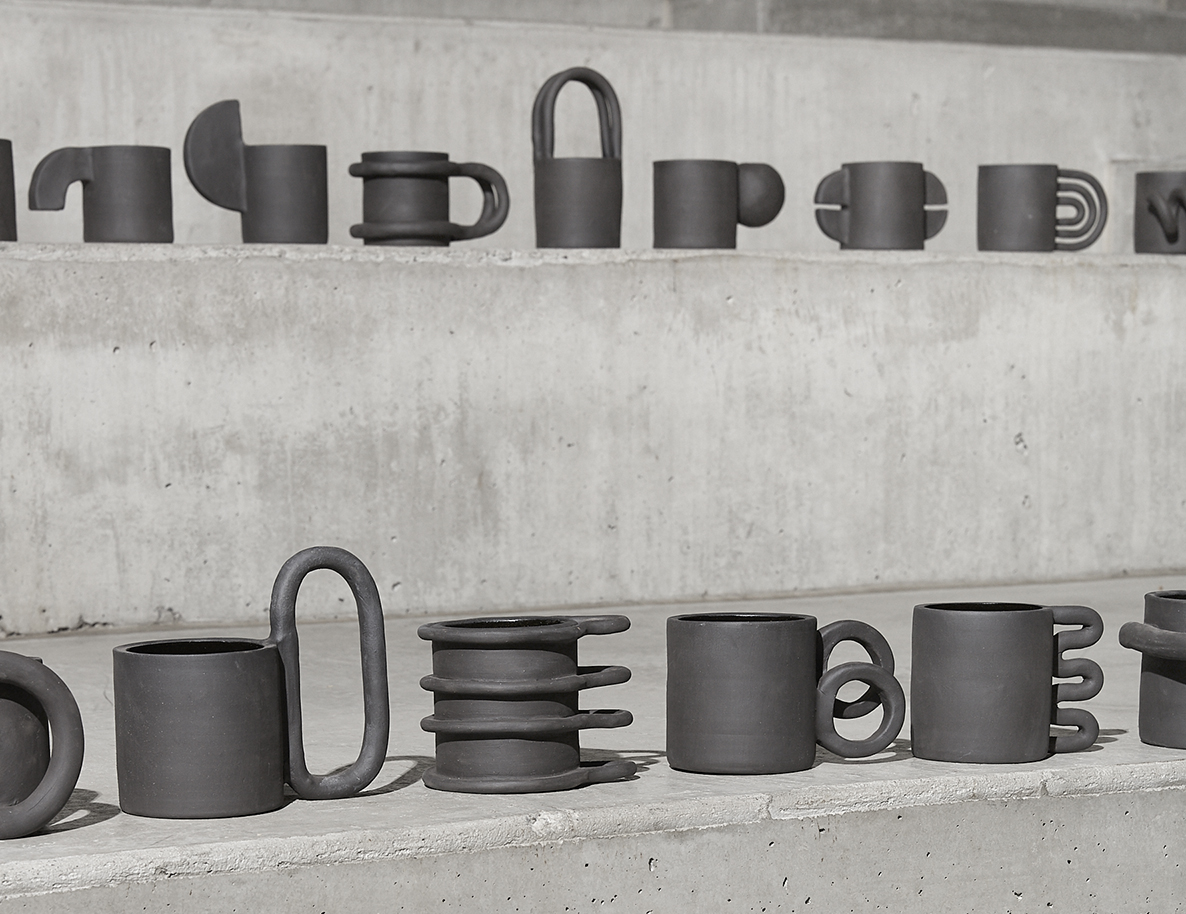 The Columbus, Ohio–based graphic designer and ceramicist Lalese Stamps recently completed a project in which she made 100 mugs in 100 days, which seems like an impossible feat — how many ways to make a mug could there possibly be? — until you see them all together in their creatively diverse glory. Stamps hasn't made them for sale online yet, but we recommend DMing her if you have your eye on one. (Photo by Brian Kaiser.)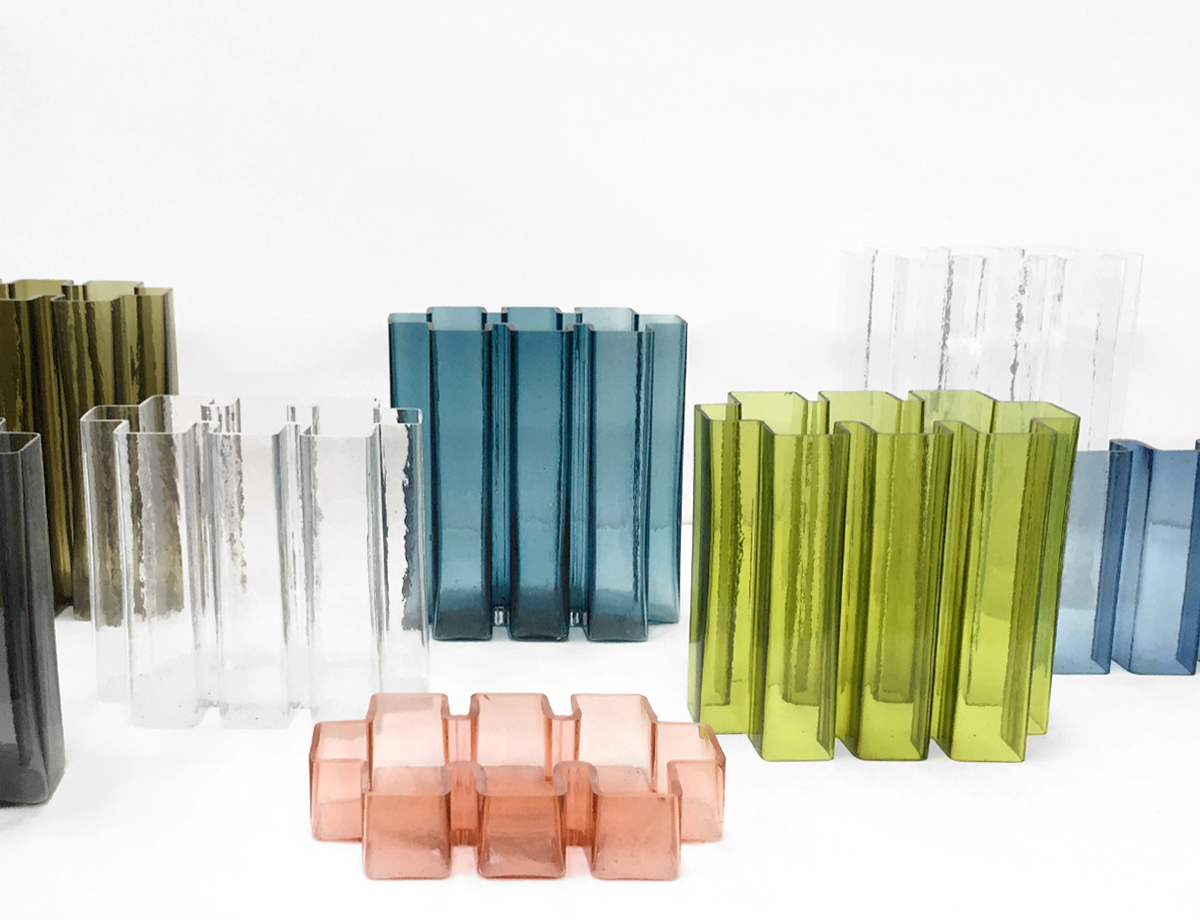 It's always so interesting for us to see designers leap between different mediums with the same fundamental concept. We spotted these glass vessels on the Instagram account of Baptiste Meyniel, who recently did a residency at CIRVA;  Meyniel had been making a long series of 2-D "extrusion" prints by dragging paint-dipped linear forms across paper, and the 3-D works above, while produced by pouring molten glass into steel molds, have the same formal effect.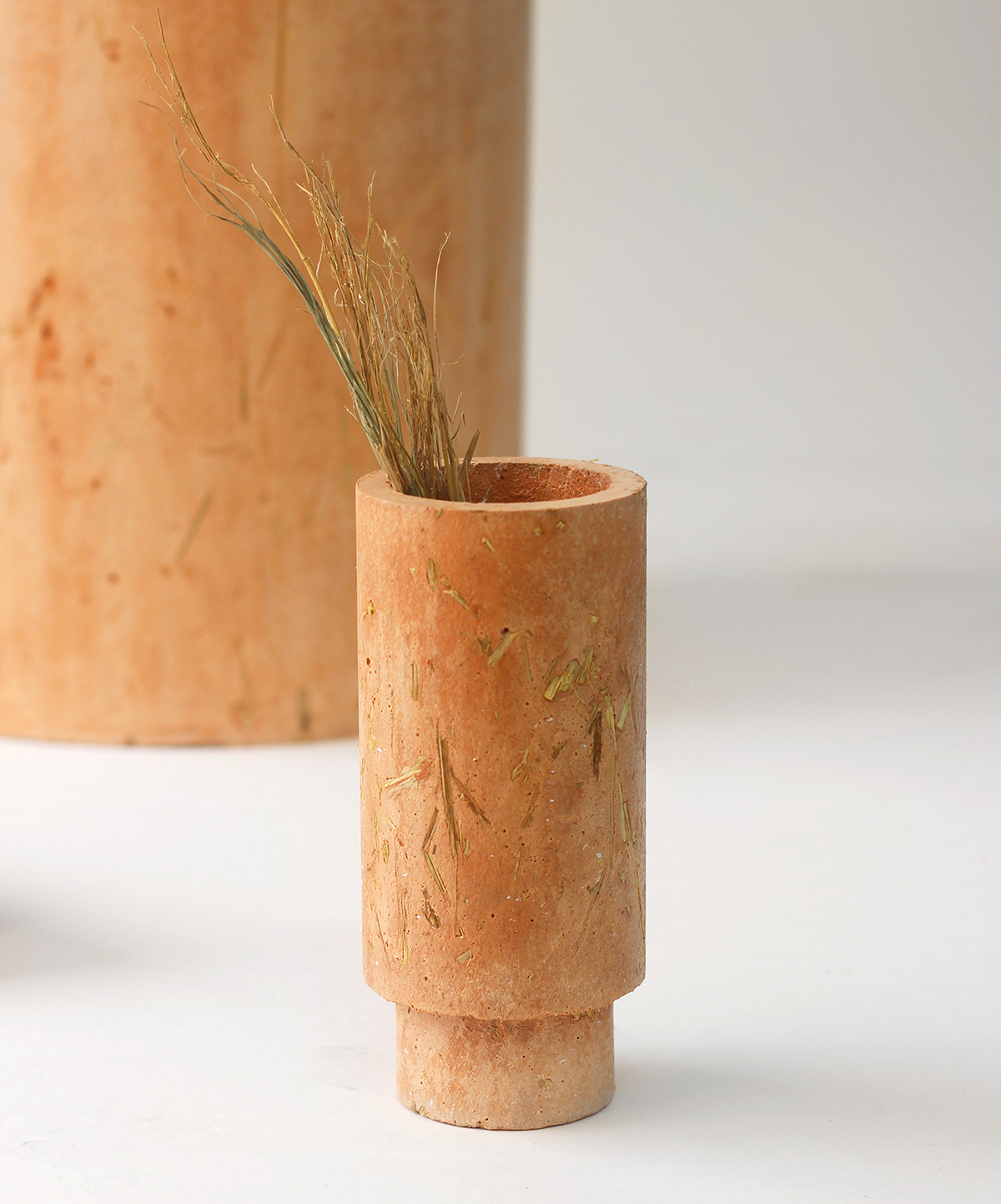 For their latest project, the South Korean studio Fict have teamed up with Labcrete — a sort of architects' think tank for experiments with concrete — to create a series of objects made with loess, a silty sediment used to build walls and floors in traditional Korean architecture. "Loess has various beneficial effects such as humidity control, temperature retention, and electromagnetic absorption," explains Fict founder Jang Hea Kyoung, but "using loess is gradually declining in recent days. We would like to expand the usage and meaning of the material once again by focusing on its warm and cozy aesthetic."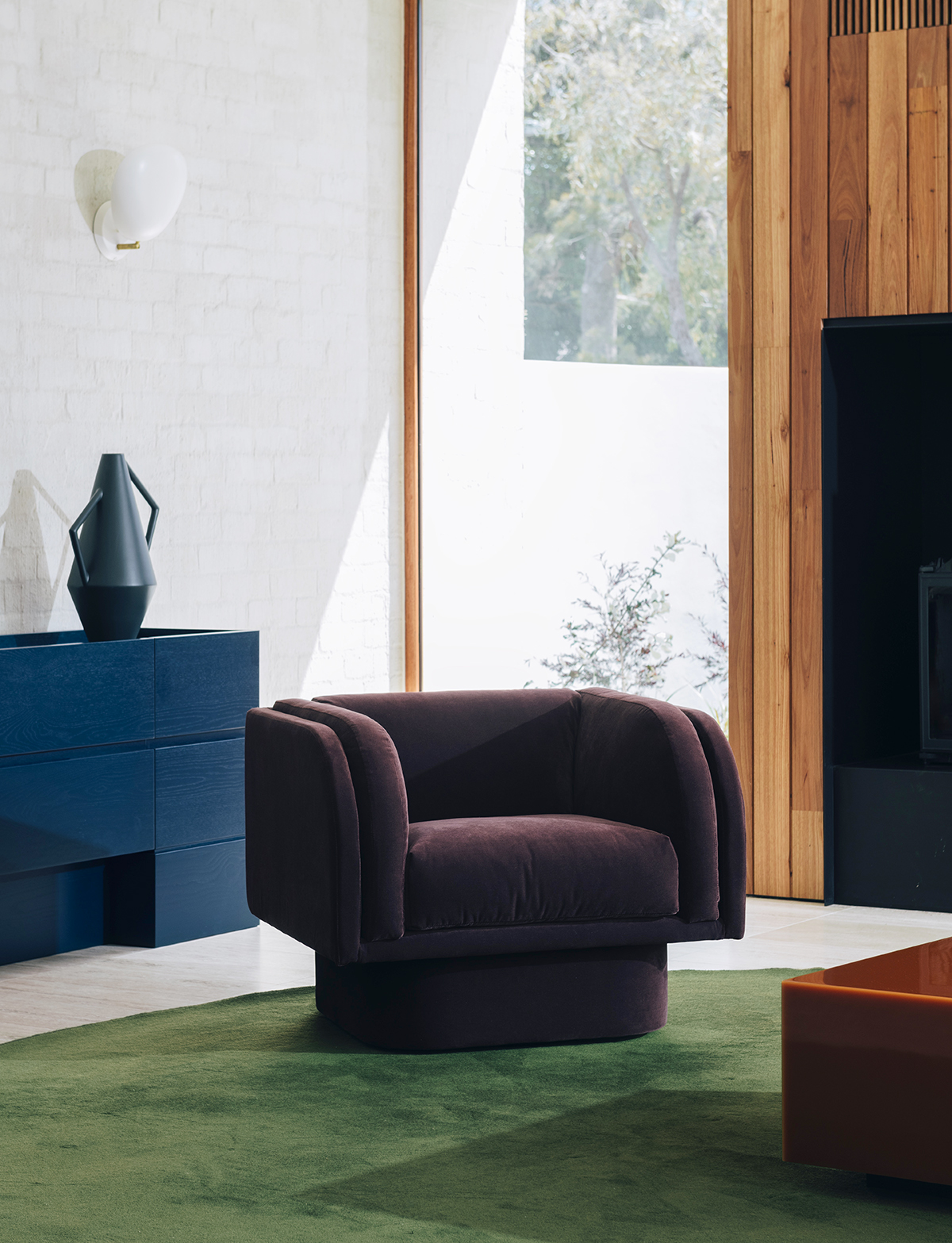 When we first saw this image, our hearts nearly burst with a yearning to live in a space like this. Or honestly, to live HERE. Grazia & Co, let us know if you can help? Happy to move to Melbourne if so. Oh and FYI, this image is promoting the purple Grazia & Co beauty in the middle, the channel-tufted Harvey armchair, available in the US through Gestalt.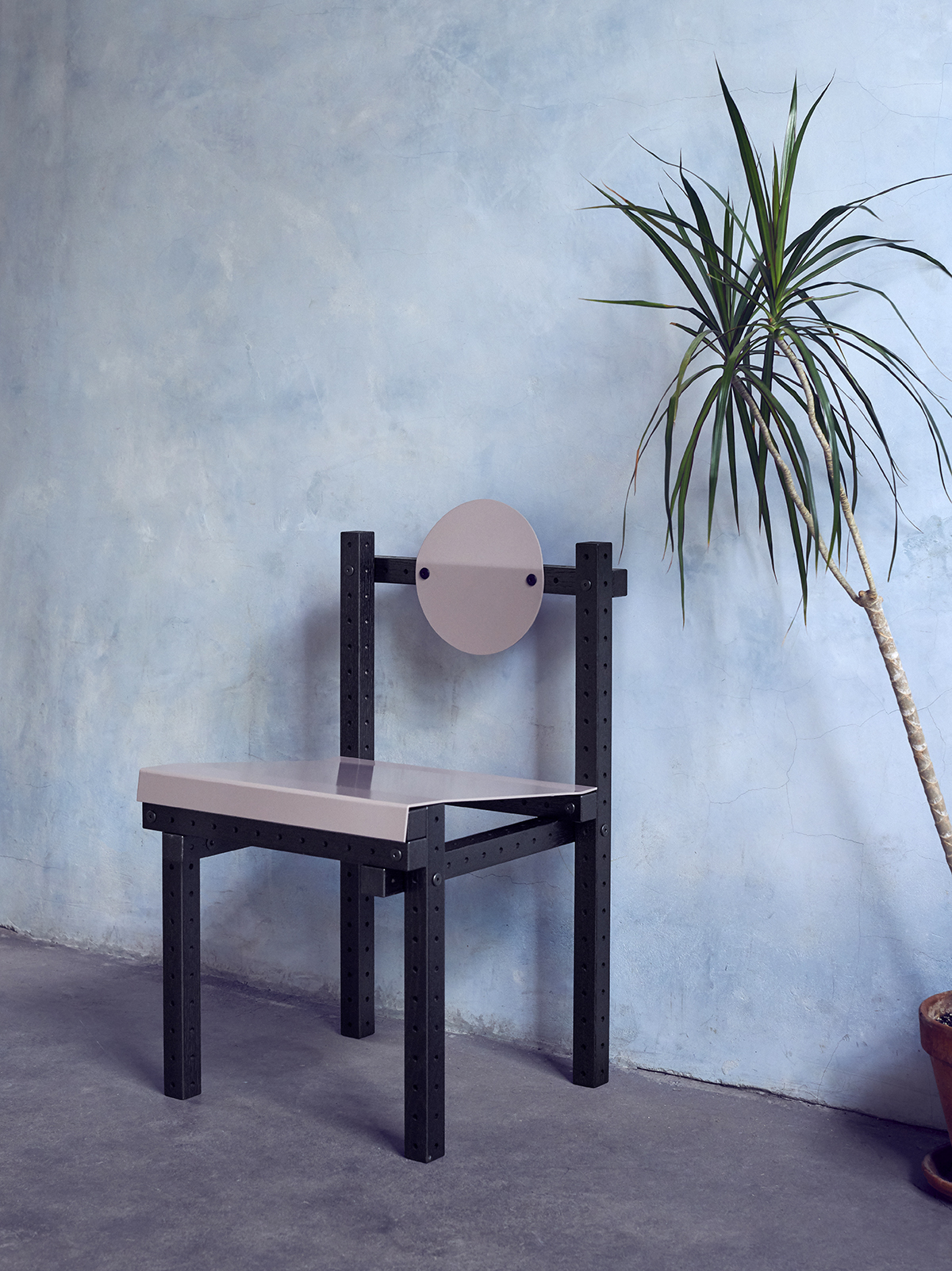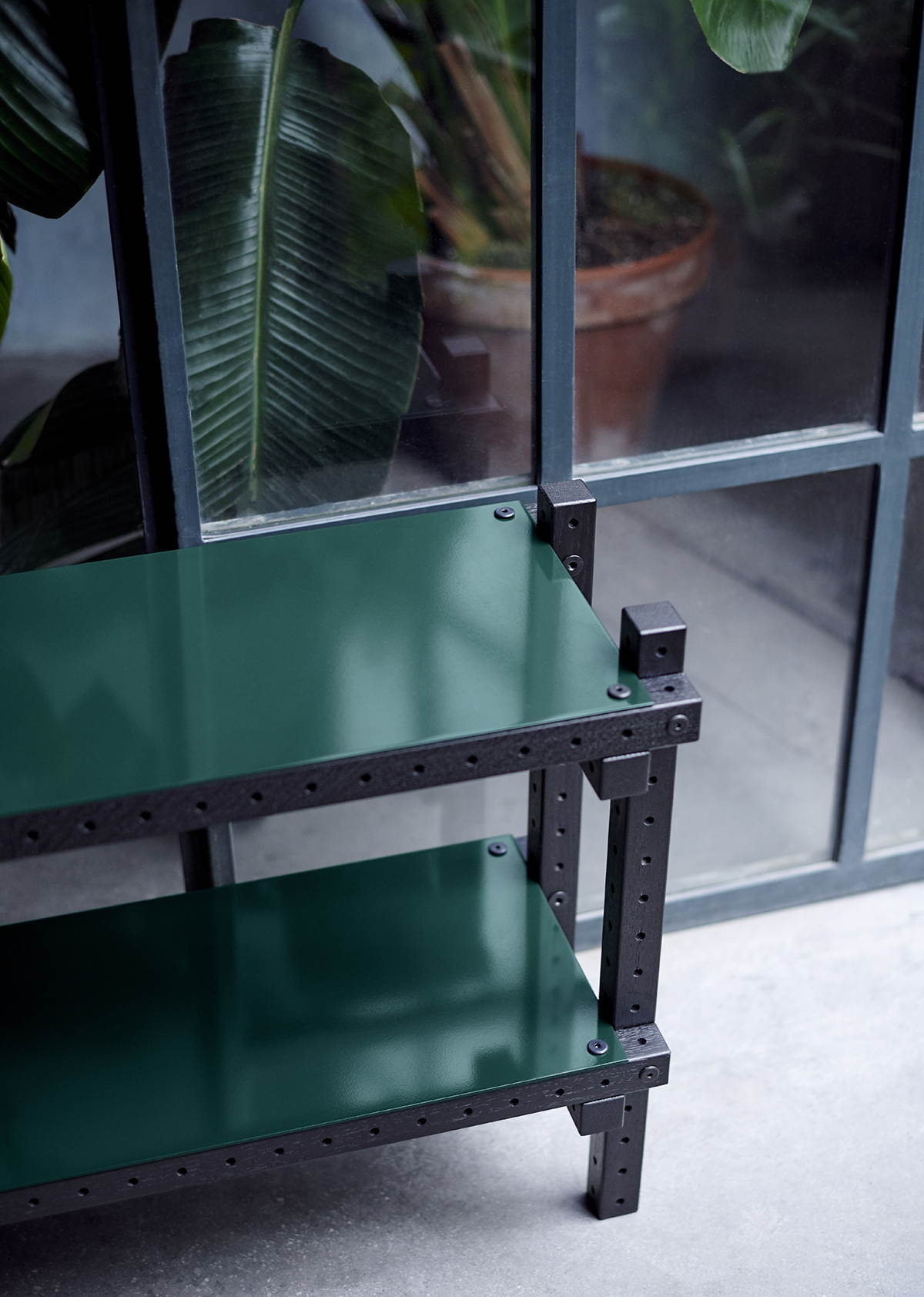 Remember the construction toy Meccano? There's now a furniture version, and Enzo Mari would be proud: Loose Parts is, as its name implies, a DIY kit of parts that you can purchase as one thing (daybed, bookshelf, coffee table) and later reassemble into another, just by rearranging its basic components. The idea still has some kinks — not sure I want to put additional work into a daybed that costs $2,680, or turn it into a $2,680 coffee table — but even if you don't modify them, the pieces themselves are really pretty.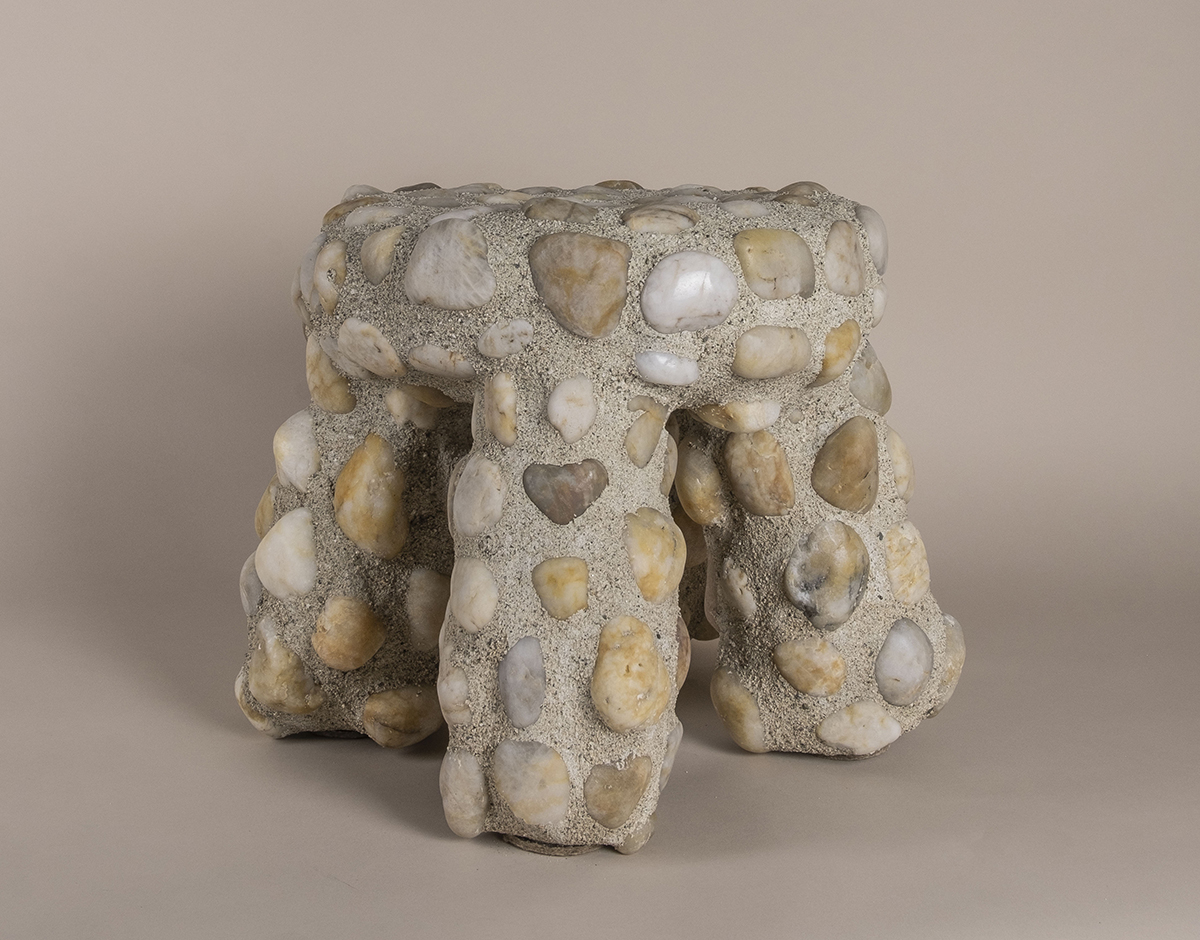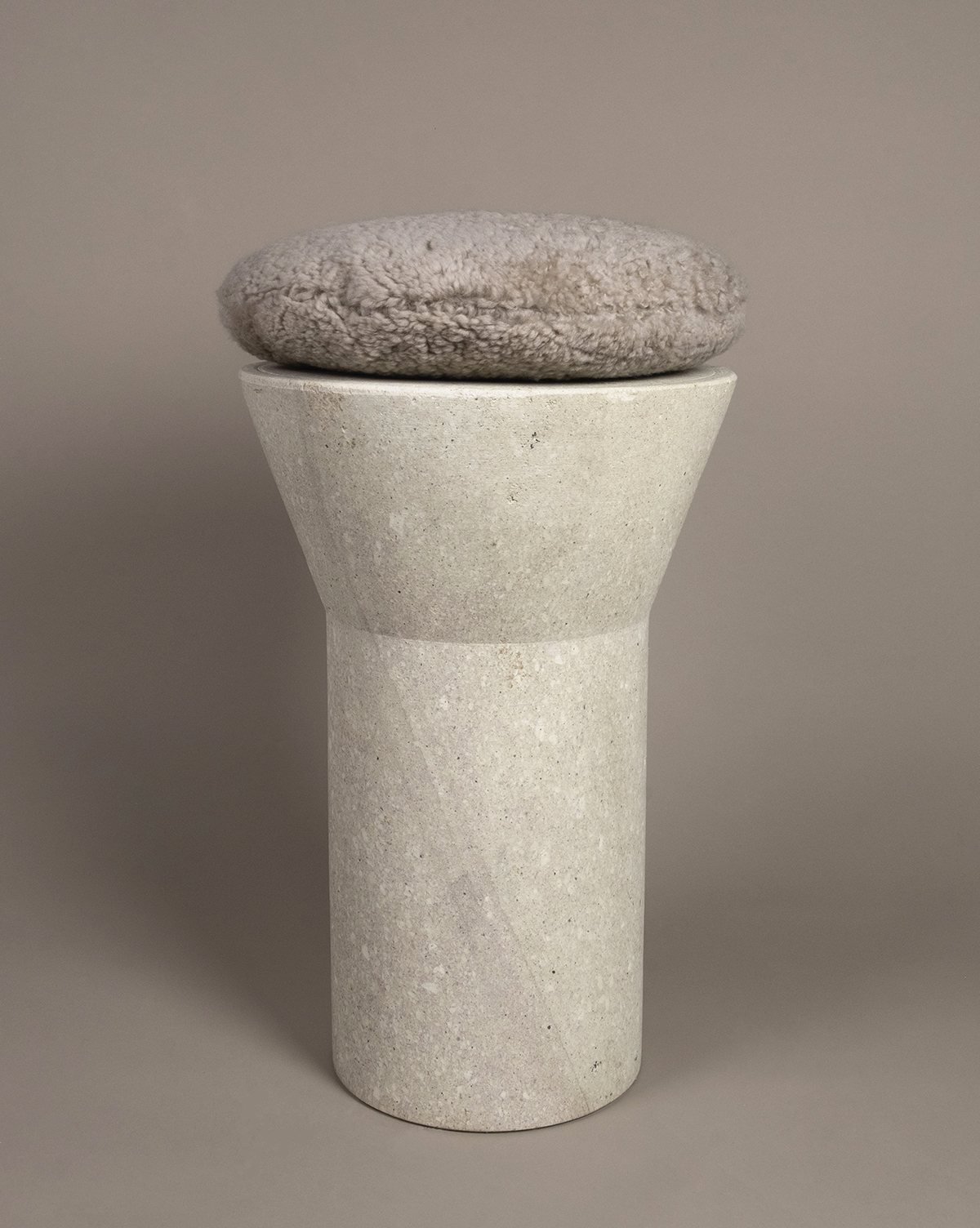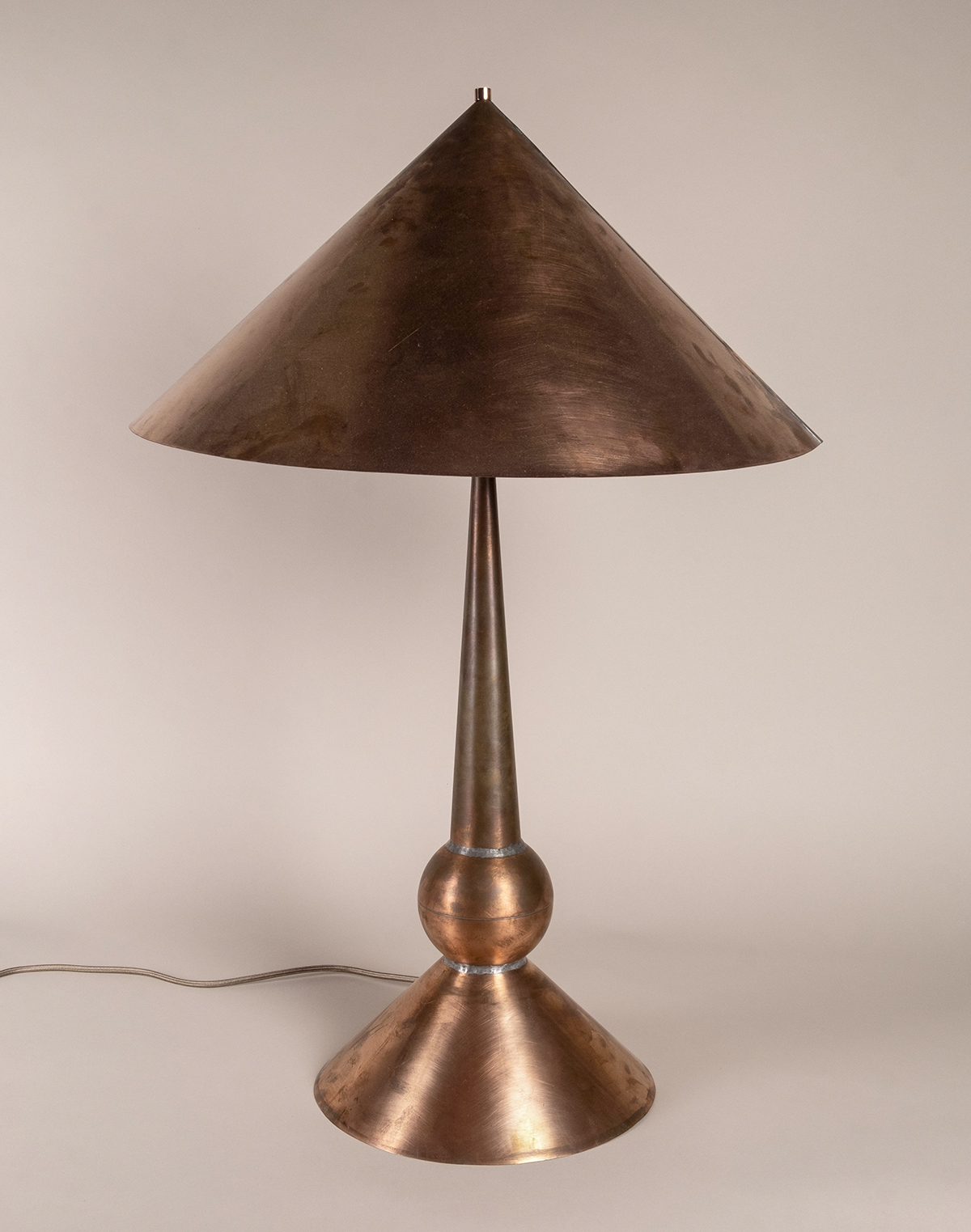 L.A. designer Rachel Shillander of Lland first caught our eye when she released a series of concrete lamps embedded with stones that felt like an interesting evolution of the on-its-last-legs terrazzo trend, and in her latest collection, she's used the technique to make a lovely little fat, wonky stool. We also like her new copper lamp series and her concrete Blanco stool, with its contrasting carpet-y cushion.
Auctions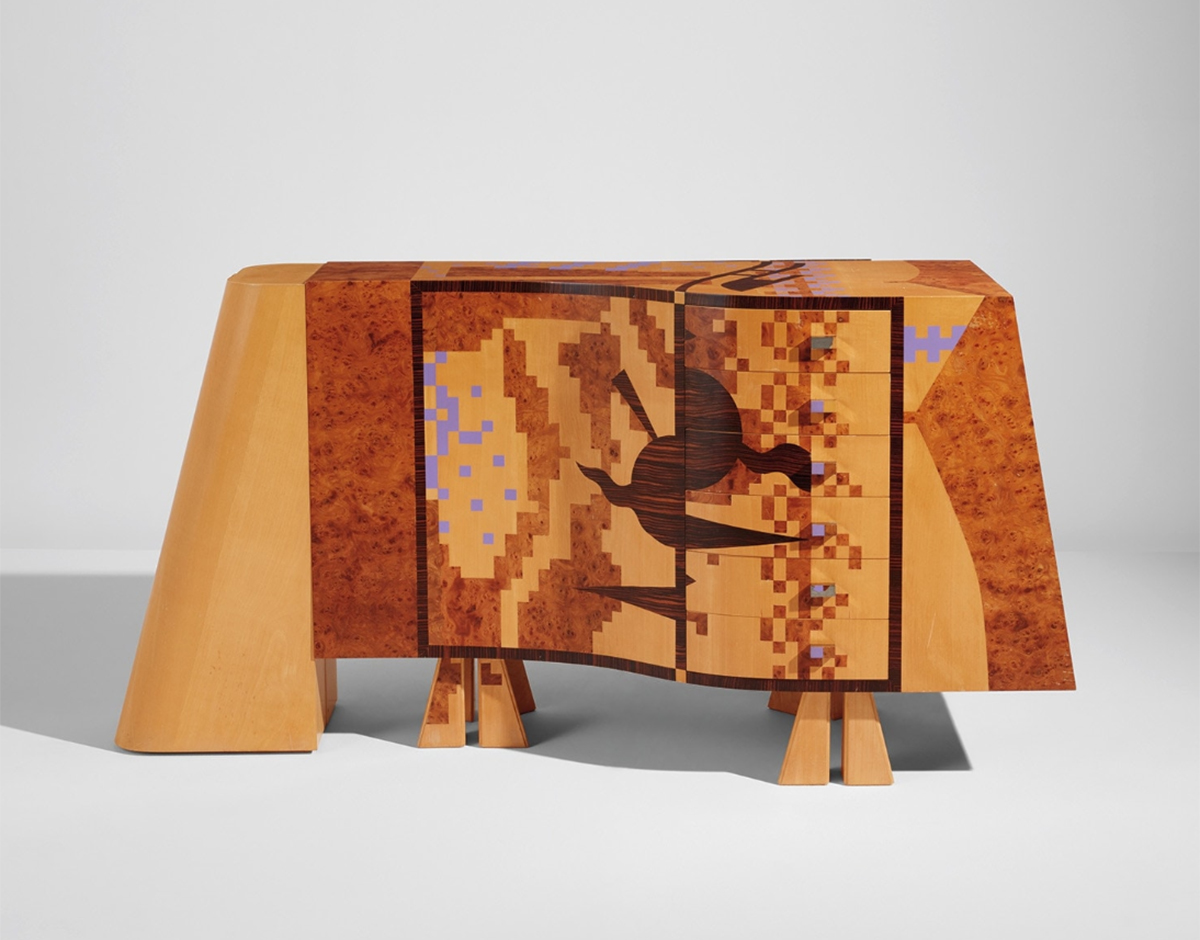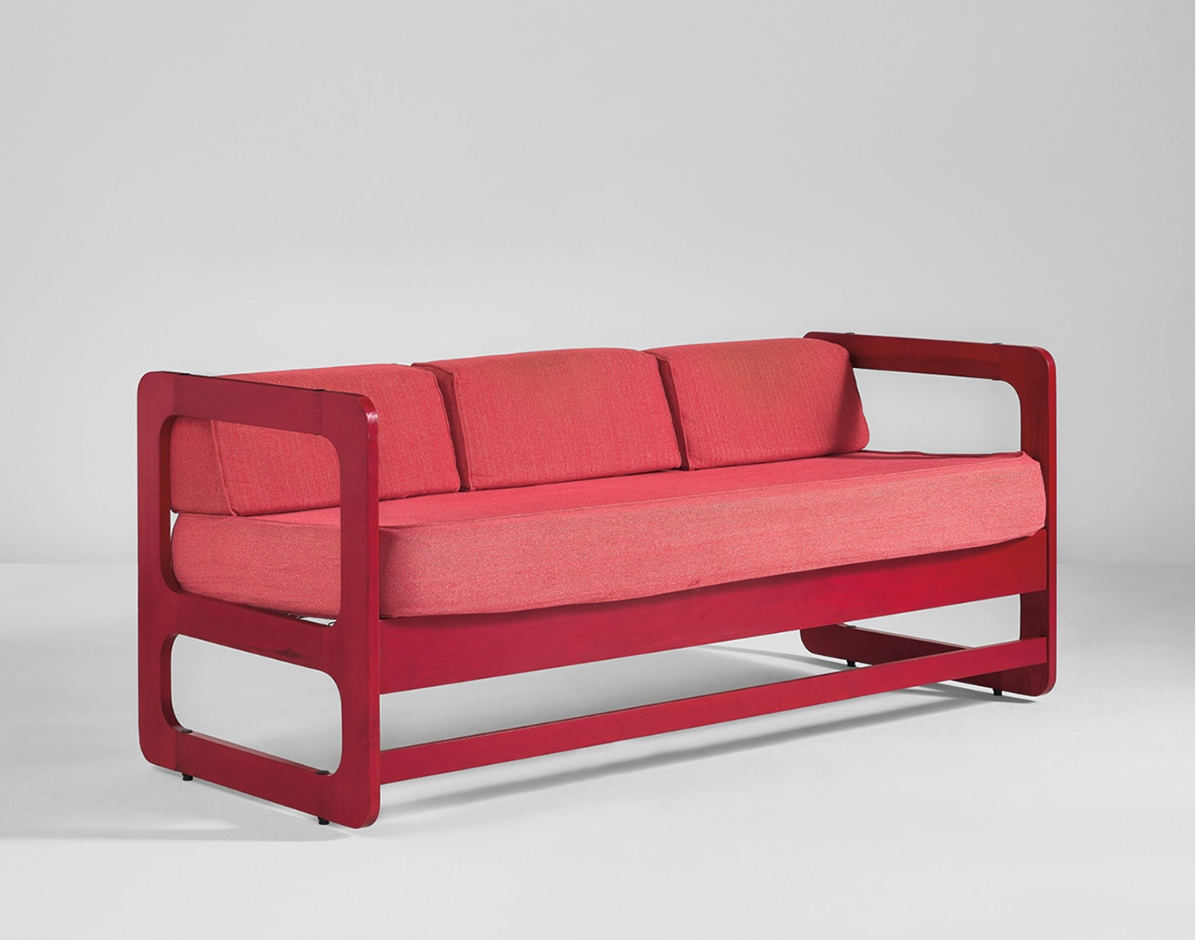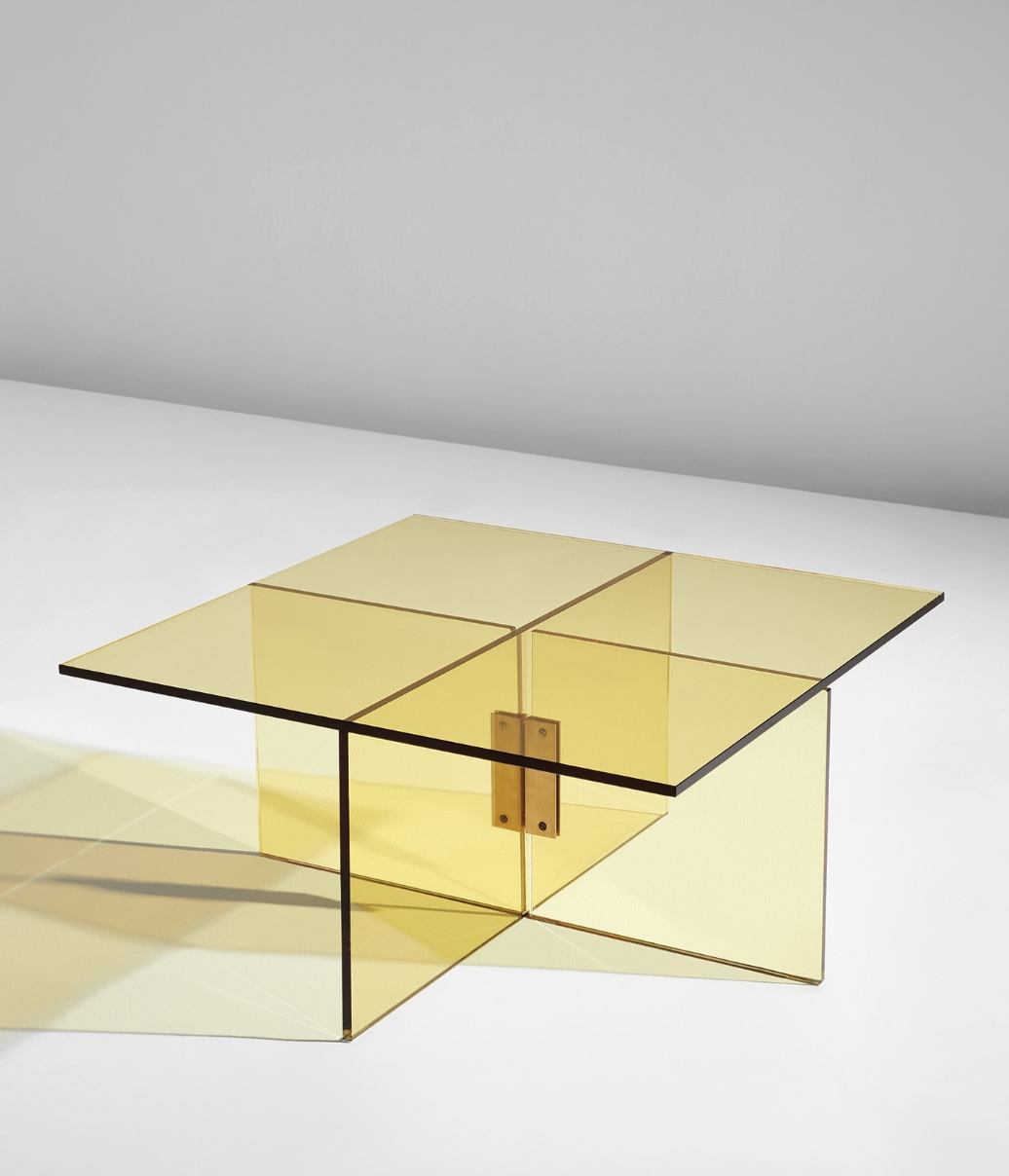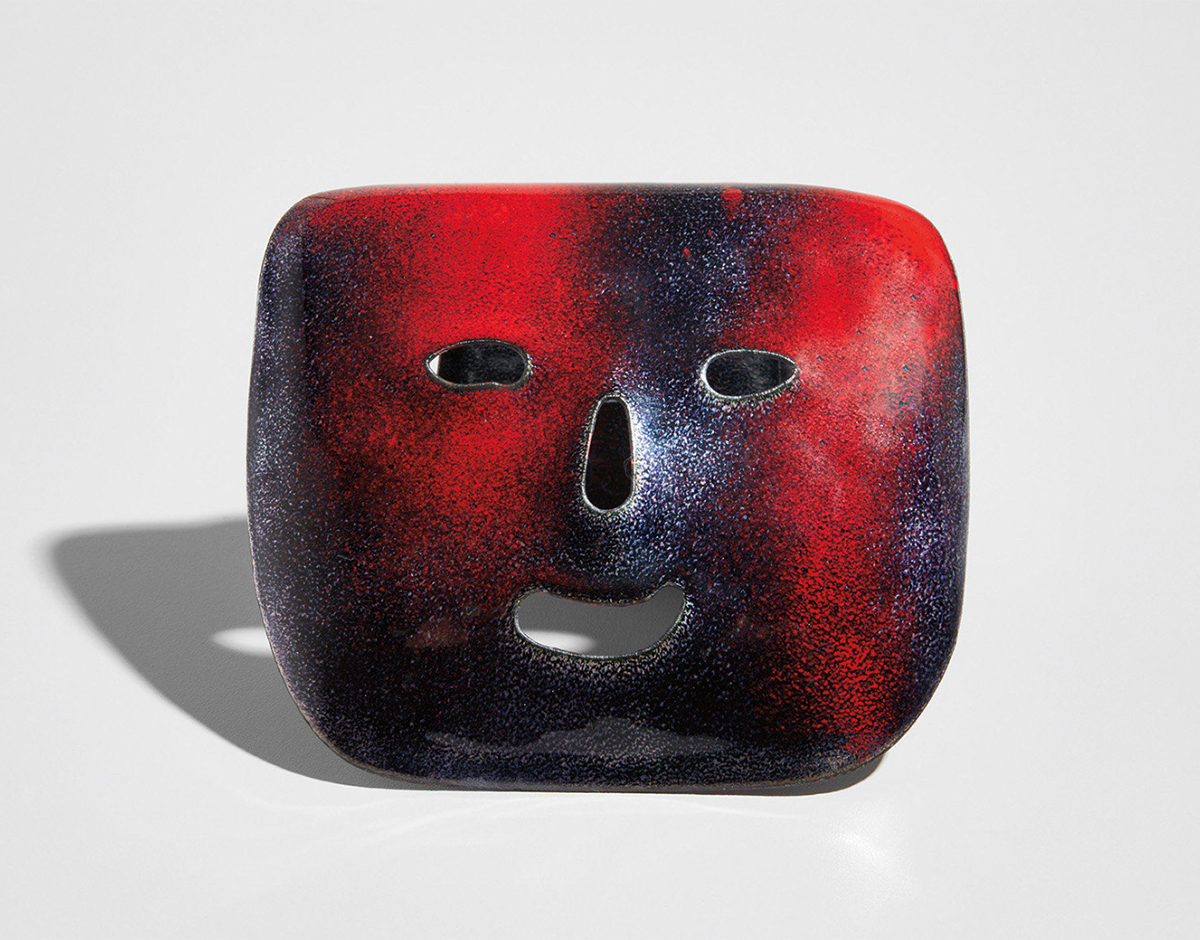 Phillips's next big design auction is happening in New York on December 17, and we do really enjoy window shopping their online previews… Our faves in this sale are, from top, a 1985 cabinet by Alessandro Mendini and Giorgio Gregory, a cool 1966 two-tone red sofa by Gio Ponti's son Giulio Ponti, a yellow glass Fontana Arte table designed in 1960 by Max Ingrand, and an insane 1956 copper mask statuette by Gio Ponti and Paolo De Poli that we wish could be our Hannukah present this year. Maybe it could be yours?