04.10.20
This L.A. Artist's Studio Is the Epitome of Calming, Meditative Vibes
For many of us, nature is a primal muse. Especially in times of angst or uncertainty, looking to earthly gestures and familiar cycles can be both comforting and stimulating. When all else is unknown — and, in fact, unknowable — the flowers of spring still manage to bloom, waves crash and retreat, vines still wind. For Los Angeles–born (and based) artist Cindy Hsu Zell, nature has been a lifelong inspiration, and repetition something of a corollary condition. 
Working from her sunny North Hollywood studio, Zell creates tactile sculptures with rope, ceramic, wood, and, most recently, stone. Gravity and touch are active forces in the pieces. Each of her works, for example, comes with its own comb, a formal invitation for upkeep, play, and meditative practice. All of those states are reflections of Zell's focus-heavy process, such as the uninterrupted counting of individual strands of thread — sometimes up to 2,400 at a time — required whenever she begins a new piece.
In the midst of this confounding global crisis, we remote-toured Zell's studio and took some time to chat with her about confronting the economics of productivity, prioritizing mindful practices, and the magic of working with organic materials.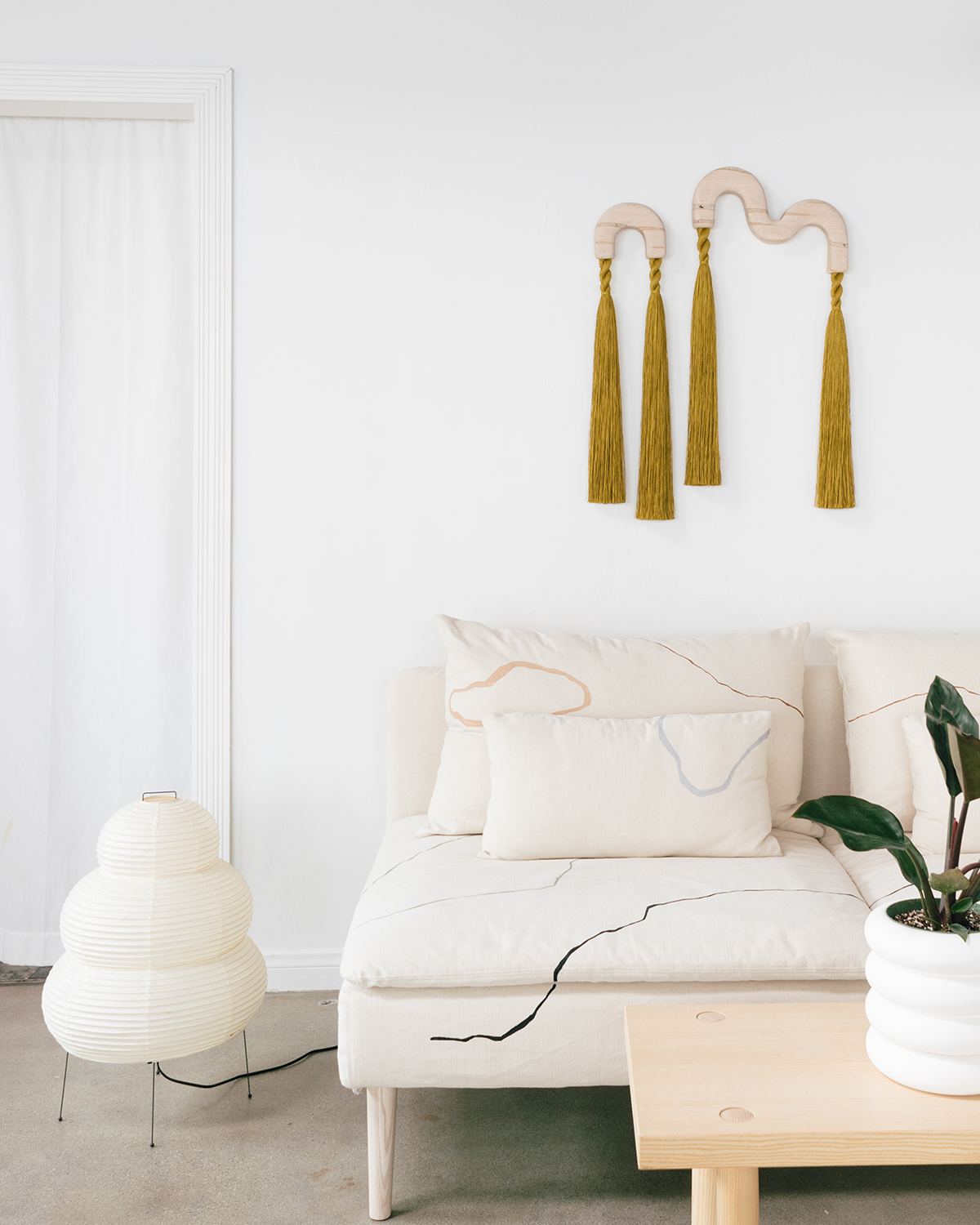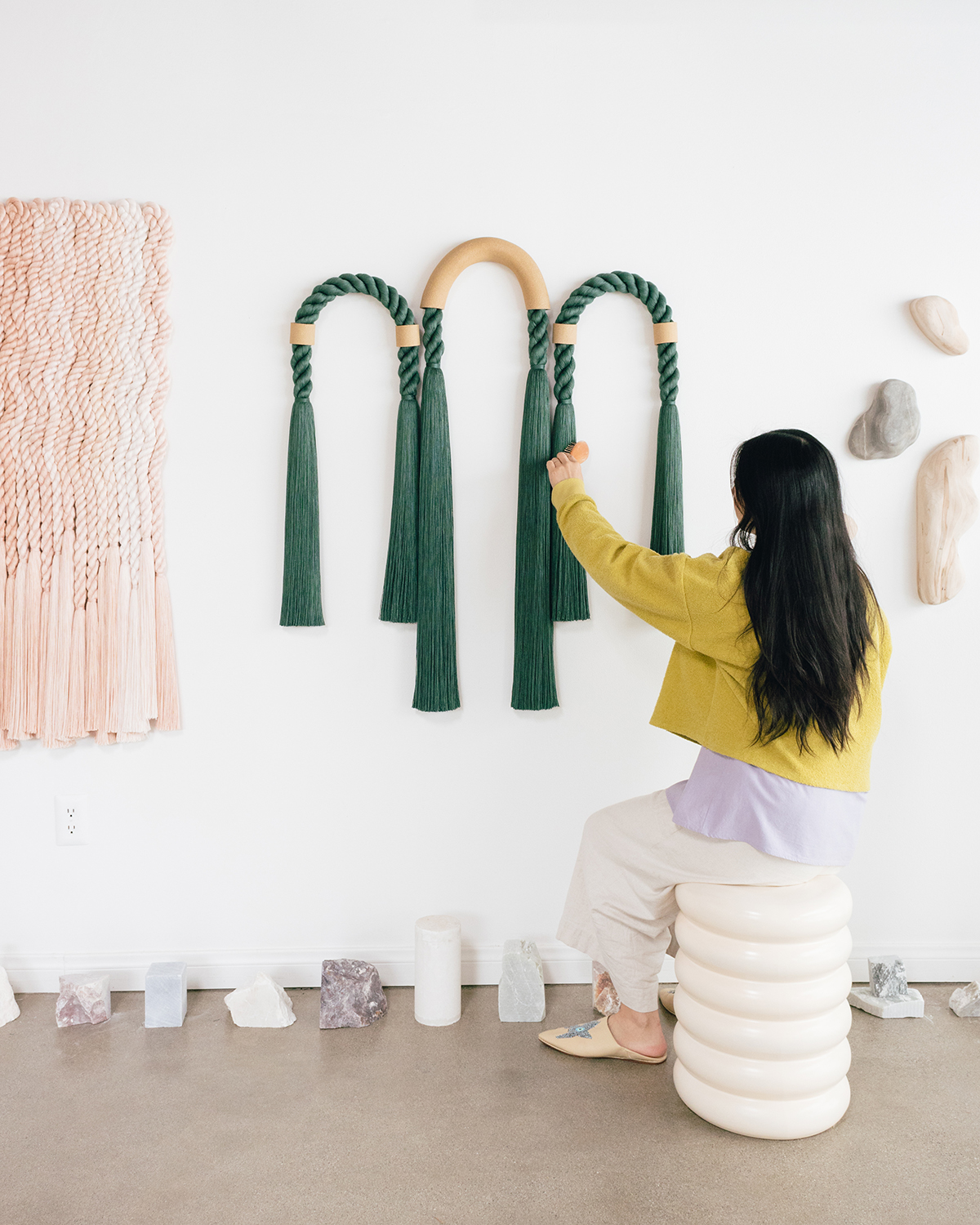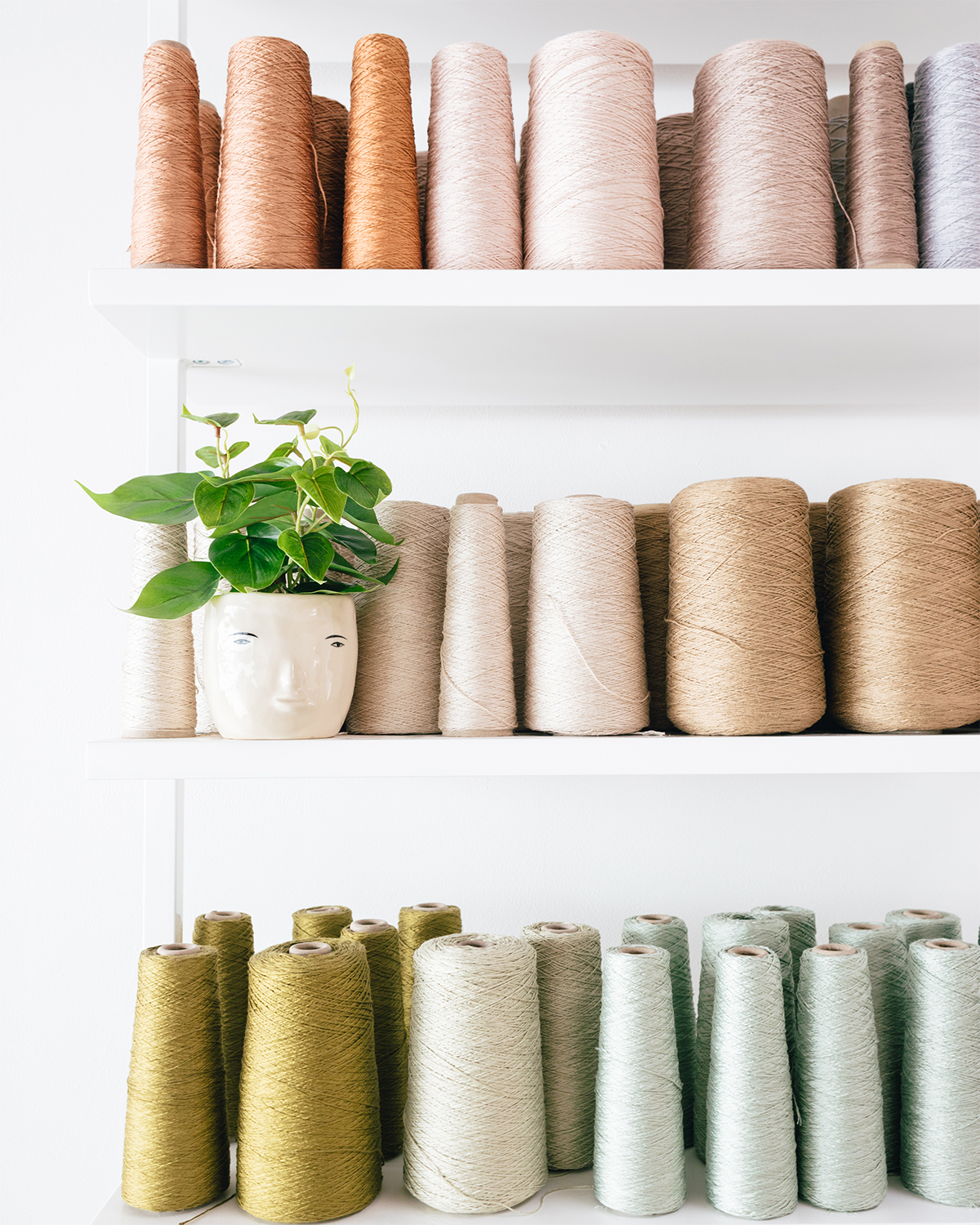 What have you been thinking about lately?
During this time in quarantine I've been thinking a lot about productivity and guilt. I'm extremely lucky that I work from home, but so much has changed in the world that it's been impossible for me to go to the studio as if it's just a regular workday. While many have felt more creatively fueled and inspired during this time, I have been paralyzed by anxiety. Local suppliers are closed, materials are limited, and I'm worried about my family's health and safety. However, I've also seen so much support and kindness, especially for small businesses and artists. It means the world and I think the takeaway for me is less guilt, more compassion. A friend sent me something recently that really helped put things in perspective. It said "We are not working from home during a crisis. We are at home during a crisis, trying to work." I originally felt extremely guilty for not being as productive as usual, but now I am trying to use this time to slow down and confront my beliefs about the economics of productivity and how that affects my self-worth.
What has been your path to design?
I can't remember a time before art. My mom used to say that my fingers are all a little bent because I started holding a crayon too early! I've loved making things since I was young. Eventually, I studied sculpture and animation at USC, then worked as a display artist at a large retail corporation for a few years before starting my own business five years ago. It was only recently that I gained the confidence to call myself an artist and just make art for a living full time.
What's the first thing you ever designed for yourself?
I'm sure I've made a lot of things that I can't remember but two come to mind: When my boyfriend (now husband) and I moved into our first apartment after graduating college together, I made us a coffee table. A decade later, we still use a coffee table I made — though not the same one!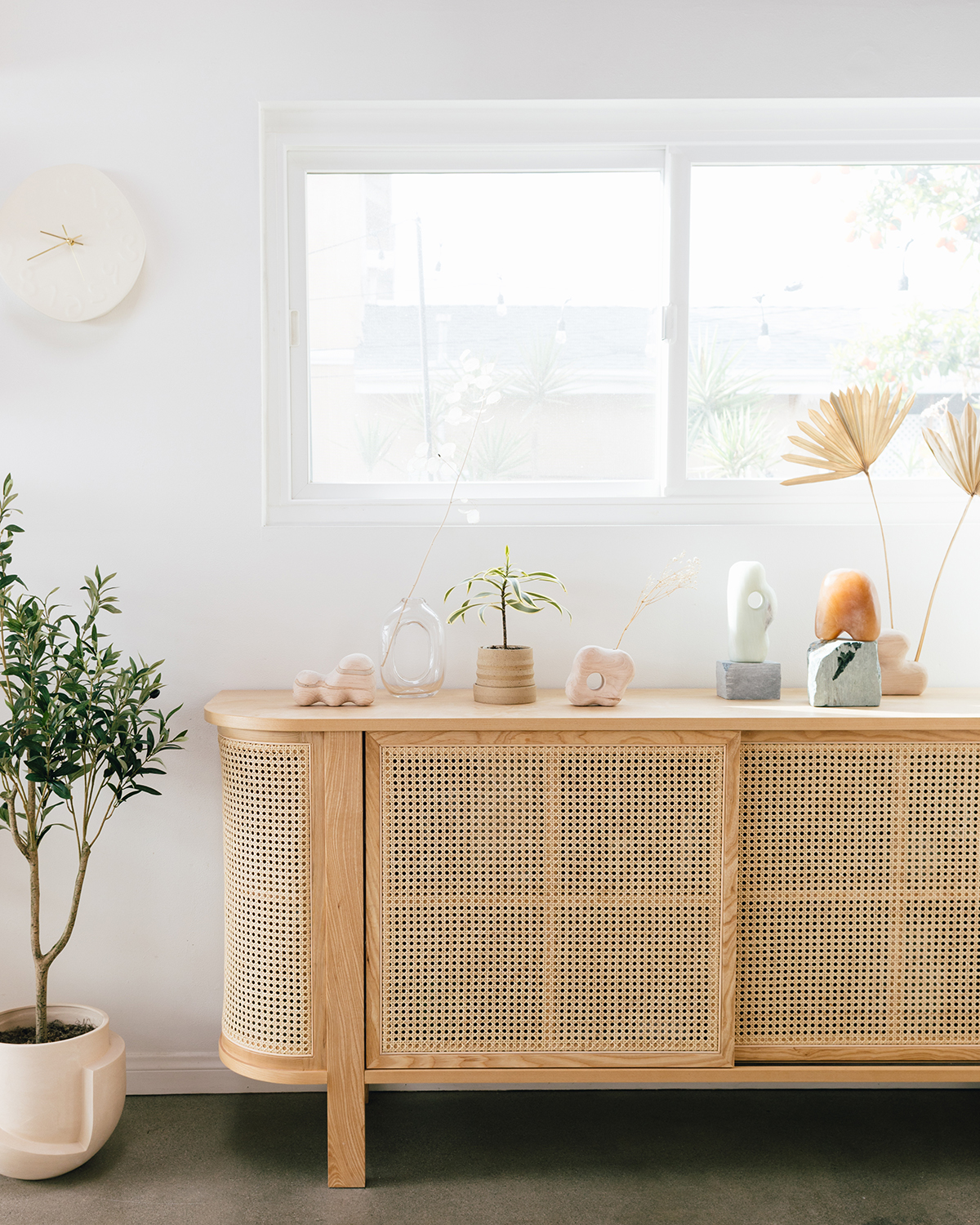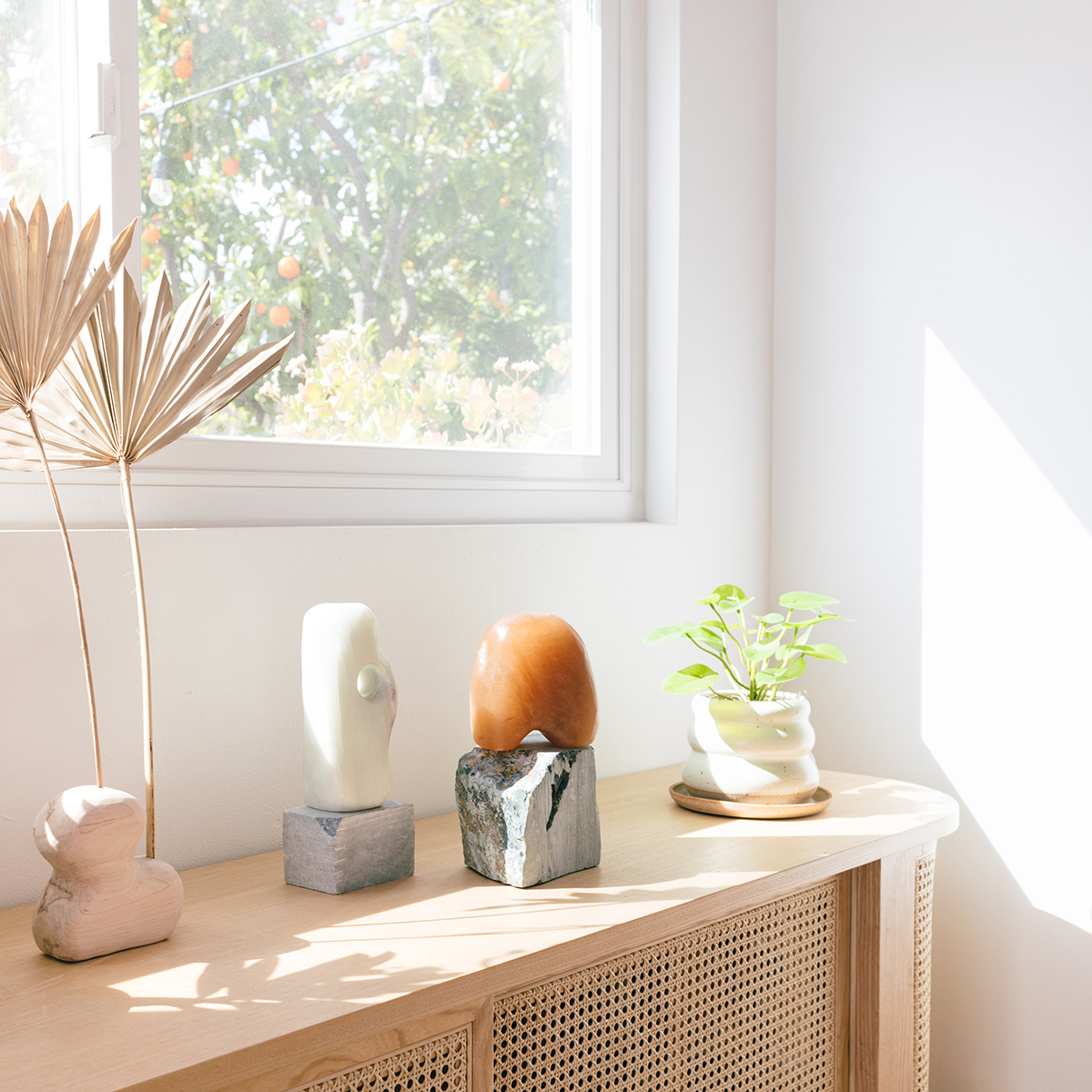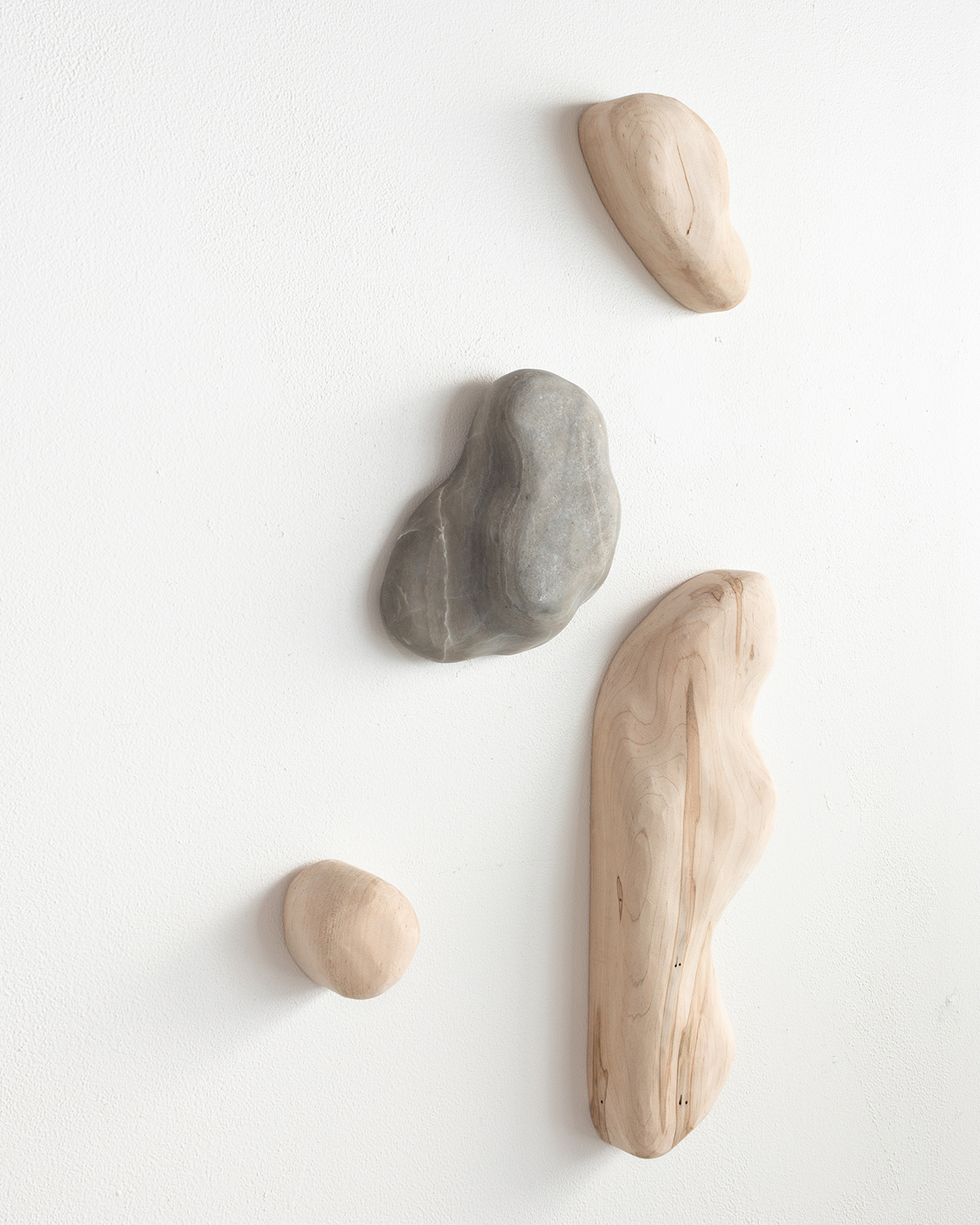 Can you speak to LA's impact or influence on your creativity or vision?
I was born and raised in Los Angeles, CA. I grew up in San Gabriel near the mountains and my approach to art definitely stems from a love of nature. I love that you can find anything within an hour's drive — mountains, desert, valleys, rivers, ocean, and more. The sunshine here has also impacted my work as I do all of my woodworking outside. The fresh air clears my mind and the sun lifts me up. 
How would you describe your work? What words do others use to describe your work? 
I create sculptures using mindfully-sourced materials from nature: wood, ceramics, stone, and natural fibers. My work is process and material-driven, exploring the influence of gravity on composition. Individual pieces serve as studies on gesture, curves, drape, and weight. Others often describe my work as calming. I hadn't realized it before, but it made so much sense when I realized just how calming the process of making is for me. In order to spin rope, I have to count the number of strands and the length of thread that goes into it which requires all of my attention and focus. It is incredibly meditative. The same goes for the focus required for woodworking and stone carving. I use a lot of power tools that I have to handle with care. 
Can you talk about your relationship with the materials you use?
I love working with natural materials like rope, fiber, wood, and stone, and I'm really drawn to the process and techniques used when working with them. I am often mesmerized by the individual qualities and unique features of each piece. The types of wood I like working with the most are spalted or Ambrosia maple slabs. The linework, striations, and coloring are the result of decay from fungus or beetles. I like to let the natural wood be the focus and usually leave them untreated and raw. The same goes for natural fibers and stone. No two can be the same and that's what I like about it. I try to keep my compositions simple and let the materials shine. Living in the city, I like to find any opportunity to connect with nature and honor its beauty. These pieces allow me to bring a little bit of nature inside.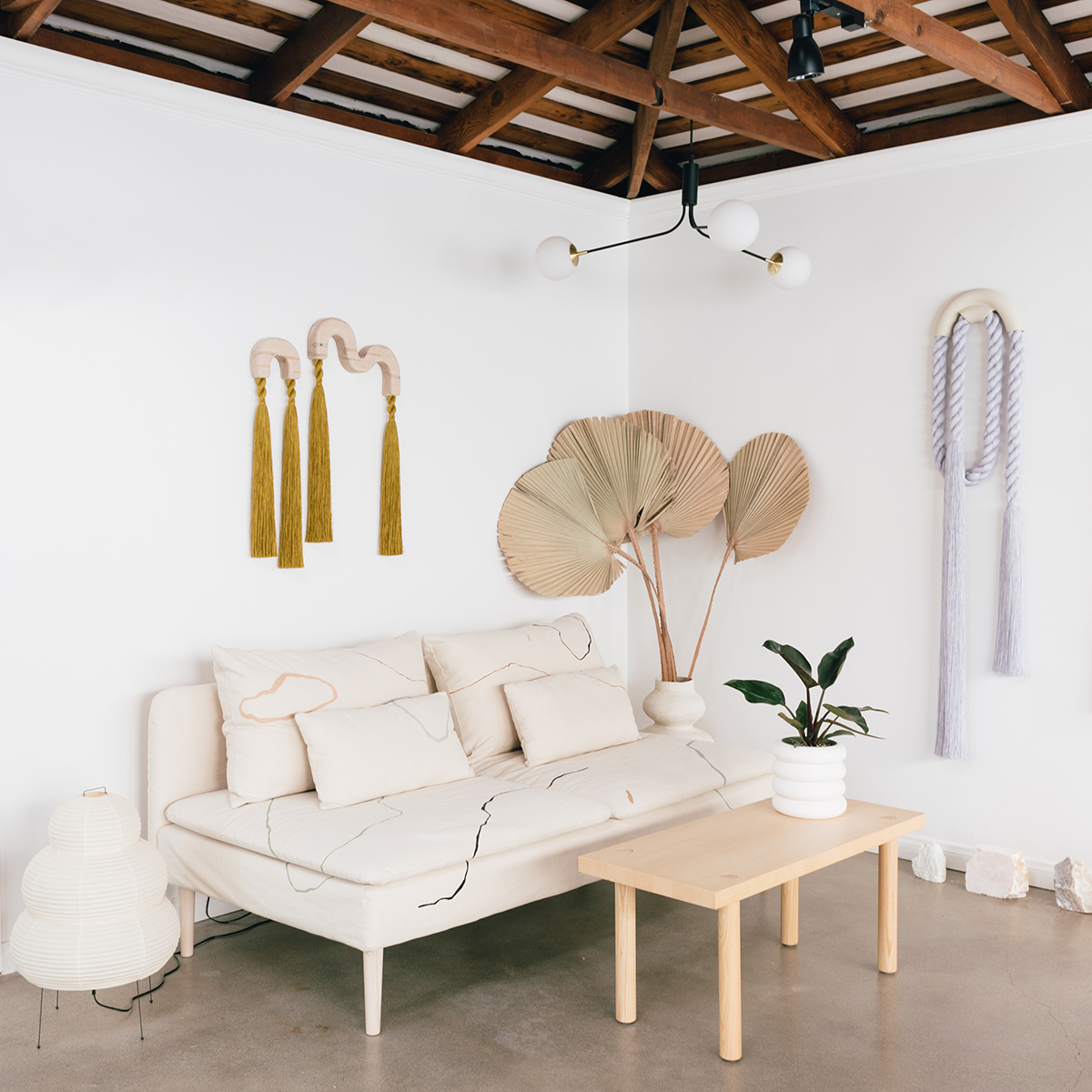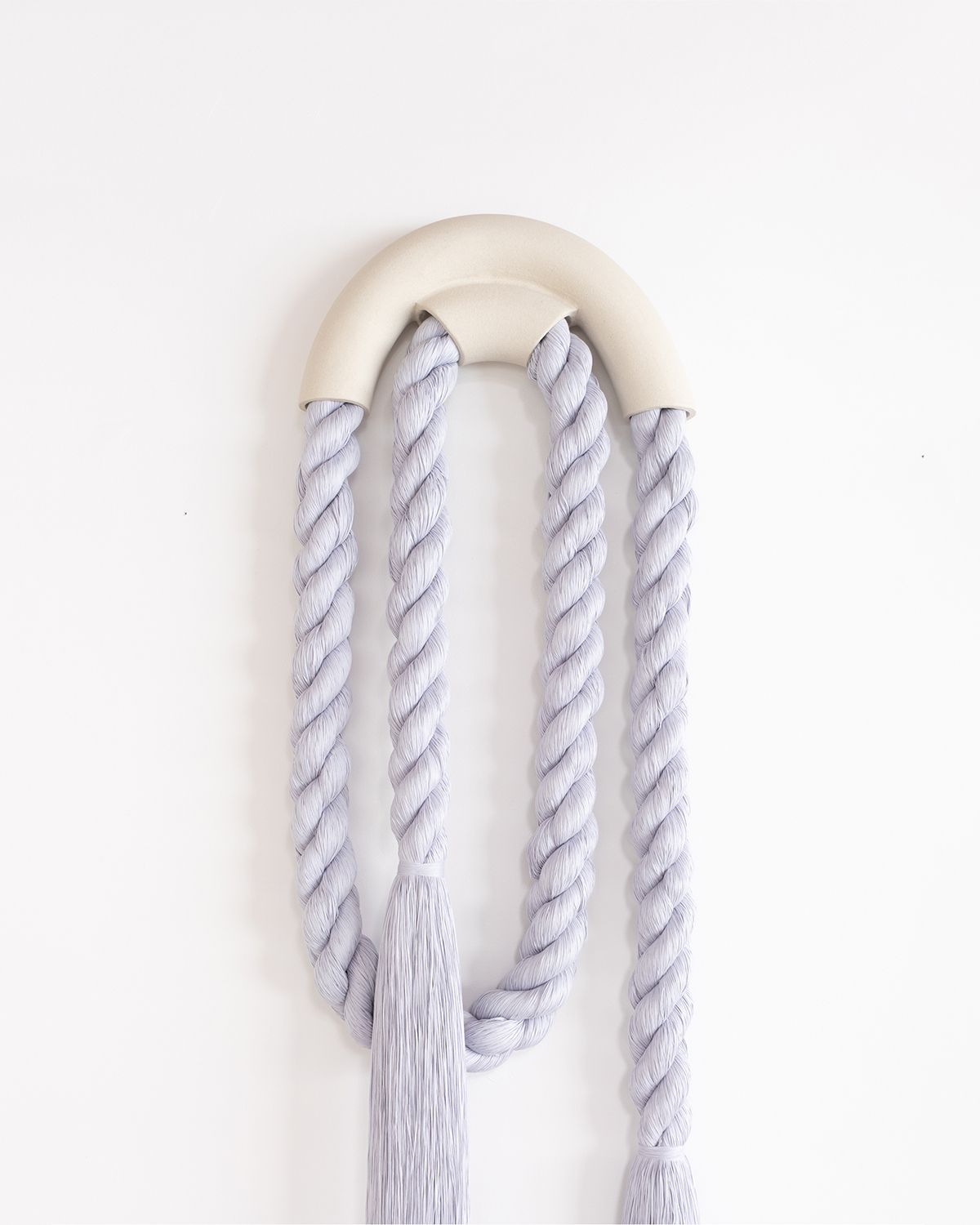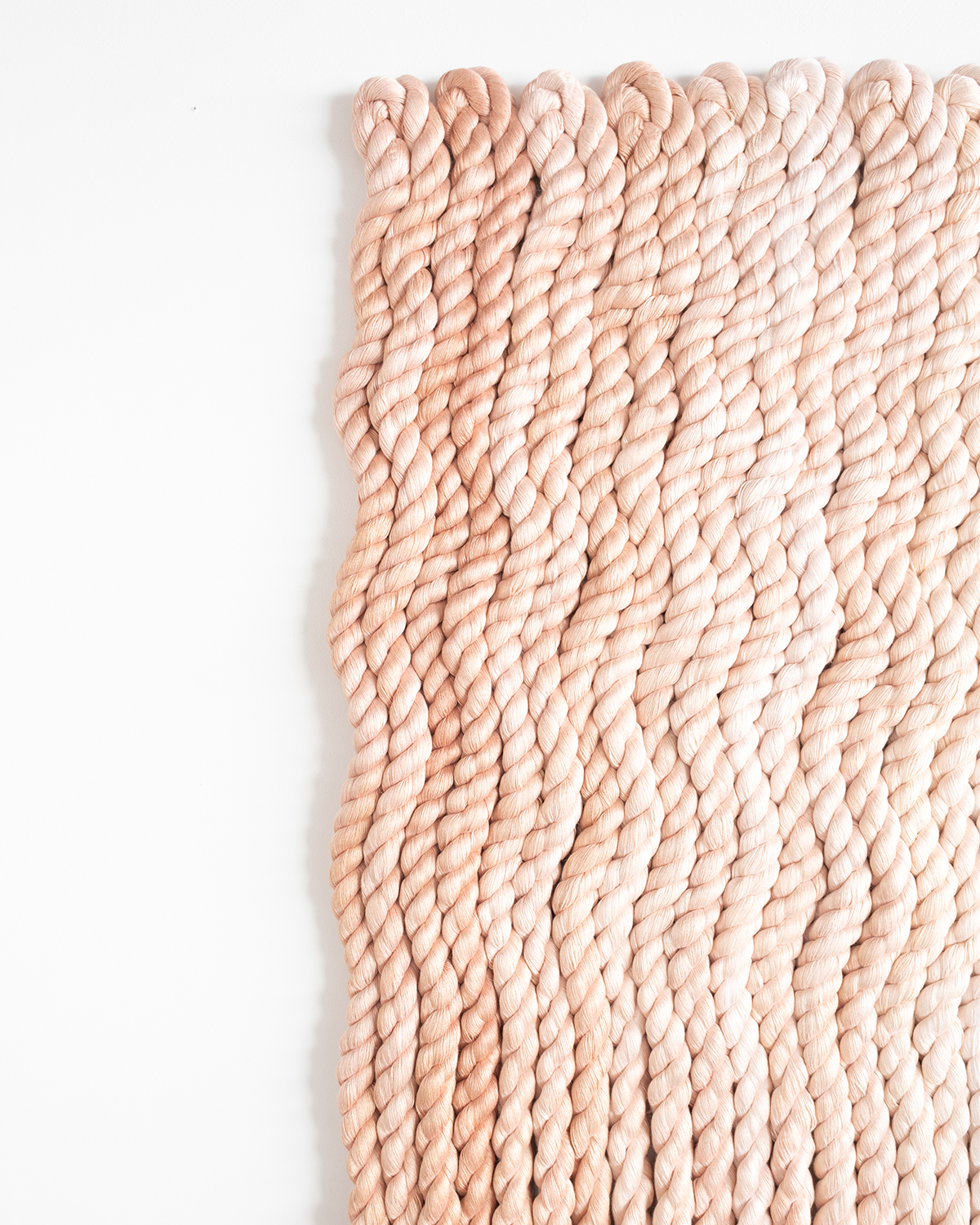 What types of things inspire you?
Nature influences so much of my work. From walks around the neighborhood after dinner to hiking on the weekends, or traveling to a new place, I make time to go outside every chance I get. I am constantly inspired by the curves and details of rock formations, canyons, rivers, and mountains. 
What types of ideas do you explore in your work?
My work embraces interaction, touch, and the spirit of the handmade. It's focused on the process and technique of working with natural materials. I embrace the imperfections and individuality of natural materials. Sometimes there's evidence of sanding and carving on the wood, sometimes I leave the stone raw and unpolished. I make my own rope because it's so much softer and can't be mass produced with the same texture.
Form is something I always explore in my work. I have a general idea of how I want my pieces to look, but the rope usually has a mind of its own. Gravity plays a big role in how the weight of the material will drape and rest. I try not to force the design too much onto the material. The end result is a rather organic form that is a collaboration between my intangible ideas and a very materials-driven process. Many of my pieces end up being specific studies on color, shape, and texture.
What types of things are important to you in your design practice?
I am mindful of the quantity and quality of work I put out into the world. Each piece is meant to last and is made through a process that is slow, small, and intentional. I am also taking measures to become carbon neutral while reducing waste in every area of production. I believe in less but better.
How do you prioritize mindful practices in your work? 
For me, outer order creates inner calm. I don't usually work nights or weekends in the studio in order to prioritize my mental and physical well-being. I use that time to rest and get inspired. I set a lot of boundaries and try not to say yes to everything so that I can protect my time and energy. 
Since I make everything myself and want to keep it that way, it's important for me to keep in mind long-term sustainability. I still want to be making art years from now, and the only way to ensure that is to take care of myself. I've experienced burn out too many times and realized that it makes me less productive in the long run.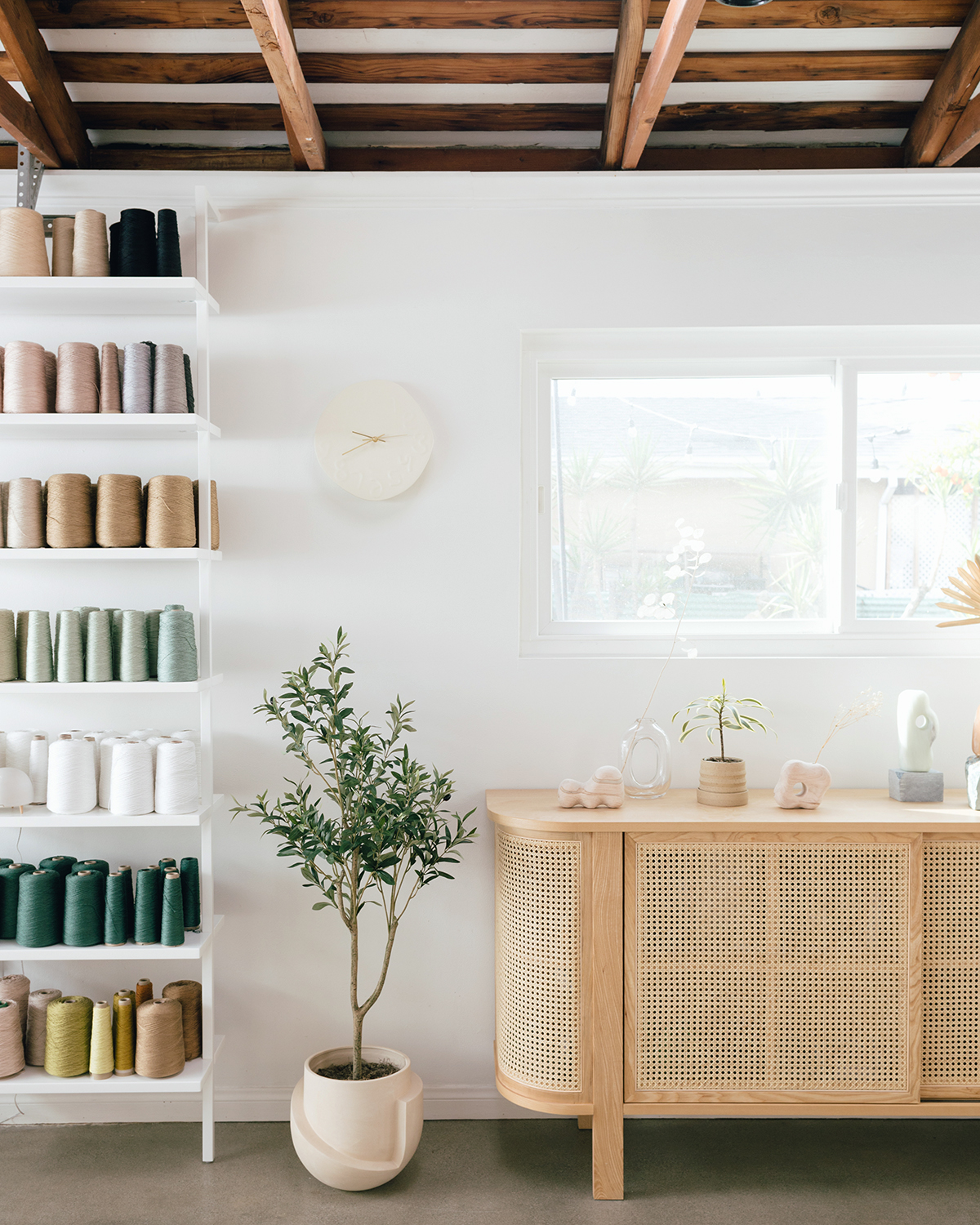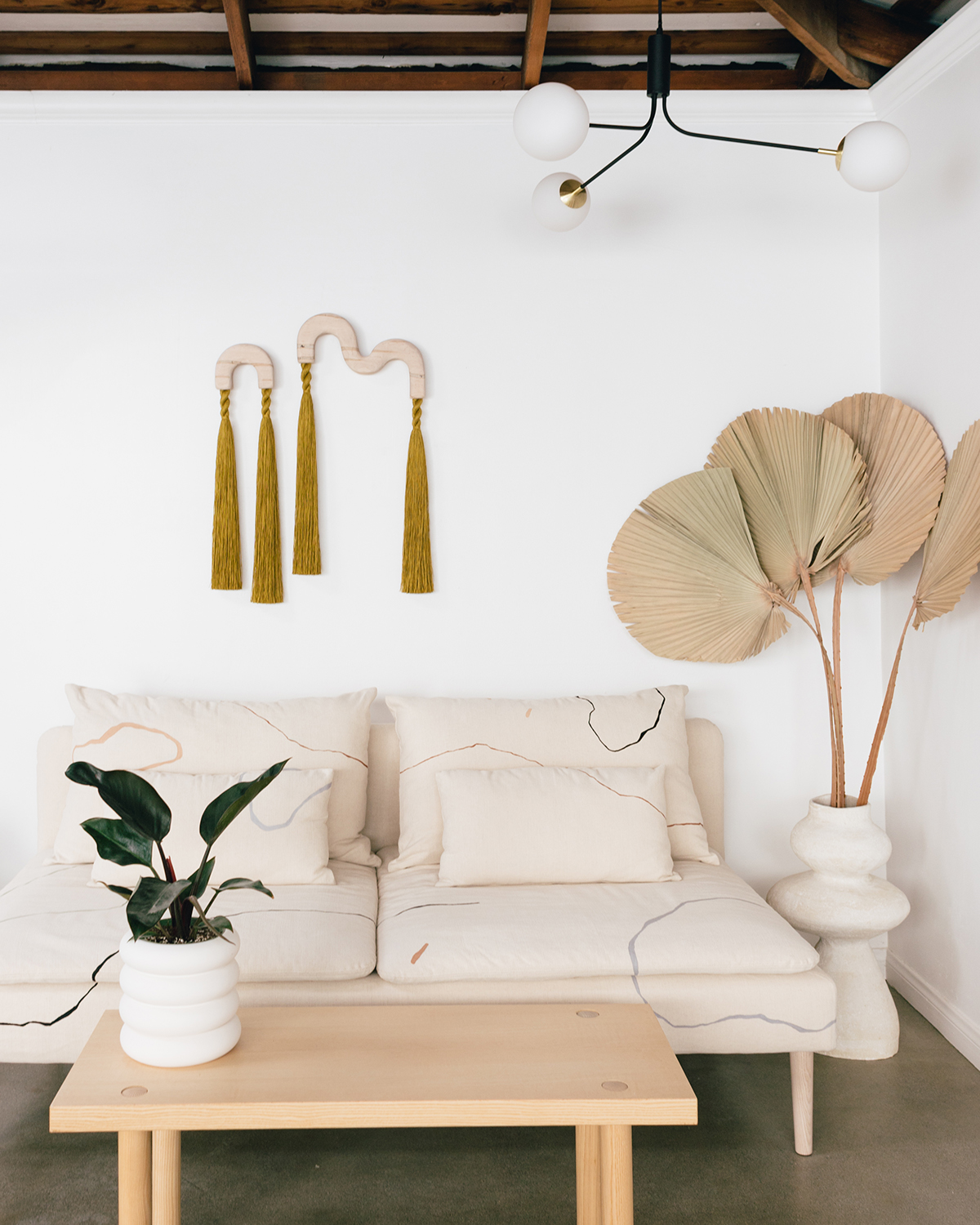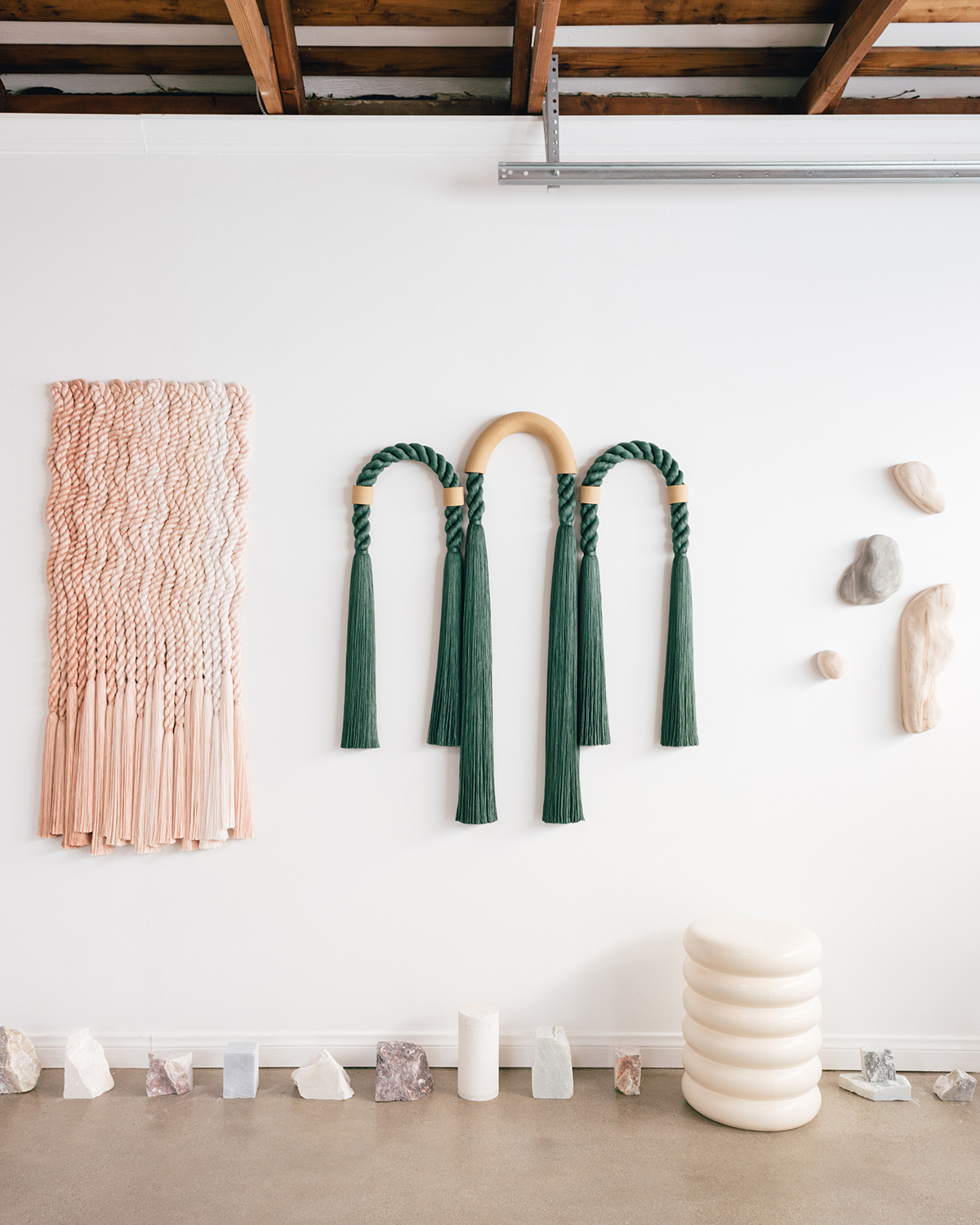 Can you tell me about the brushes?
There's usually a prohibition against touch in museums to preserve the artwork, but my pieces are so focused on exploring material and texture that I'd like for people to experience them with all the senses. The techniques I use are a slow and sometimes tedious process, but they result in pieces that I hope highlight and share my love of texture and form. That's why I encourage people to reach out and feel the tassels — I include a brush with every piece.
Any dream installations or collaborations?
I've worked with so many dream clients! They are the ones who share my love of nature and movement as well as a deep curiosity about form, texture, and minimalism. I'm really honored every time someone places my work in their home. Wall space is a limited resource and it means the world.
Any new ideas you're excited to explore?
I just started working with stone and am excited to explore that further. I'm enjoying discovering different materials to carve like alabaster and marble, as well as learning where they came from and the history of stone sculpture. I am also looking forward to working in a large scale and would love to do an installation that takes up a big space!
Artist crushes or kindred spirits?
I collaborate with my friend and LA-based ceramicist Alyson Iwamoto to make the stoneware arches in my work. We have been working together for several years now and this partnership has continually pushed my work to new places. I am grateful that I've met so many kind people in this community and get to fill my studio with some of their work! My favorites right now are my custom couch painted by Küdd:krig HOME and the large ceramic vase by OATMEAL.
And lastly, because these are trying times, tell us about something giving you joy or comfort these days.
My husband and I go on a walk almost every night to catch up about our day and get some fresh air. We look at the flowers growing in the neighborhood and see what new houses are being built. I like to take pictures of the clouds and we'll watch the sunset. The colors always make me smile and I think I've been trying to incorporate shades of peach, lavender, and periwinkle into my work so I can bring some sky inside.