12.02.21
A Chat with Erwan Bouroullec About Textiles, Layering, and His Studio's Newest Showroom for Kvadrat
French designers Erwan and Ronan Bouroullec have such a long and creatively productive history with the celebrated textile producer Kvadrat that they've become something like family. So when the Danish company decided it wanted to establish a foothold in Los Angeles this fall, the Bouroullecs came up with a concept that's a little less like a showroom and a little more like a home — literally. Inside Kvadrat's lofty new L.A. location, Erwan conceived a two-story freestanding "house" whose walls of patterned fabric are framed with rough-hewn Douglas fir logs; it's a European's half-ironic nod to the American pioneer spirit, a kind of Kvadrat goes West. Work zones on the structure's upper level connect to gathering spaces below via a staircase dotted with cushions and flower-filled Nuage vases, inviting you to stop and sit for awhile. The idea was to create an interior where people feel both comfortable and inspired — a space full of unexpected textural and chromatic touches, where materiality takes full precedence.
The new showroom, which opened last month in the city's downtown Arts District, is the fifth that the brothers have designed for Kvadrat over 18 years, though it's only the second American base for the company (which currently has a hub in Grand Rapids, Michigan, and plans for a Jonathan Olivares–designed space in New York). For Erwan, who took the lead on this project, it was a chance to use a deep base of knowledge in order to experiment with volume, depth, color, and texture.
It's also the culmination of two years of work over the course of the pandemic, mostly done from Paris, which is where we reached Erwan to get the details on his process. He spoke to us more generally, too, about how textiles change the way people behave, which design elements make a home, the importance of layering, and the power of stairs. We also touched on his admiration for the late Virgil Abloh, who passed away the day before we talked. Read on for more.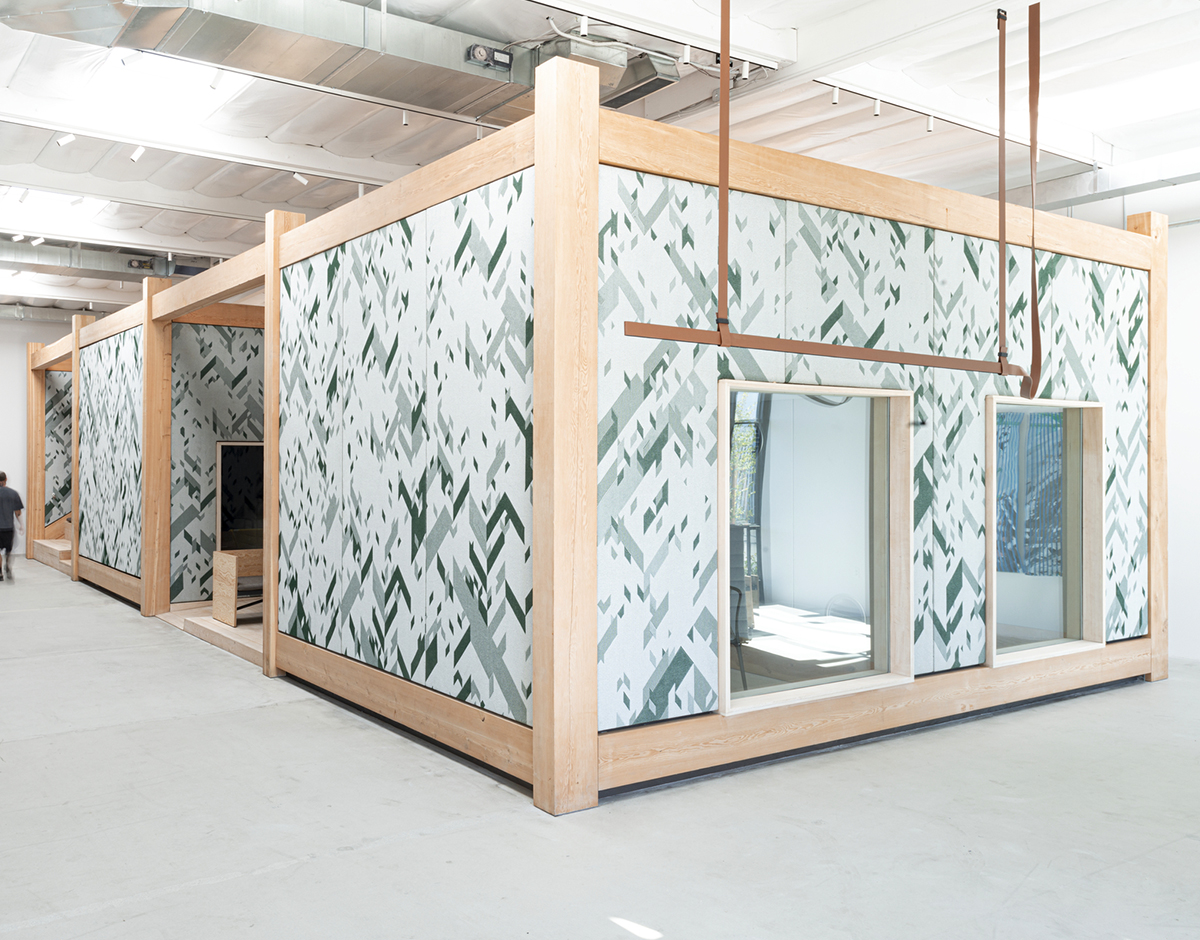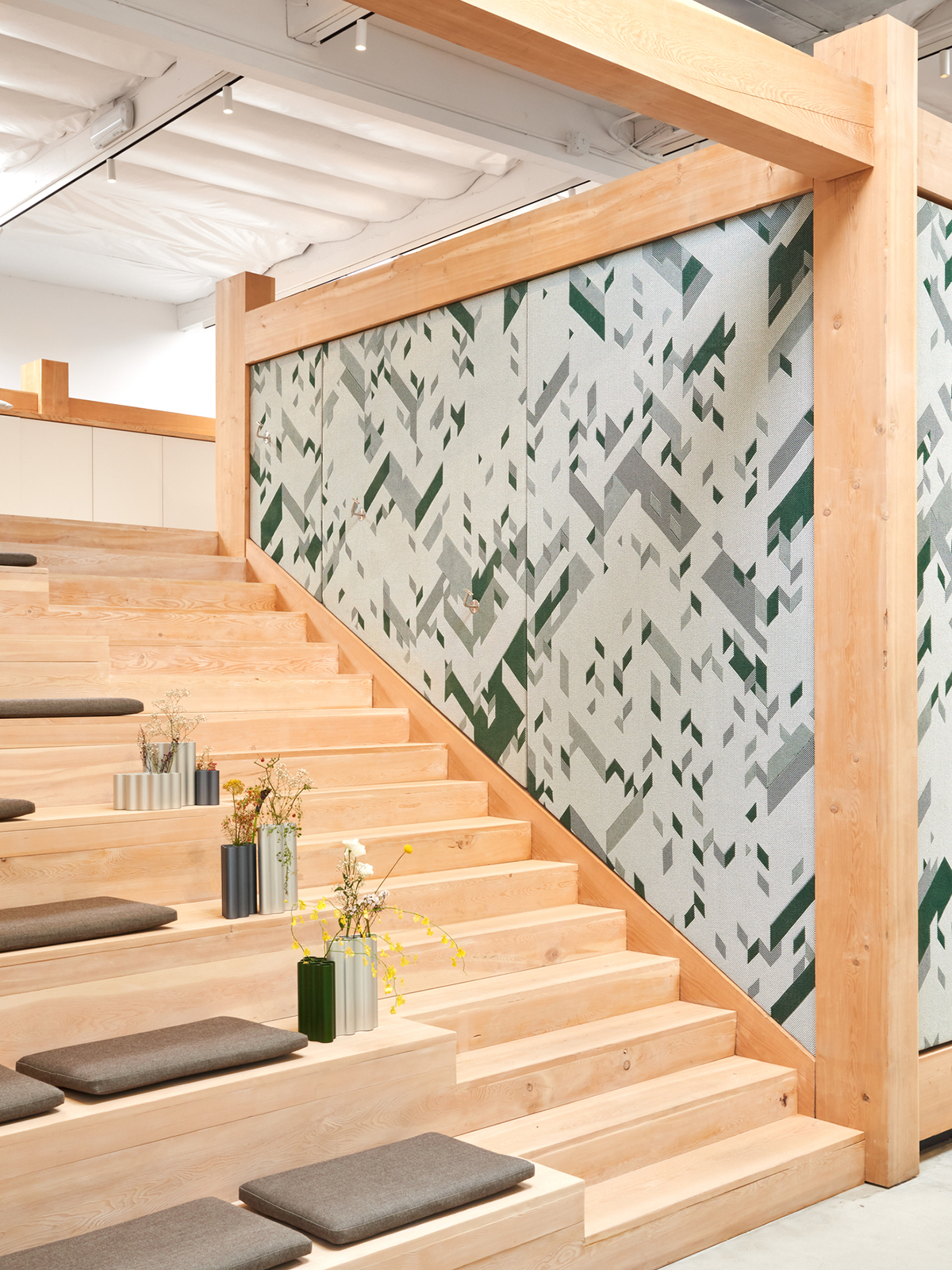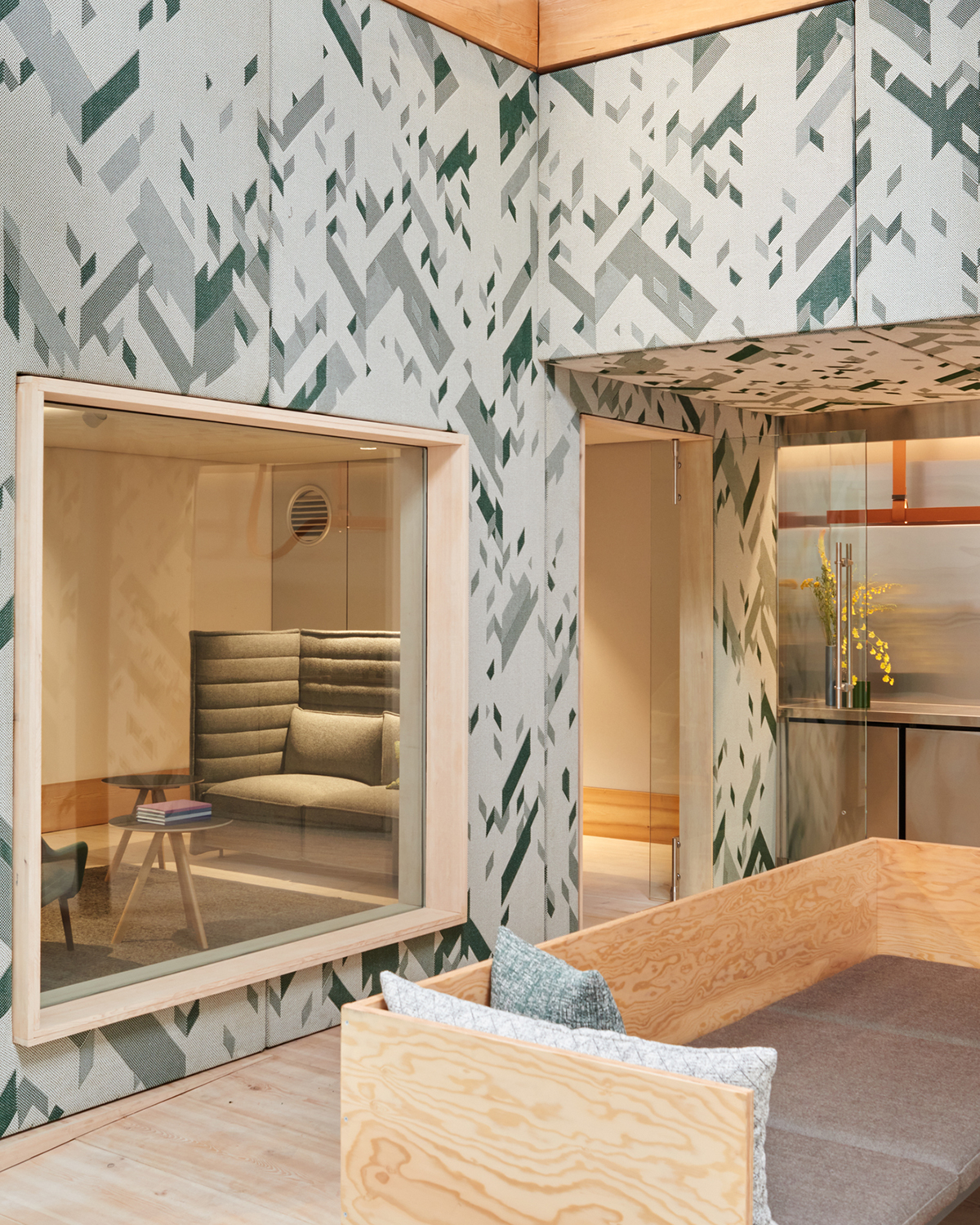 Given the timeline of this project — you started it a few months before COVID — I was wondering how much time you'd spent in LA actually working on-site.
None at all! Because this project was initiated just before COVID, I could never be on site, not until two weeks before the opening. But the space we were given is more or less a white cube, a bit like a gallery. It's not like it had many views to the outside, or a complex geometry, so it was possible to render it from far away.
How did you come up with the concept?
Well, it's an old story for Bouroullec Studio, really — making a box within a box. When we make interiors, most of the time we never touch the walls. Everything is kind of one unit positioned within a larger volume. The volume looks very rigid, but then it has many tiny spaces inside, which is nice. What was very important for me was to build with the proper materiality. We decided to go with massive Douglas fir. It's very strong, durable, very clean, untreated. And a big textile is quite new for us.
You've likened this project to building a new home for Kvadrat. What defines "home" for you when it comes to design?
Home is really a place of freedom. When I say something is like "home," it's because somehow, I didn't try to set it up too precisely. And you aren't trying to behave in the space like the space wants you to behave. It's a space that lets you behave exactly the way you wish.
You can very easily move inside these volumes and hide and find a position for yourself. You can sit on the stairs, you can be in the front, you can be in the back. There are opportunities to sit and be together. This is what I mean by home — something that has a lot of different dimensions, and a lot of different kinds of space. There's a lot of wood, a lot of textile, it's rough, but it's incredibly cozy. It's just like, come in, you're welcome. It's really a place made for people.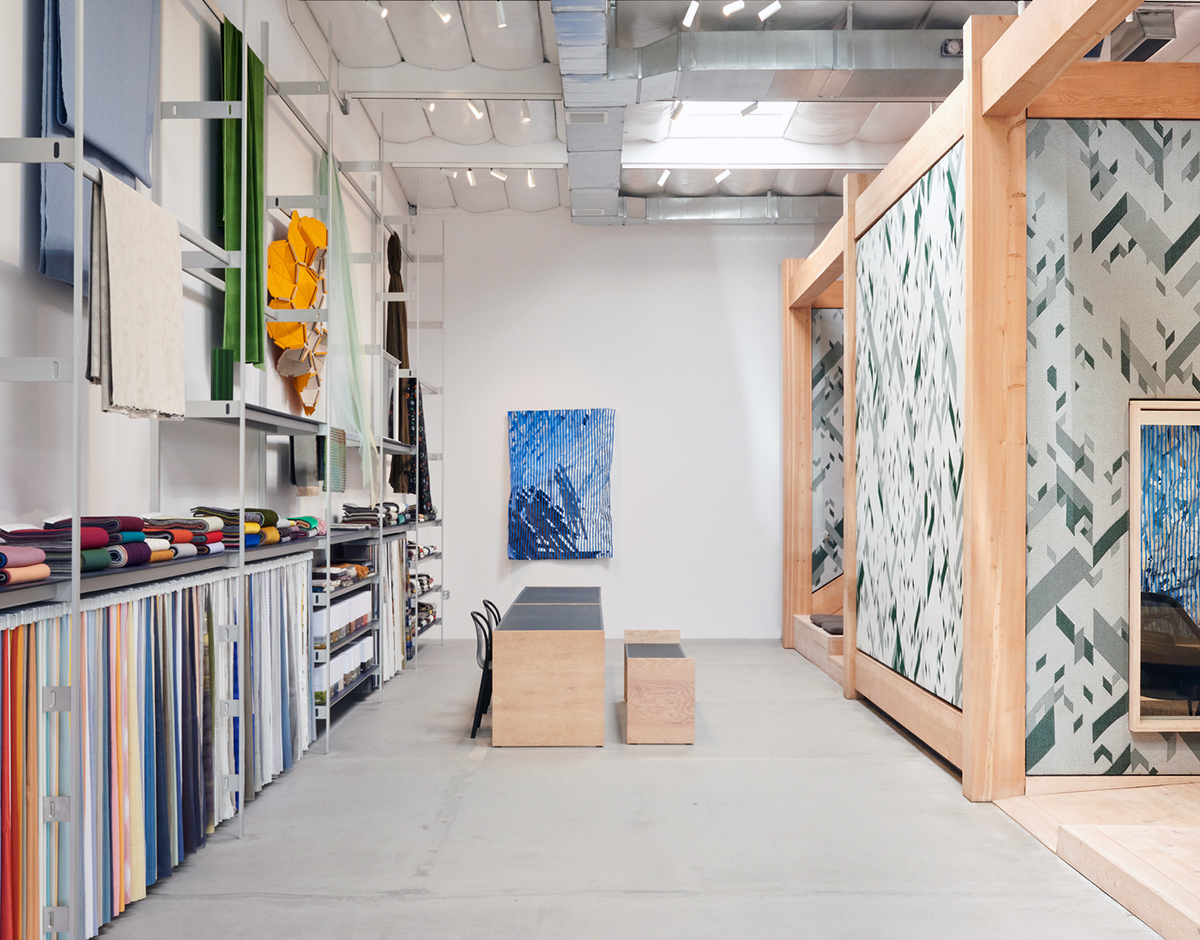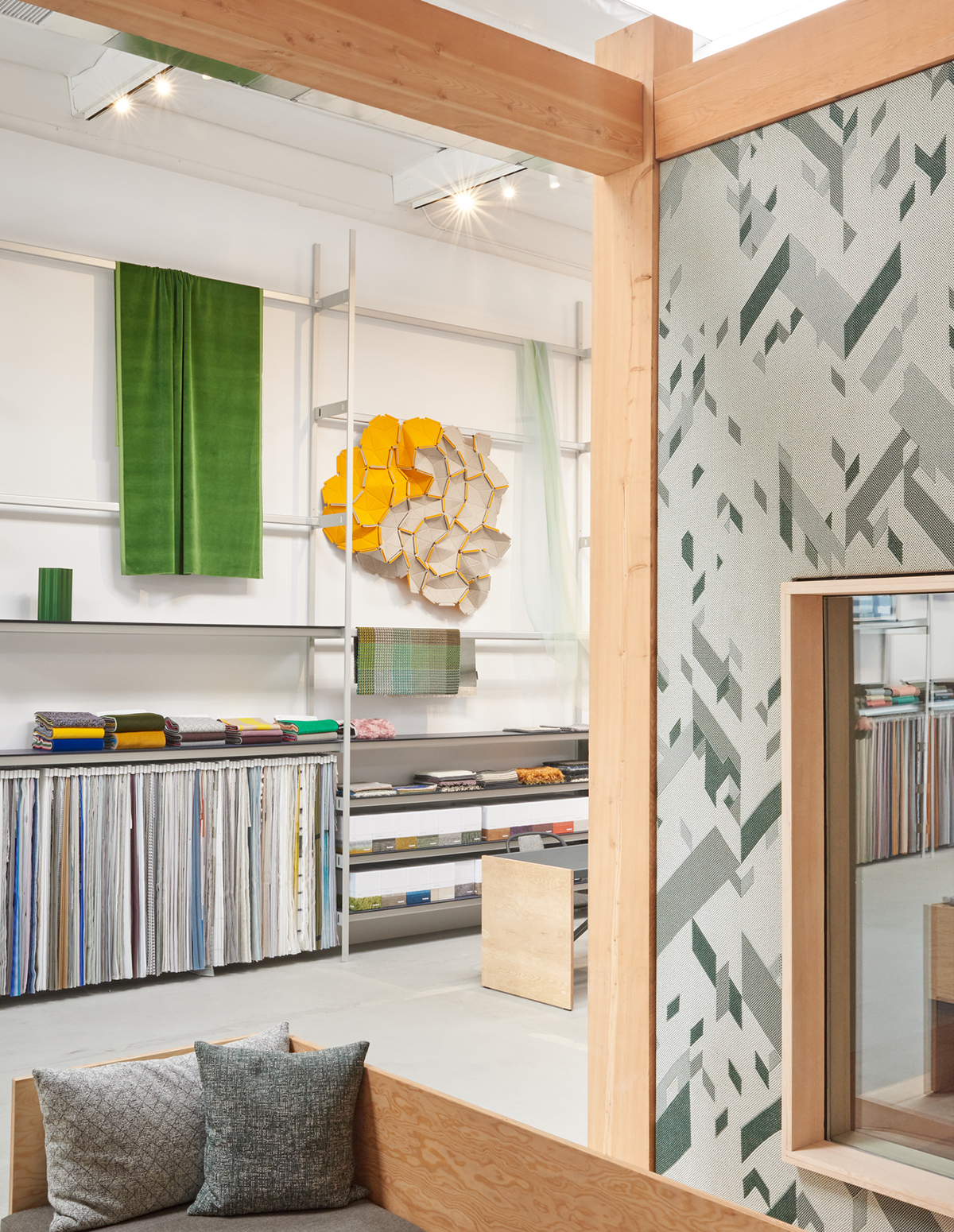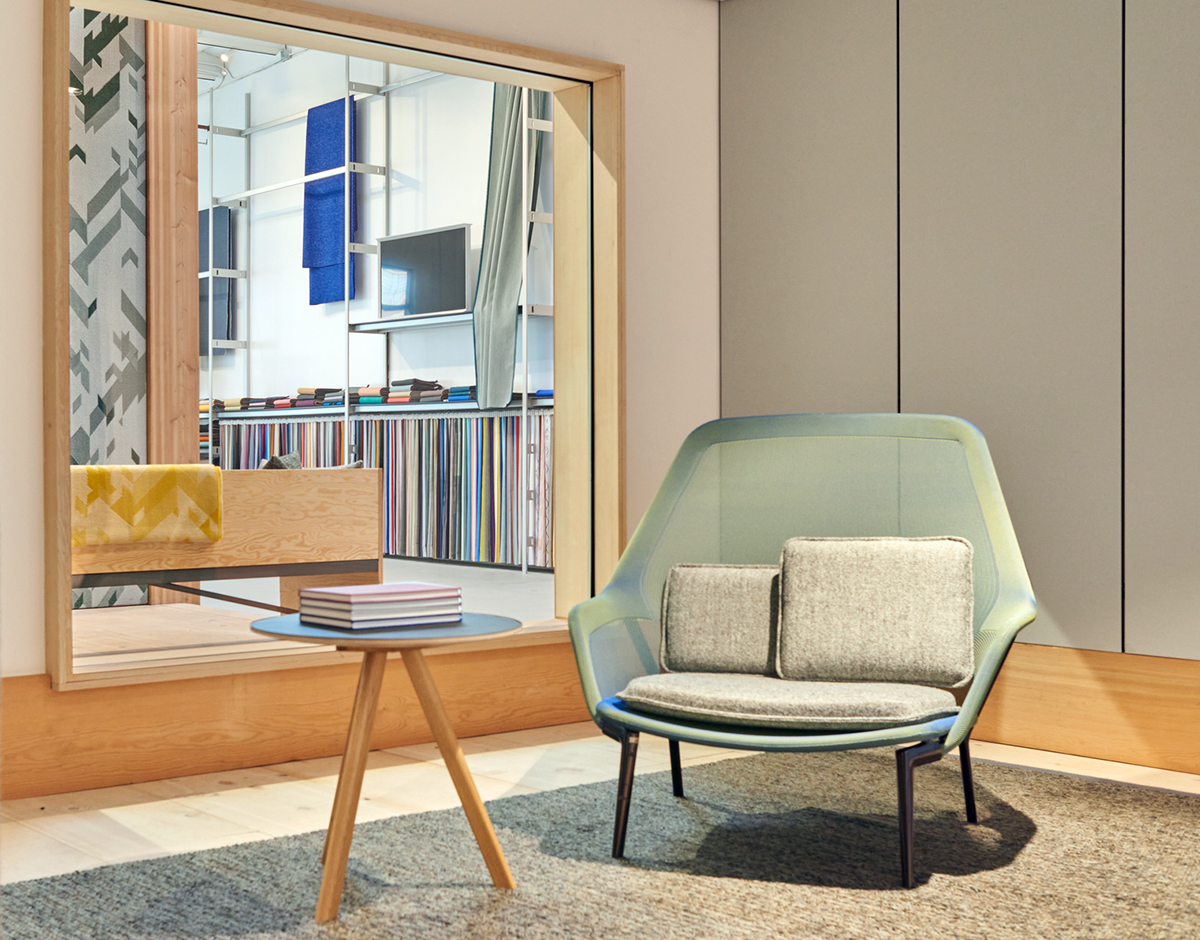 It has a very clean but warm, comfortable feel to it.
Yeah, ultimately, the main role of such a place is to allow people to carefully choose their textiles. There's one part of choosing textiles which is easy — let's say the price, the amount of material you want to have, a number of things. But then it becomes very special because you need to choose the color, the texture, the weight. And I want people to feel incredibly at ease doing this.
Do you have any tips on how to choose the right textile?
Choose with confidence, because textiles have an incredible power over a space. What's interesting about textiles is that people know they're delicate, and so most of the time when they're surrounded by textiles they behave properly. Textiles have a way of dampening sound — basically they make everyone quiet, in a positive way.
What I like a lot with textile is that a color can be made by many other colors. Sometimes Kvadrat mixes four or five colors into a single piece. In the end, your eyes see mainly one color, but it's incredibly rich due to the others. It's a bit like when you see a big field of grass but then there are flowers, there are fallen leaves, there are a number of things that make it very rich to your eyes.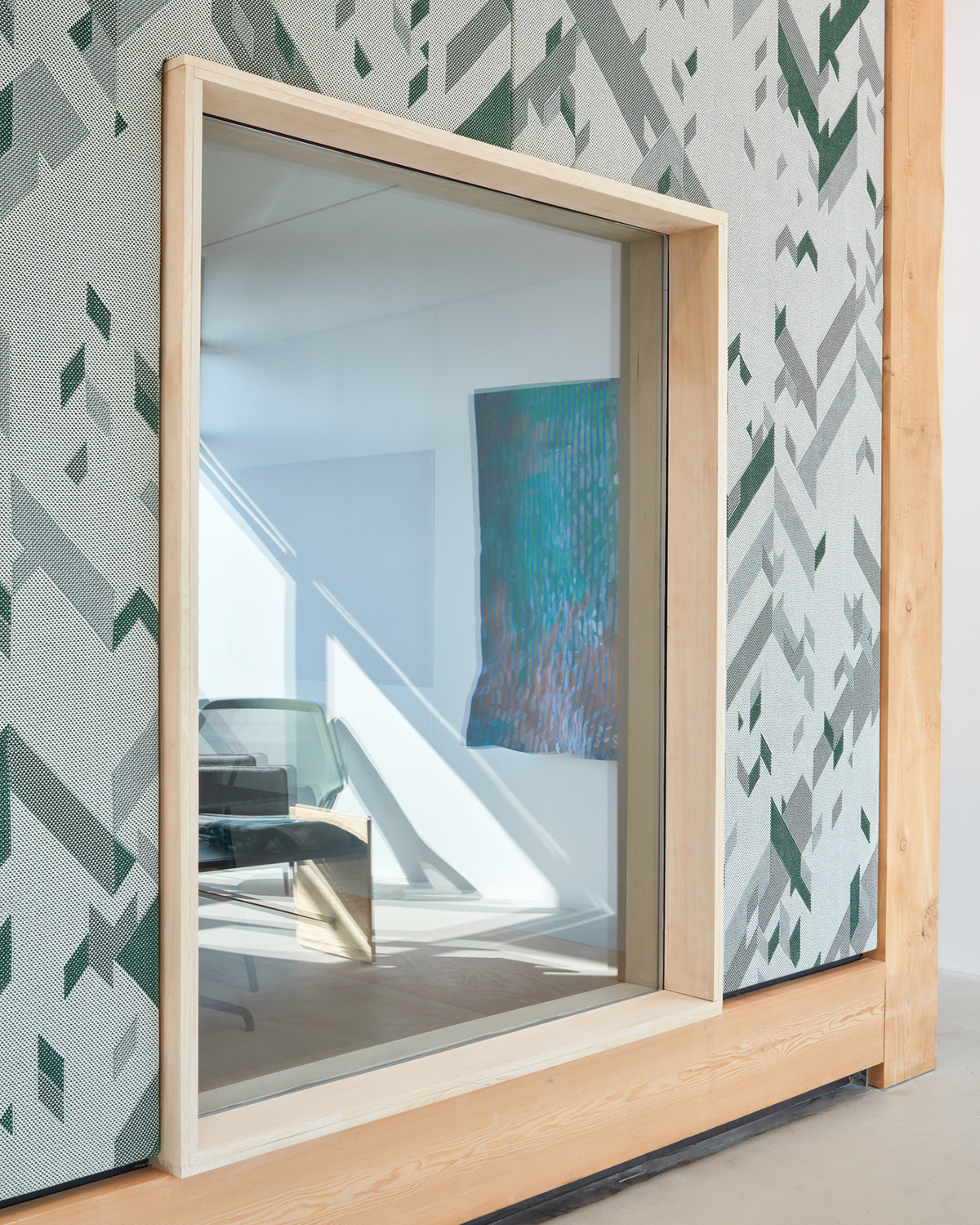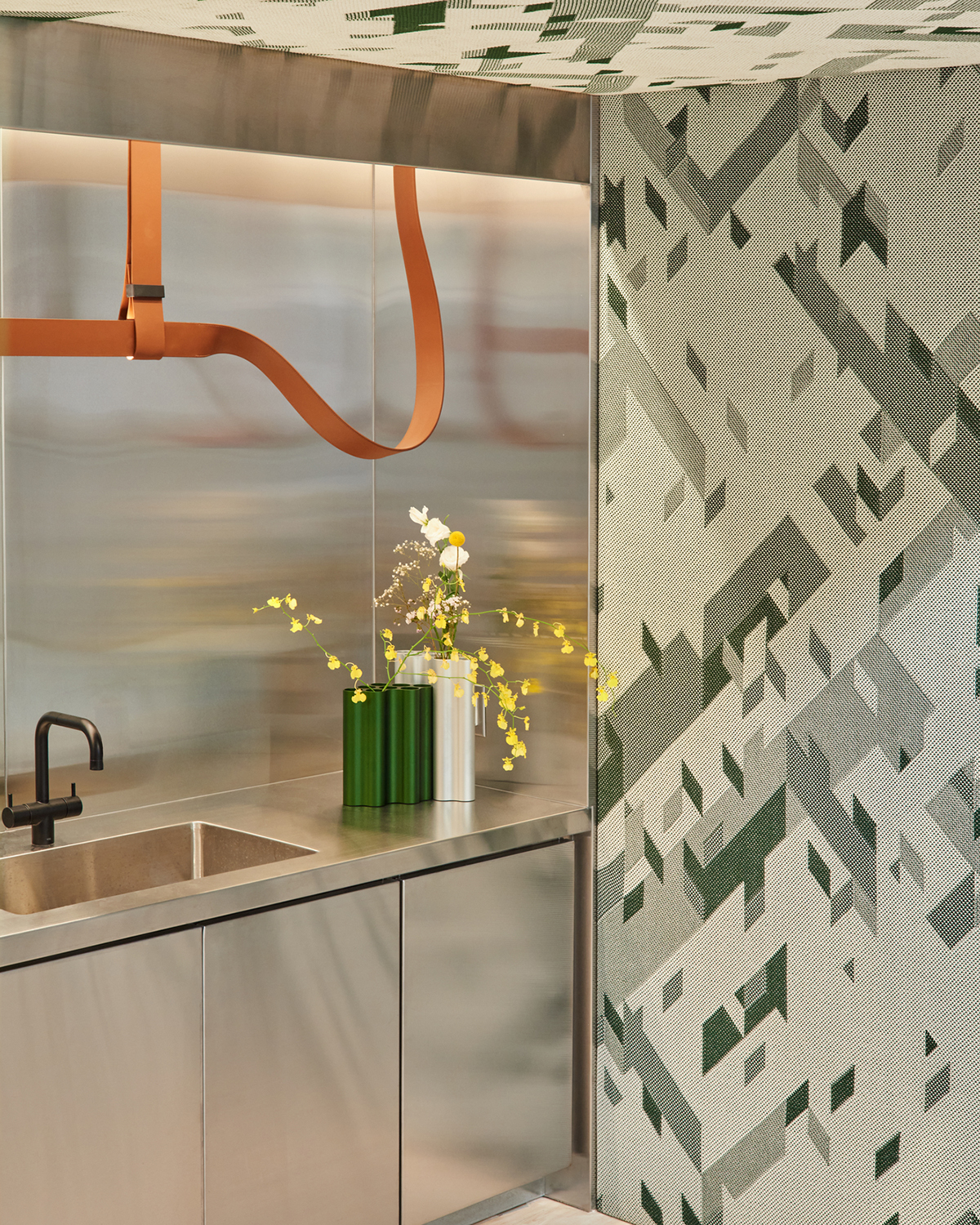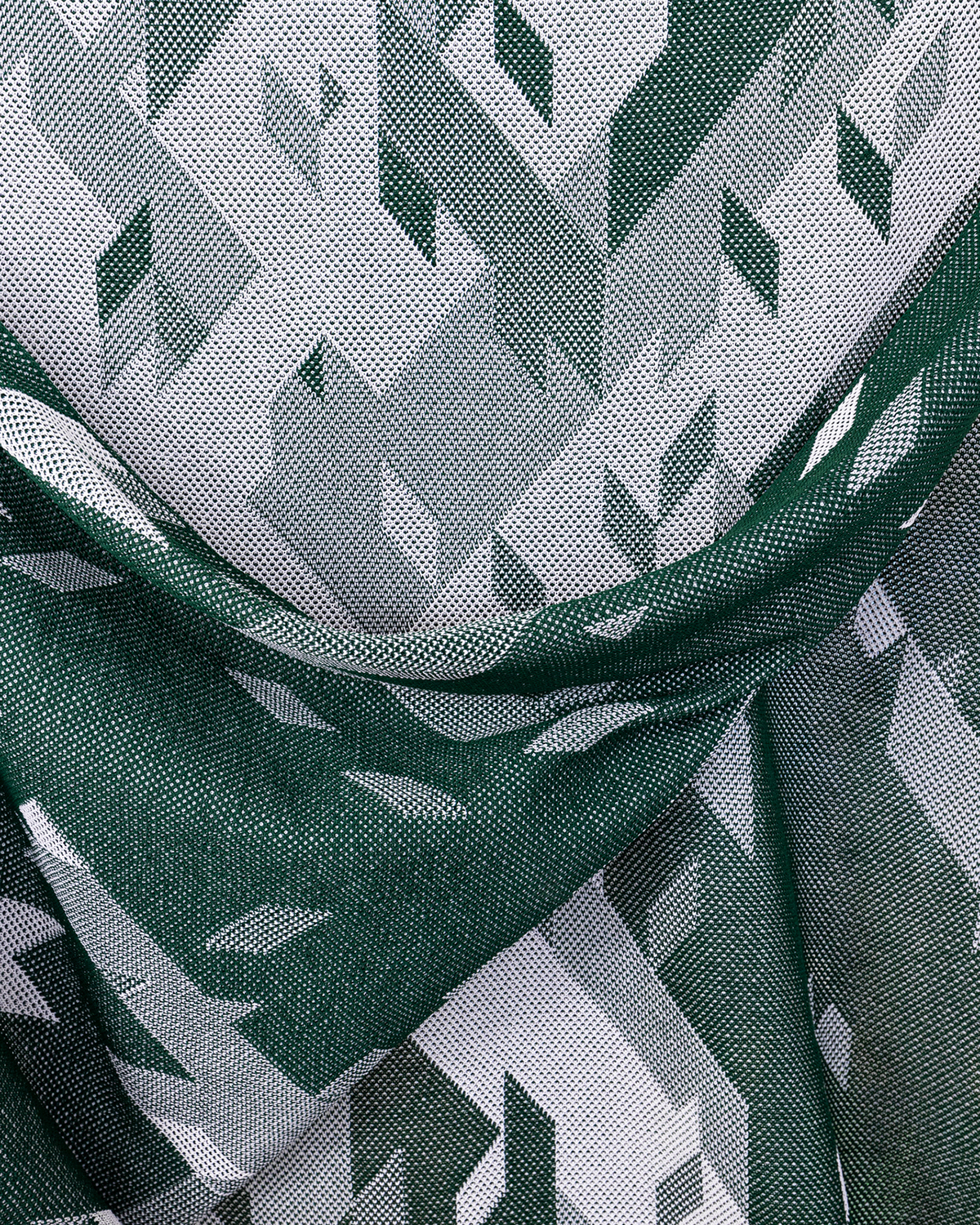 Your Cilos knitted textile, which is used on the panels for the walls of the house — what influenced that palette and design?
Everything started from a passion for knitting. Then I put on some computer coding to create a pattern, and in the end, I think it has a landscape quality. The pattern is purely abstract, so nobody can recognize anything inside it, but it looks a little like something you'd find in a forest, like snow fallen on trees. I was looking for something like a landscape, but not in a direct way.
Textiles are very interesting because of the deep texture. Cilos uses quite a big construction; it uses a big yarn, it has a big pattern. So, your eyes see a lot. When you approach it, you see nearly the full construction. It's like a textile that you're seeing through a magnifying glass.
I keep thinking about the stairway in the house. I love it and it reminds me a little of a miniature version of the staircase Rem Koolhaas did for the Prada store in New York.
For sure, for sure. It's a very old pattern, in a way. You can see them in many ancient stadiums. I think ours has a slightly deeper pattern than OMA [the Office for Metropolitan Architecture, where Koolhaas is a partner], but yeah, for sure. It's not really an homage, but everyone loves OMA.
I think what's very interesting with digital times is that anybody can settle anywhere. Bring your laptop, do a little something. But it can get obsessive. As much as possible, I am trying to create an opportunity to stop. I remember as a kid, we had stairs, and I was always playing on them because they were ideal for building a castle or something like that. So that part of the stairs has been transformed to like, if you wish to sit for a minute, you can.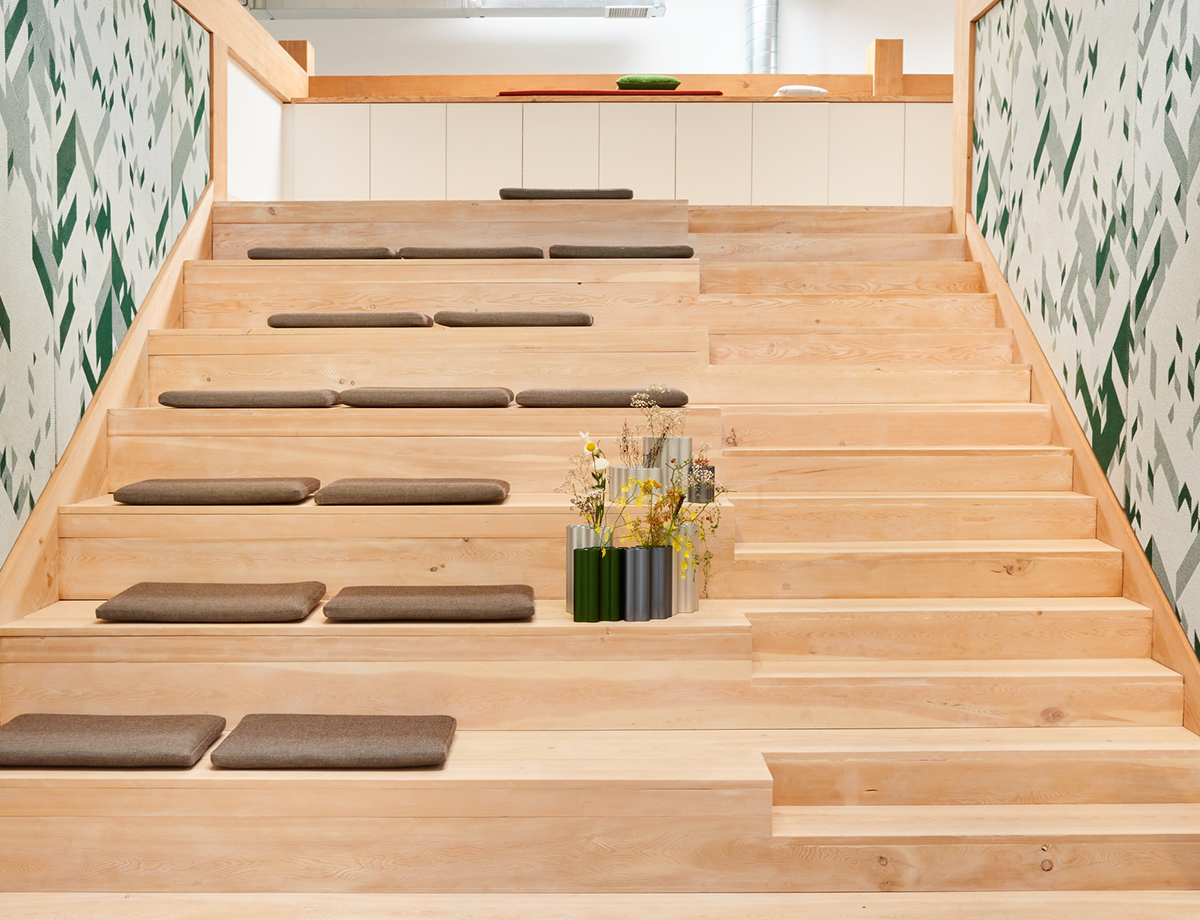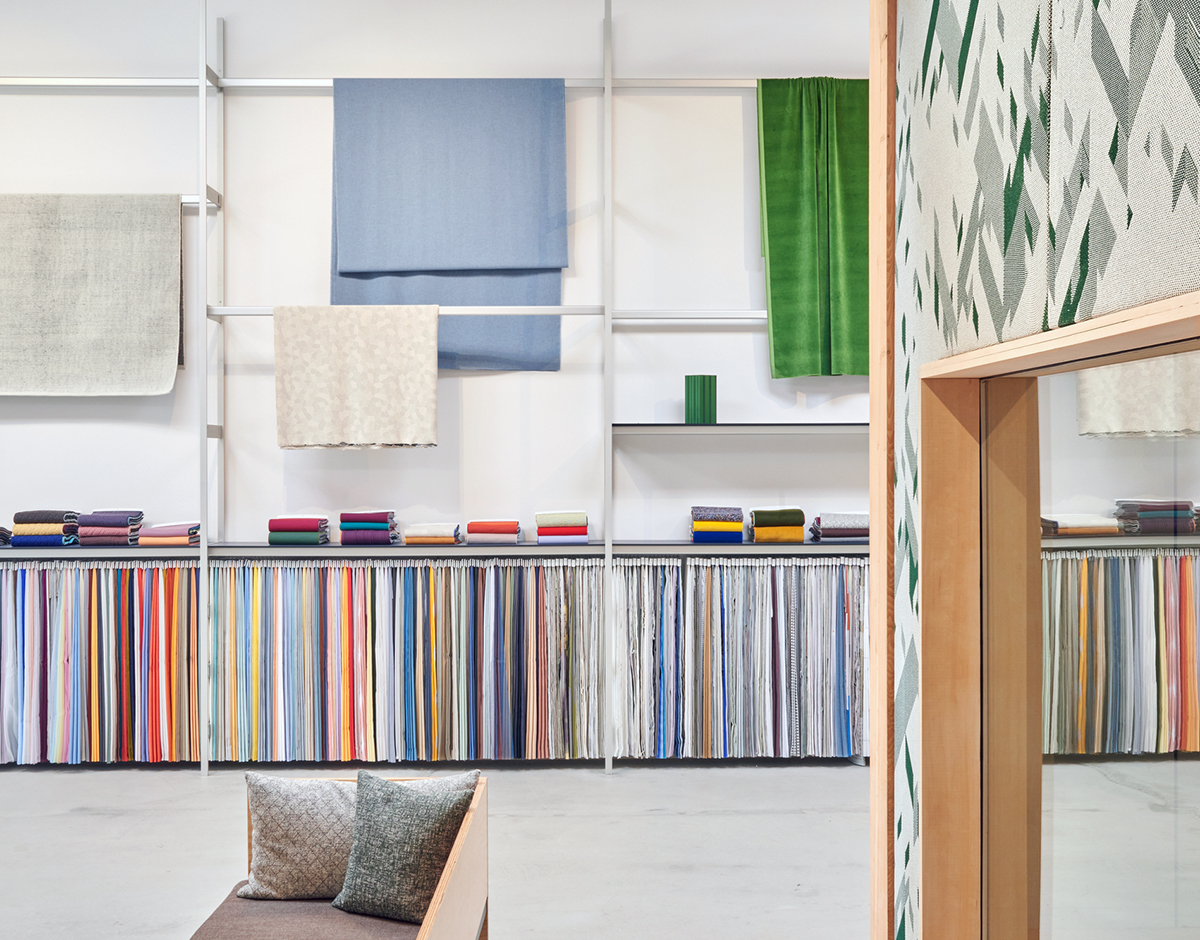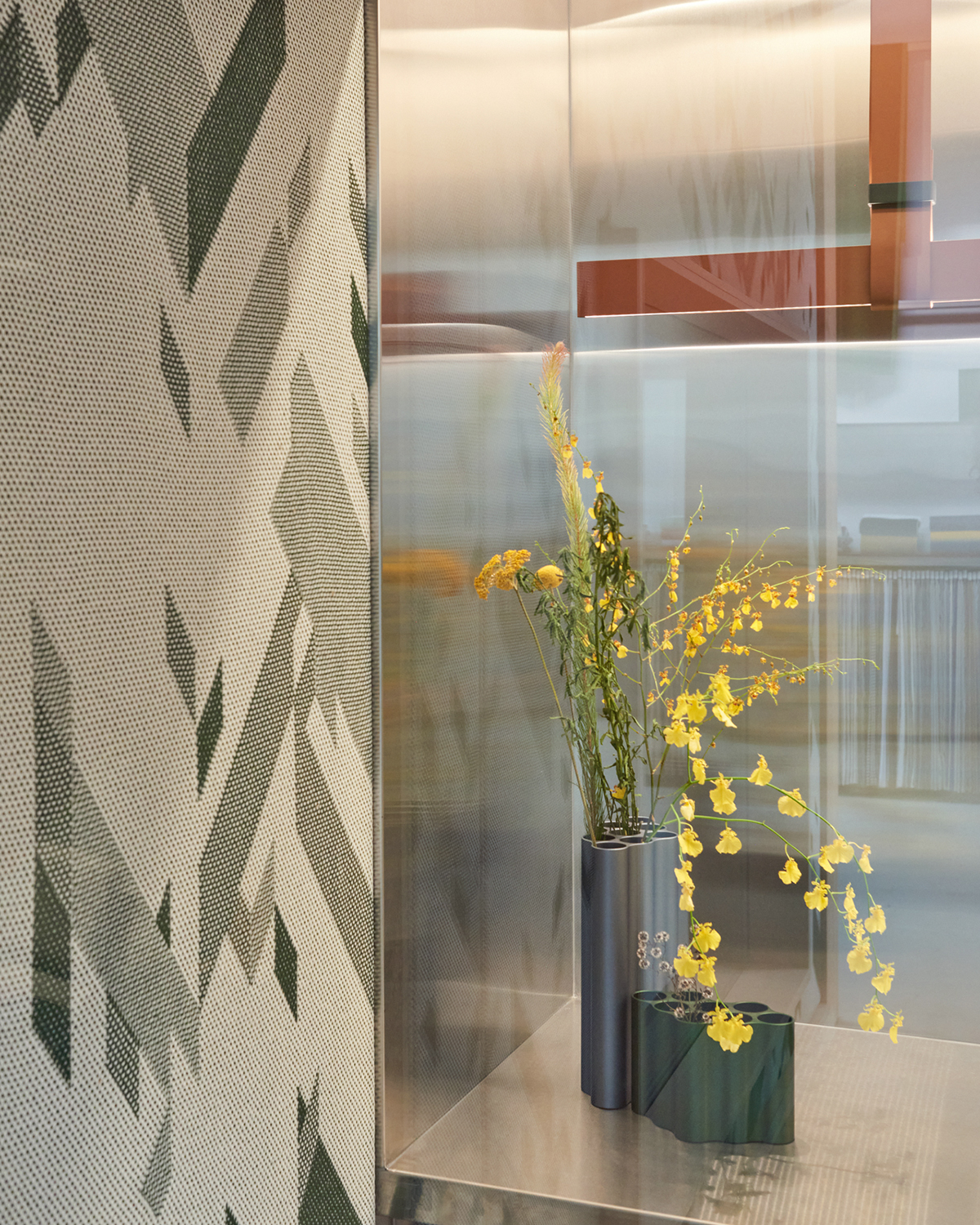 It reminds me a little of being a college student, with so many different groups of people just hanging outside on the stairs.
Yeah. A cool part of Kvadrat is that it's a very horizontal organization, so it's not like we need to make some VIP area. And since the opening there have been many people sitting on the stairs. It's easygoing.
You've said that Kvadrat is like family, and obviously, you work with family, with your brother. Does that level of comfort and familiarity make the design process easier or does it make it more challenging in certain ways?
You could say there are two parts. One part is the details, on which we can disagree for many reasons. But the thing we don't disagree with Kvadrat about is that this is the fifth showroom, and we're pushing a kind of research about how this space can be. Honestly Kvadrat really gave us carte blanche about the organization, and they're happy to discover the way we see it. Everybody's passionate, so everything's not so easy, but in general we trust each other a lot. We're advancing together.
I know you weren't in L.A. really, but Los Angeles has such a storied history of design and architecture. Did that figure into your concept at all?
No, not really. Well, everything was made in America. It's not like it was imported from Denmark, but still, Kvadrat has very interesting core values. So, one thing was to bring a little of Kvadrat's ways into LA. It's not to ignore LA, but it was more to say, let's move Kvadrat in, instead of complying with an LA attitude.
But it's quite impressive to be in LA. All around there are painted walls. It's a very strong place in many ways. There are some quite radical parts to it. It's very alive.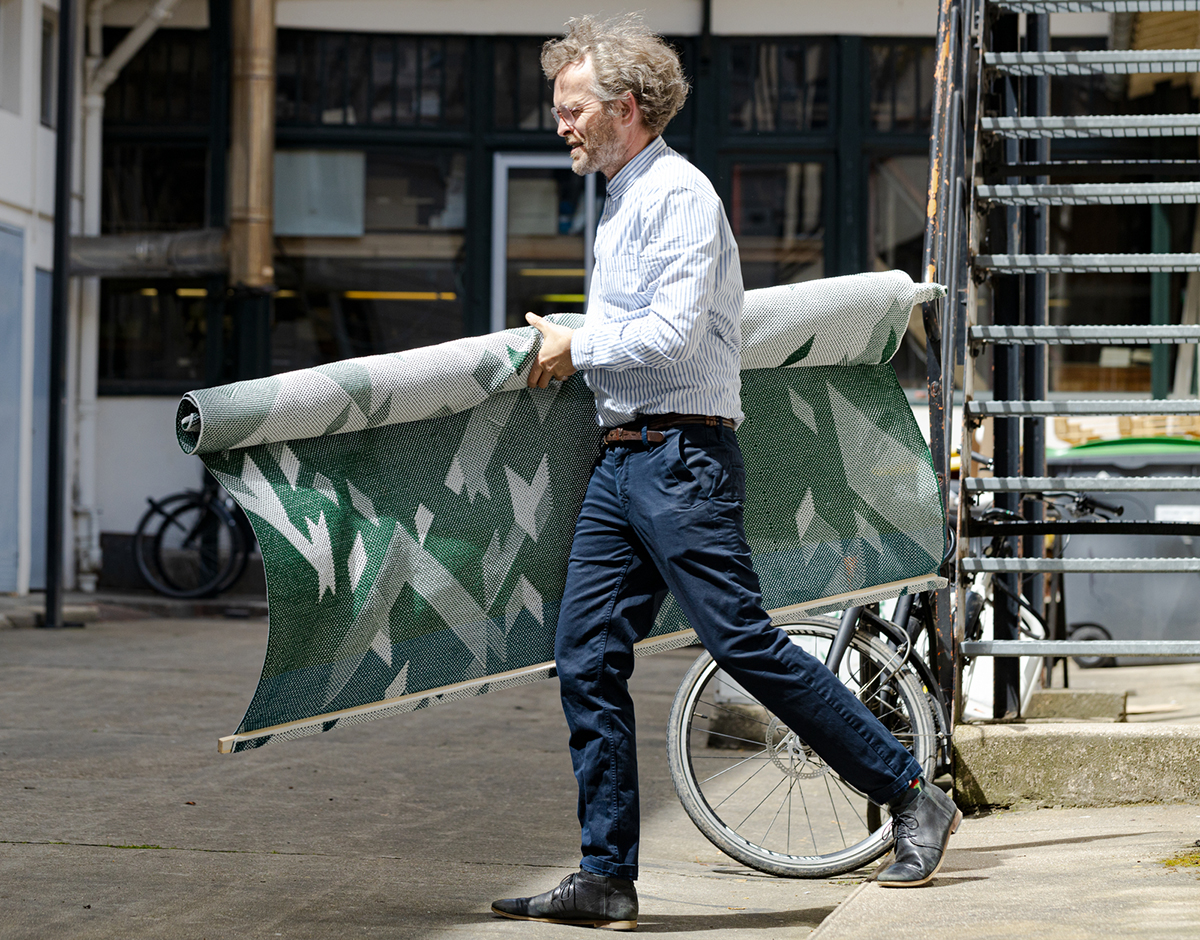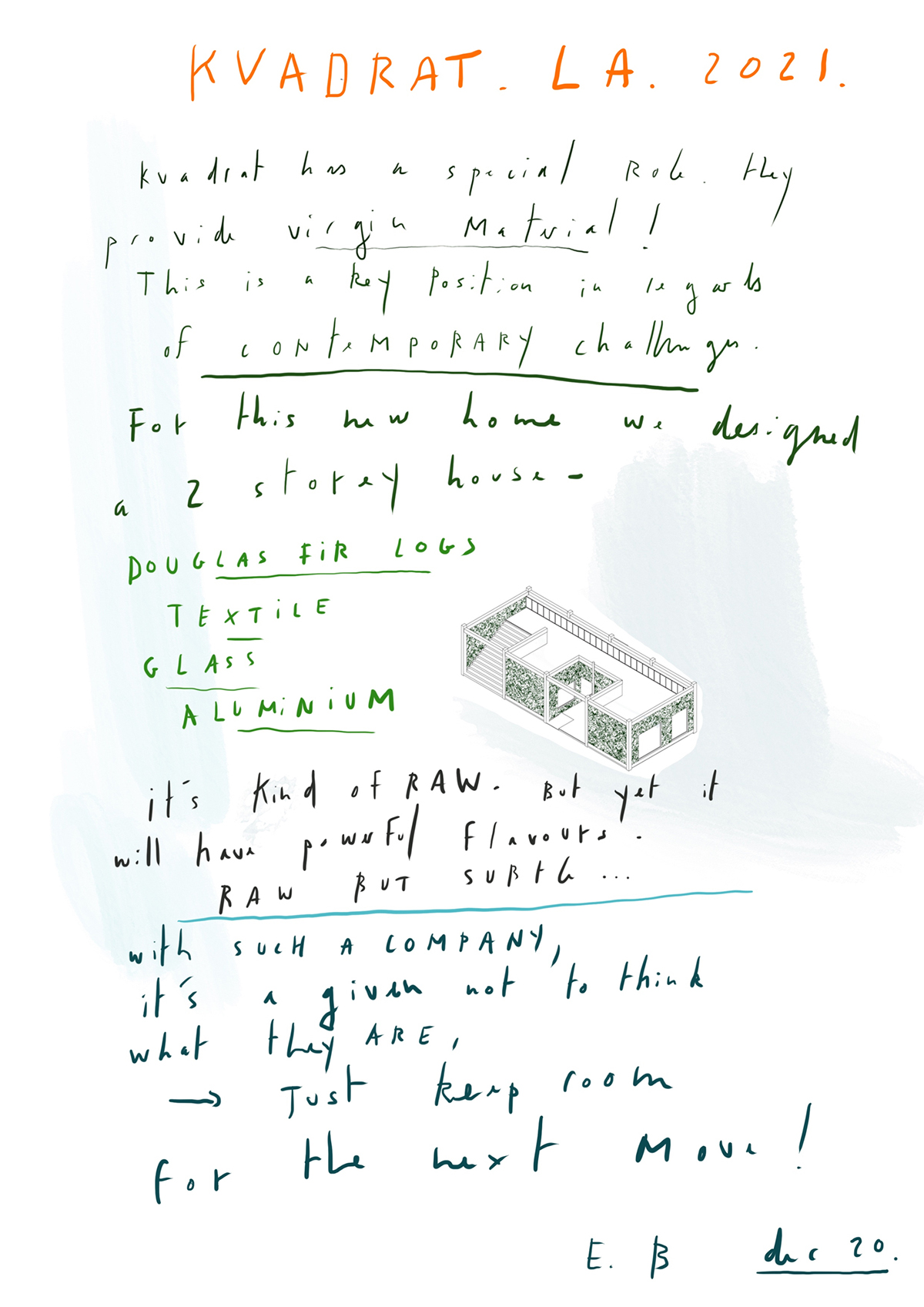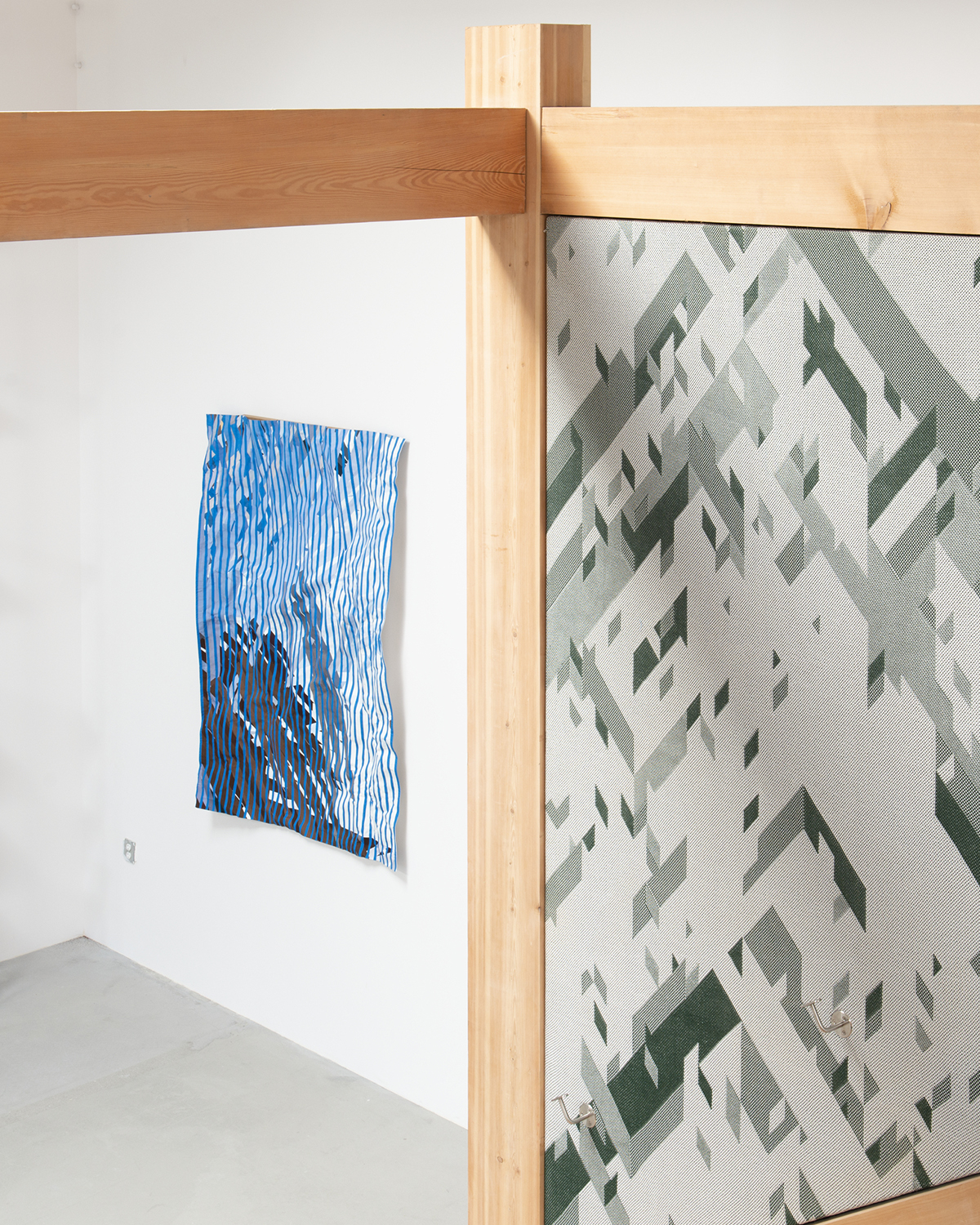 The sculptural art textiles that hang on the walls of the space [these are textiles fabricated with a thin metal backing that allows them to be shaped into different forms] – you've called them "hyper textiles." I'd love to know more about them.
Well, I was taught in university as an artist, so I've always been fascinated by painting. And recently, for many reasons, I've moved into computer coding, which I like because it creates a very strange energy, and very hardcore colors and movement and things like that.
So the coding generates a pattern for the textile, which is then given an aluminum backing?
Yeah, and then I kind of wrapped them. To me, the loop, the circle, is complete because originally it's very neat, because it comes from coding, but then it's quite wild with the color. And then by just wrapping them and being a little unpolite at the end, it becomes a very interesting presence to me. Even mentally, I'm layering many concepts on top of each other. And actually, it is layered because the nature of the print is layered, the nature of the code is layering also. It's layering on layering. It's why I say it's a kind of strange texture.
What are you working on now?
The Cilos knit has opened up many other paths, so we're playing a lot with knits now, which is nice. And then we're playing with the old dudes like Vitra, Magis — all the companies we've worked with for a really long time.
And is there anything you want to add that we haven't talked about?
Well, I'm just super sad that Virgil Abloh passed away. He was a very, very interesting figure and he will be missed a lot.
I know, for sure. Were you close with him?
He used some graphics in one of his collections two years ago. [Abloh incorporated Erwan's computer-generated images as patterns in a number of Off-White pieces in his Spring/Summer 2020 line]. So, I got to be with him a little, meaning to be with him on WhatsApp. He was an amazing WhatsApp man! You could have an amazing discussion with him just over text. He had a very special energy. He was so interesting for changing the hierarchy inside this world and being a Black man in all these spheres, creating all these paths of entry for so many people. He was very important. I'm so sorry he passed away. ◆