05.07.16
10 (More) Things We Loved at Collective
The 2016 edition of Collective Design ends tomorrow, and though our time there has been mostly spent chatting with visitors, press, and neighbors in our own, relatively massive booth, we were sure to put on our press hats and take a lap around to suss out what other gems were on view. The caliber of the fair is truly excellent this year, from the wire and wood Nendo cabinets that line the entryway to the Lindsey Adelman light explosion way at the other end. Here are 10 of our favorite, must-see moments (besides our own showcase of course!)
Fort Standard
Gregory Buntain and Ian Collings of Fort Standard took a year off from the design-fair circuit last year to regroup, and those months spent dreaming and plotting paid off big-time at Collective. Their new collection, Qualities of Material, is one of the most stunning we've seen in a long while, with each piece made from a single material that's been pushed beyond its conventional application. Their triangular-relief cabinet is made from a gigantic hunk of milled soapstone while the chair above, which looks like lacquered wood, is made from strips of rolled and stacked vegetable-tanned leather.
Fernando Mastrangelo
The Brooklyn-based artist did seriously amazing things in his corner booth with dyed sand and cement, in a moody blue color palette. Mastrangelo's been busy — he'll be debuting a whole new collection at Sight Unseen OFFSITE next week under his design label MMaterial!
Office Space by ASH NYC
The VIP lounge was an installation in and of itself, a reimagined, '80s-inflected office space by Brooklyn design and development firm ASH NYC. We loved the Artek-meets-E15 vibe of the black, three-legged stools they designed especially for this installation, as well as the reminder that mini-blinds might be ripe for a comeback?
Sabine Marcelis at Etage Projects
The New Zealand–born, Rotterdam-based designer Sabine Marcelis can do no wrong in our eyes, and we were thrilled to see her being represented Stateside by Étage Projects for a second year in a row. On view are a few of her neon lights as well as these beautiful wavy gradient mirrors in collaboration with Brit van Nerven.
Edith Lundebrekke at Galleri Format Oslo
We first admired the Norwegian designer's lenticular reliefs last year in Milan; "interaction and color are key elements in Lundebrekke's art. She is intrigued by the fact that light and shadow, in interaction with the environment and the spectator, create fluctuating visual experiences. Ambiguity occurs through perceptual and optical effects, and manipulates the spectator's perception of surface, depth and color." So pretty.
Ian Stell at Patrick Parrish
For the second year in a row, Patrick Parrish's booth displayed both finished works and studio artifacts and we loved this year's subject Ian Stell's take on it. Finished works include a gorgeous, kinetic mirror, a movable conversation seat, and preview of things to come, involving an Anni Albers–inspired textile with obscured text.
The Lamp Show by 99 Cent Plus Gallery
Zoe Fisher took the recently closed Lamp Show from her Bushwick gallery to Collective and recreated it pretty much inch for inch — yellow walls, yellow flooring, and new lamps by a major cross-section of young designers, including Katie Stout, Doug Johnston, Chen & Kai (top) and Brendan Timmins (bottom), who will be showing variations on this lamp at OFFSITE next week!
Block Party by Print All Over Me, Various Projects Inc, and Wallpaper Projects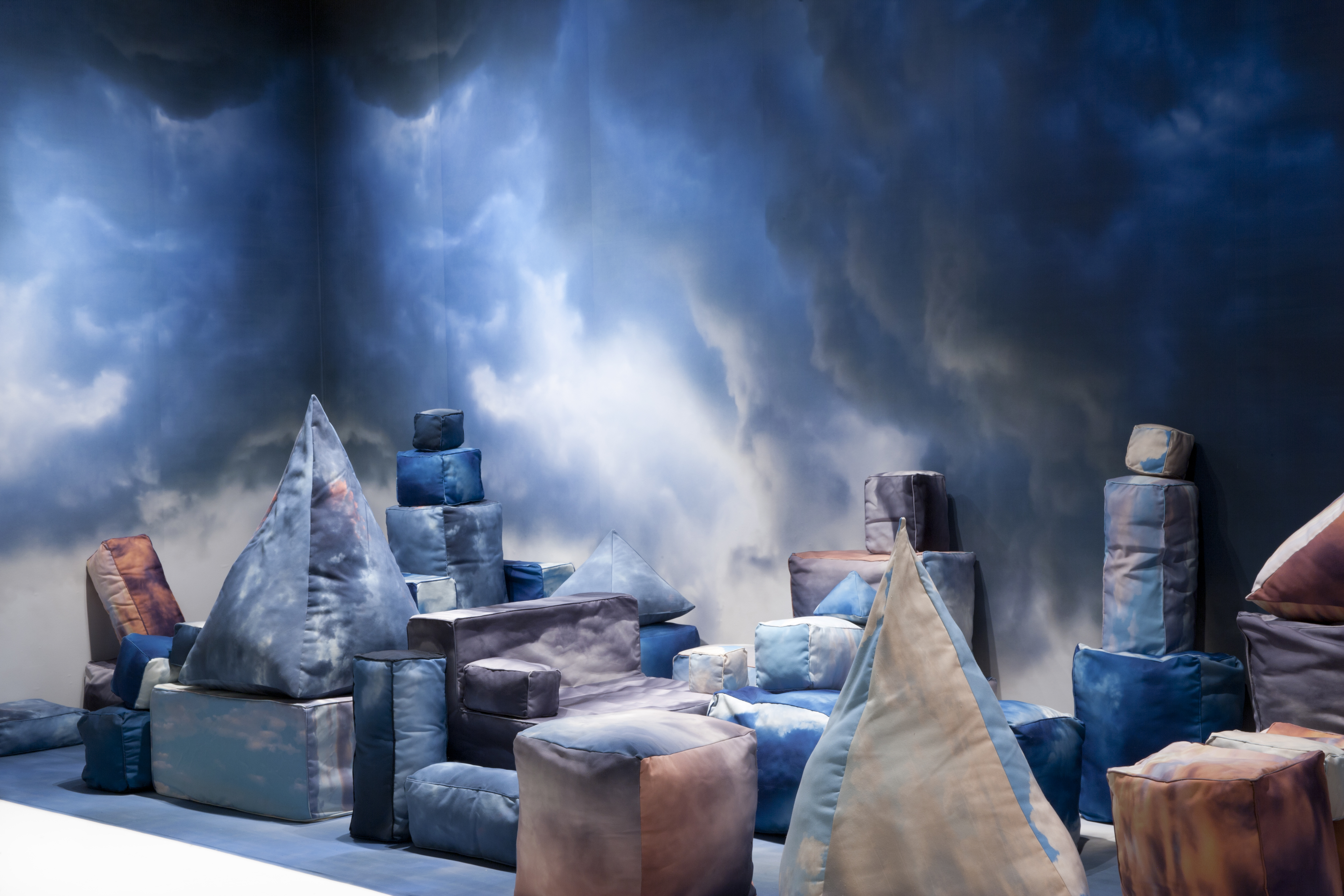 Another OFFSITE preview — Print All Over Me, Various Projects, and Wallpaper Projects' collaboration Block Party, which here is printed with a cloudy weather pattern. At OFFSITE, the essential ingredients will remain the same with a totally different pattern and shapes.
California Light & Space–type things
Man did we call this trend. Super beautiful colorful glass work by Laszlo Lukacsi at J. Lohmann Gallery (top) and an enlarged print of a microscope slide on mirror by Josephine Callaghan at Jack Chiles Gallery.
Some really good vintage stuff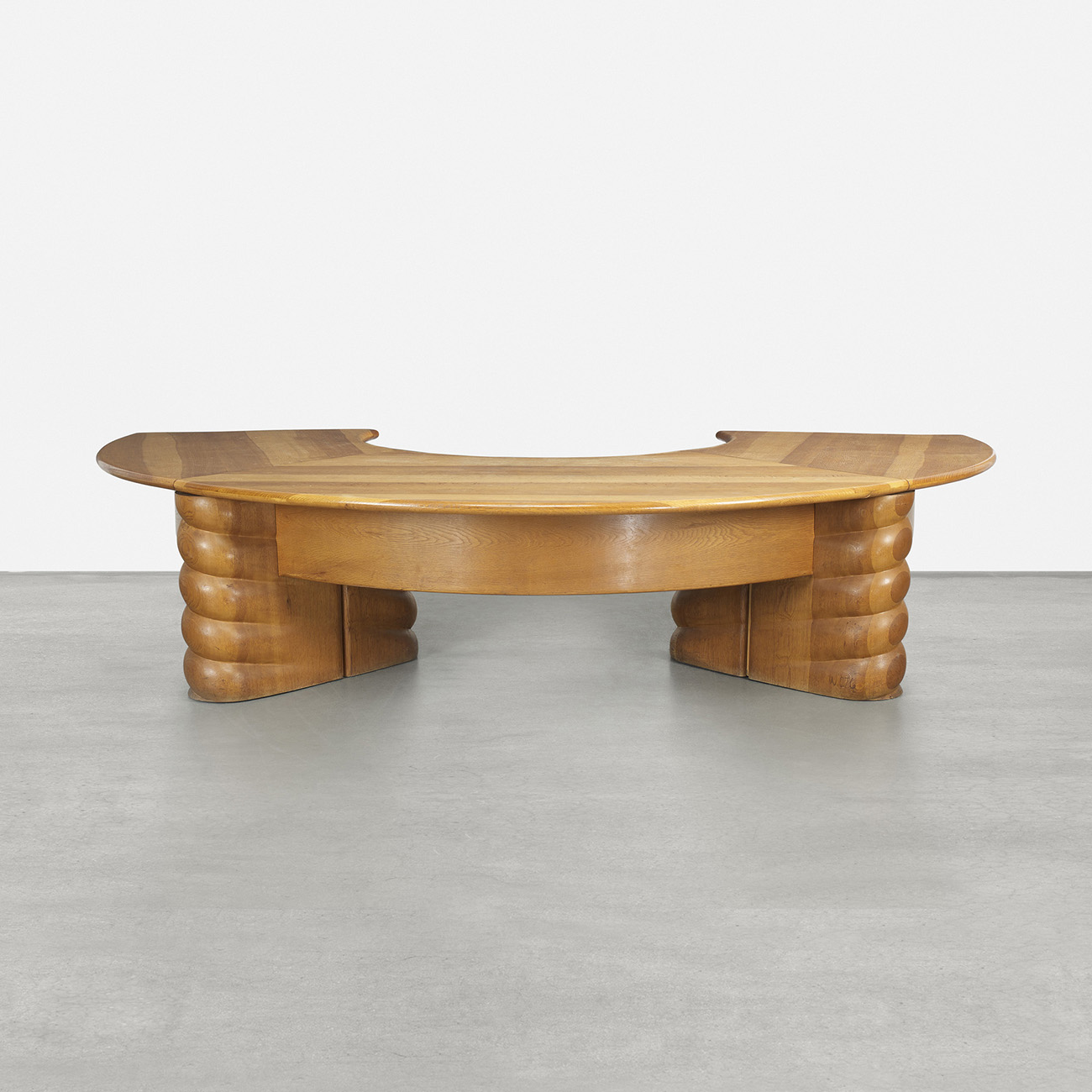 The scale of this carved oak Wendell Castle desk, from 1976, is massive — it's 11 feet wide and god only knows how many pounds. Originally created for the Gannett newspaper company's headquarters in Rochester, New York, it was on view with Converso Gallery.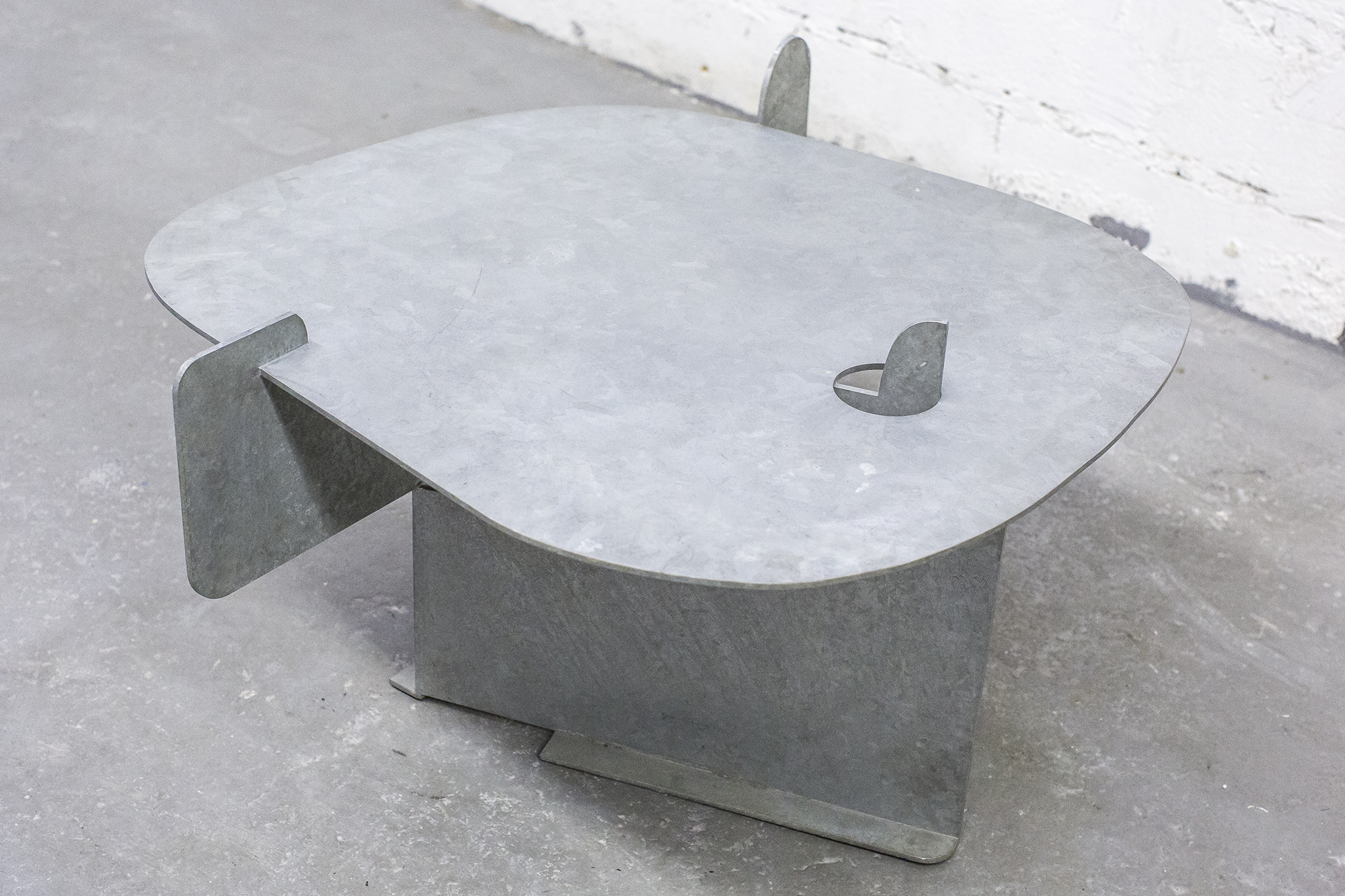 How have we never seen this amazing treasure trove of Noguchi pieces in galvanized steel? This killer Pierced Table, from 1982, was on view at Johnson Trading Gallery.