07.27.16
A Bauhaus-Inspired Artist Makes Color Her Primary Medium
The paintings and wall-based textiles of New York–based Senem Oezdogan are like a Venn diagram where Bauhaus and Suprematism meet — almost as if Anni Albers and Kazimir Malevich were to have a baby. Her fiber-based geometric studies — made by wrapping wood panels in natural rope, punctuated by cotton floss color blocks — are deft executions of straight lines and woven shapes that tease the eye yet retain the softness of a tapestry.
"The Bauhausian concept of combining artistry and crafts has always resonated with me," explains Oezdogan. Her weavings also call to mind the teachings of Josef Albers, exhibiting an understanding of how colors interact with each other and how they can be used effectively to create depth and texture. "I love working with a certain color for a while and exploring slight variations on it by creating different mixtures," says Oezdogan, who uses acrylics in her other medium to create smooth, fluid gradients on her canvas paintings. The canvases dry quickly so she has only a small window of time to get it right — a process that involves repetition, practice, and patience.
As a graduate of communication design and illustration from New York's Fashion Institute of Technology, Oezdogan easily made the jump from illustration to fiber art — not least because her grandmother was a weaver and taught her how to make simple looms. For Oezdogan, the canvas was also a natural way for to express her attraction to modern dance and movement. "What I find fascinating is how it translates emotional experience into physical form," says Oezdogan of the process by which she visualizes mood and movement and translates this into an arrangement of shapes and compositions that feel complete.
Describe your most recent project and how it was made.
I have been making wall-based rope constructions, using cotton and silk thread on panel. As a long-time fan of fiber arts and weaving, I wanted to create abstract pieces from rope that could be made without a loom. With this work, I had the freedom to approach the pieces like paintings from all sides and without the restriction of a fixed grid.
My goaI is to make work that is an invitation to observe the world through form and color. To discover elements of reality — depth, flatness, tension, structure, color and time — using materials that are accessible and tactile. Emphasizing elements of the work that are not just about pure geometry but also about preserving a textural quality that conveys the softness of fabric or tapestry. The materials used evoke emotional qualities and allow me to discuss formal qualities without using the language of painting. The process of wrapping represents the physical tension in the work, while the visual tension is provided by the composition.
Another characteristic of my work is that I enjoy working with diptychs. After commencing work on one piece and seeing it take shape, I revel in exploring how it would look from a different angle, or the shapes moved in another direction — which serves as inspiration when it comes to creating the second part of the diptych.
Describe your next project and how you're currently making it.
My new work — paintings composed of a black and a gradient element; black representing the contraction, the gradient visualizing the moment of release — is based on Martha Graham's modern dance choreographies. Her technique focuses on contraction and release and uses different parts of the body in opposition to another.
Just like any dance seems effortless and fluid and requires practice and refinement, I have been focusing on achieving this seamless motion by the constant repetition of creating fluent layers of gradient paint. My love for diptychs flourishes as I see movement span across multiple canvases.
Tell us one thing that's been inspiring you lately and why.
I am inspired by a variety of things and collect a lot of images. These range from plants to surfaces, rocks to fabric, random to mundane, ubiquitous to rare. Architecture is always a constant source of inspiration — especially in New York.
I really enjoy taking photos and over the years I have collected a huge image library of different textures and surfaces. If I feel like I'm stuck I will just flip through these until I see something that inspires me. And even though I have seen those images many times, I always discover something new. Last year I went to Canada and spend a week photographing plants and rocks. The same goes for New York's architecture: Grids and shapes constantly surround me when I walk down the street or ride the subway. I love thinking about how those interact with each other — is a grid made to contain or exclude a shape? How can I visualize that energy? As far as it goes for collecting actual things, the only things I really hold on to are my books. Texts can be as inspiring as images and I love having reference books. But besides that, I like to keep my workspace and apartment on the minimal side.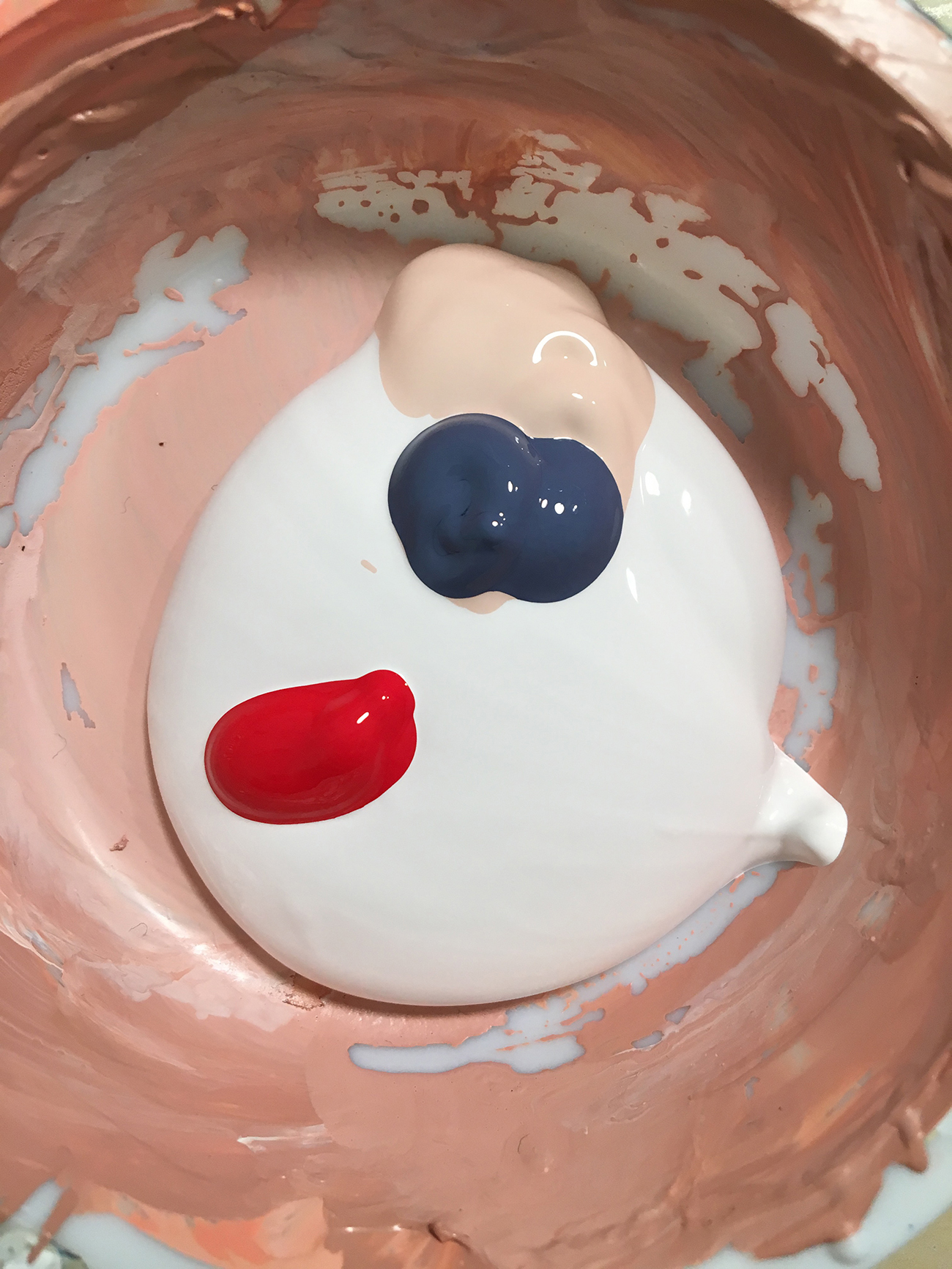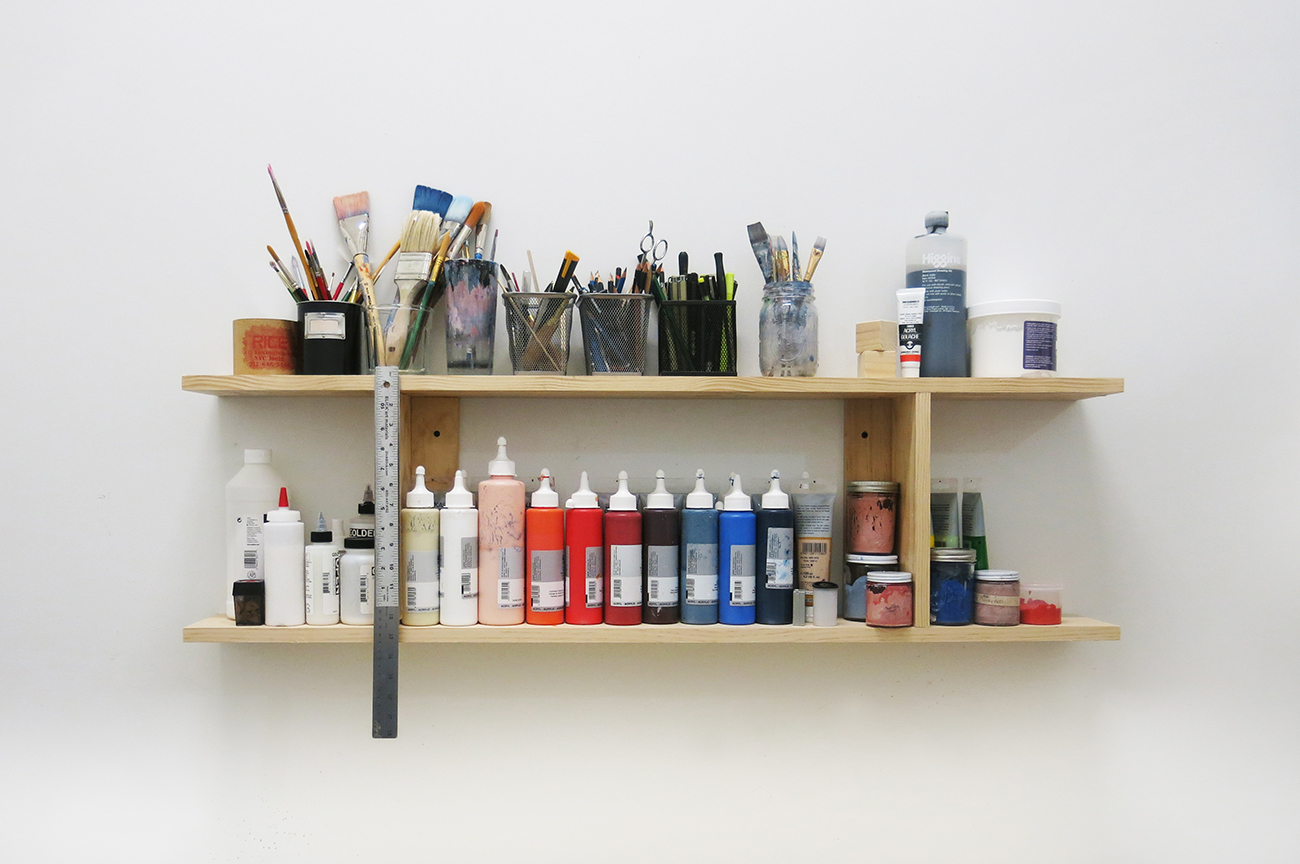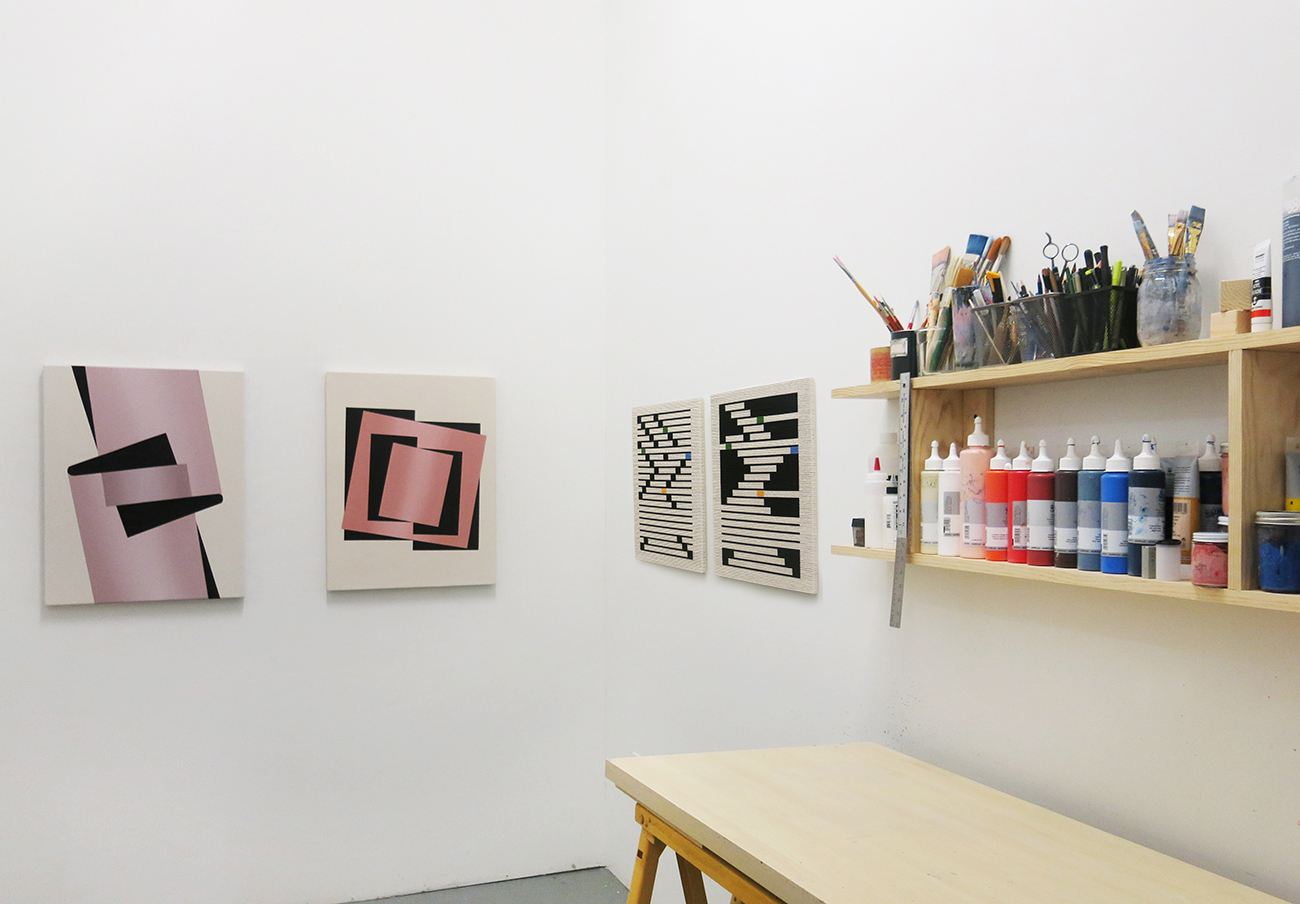 Show us your studio and tell us what you like about it.
What I like most about my studio is that it's a confined space without any modern-day distractions and allows me to experiment in whatever medium I want. It's a veritable fortress of solitude (without windows, which took some getting used to), but this little windowless space has made me a lot more productive.
I can come here whenever I like and work. It was important to me to have a place to go and establish a regular studio routine. Some days are more productive than others, but I am in the mindset of regularly coming in and interacting with the materials, sketching and being surrounded by art. This makes me feel focused and keeps me connected to the work.