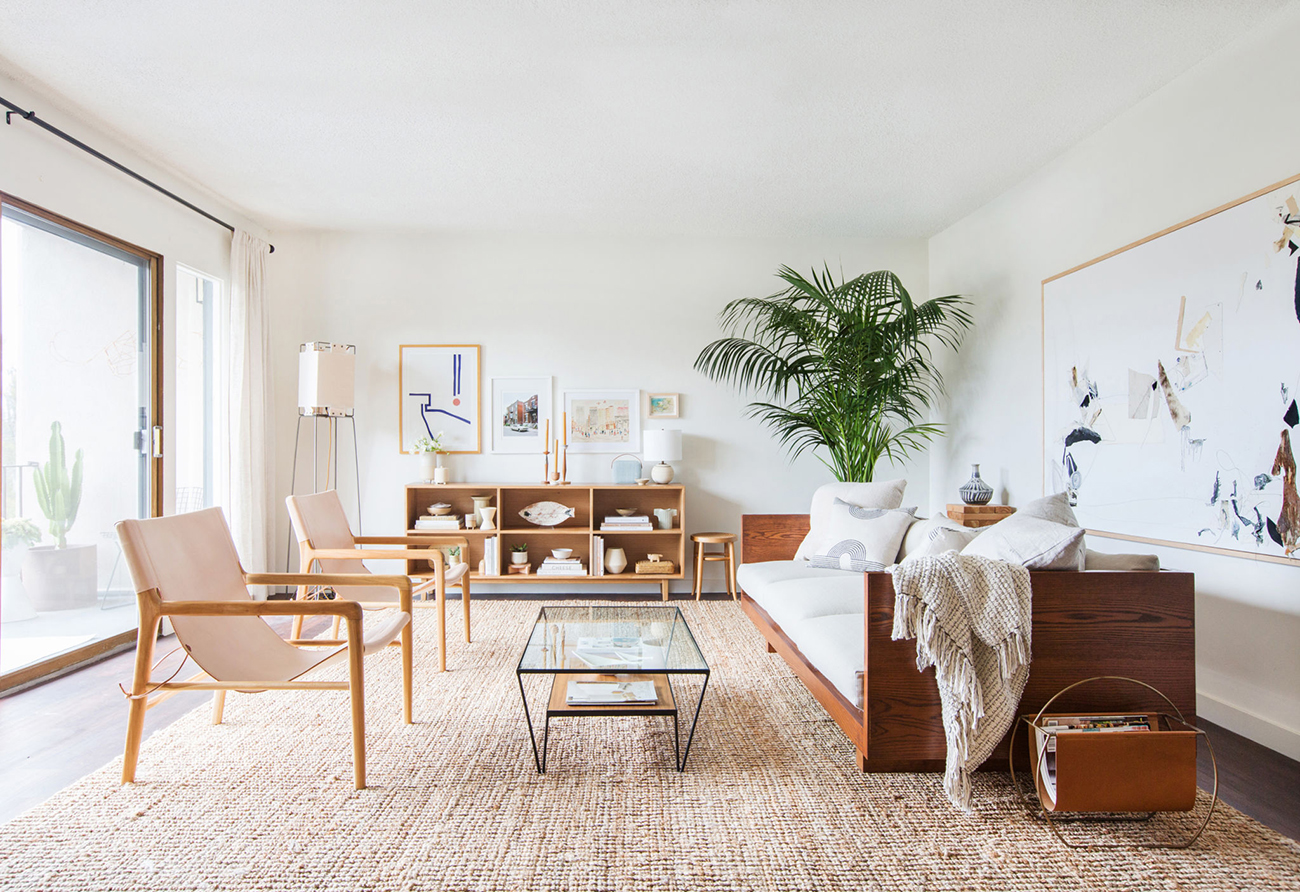 A weekly Saturday recap to share with you our favorite links, discoveries, exhibitions, and more from the past seven days. This week: Some of our favorite interiors in recent memory, featuring Japanese-inspired minimalism, rattan-covered walls, abstract art, '70s-style couches, and a trompe l'oeil staircase to nowhere.
Interiors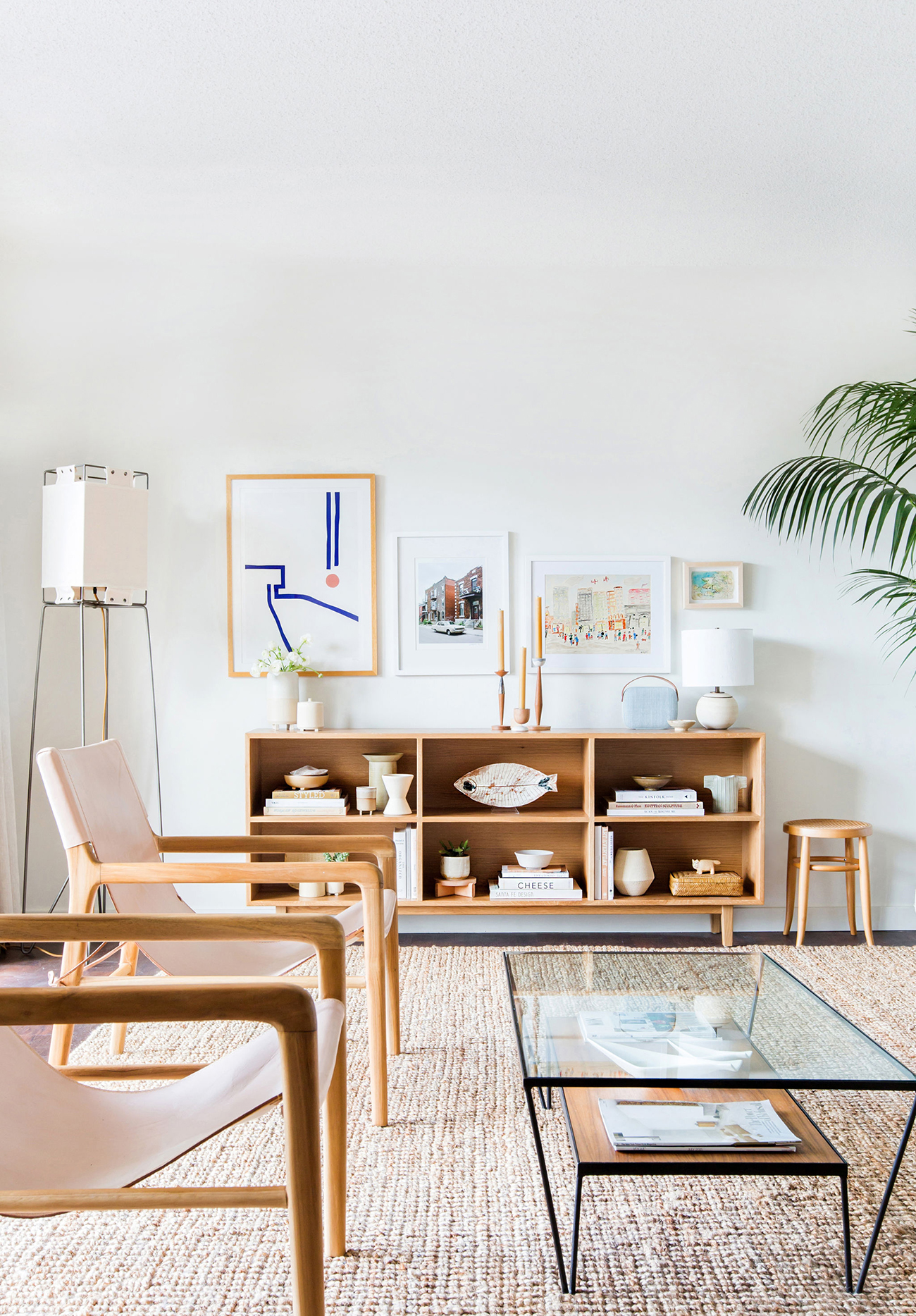 We have a longstanding girl crush on LA interior designer and stylist Emily Henderson, and though our personal styles often mesh, we've never seen an interior on her site that hit quite so many of Sight Unseen's obsessions: Japanese-inspired minimalism, ceramics, Donald Judd–esque sofas, beige, and great, affordable graphic art, to name a few.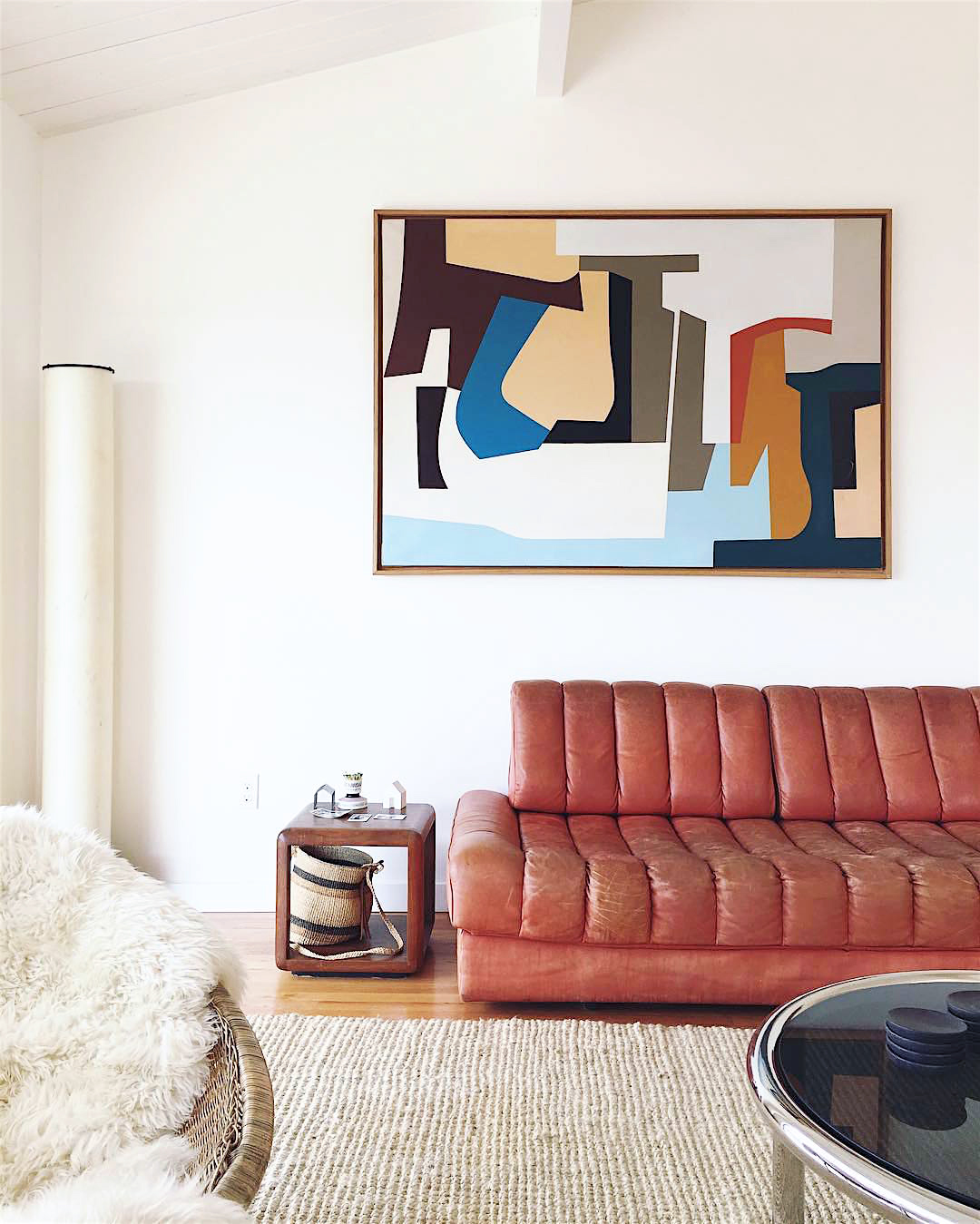 Speaking of LA interior design crushes, we've been Insta-stalking Sally Breer's home for months now, but this one, which popped up on her feed this week, is just as good, and no wonder: It belongs to her mom.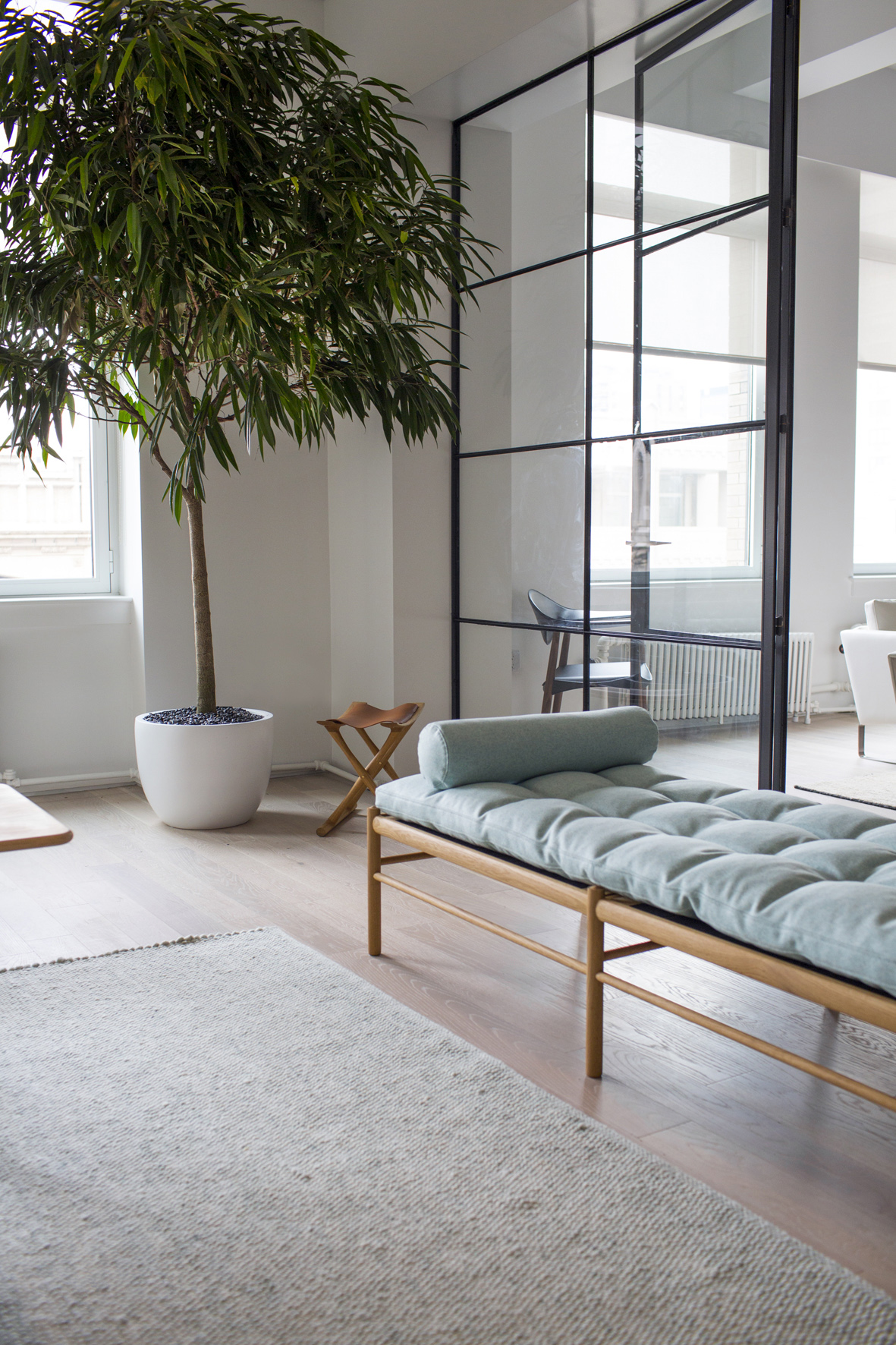 Park Avenue South in New York is becoming a mini-design hotspot — first Herman Miller opened its first New York store in years, and now the Scandinavian furniture brad Carl Hansen & Son has opened a showroom where you can relax on this daybed or peep more recent collaborations with designers such as Tadao Ando.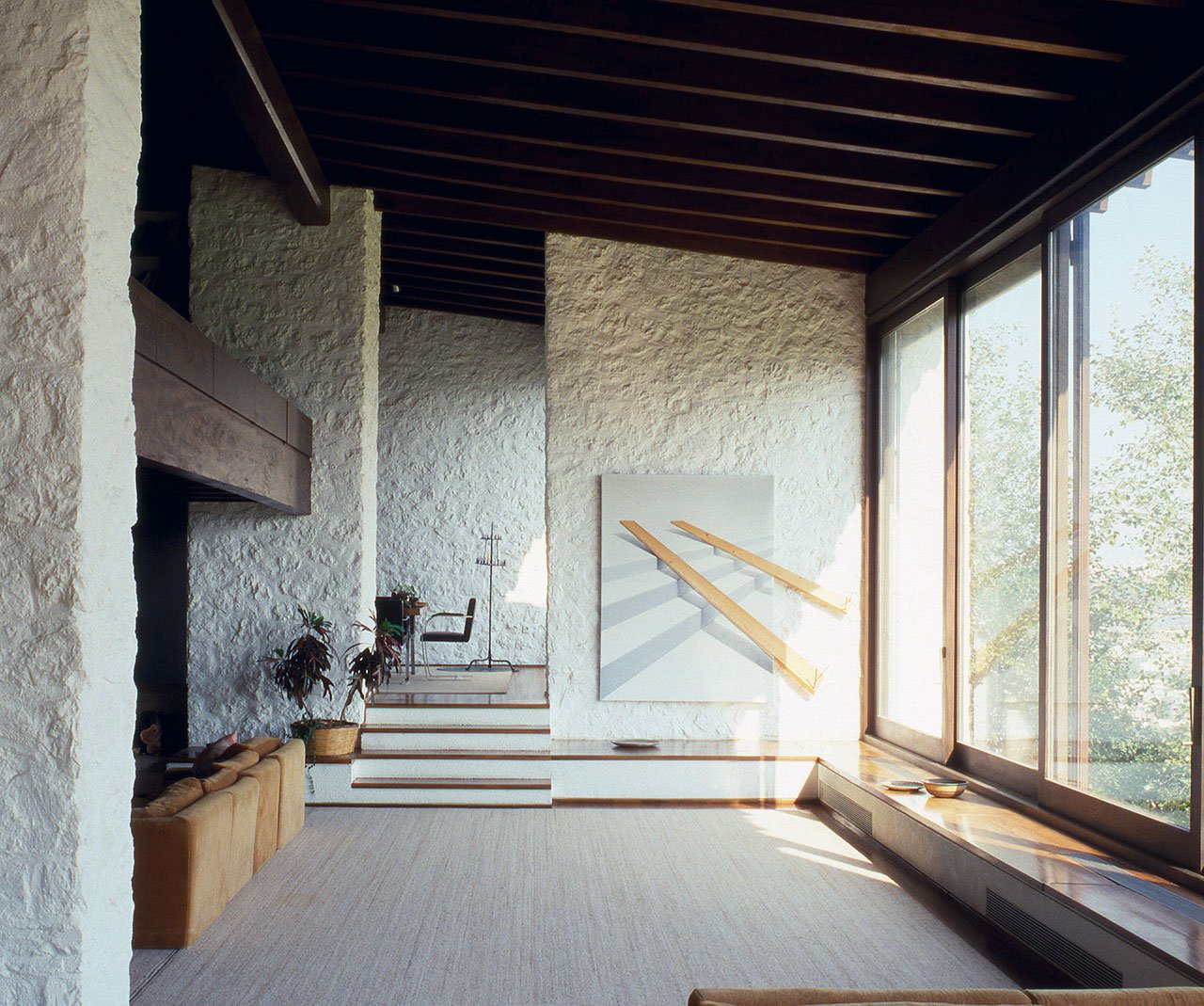 Can we all talk about this amazing trompe l'oeil staircase to nowhere, found this week on Yatzer in an article on famed Greek architect Nicos Valsamakis?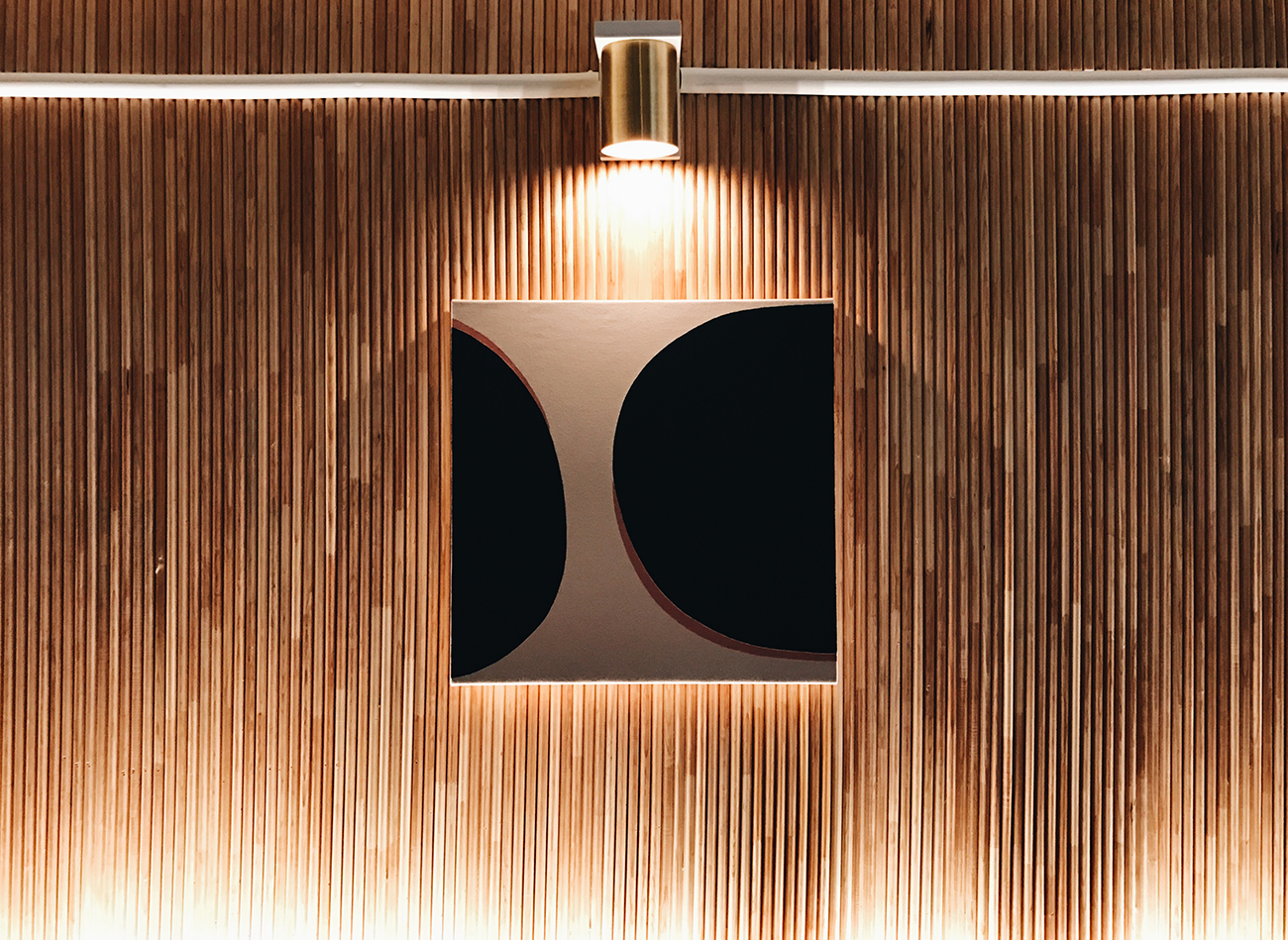 There are so many things to love about the design for Nolita's newest foodie haven, De Maria (not to mention the pretty, Instagrammable food). But this sconce/art/rattan wall vignette might be our favorite. Chef Camille Becerra and creative director Grace Lee worked with Amy Morris and Anna Polonsky of the MP Shift; our contributing editor Sean calls it "mid-century modern meets SoCal cool and 100% New York."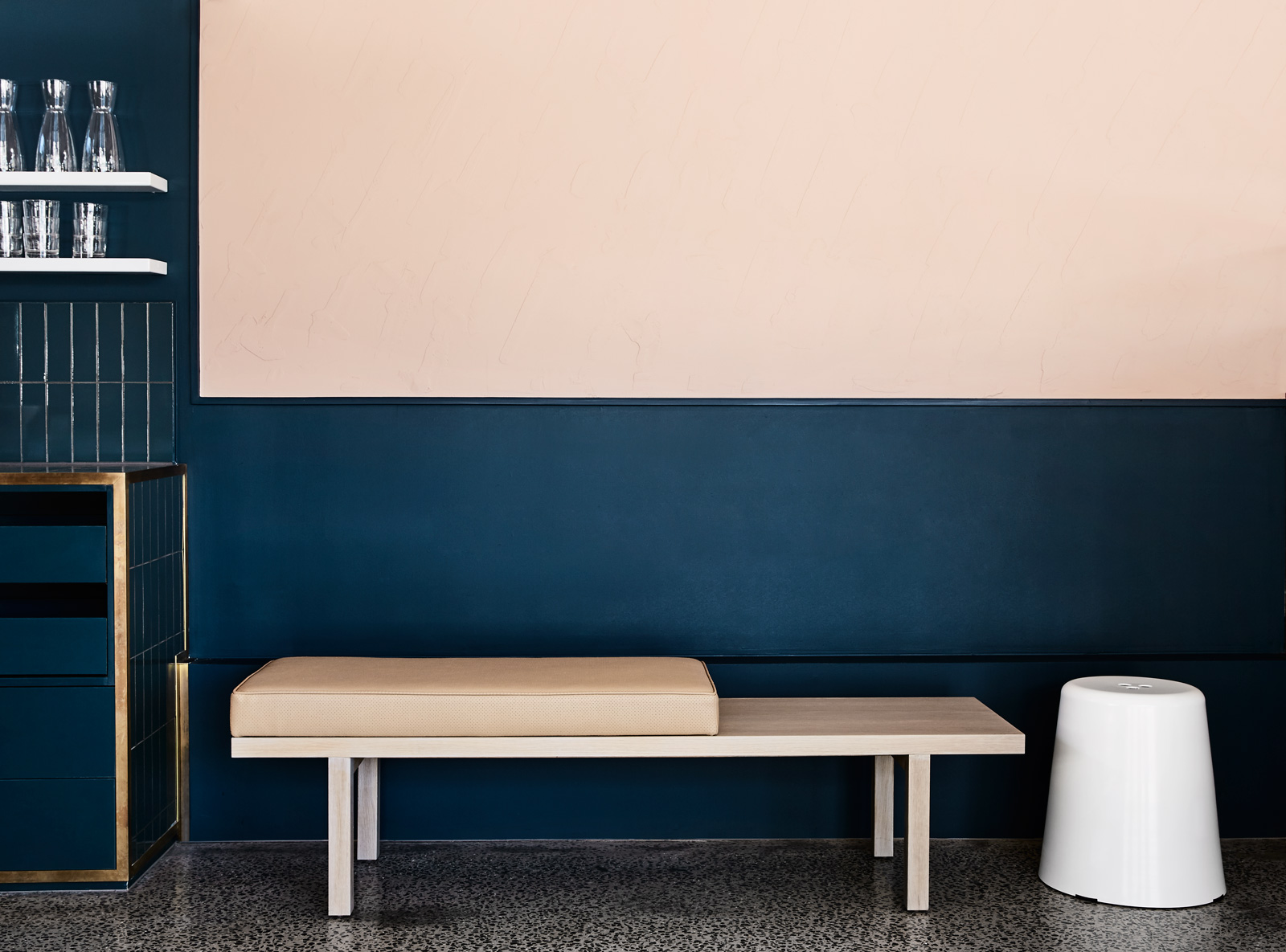 Another good detail — the pale peach/dark blue color combo of Moby 3143, a new cafe designed by We Are Huntly in Melbourne, which was recently featured on Remodelista.
Discoveries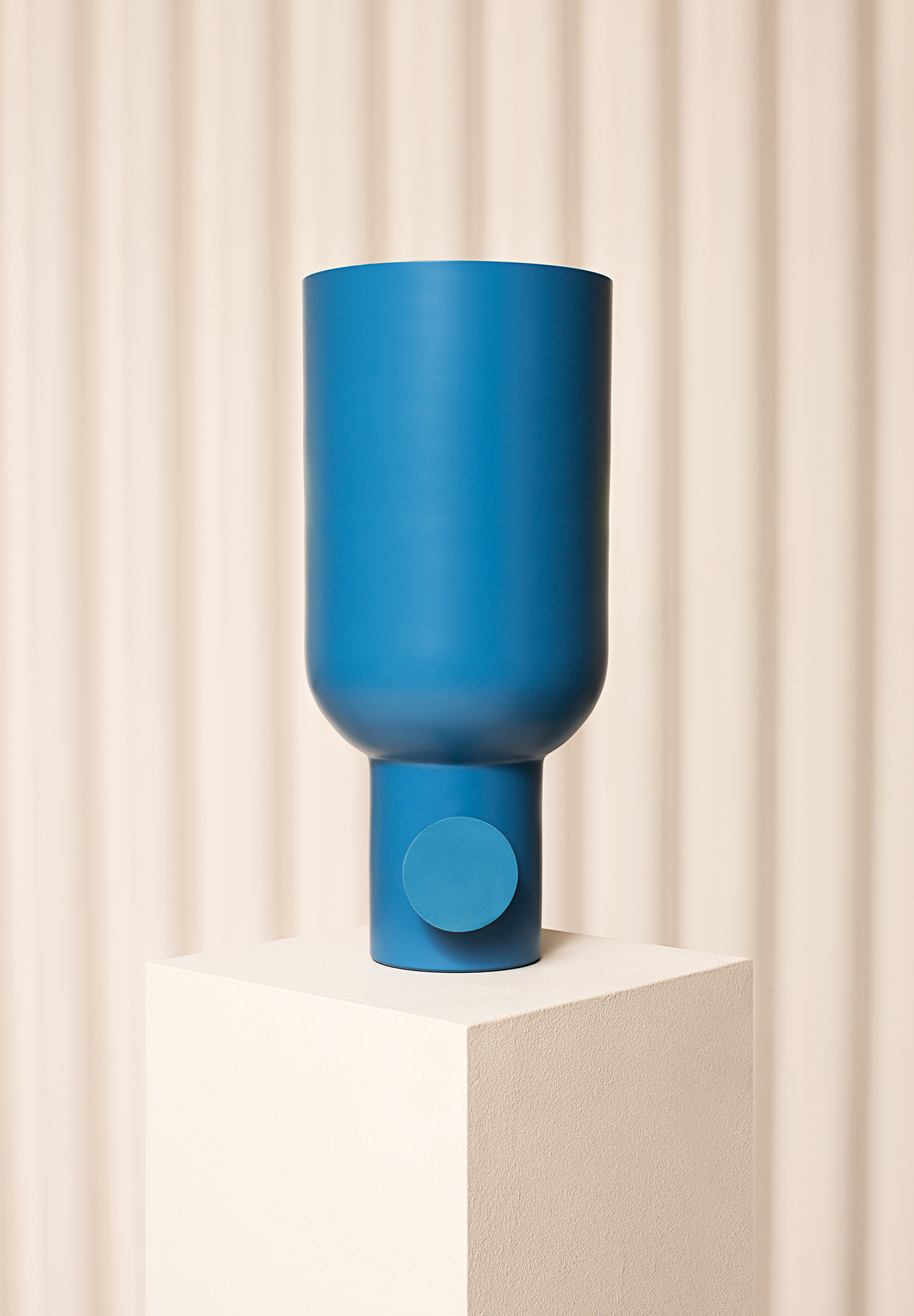 A lovely submission this week in the form of UK designer Max Cairns' new, spun-aluminum Tint lights, inspired by off-the-shelf plumbing parts. Available in blue, mint, and pink, the lamps features a dimmer knob matched in the same Pantone shade as the light, giving the light a ceramic quality.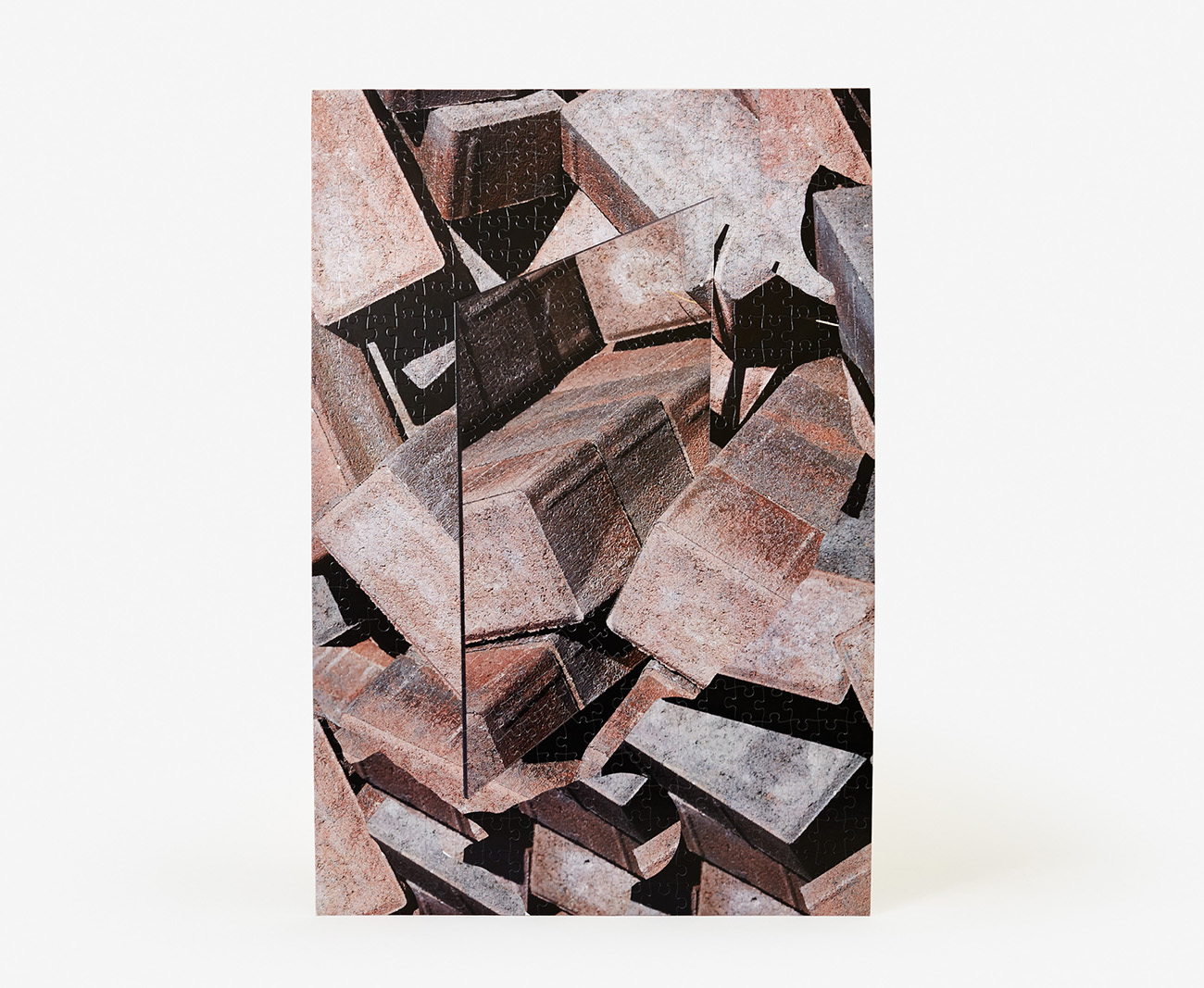 We missed our usual rounds of NYNOW this year, but we got a sneak preview of this new puzzle from Areaware (pretty much the only company we'd ever consider buying a puzzle from). The illusionistic photograph is by photographer KangHee Kim.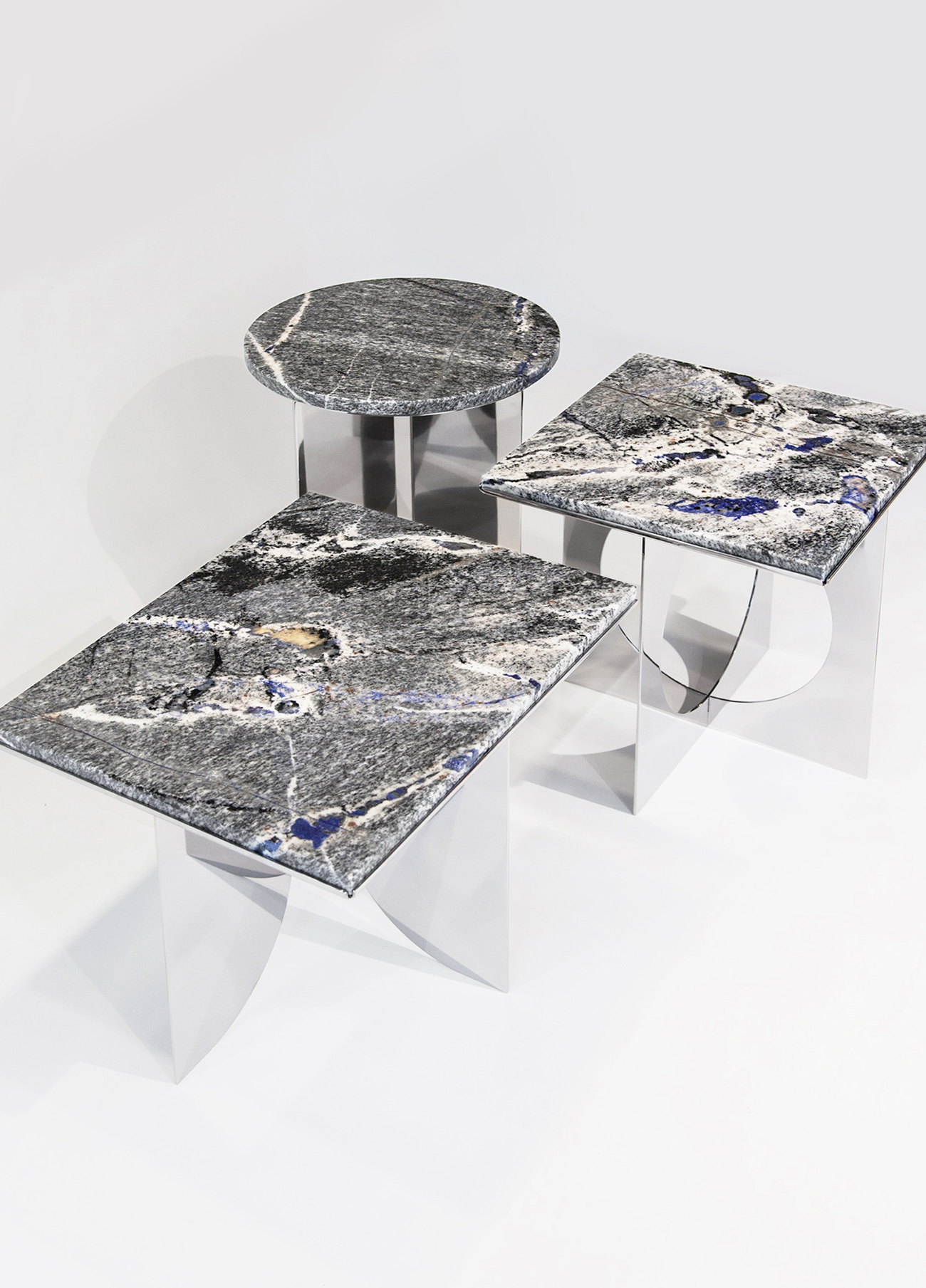 When we last checked in with London-based designer Tino Seubert, it was as part of the trio Other Kingdom at Sight Unseen OFFSITE. In his solo practice, Seubert recently created these chic side tables, inspired by post-modernist architecture and made from stainless steel and Azul Bahia granite, for Gallery Bensimon.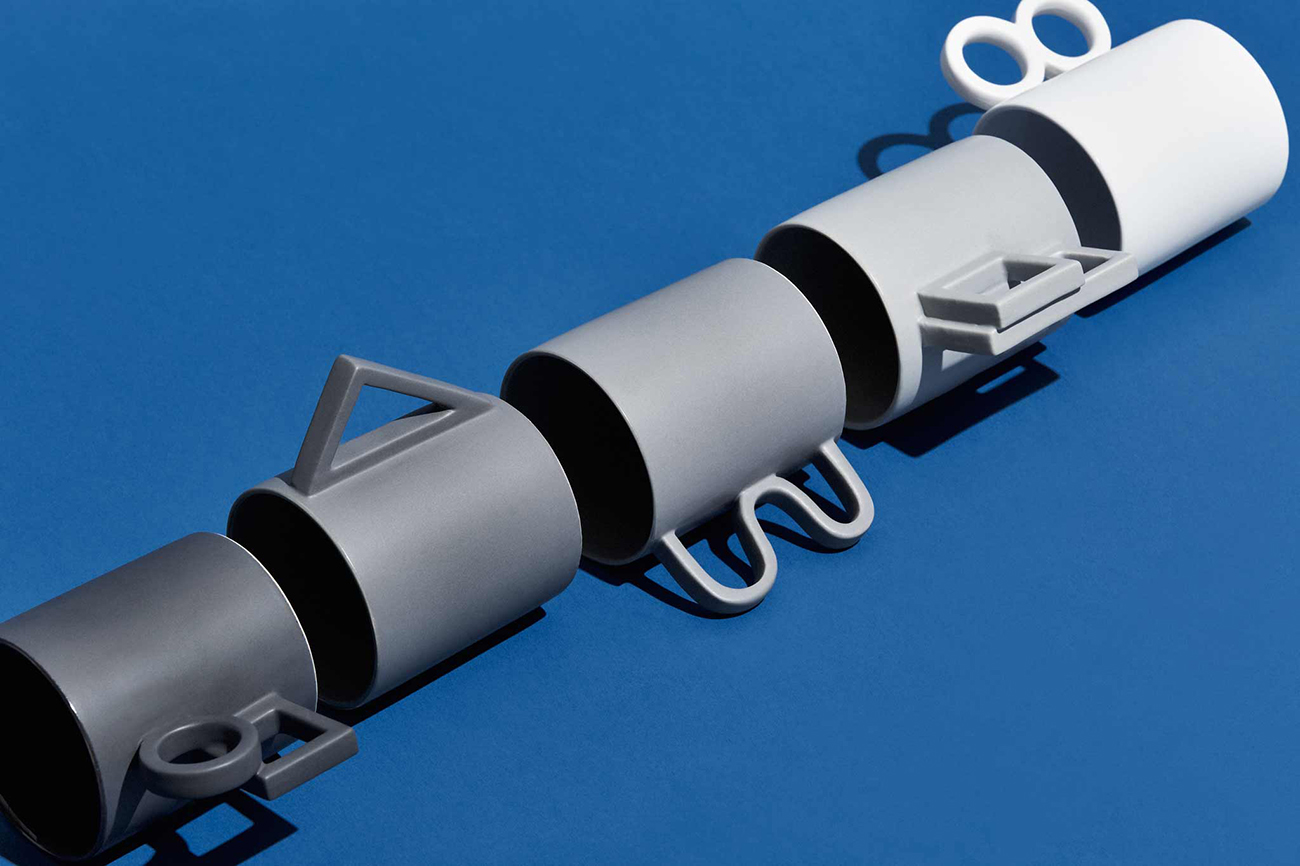 We featured these shaped mugs by Aandersson Design a long time ago, but the Philadelphia-based designer recently re-photographed the pieces, which are for sale on his website. Major thumbs up.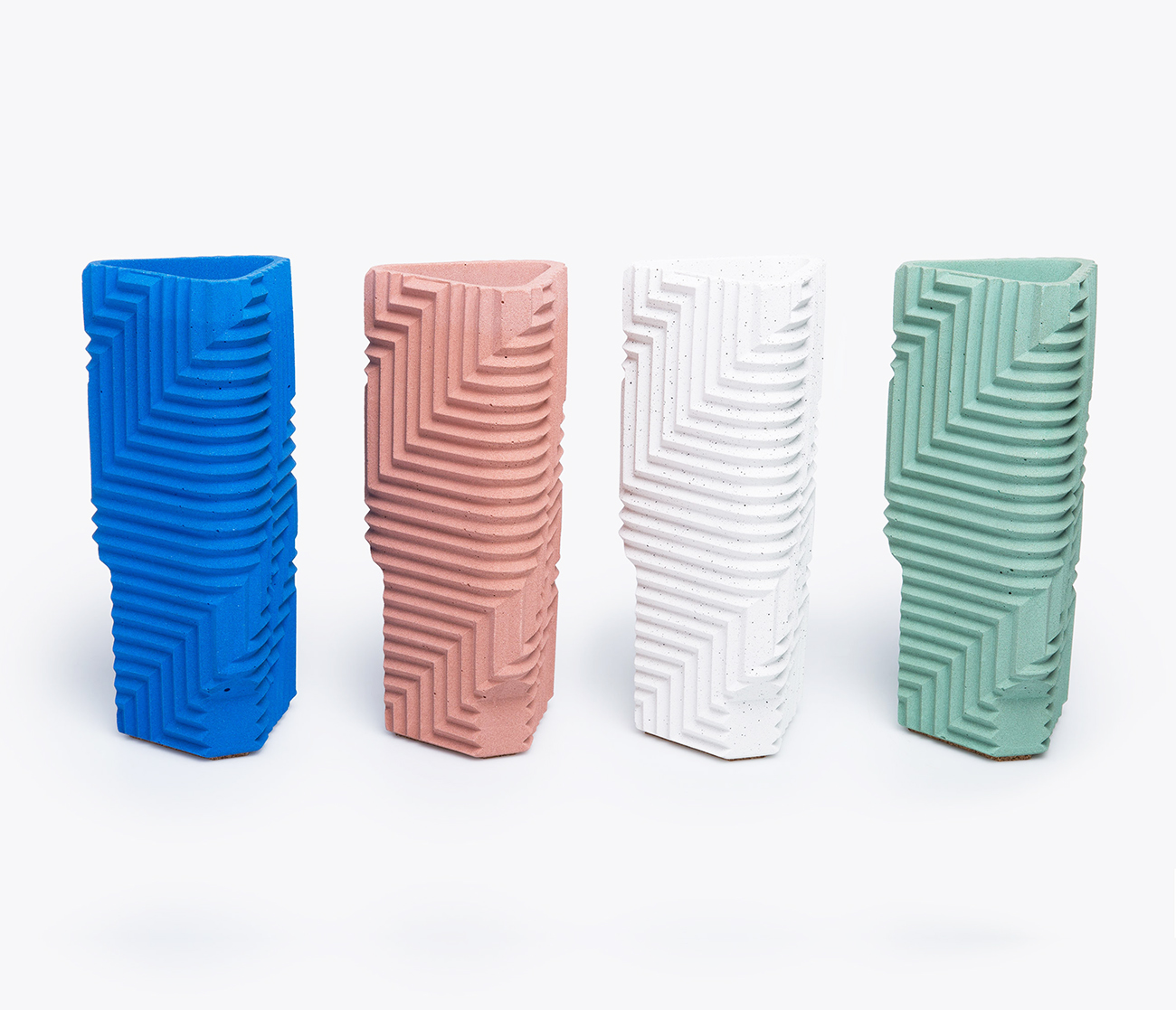 We featured British designer Phil Cuttance's bright blue Herringbone vase when it launched last year in Milan, but we couldn't resist this great shot from Wallpaper of all four excellent colors — or letting you know that it's now available for sale here.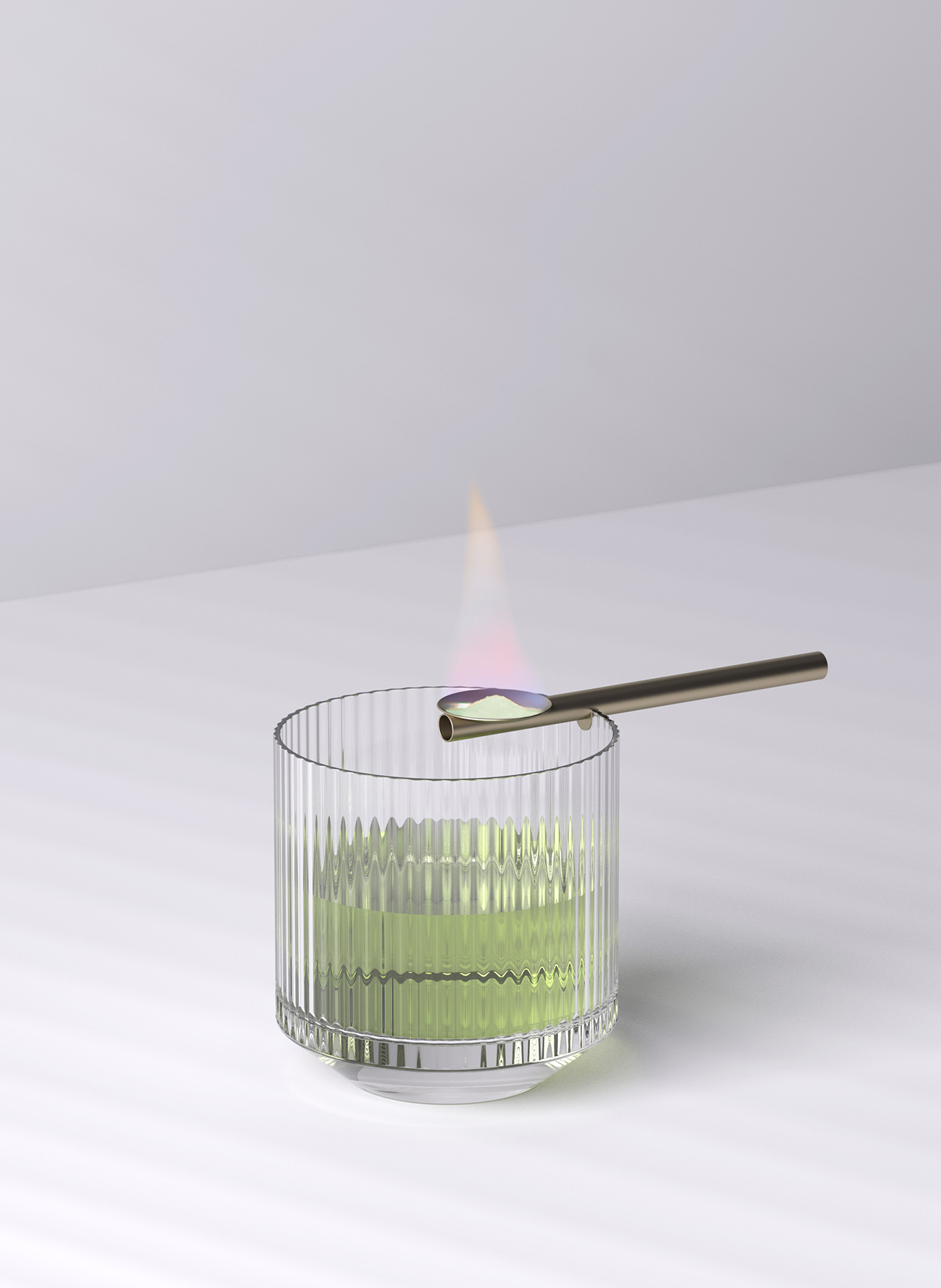 We've been on the ribbed glass tip for a while, and we're loving the latest entrant into the field. This glass is part of the Big Top Barware collection by London-based studio Youmeus Design.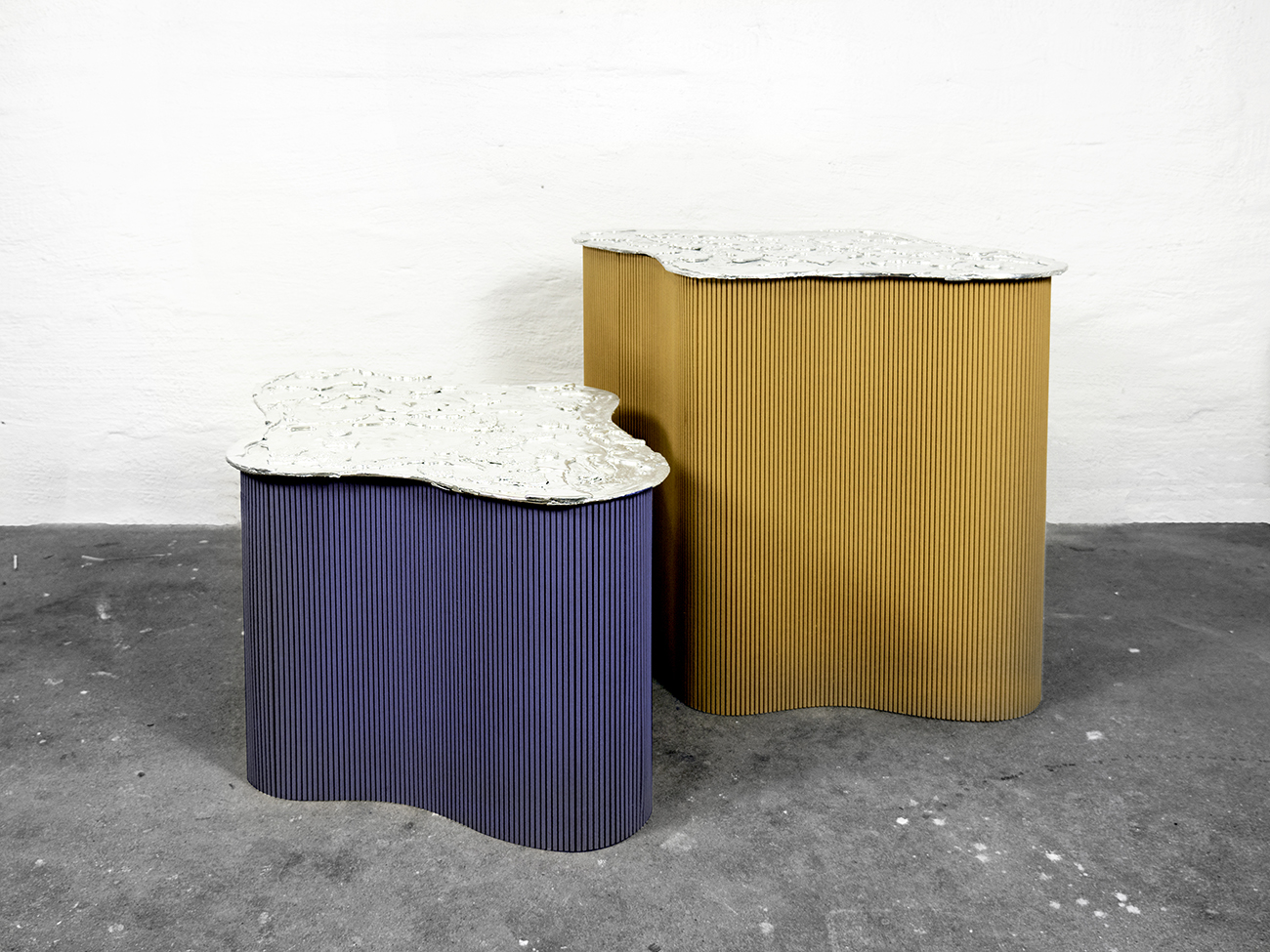 We recently featured The Plinth Project at Étage Projects, but somehow we missed this one by Swedish designer Jenny Nordberg, who used the rather atypical plinth material of cast tin. These colorful tables were part of the same series.
Exhibitions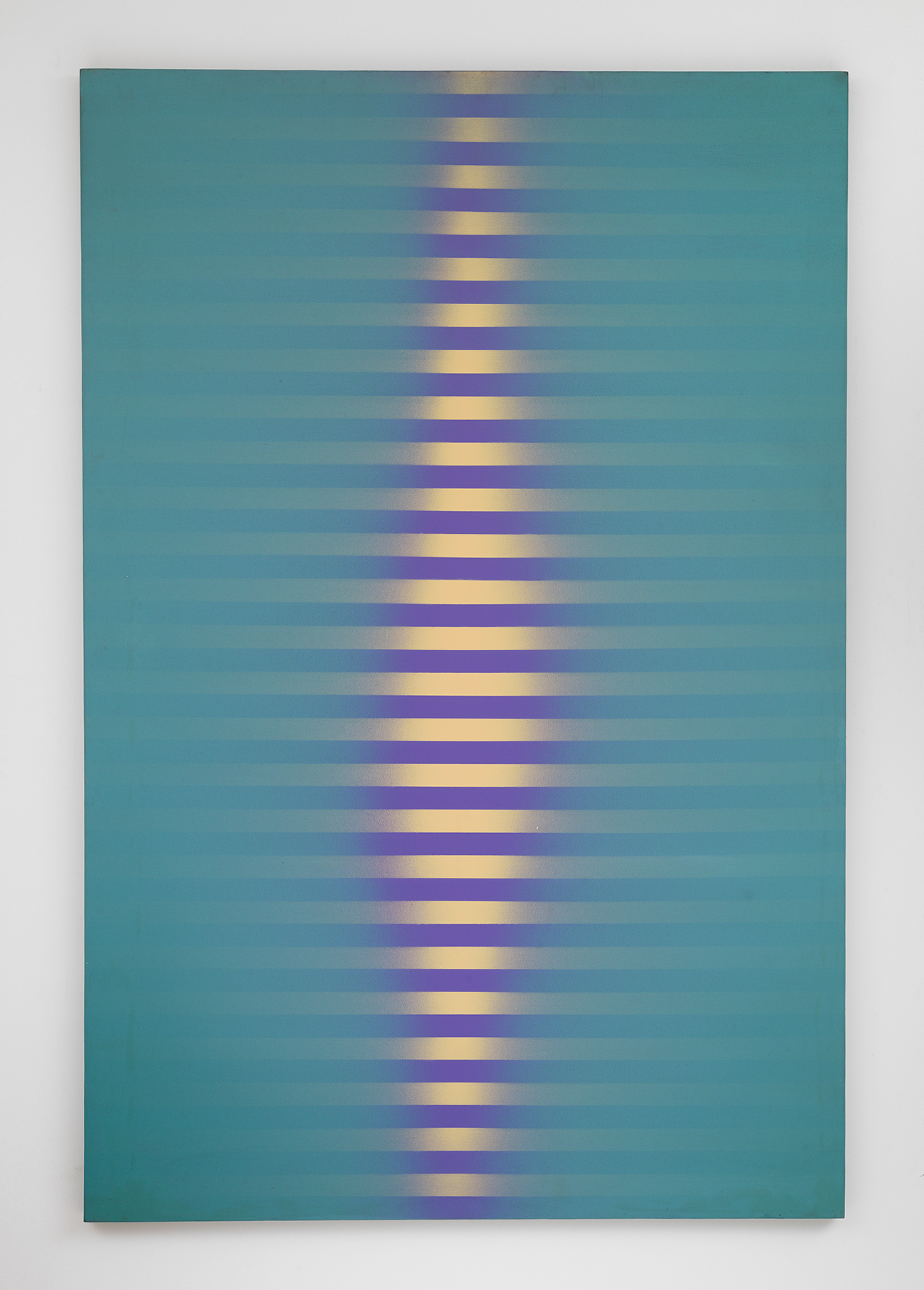 New York–based Lisson Gallery recently began representing the estate of the late artist Roy Colmer, and we love the paintings in this exhibition of mostly never-before-seen work. "In my painting," the artist said, "the use of an industrial model spray gun allowed me to cover large areas of the canvas with little effort. The stripes were taped horizontally. I could then approach a breaking down of the color vertically."