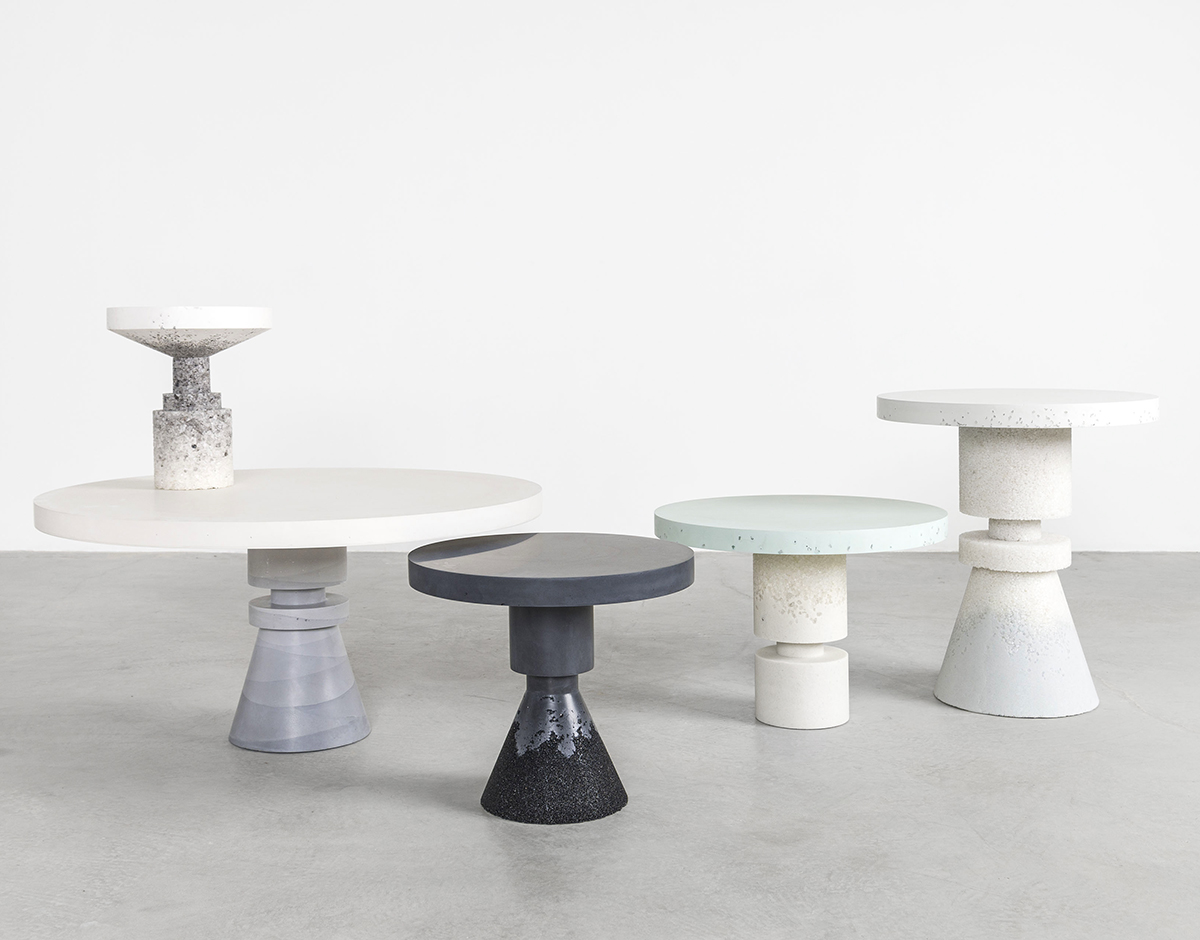 A weekly Saturday recap to share with you our favorite links, discoveries, exhibitions, and more from the past seven days. This week: Three projects that prove our 2018 trend predictions were true, three achingly hip new retail and restaurant interiors, and three unexpected double-designer collabs, including the Anna Karlin x Fernando Mastrangelo mash-up pictured above.
Discoveries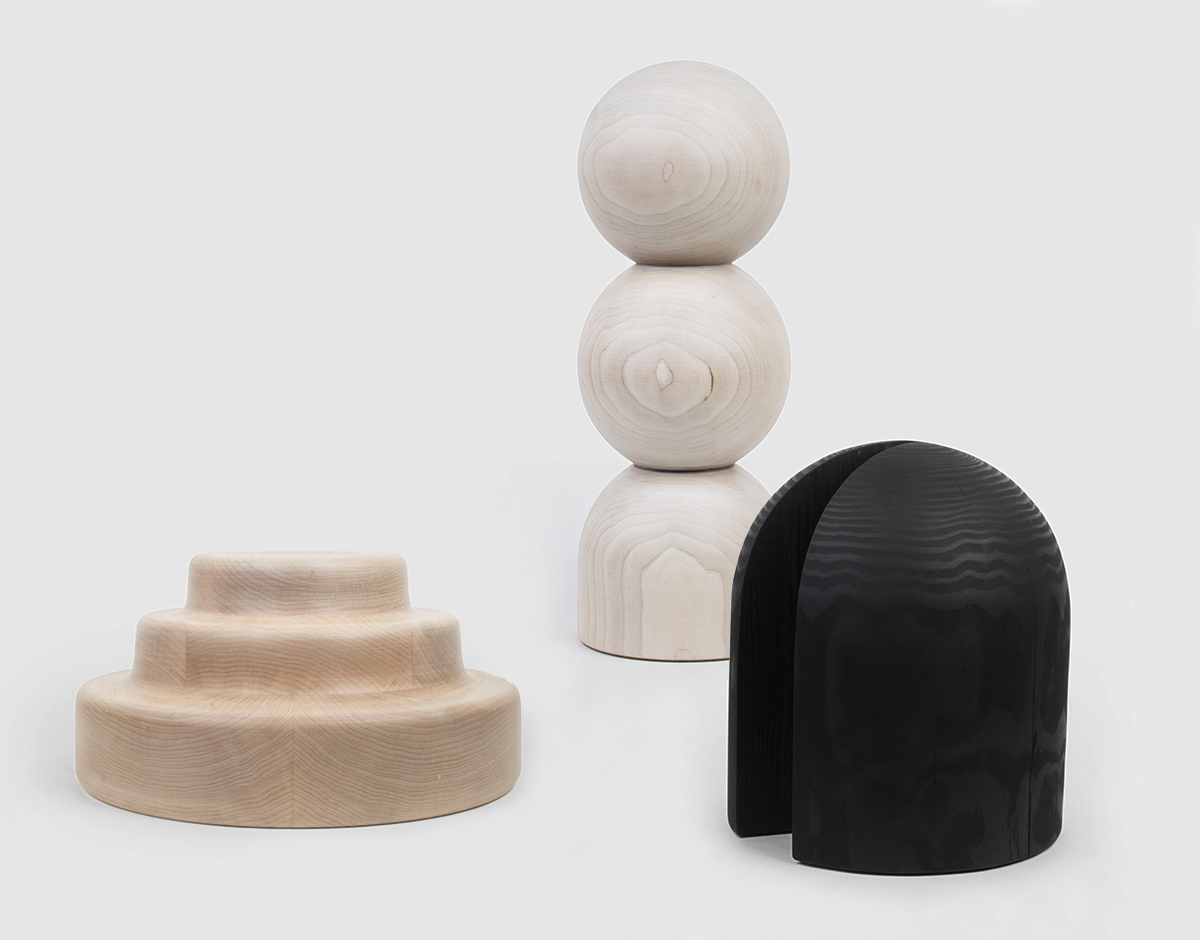 To mark the move of the NYC objects store Still House from one East Village storefront to another, Pat Kim created a capsule collection of 10 one-of-a-kind, abstract wooden objects that — at press time — appear to be still available for sale here.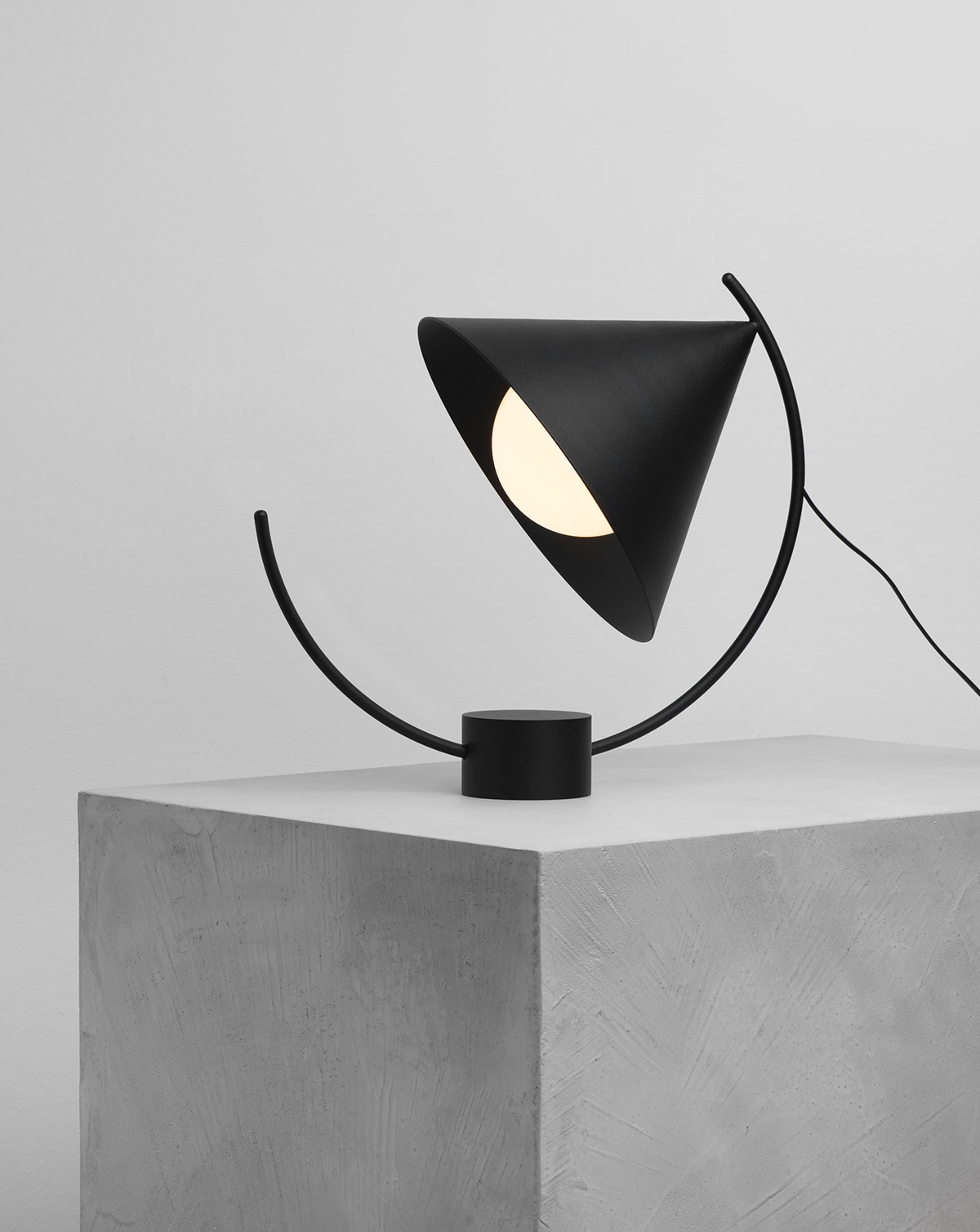 It's already mid-May, we're still getting stragglers from last month's Milan furniture fair, including this geometric lamp by Croatian studio Regular Company that debuted at the Salone Satellite. The triangular shade can slide along the arc, and the arc can slide inside the base, changing the piece's composition.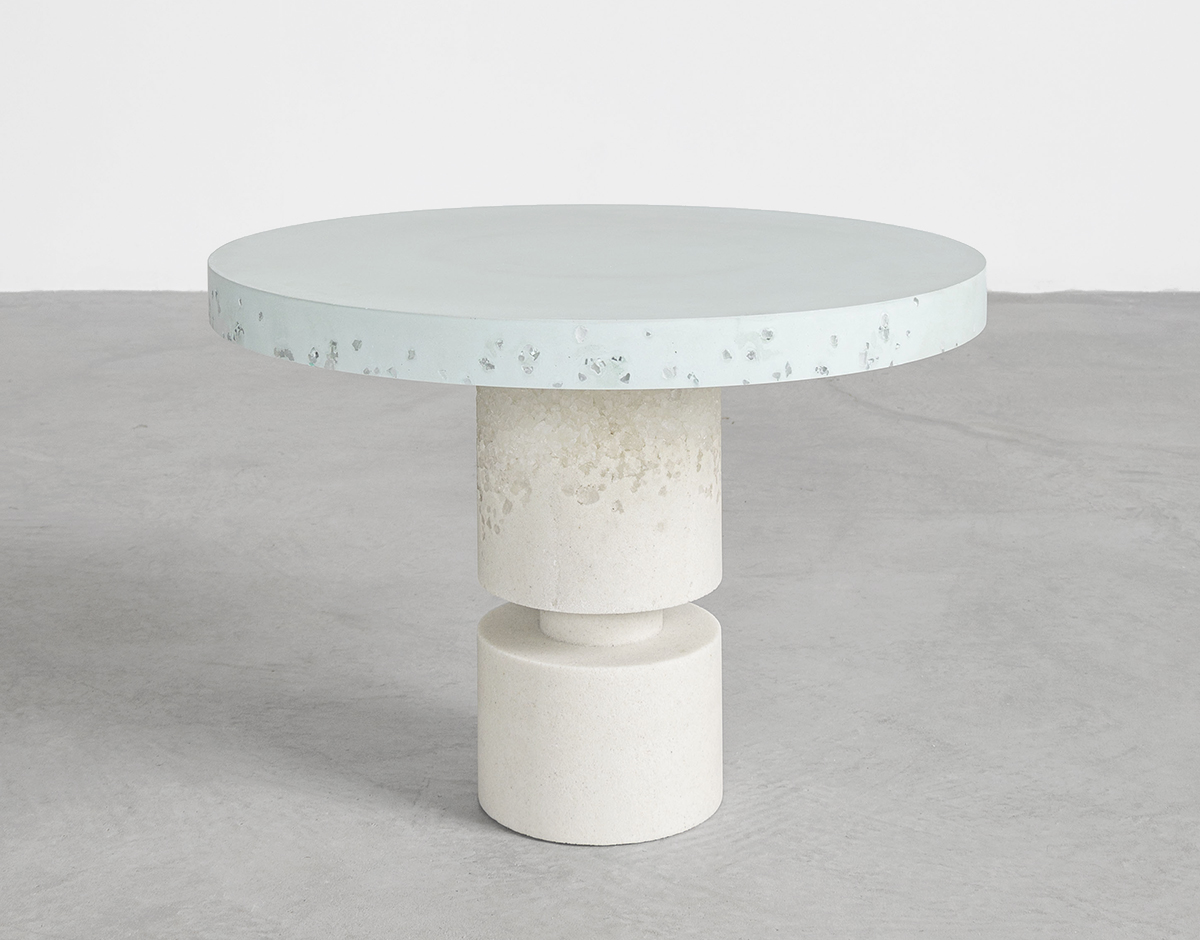 To mark another big design-world move — Anna Karlin's leap from her old, private studio into one that has a public showroom and gallery — Karlin teamed up with Fernando Mastrangelo on Chunk, a series of hybrid tables that get their profiles from her signature Chess series and their materiality from his ongoing use of cast stone and concrete.  Photo above and at top by Cary Whittier.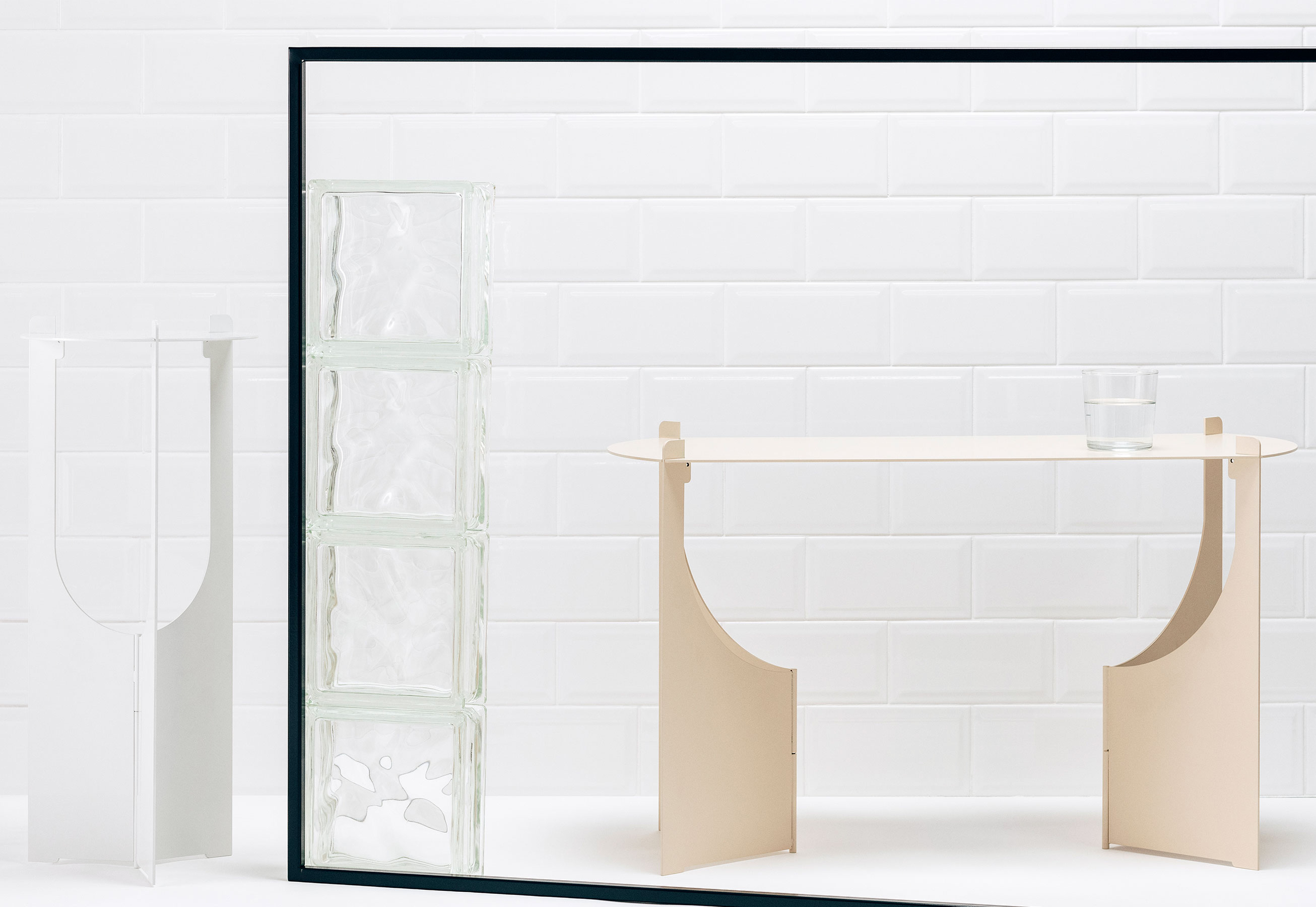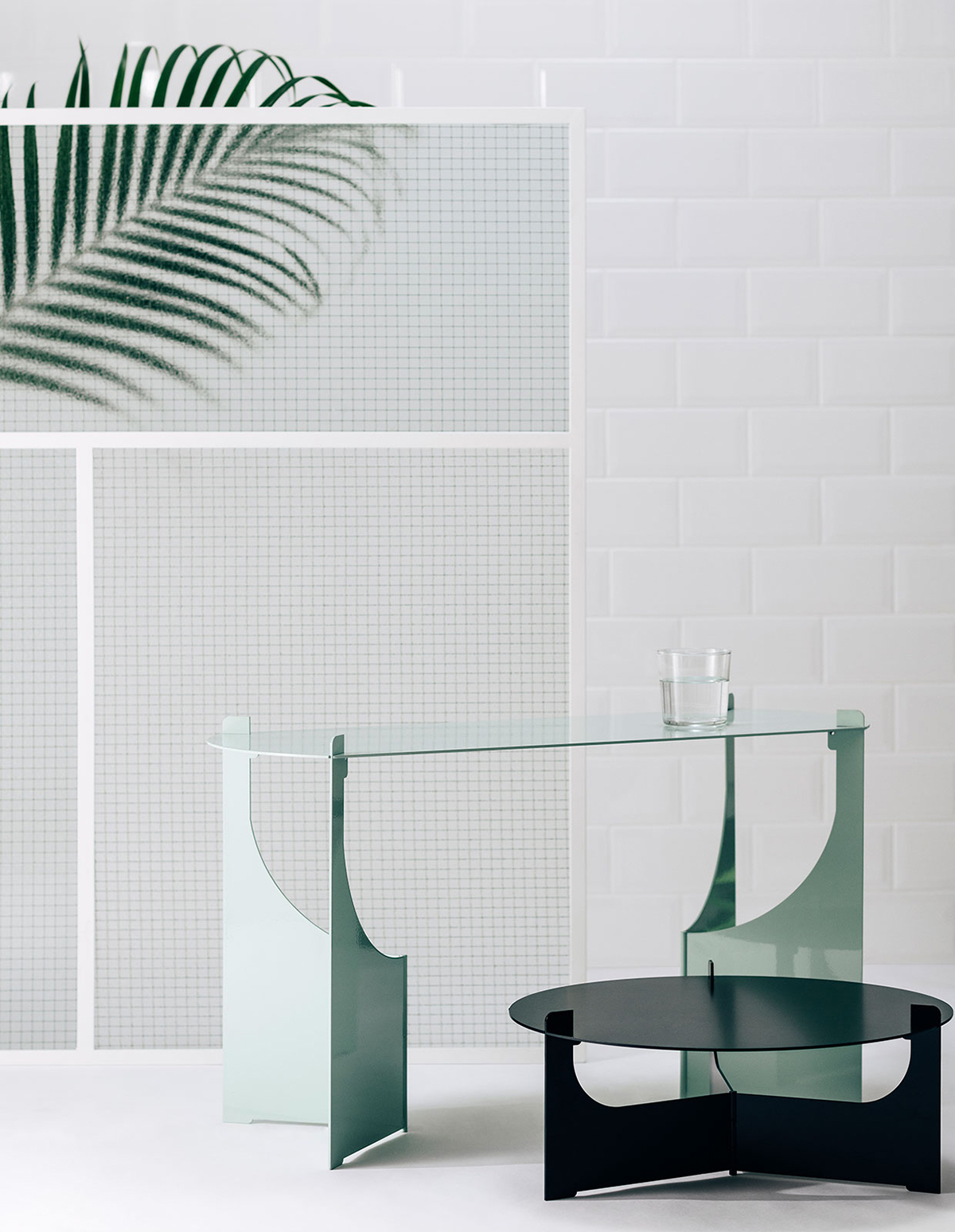 Spotted (a bit belatedly) on The Design Files this week, Australian art director Nat Turnbull shot some very well styled photos of a new collection from Melbourne furniture label Idle Hands — as if you needed more proof that glass bricks were one of this year's top trends (and safety glass too, for that matter).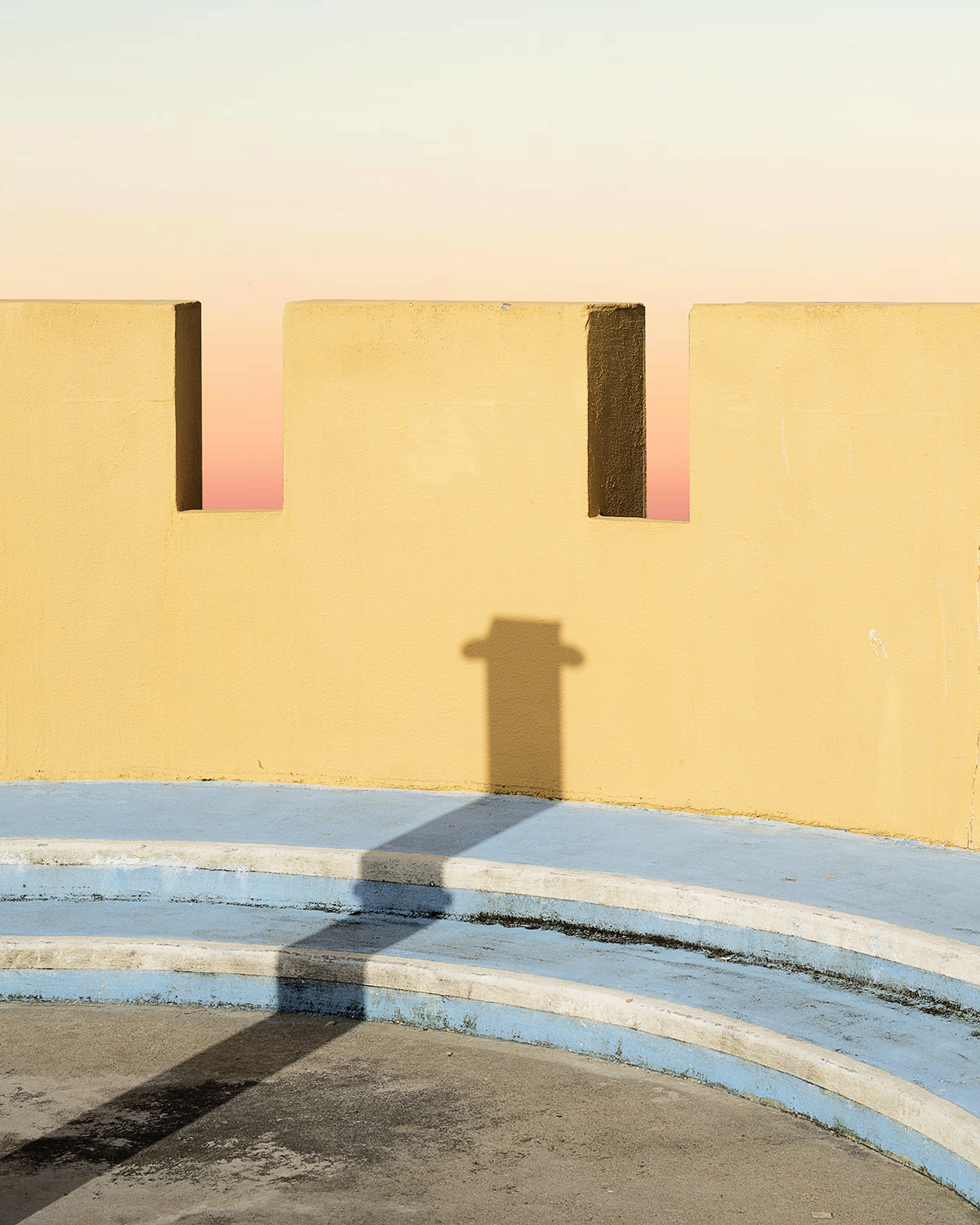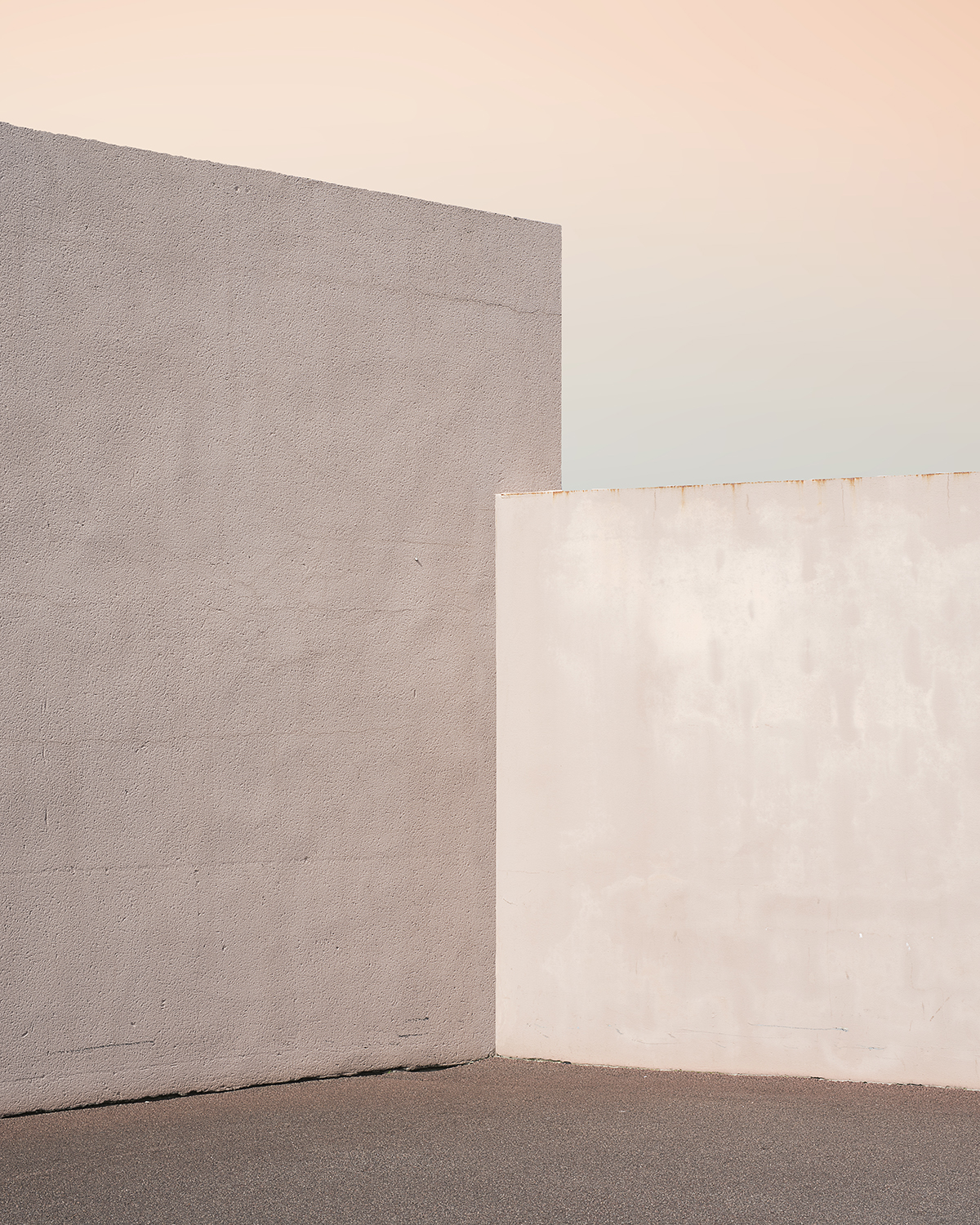 We got a very mysterious submission this week from a photographer named Connor Daly, who included no website or information about himself or his photographs. But they're quite pretty. Maybe you can figure out the rest for yourselves here.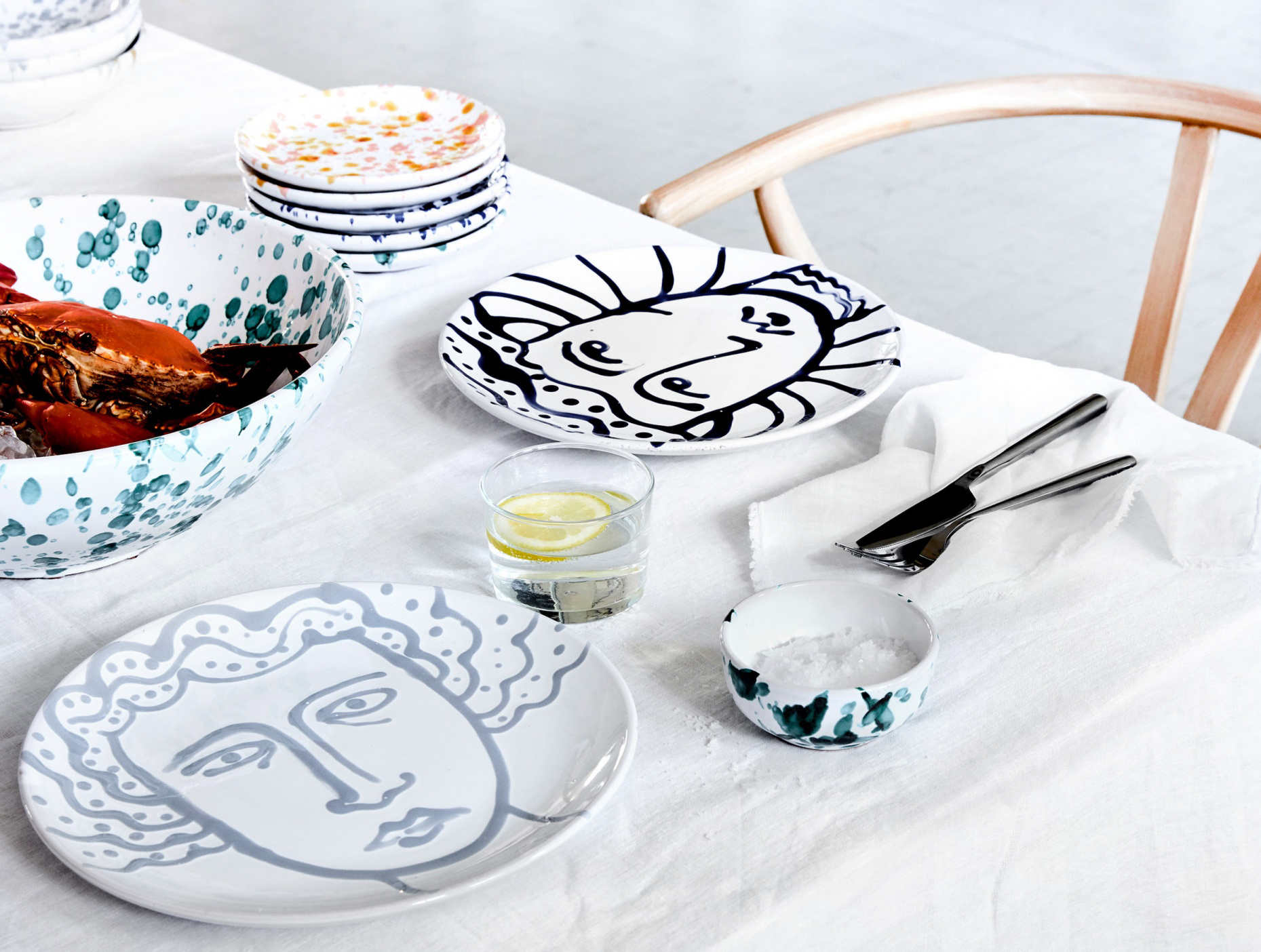 Another hat tip to The Design Files for introducing us to the brand new ceramics line Atelier Studios, which is based in Australia but has Greek vibes and hand-makes its dishes in Italy. We're already lining up for the jugs with the painted faces.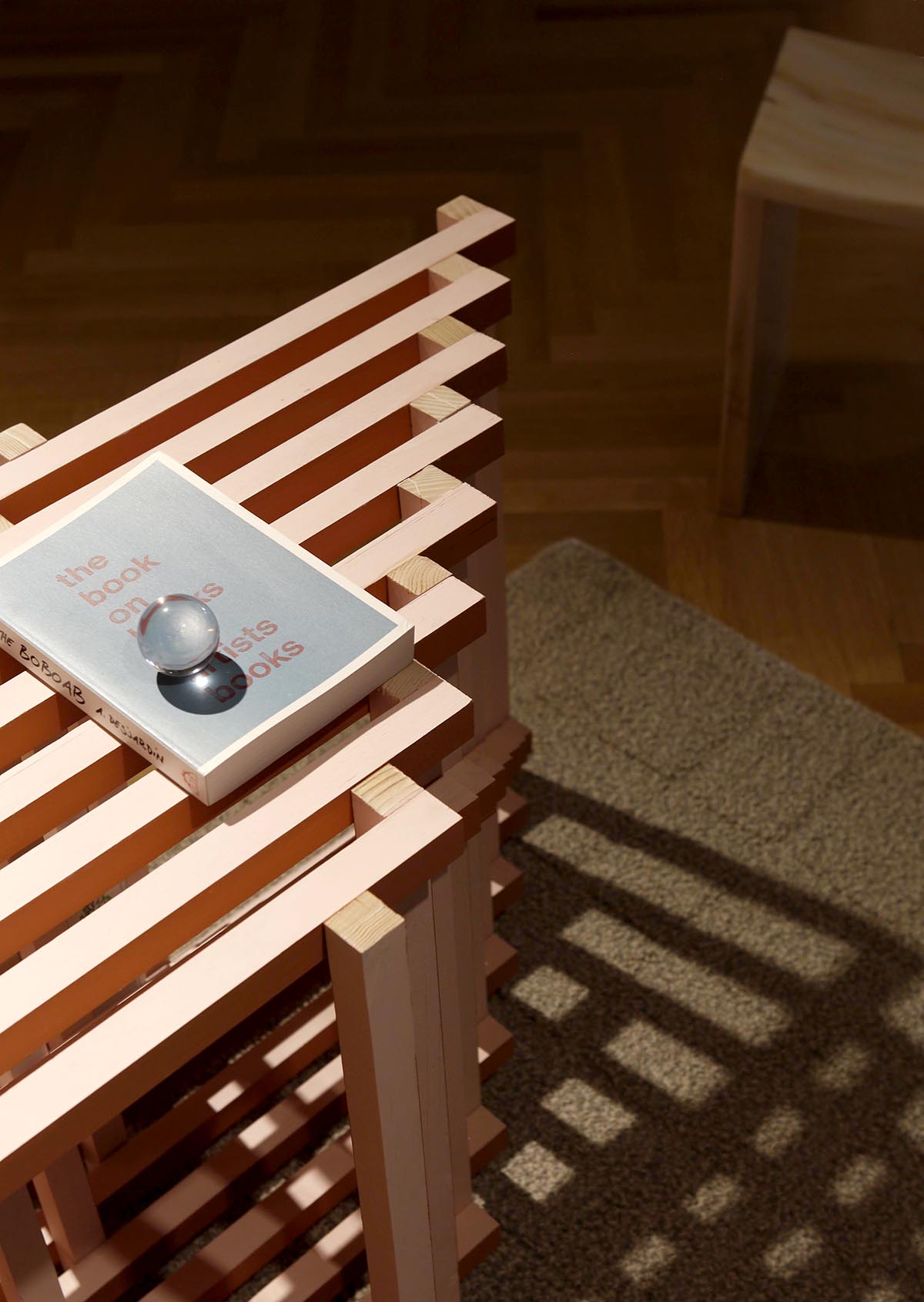 Love this moody shot (taken by Skye Parrott) from Giancarlo Valle's new reading room installation at the Bard Graduate Center, which features books curated by Wendy's Subway and Some Other Books. Side note: Are reading rooms the thing this spring?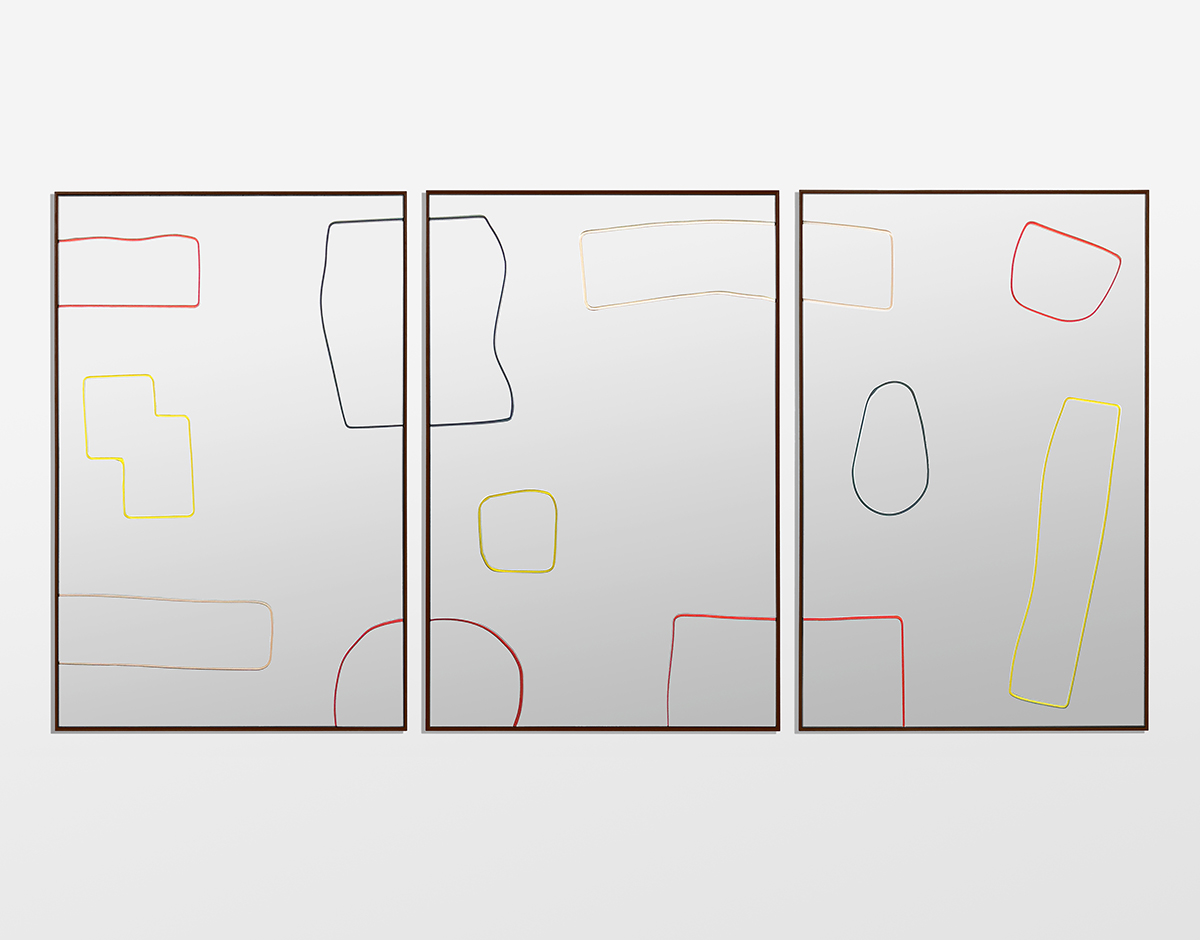 Speaking of our OFFSITE show opening next week, the theme of all the exhibitions and projects in our 201 Mulberry hub space is COLLABORATION, so it's fitting that we have not one but three double-designer mash-ups in this post. In addition to the Karlin/Mastrangelo tables above, Ellen Van Dusen and Bower released a collaborative shape-y mirror this week as part of the newest Dusen Dusen Home collection. For the third collab, keep reading until the end….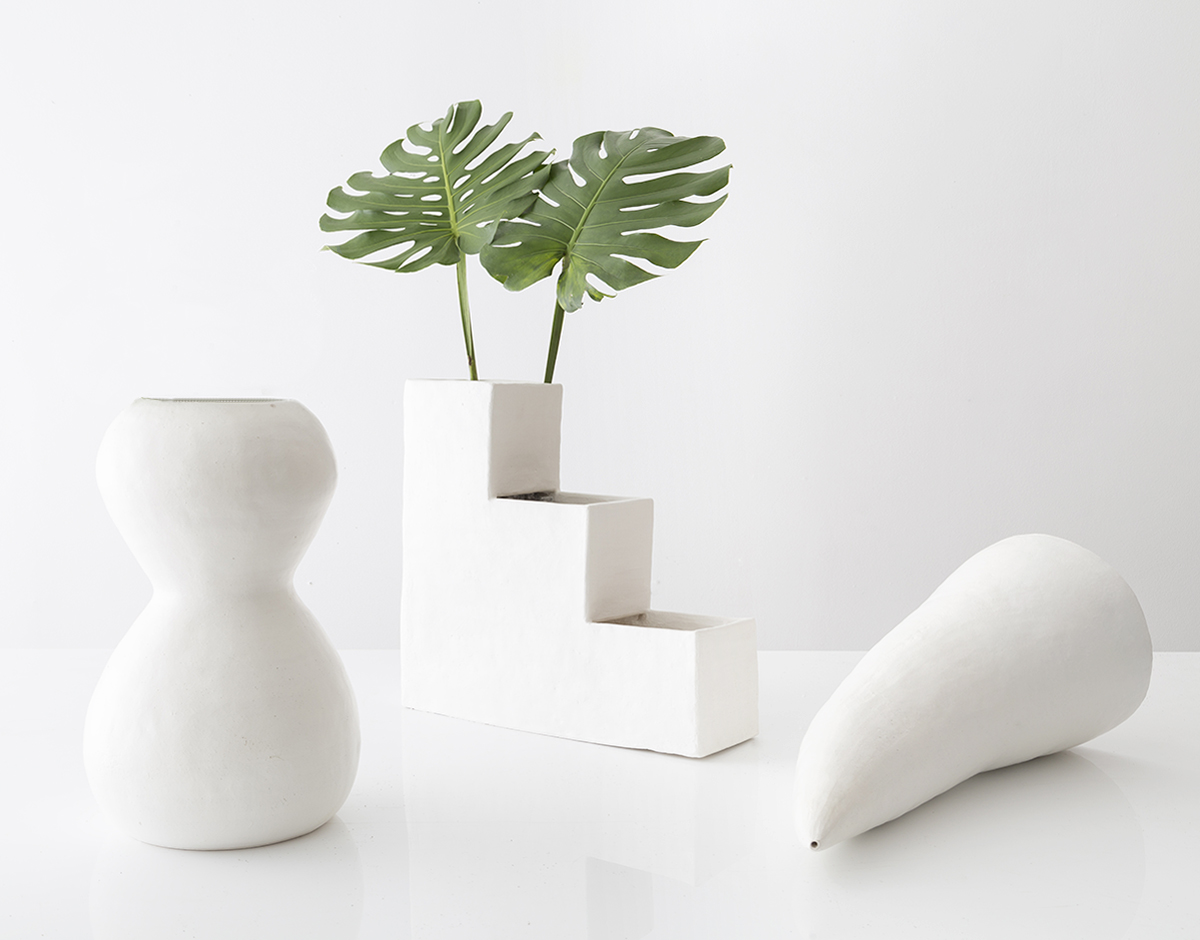 This weekend is the Brooklyn Designs show at the Brooklyn Museum, and Fort Makers are there exhibiting a new series of glass light sculptures and ceramic planters inspired by "shapes found in nature and ancient art." (The middle planter above reminds us a bit of this pipe featured in our holiday gift guide.)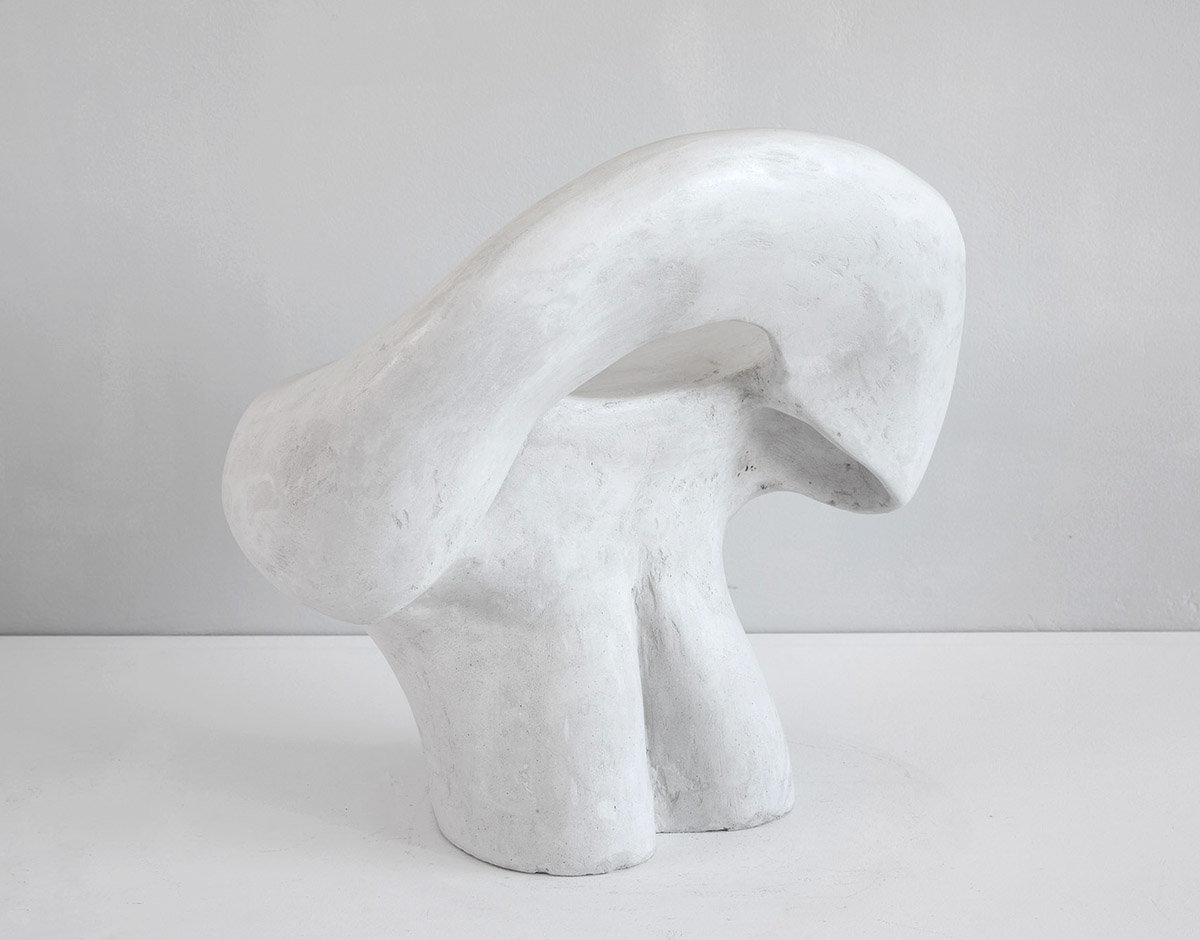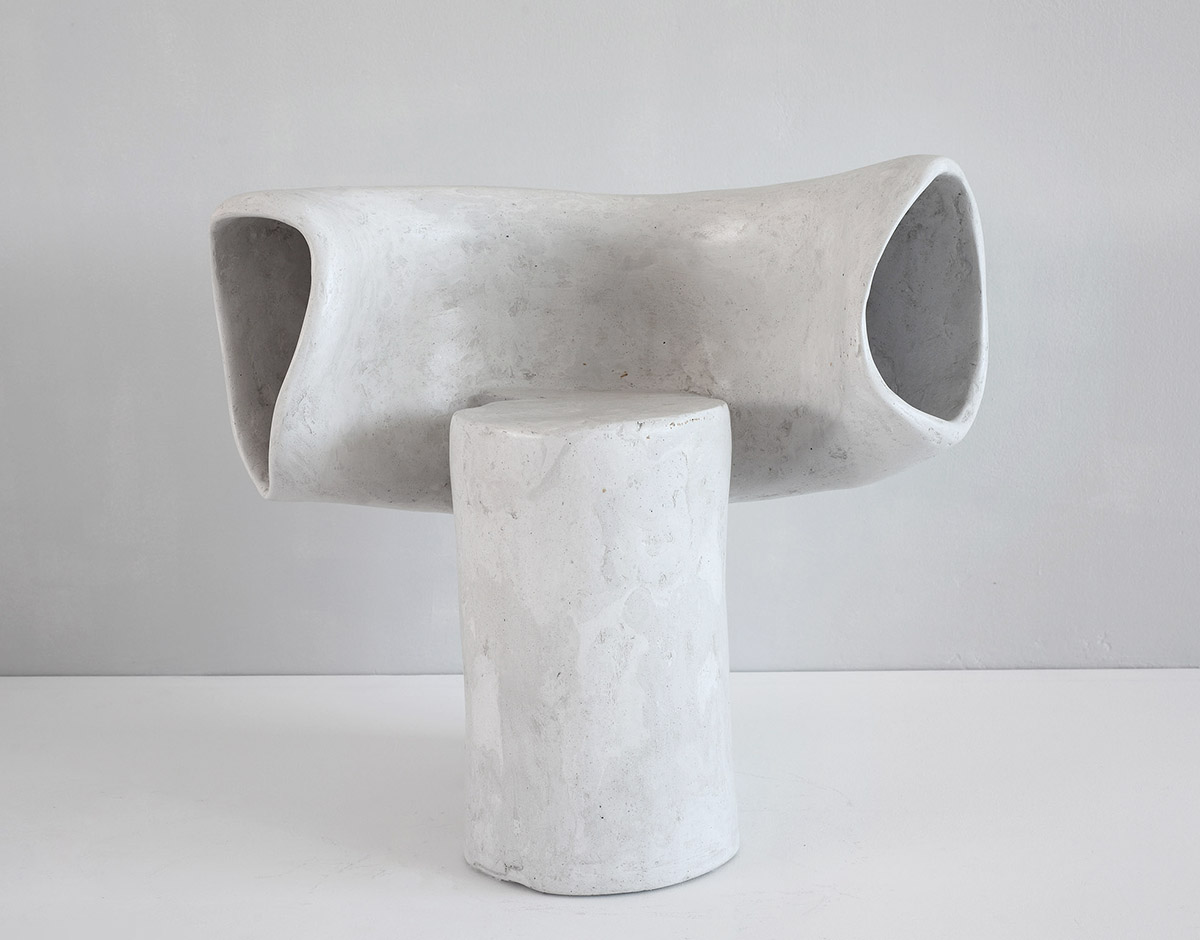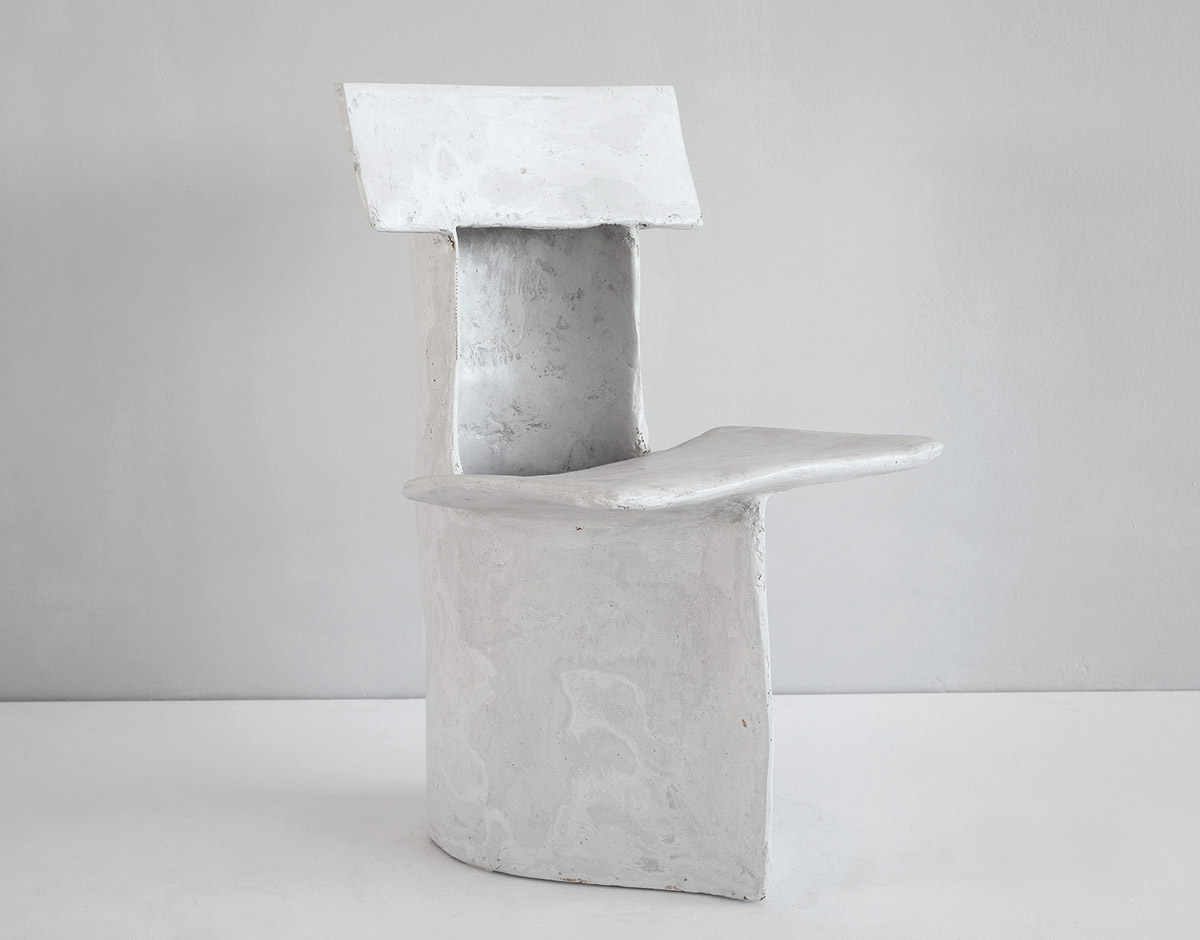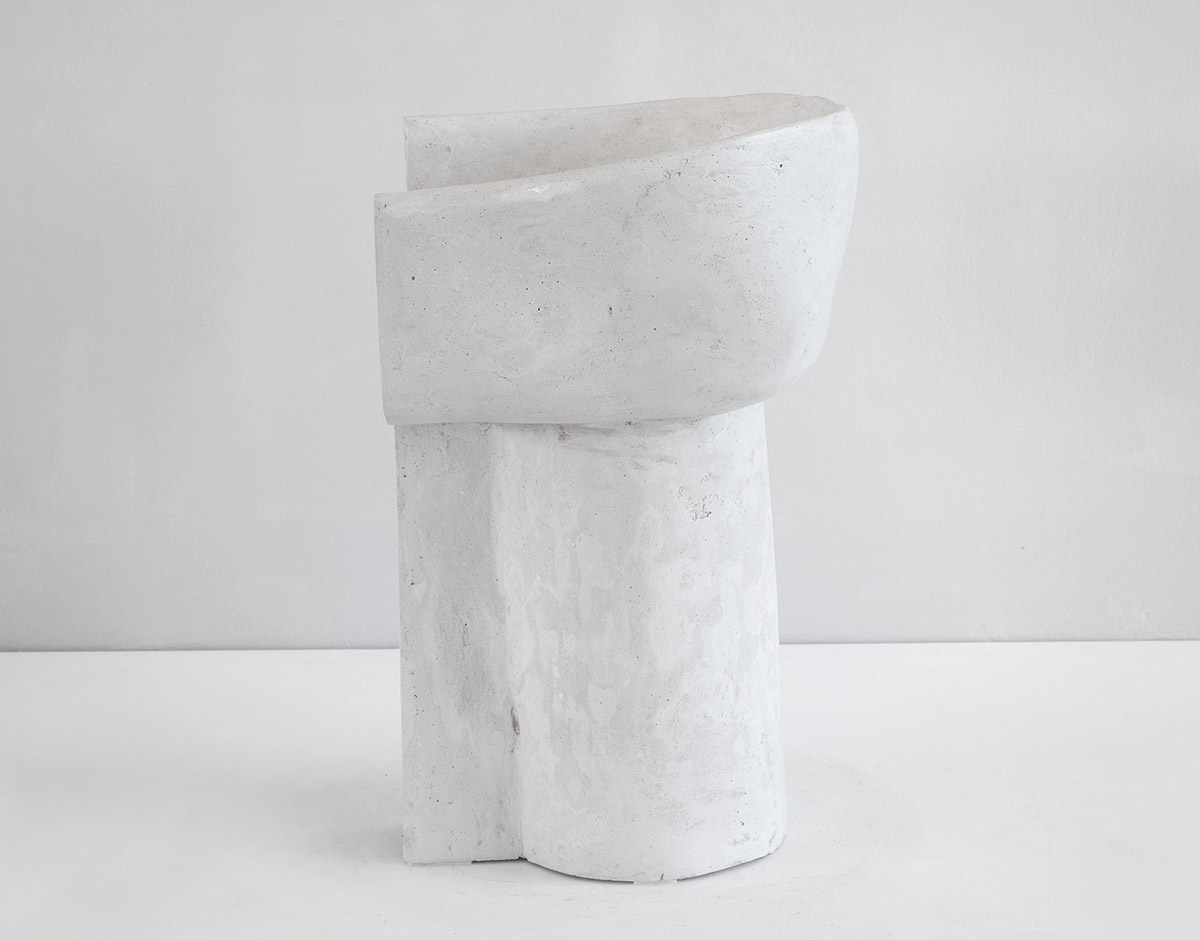 Going kind of gaga over the new Gypsum series by the New York and Athens based studio Voukenas Petrides. Furniture designer Andreas Voukenas and architect Steven Petrides created 20 totally different forms out of flexible metal screens, then used varnished gypsum to sculpt them into lumpy white chairs that fit perfectly into the very same 2018 trend predictions we linked you to above. See all 20 here.
Interiors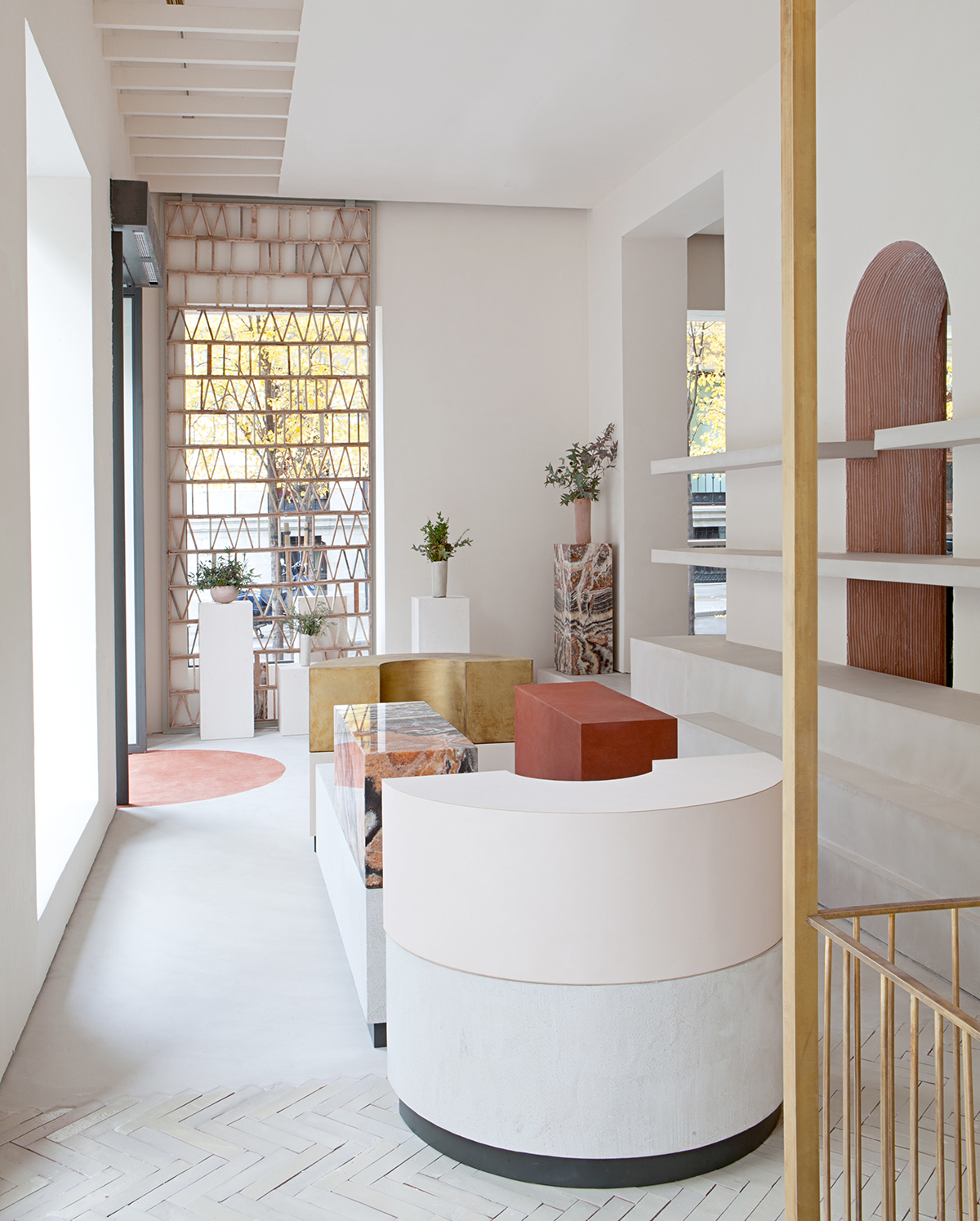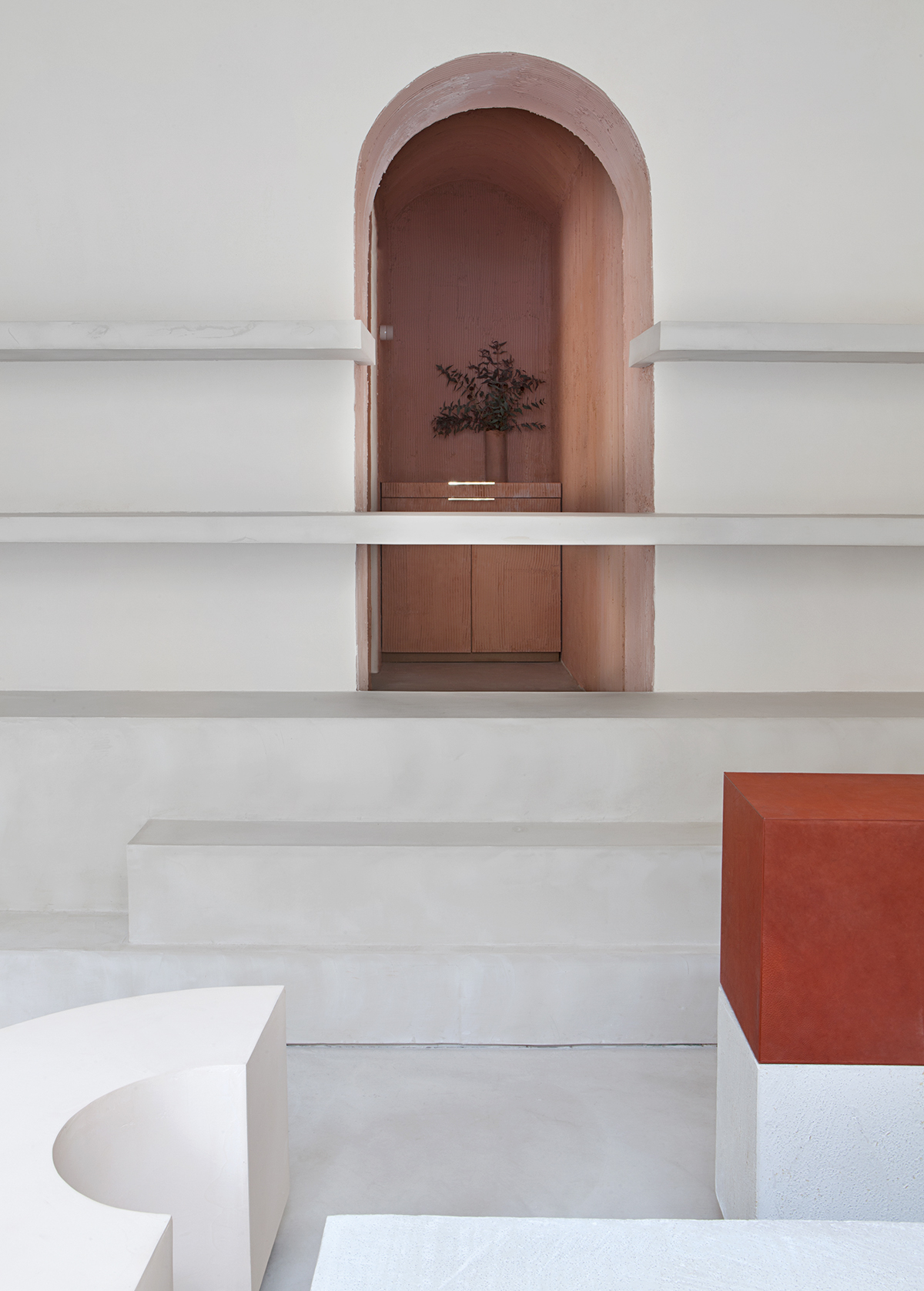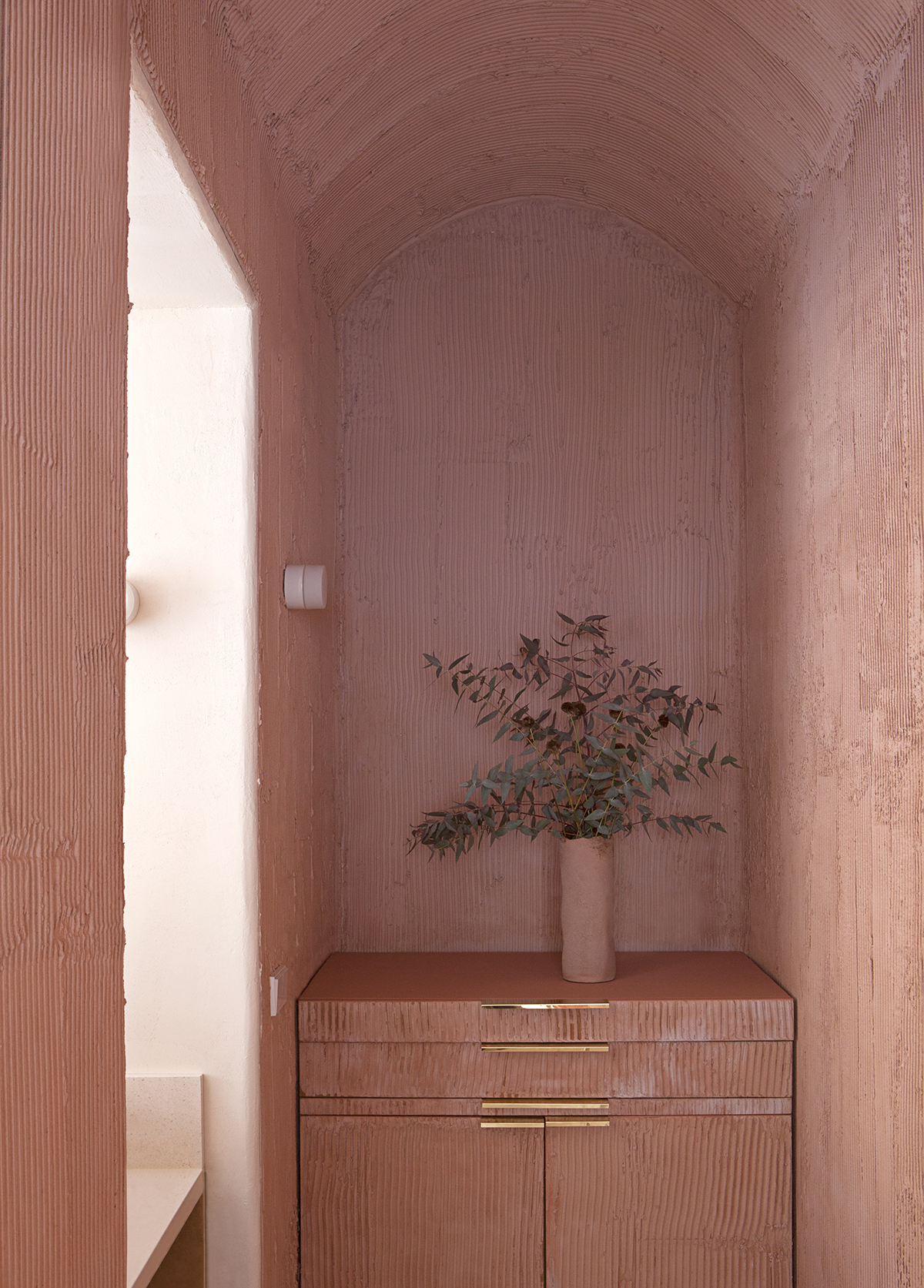 If it weren't design week we'd probably have devoted a full post to the new Malababa flagship store in Madrid, whose interiors are the work of the Madrid and Hong Kong based architecture and design studio Ciszak Dalmas with Matteo Ferrari. The colors are just bellissimo — we want to LIVE in the all-mauve vestibule pictured above. Photos by Asier Rua.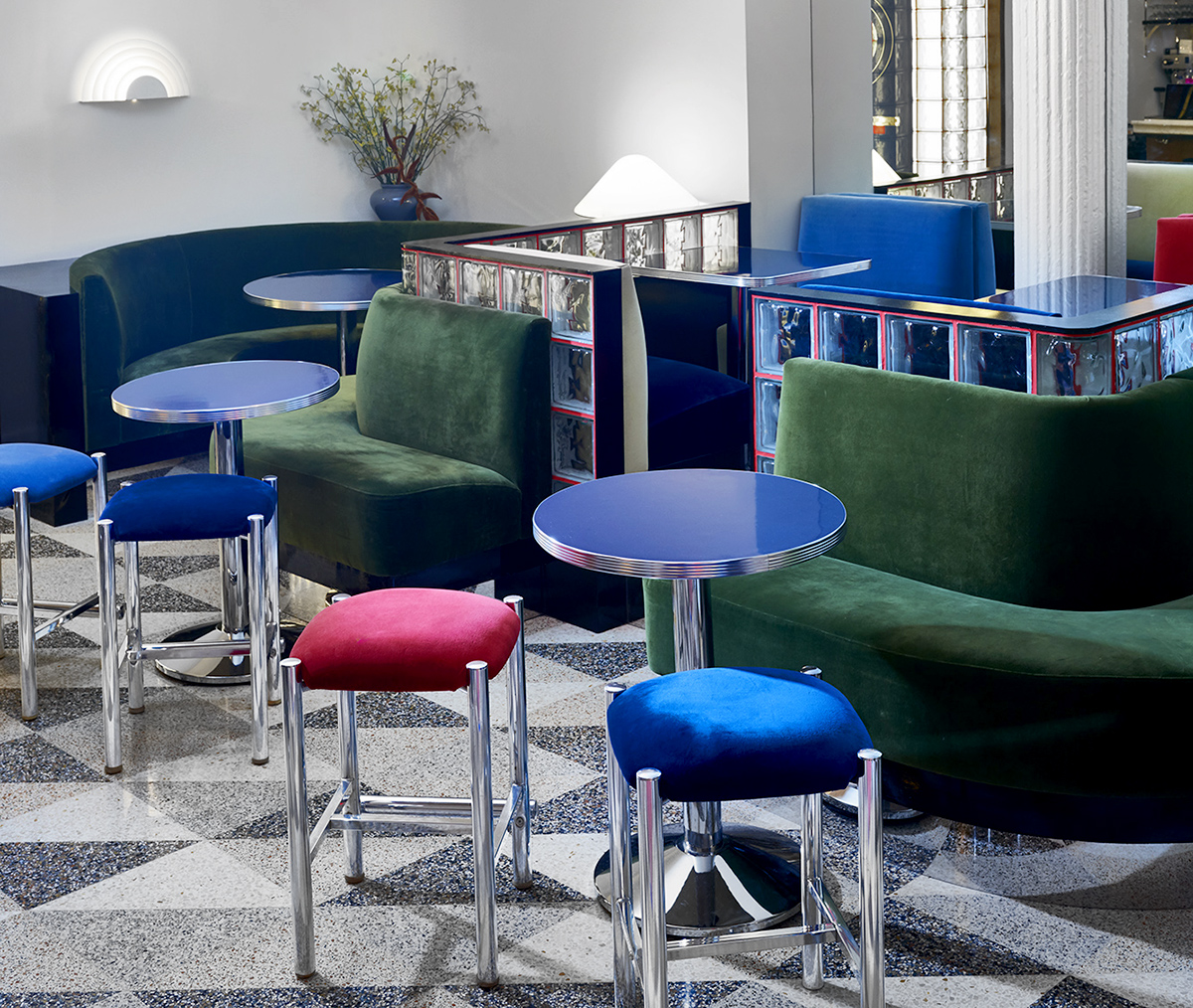 More glass bricks! This time at the new bar Primo's in Tribeca, which has quiiiiiite an expressive interior scheme. See the full project here. Photos by Adrian Mesko.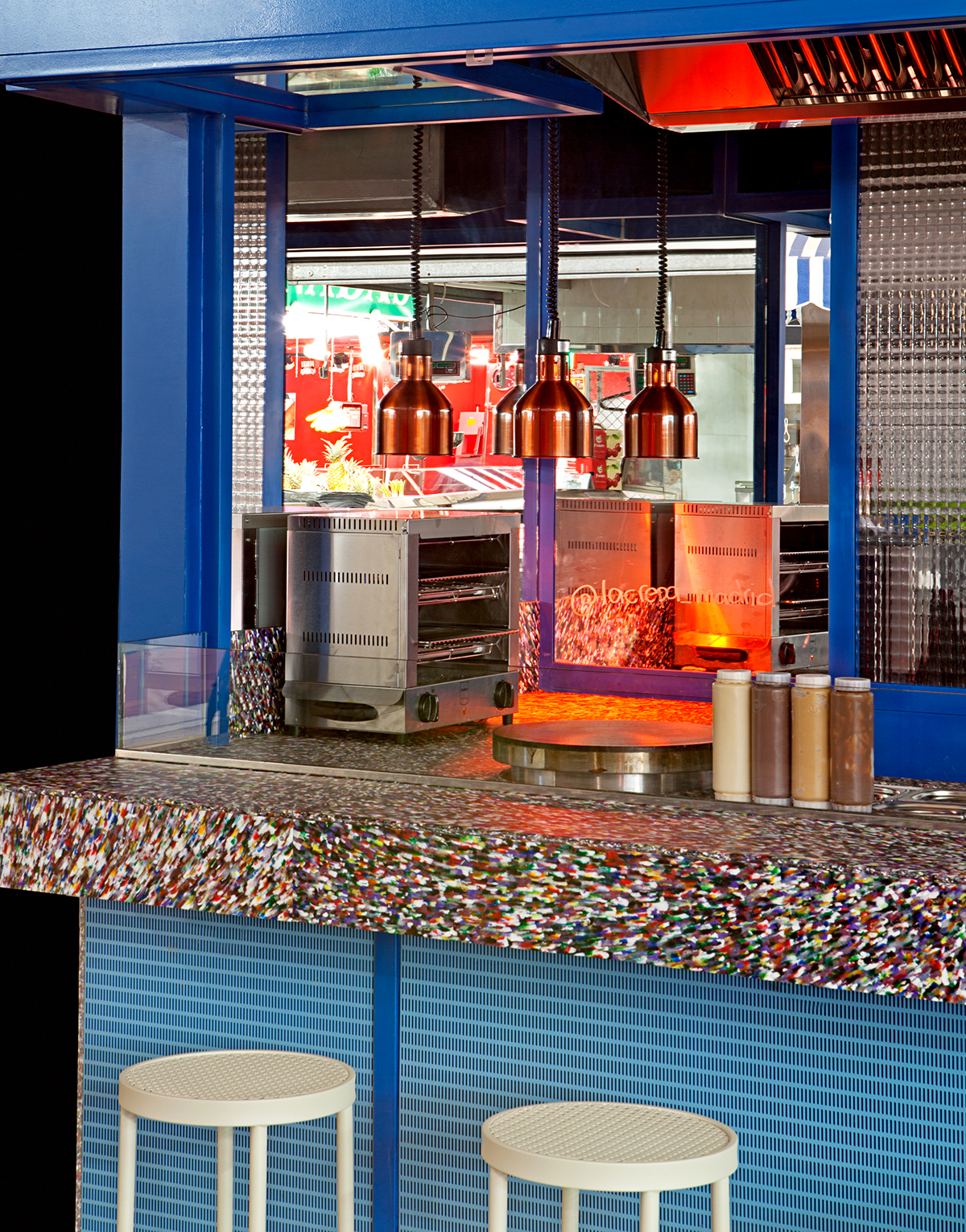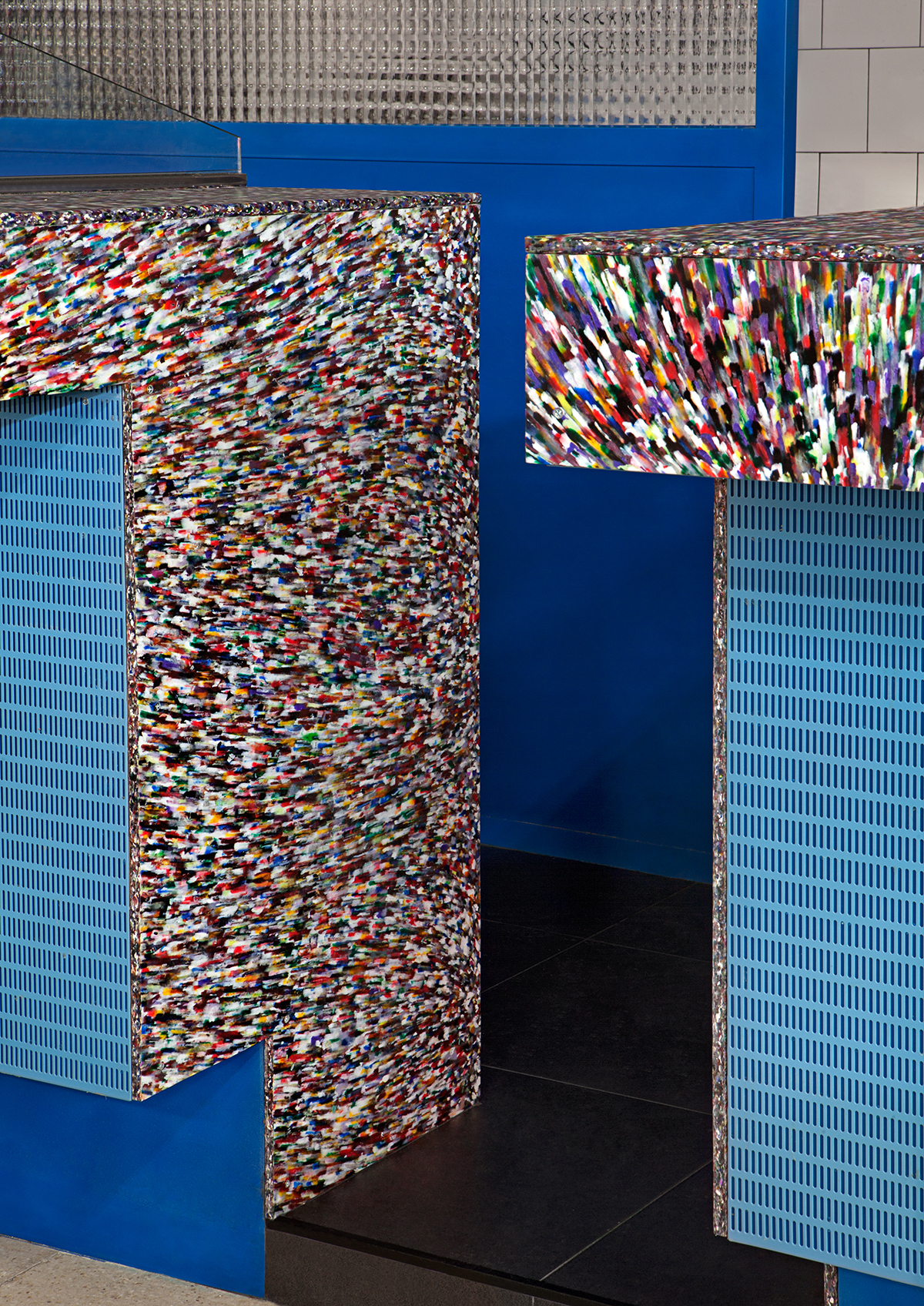 Spanish firm Plutarco sent us their latest project this week, a teeny tiny, yet very hip, crepe stand in a food hall in Madrid. The countertops — which look to be made by Smile Plastics — are about more than aesthetics, though: "It needed to be resistant to heat, and food-safe all over," the designers say. "It was a key point of the project as it was going to be used as a table as well as an open preparation area for the crepes." Nice combo of blues, too.
Exhibitions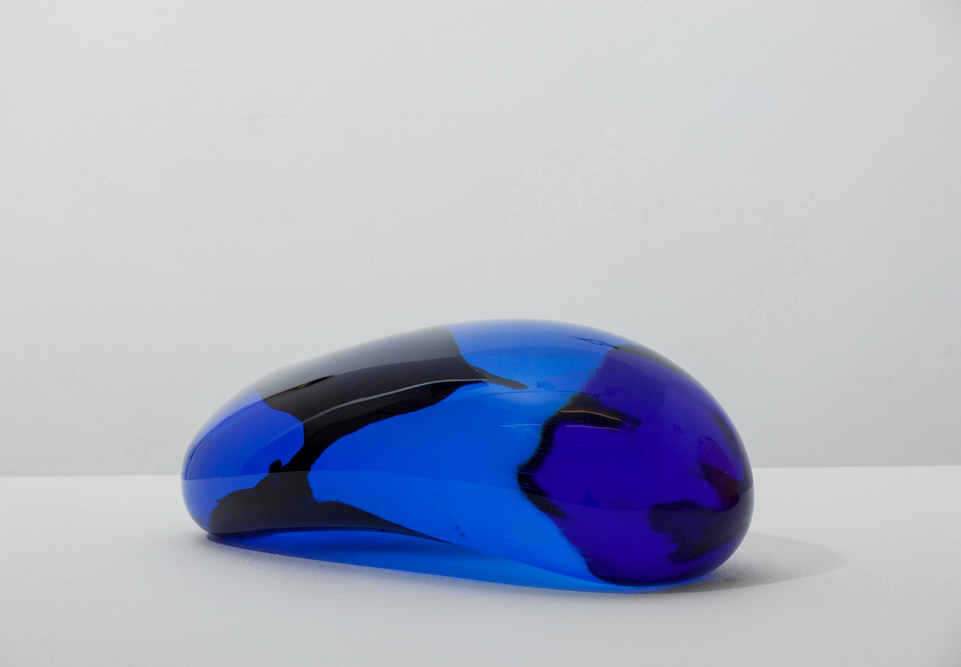 Our hearts are melting over this blue, too — a glass sculpture that looks huge in this photo but is actually only about 12 inches long. It's part of a new show by Maria Barnas at Annet Gelink gallery in Amsterdam.
Links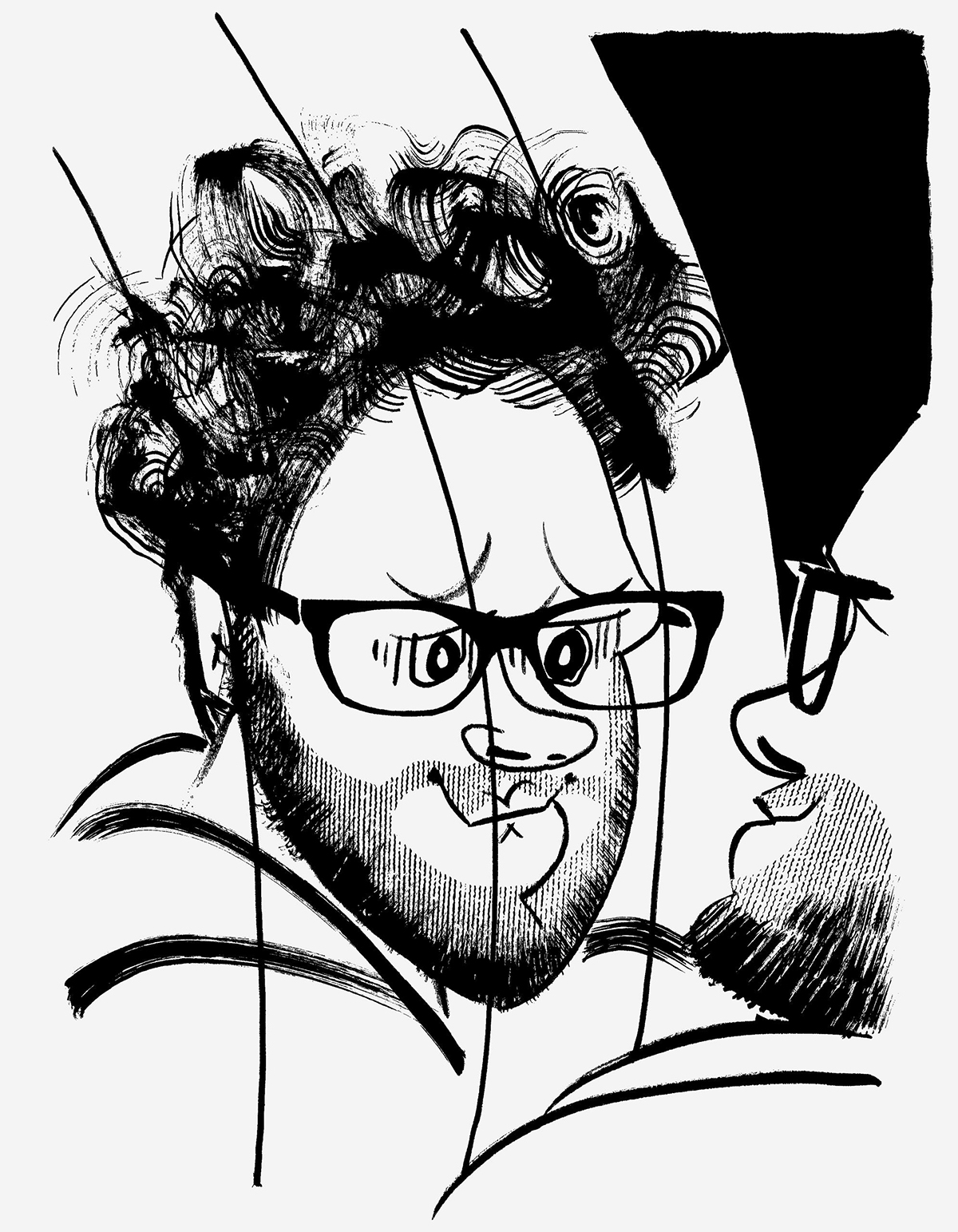 Remember the third collaboration we alluded to above? It's our pièce de résistance this week, because it landed Sight Unseen in THE NEW YORKER — an accomplishment we never actually thought we'd be able to check off our list of life #goals. Writer Naomi Fry chronicled actor Seth Rogen's visit to Bower's studio to work on the mirror the pair are creating together for our Field Studies show, which opens Thursday at Sight Unseen OFFSITE. Read the piece and if you're intrigued, pre-register to attend our show here!