09.26.19
Ian Felton's Kosa Collection — Inspired by Pre-Colombian Cultures — is This Season's Must-See Debut
Ian Felton's debut collection was supposed to arrive in New York in June, just in time for a showcase at Michael Bargo's Chinatown gallery. But, as luck would have it, the pieces — in transit from an atelier just outside of Mexico City — got stuck in customs and the collection, called Kosa,  debuted only last week. In some ways, however, the new launch date seems appropriate: Felton's collection — all thick bolsters, chunky forms, and autumnal hues — was inspired by Pre-Colombian cultures and ideas around creation and rebirth — a very fall-like theme — not to mention how cozy it might be to snuggle up in the rounded corner of his alpaca-covered lounge chair.
That morel-colored lounge was the first piece of Felton's that caught our eye — its unmistakable, crouched silhouette gracing the gallery invite — and we got a sneak peek at his plaster-finished table earlier this month. But with the full collection on view here — and many more pieces in the works — we can say that it's without a doubt one of the most sophisticated, fully realized debuts we've seen in years. Read on for a closer look at its making and its inspiration.
PHOTOS BY SEAN DAVIDSON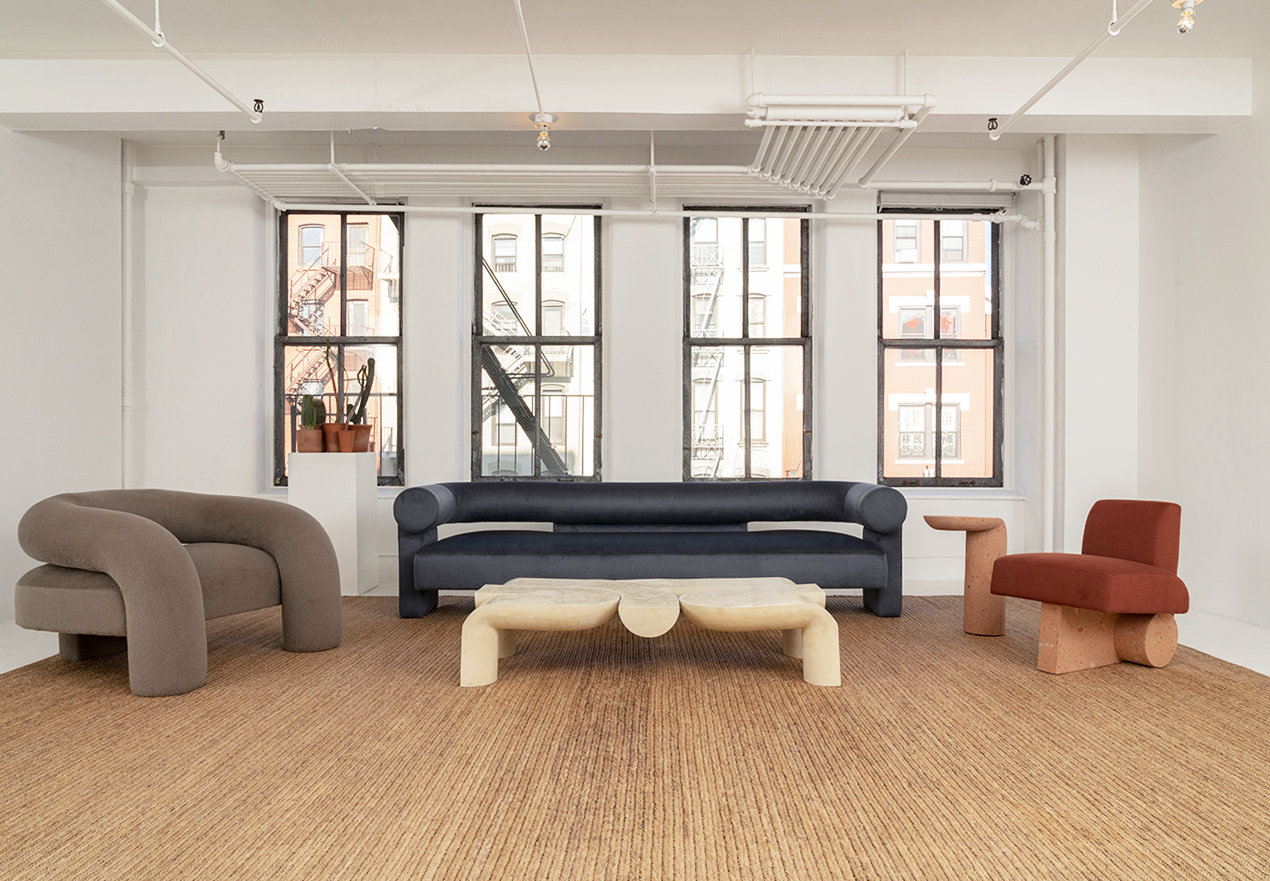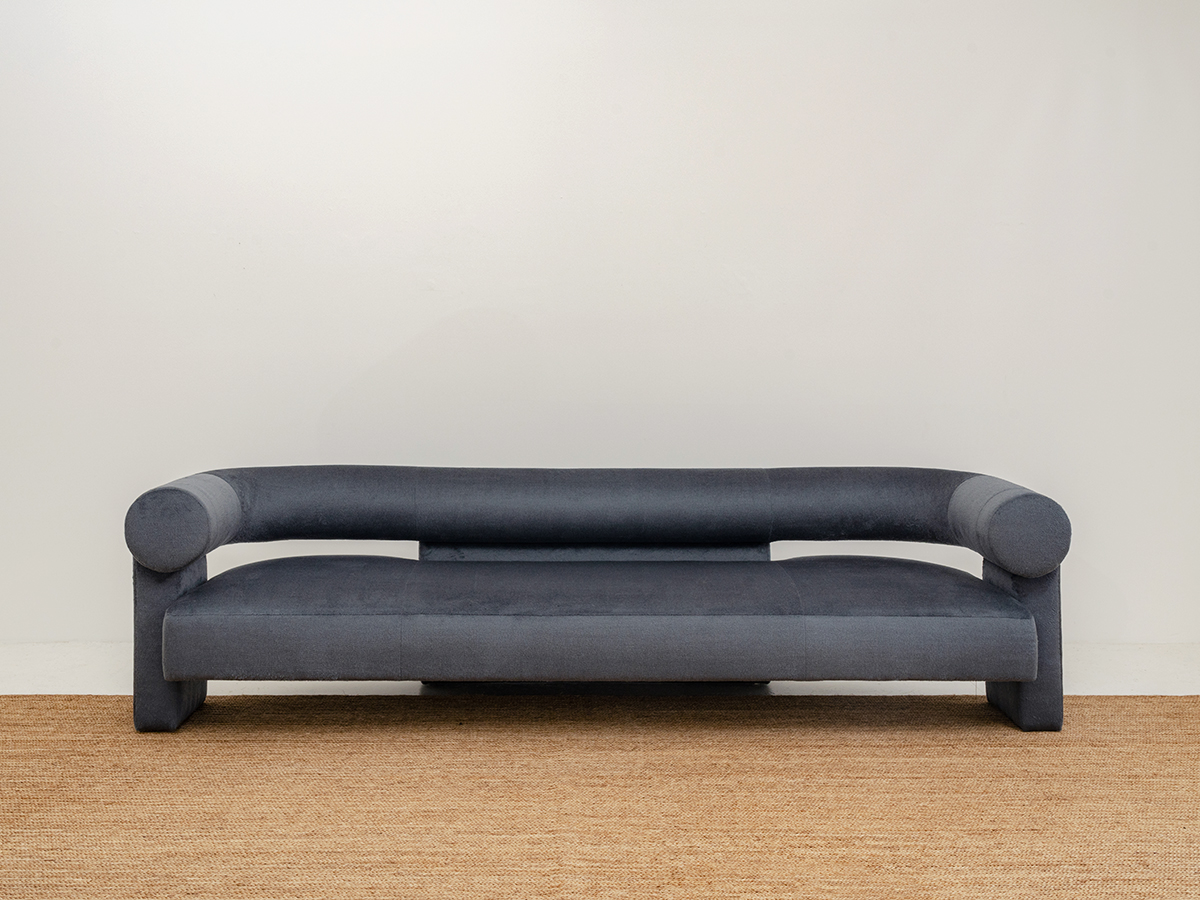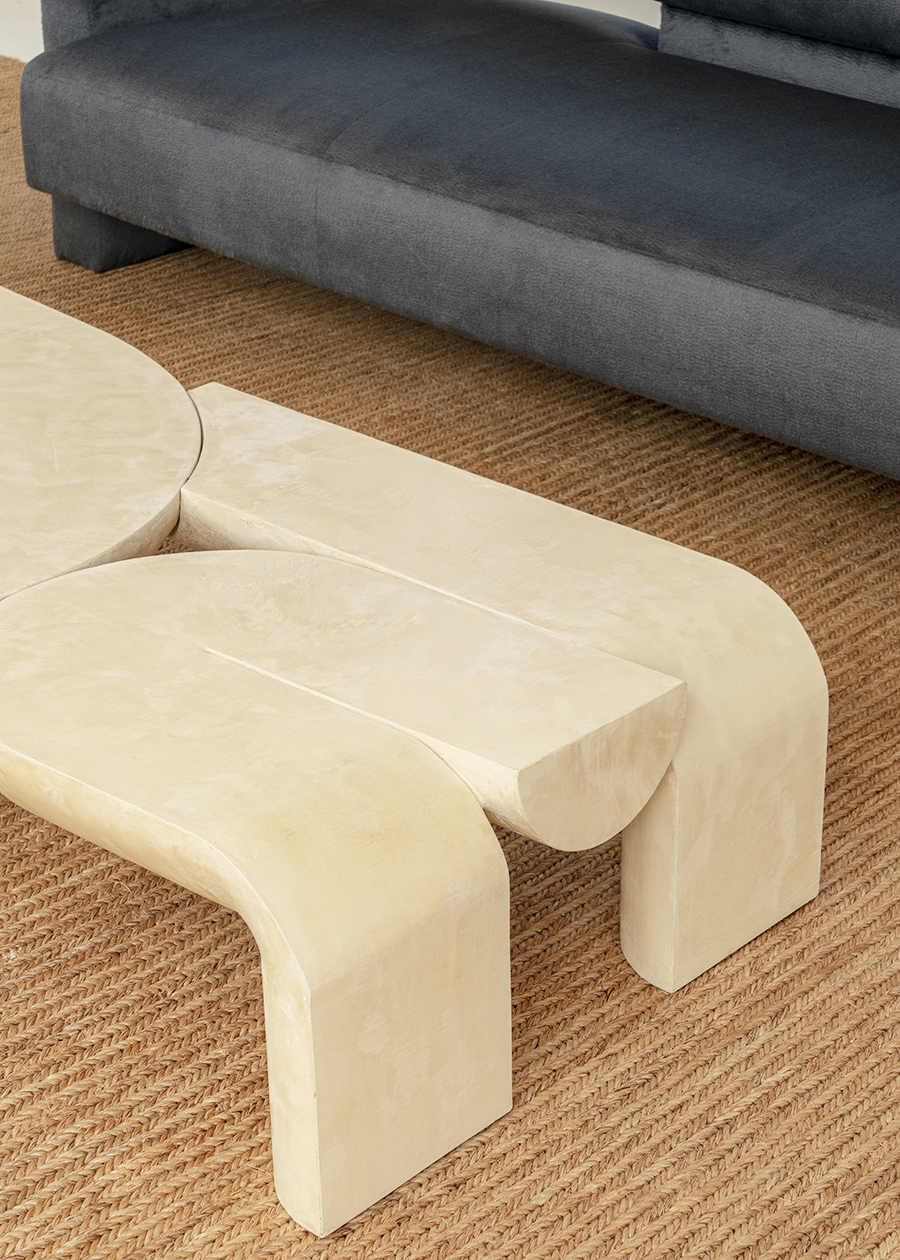 For a debut collection, Kosa has an incredibly consistent point of view. Can you talk a bit about your connection to design and how this particular collection came to be?
I'm originally from DC. Both of my parents are more or less in the creative fields — they've run an ad agency together as long as I've been alive, and they always encouraged play and a kind of non-traditional experience of things. I went to a Montessori school for most of my life; it was super-international and I learned about Eastern religions and other cultures before I was exposed to anything particularly American. Vacations were often roughing it in Central or South America. So play, creation, and the exploration of other cultures was definitely encouraged.
I went to SCAD in Savannah in pursuit of studying industrial design. My professors definitely had a more conceptual and not very practical approach to design. It was more about abstract problem solving, and how to imbue narrative and meaning and an emotional response into the creation of object itself. When I moved to NYC the veil was kind of lifted. I realized that industrial design wasn't quite so magical, and that it was more about things like consumer electronics, which wasn't very alluring to me. I kind of lost interest in industrial design almost altogether. I started to get into ultra-high-end custom furniture design; to me, it was one of the only areas of design that was about creating objects that have an emotional connection with the end user.
I was learning and working, and not working too much on my own stuff. Then about two or three years ago I unintentionally stumbled upon a few pieces of literature. The first was Are We Human, by Beatriz Colomina and Mark Wigley, a small pamphlet written I think for the Turkish Biennale. It was basically an abridged history of the human and how creation played a role in shaping societal construct even at our earliest stages. That sort of anthropological take on design just ensnared me instantaneously. It was only like 200 pages or so but it was ultra-dense and I really fell in love with it and started doing research around these nascent societies. Researching pre-Colombian cultures, I found myself realizing how much animism and worldview and emotion and whimsy was infused into everything they did.
Without an end goal, I started researching more and more. I read books like Sapiens — just as many things as I could pick up looking at Mayan or Valdivian culture, looking at their symbology and architecture. At that point I decided to regroup my thoughts a bit, to distill and center on the things that were really speaking to me and put them into physical form — to take all these points of inspiration, filtering them through my context today in New York City, and reimagining these concepts as they might be introduced today.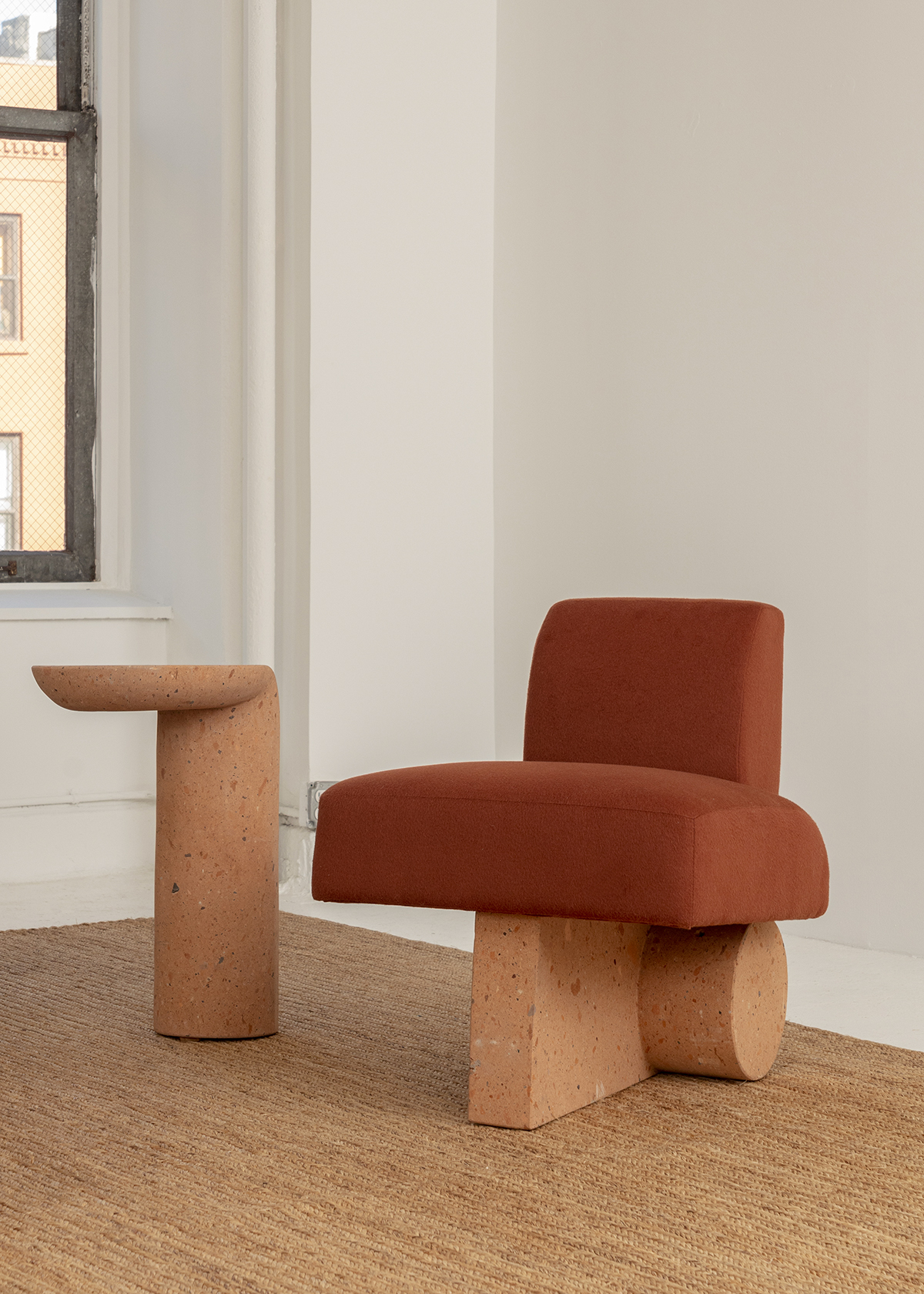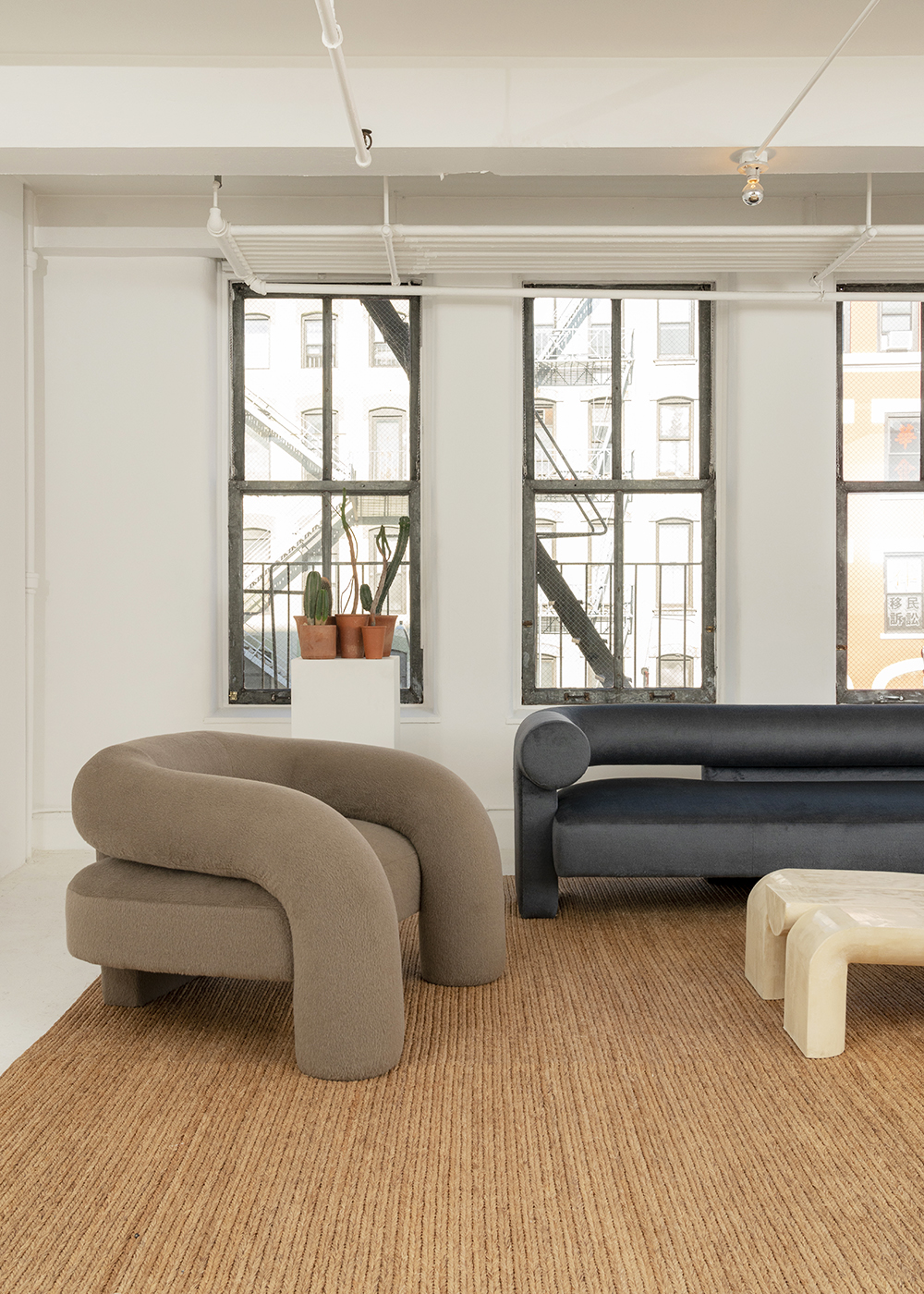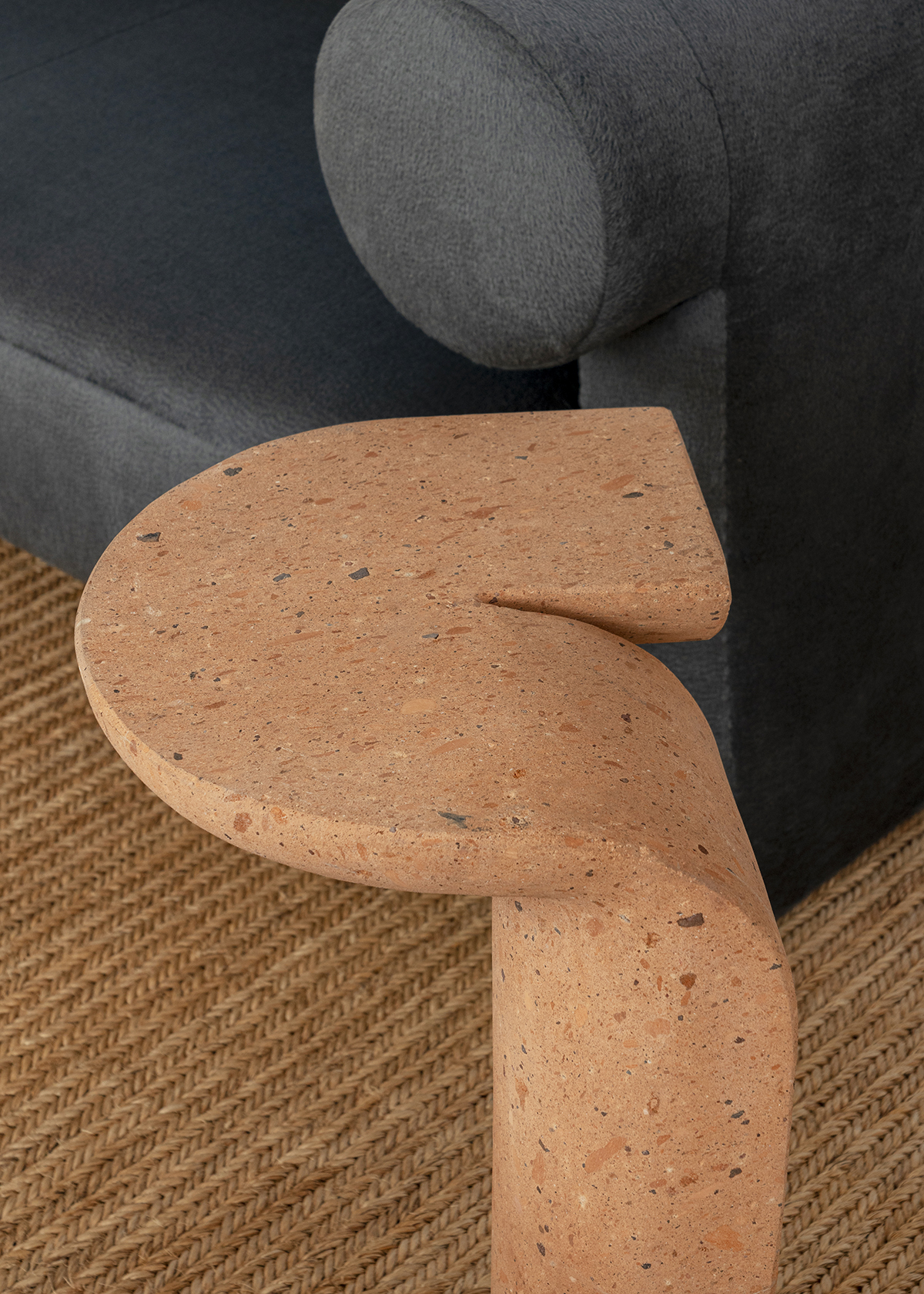 Did those readings inspire the forms themselves or just the narrative behind them?
I was looking at a lot at ceramic fertility sculptures from these cultures — all these crouched, powerful but natal forms and the Lounge chair was one of the first things that came into this world, inspired by these birthing sculptures. As the collection progressed, I started to see up-croppings of similar visual languages in contemporary design, these chubby forms. I think in my past I would have been like, "Oh somebody's already doing it." But for me, it was almost strangely uplifting. I had been in this dark hole all by myself pulling reference from 2,000 years ago and yet the narrative was similar. Which to me was even cooler — that there were these tacit links between design and thinking.
After the chair, I said ok, I'm gonna run with this. A lot of the rest of the pieces are me looking at symbology and wondering, 'How can I take this visual language found in markings and glyphs and give that life — as if it grew legs and postured itself up?' That language is vastly populated; I have like five or six more pieces that I'm prototyping. But the first collection is a distilled version of that.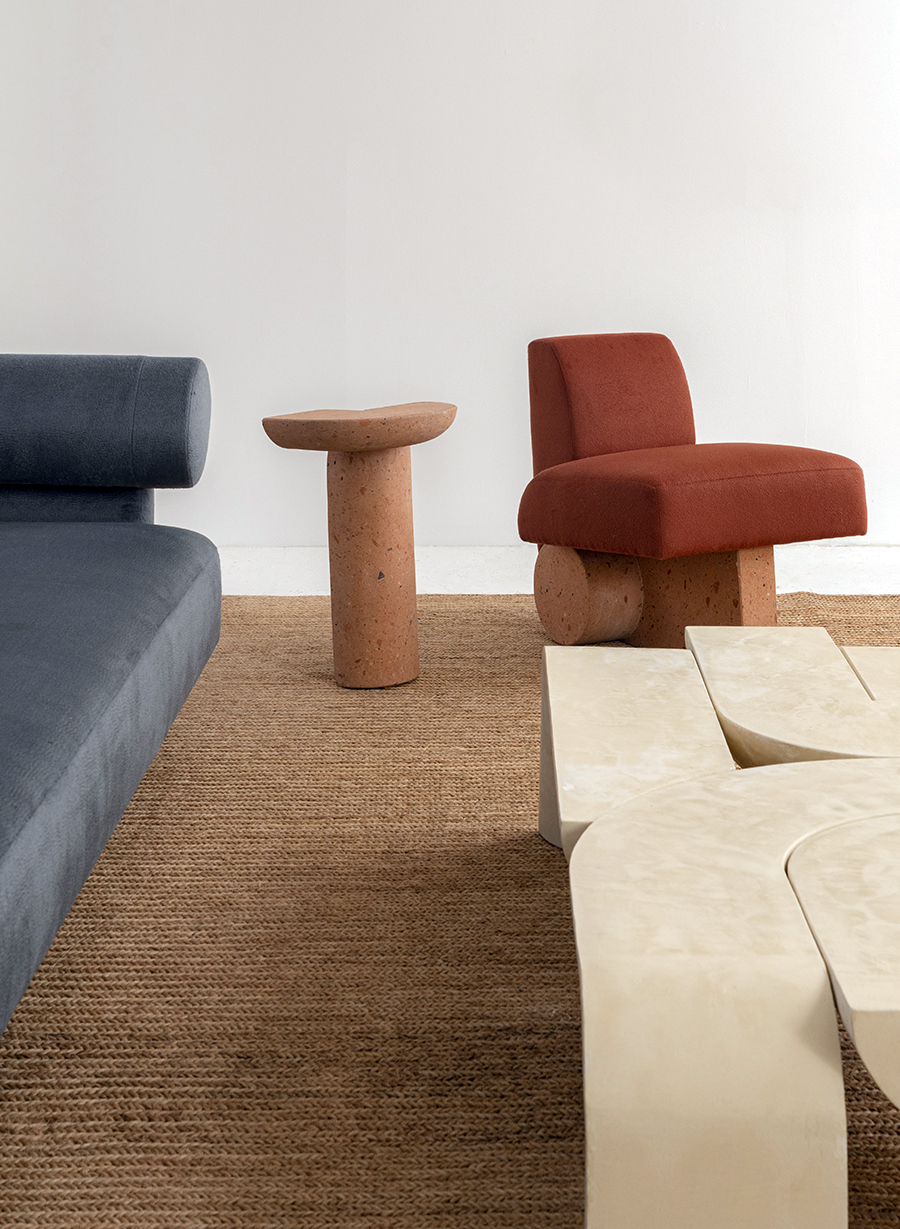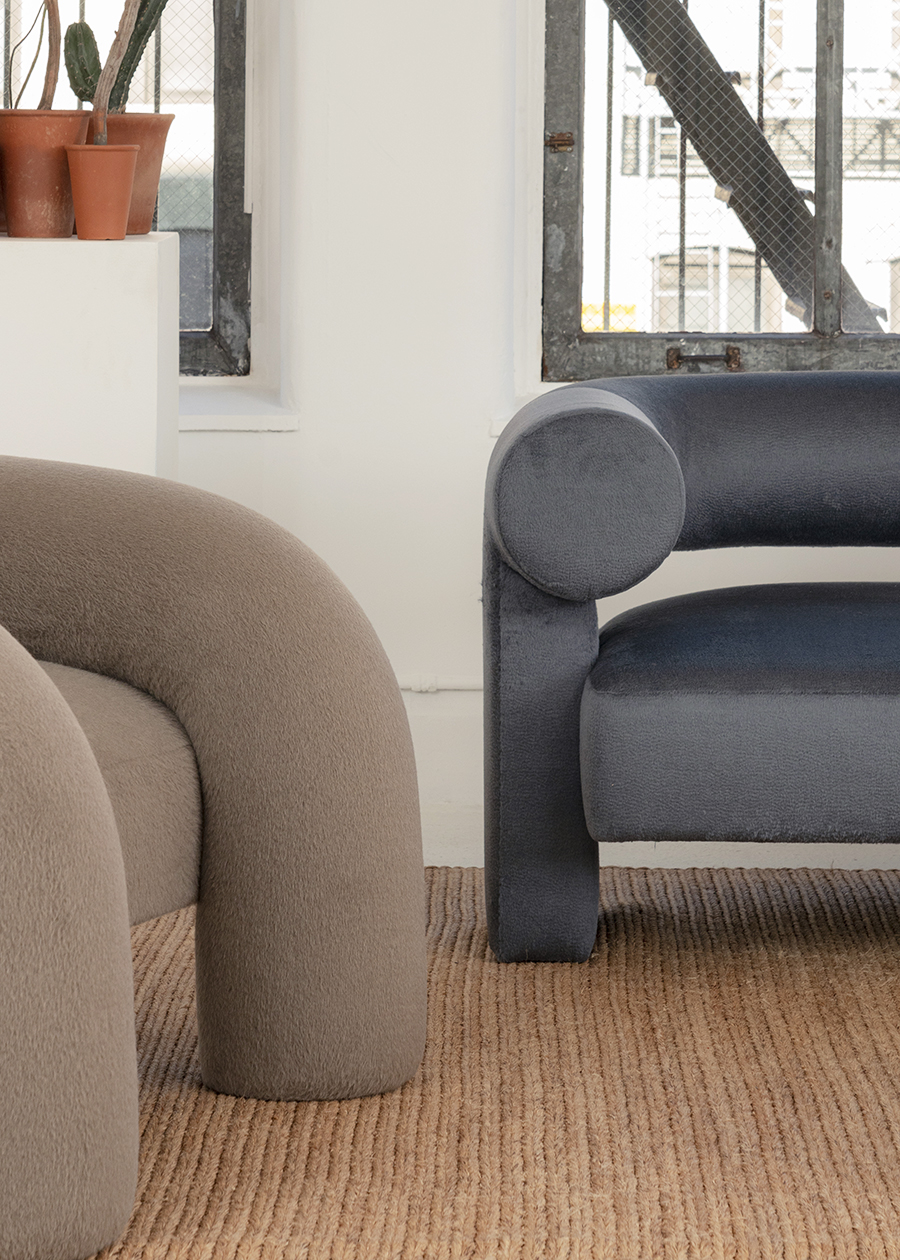 The materiality of the pieces is really strong. You can tell that these weren't made in a Brooklyn workshop.
Given the narrative, I wanted to stay true to regional materialities. I got in touch with an atelier outside of Mexico City that works with century-old stonecarvers, ancient woodworkers — all these craftsmen that are so representative of Central American lineage. We started working together to find local materialities. One of the materials I landed on — which is the basis for the side chair and side table — is called cantera. It's an igneous rock so it's sort of volcanic, but it almost looks manmade, like terrazzo. But it's been used for thousands of years because it's good for hand-carving. At the same time, I'm working a lot with lava rock, which is in abundance in Mexico. For fabrics, I'm working with Peruvian alpaca, which is a cashmere-like, super durable textile. You can get varying textures and hair lengths, so all of the upholstered pieces are different lengths of alpaca.
The coffee table is more of an engineering feat — it's stack laminated MDF that's been CNCed on a 3-axis just to get the planar forms, then glued up and hand-carved. The finish is a calcified lime plaster that you polish with soap and stones to seal it and give it some depth — it's a take on Tadelakt. I wanted a more delicate, parchment-like, interior finish just to bring some movement to the piece. And I didn't show anything in lava rock this time around, but that's a focal point going forward. I'll save that for a different collection.