08.10.20
Sarah Ellison's Lush New Collection Will Bring a Slice of Australian Sunshine to Your Living Room
Jean Royère, Mario Bellini, Roman Gods: The list of influences that inspired Byron Bay–based designer Sarah Ellison's SOL Collection runs long. But despite the eclectic mood board, one element reigns supreme among Ellison's arsenal of inspirations — the sun. And no wonder: Posted up in surfer's paradise Byron Bay, Ellison has a front-row seat to the sun-worshipping culture that manifests in her new collection (and, frankly, the last three as well). Earthy tones, natural materials, and playful, bulbous forms define an offering — including faux shearling and rust-colored velvet sofas, glass-topped tables with squat limestone legs, a round-edged dining set in polished oak and frilled ceramic vases and table lamps that nod to French master Royère — that looks just as inviting in a ray-drenched sitting room as it does under the electric glow of a design gallery.
We caught up with the fashion-turned-furniture designer over email to chat about the inspiration behind her new collection, keeping her designs kid-friendly, and why she decided to pack up her life in Sydney for the creative community of Byron Bay. And if you're keen to channel Ellison's Aussie vibe at home, (most of) the collection is now available for pre-order over at Hawkins New York.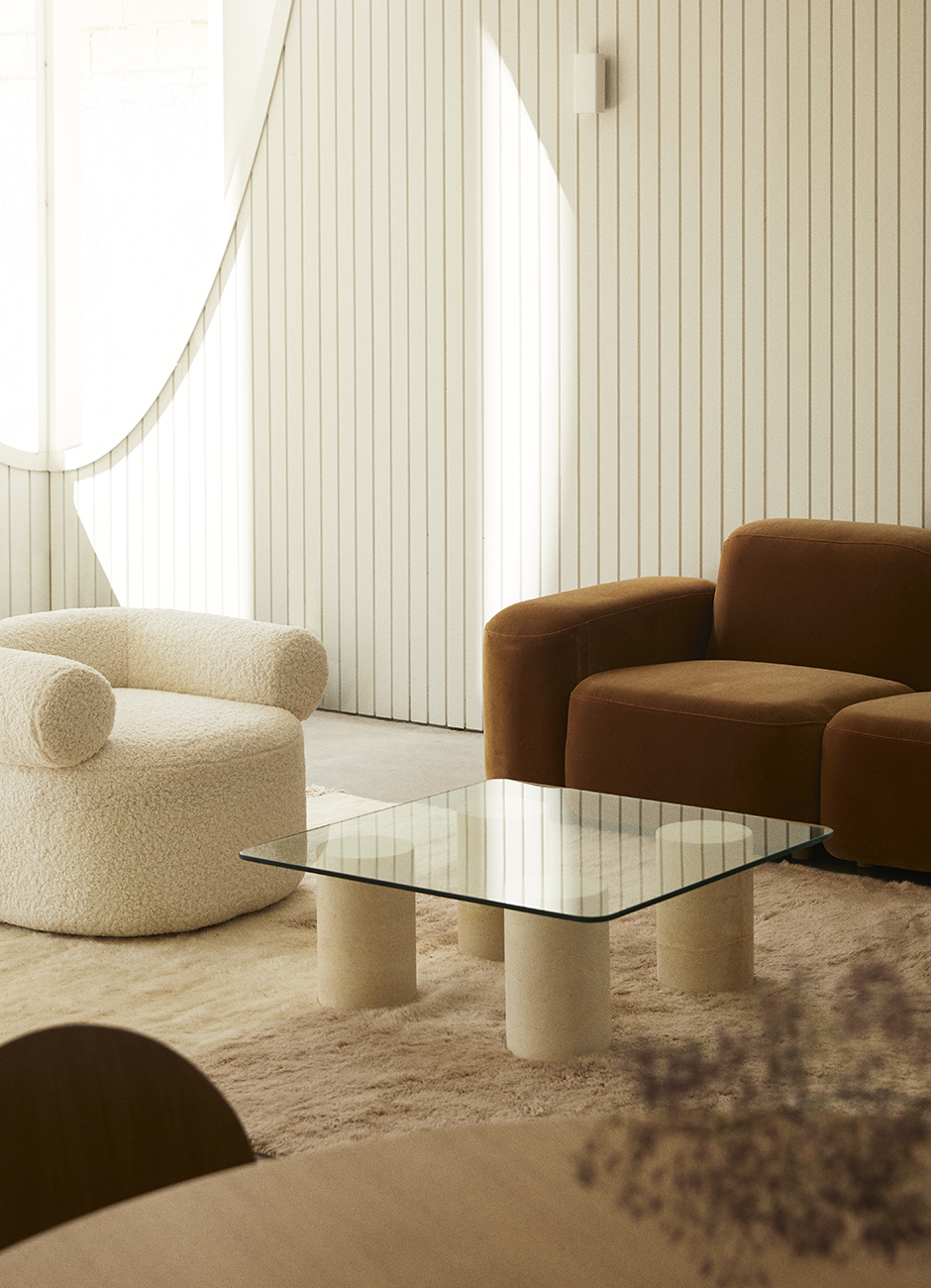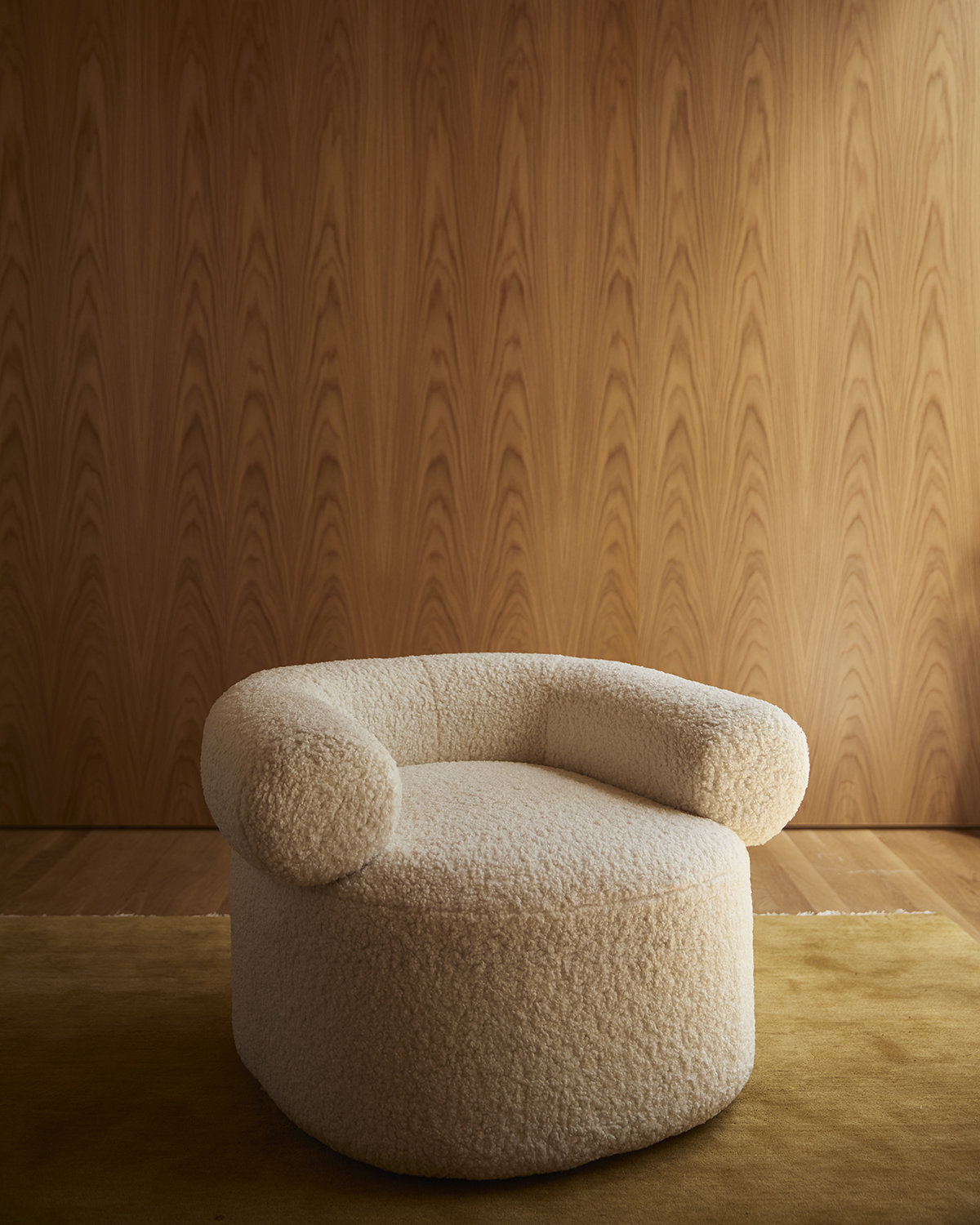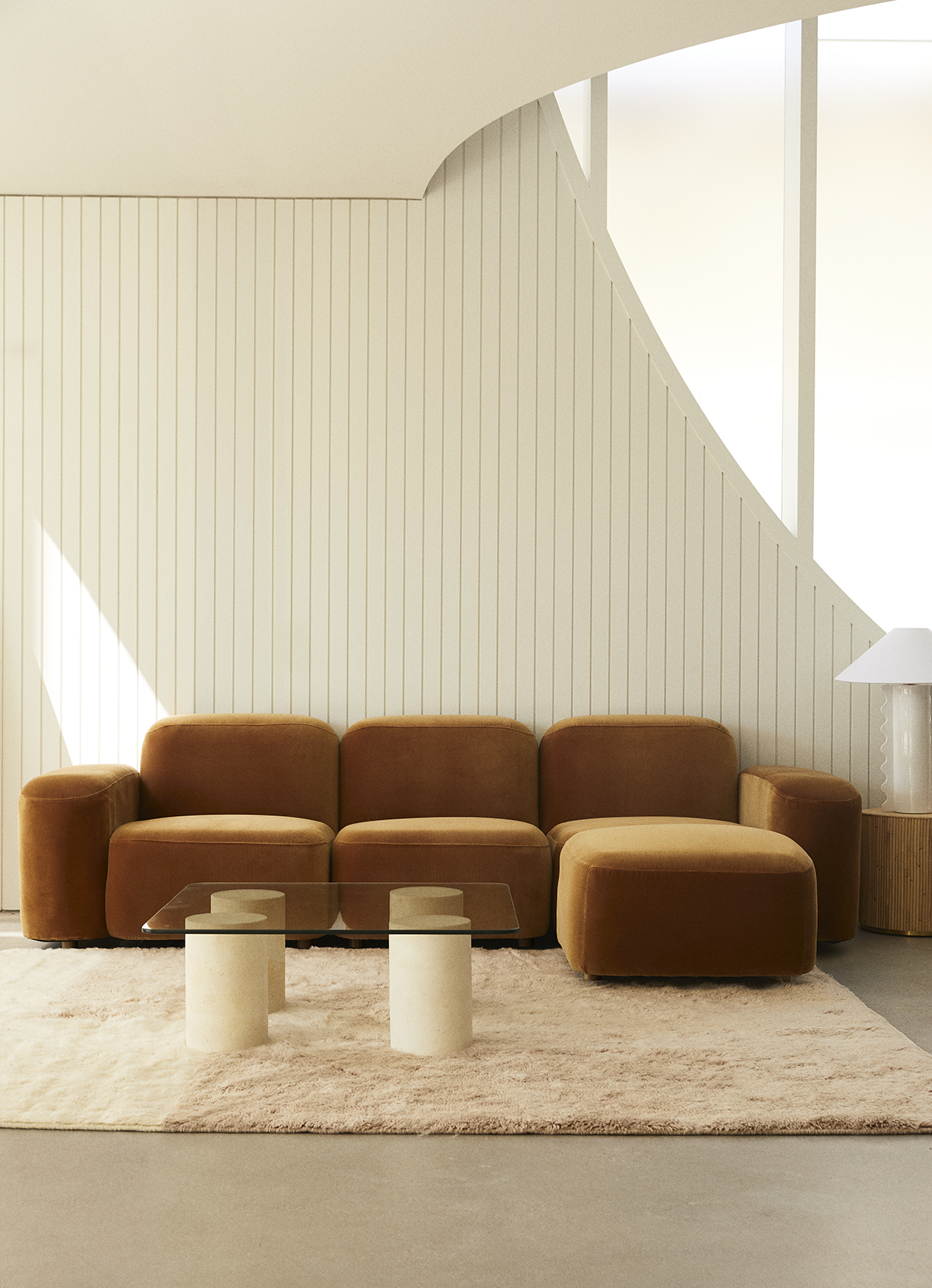 You began your career in the fashion industry, what made you transition to design? Can you tell us about your career trajectory?
Quite honestly, I found the fashion industry hard work. The pace of interiors felt more in line with the kind of career I wanted and the people I wanted to be surrounded with. I was also working as a Visual Merchandiser in an interiors store so it was more of a side step in my career moving to interiors. From here I became a stylist's assistant and really enjoyed that for about two years. This was a stepping stone to landing my role as Style Editor of the Aussie Interiors mag Real Living. After seven years at Real Living and the birth of my son, I felt the need to create something that was all my own and that's when SE Studio was born.
Can you tell us a bit about the concept behind the SOL collection?
SOL is a collection of sculptural pieces, designed with the intention to show how interior design can be minimal but with high impact creating a simple, warm and calming furniture collection. I used a combination of materials to create tension between the pieces, showing that you don't need a lot of pieces to create a beautiful space, you just need the right pieces. I was interested in experimenting with exaggerated silhouettes and was inspired by Mario Bellini's Il Colonnato dining tables.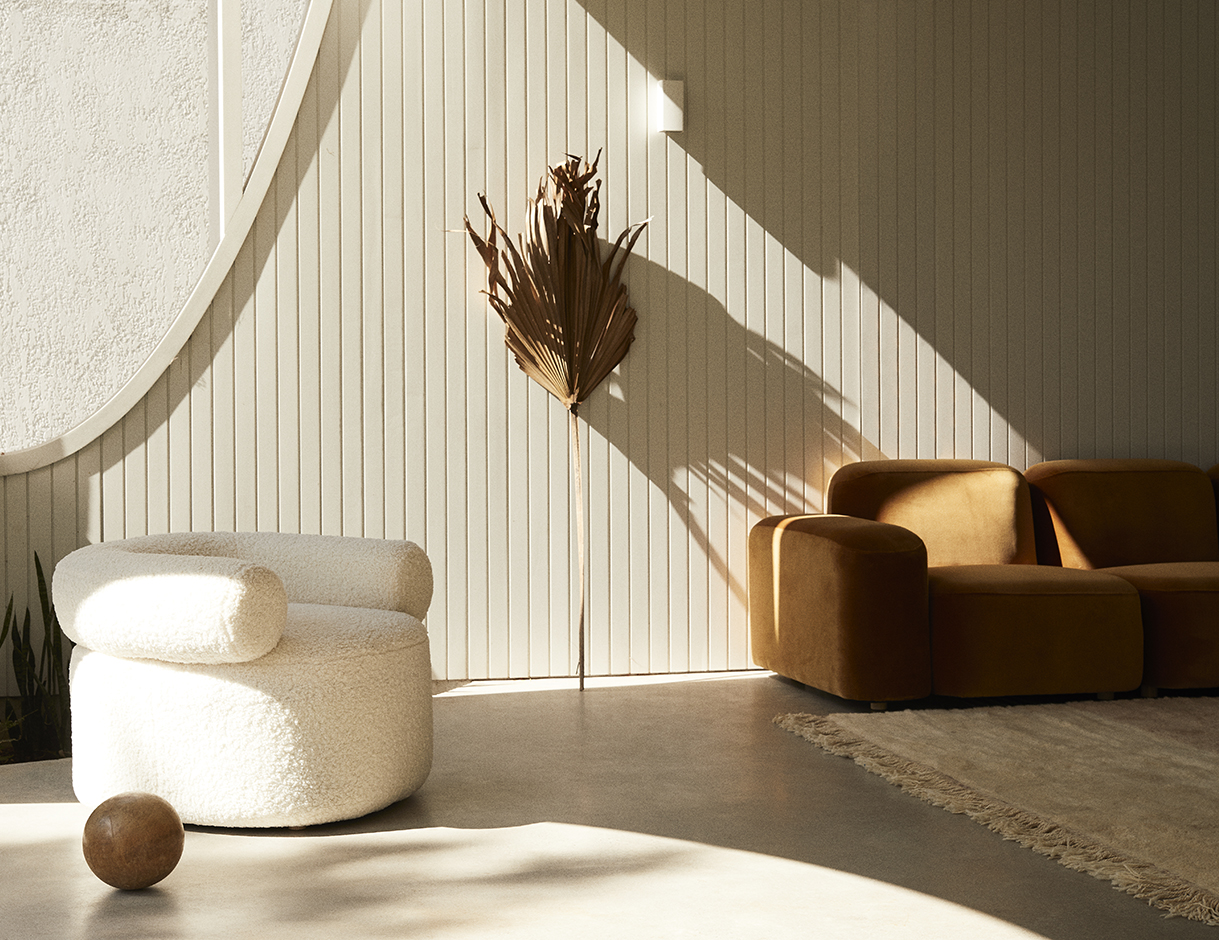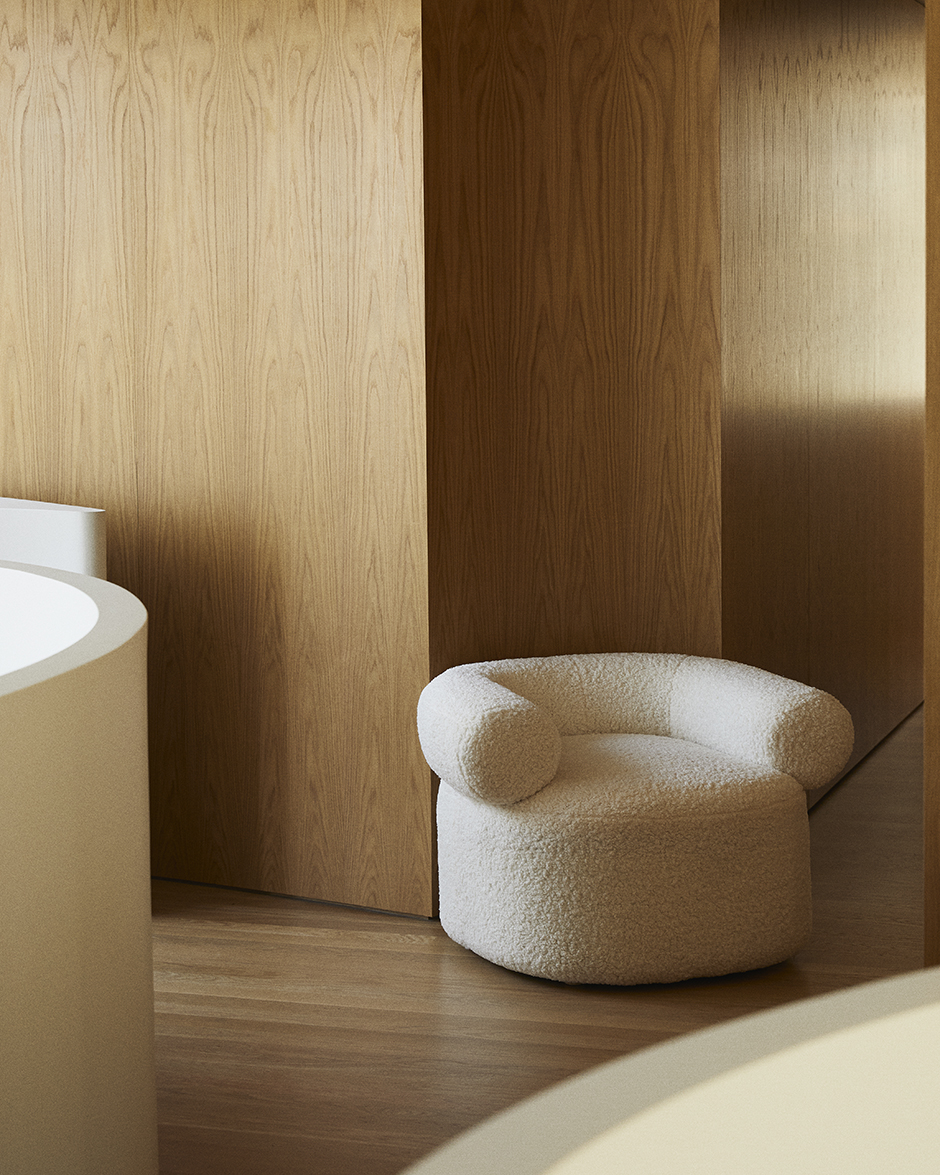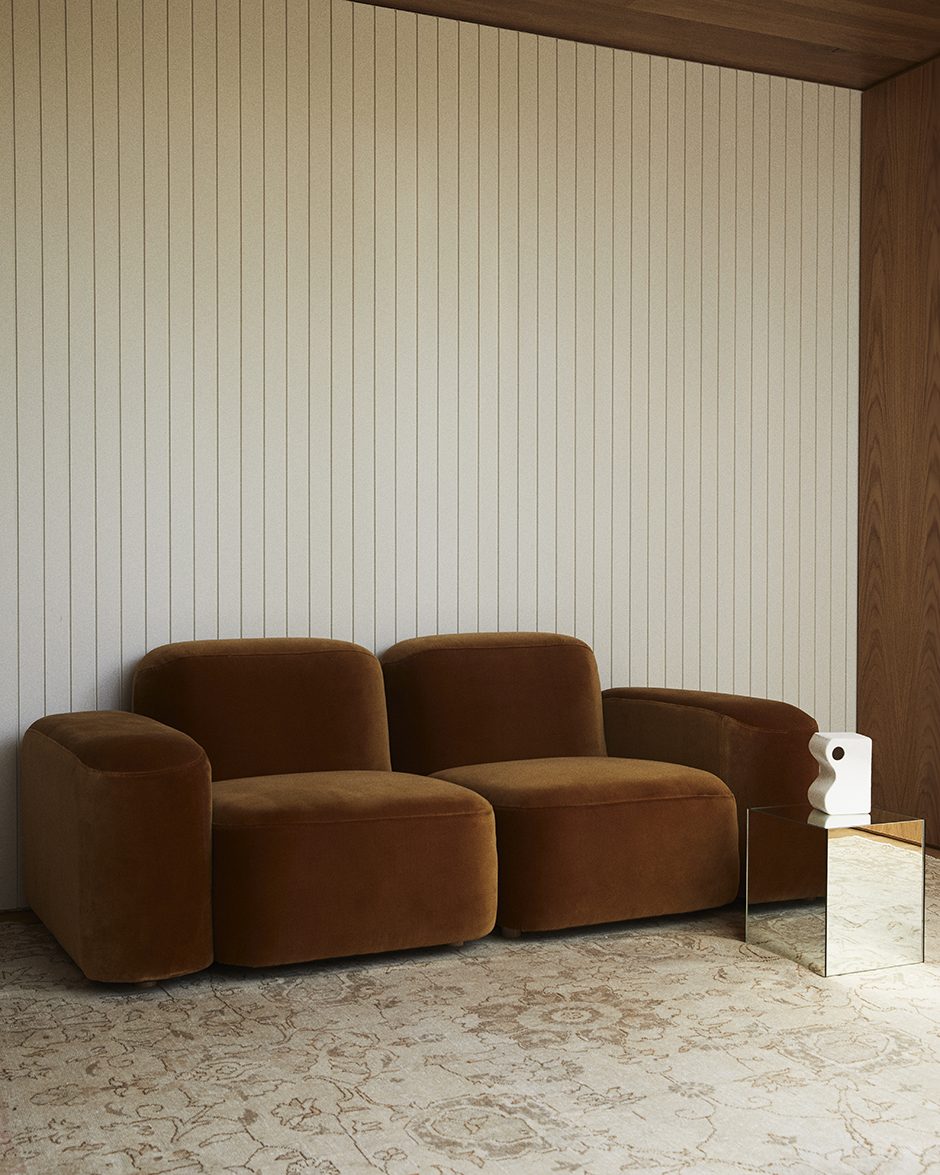 Where did the name SOL come from?
SOL is the Latin and scientific name for the sun. It signifies the Gods and Goddesses of the sun.
This collection has a really earthy, welcoming material palette — faux shearling, linen, oak, limestone, ceramics — what was the decision making process behind those choices? 
One of my favorite parts of the design process is working out which materials I want to work with. It's often a starting point for a design. I like to use a mix of elements that will all play off of one another when placed together in a room. I'm inspired by nature and the beach mainly, which is textural, earthy and natural.
What's your starting point when approaching a new collection? Walk us through your process.  
The process usually begins with an old school mood board of inspiration. I print out all of the inspiration images I have bookmarked and saved over the last year, photos I have taken. Material swatches I want to work with, materials I want to combine with one another. Themes I want to combine. Lots of sketches of ideas I've been jotting down but not fully developed. Then I start pulling them all together, working out what can work, what's possible, which pieces could look good with one another. Then I start to develop each individual piece in Sketch-Up. From here I create a rationale for each piece and go back to my team and get some feedback and we decide together what we love as a collection.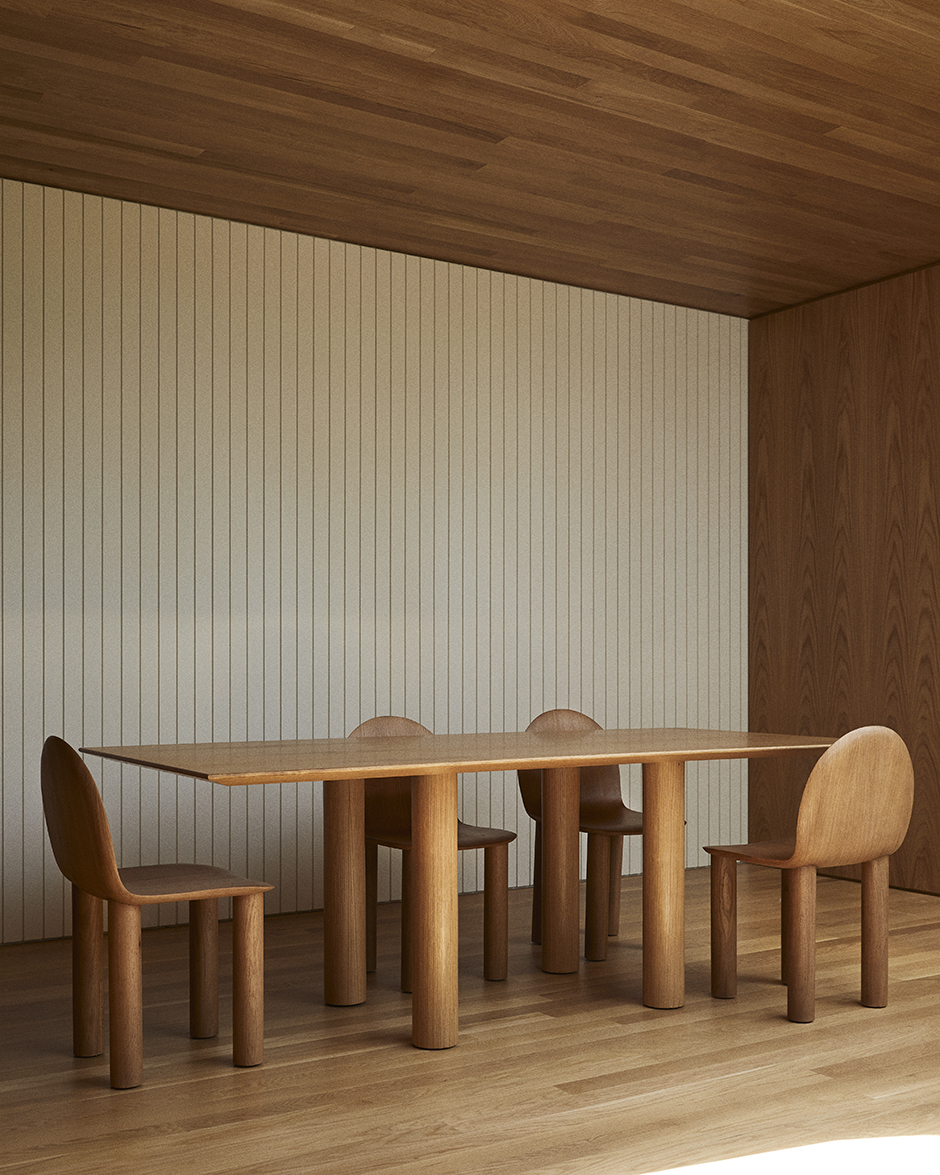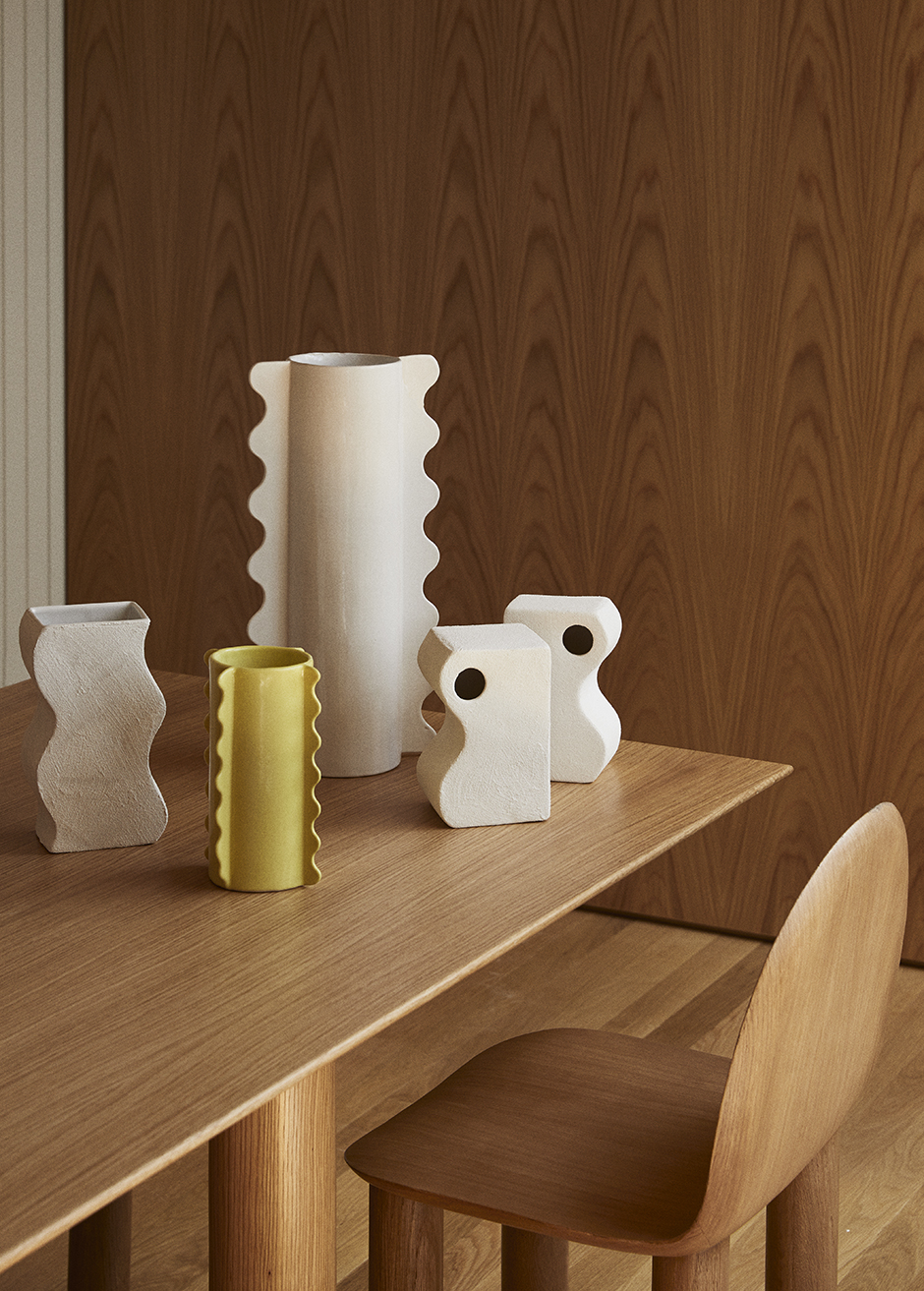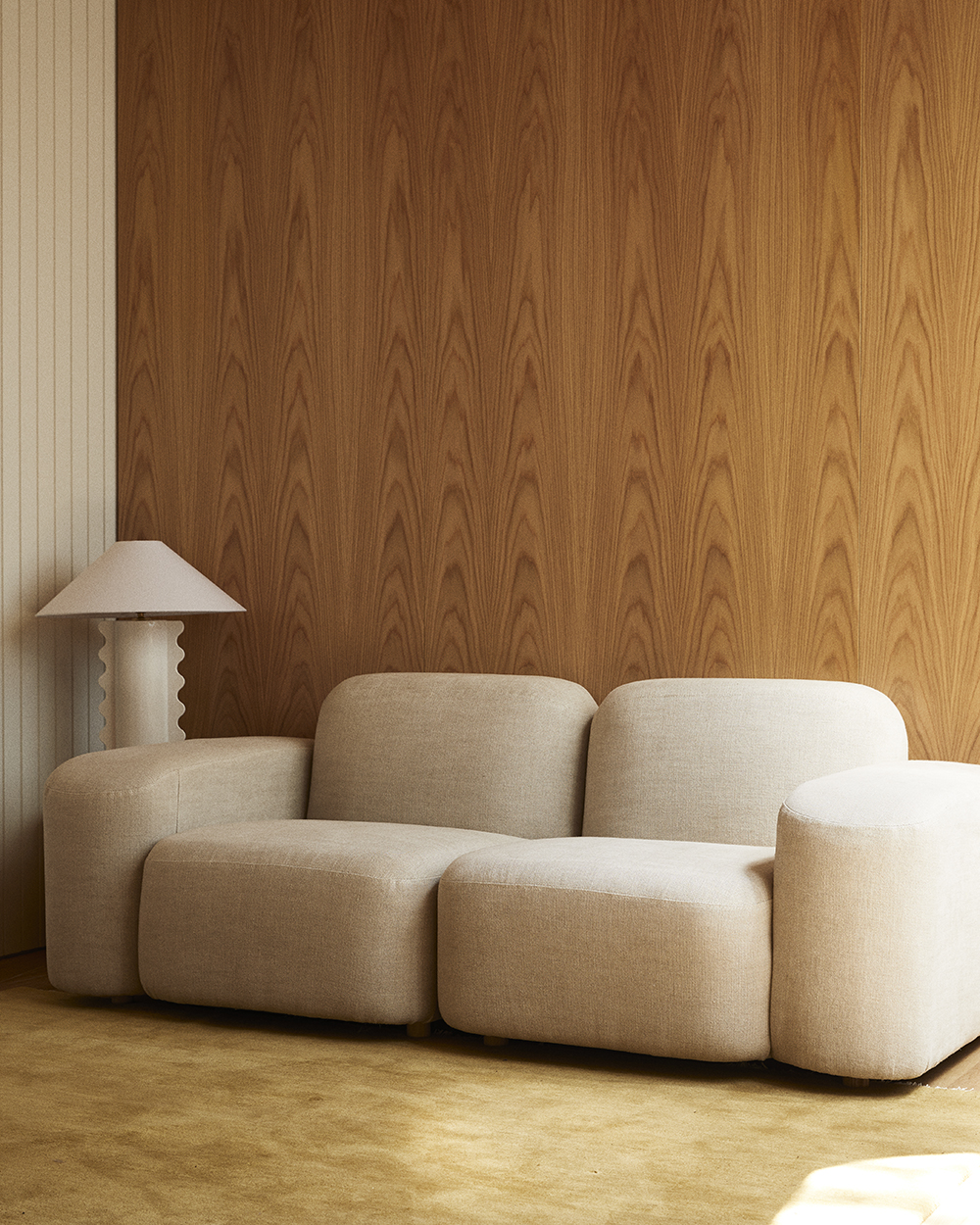 Byron Bay infamously has a sunny, laid back surf culture. Would you say that comes out in your design practice? How so?
I'm definitely inspired by my own lifestyle in my designs. I like things to feel casual and not too precious but at the same time luxe and of high quality. I'm interested in natural materials and a sense of simplicity that comes hand in hand with coastal surf culture. I'm a mum so I'm designing for me and the things I would like to see in my own home so there is always a practical element too.
What's it like working and living in Byron Bay? What's the design scene like there?
We made the move from Sydney to Byron two years ago. It was hard leaving a vibrant city like Sydney but we have replaced the things we loved there with a slower pace of life with the less daily grind and a great work-life balance and lifestyle.  One of the reasons I was excited to make the move was because I knew that Byron was a highly creative area full of artists, designers, makers and craftspeople. A lot of creative people come here so they can create affordably as it's almost impossible starting out in Sydney and Melbourne to be able to afford the costs of running a creative studio. Also with the power of social media, brands are realizing they don't need to be in the big cities to be able to run a business and the work-life balance here is so much better. I like being closer to nature too.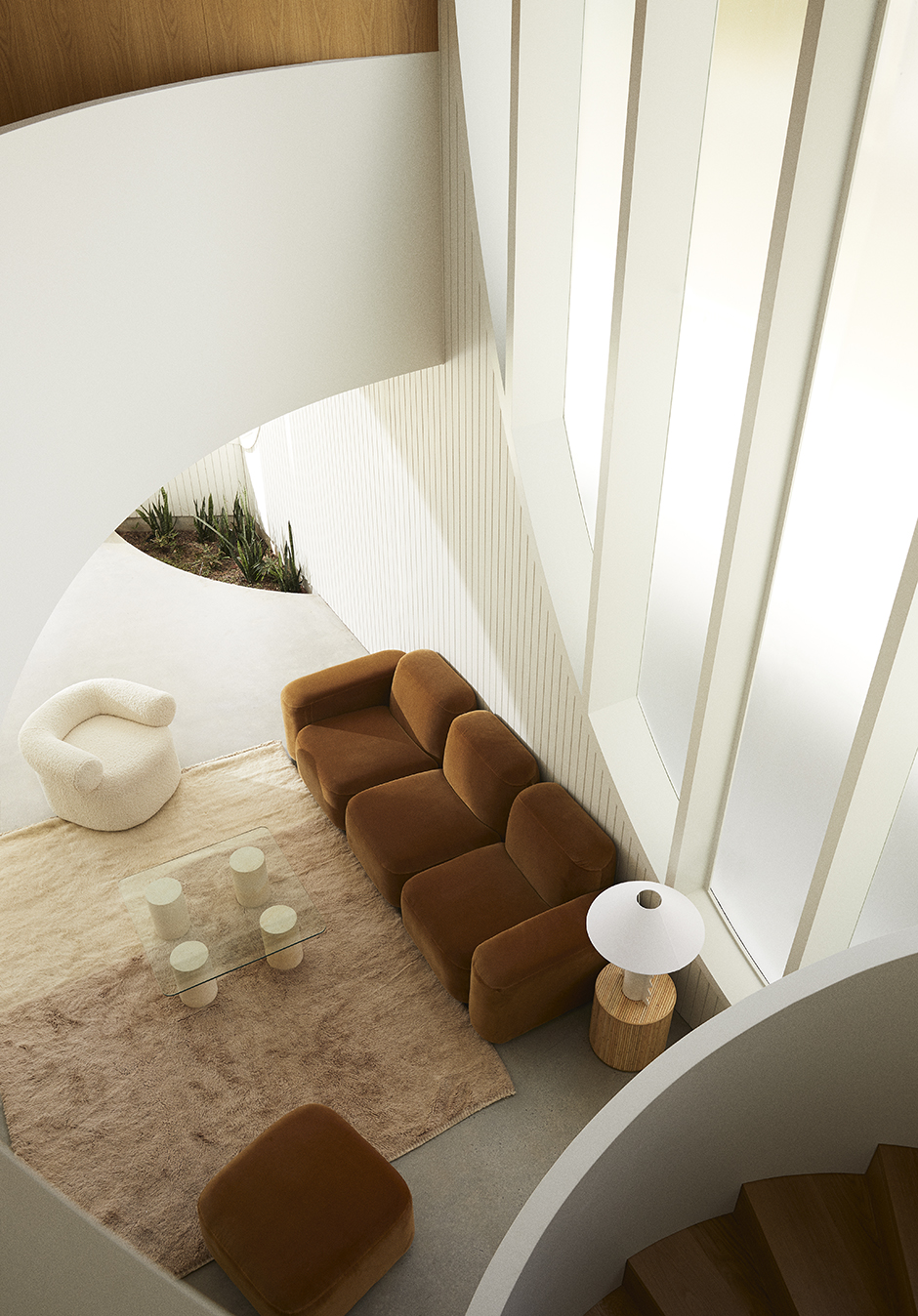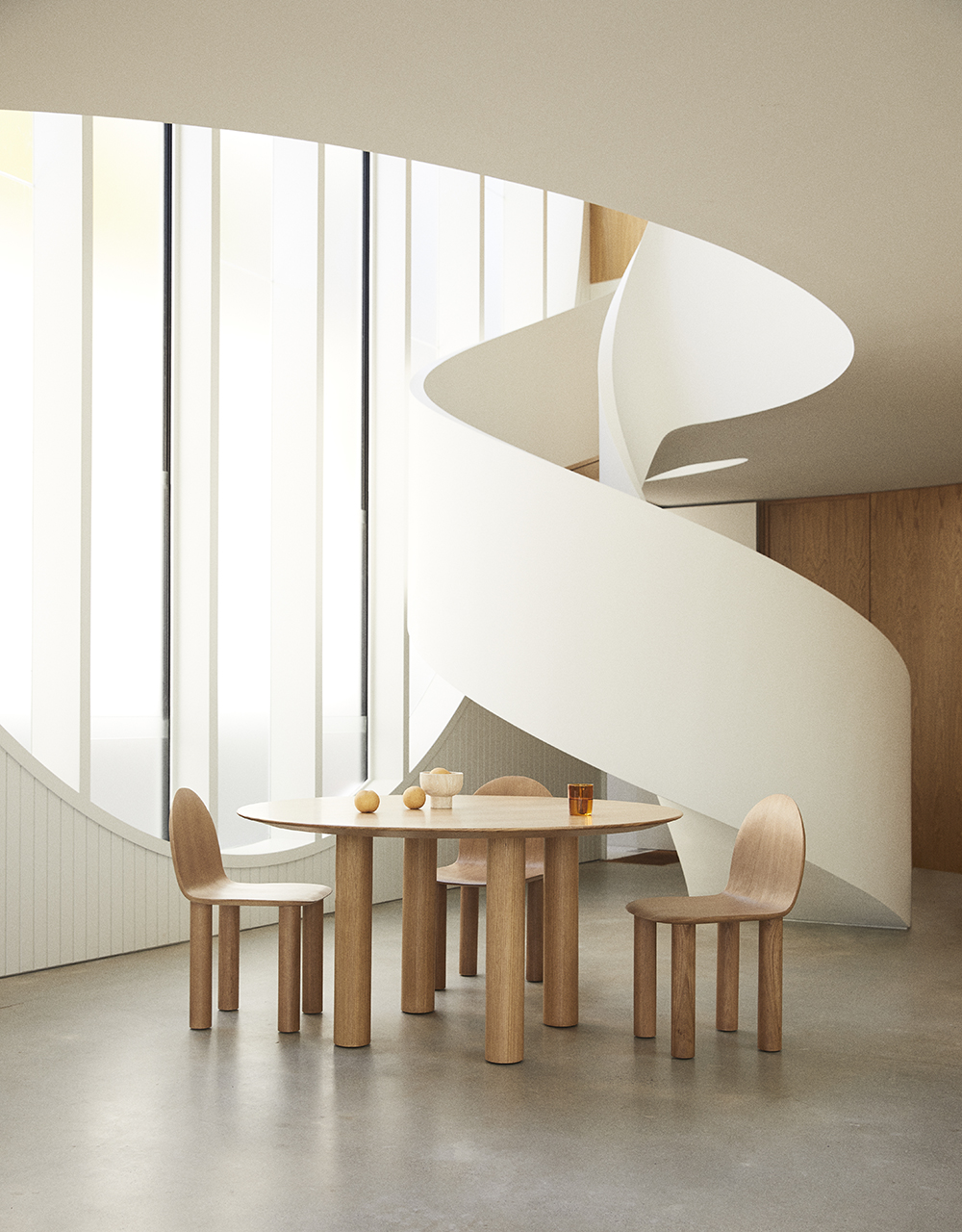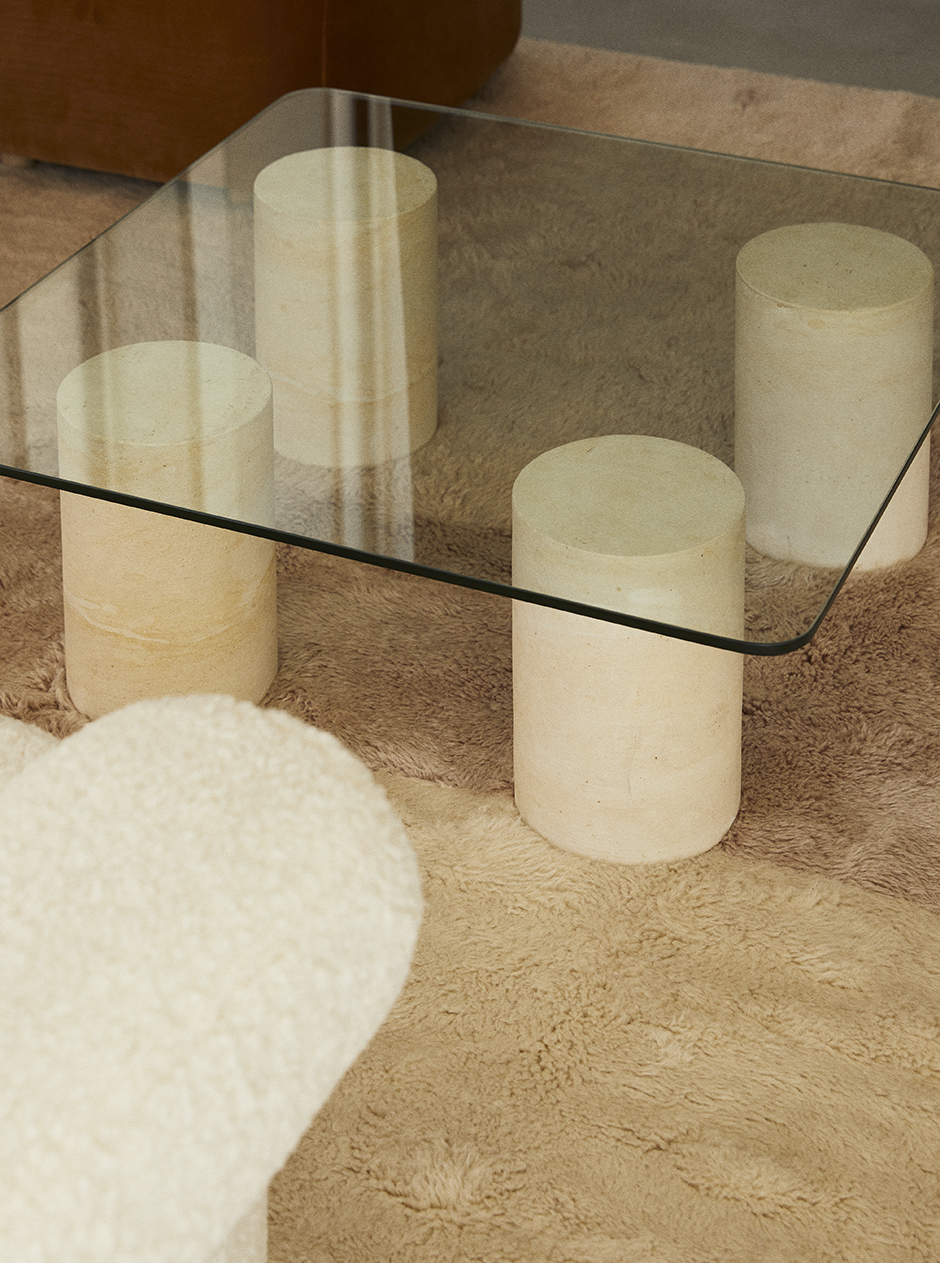 I'm interested to know a bit about these photos. Whose epic house was the collection photographed in?!
The house was designed by Sydney architects Chen Chow Little. Shoot locations are a huge deal for us, and what drew me to this particular house was the arches first but also the circular shape of the building. There were no straight walls, which made for a lot of interesting angles to shoot product in. The Sol Collection is fluid and rounded in its silhouettes so there was definitely an echo of my design aesthetic in the building. It also had incredible natural light from every angle (due to its circular design) so we were able to convey that sense of "summer" and play with light throughout the day.
One of the most interesting details in the collection is how, in the dining chair, the front legs are of a piece with the silhouette and the back legs are set off a bit. Is there something specific that inspired that detail?
It's interesting because initially I had designed the chair with aesthetics front of mind and the legs all sat neatly underneath the base of the seat. I was aware that this design may not be as stable as we would like, but was eager to sample it anyway. It was safe but commercially it needed to be foolproof to prevent tipping so we moved the legs further back. Although I want my designs to be interesting and directional I also want them to be practical. Sometimes a good test for a product for us is to wonder how my six year old would treat it and how it would withstand family life – often then we have our answer.