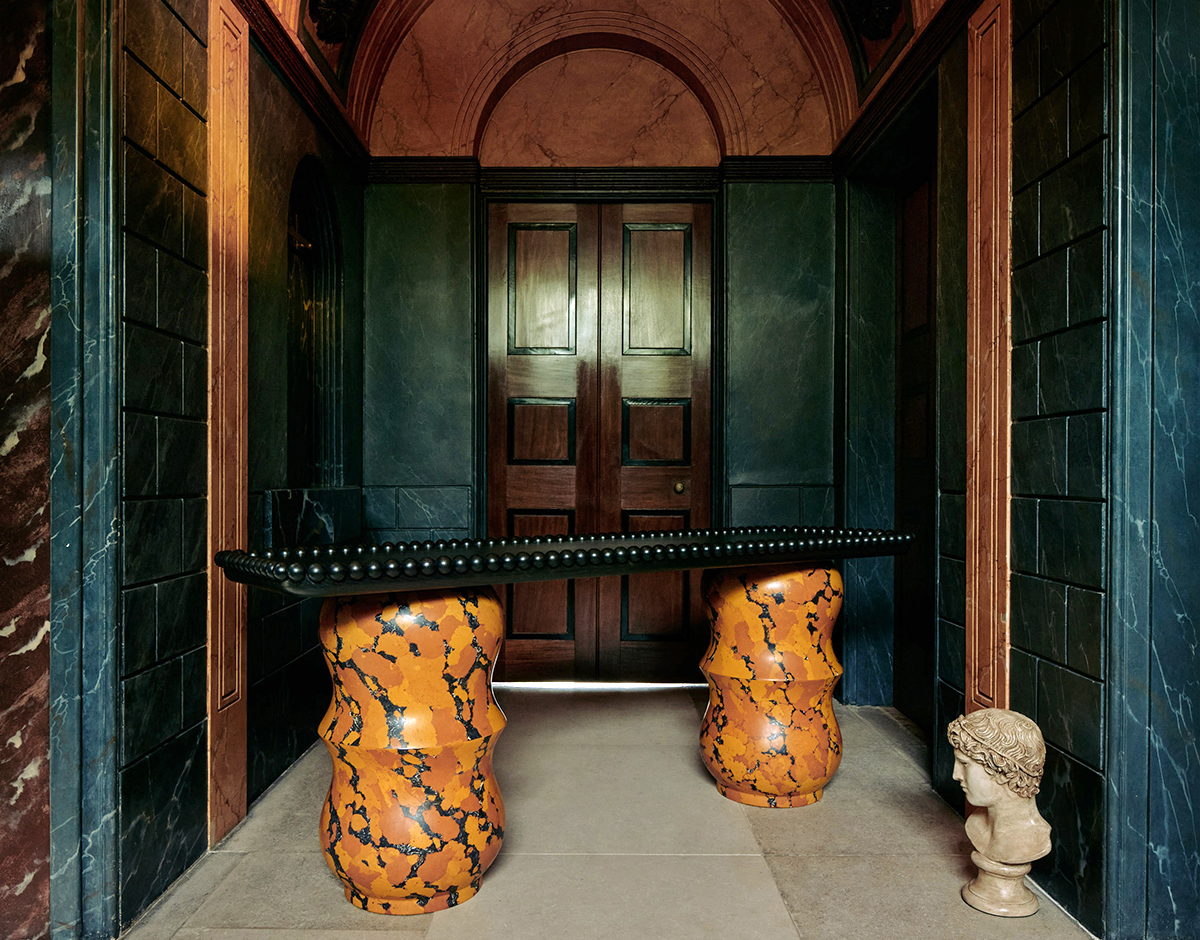 A weekly Saturday recap to share with you our favorite links, discoveries, exhibitions, and more from the past seven days. This week: two European store interiors with epic dressing rooms, a new-ish tequila brand with a Chanel-inspired bottle, the prettiest watering can we've seen in a good while, and a highly ornamented new furniture line shot in an 1800s manor (above).
Interiors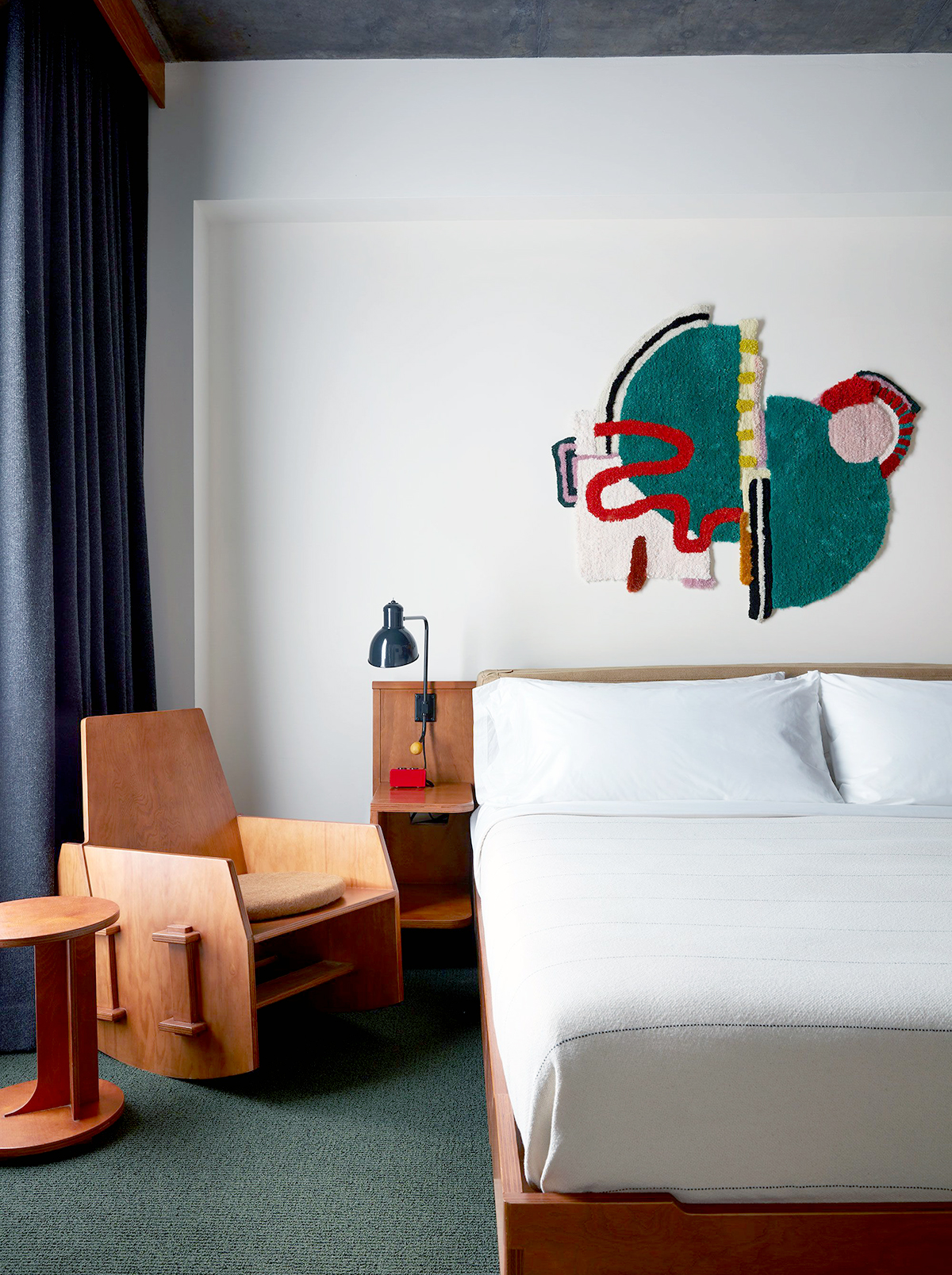 The latest Ace Hotel is opening this spring in New York, but it won't be in a newly gentrified hipster enclave as per usual — this 287-room outpost is in the heart of bougie, parent-filled Boerum Hill, Brooklyn (which I can say confidently because I live in the next neighborhood over). It's an area that's not short on good taste, though, so the hotel's pretty Roman & Williams–designed interiors — which include a unique artwork in every room and the amazing custom rocking chair shown above — will fit right in. Photo by Stephen Kent Johnson.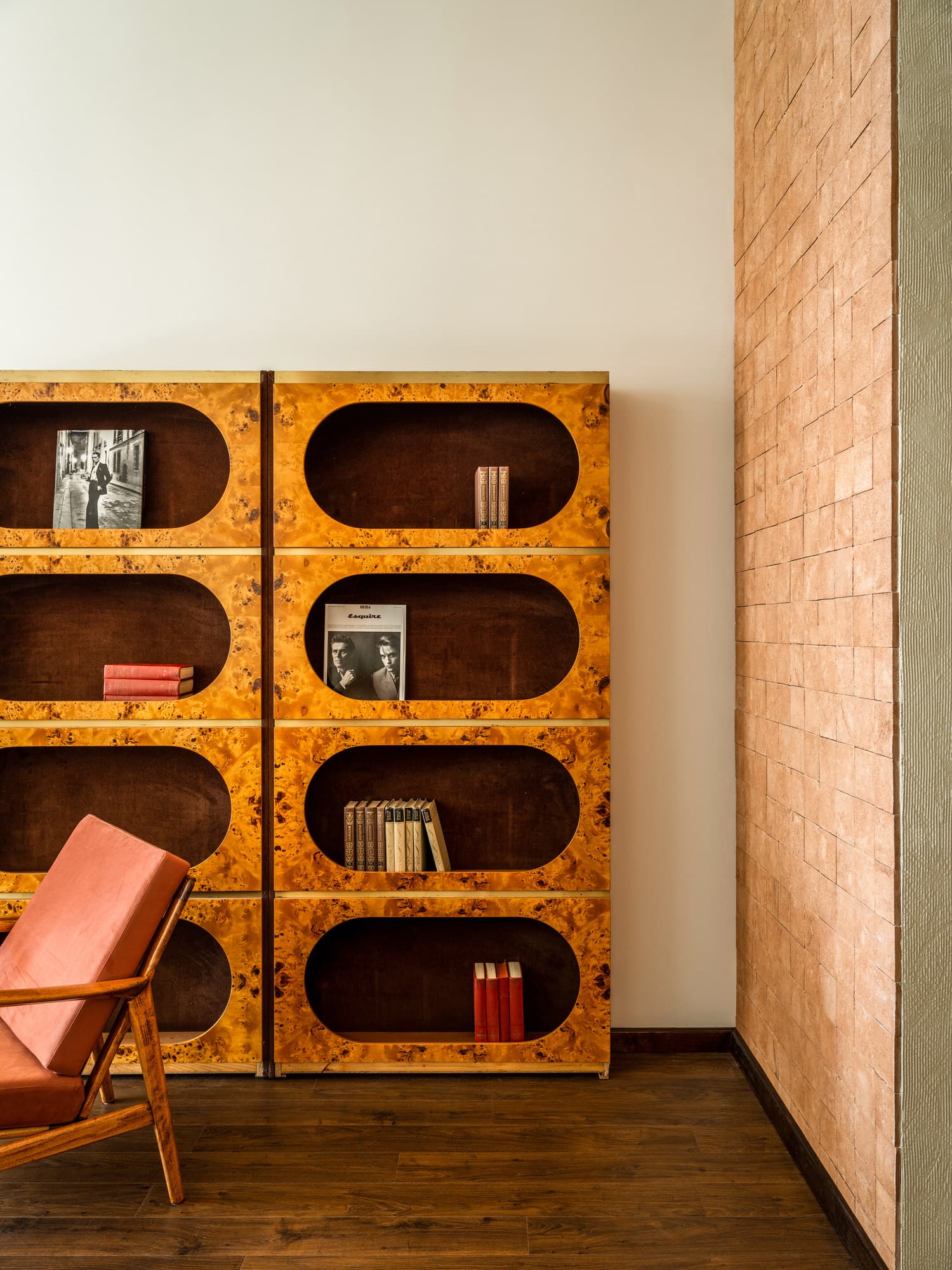 This apartment in Russia by Tim Veresnovsky has plenty of vibey aesthetic moments — checkerboard pendant lamp, cheetah-print carpets, terracotta-tiled archways — but our favorite is this burlwood display unit with pill-shaped peek-a-boo shelves, which is screaming out for a killer object collection.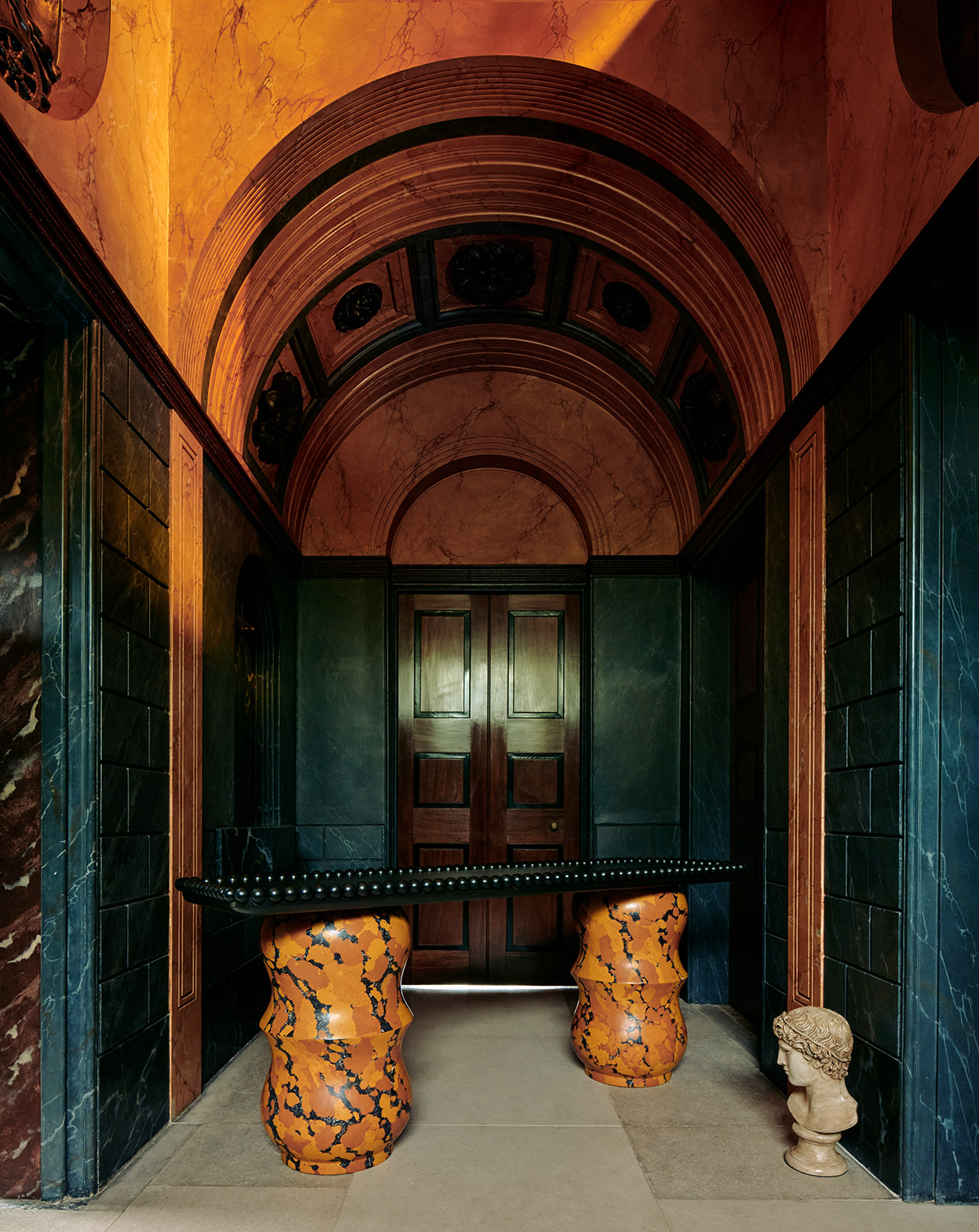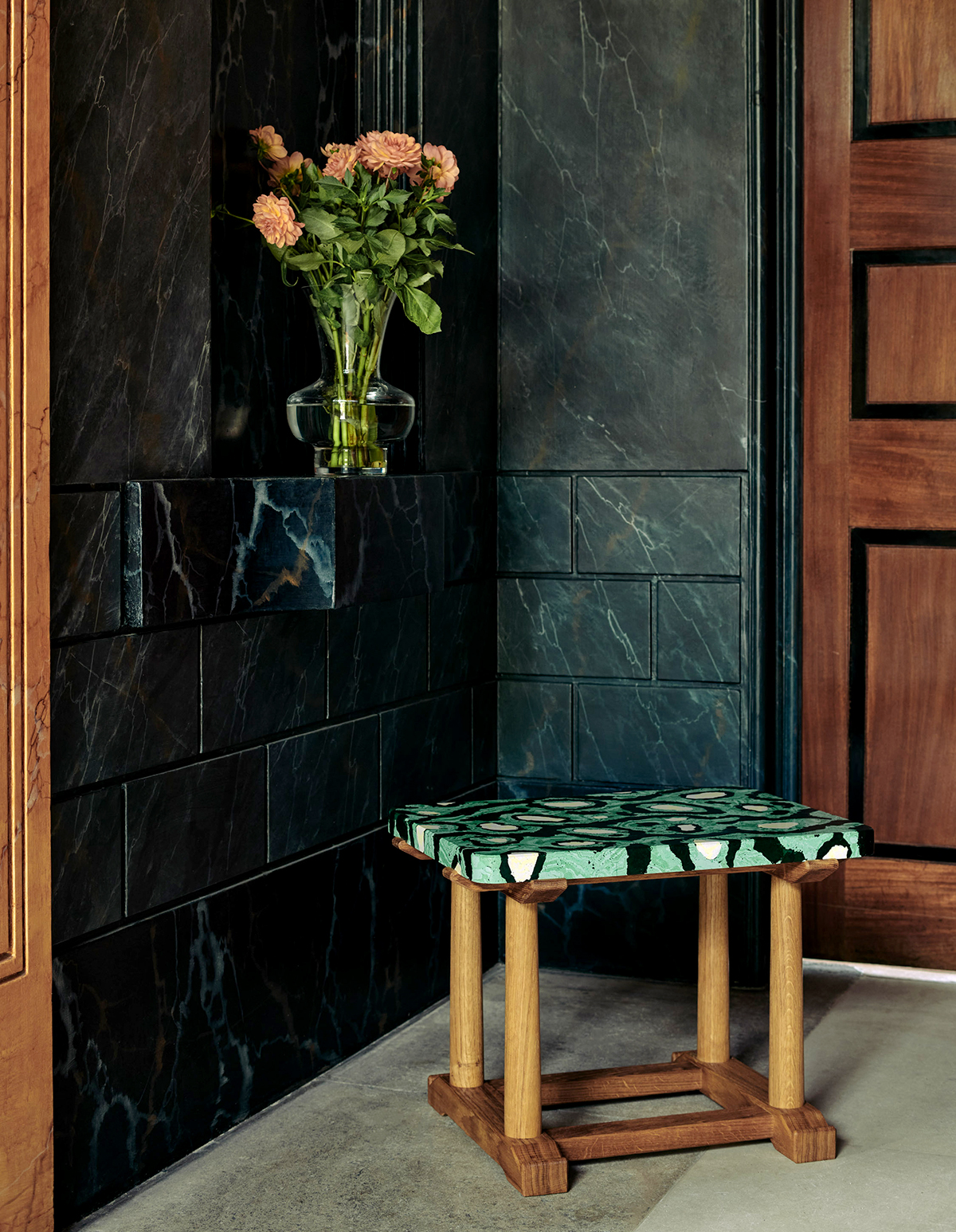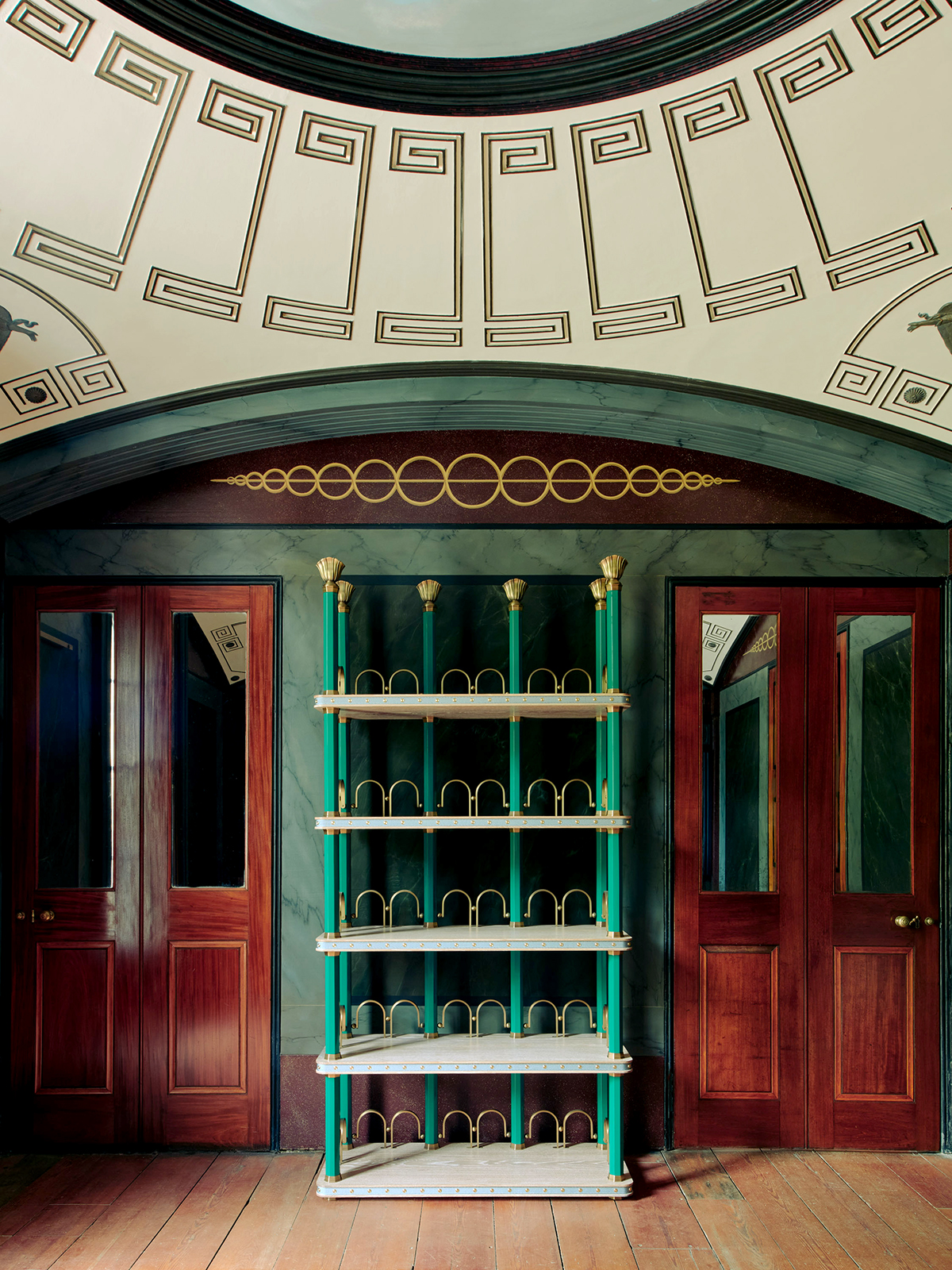 The latest collection from And Objects — the London studio founded by Martin Brudnizki and Nicholas Jeanes — features 14 pieces that are dripping in decorative flourishes, like fluted and bird-shaped finials, brass ornaments, scagliola finishes, and in the case of one lamp, giant crystal obelisks. So of course they photographed it in an amazing newly restored English manor built in 1804. Photos by Michael Sinclair.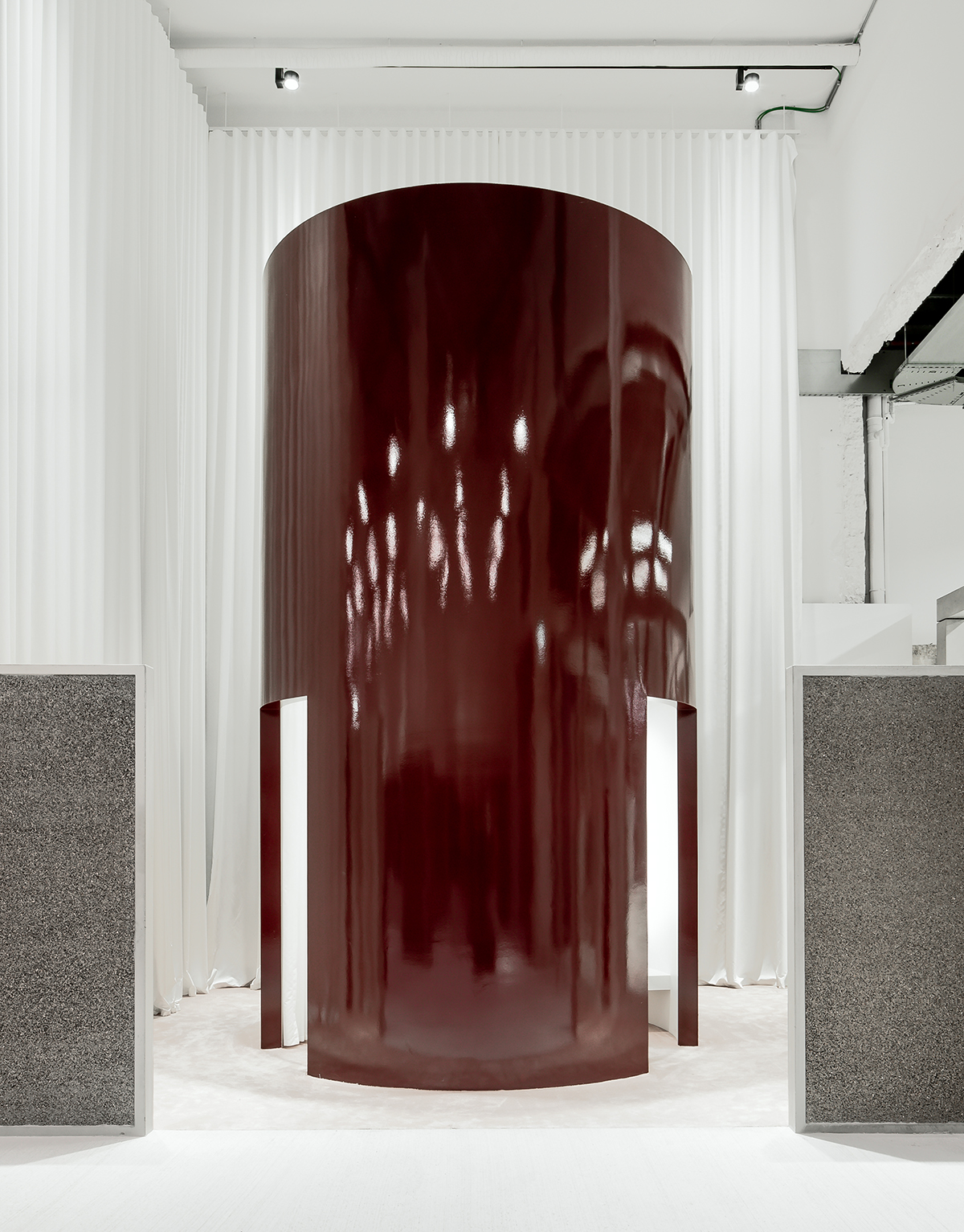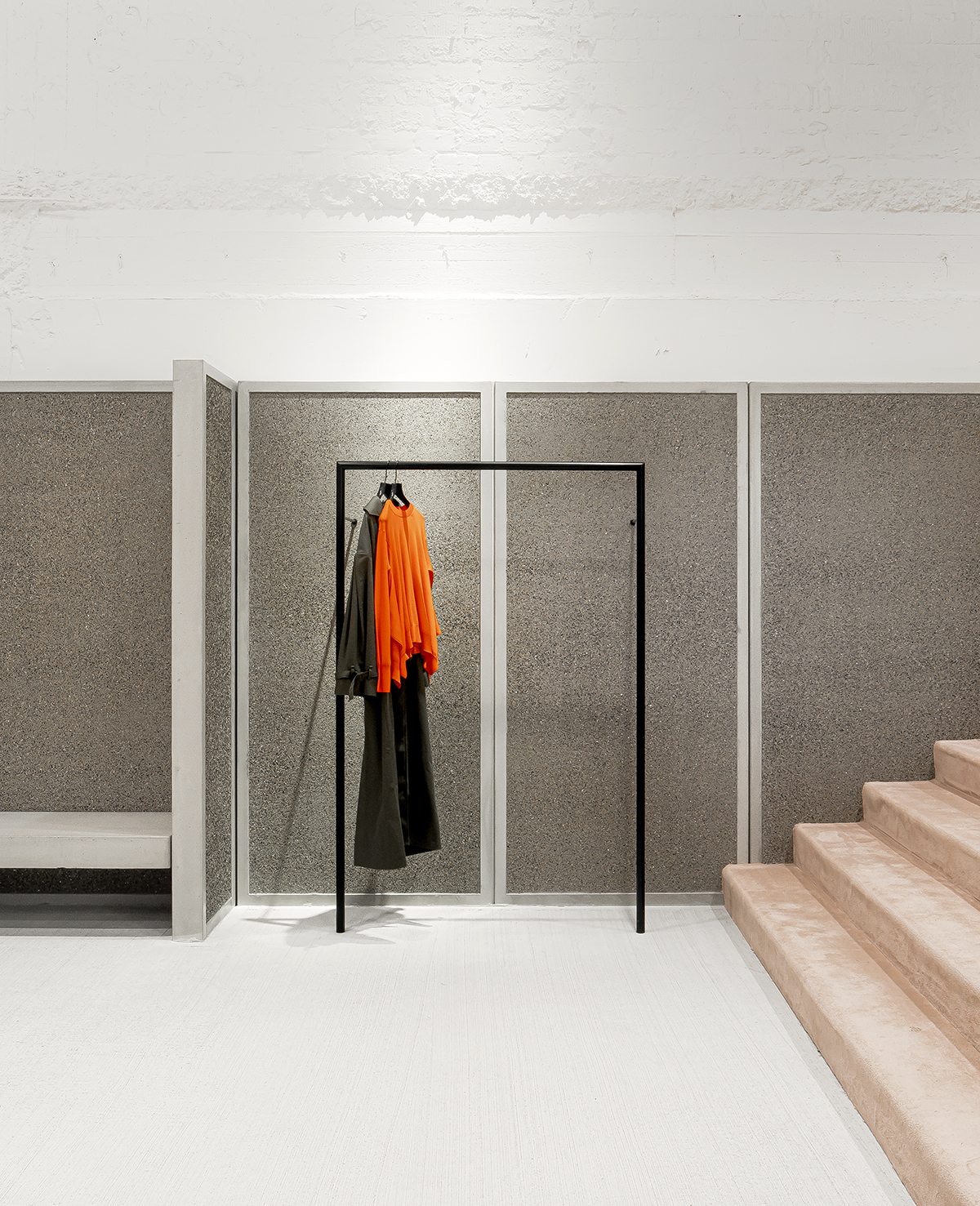 On the absolute opposite end of the spectrum is this new retail interior by Belgian firm Atelier Dialect, for Antwerp's Renaissance store. It's one of the most minimal projects we've seen in awhile, save maybe for its centerpiece: a burgundy-lacquered column which contains the store's dressing rooms. Photos by Jeroen Verrecht.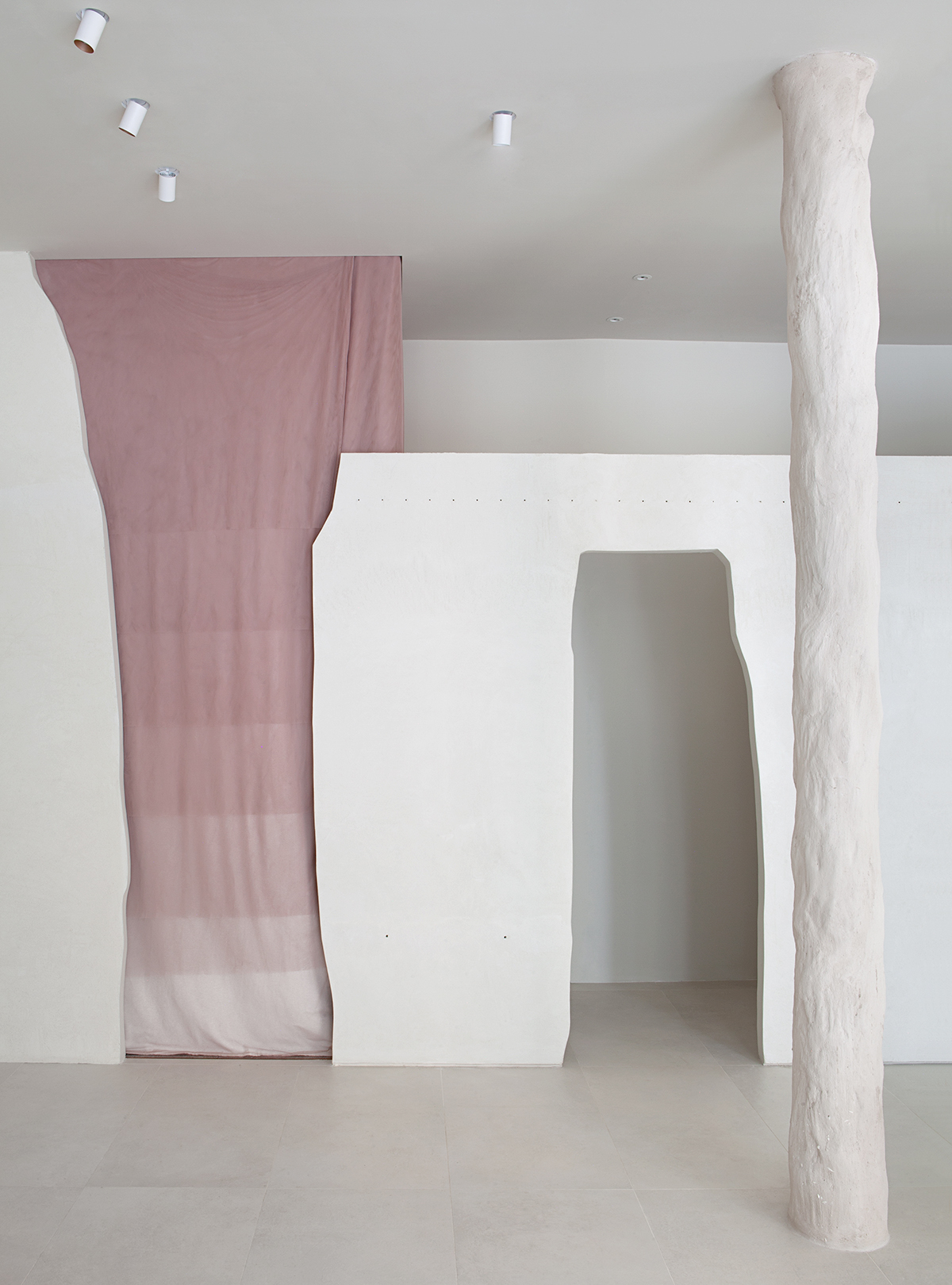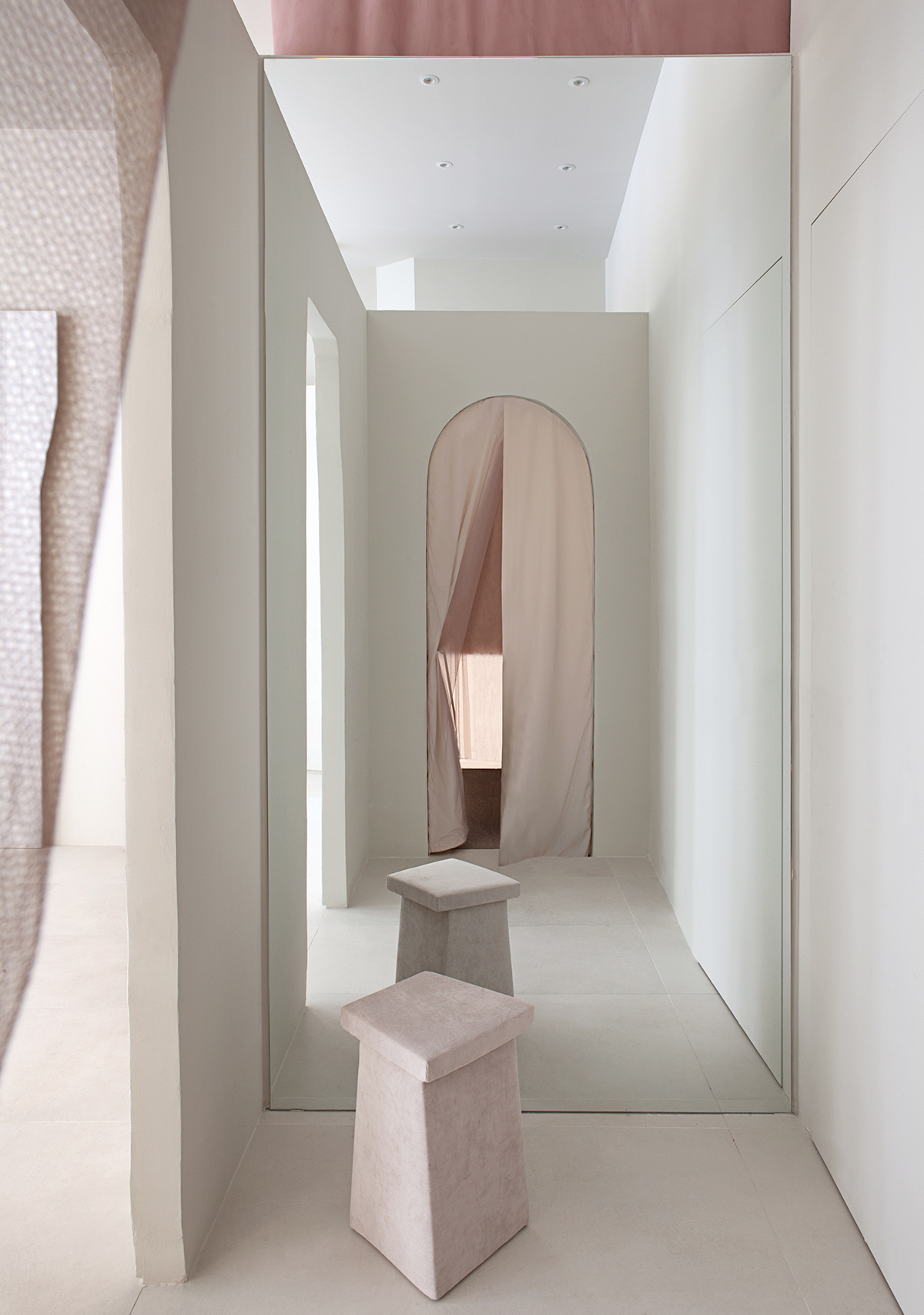 A new lingerie-store interior by Madrid designers Ciszak Dalmas and Matteo Ferrari also has a standout dressing room, this one featuring pink curtains made from overlapping layers of tulle. We're mostly obsessed, though, with its ghost-tree columns, whose lumpy plaster finishes echo the irregular shapes that recur throughout the space.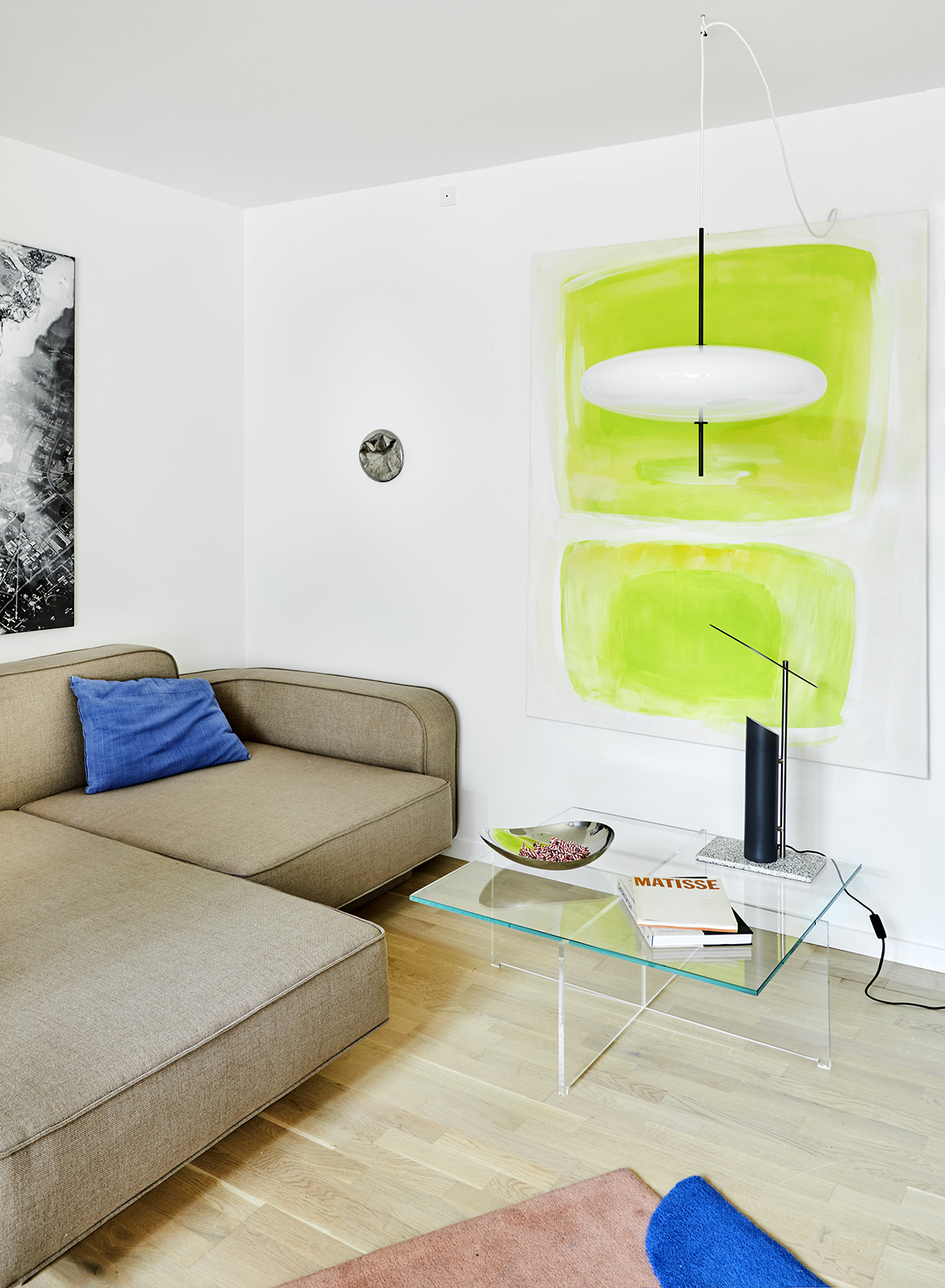 The Danish design studio Lumière Bricoleur primarily makes lights and lighting installations from recycled copper and salvaged objects. But they've also designed several interiors which they sent our way, this being one of our favorite moments. We now never want to have another living room without a neon-green artwork.
Discoveries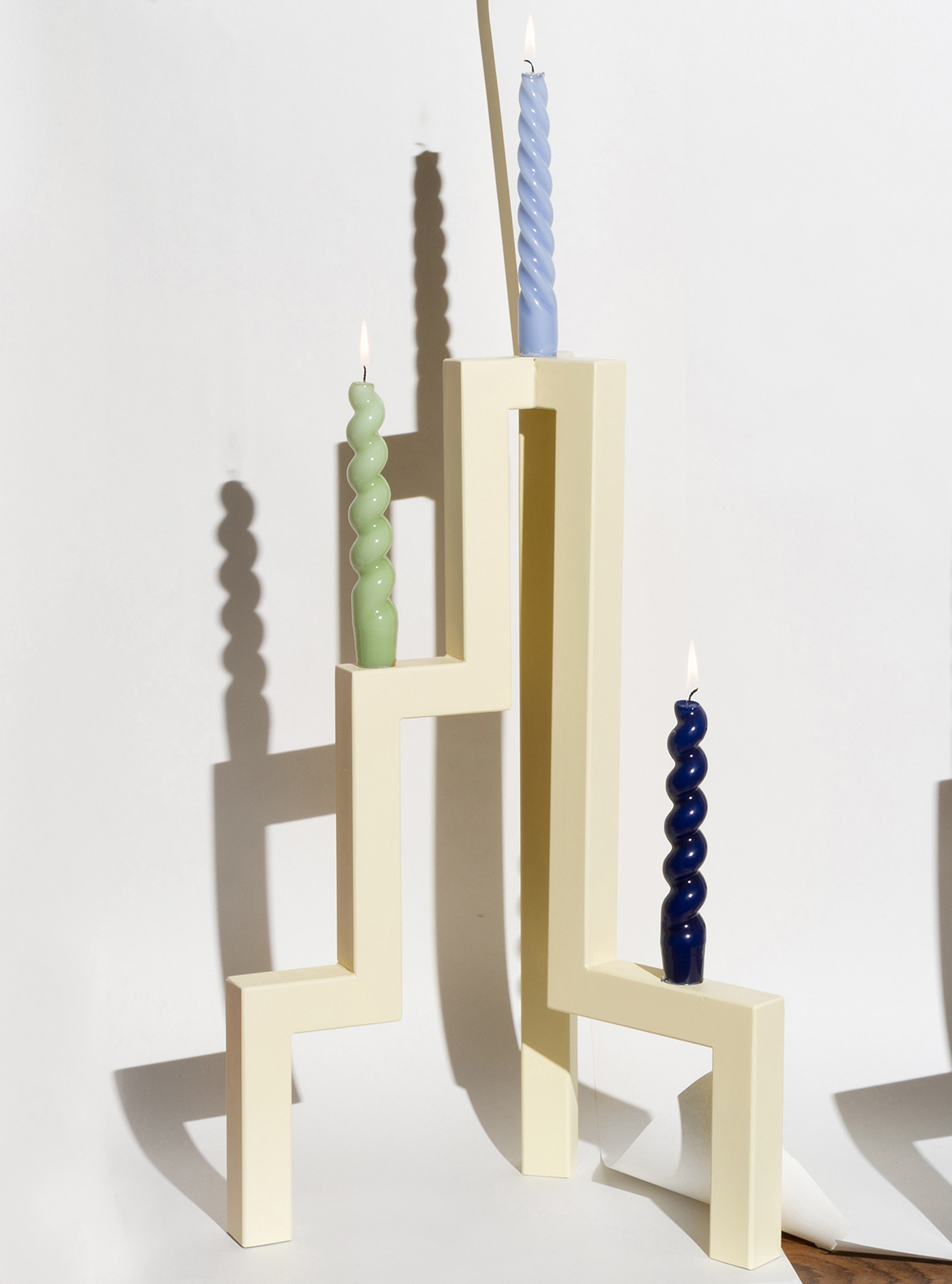 Hanna Anonen's latest design — a graphic stepped candleabra that comes in in various shades of powder-coated metal — was meant to debut at our ill-fated 2020 Sight Unseen Offsite show this past May, so it's a bit bittersweet sharing it with you now. Instead, it's appearing in an exhibition of Anonen's works on view now at Kamp Garden in Helsinki. Photo by Aino Huhtaniemi.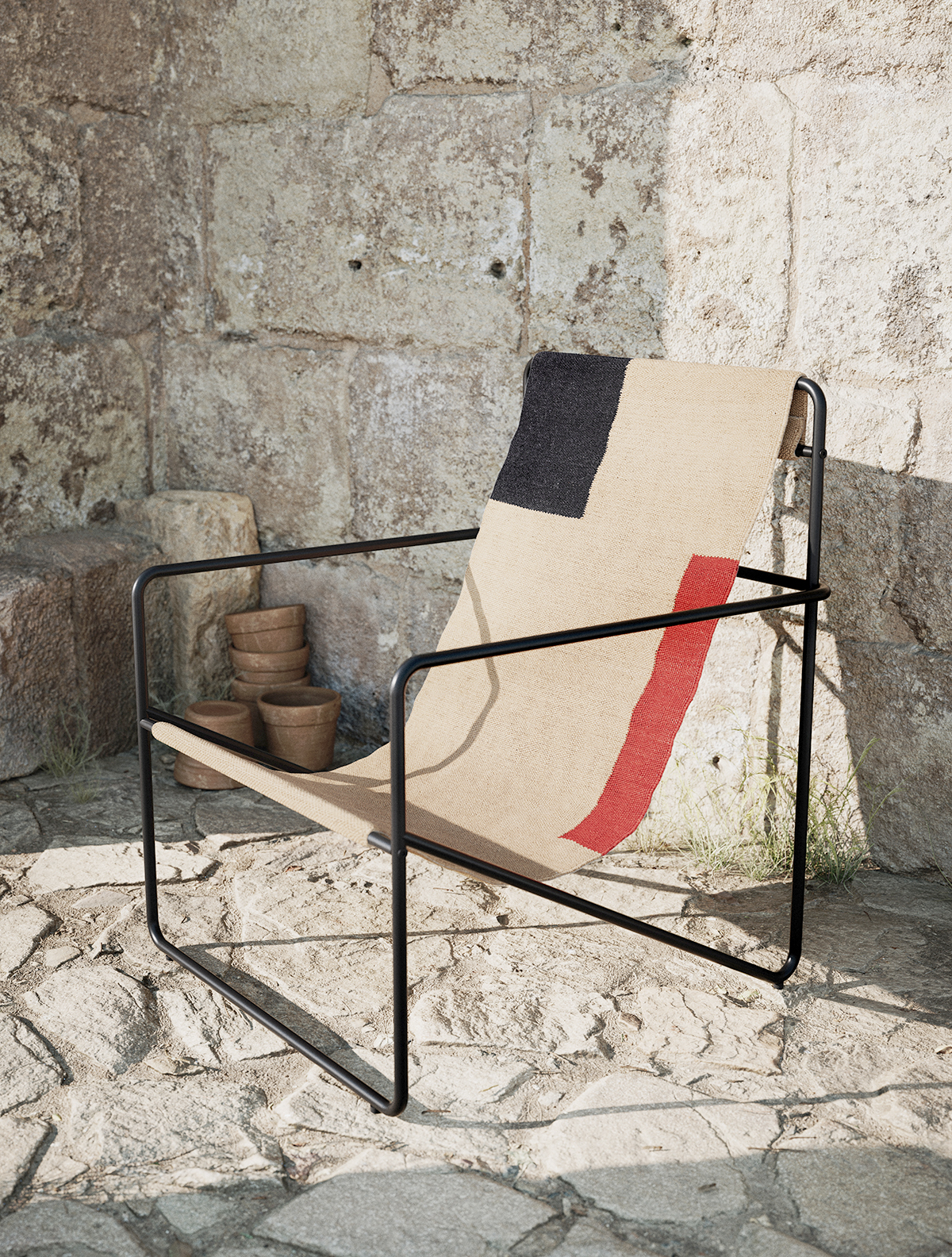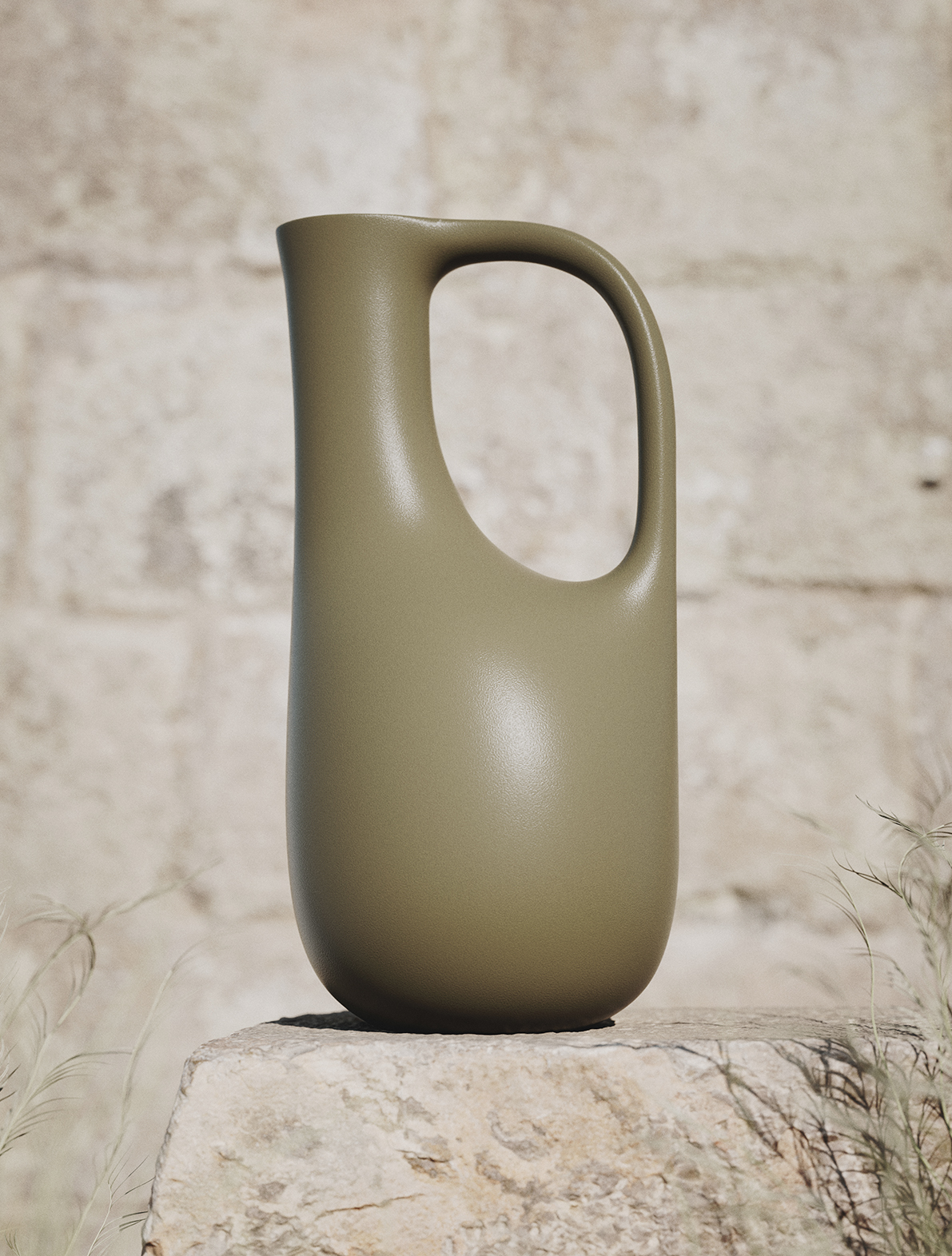 Ferm Living just launched it's spring/summer 2021 "pre-collection" which focuses on outdoor living, and our picks are the $359 Desert Chair (which also comes in a cute kids' size) and the $105 sculptural Liba watering can made from recycled plastic. This jug is also quite nice. The pieces are launched on the US webshop but not quite available yet; luckily they have "notify me" buttons.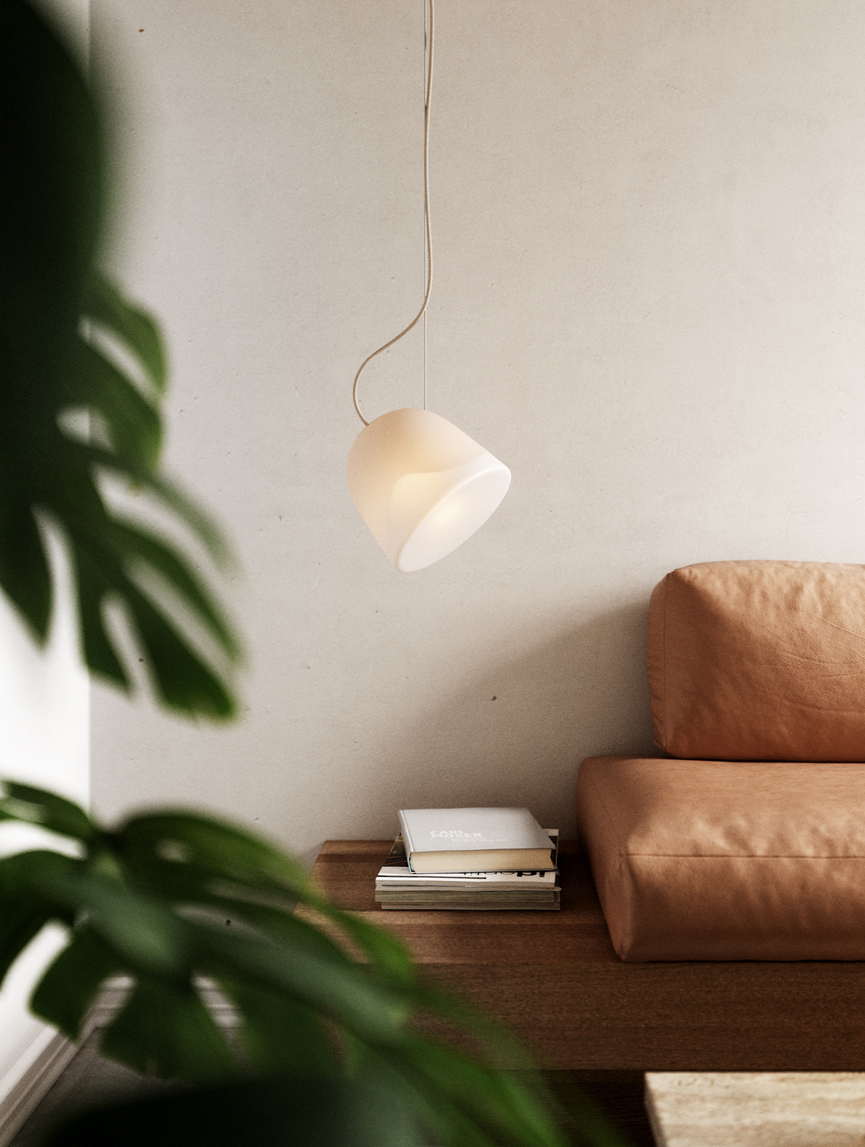 Nordic Tales just released this very simple but very pretty hanging reading lamp called Bright Breeze, which consists of two layers of blown glass: one that forms the basic bell shape of the diffuser (which in case you can't tell is actually entirely closed in the front, an interesting touch) and one that wraps around the top of it, creating an organic wavy line around the perimeter and adding further diffusion. No two of the lamps are exactly alike.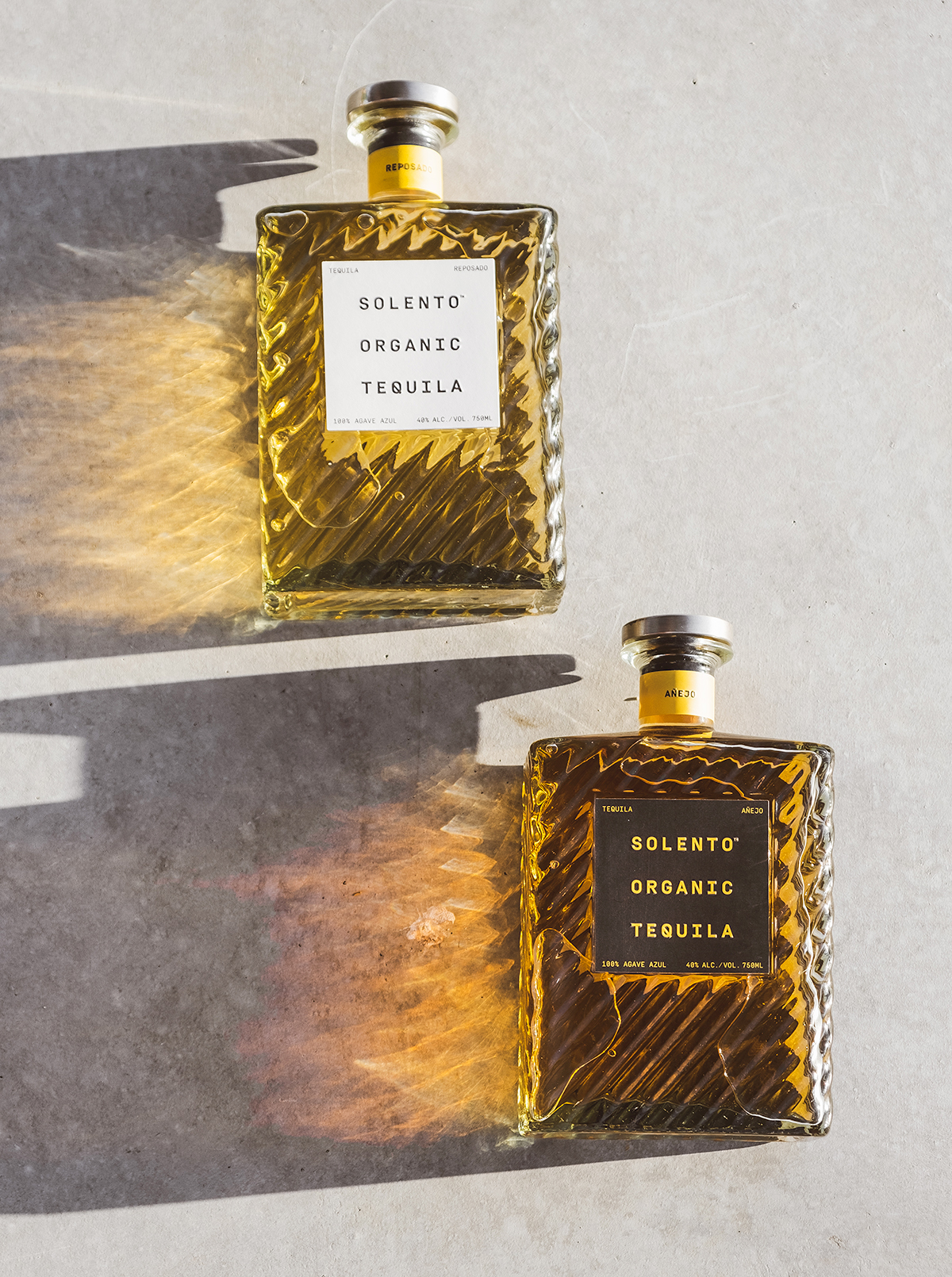 We get really excited about great packaging design, but it's rare that we catch wind of it soon enough to call it news. So yeah, Solento Tequila first came out a year ago, but with its ribbed, Chanel-perfume-inspired blown-glass bottle and minimalist branding by Javas Lehn Studio (in collaboration with the company's founder, Taylor Steele), we thought it was worth mentioning anyway. We'll be adding it to our home bar immediately, thanks v much.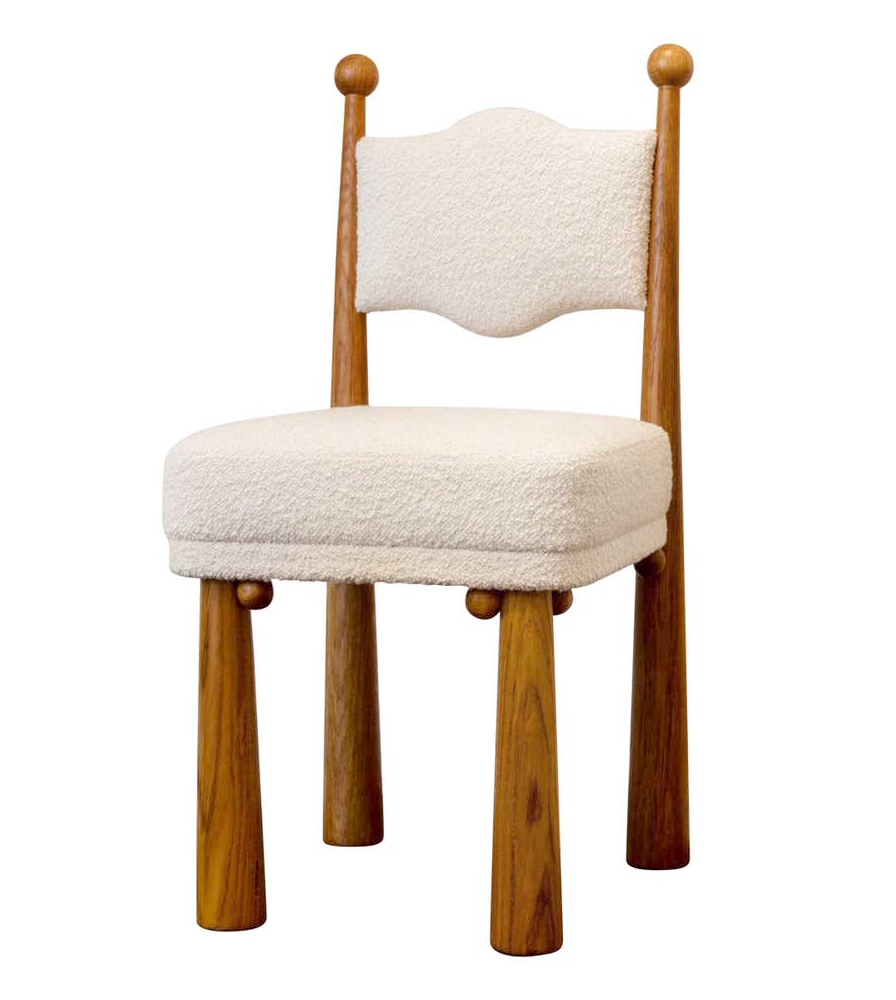 Wish we could also add this oak and bouclé chair by Laura Gonzalez to our home bar, gah. (If you'd like to, it's available on 1stdibs right over here.) We will, however, be adding it to our ongoing, ever-growing #tinyballs list!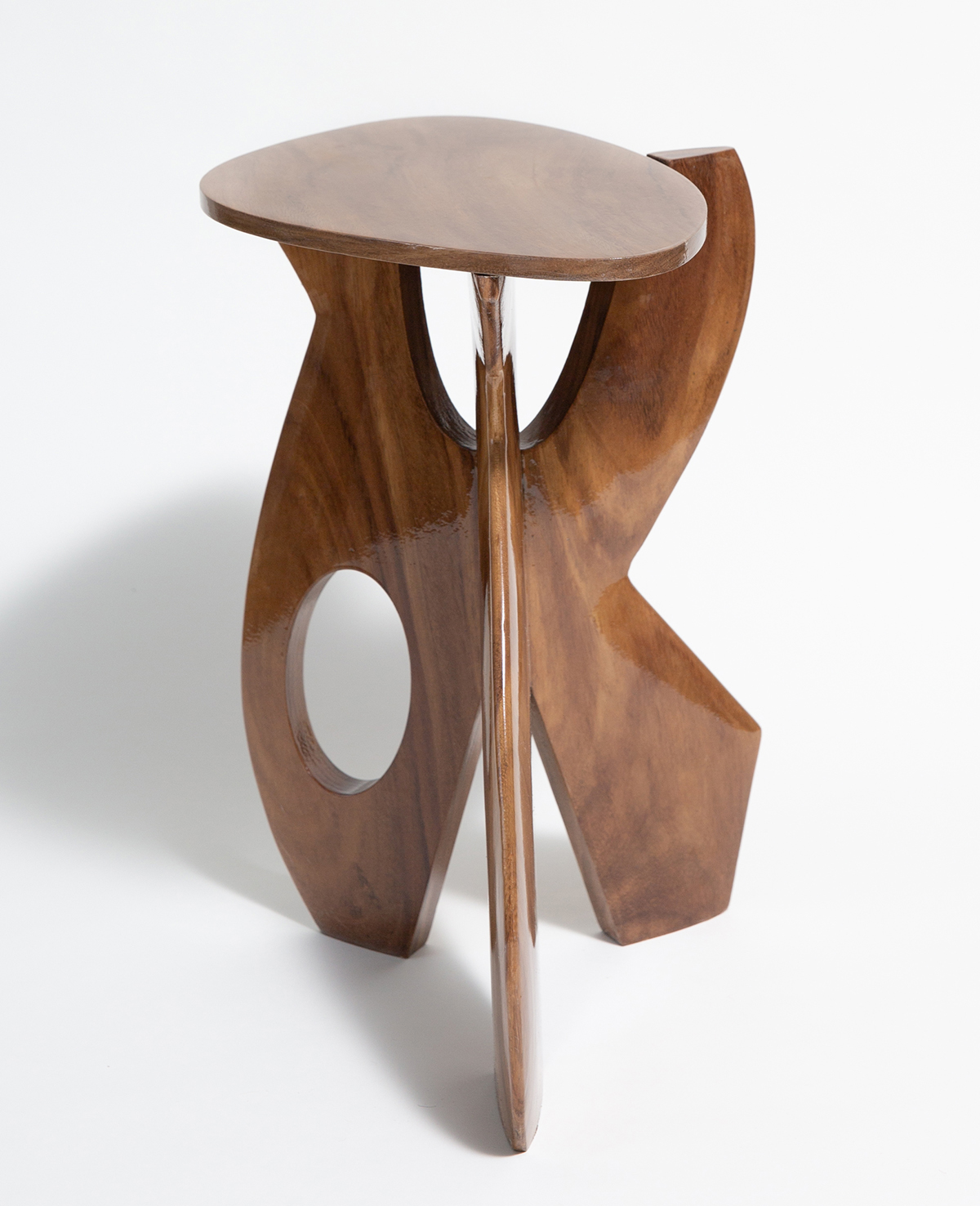 The offerings of the gallery-ish online concept store Maiden Name are super varied — from clothing to phallic candles to hairy masks to signet rings to pillows by Bode. But what caught our eye when we were introduced to the store more than a year ago was its work with architect and sculptor Francesco Galetto, which has culminated in the shiny wooden Taburet 1 stool/side table, whose "ensemble of four interlocking forms were designed as a sculpture in the round, the full effect of which unfolds in 360 degrees." To purchase ($895), contact Maiden Name.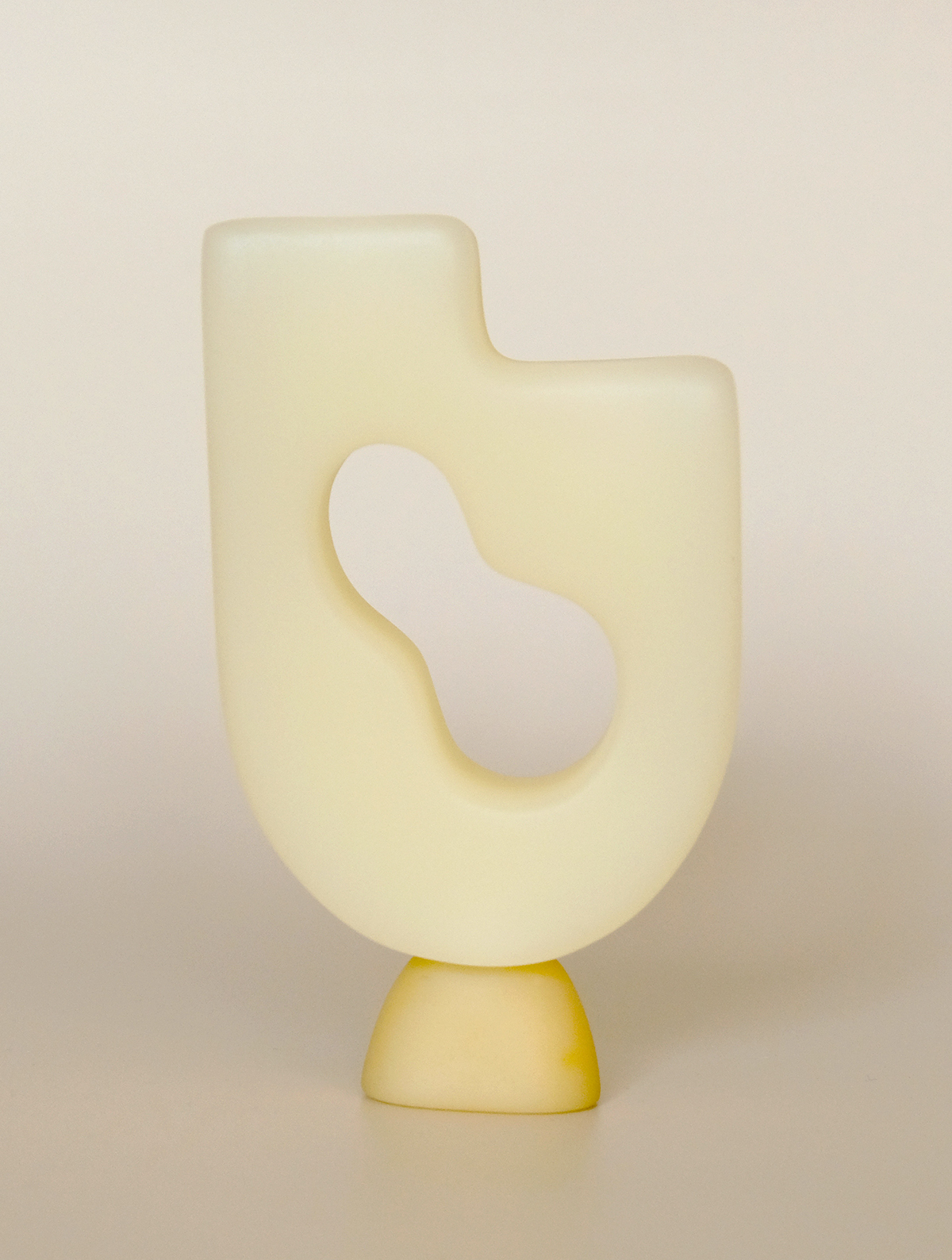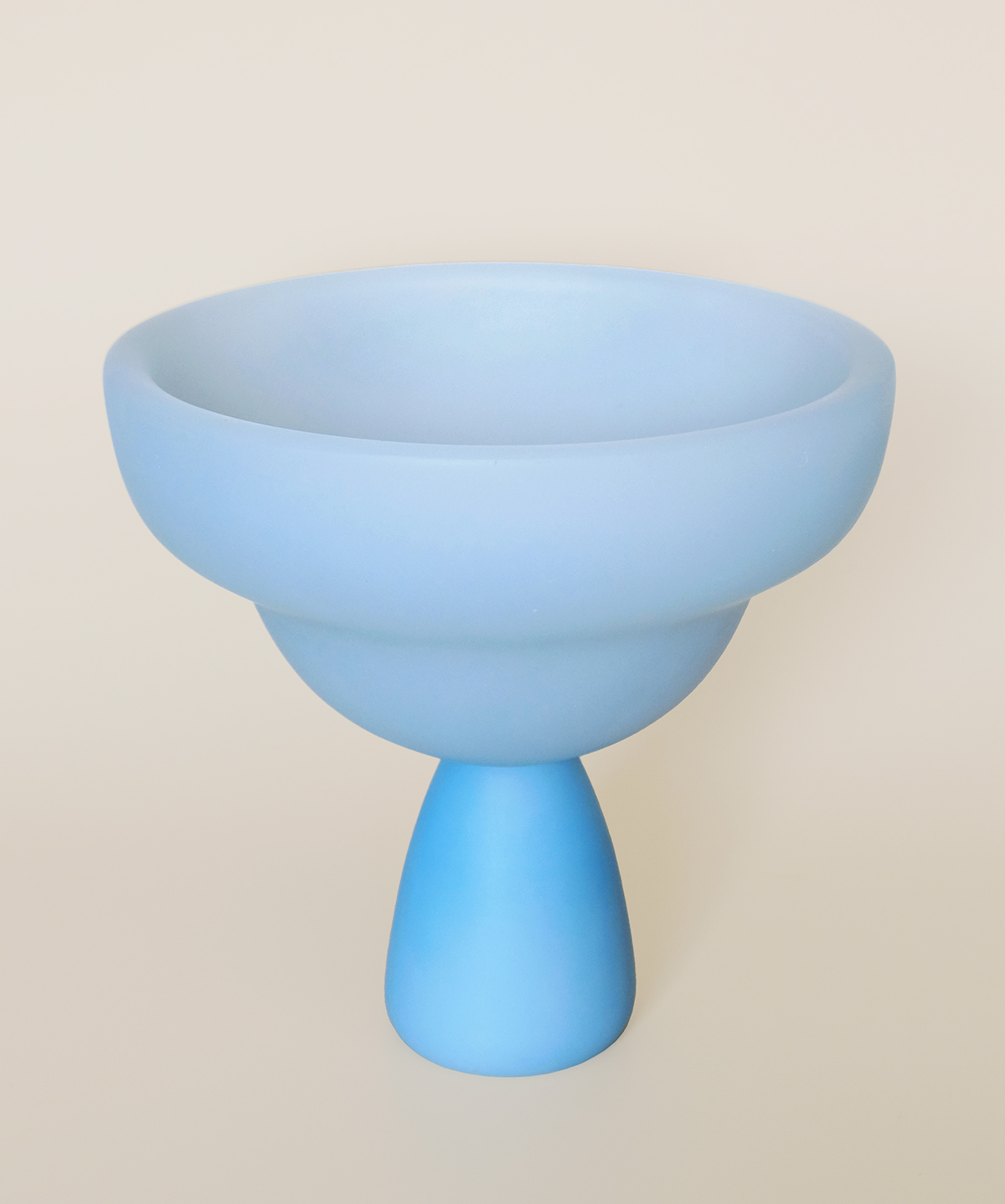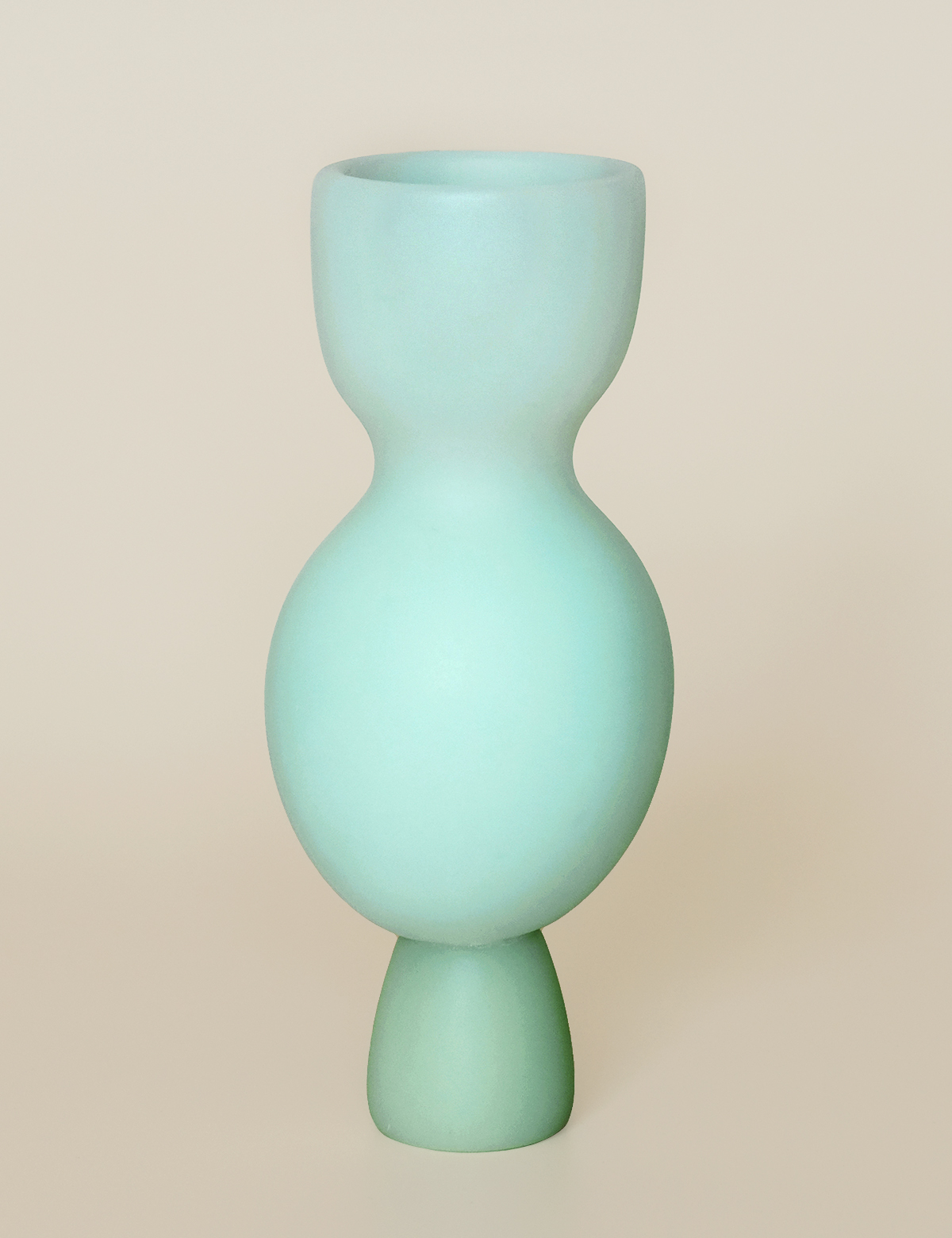 We've long been enamored of the Shanghai boutique Single Person, and we recently learned they also had a design studio arm, which has launched what appears to be its first series of objects. It's a collection of frosted-resin vessels and bookends in candy colors with organic curves and cutouts, each named after a town or region around the world.
Artworks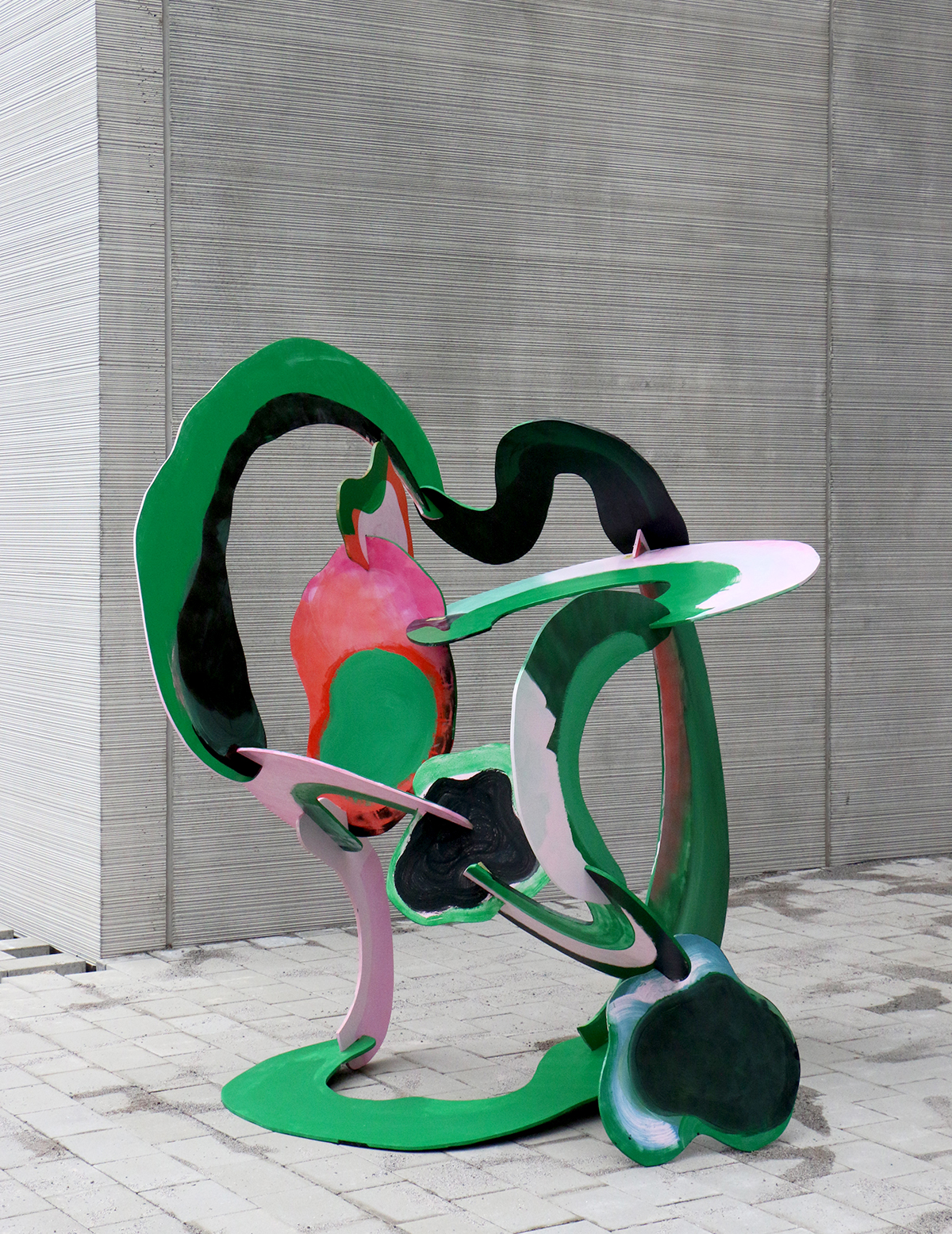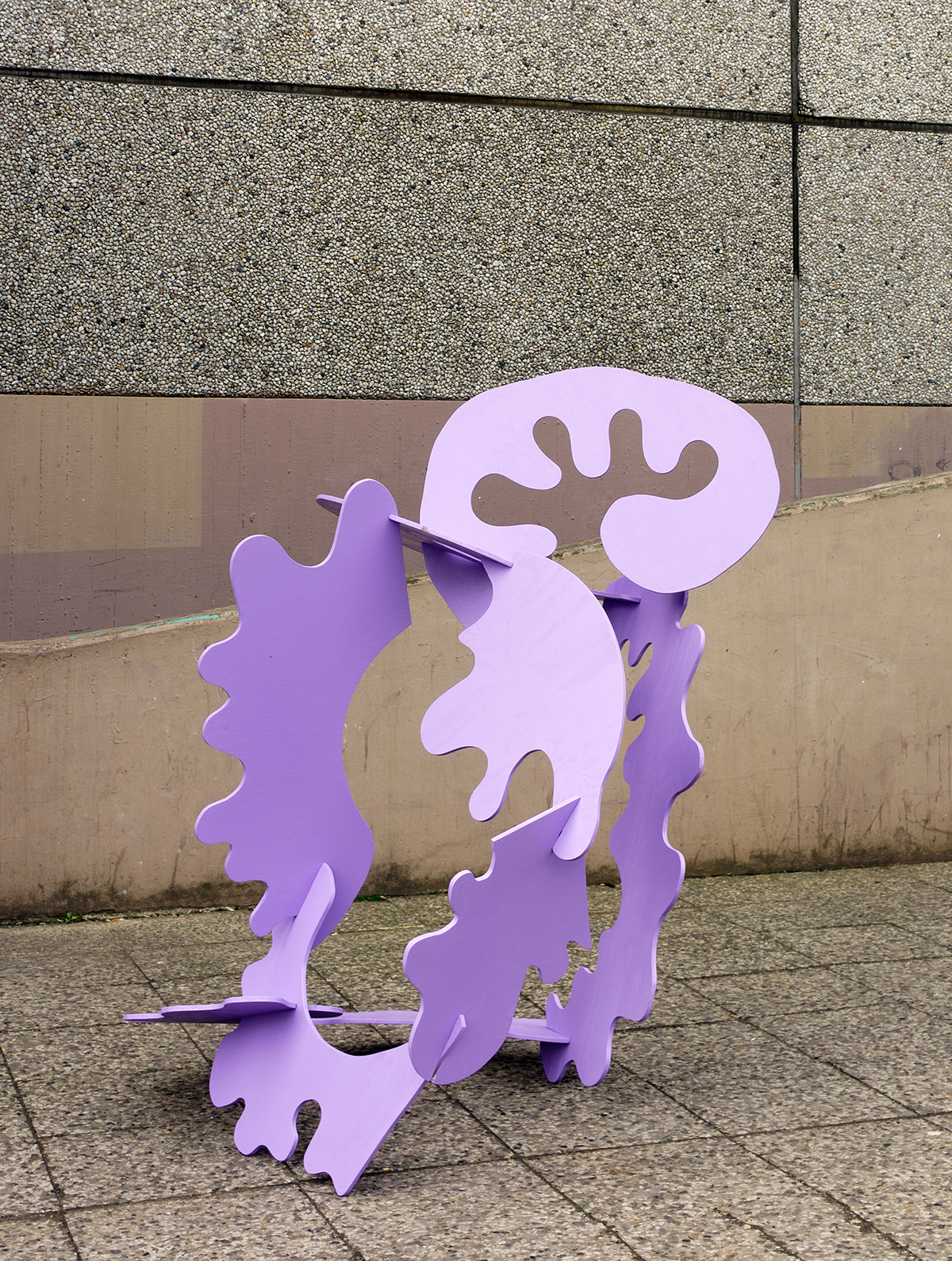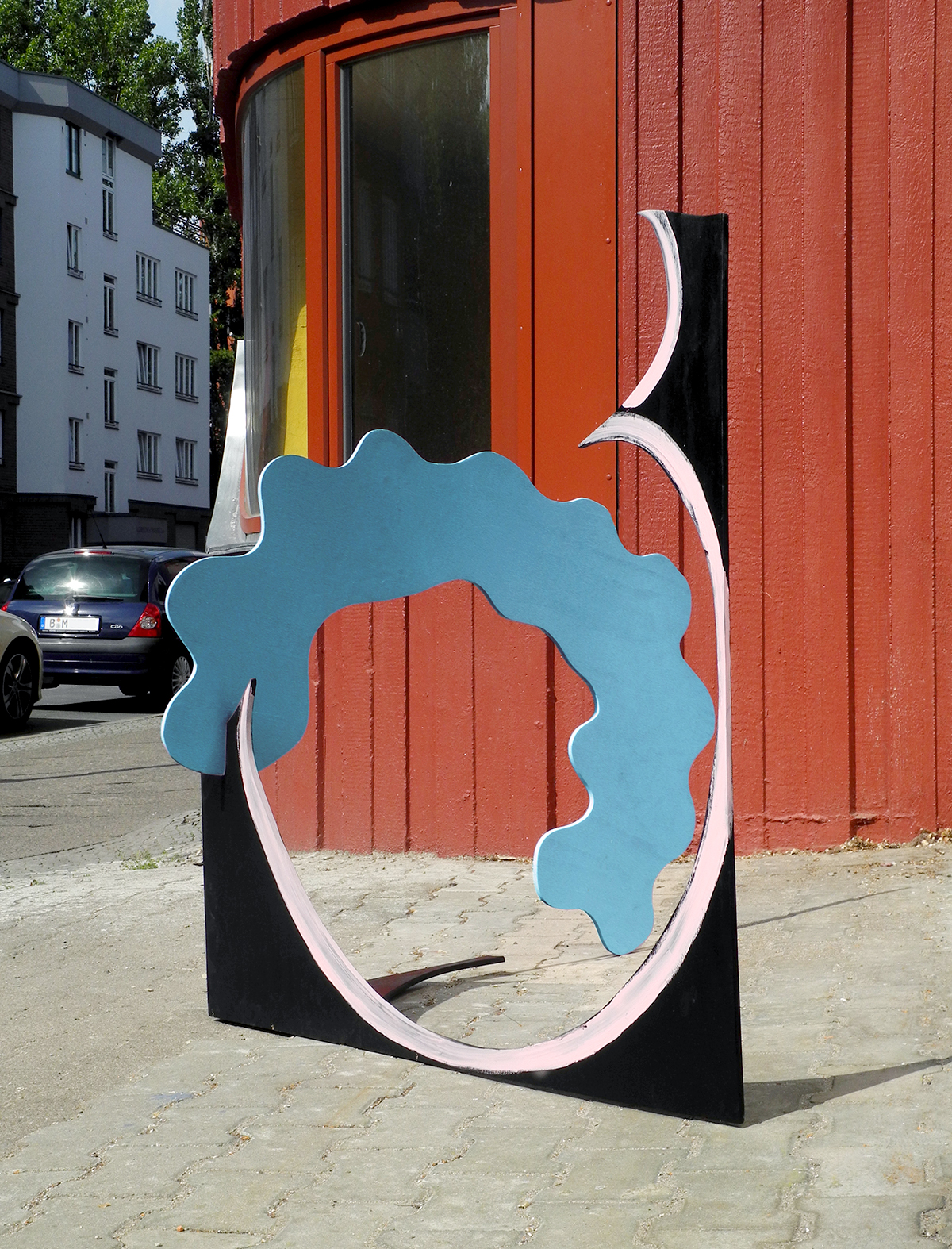 A decade ago, I visited the studio of artist Katharina Trudzinski in Berlin (pardon the terrible photographs, ha), and upon the eve of my recent move here, she reached out again to give me a long-overdue update. She's still making sculptures, and though they appear to be less reliant on materials she's harvested on the street, they still interface quite nicely with it as a backdrop. You can see more of her latest work here.