01.05.23
Mark Grattan's Mexico City Apartment Oozes a Kind of Sensual Charm
Mark Grattan's work is moody, smoky, sensual, and chic — all qualities that, a few years back, earned him first prize on the erstwhile TV show Ellen's Next Great Designer (which also featured longtime SU friend Arielle Assouline-Lichten). Grattan's Mexico City apartment, on the fourth floor of a building by famed architect Luis Barragán — which we photographed for How to Live With Objects but which he has since left for New York City — had a similar vibe, filled with black leather, velvet, wall-to-wall carpeting, and sleek, low pieces designed by Grattan himself. In the months since we photographed his space, Grattan has uprooted his life, shown his work in our Superhouse exhibition (!) and, most recently, debuted a brand new collection in Miami with Cristina Grajales Gallery. But his essential aesthetic remains strong. His Miami collection was filled with dusty velvets, high-shine chromes, and smoked glass — and, like his best work, featured one very, very sexy bed. Come with us on a tour of his former space!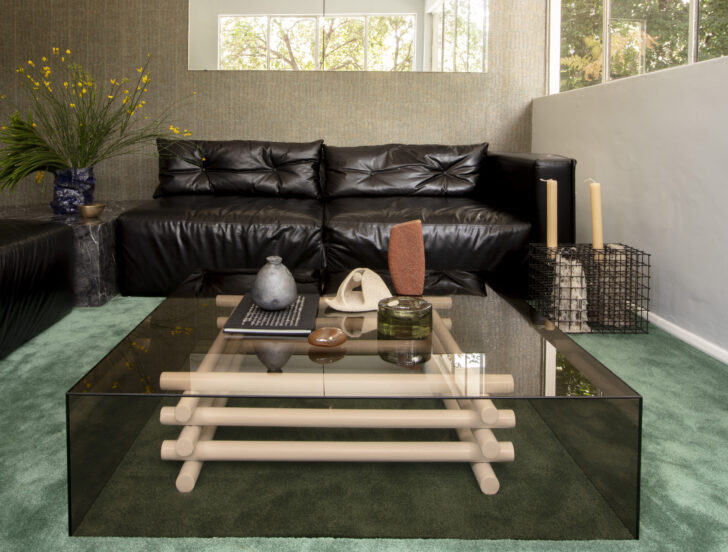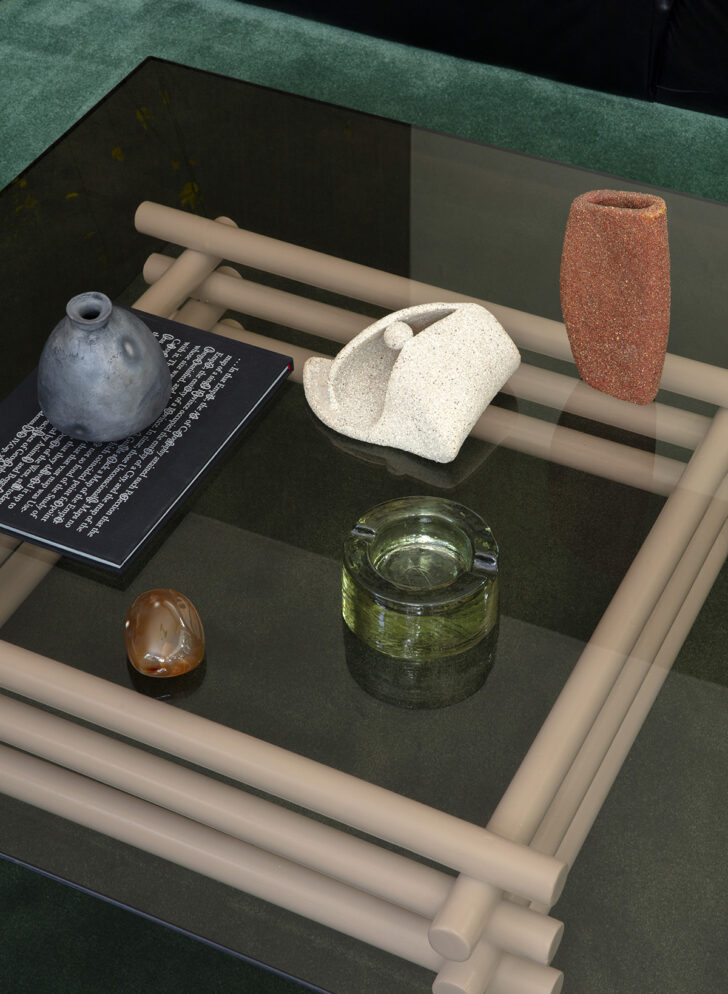 "In my living room, there's a black gridded candleholder by EWE studio. The white sandy sculpture in the center of the coffee table is by Pablo Arellano from Studio IMA, and the red vase is by Bertrand Fompeyrine from Chic by Accident. The ashtray is from when I was doing research on glass fabrication. Inside the coffee table is the inspiration for one of the first pieces I did, a table called Café Con Leche. I found this sculpture at the Lagunilla flea market, and it has been with me for all of these years. When I started putting the apartment together, I sprayed it white and put it behind bronze glass. It sits with me as a reminder of and an homage to that first piece."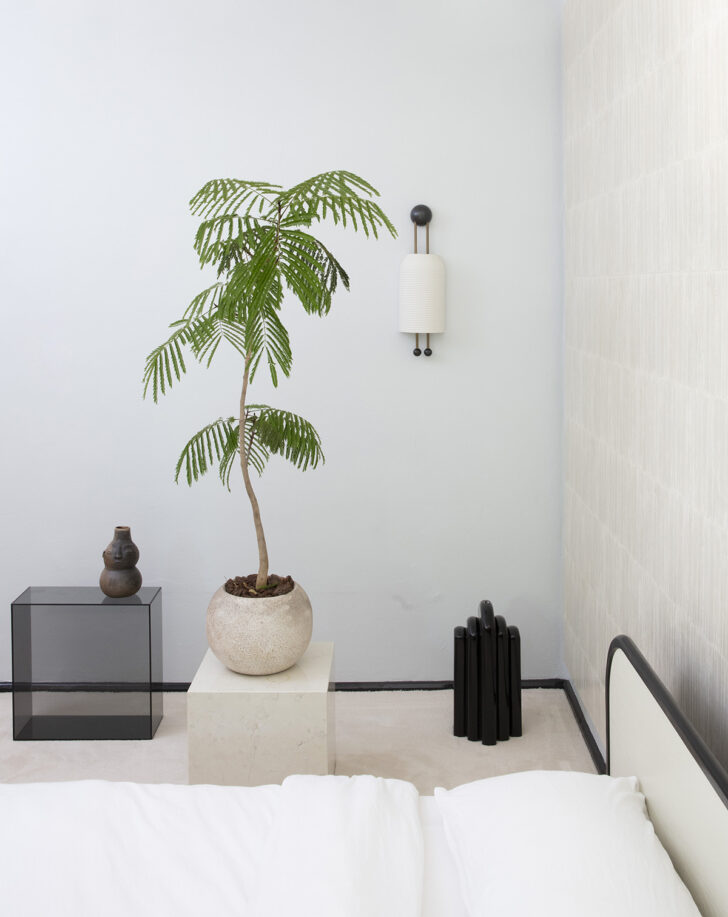 "When I moved into this apartment, I lived in it empty for about fourteen months. One of the things I noticed most about the space was the travel of light throughout the day. The building is not high, but it sits above the tree line across from a park in Colonia San Rafael. In general, lighting is one of the first things people need to think about in a space—not just the natural light, but how you place lighting within a home. For me, it was a lot of thrift shopping, except for two Apparatus pieces—a sconce in the bedroom, and a pendant in the living room. Apparatus is something I don't see in Mexico, but it works with the Mexican aesthetic. The material palette is very warm, and the simplicity of shapes works well. Apparatus founder Gabriel Hendifar's use of repetition is something that I'm attracted to and that I use a lot in my work.
"I've designed a lot of beds. I'm always thinking about a bed, and I'm not even a heavy sleeper! I'm up very early in the morning. I can't take naps. Maybe I'm attracted to the form because there's an inherent challenge in the scale. It's so big, and these things are typically so cumbersome."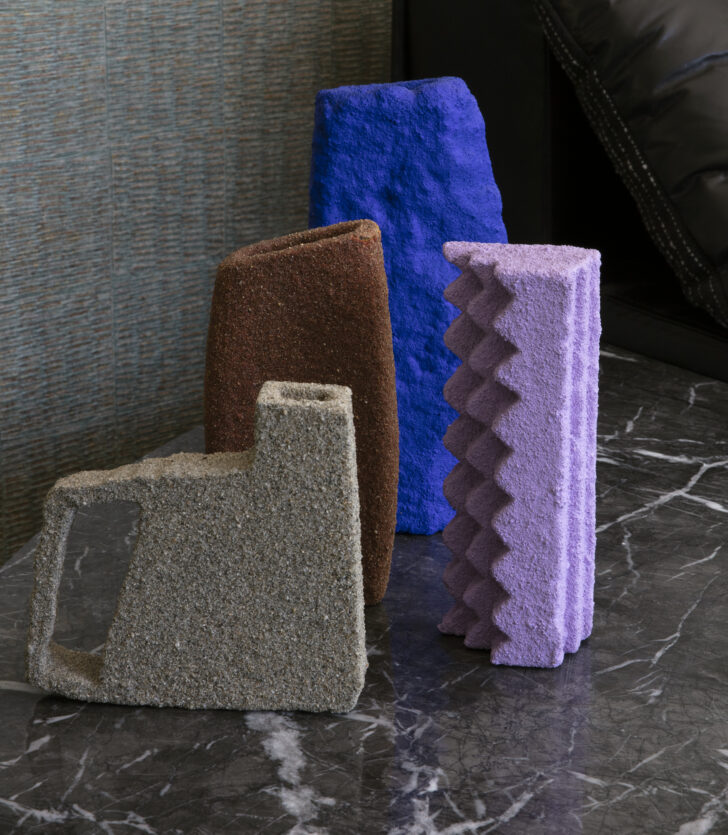 "In my living room, the blue vase and purple sculpture by Bertrand Fompeyrine help warm things up. I like to use other people's objects as a balance to the rigidity in my work."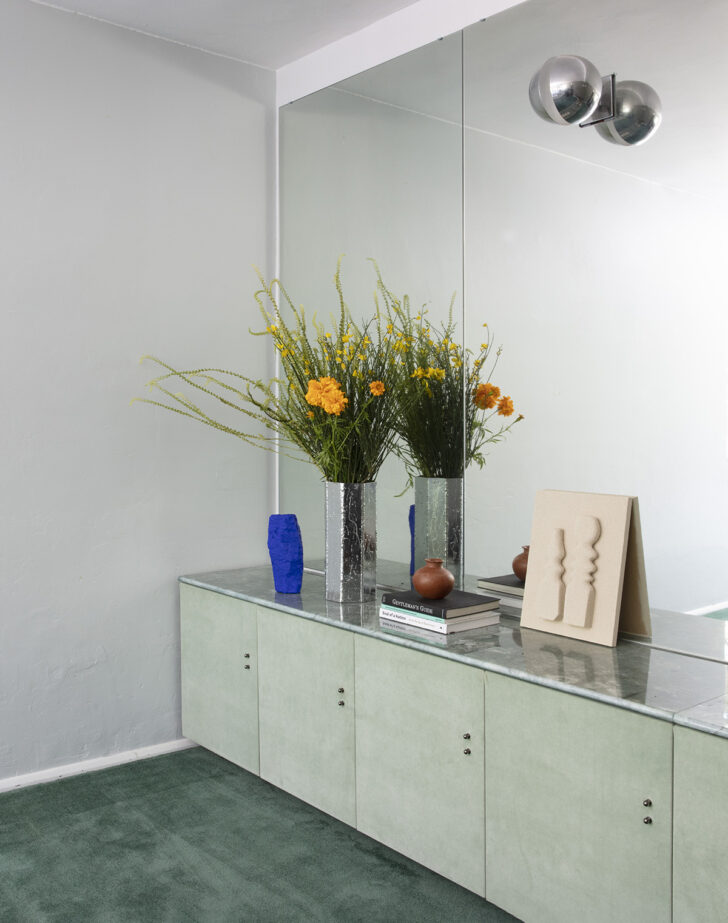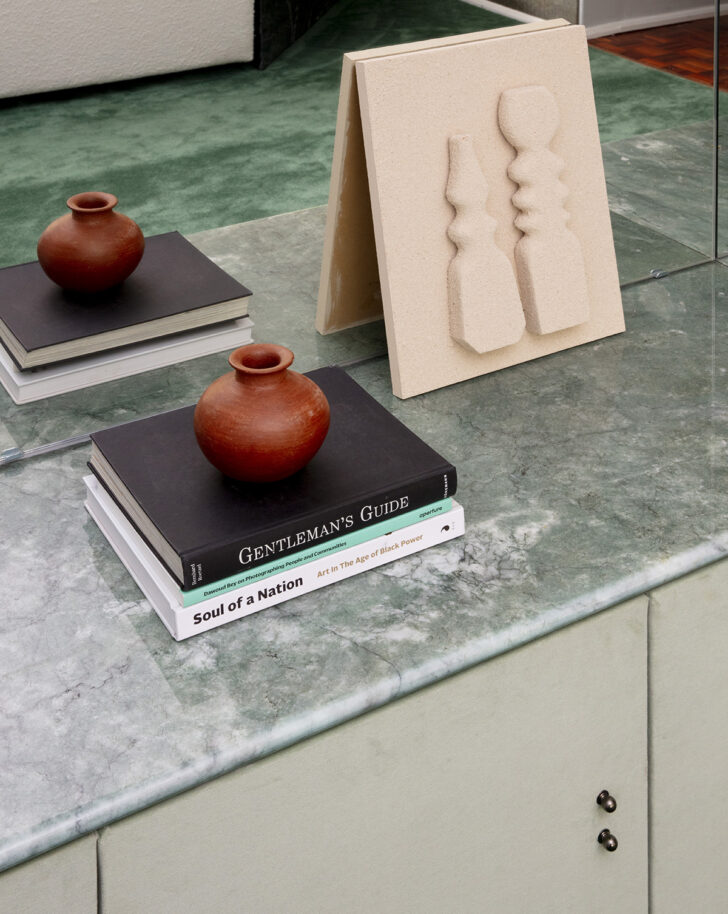 "The green cabinet in the living room is custom. It's lined inside with mirror, and the faces are upholstered in monochromatic green velvet to match everything else in the room. The double hardware on the outside gives it a little swag, and the marble matches the velvet. I actually dyed the marble green. To me, the cabinet is about the cleanliness of repetition. It gives a sense of order. So, everything is repetitive in one way or another in this room. The mirrors. The cabinet. The two sofas. The sconces. Even the piece of sculpture in the base of the coffee table and the Candle Grids by EWE in the living room are just a repetition of shape."
"I love the brutality of the chrome vase by Tomás Díaz Cedeño. I can see his hand in it, which is nice because everything in my space is so clean. The chrome sconces on the mirror are my favorite part of the room. They're from the Lagunilla flea market, and they have little cat eyes that open up. They're so sleazy; there's something almost sinister about them. In my work and in my home, I feel like I'm channeling something I can't necessarily channel in real life, which is this provocation, this sexuality, this outspokenness, this sort of luxe that I'm attracted to, but can't communicate through a vehicle other than furniture. I couldn't walk down the street communicating these things, even with what I wear. But I can communicate it with my hand and through the work."