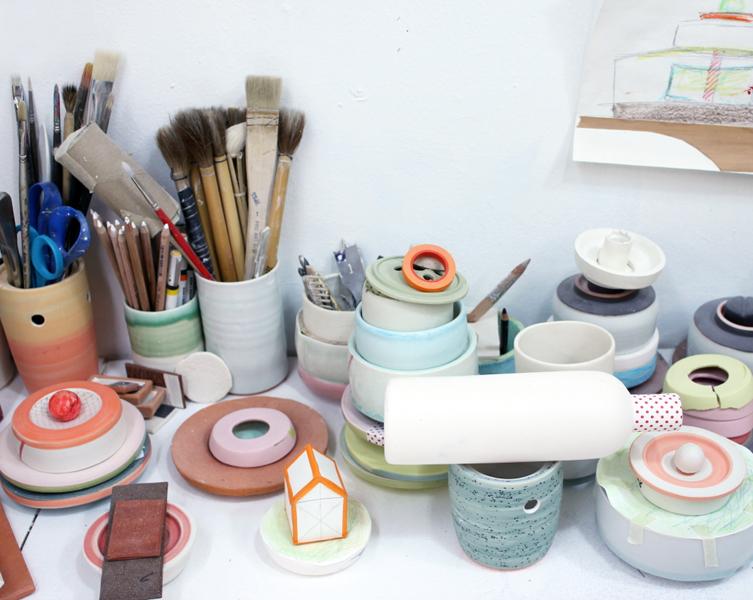 Before he moved to Philadelphia in September of last year, Ben Fiess was living on a Minnesota farm, 20 minutes south of St. Paul, five miles from the nearest small town. "One of my friends in graduate school's parents had recently retired and inherited the family farm," Fiess says. "No one had been there for a decade or so, so it was in disrepair, but they actually had a lot of kilns and equipment because my friend's mother taught art. It was a good opportunity to live for free and keep making work." When he wasn't making ceramics, Fiess spent his time planting asparagus roots, working at farmer's markets across the border in Wisconsin, and ripping up sod. "I could go a week without seeing anyone unless I drove into the city," Fiess remembers. So how is it that when we visited Philly back in January, every other artist and designer we met knew exactly who Fiess was? ("That guy moved to Philly? That's so cool," was the typical refrain.)
Credit goes in part to Iko Iko's Kristin Dickson, who found Fiess's work in the web's morass and began peddling it from her trend-setting Los Angeles boutique. But Fiess's work wouldn't have gone quite so viral if it wasn't so unlike anything anyone had seen before. His bread and butter is a series of modular ceramic jars, available in two sizes and made from seven discreet parts — four different slip-cast clay pieces, two cork stoppers, and a rubber band that holds the whole thing together. (Fiess is partial to Brites, which he buys in bulk from Staples.) The jars are dead simple, but their genius lies in the fact that they're infinitely combinable, thanks to Fiess's unbounded capacity to devise new glazes and effects. (It's something of an obsession for the designer, who recently began an online database of recipes and formulas for glazes and clays.)
"I came to ceramics late in my college tenure. I wasn't very good, but I worked hard," says Fiess. "My father was a cabinetmaker, so I grew up around wood. That made sense to me. It's this rigid material: you measure it, you cut it, you join it. Clay was completely different. You can make a flat slab, but you bump it, and it's no longer straight. That was really frustrating for me at first. I wanted to make the clay do something that it didn't want to do." That frustration surfaces even now that Fiess is an old hand; though the jars are modular and poured in a mold, they can often go haywire. "They can warp in the firing and they shift around, which is the nature of porcelain. When you fire it hot enough, it gets almost glass like."
Fiess moved to Philly because he was accepted to The Clay Studio, an application-only studio space that's one of the country's most respected places to do ceramics. There, he has access to more than a dozen kilns, not to mention a community of like-minded artists who work in a common material, even if they all do completely different things with it. Fiess took a few minutes out of his schedule on a Saturday to show us around.
Ben Fiess's Philly Top 5
1. Franklin Fountain: I love ice cream, and the Franklin Fountain's ice cream is always good, with rotating seasonal flavors — the blue hubbard caramel flavor was my winter favorite. The atmosphere of the store is very nice, and they stay open late, which I enjoy.
2. Fabric Row: Along 4th street are a plethora of great fabric suppliers. I've been doing more sewing lately and always find what I'm looking for at the various shops. In particular I enjoy Pennsylvania Fabric Outlet and their bins of unorganized, inexpensive notions that inspire new ideas.
3. Penn's Landing Pier: It's a nice place to enjoy the outdoors. And it's conveniently close to my studio.
4. The Book Trader: A fairly large used bookstore that's crammed full of books. It can be messy at times — piles of books on the floor sometimes shut down the aisles — but the genres are organized well and I often find things I didn't know I was interested in.
5. AKA Music: A really nice independent record store. The employees are great — knowledgeable and very nice!
This post is part of Sight Unseen's Philly Week, sponsored by the Greater Philadelphia Tourism Marketing Corporation. Curate your own Philadelphia art and design experience at withart.visitphilly.com, and follow along @visitphilly #withartphl.