A weekly Saturday recap to share with you our favorite links, discoveries, exhibitions, and more from the past seven days. This week: Three different projects that push the boundaries of glass, one photograph that suspends your belief in reality, and two books that subvert your expectations of what a book can do or be.
Discoveries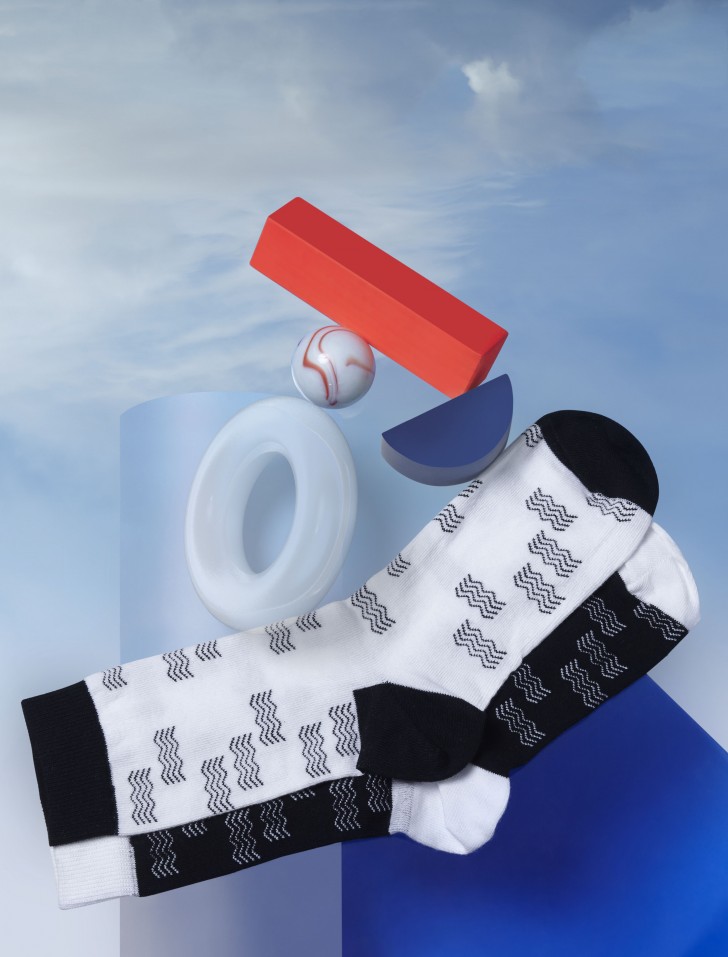 We're kind of in love with the concept behind Australian sock brand Odd Pears: Buy one "pair" of socks, and you actually get three separate stockings — two that match and one that doesn't, the third an inversion of the original pattern. We're also digging the campaigns they've been putting together each season, collaborating with fantastic artists like Leta Sobierajski and Sydney-based photographer Anna Pogossova, whose AW15 '80s-inspired still life is shown above.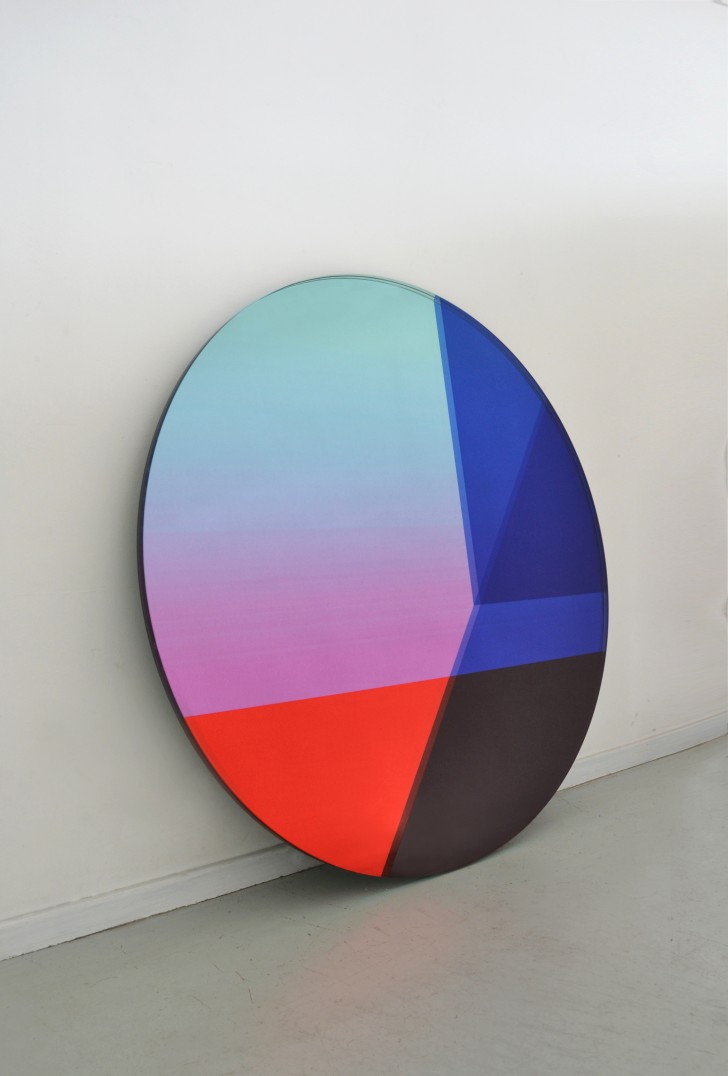 Seeing Glass is a collaborative project between Design Academy Eindhoven grads Brit Van Nerven and Sabine Marcelis that began during Dutch Design Week 2013. The original intent was to push the limits of mirrors and glass using techniques such as sandblasting, UV gluing, laminating, layering, and playing with color overlays. This "Big Round" piece is the project's latest — and most beautiful — iteration.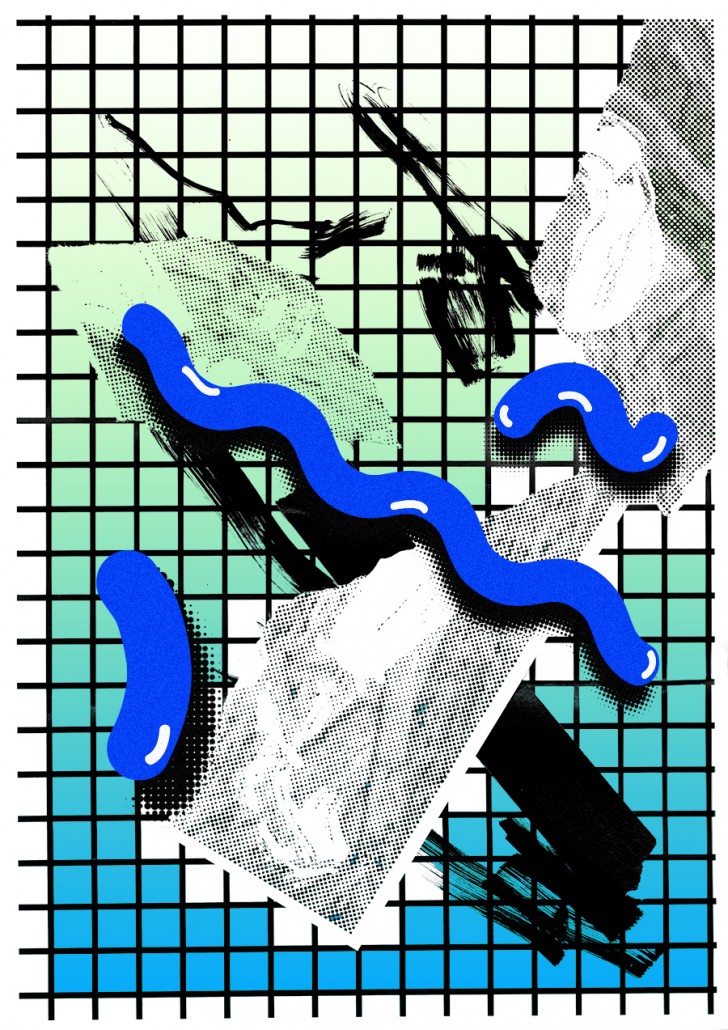 Cute submission in our inboxes this week from Central Saint Martins grad Moon Hussain, who works across mediums in textiles, graphics, and photography. A classic example of work that looks like the Internet, perhaps, but there's also loads of great, more subtle work on her Tumblr.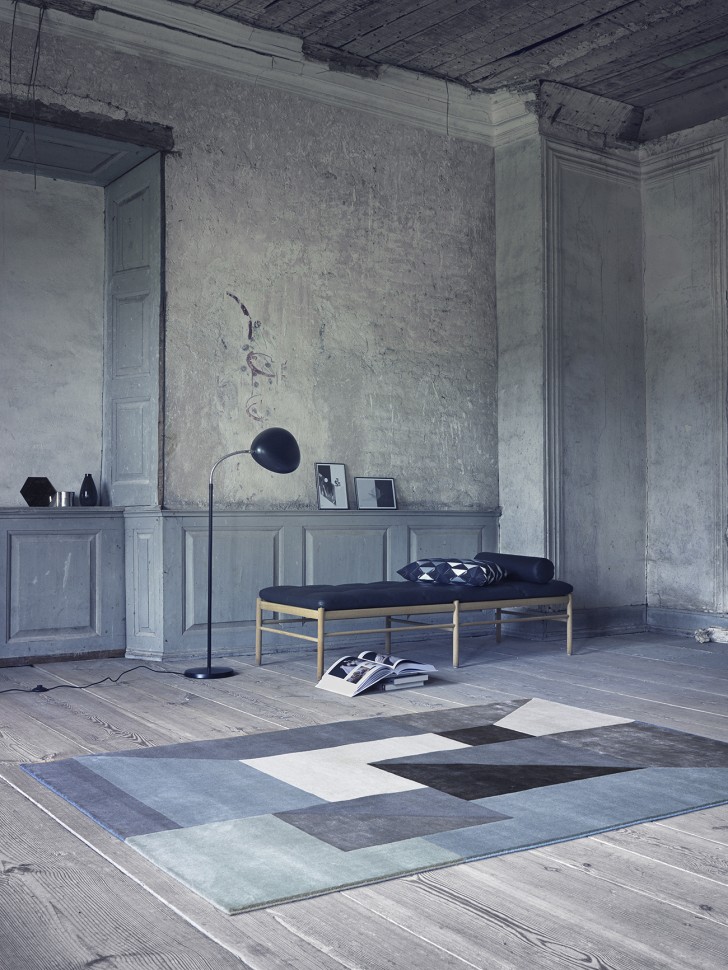 This week, venerable Swiss rug brand Ruckstuhl launched Cloak, a brand-new contemporary offshoot for architects and interior designers, complete with an amazing Tumblr and — whoa — free shipping to the United States. The patterns range from classic to graphic, with our favorite being this Trisquare rug, available in three colorways.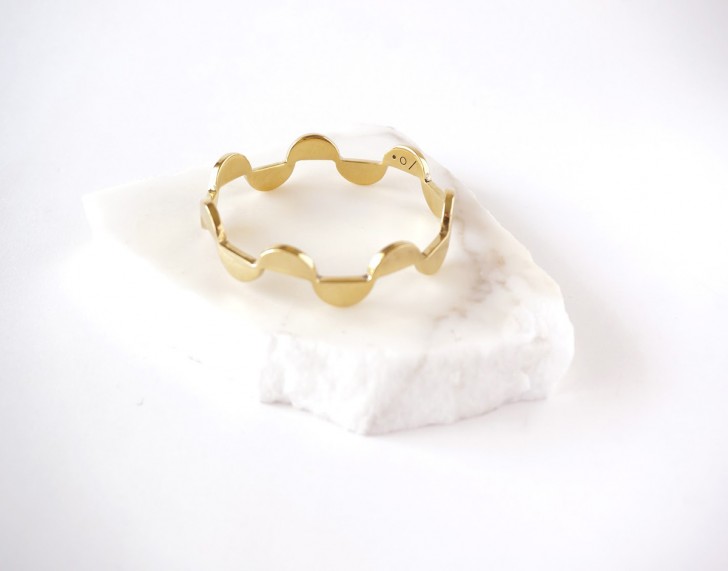 One of the highlights of our time in Los Angeles last week was a meet-and-greet organized by our friend Tanya Aguiniga, where we got to catch up with old friends (Brendan Ravenhill, Matt Gagnon) as well as put faces to names we'd only known virtually (Kathleen Whitaker, Lily and Hopie Stockman, Cathy Callahan — so many awesome ladies in one place). One designer particularly caught our eye, being decked out in her own beautiful work, including the rad Halfsies bracelet above: Brooke Woosley of Twenty-Two Hours, a jewelry, lighting, and hardware company that's one of our new faves.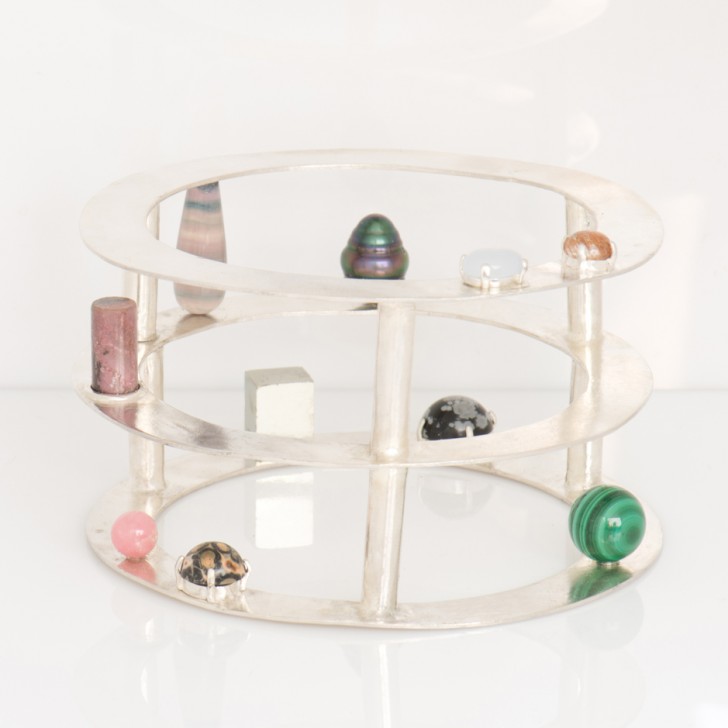 We were also introduced this week to the jewelry of Stephanie Simek, whose Airline Color line features unusual gemstones. This epic 3-tiered bracelet includes rhodonite, rhodochrosite, fluorite, leopardskin jasper, pyrite, Tahitian pearl, snowflake obsidian, chalcedony, rutilated quartz, and malachite.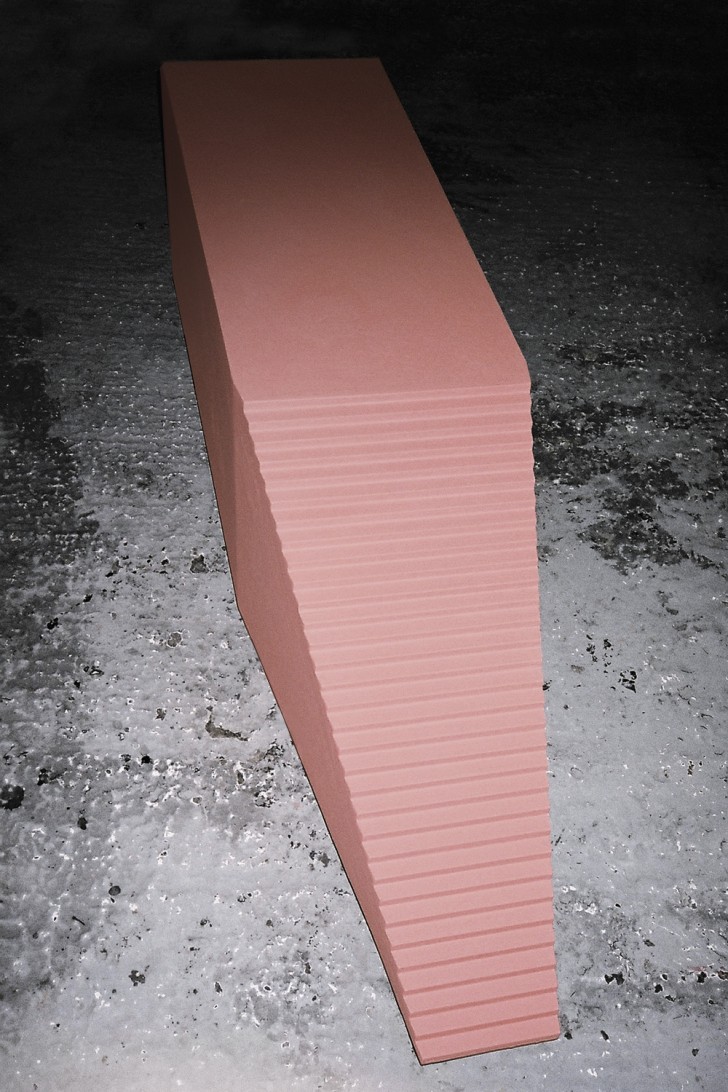 Lastly, this incredible coffee table is a bit old, but it's new to us: Called Casa Malaparte, it's the work of Sasa Stucin and Nicholas Gardner, two Royal College of Art graduates who work under the name Soft Baroque.
Links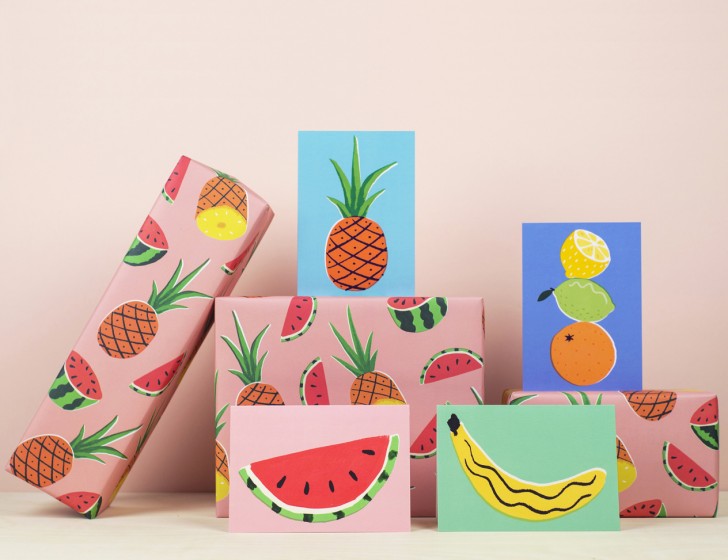 We've long been fans of Wrap Magazine, but it was only this week we realized they had an online shop. The goods include lifestyle pieces like necklaces and tea towels — and of course loads and load of excellent gift wrap and stationery.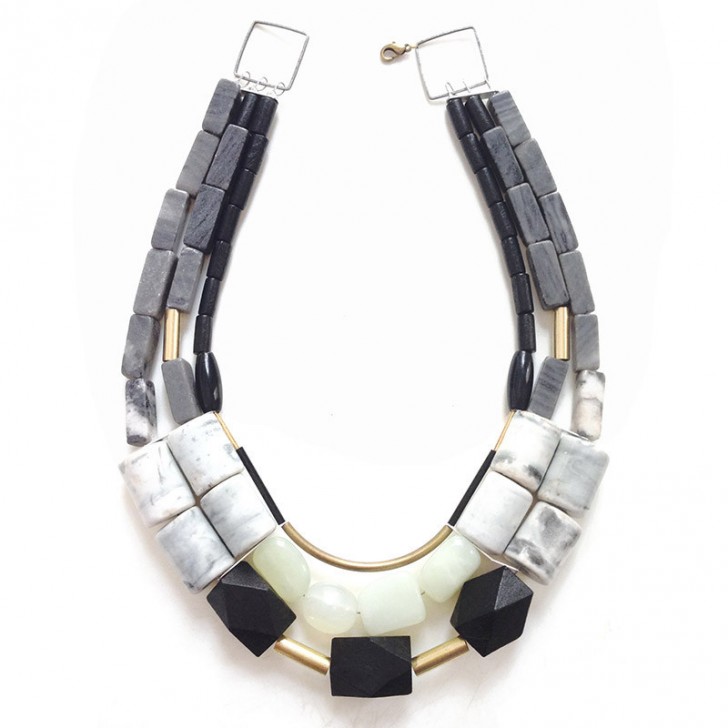 Speaking of online shops, we see Jaime Derringer of Design Milk finally put her statement jewelry obsession to good use! This week marked the virtual opening of Adorn Milk, a jewelry-only online shop focused on more architectural, handmade pieces. We especially like this three-strand necklace by History + Industry, featuring marble, wood, brass, jade and ceramic.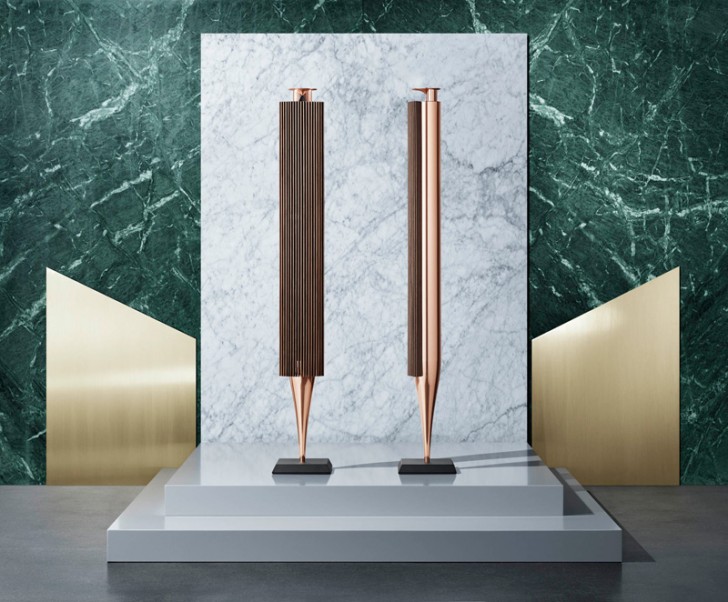 So pretty it could be jewelry: The Love Affair Collection, a new line of speakers, headphones, and other sound-related products from Bang & Olufsen, given a makeover in rose gold. Pretty much only set of speakers we'd ever let grace our living rooms. Via Arcademi.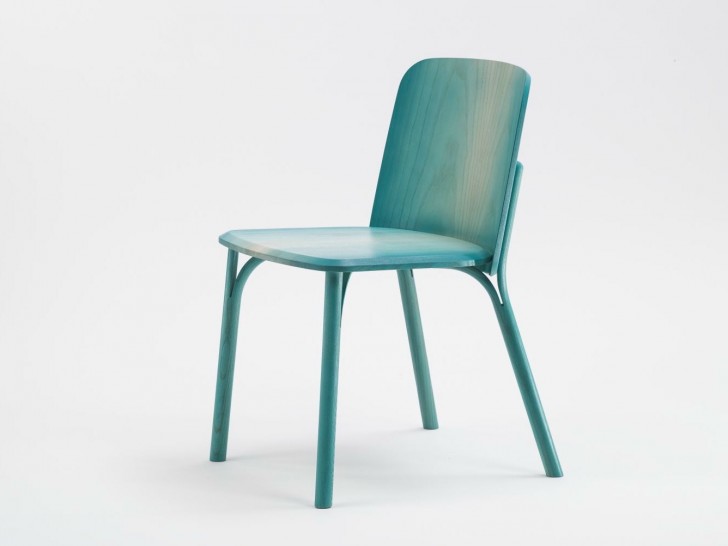 And via Dezeen, another Milan preview, this one by Arik Levy for TON furniture: Each of the items in his Split collection features wood that's been divided in two and then bent in different directions, a new technique for TON. However, we're more interested in the colored gradients — perhaps it will be this year's big trend?
Exhibitions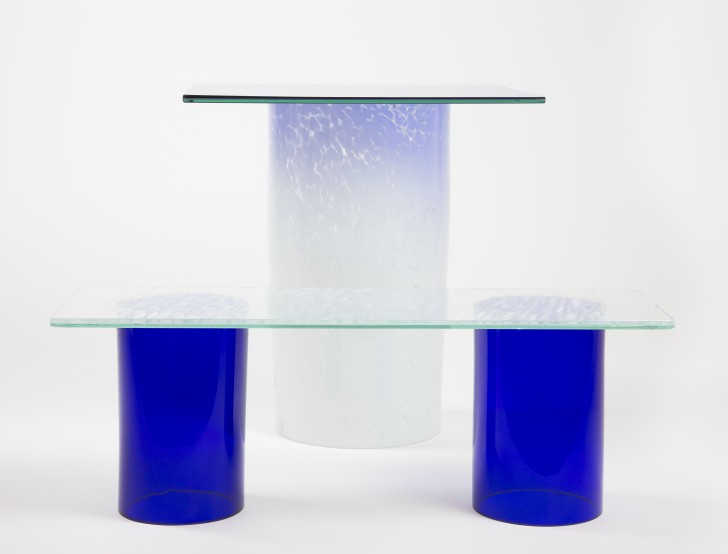 A traveling exhibition showing the results of the Glass is Tomorrow series of workshops makes its way to the Biennale International Design Saint-Etienne in France this week. Designers from all over — including Matti Klenell, Nigel Coates, Autoban, Tomas Kral, Benjamin Hubert, and Amaury Poudray, whose table set can be seen above — contributed glass items that push the boundaries of the medium, working with glassblowers in top workshops around the world.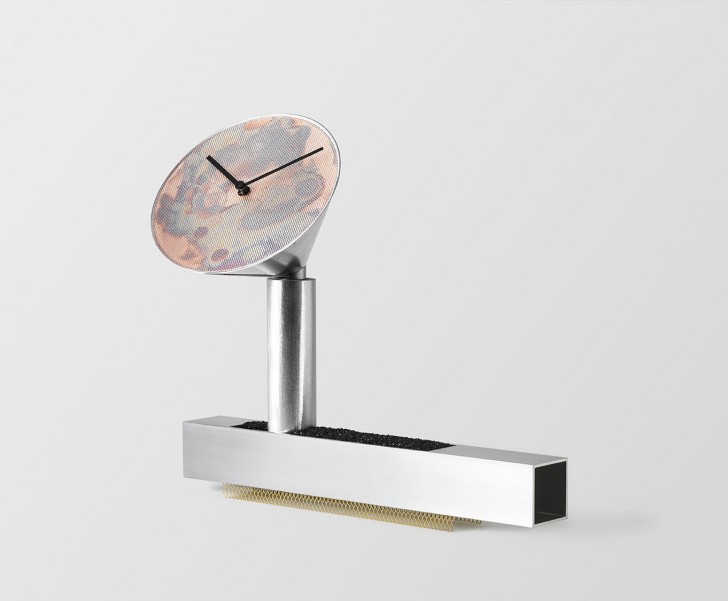 Perennial SU favorite David Taylor has a collection of new work on view at the Hafnarborg Centre in Iceland this week. Taylor moves from a more sculptural realm into a more functional one with lamps, mirrors, and clocks, like the one shown in aluminum, brass, copper, and gravel above.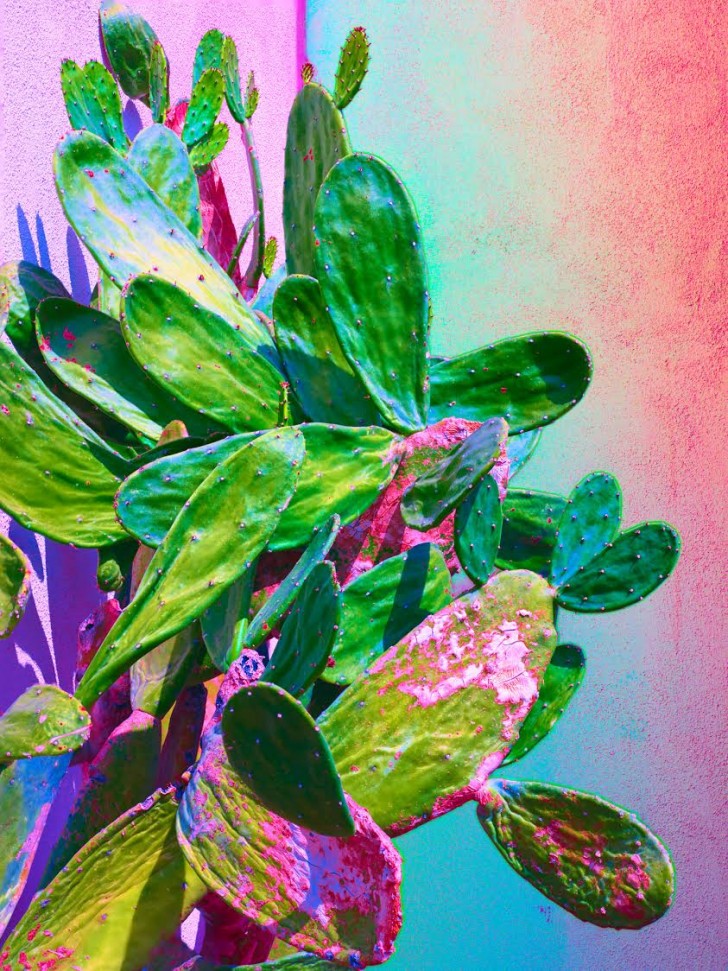 And in Los Angeles, at Tif Sigfrids gallery, a solo exhibition of new photographs by Martin Elder. "These photographs are purely the product of ambient light being received by his camera," the gallery states. "No filters and no exotic effects are applied to the images in the studio, as one might guess. Rather, Elder uses the various subject matters depicted as ideal settings for the vast swaths of visual information to be gathered and transmitted, the platform from where his camera might best possibly capture the range of data he seeks to study."
Books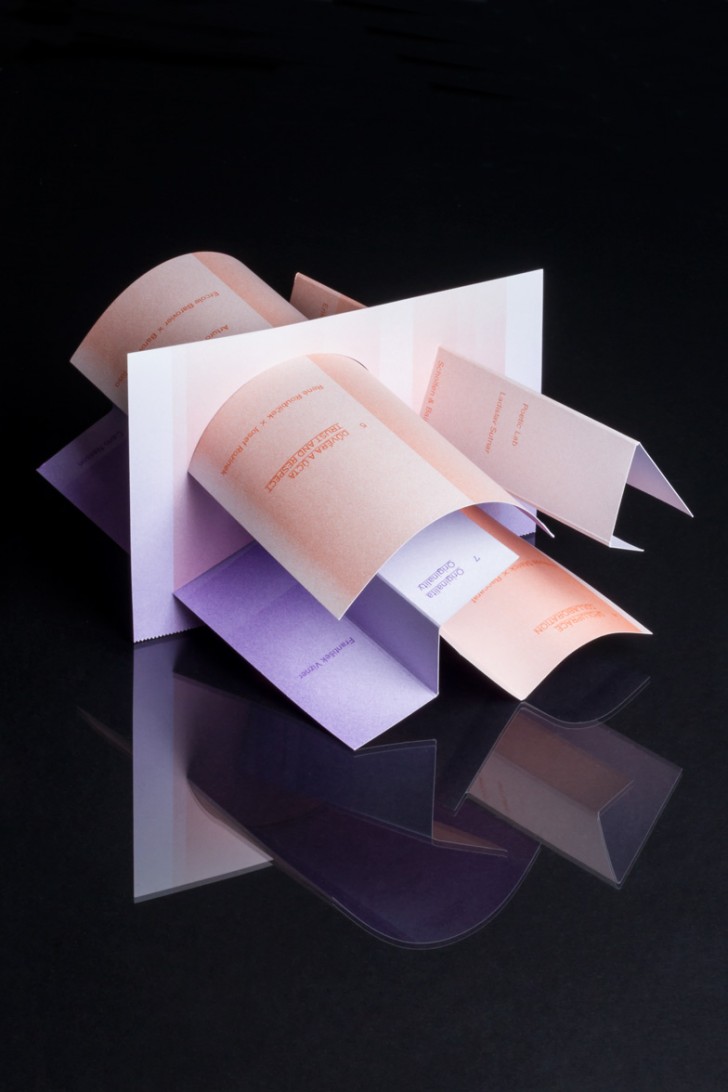 Two books on our radar this week, subverting expectations of what a book can be. This one is Manifesto, a small book created by Czech studio Okolo for the Glass Atelier at the Academy of Arts and Design in Prague, where individual pages can be inserted into the slots in the publication's cover, creating a three-dimensional object.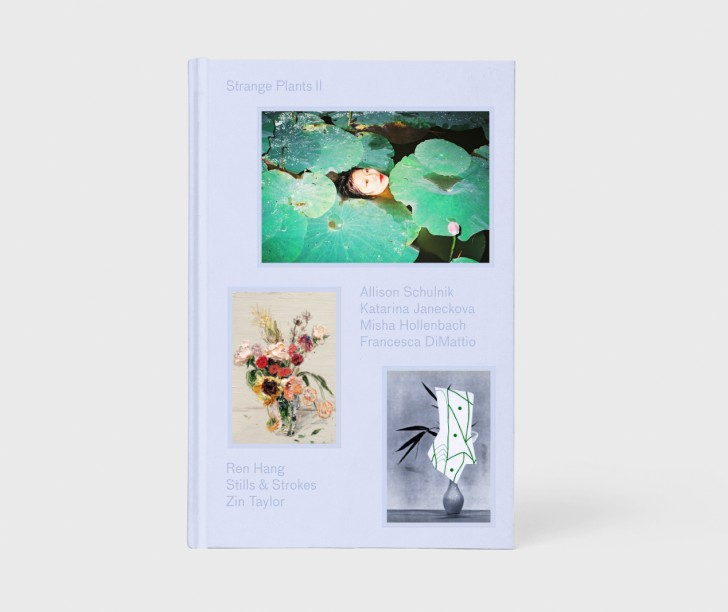 The second is a follow-up to the insanely popular Strange Plants book last year by Zio Baritaux. Strange Plants II features the work of 30 artists and comes with eight adhesive options for the cover, so that readers can select their favorite images and create their own unique covers. Get it here!