03.20.18
At a New Show, Thomas Barger Upcycles Your IKEA Discards Into Collectible Design
At just 25 years old, Thomas Barger finds himself wrestling with the ordinary — the idea that he'll be kicked off his parents' health insurance when he soon turns 26 — and the extraordinary — raising a solo show of sculptural furniture, on view through March 31 at Salon 94 Design, the starry gallery run by Paul Johnson and Jeanne Greenberg Rohatyn. A recent nod from Architectural Digest (the magazine he used to pore over as a child) and a sale to prominent art dealer and collector Javier Peres also signal Barger's ascendency into the artistic stratosphere. But while all of these realities point to his newfound adulthood, the works on display at the gallery look backwards to the underpinnings of a youth spent growing up gay on a farm in Mattoon, Illinois.
The highlight of the show is Barger's "Buttery Tall Boy" series of straight-backed chairs, rendered puffy from an application of paper pulp and painted an eye-popping shade of yellow. The foundations of these pieces are discarded IKEA Ivar chairs, but to Barger, they recall the seats he encountered at church and reflect the fraught relationship he has with religion. With their playfully suggestive titles, cartoonish forms, and primary hues, Barger has re-envisioned these commonplace objects.
We recently spoke to Barger about his singular method of upcycling, why he prefers furniture to sculpture, and the role that "faith, family, and farming" play in the pieces he creates.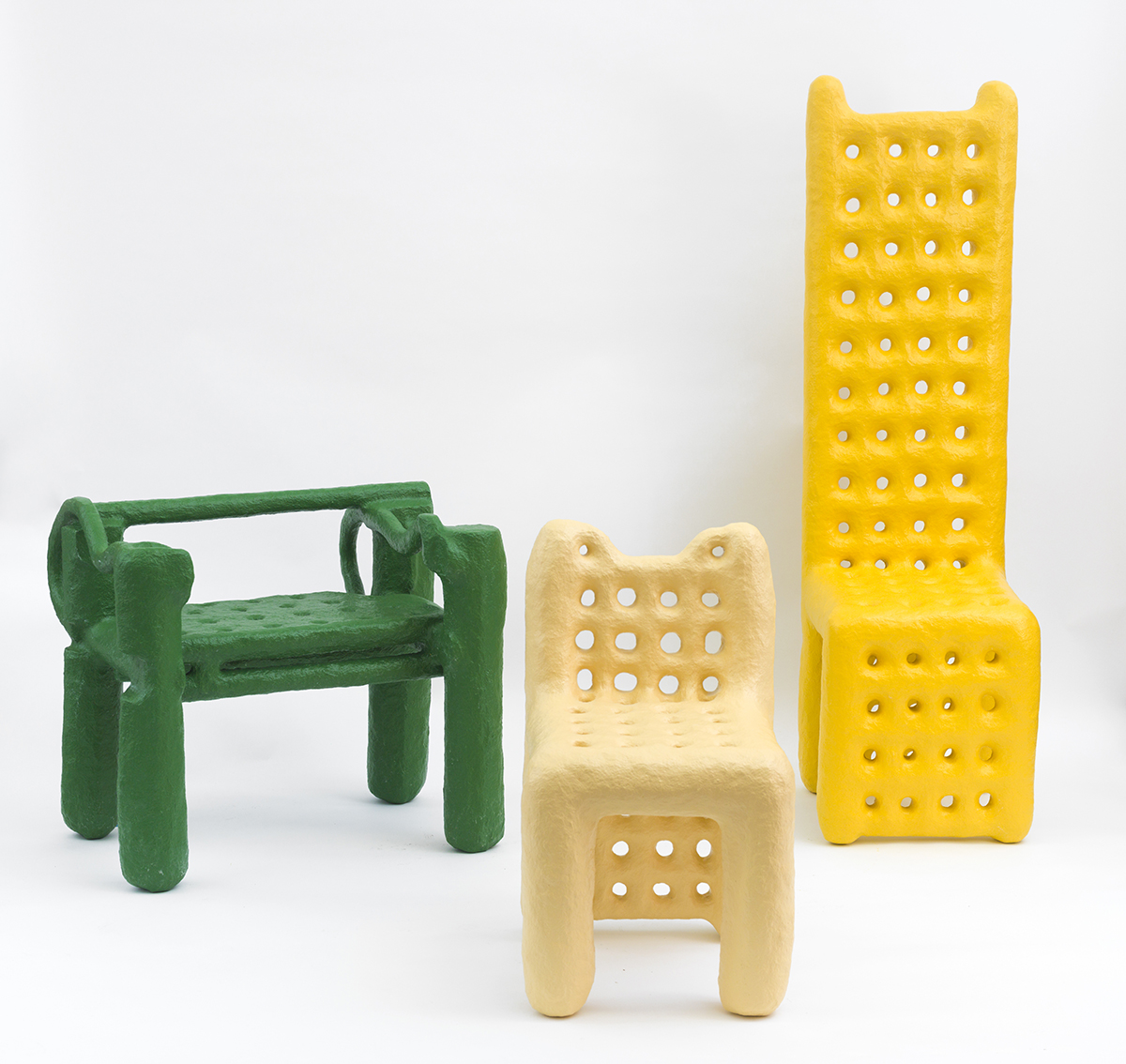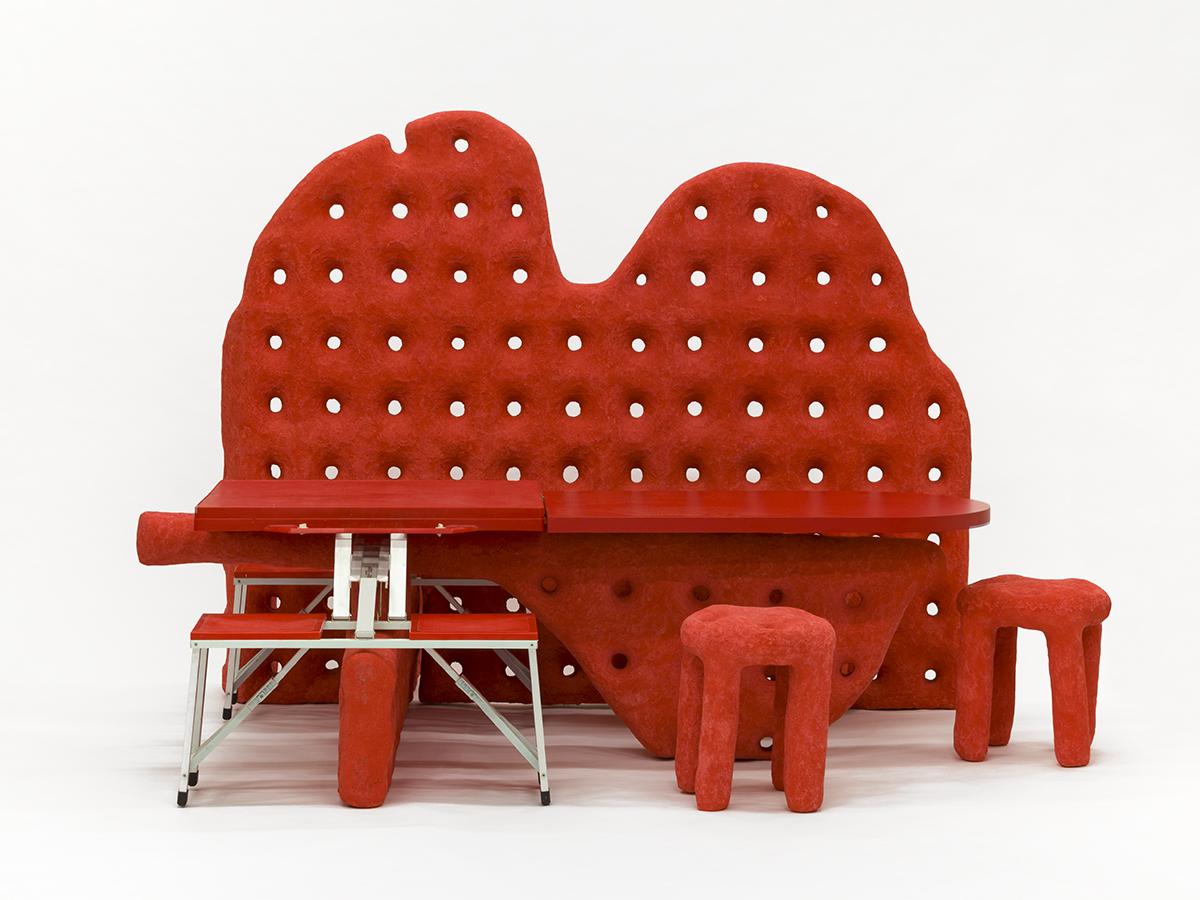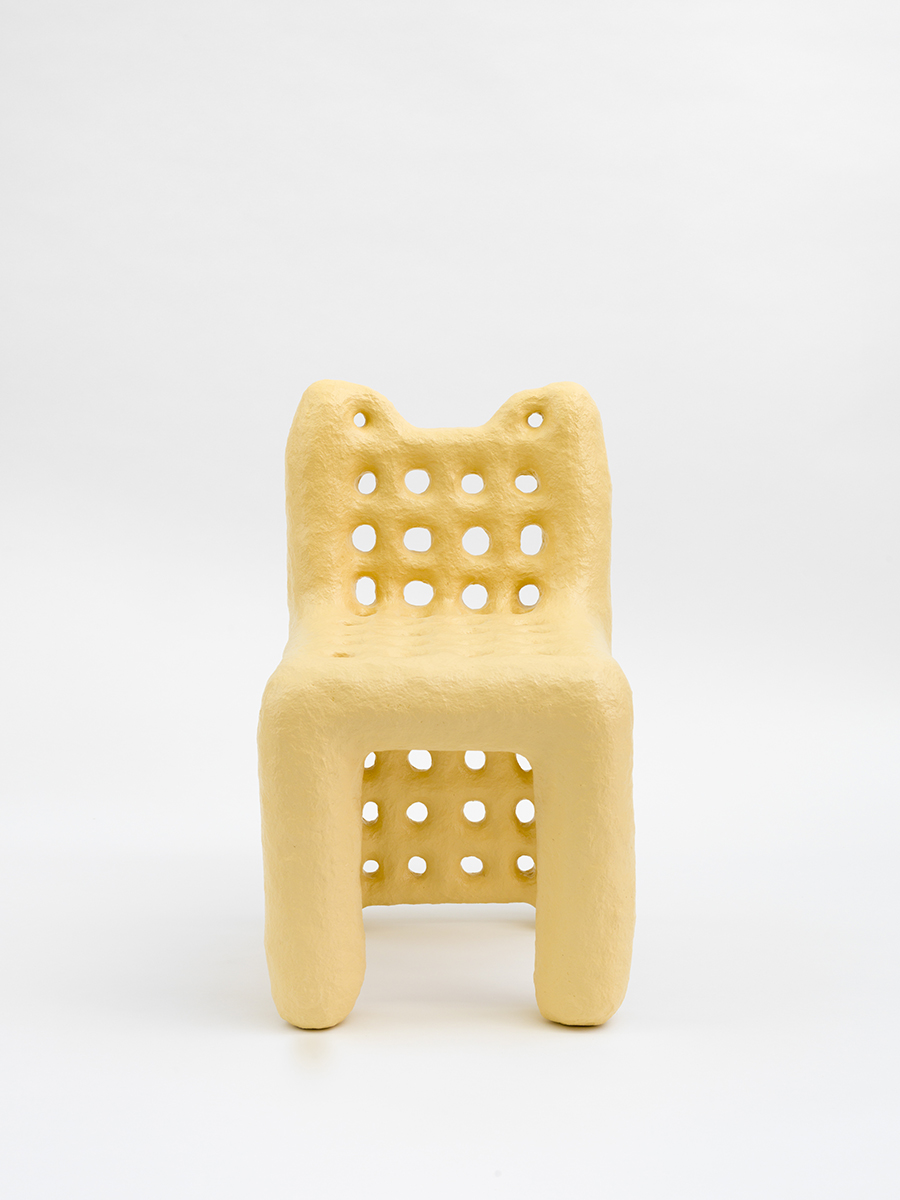 First things first: Why furniture? You studied as an architect, so what drew you to this medium?
When I was a child, I was constantly drawing, filling up sketchbooks. My mom noticed and helped me out; she subscribed me to Architectural Digest when I was little, and I would draw all of the interiors, including the furniture.
Later I studied architecture in college and started working for the architect Christian Wassmann after graduation. He had me build a table for him, and that made me really excited to use my hands instead of sitting at a computer, which is what I had been typically doing.
But after all of that, I just got kind of burned out on architecture. I began to dog-walk. I started combining discarded chair frames with the shredded paper I would find on my walks outside of a police station on Charles Street in the West Village.
What I ultimately like about furniture though is that it's inclusive. Everyone has an experience with it, while sculpture can be so removed from the everyday.
You showed me a picture of that first experiment with paper pulp and found chairs — a small sculpture painted in muted colors and wrapped with Hanes underwear bands. What's the significance of this piece?
I had that chair frame since coming to New York. It was a crazy time for me. I had just left my architecture job with Christian and I had also started dating men. It was so exciting and so messy. I let go of so much. I wasn't forcing myself to work a 9-to-5 or to date women. Excitedly, I started making this body of work. All of these things happened at once. So this chair is very special. The colors remind me of my rural roots, while the underwear bands demonstrate a sexual awakening. It was what I was going through at that moment.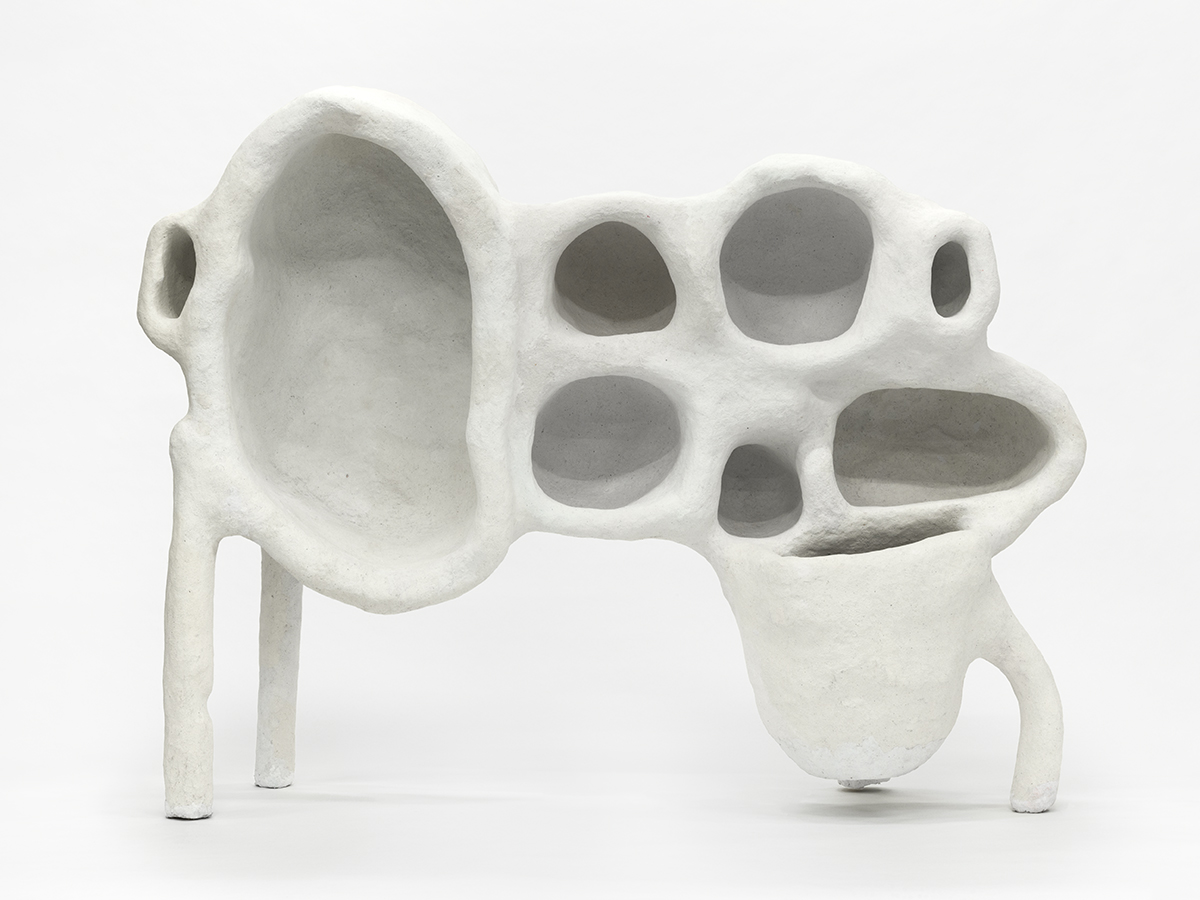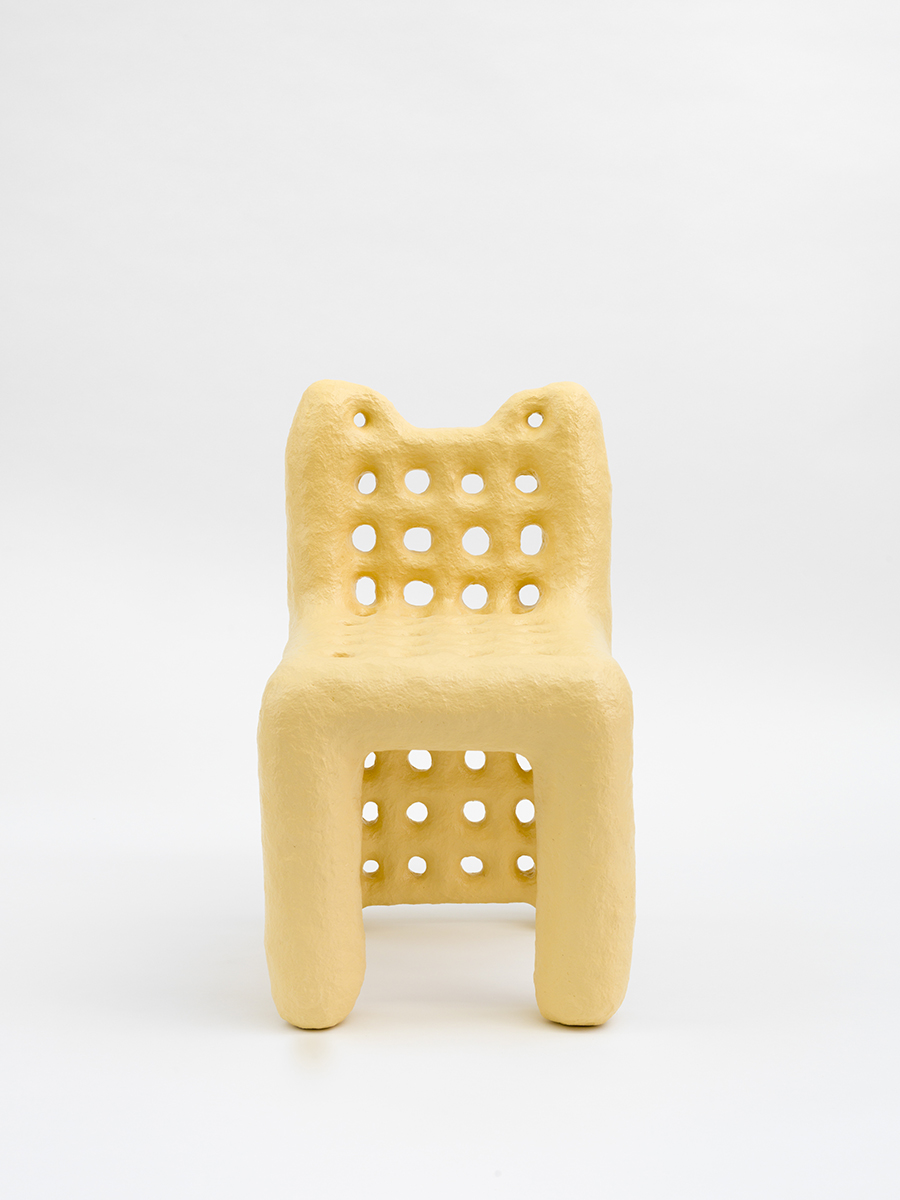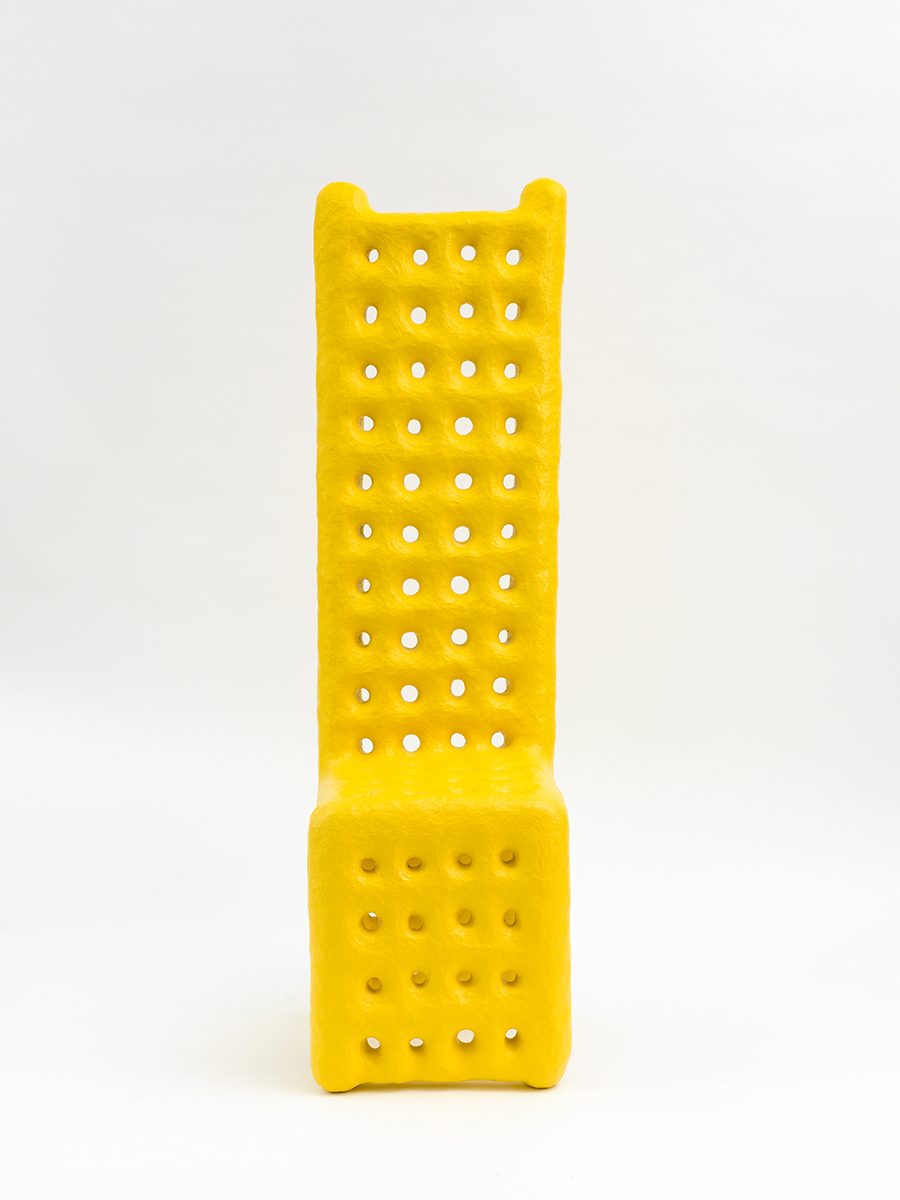 Do you still exclusively use found chairs for the structures or do you build the frames as well?
It's a mix. I've been using a lot of IKEA chairs, because people throw them away so much. But I build my own frames, too. In this show, I've been using existing chair frames, building around the frame or on top of it and leaving some of it exposed, like a deconstructed version. It makes the work more interesting if it features found objects. I find that found chairs are often very reminiscent of the chairs my parents had.
Is there something nostalgic about the found chairs to you?
Maybe, but I feel kind of weird about that word, because it's not like I'm fondly remembering these things. With the "Buttery Tall Boy" series, for example, I'm reflecting on an intense relationship to Christianity that I was never able to achieve. The chairs in my church back home have strict features that include straight backs, hard lines, horns, and dark colors. My versions are also strict — with their straight backs and repetitive holes — but they also depart from that aesthetic with their soft edges and color. Those features make them mine and build a child-like relationship to the real church chairs.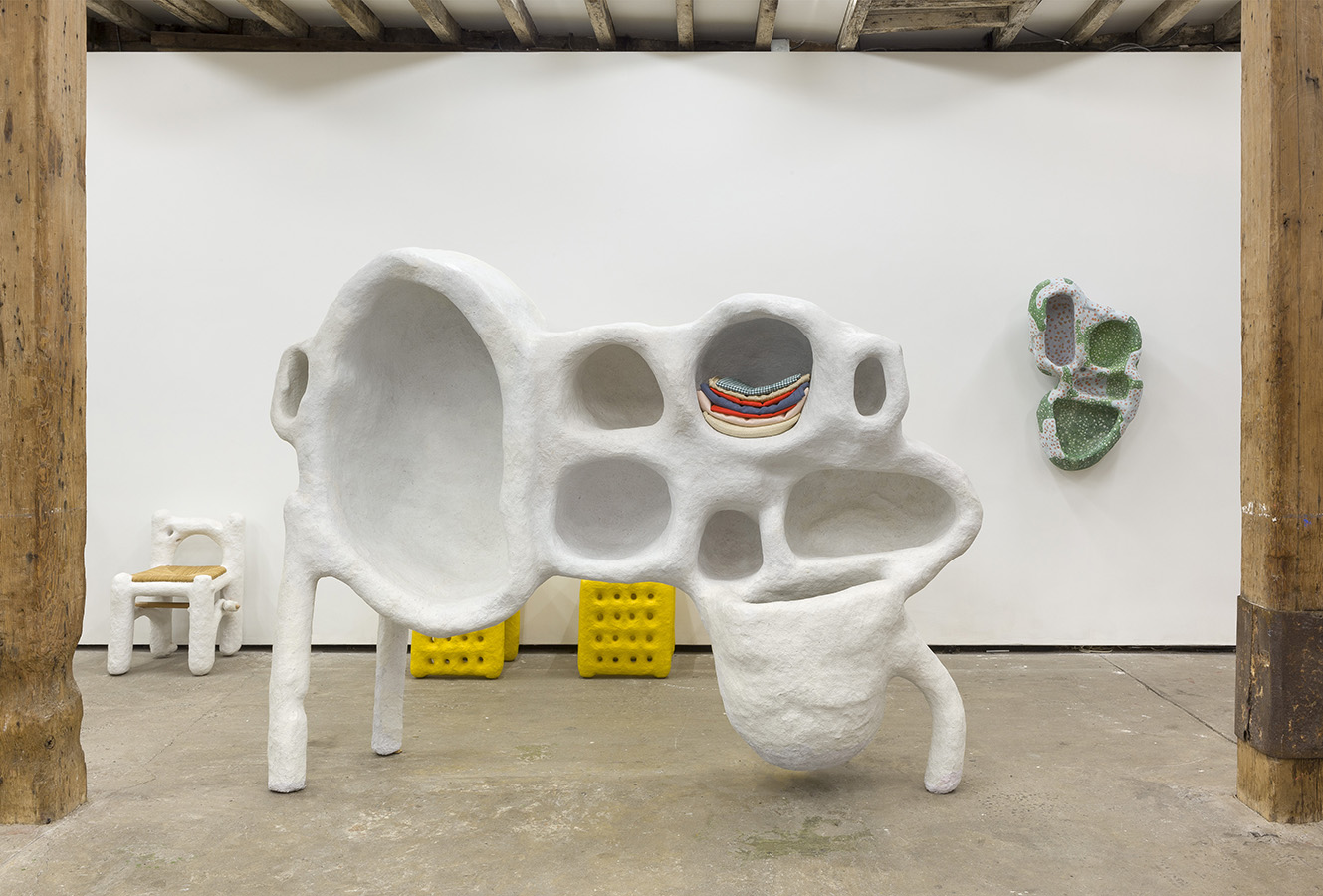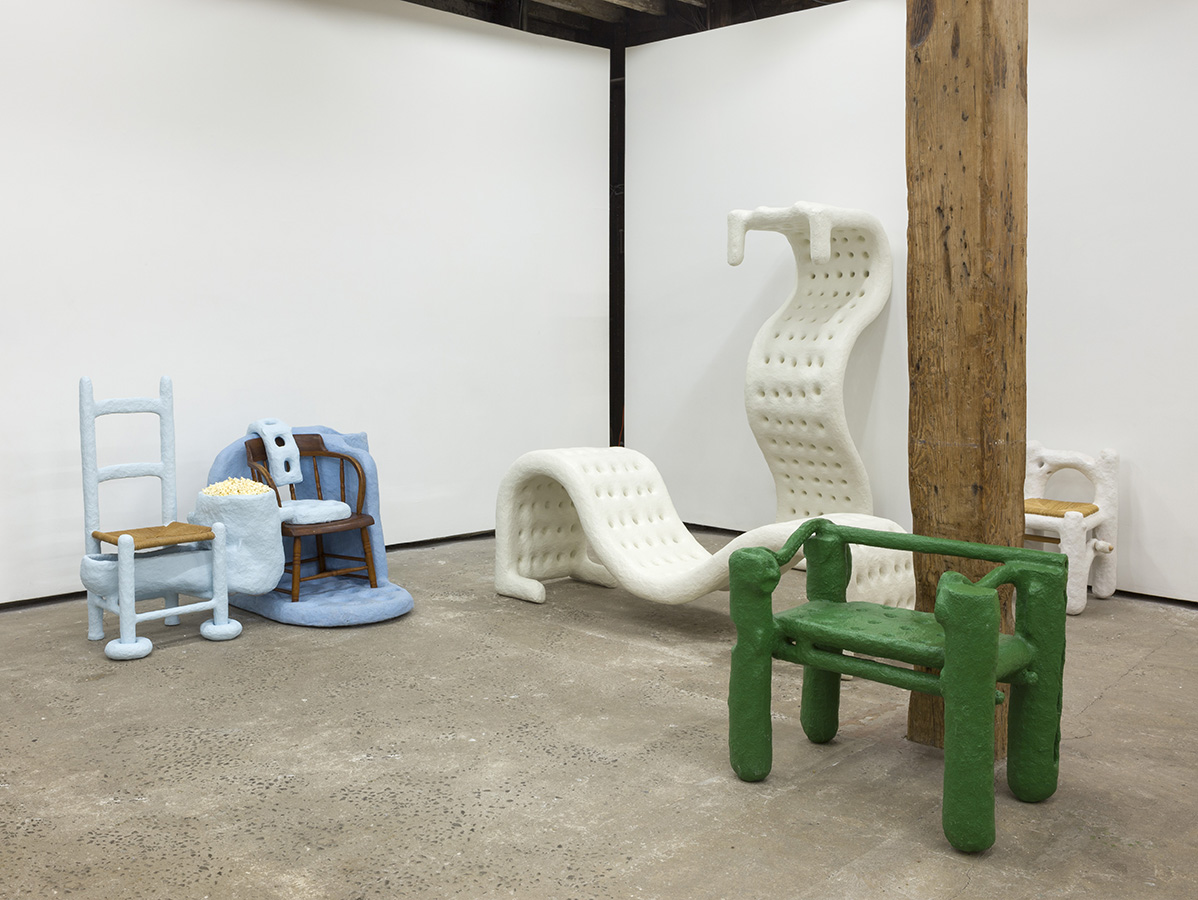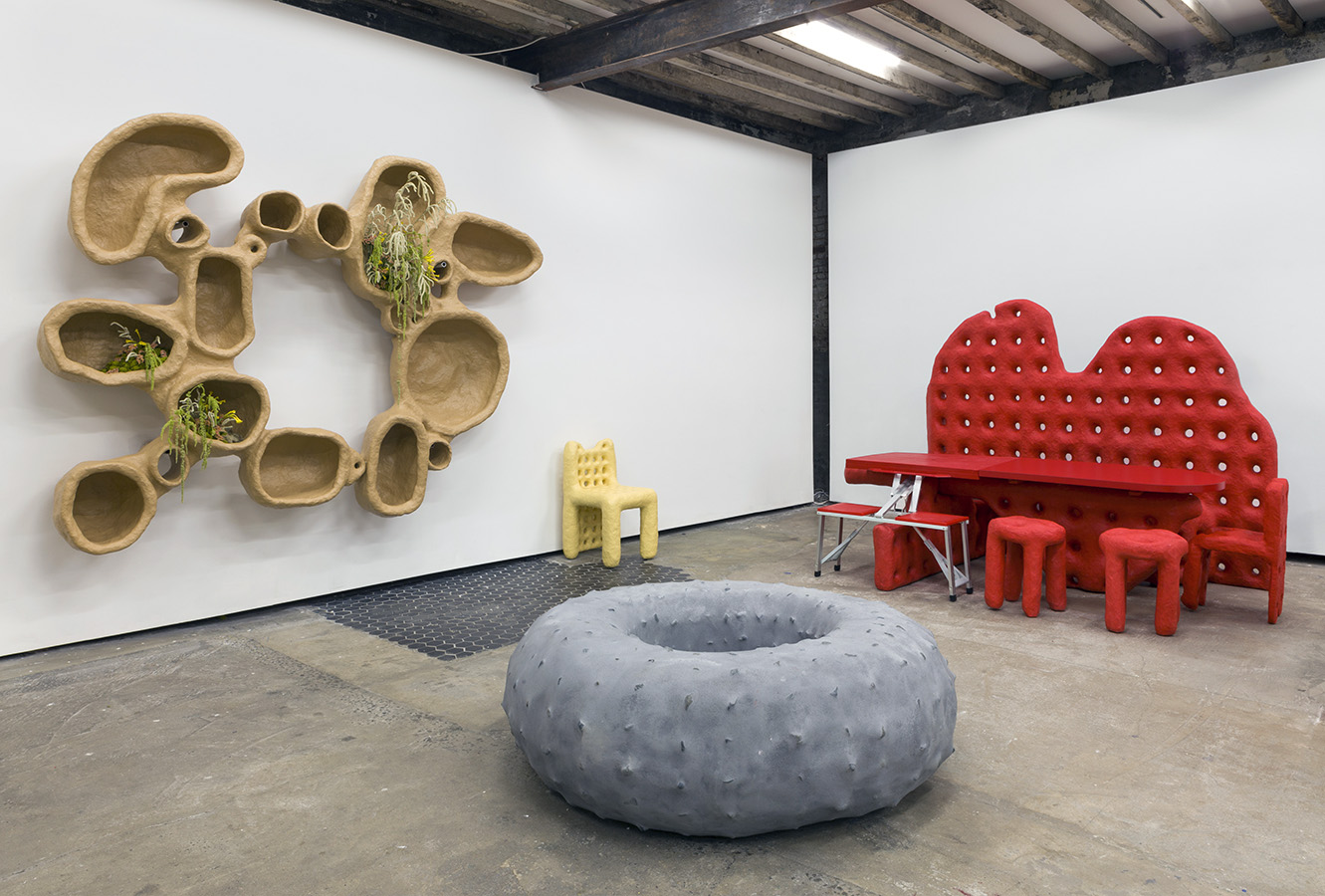 Could you describe a work or two in the show and what you hoped to achieve?
My mom has these signs around the house that say "faith, family, farming." And that's kind of what's in the show. For example, I grew up seeing a lot of tractor tires, and I used to play in the creek in a cow pasture behind my house, where I collected rocks. I brought some rocks back to New York and applied them to a circular wooden frame, using stucco. The result is the work Dicks Creek Tractor Tire. When I was finished with the piece, I pleasantly realized that the shape, dark color, as well as the dimples created by the rocks offered a clear resemblance to a tractor tire. Though the tractor tire and the rocks are two separate memories from the farm, it's exciting that they are muddied to become one in this work. Also, honestly, because this time of reflecting has been overwhelming, I'm excited that this piece can be translated as "heavy" or "dark."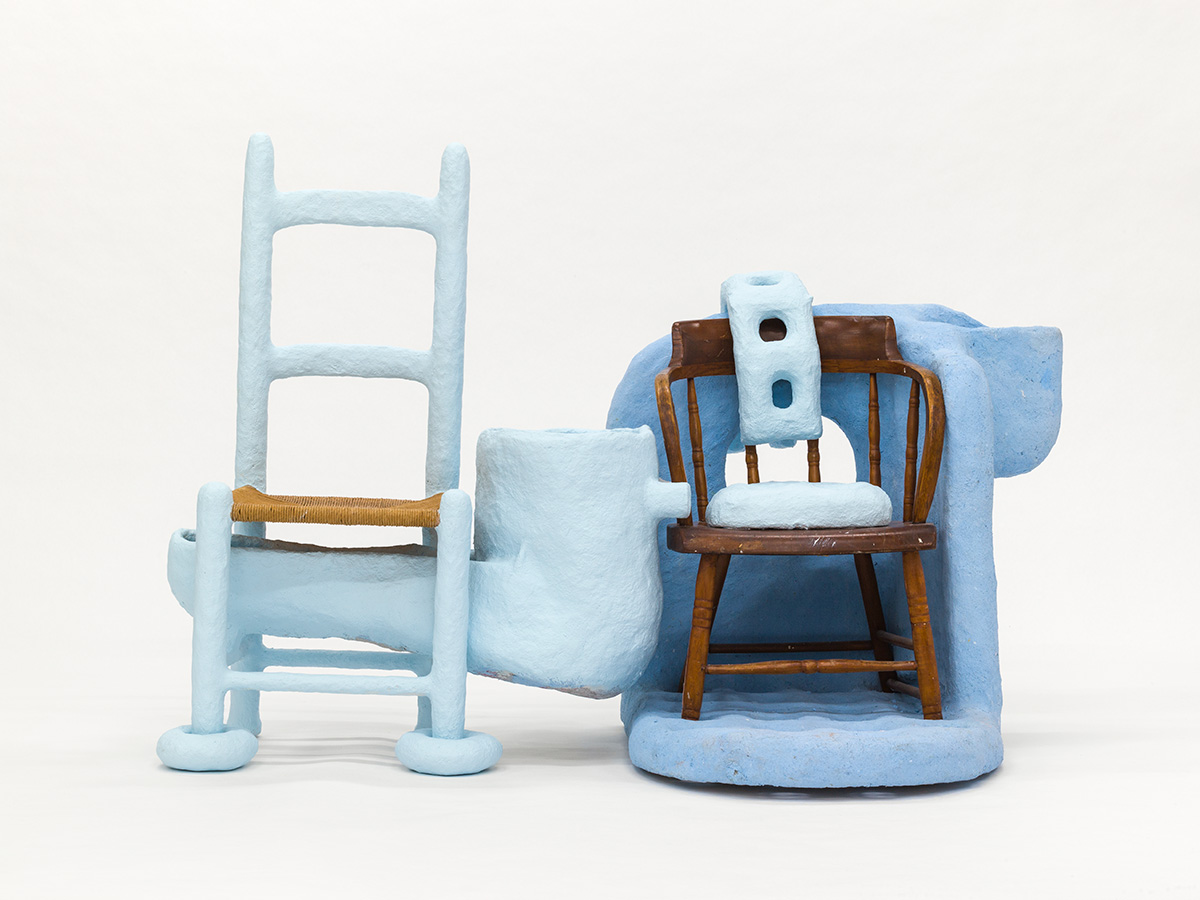 I was struck by the Love Me, Protect Me Chair sculpture, which features two very different found chairs conjoined by a container filled with popcorn. Could you talk a little bit about this piece?
I came out to my family about a year ago, and we didn't talk for many months. They're really religious and conservative, so they took it kind of hard. When we weren't talking, I was able to reflect on the things about them that are so special to me. The Love Me, Protect Me Chair sculpture focuses on my parents' role in my life.
My mom was a stay-at-home mom; that's the "love me" part captured in a chair with a really thin frame and a rattan woven seat. And then the "protect me" part describes my dad. At the kitchen table, he always had a chair with armrests and was at the head of the table. He worked a lot and provided. My parents had very different roles. My mom raised us and my dad worked from sun up to sun down as a farmer. These are two chairs that are found pieces I built around but left kind of exposed. Even though my parents had different roles and identities, I always viewed them as a unit. I join the separate chairs through the blue color and the container that underscores my parents' relationship.
Are your works functional as well as sculptural?
Everything has a wood frame underneath it. They can be used, though my interest in functionality is diminishing.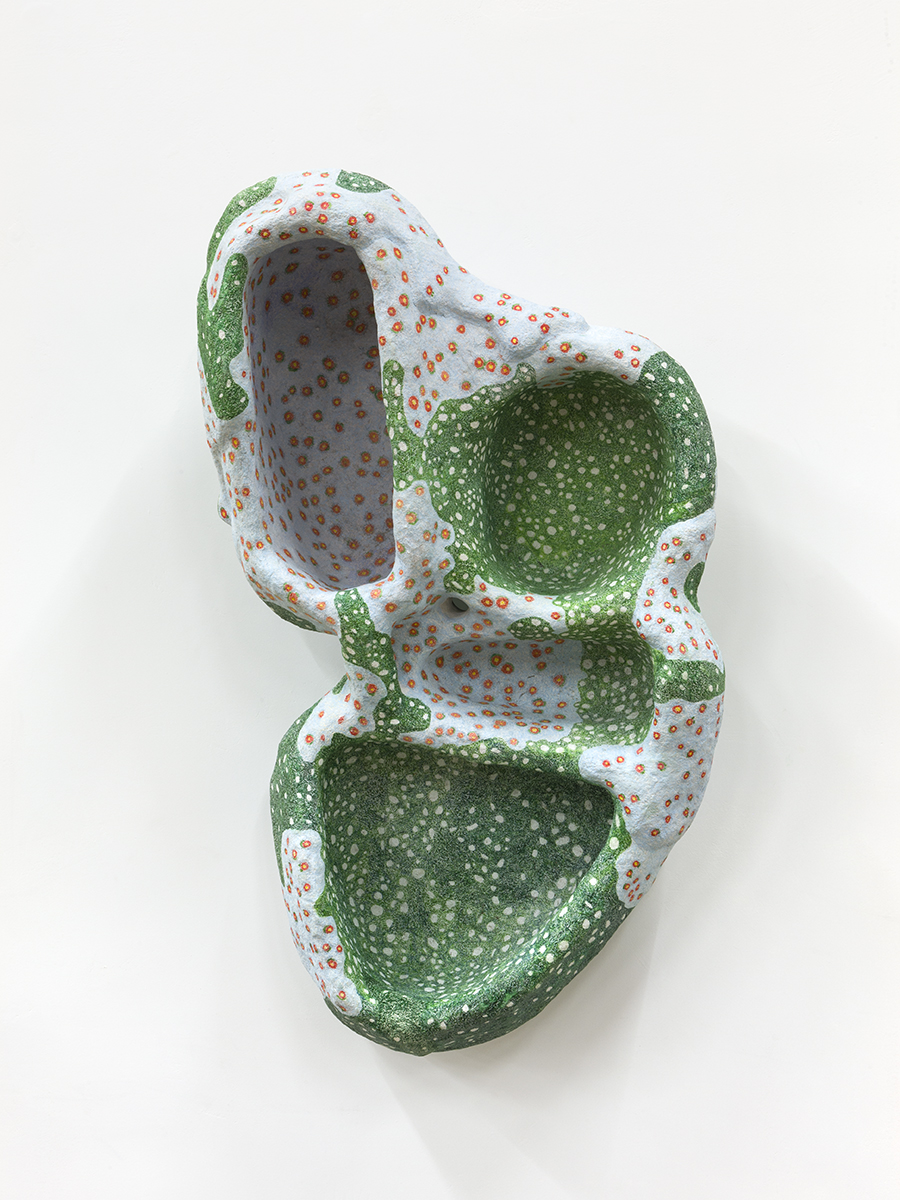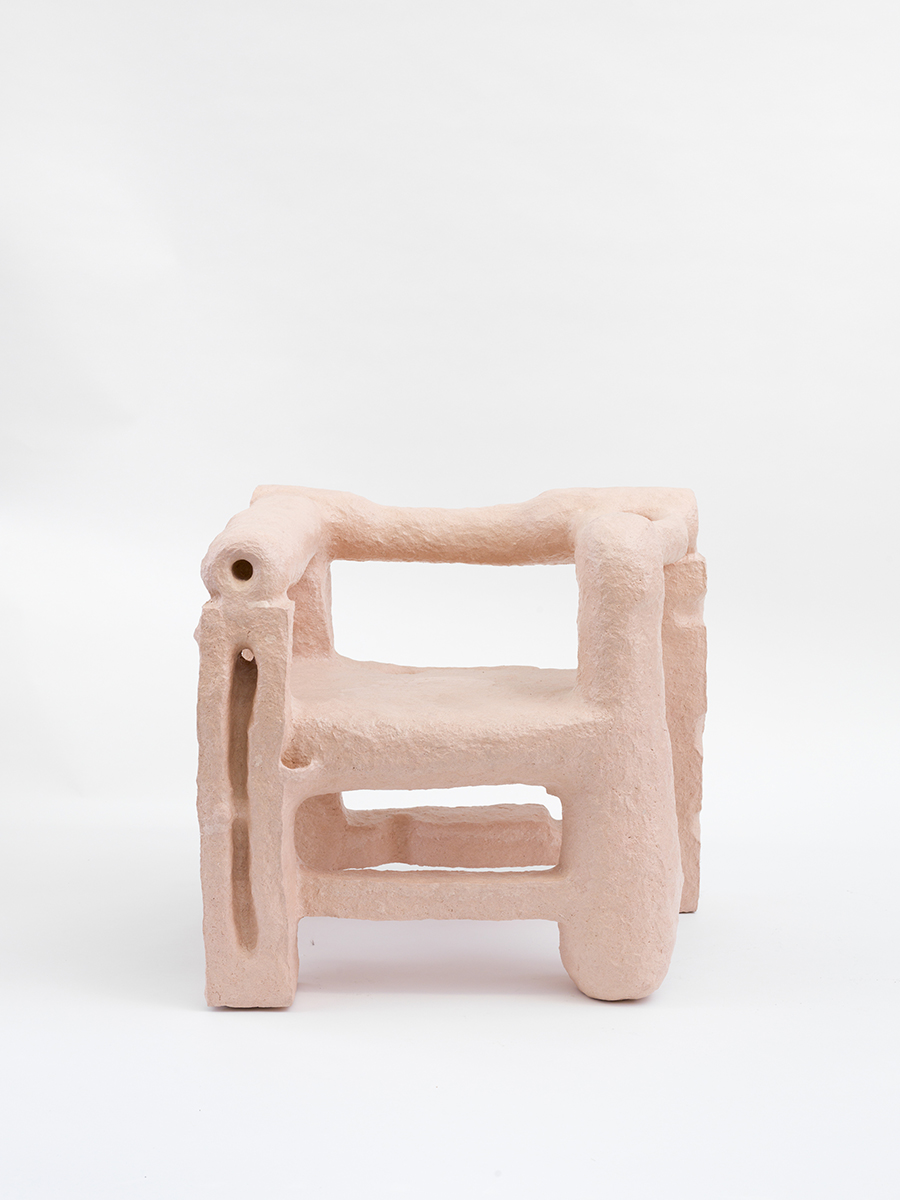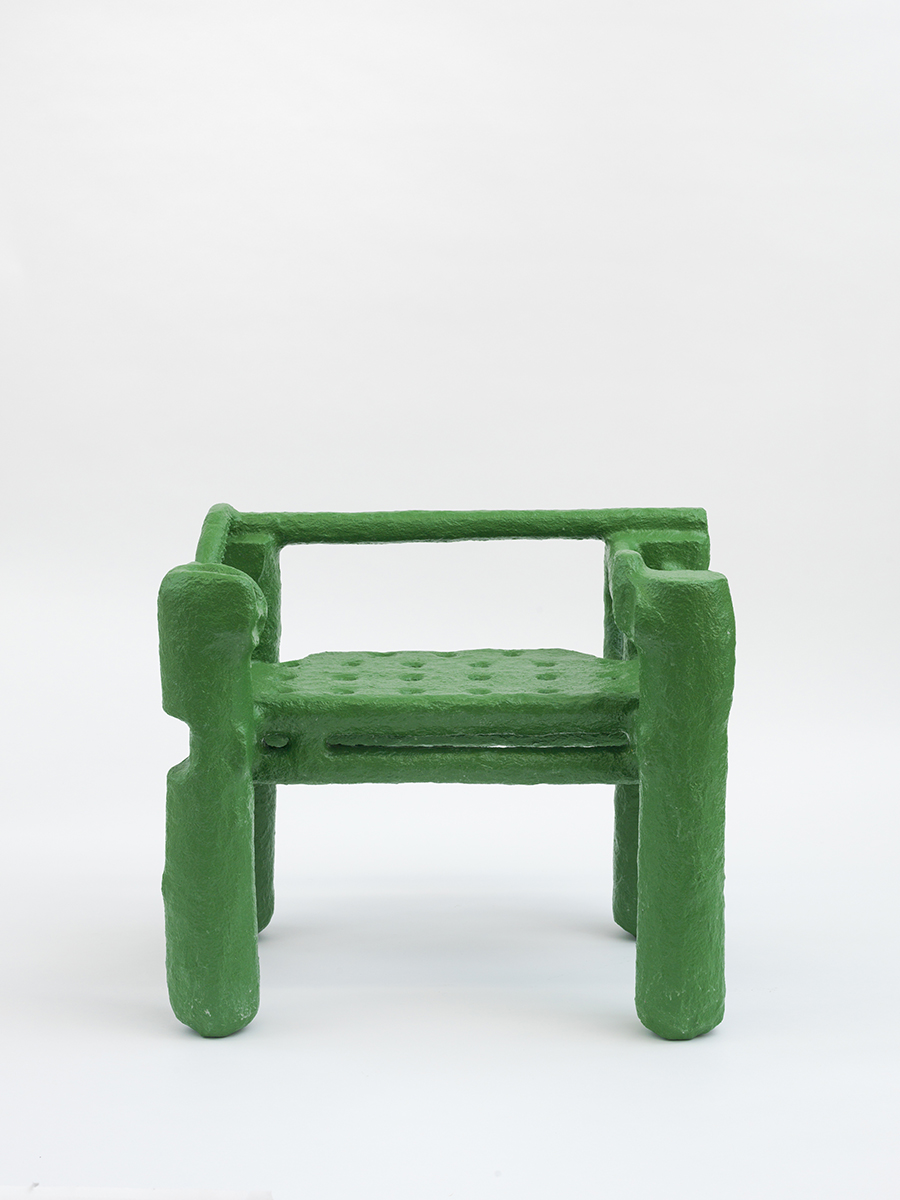 Who are some of your influences—artistic or otherwise?
The artists and people in my life who have inspired me are the people I've worked for, like Christian. Then I started working for Jessi Reaves, a huge inspiration and good friend. And then I helped out Misha Khan for a while, and he's so great. I guess relationships drive me — my mom, my dad, and my boyfriend all inspire me.
In contrast to landing a solo show at a prestigious gallery was your stint as a dog walker a humbling experience?
Well, when I was working for Christian, I was coming to terms with my sexuality, and I needed the time and space to figure that out. I couldn't do an architecture job, so dog-walking was huge. I'm more comfortable with my sexuality now, and I found the chairs on the street. It was meant to be. It made all this happen.