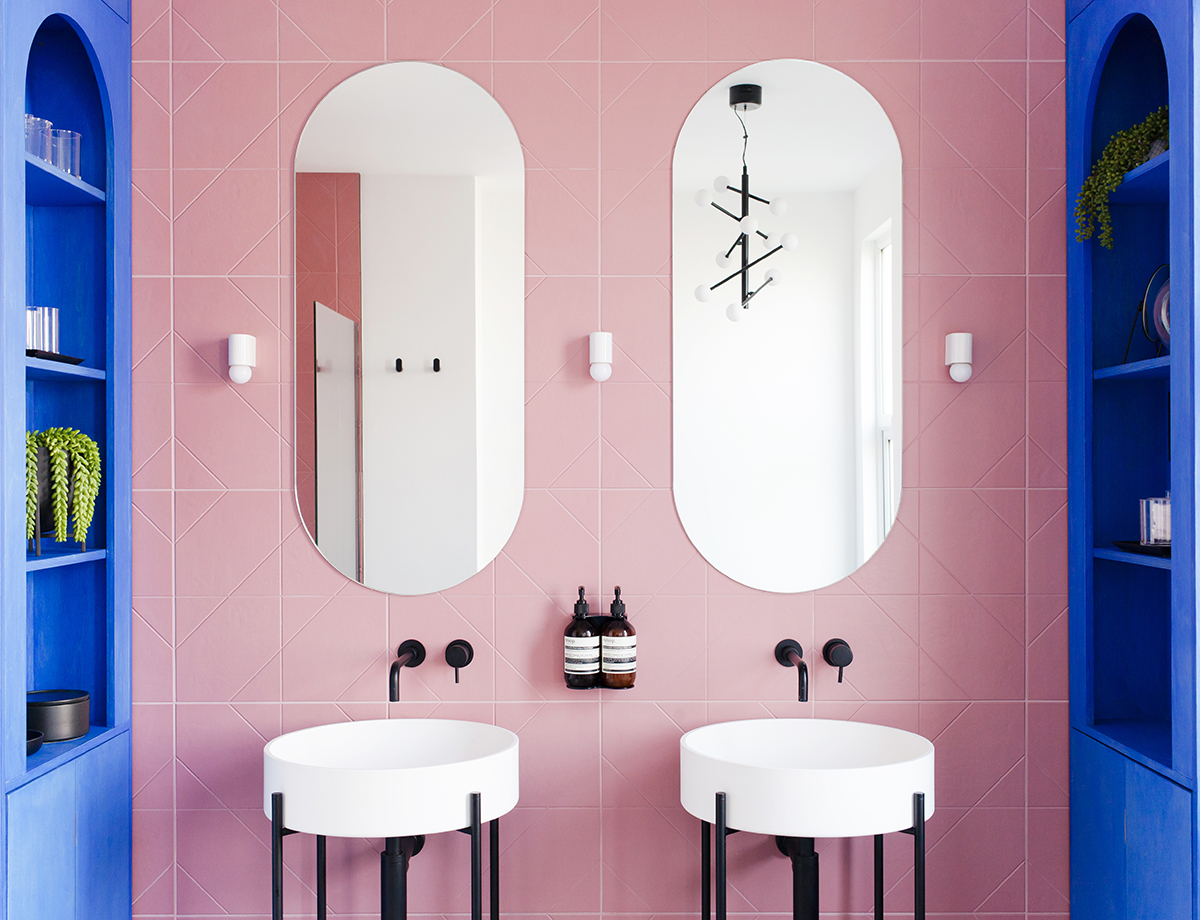 A weekly Saturday recap to share with you our favorite links, discoveries, exhibitions, and more from the past seven days. This week: A new book that reveals hidden Gerrit Rietveld interiors, brand new furniture releases by two American design studios, two major ceramics discoveries, and the latest dispatch from our imaginary sister site, Sight Unseen Bathrooms.
Discoveries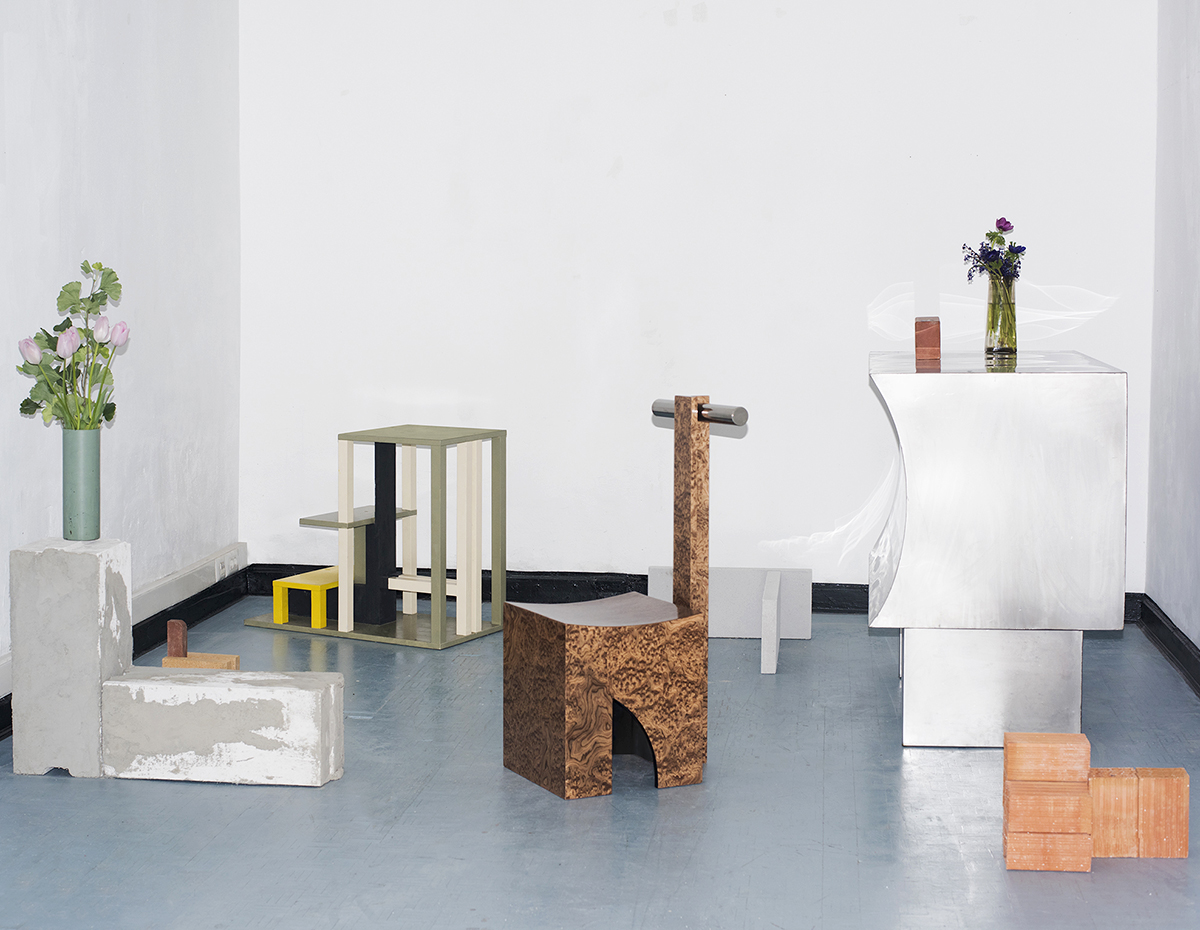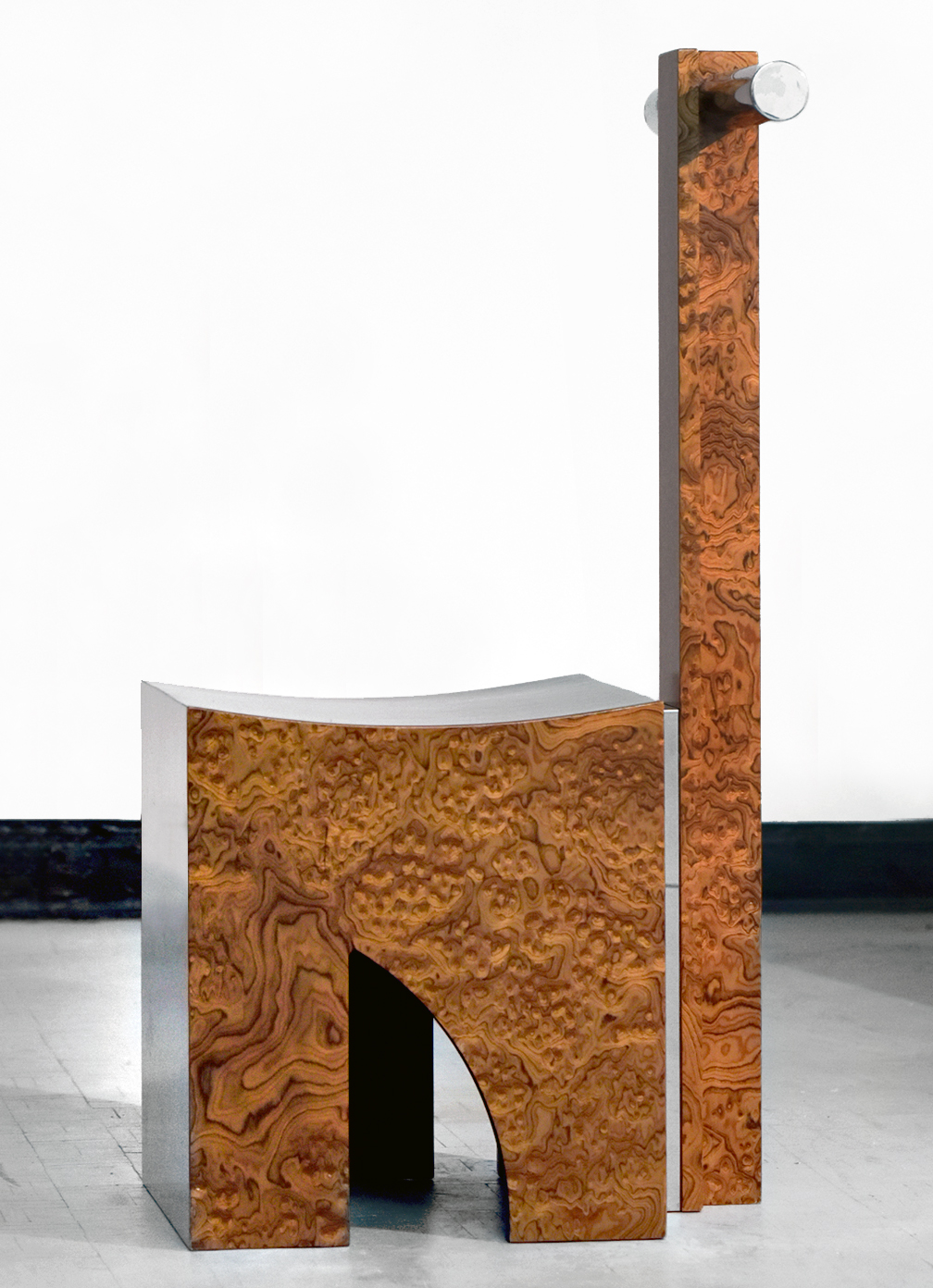 A year or two ago we noted that Baughman-esque burl wood was making a comeback, but apart from a few examples, we haven't seen much of it in contemporary design since. That's partly why we were happy to get an email recently from Greek designer Stamos Michael, who captured the vibe nicely in his new series Liosion with its standout piece, a chair made from stainless steel and lacquered walnut-root veener. We also really like that stainless steel "standing desk" on the right, about which the designer also made a video.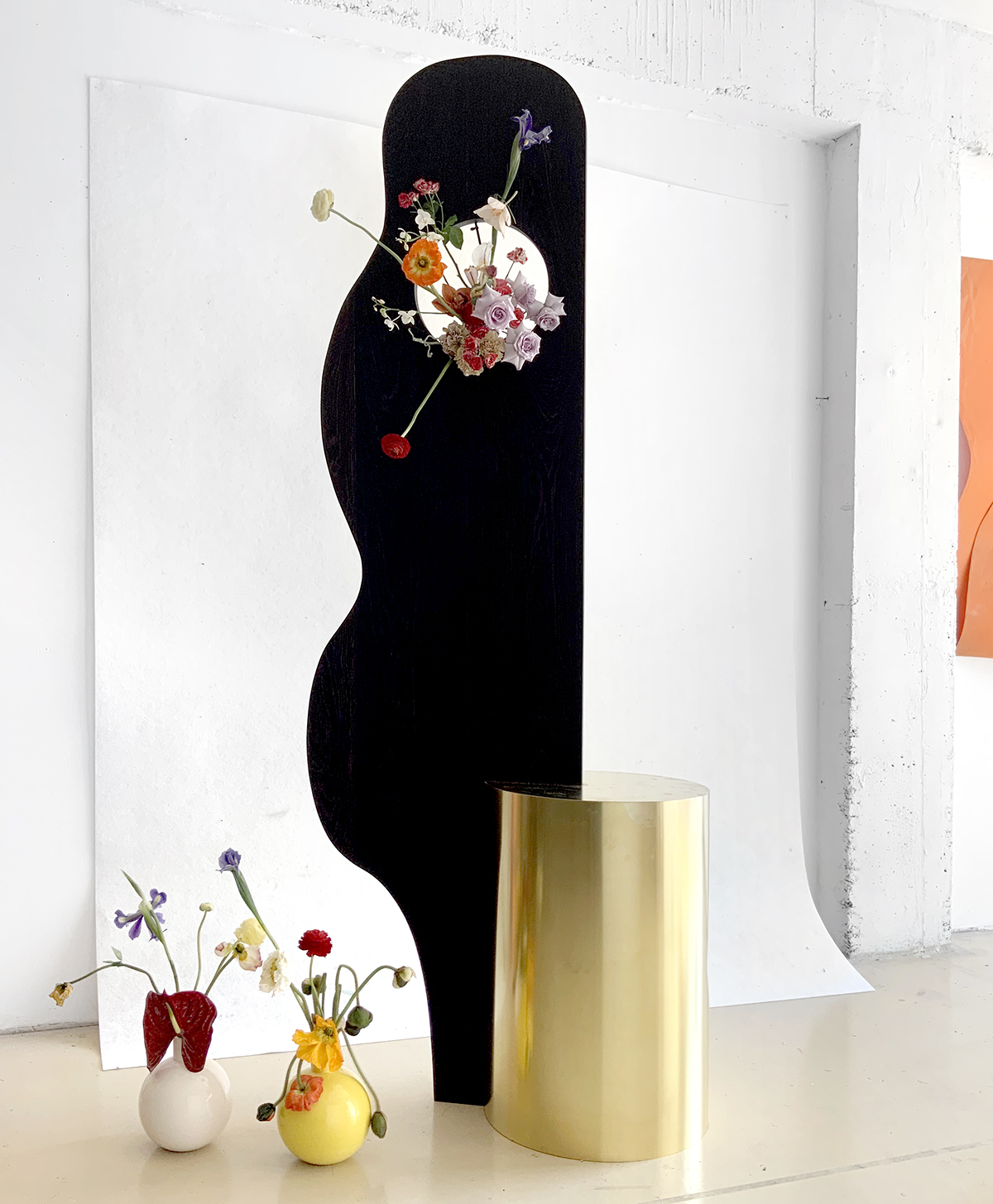 Remember Owl Furniture and Objects, whose stools and tables we featured earlier this month? They keep churning out hits — the latest being this wenge and brass sculpture that they shot recently with arrangements by Matagalanplantae and posted on Instagram.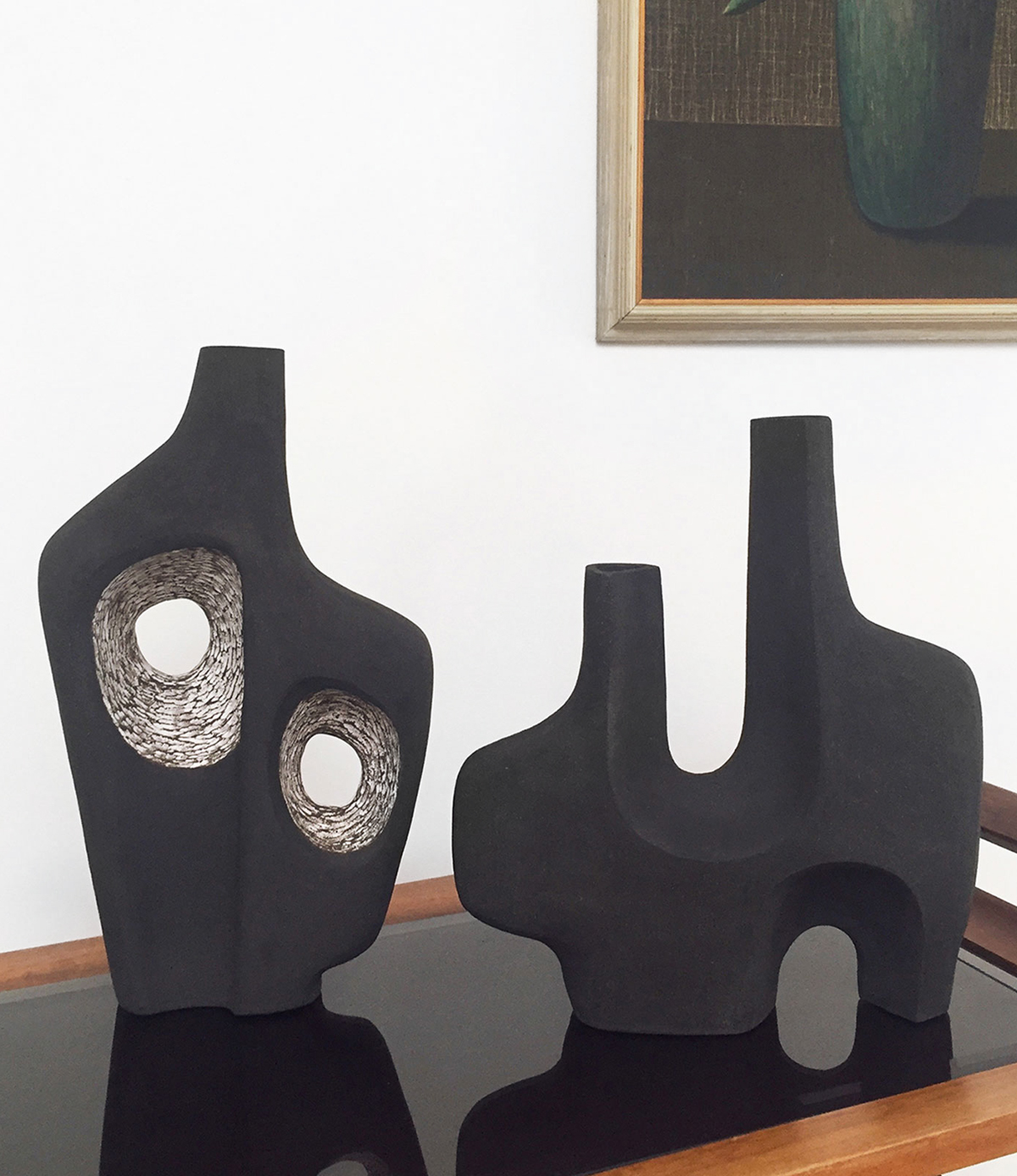 We thought we'd made a huge discovery when we spotted the work of ceramicist Jan Vogelpoel on Instagram — the ultimate dream cross between Salvatore Fiume and Barbara Hepworth — but looks like we should be watching the feed of the Aussie store Modern Times a litttttttle more carefully, as they got to her awhile ago (and stock the two pieces of hers shown above). Wishing we had room for that one on the right ($380) on our crowded shelves at home, sigh.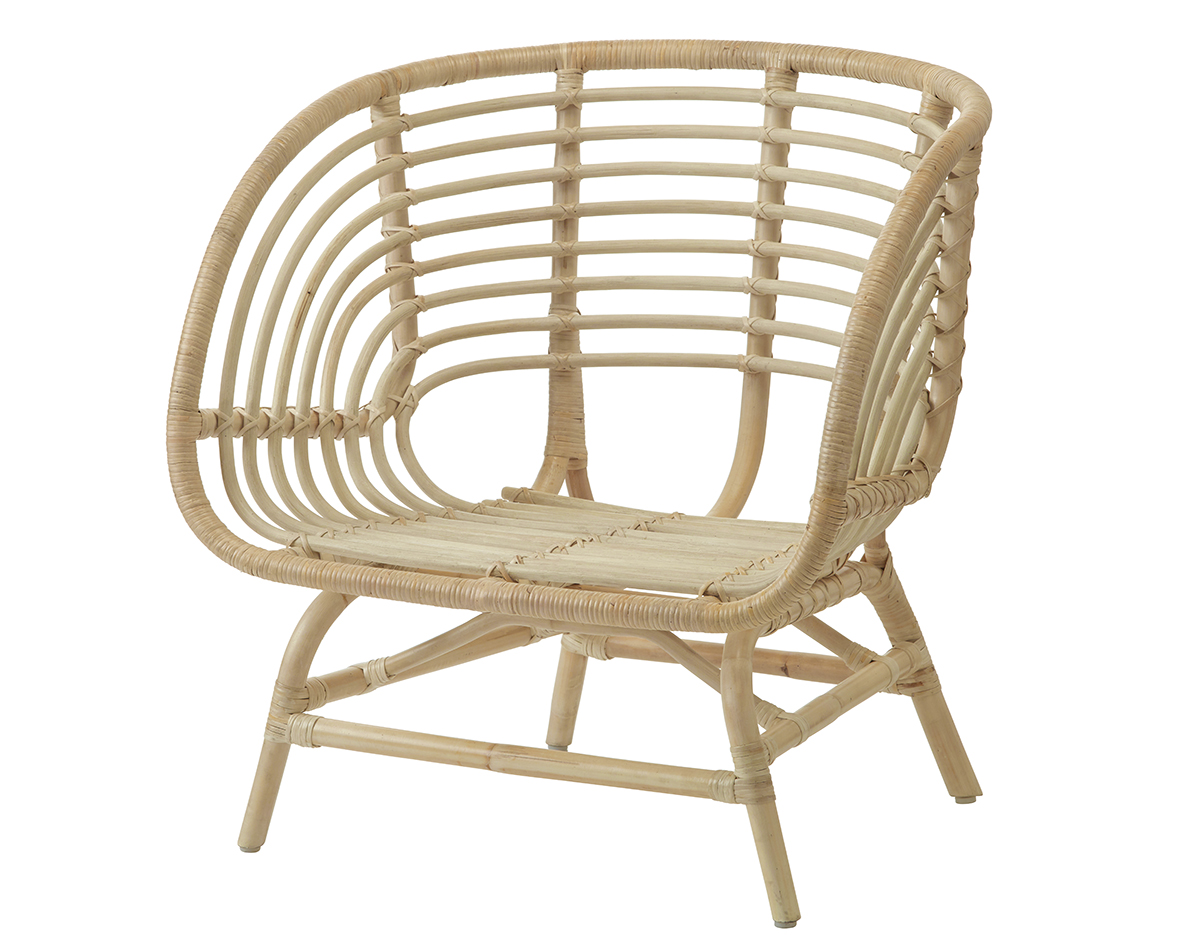 Also wishing we had a veranda on which to place this new bamboo chair from Ikea ($130, only on the Canadian site now but should be on the US site in April). With a cushion (sold separately) it would be pretty chic.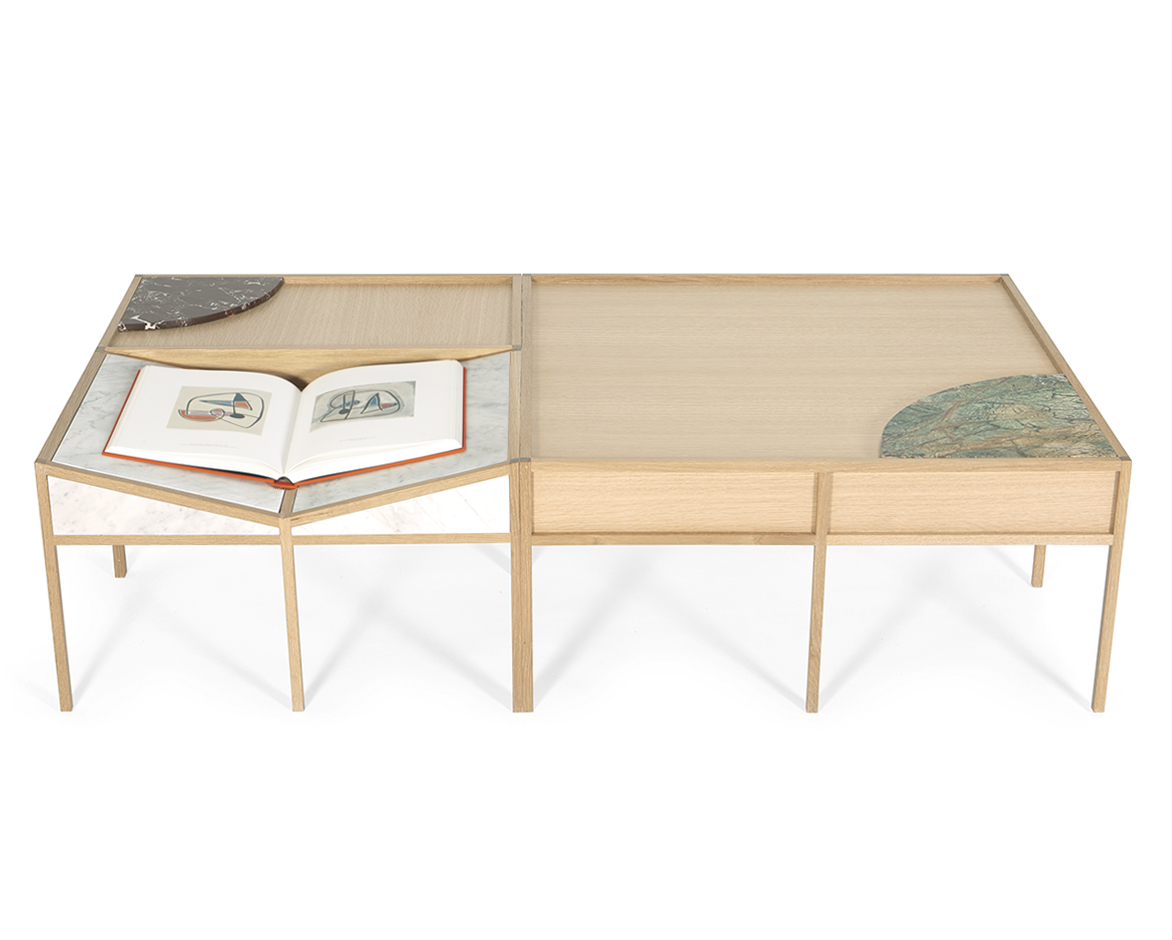 So much new spring furniture! This coffee table is part of Trey Jones's latest collection, and we love love love the way it incorporates his previous Bookscape book display right into the actual piece. We need this so we can show off our beloved copy of Entryways of Milan.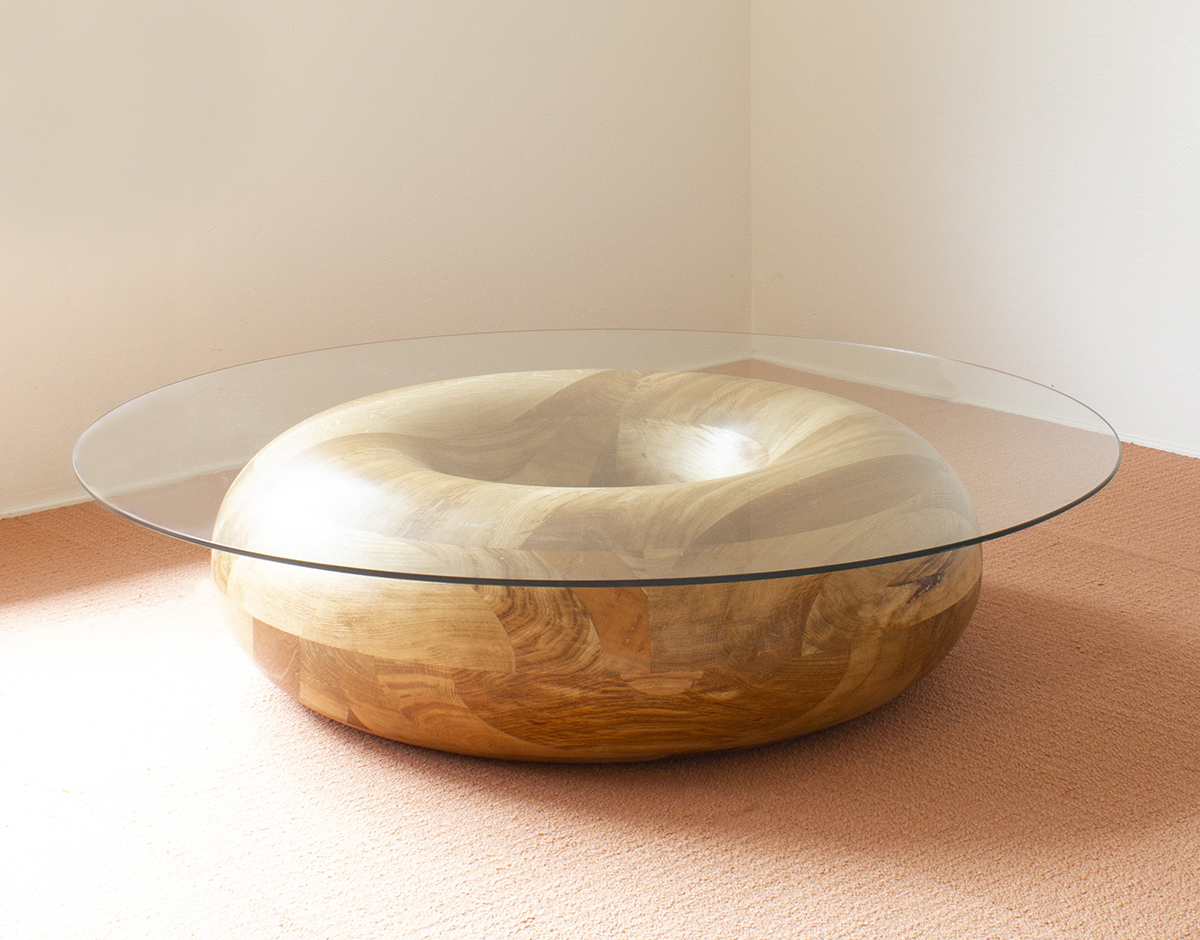 One of our favorite 2019 discoveries was SF's Soft Geometry, who also just released new pieces, among them this doughnut-shaped coffee table made from layered sculpted wood.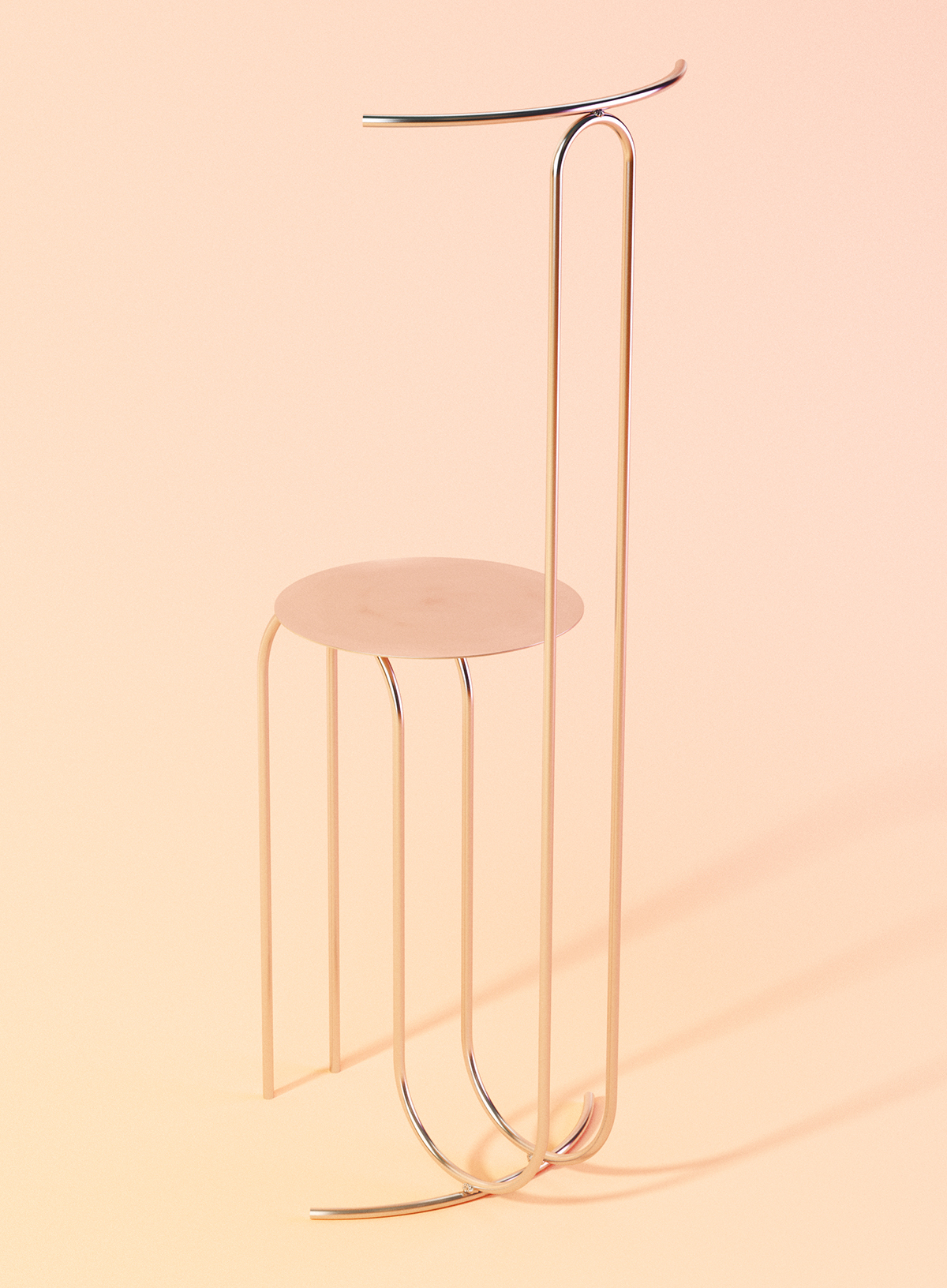 Brazilian wonder Pedro Paulo Venzon's latest ultra-skinny chair is called Submissa, and he describes it as a compromise "between its functional balance and the fragility of the discontinuous lines in which the piece is produced."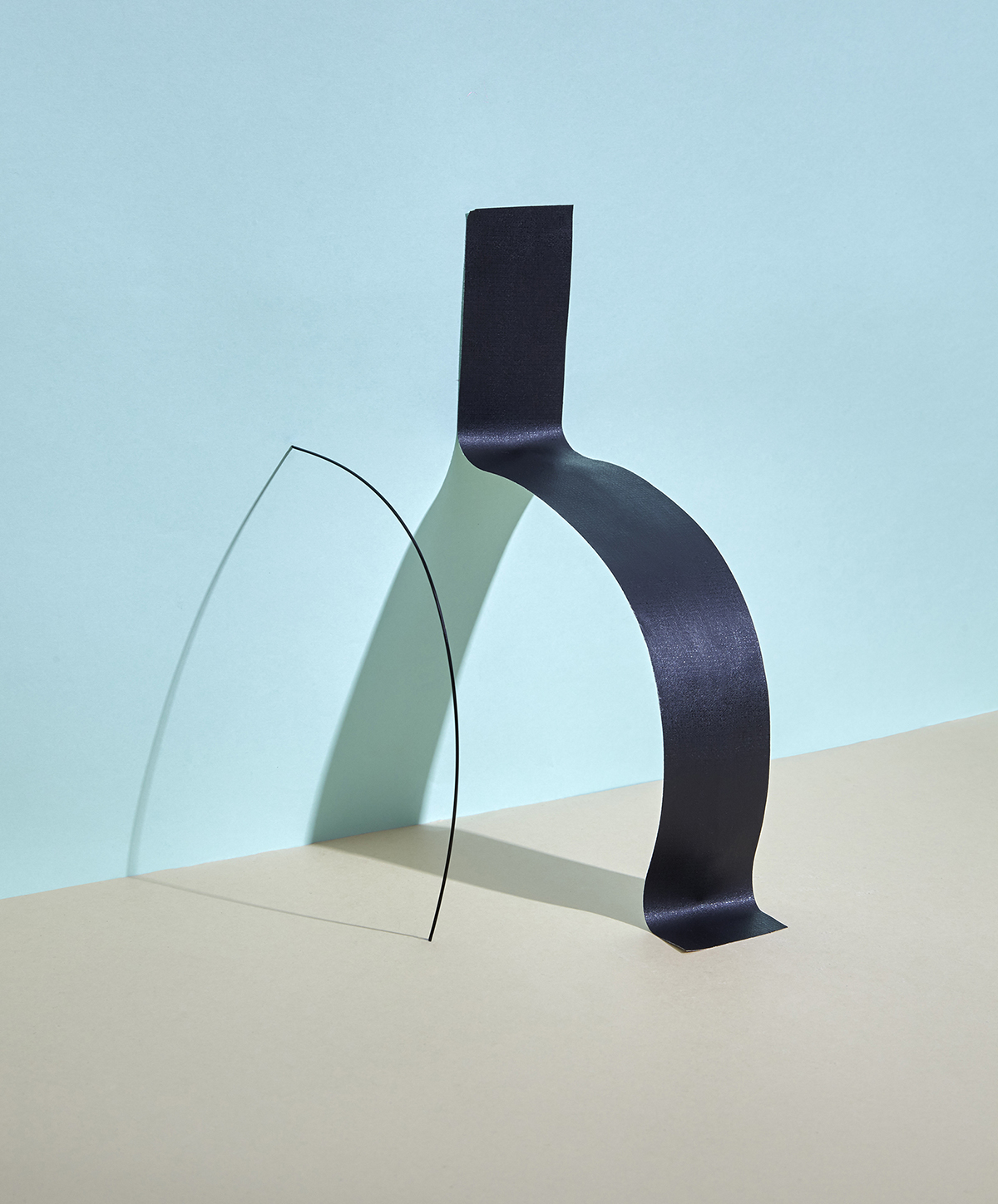 Loving the London-based photographer John Gribben's Flux series, a personal project of his, exploring shape and form, that reminds us a little bit of our favorite artist Alicja Kwade, and a little bit (ha) of this project we did back in 2014.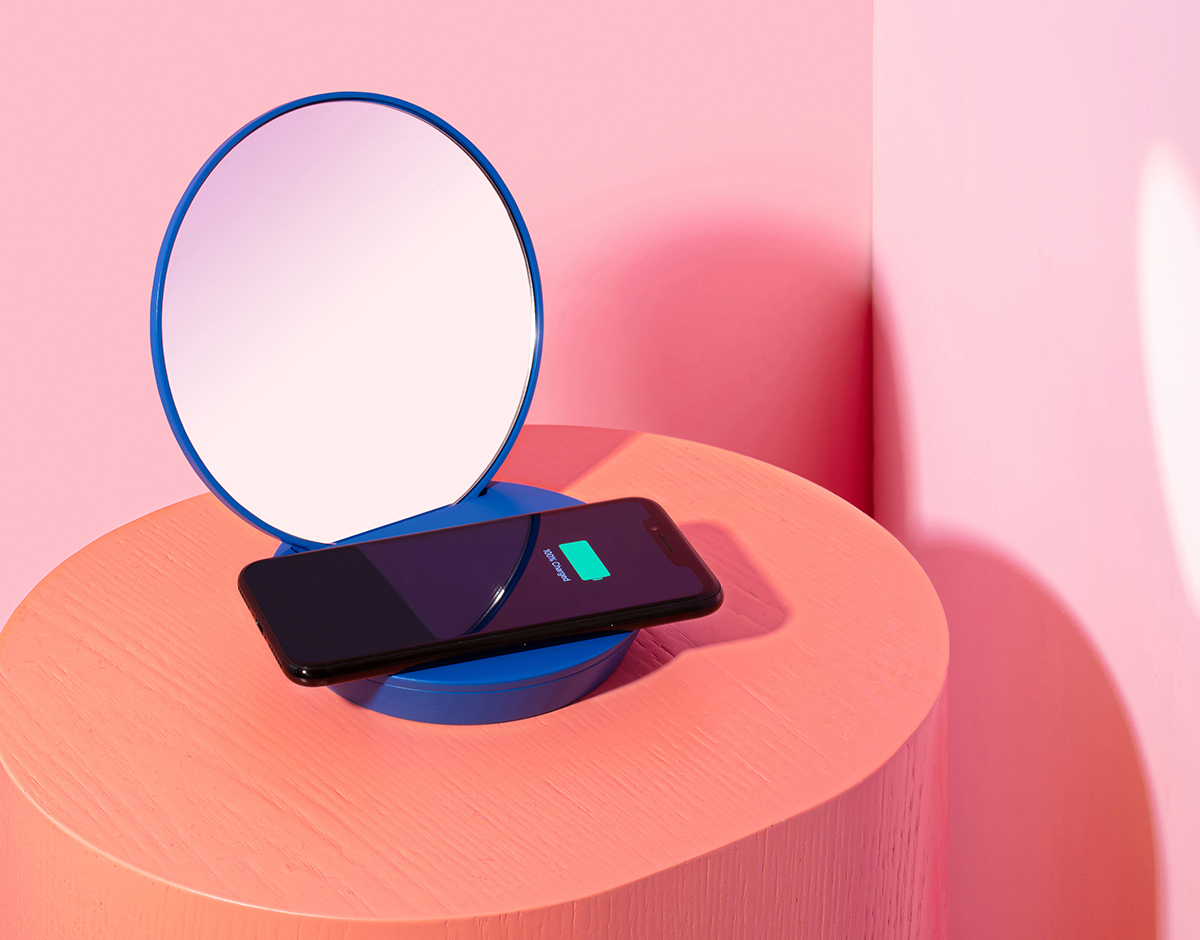 We already have a beloved phone charging stand for our bedside table — the $40 Q by One Object — but if we didn't, we'd definitely be interested in Korean firm ADAO's Multiply wireless charger, which comes with a drop-in table mirror, presumably so you can see if you're looking your best before you answer that FaceTime call from your crush?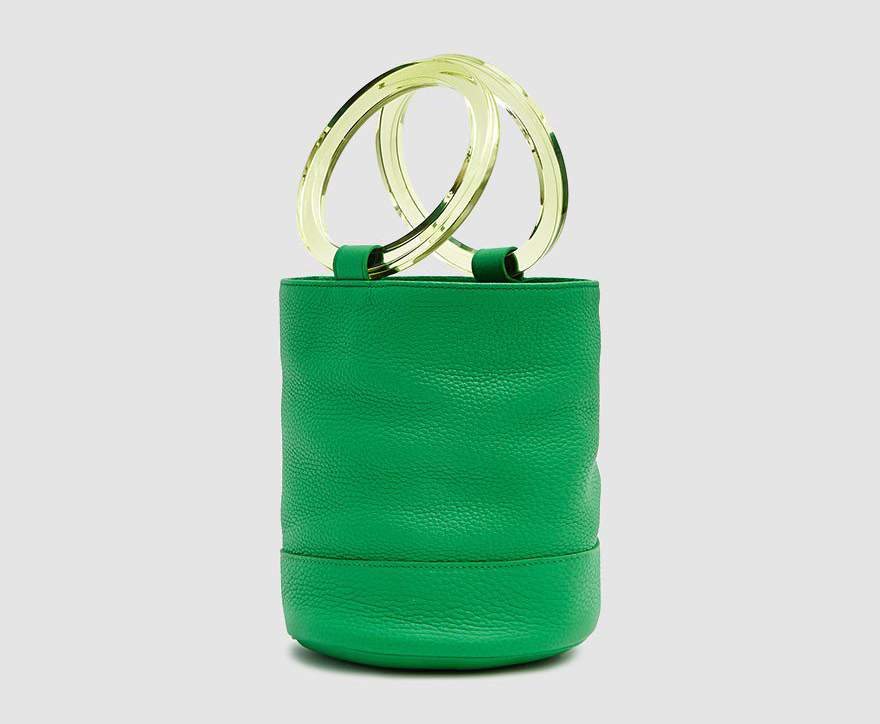 No serious news here, we just really really appreciate the color scheme of this iteration of Simon Miller's Bonsai Bag ($390), and wanted to share our feelings with the world.
Links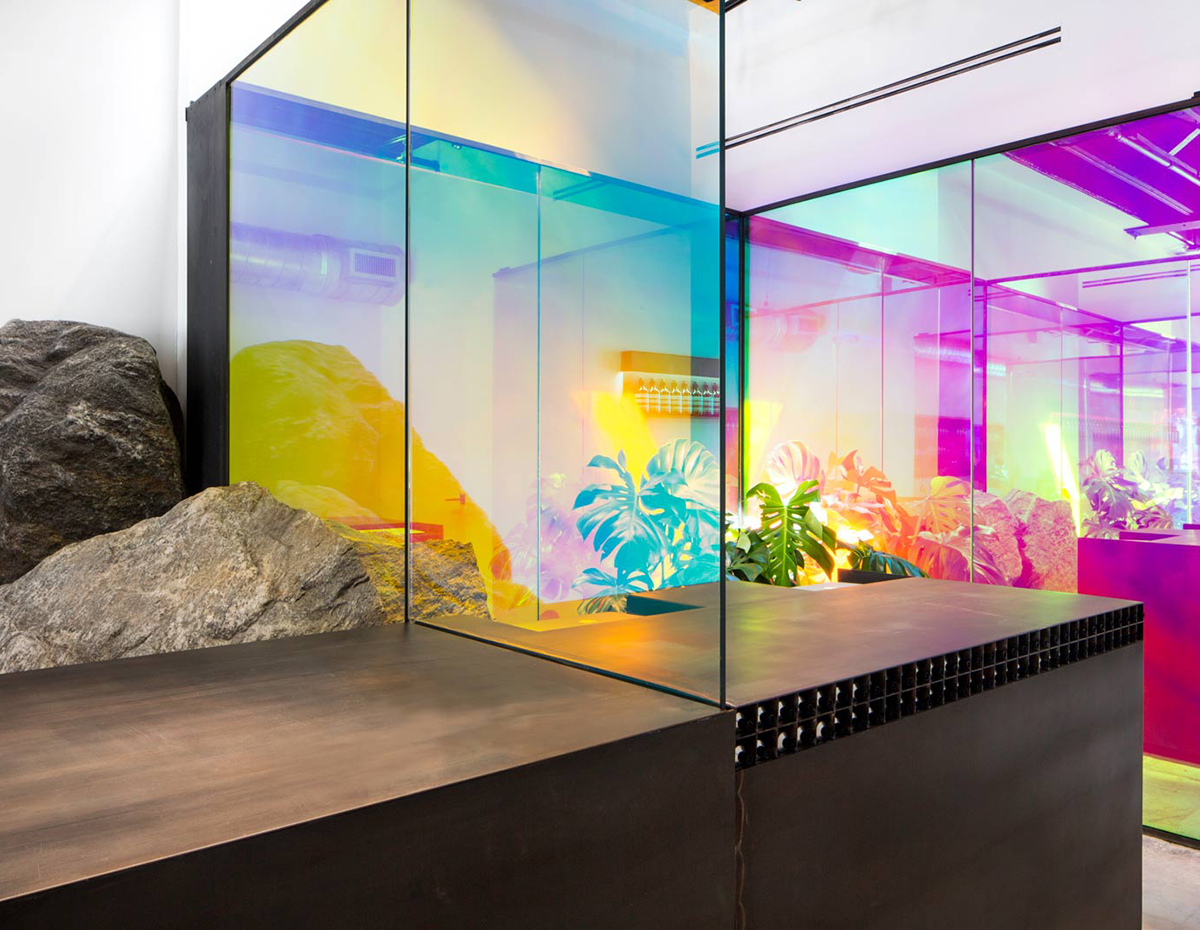 This week Dezeen posted the first in a series of video interviews it's doing with the Mexican architect Frida Escobedo, and since she's a total badass genius (with great earrings to boot) you should probably go and watch it here. (Pictured above, her store interior for Aesop.)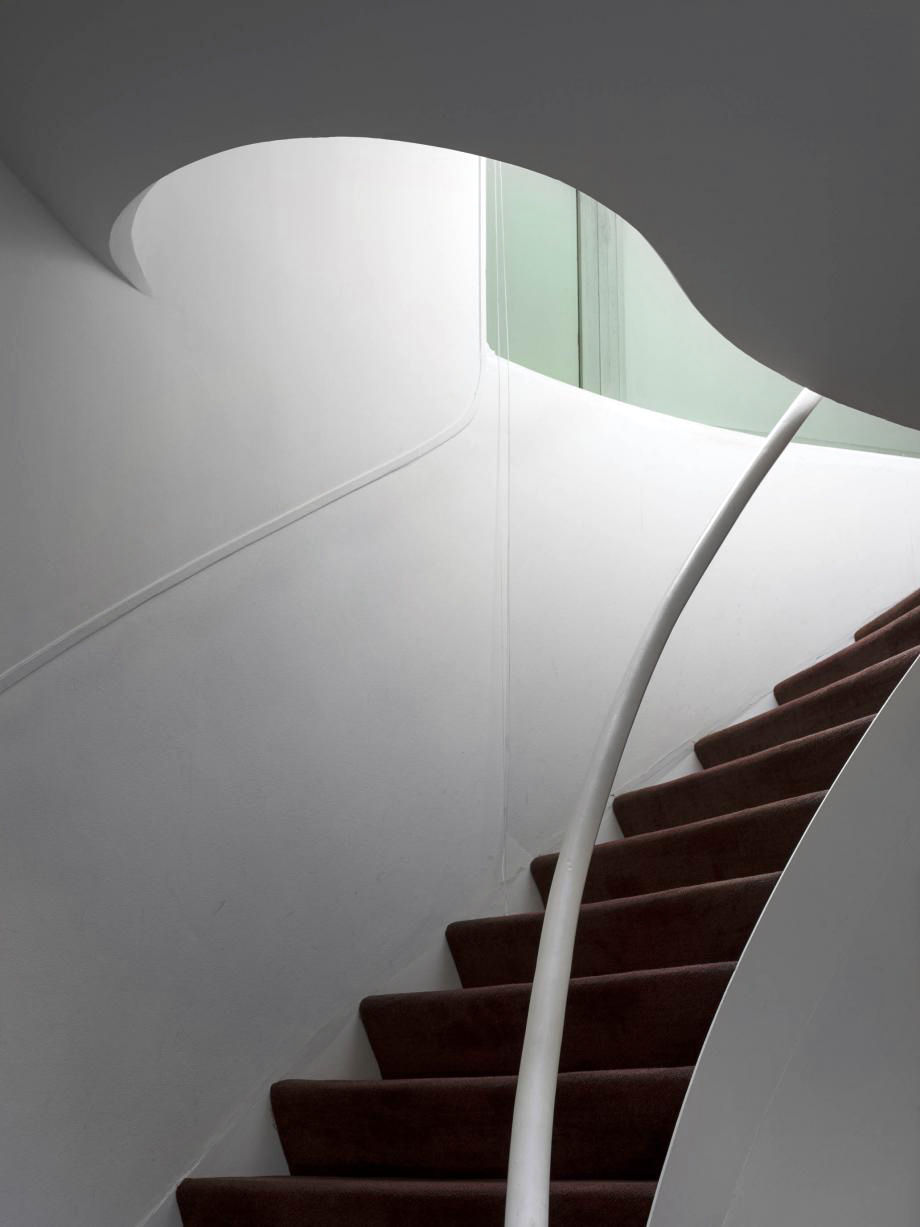 This week Wallpaper posted an excerpt from a new book called Gerrit Rietveld: Wealth of Sobriety, which reveals the interiors of 20 of Rietveld's houses — many for the first time — in photos shot over the span of two years by Arjan Bronkhorst. We immediately pinned the image above to our "Wavy Architecture" board on Pinterest. Didn't know we had a board for "Wavy Architecture"? You should probably follow us here!
Interiors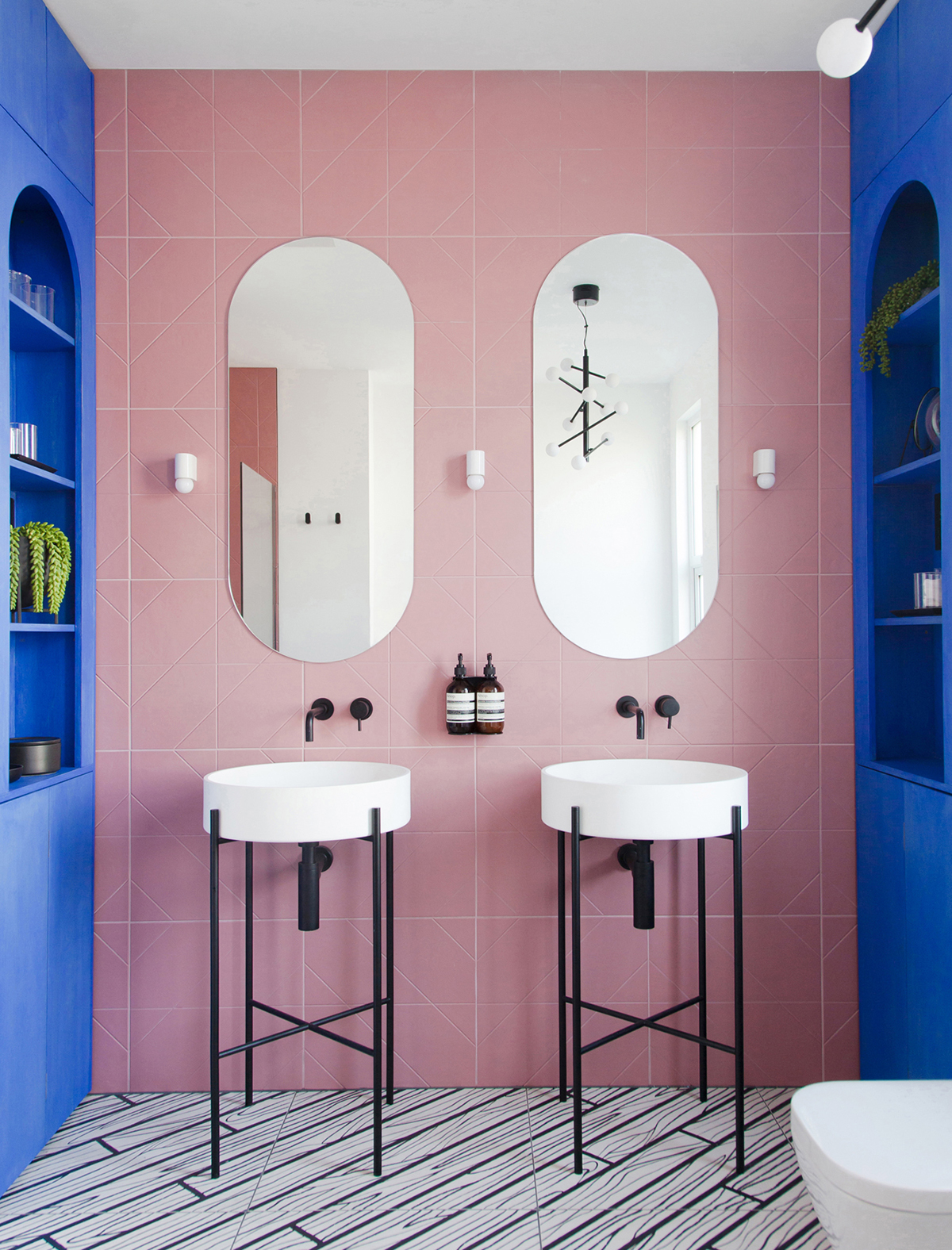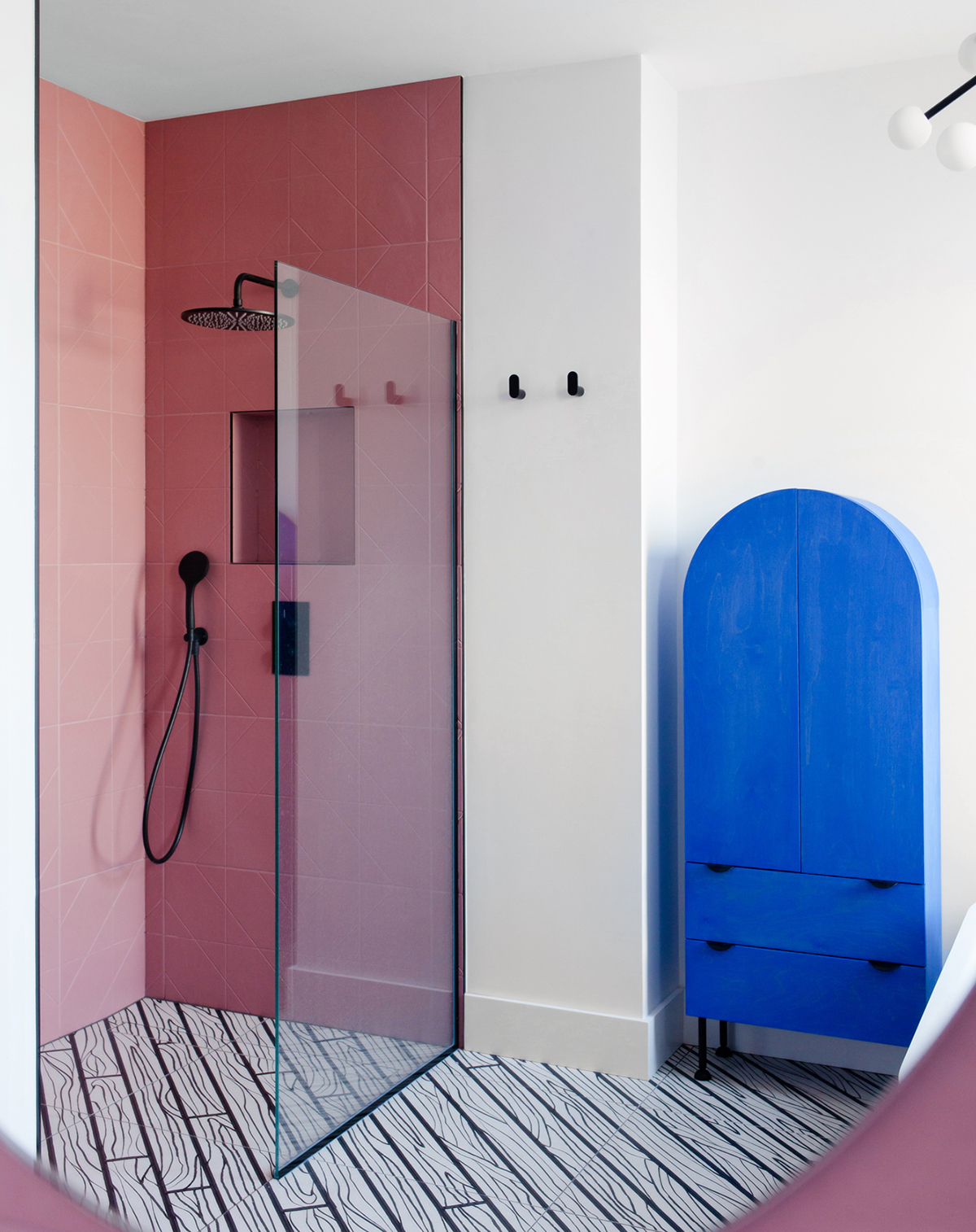 In the latest dispatch from our imaginary sister site — Sight Unseen Bathrooms — we bring you this playful WC in a South London Victorian townhouse renovation by the interiors firm 2LG Studio, in which we think the best part is how the shelves and cabinet have been stained a bright blue that still lets the wood peek through, which is way more sophisticated than a flat paint.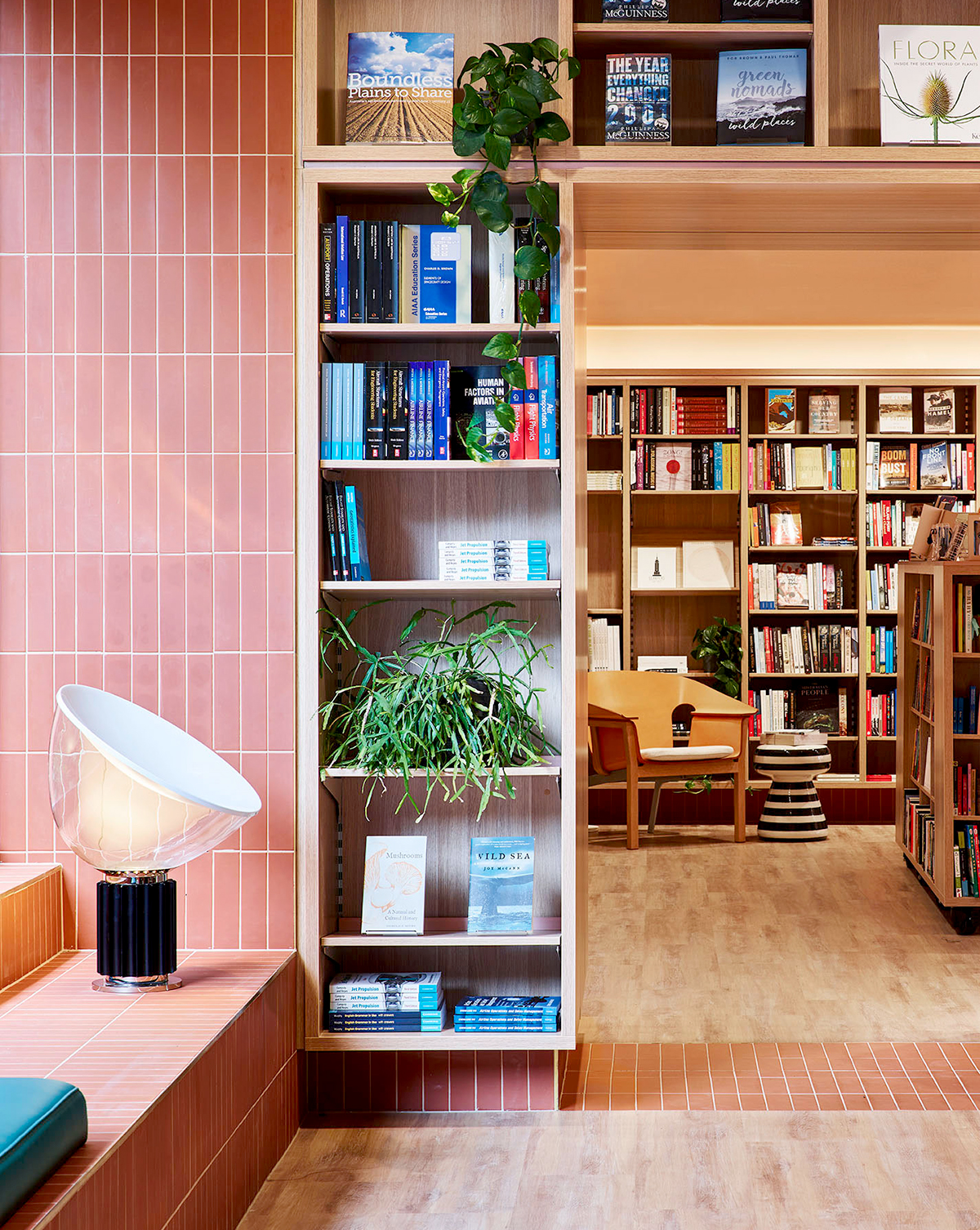 The tiling is extremely on point at this new bookstore at the University of South Wales in Sydney, where it lines walls, benches, the checkout desk, and parts of the floor. Designed by the Australian firm SJB and spotted this week on Yellowtrace.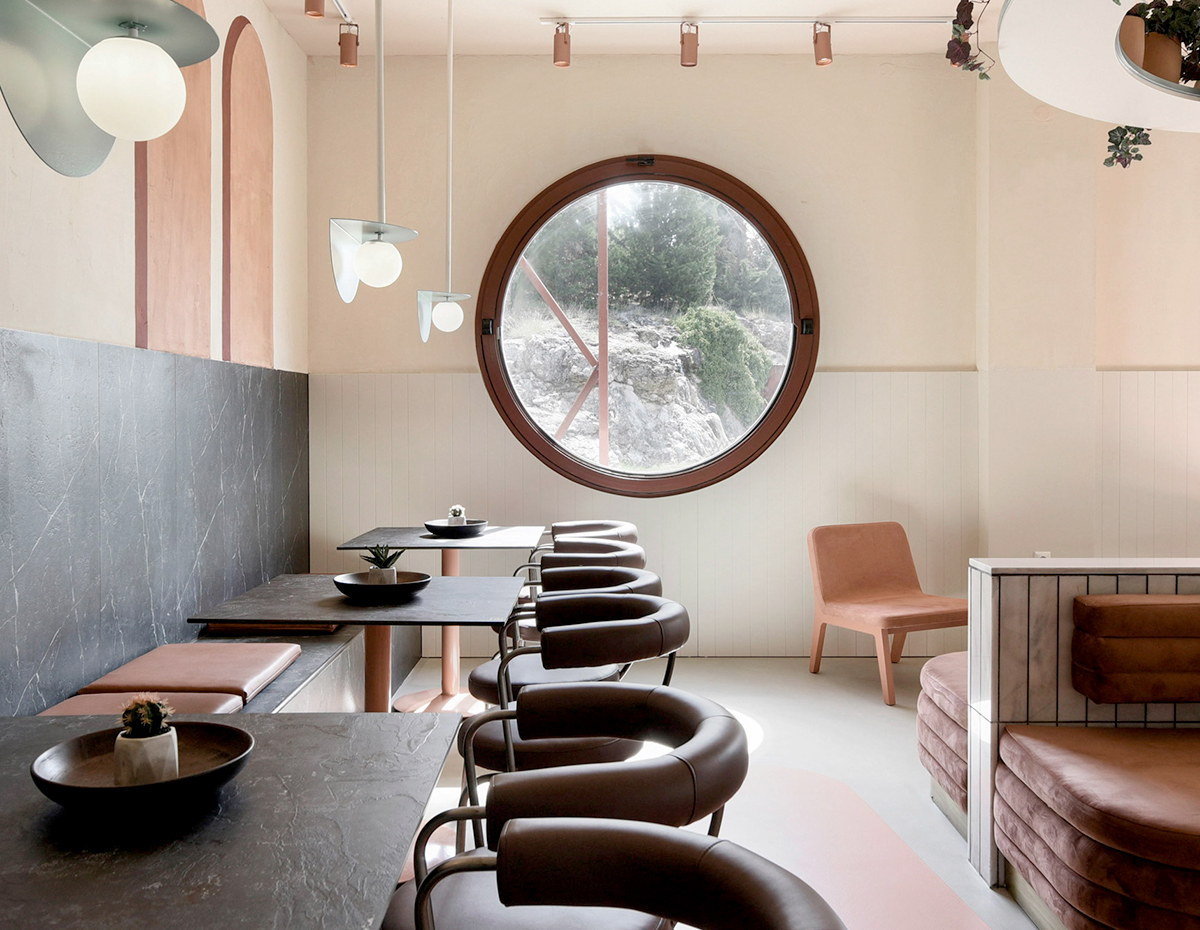 Slate, channel tufting, arches, speckled linoleum, marble, and corrugated metal all somehow get along inside the new Lofos cocktail bar in northern Greece, designed by Ark4 Lab of Architecture. More views on Dezeen.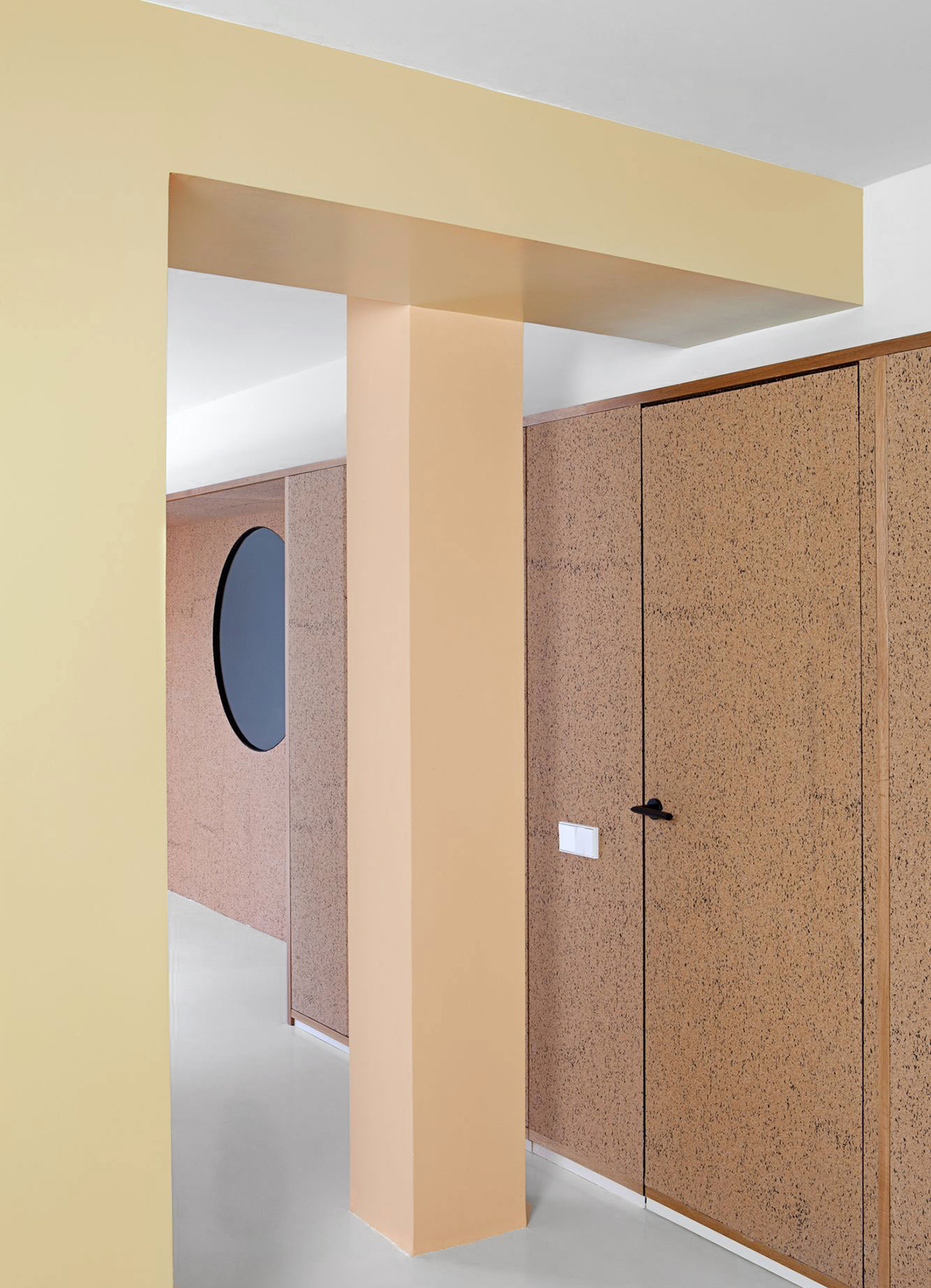 We still can't believe that this interior in Madrid by architects Gonzalo del Val, Daniel Fernández Pascual, and Alon Schwabe is an apartment, not some hip new fashion flagship. It's got a round portal window, architectural elements painted in sorbet colors, and walls lined in various shades of speckled rubber. Very daring for residential.
Exteriors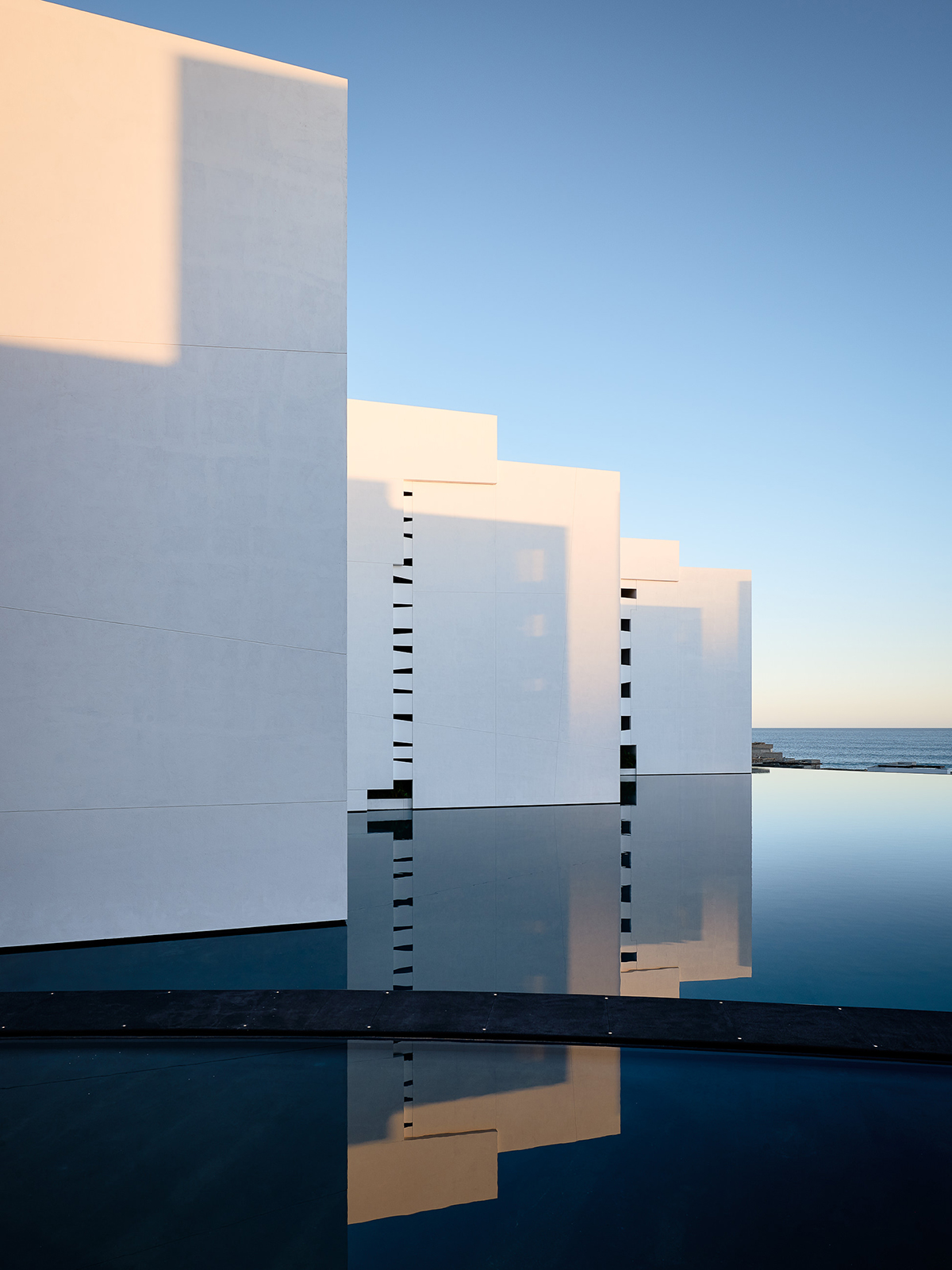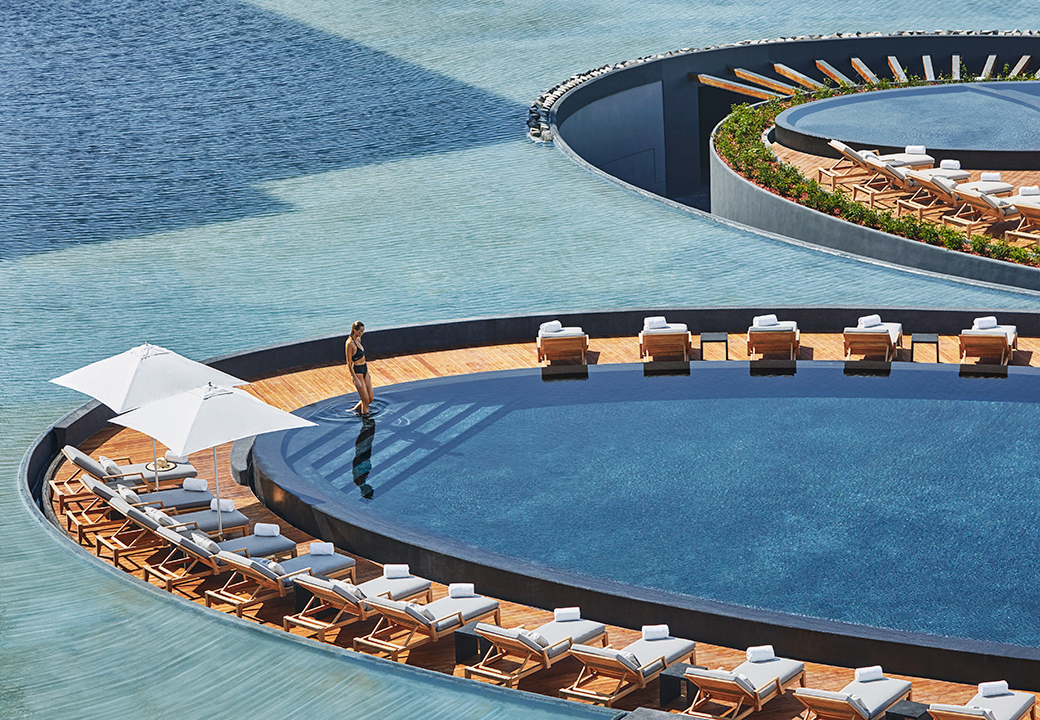 In March we were lucky enough to be invited to spend three days at the new Viceroy Los Cabos in Mexico, and if you missed our endless stream of posts about it on Instagram Stories — featuring its white buildings, circular pools, and Richard Serra–esque curving tunnel passageways, not to mention the fact that the entire property and all of its elements sit inside an enormous, shallow reflecting pool – it's sort of a shame. We couldn't stop compulsively photographing the property, which was built by Mexican architect Miguel Angel Aragonés in 2016 but only officially transformed into a Viceroy late last year. Yes, Cabo is insanely touristy, but this was one of the most relaxing hotel stays we've had pretty much ever, and we also found a very yummy taco place in town.
Exhibitions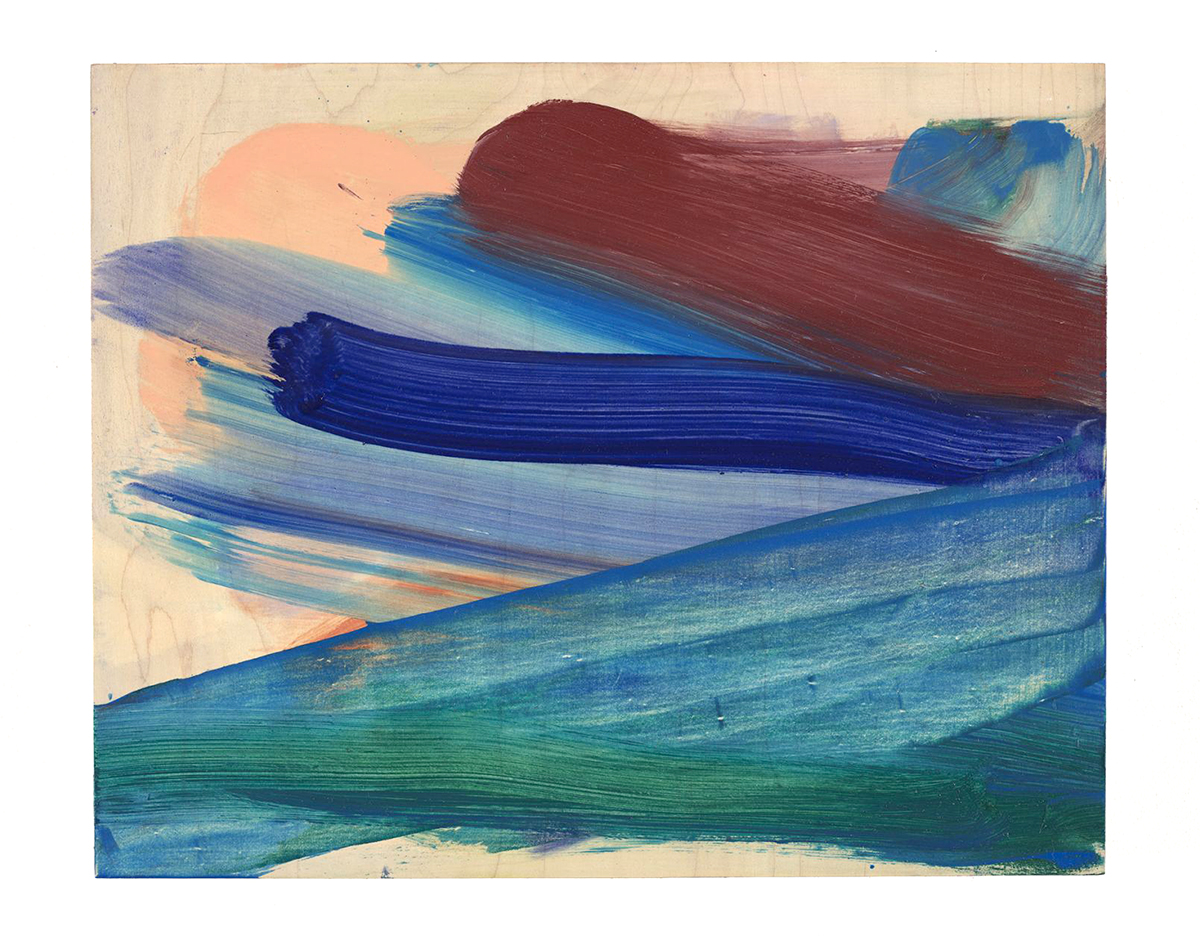 This coming week marks the start of a pretty show of paintings by New York artist Andrea Belag at Morgan Lehman Gallery, including a few she's done on wood panels, as above. We don't have much to say about it tbh, we just liked the colors.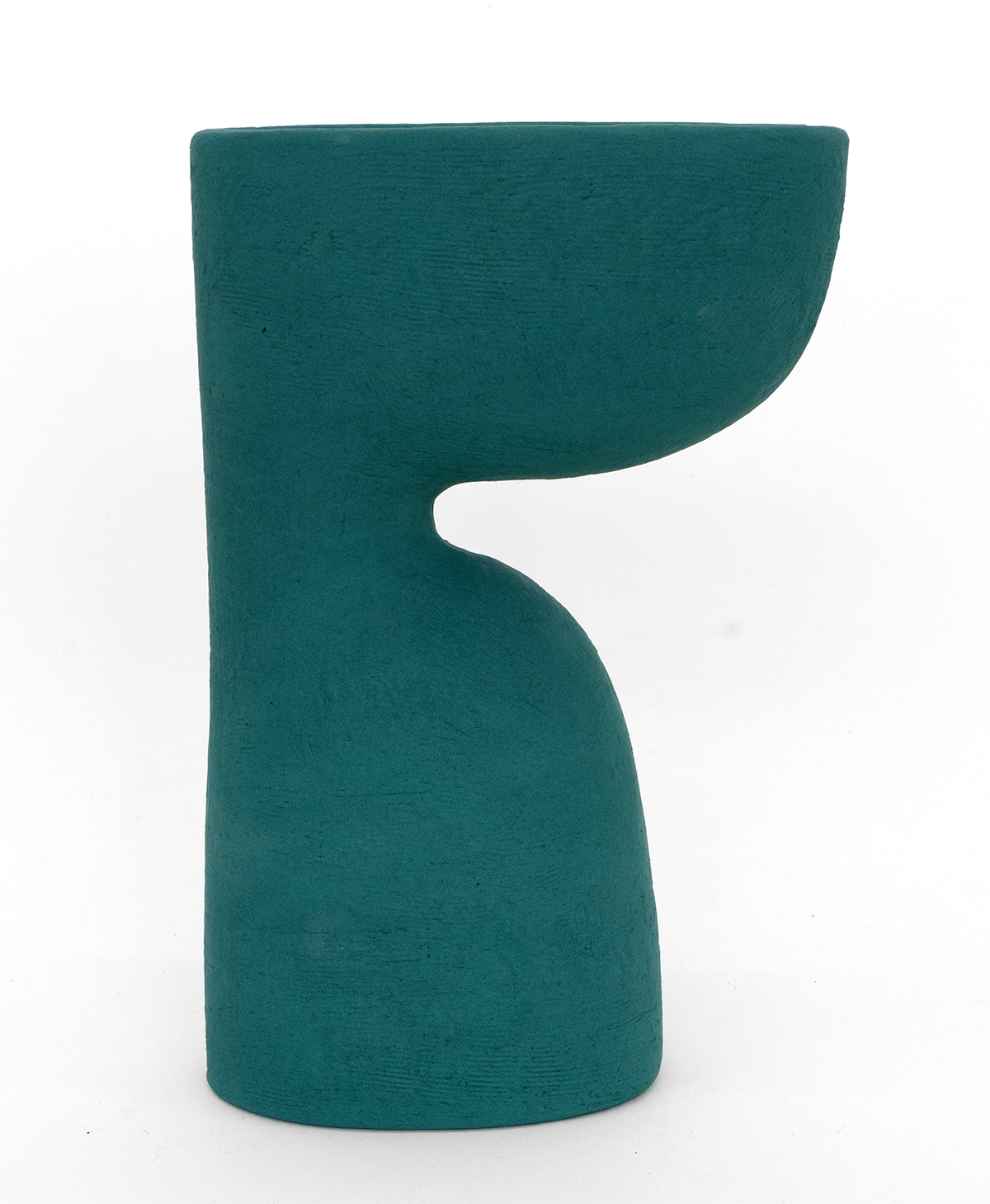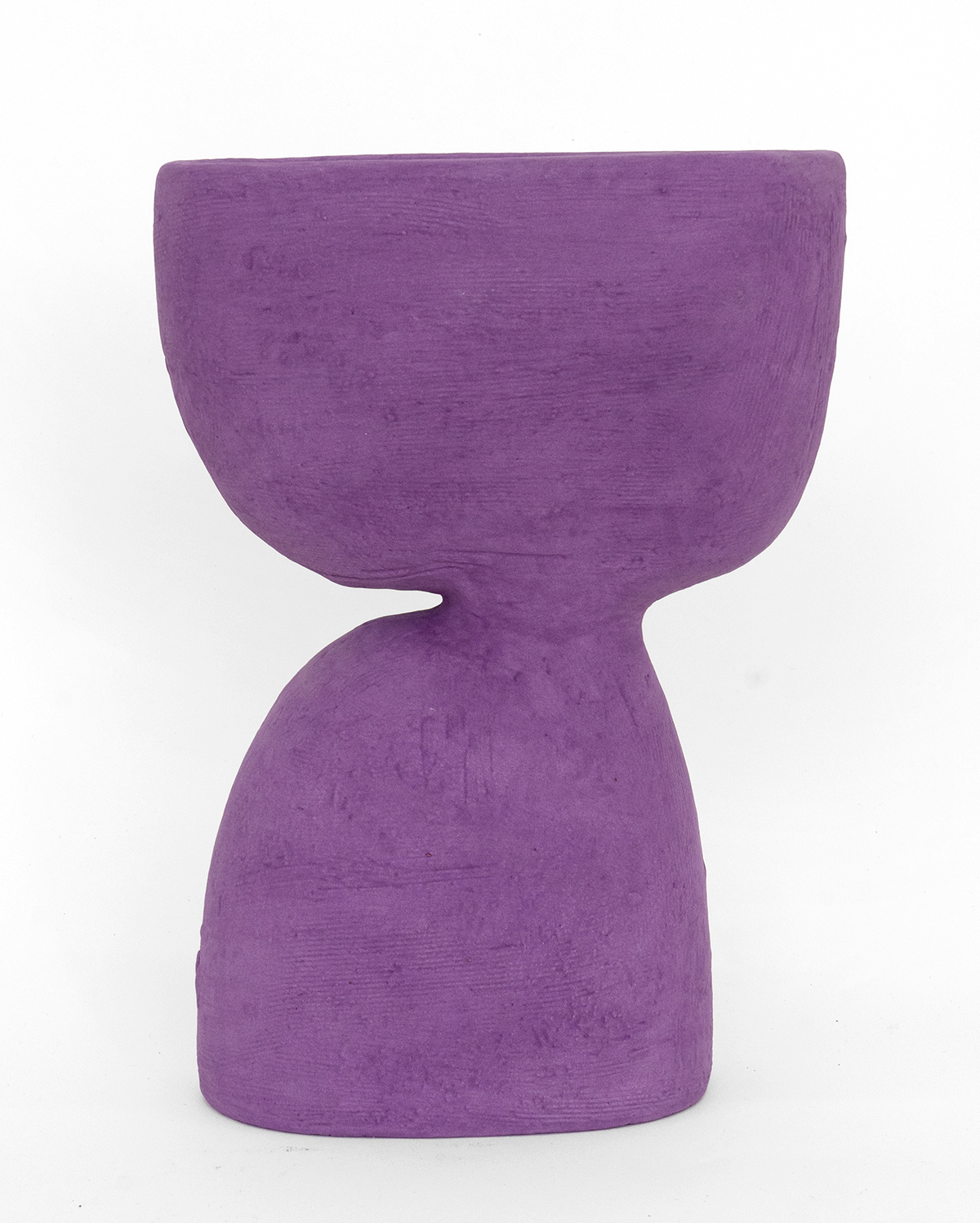 Portland gallery Adams and Ollman has a super eclectic group ceramics show up right now called POT, our favorites from which are these two graphic, organic vessels by Iván Carmona in saturated matte colors.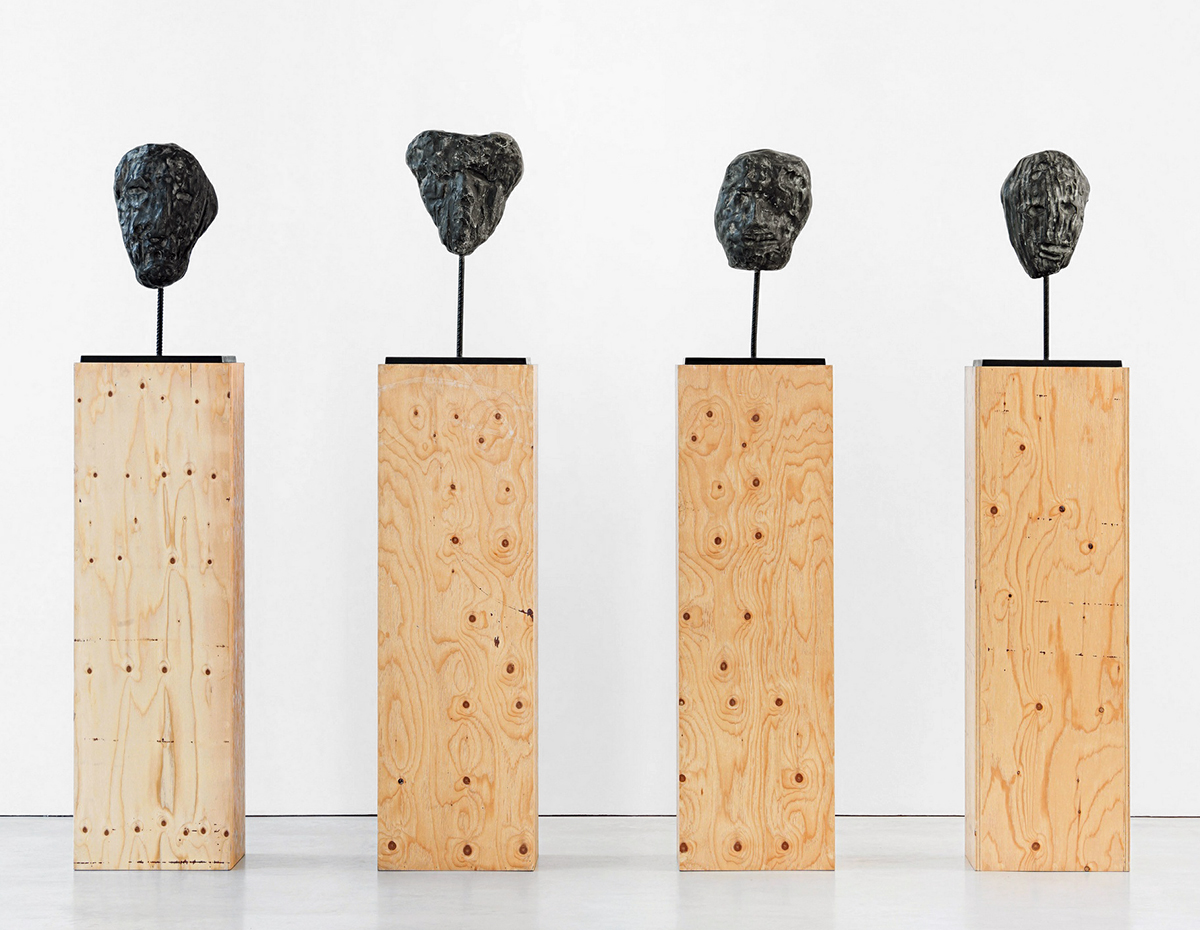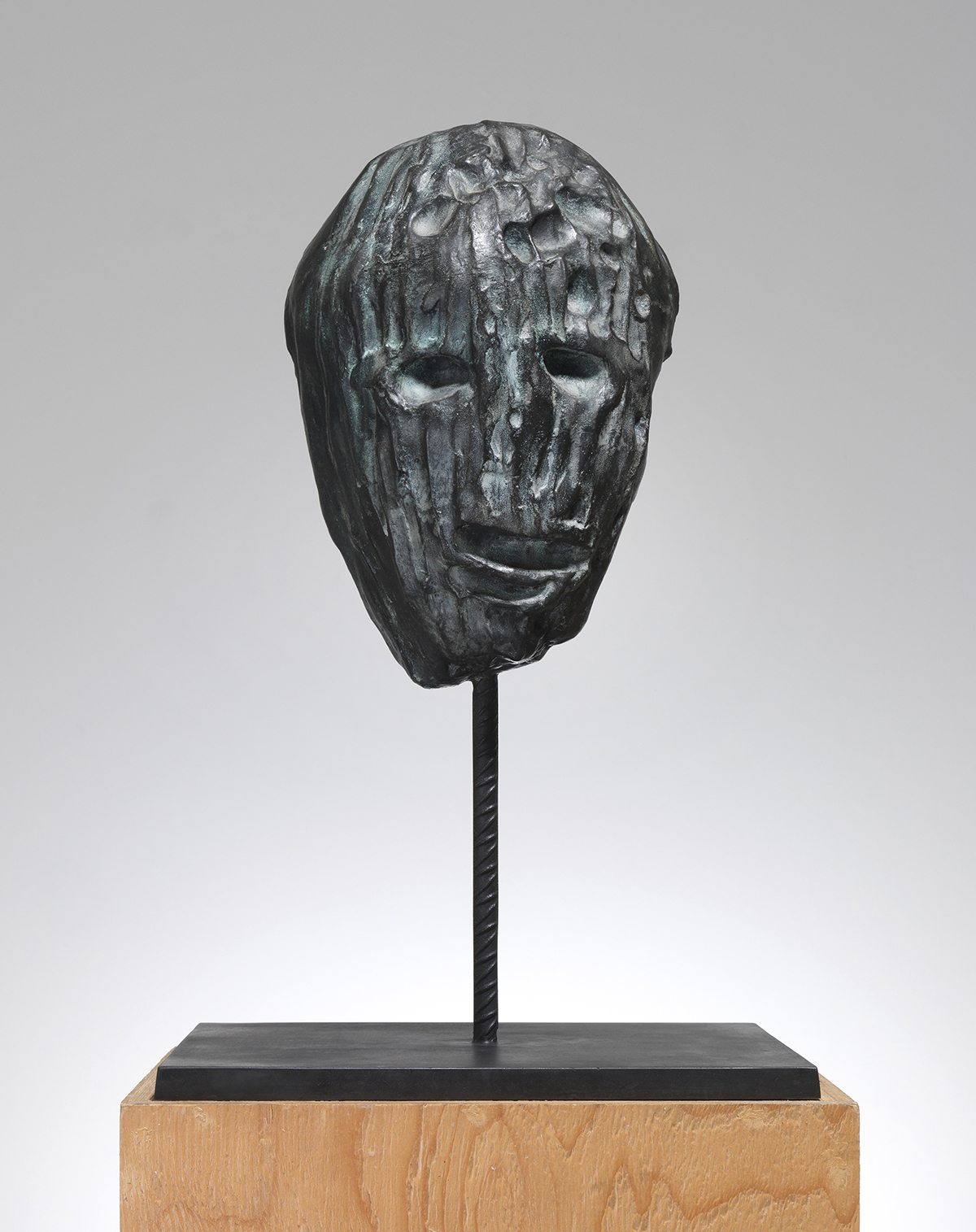 I have a strange little collection of various vintage head sculptures on stands, which is why I got excited when I discovered this 1994 sculpture series of bronze masks by Günther Förg at Berlin's Contemporary Fine Arts gallery on Daily Art Fair this week.