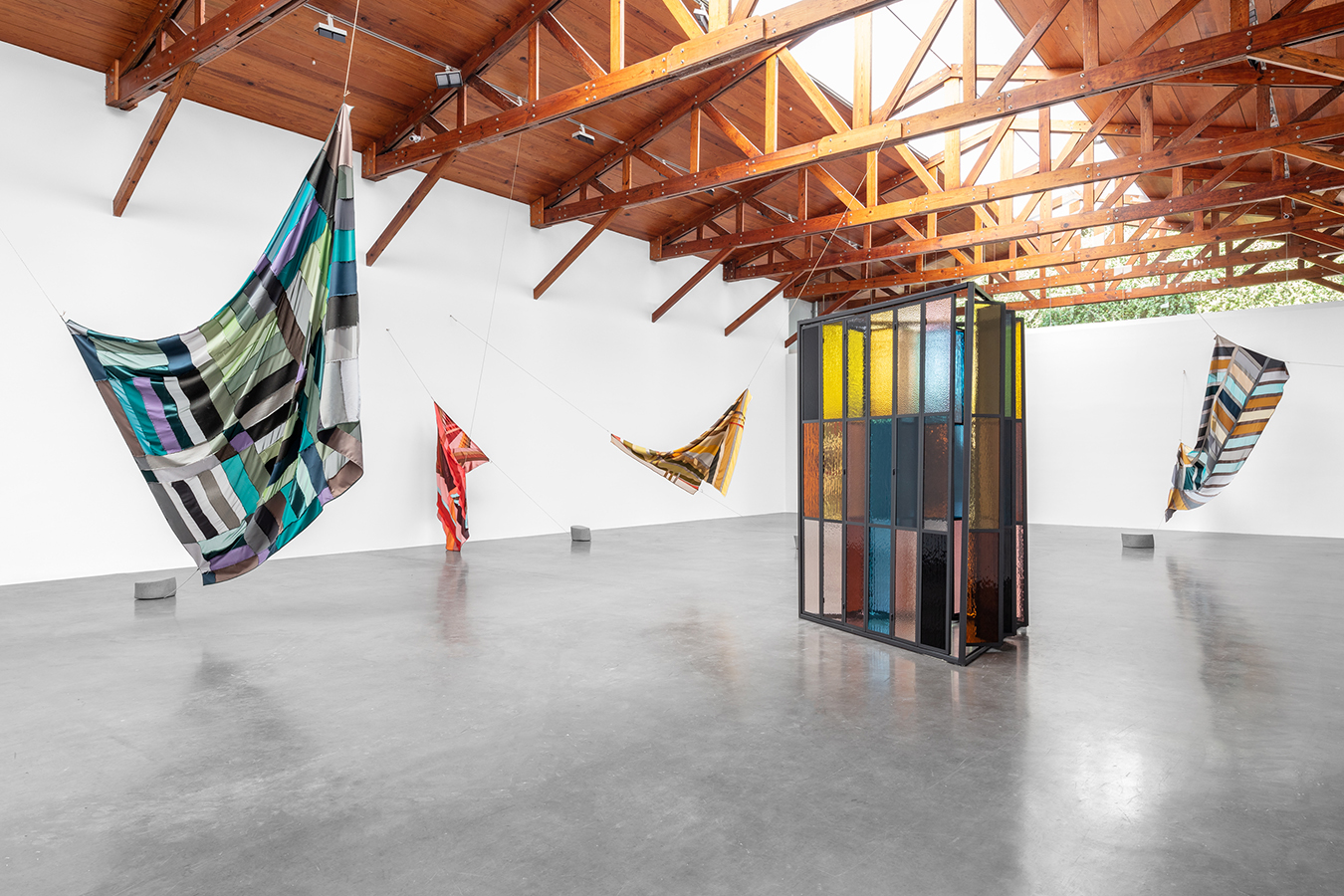 A weekly Saturday recap to share with you our favorite links, discoveries, exhibitions, and more from the past seven days. This week, a light inspired by an iconic hat, a colorful gift shop we'd like to move into, and a donation-based Los Angeles home rental on a do-good mission.
Exhibitions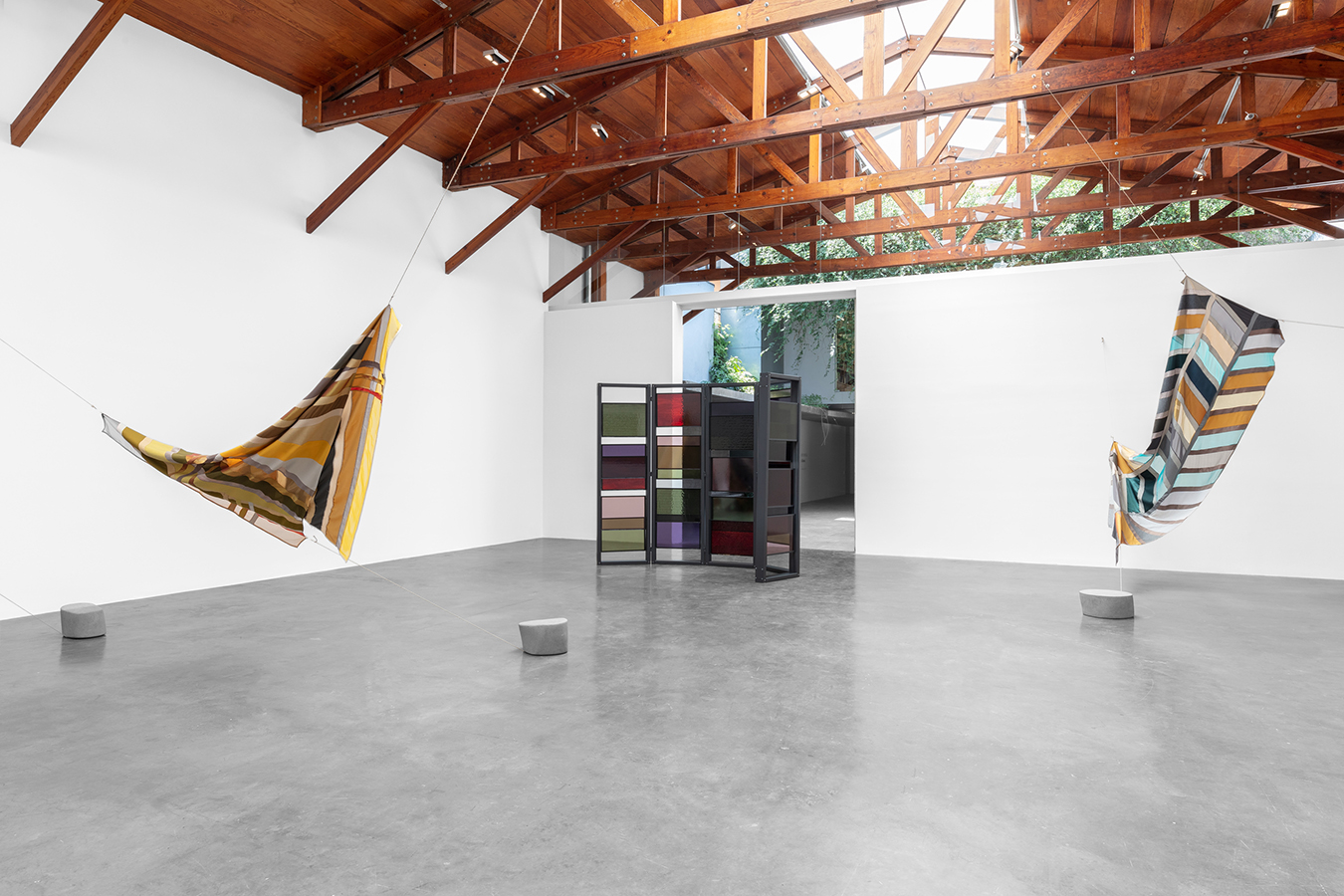 Today was the last day to catch this exhibition by Sofía Táboas at Mexico City's Kurimanzutto Gallery, but whoa is it a pretty one. Táboas was inspired by the graphic elements of Mexico City: iron fences, window grates, and doors, whose details are, in parts of the exhibition, transformed into textiles.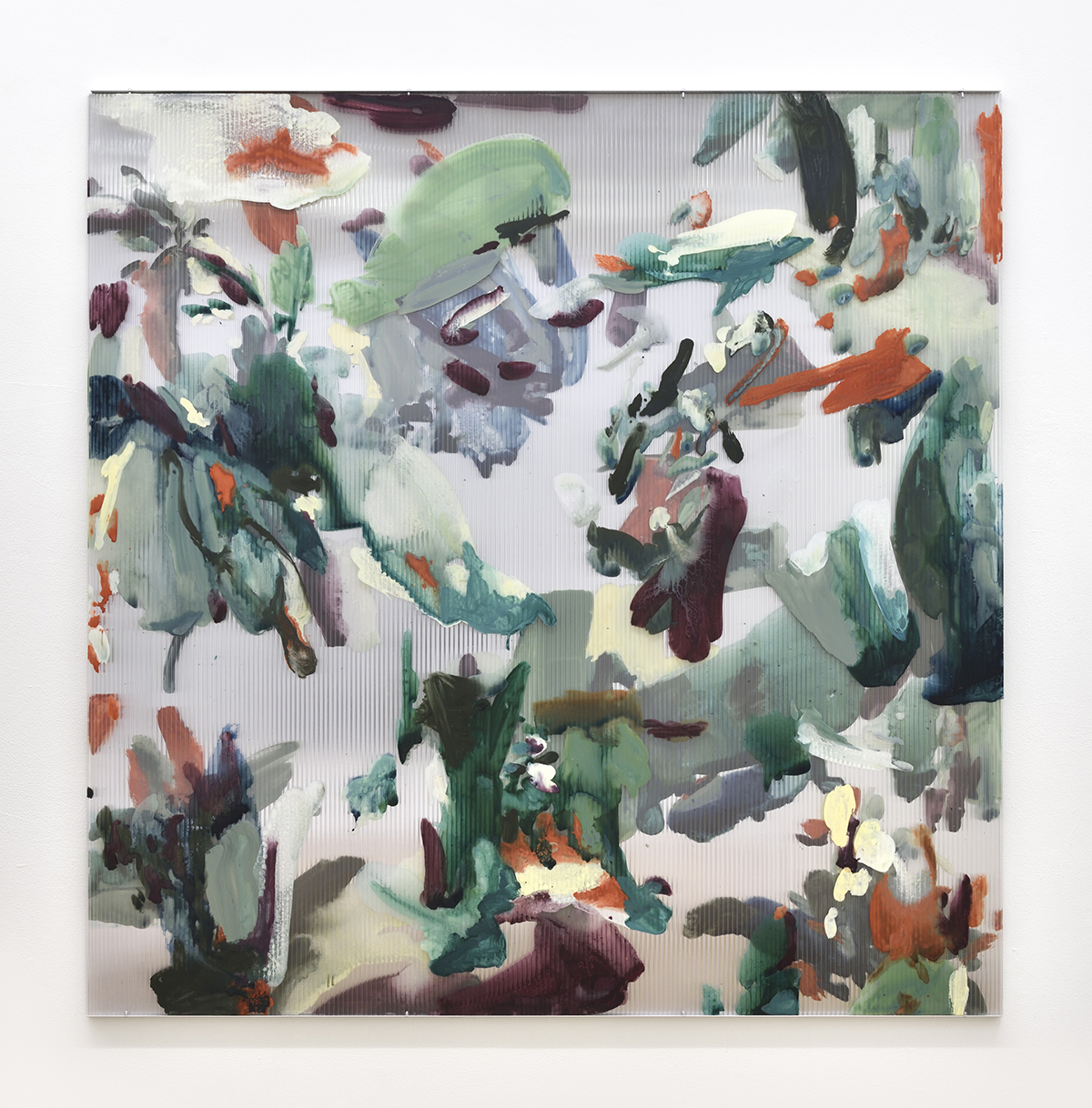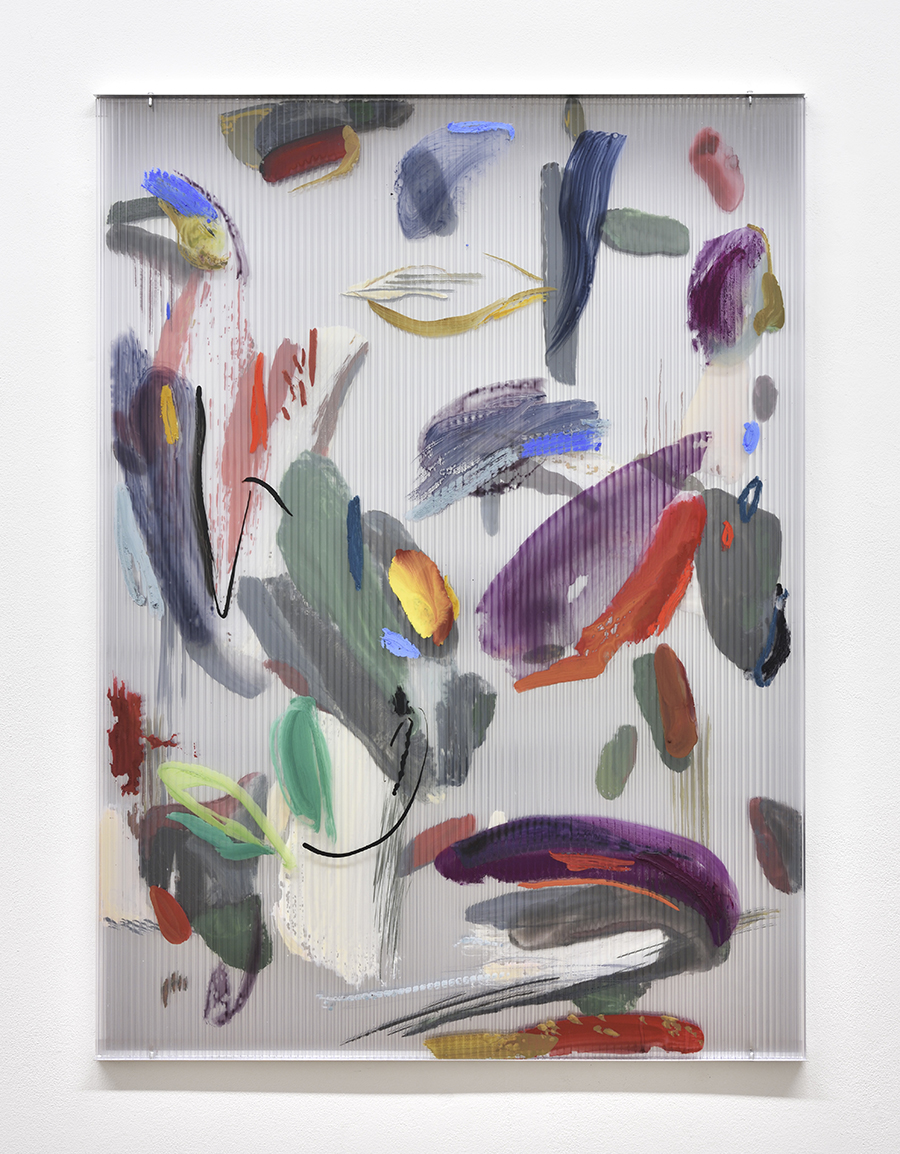 The work of artist Sophie Kitching is up at Isabelle Gounod Gallery in Paris. No ordinary canvases here — Kitching instead uses polycarbonate and mirrored acrylic as dynamic painting surfaces to engage and reflect our immediate environment. (Photos ©Rebecca Fanuele)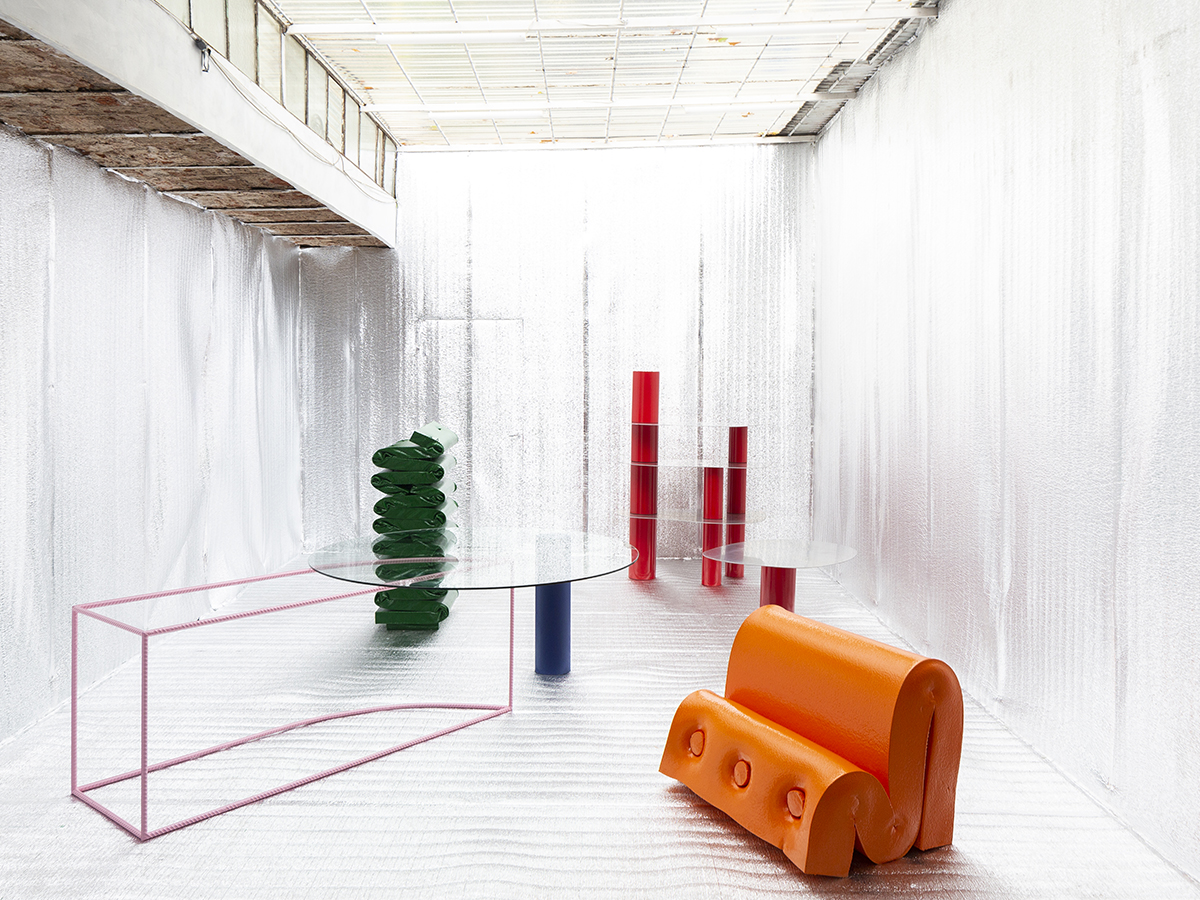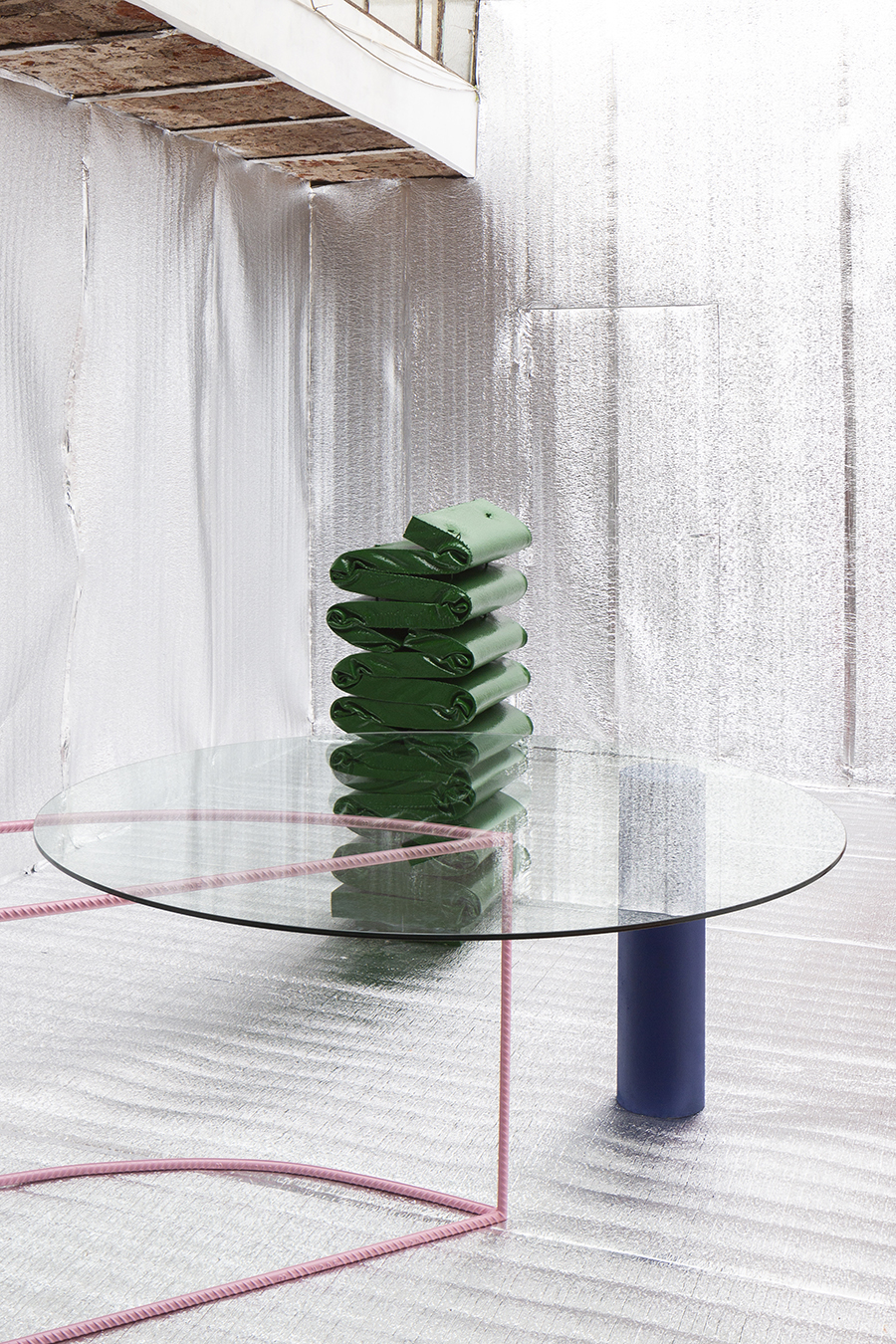 Chamber Projects' latest Quick Tiny Shows exhibition ended this weekend, but it featured a couple of very familiar players: OFFSITE alums Objects of Common Interest and JUMBO, who together created a textural, sculptural, and primary color–infused playground. Follow them on Instagram @quicktinyshows to catch the next iteration if you're in Buenos Aires! (Photos © Javier Agustín Rojas)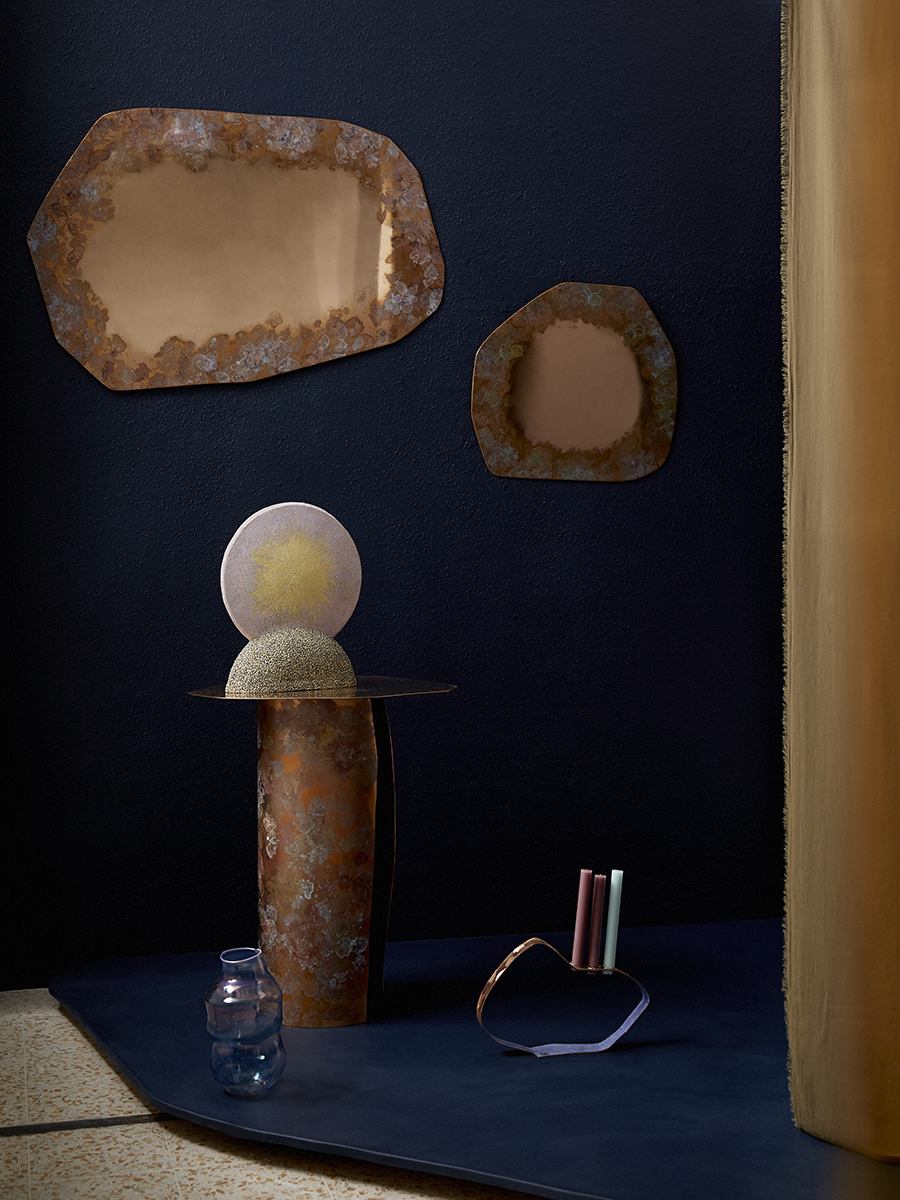 A new show is up at London's The New Craftsmen, co-curated by designer and artist Charlotte Kingsnorth. Alongside artists Dawn Bendick, Tess Morley, Alice Walton, and ceramicist Joe Hartley, Kingsnorth explores method, material, alchemy, and transformation. Her patinated bronze collection, inspired by organic lichen fungi, includes furniture, lighting, mirrors, and decorative objects. Bonus: Pieces from the show are shoppable now.
Discoveries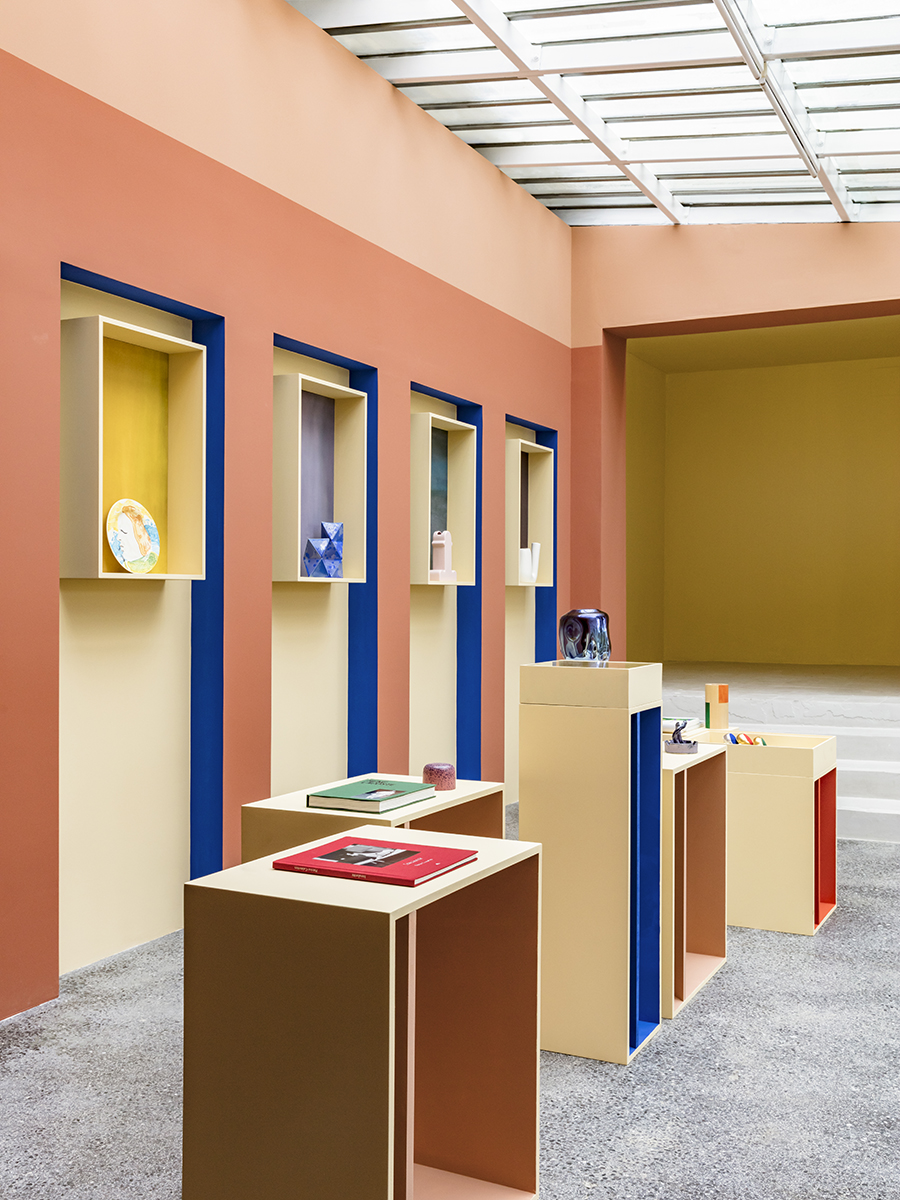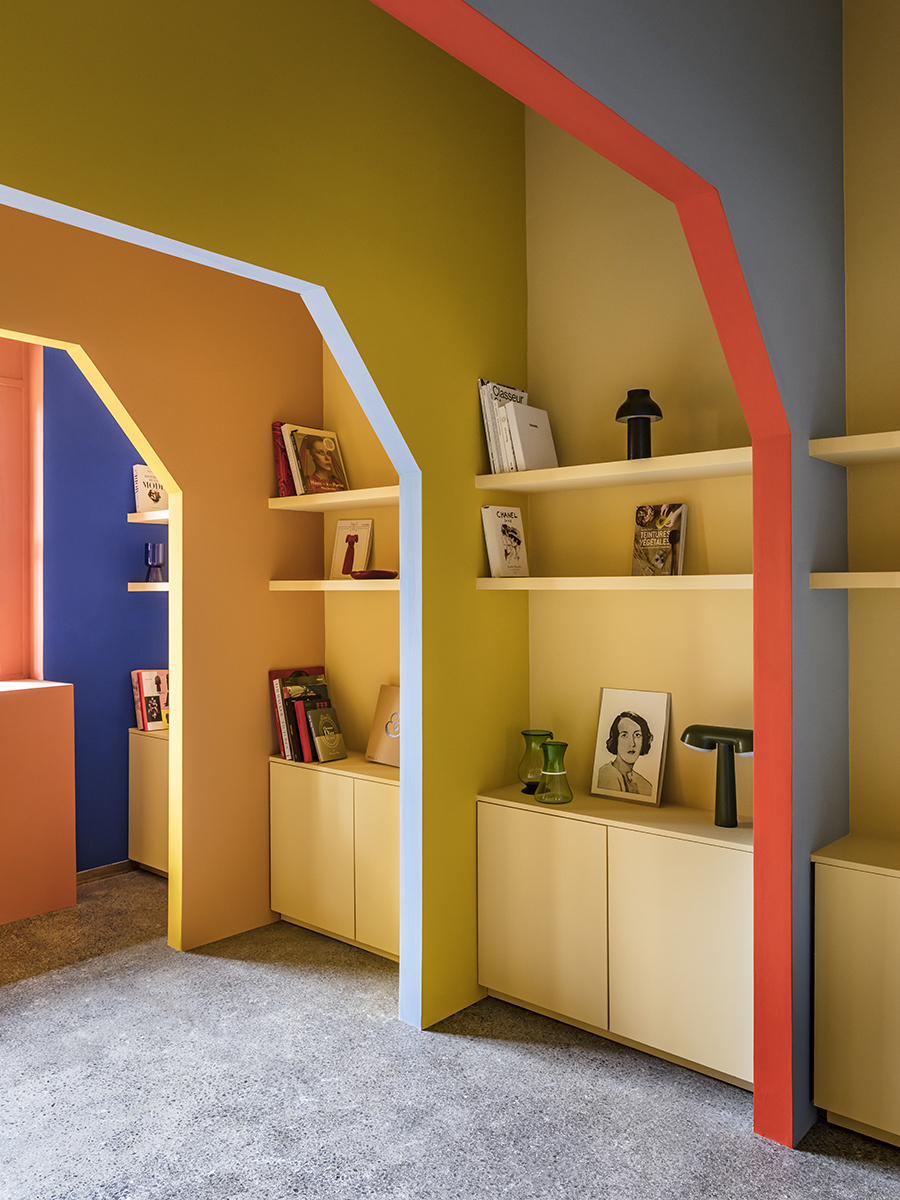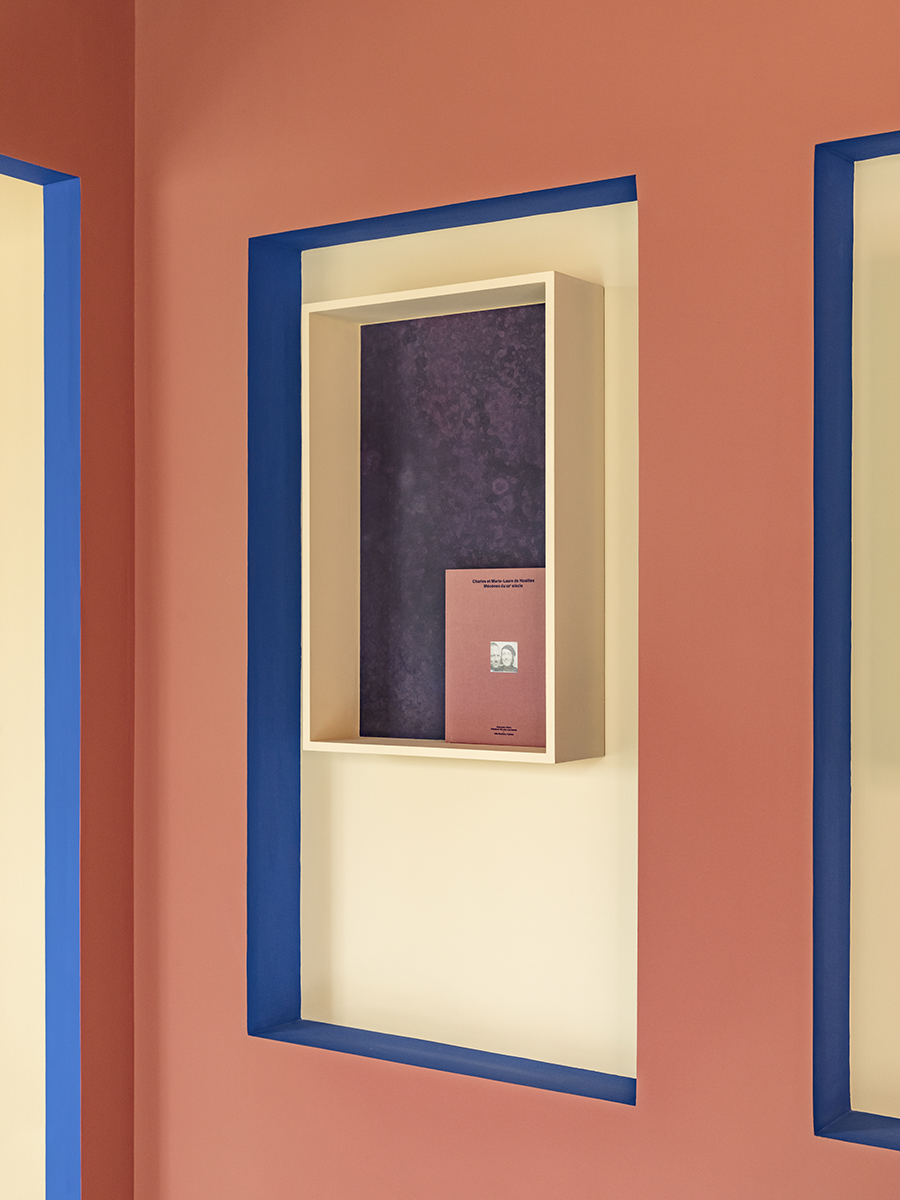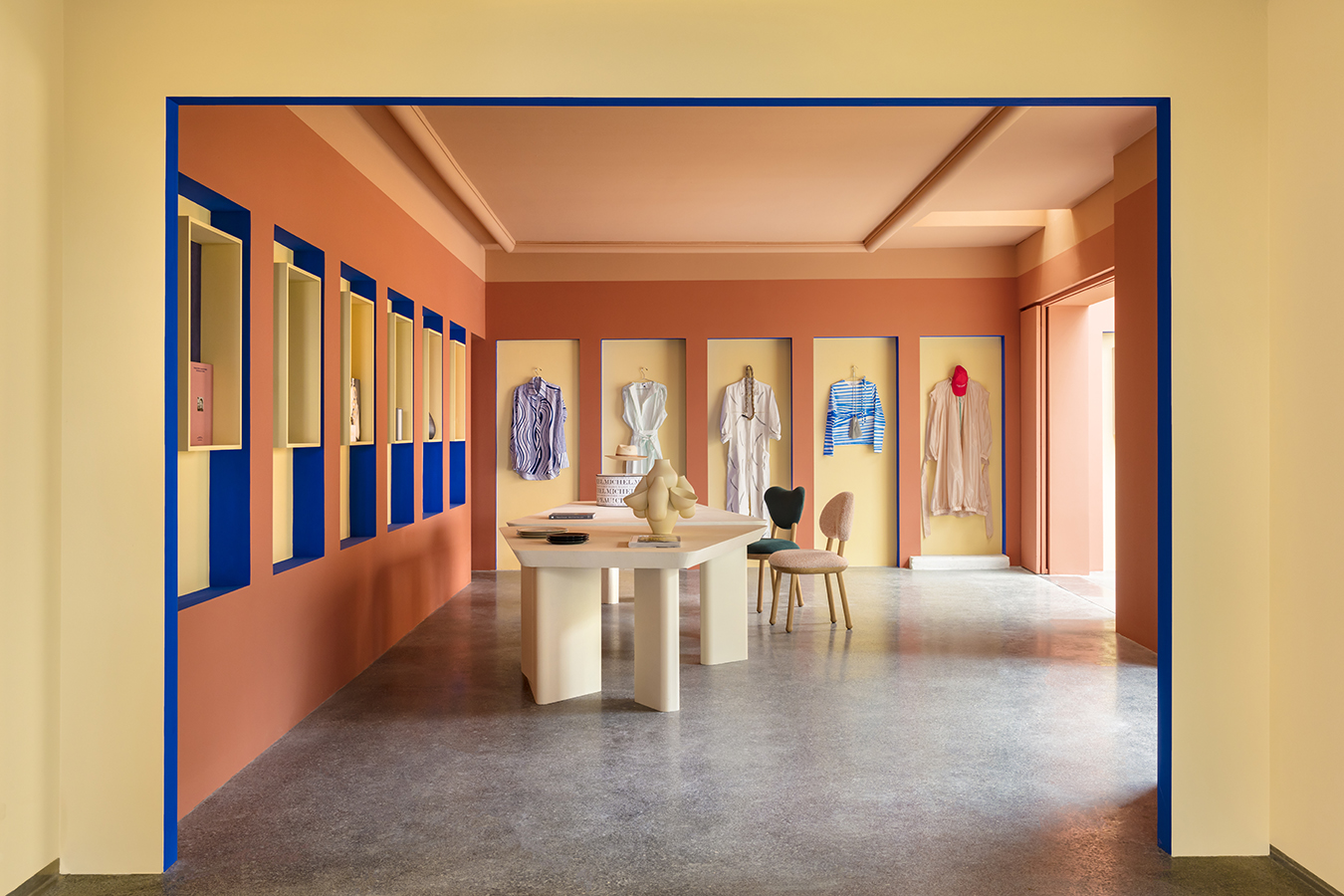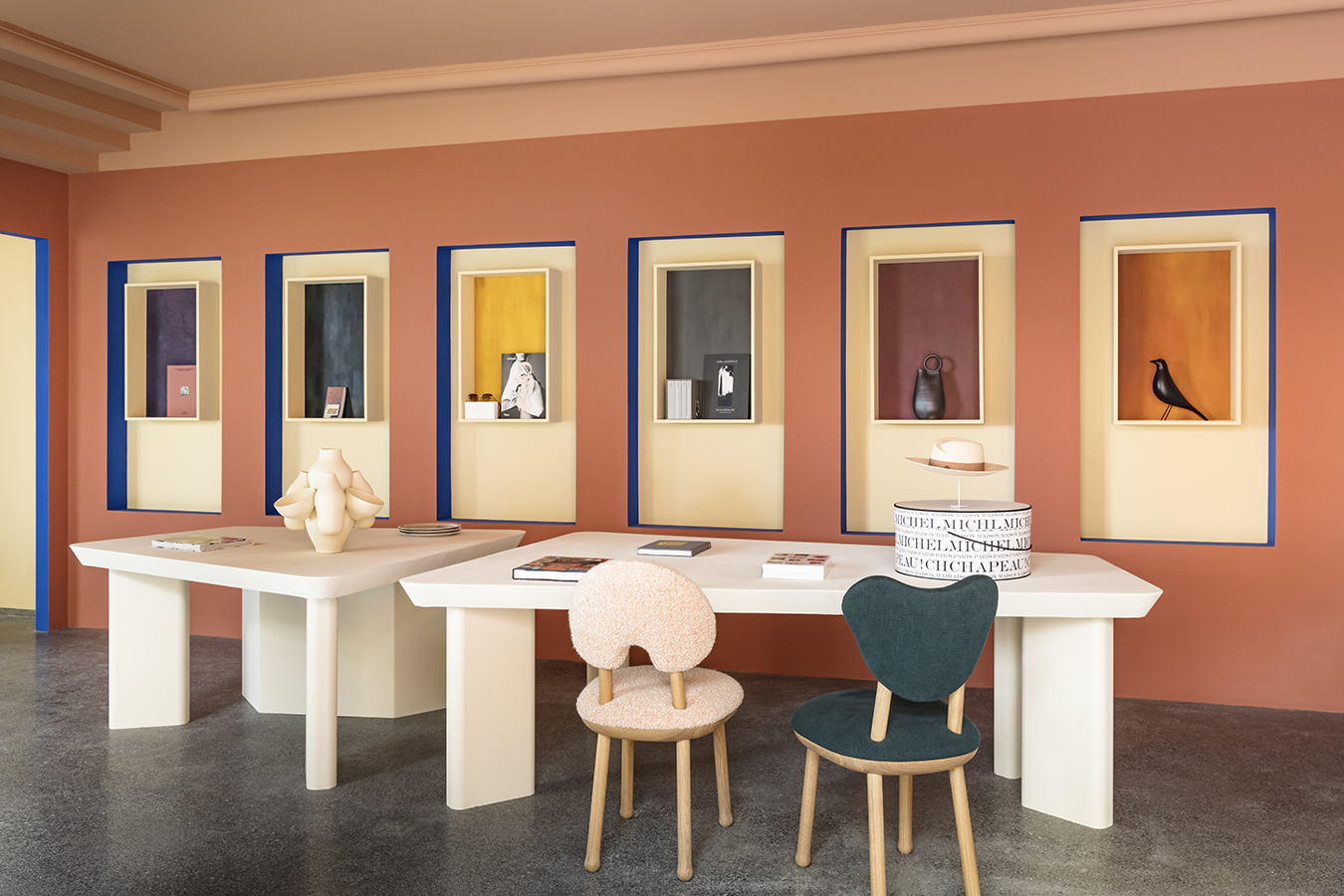 Have you ever wanted to live in a gift shop? No? Count this as a first for me, too, then. Located at the Robert Mallet-Stevens–designed Villa Noailles in Hyères, France, and designed by Pierre Yovanovitch, the retail space opened this week with a flurry of colors, arches, and custom furniture pieces that play off of the Villa's original design elements. Clearly, this is the way to go about souvenir shopping in the south of France. (Photos © Jérôme Galland)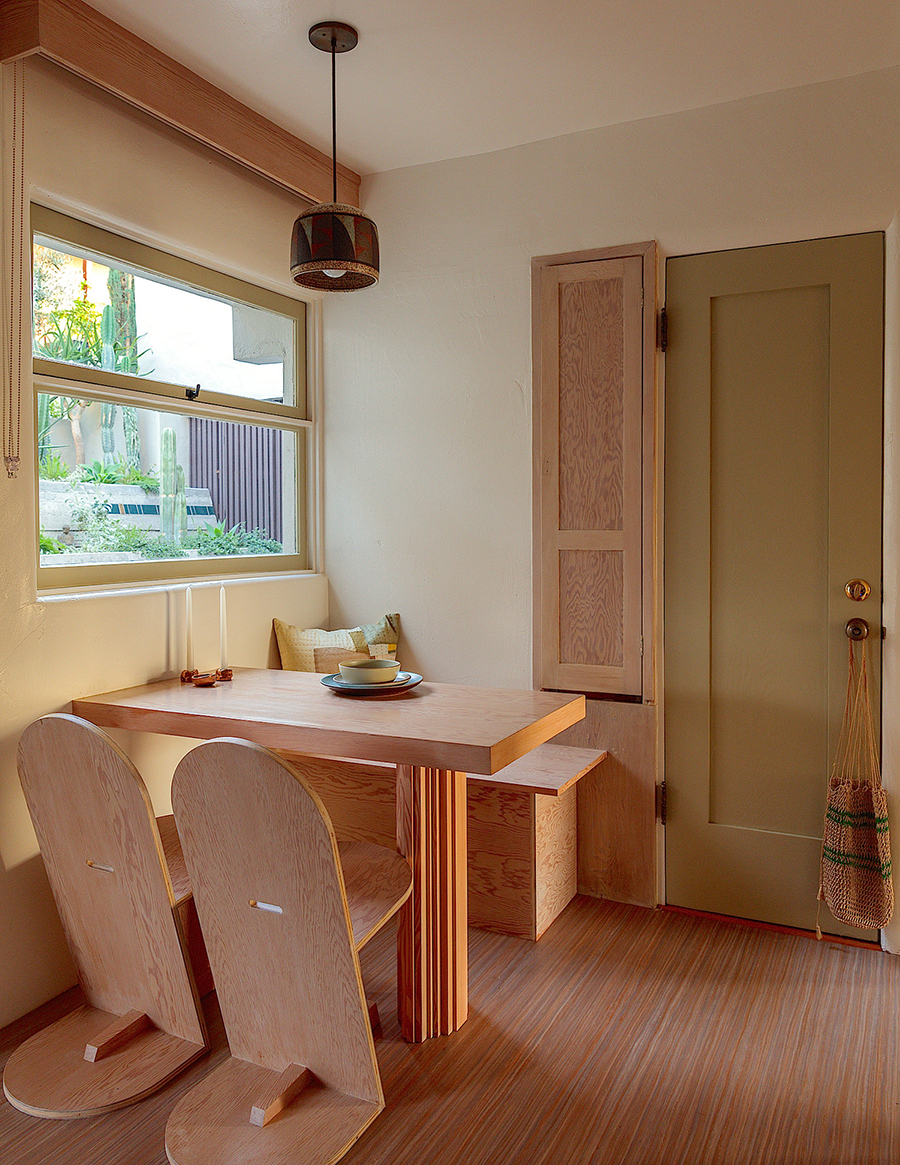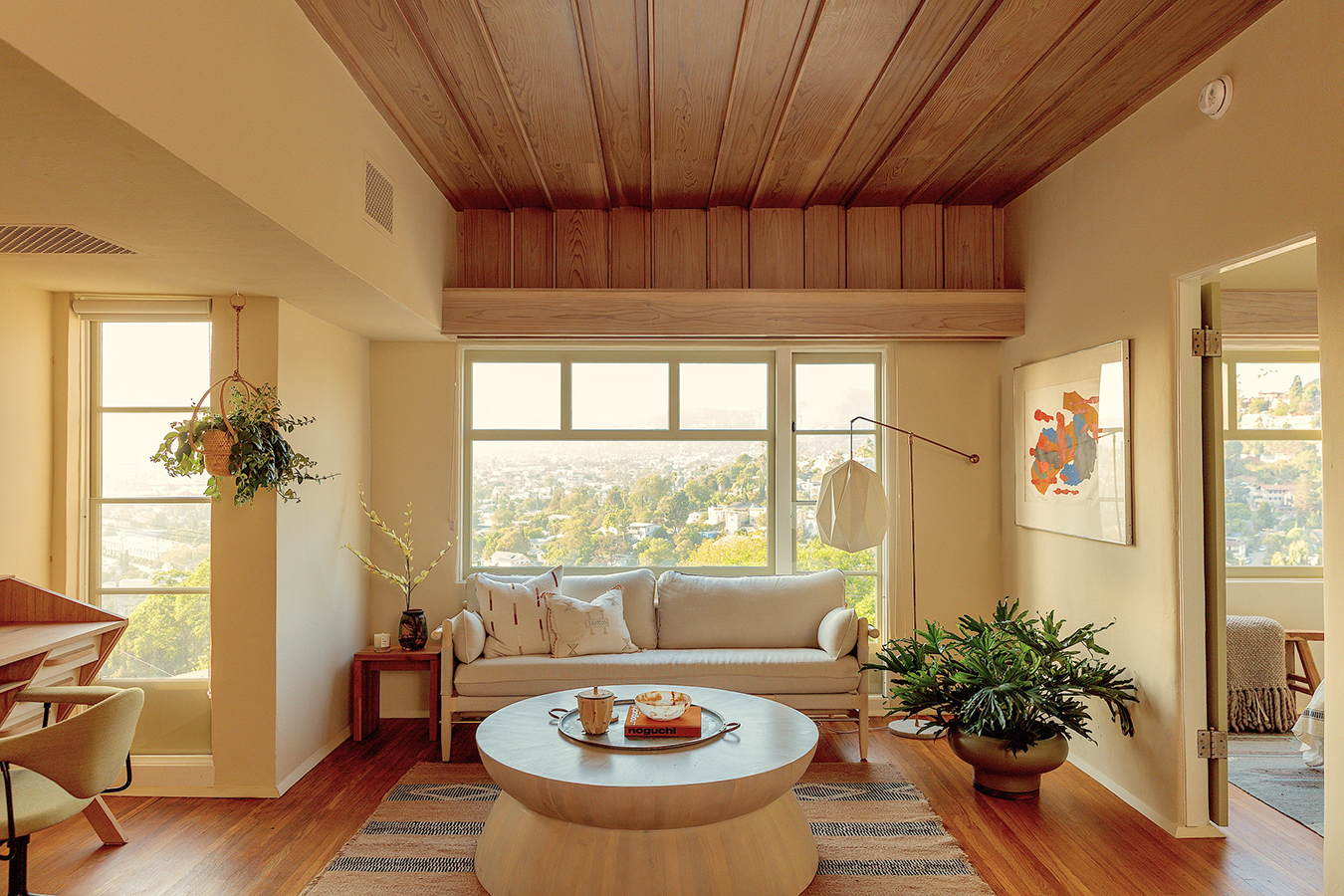 P.S.A: You can stay in a Los Angeles Historic-Cultural Monument for just $250 a night. P.S.A x 2: You can do that, and have that stay support the diagnosis and treatment of rare blood related disorders. Pretty cool, no? Live to Give LA is a new fundraising project, meant to honor the founder's late wife, that invites guests to enjoy a fully furnished, short-term stay in Rudolph Schindler's Manola Court in Silver Lake. Designed between 1926 and 1939, it's an iconic example of modern Southern California design. And how about that kitchen nook? Sign us up.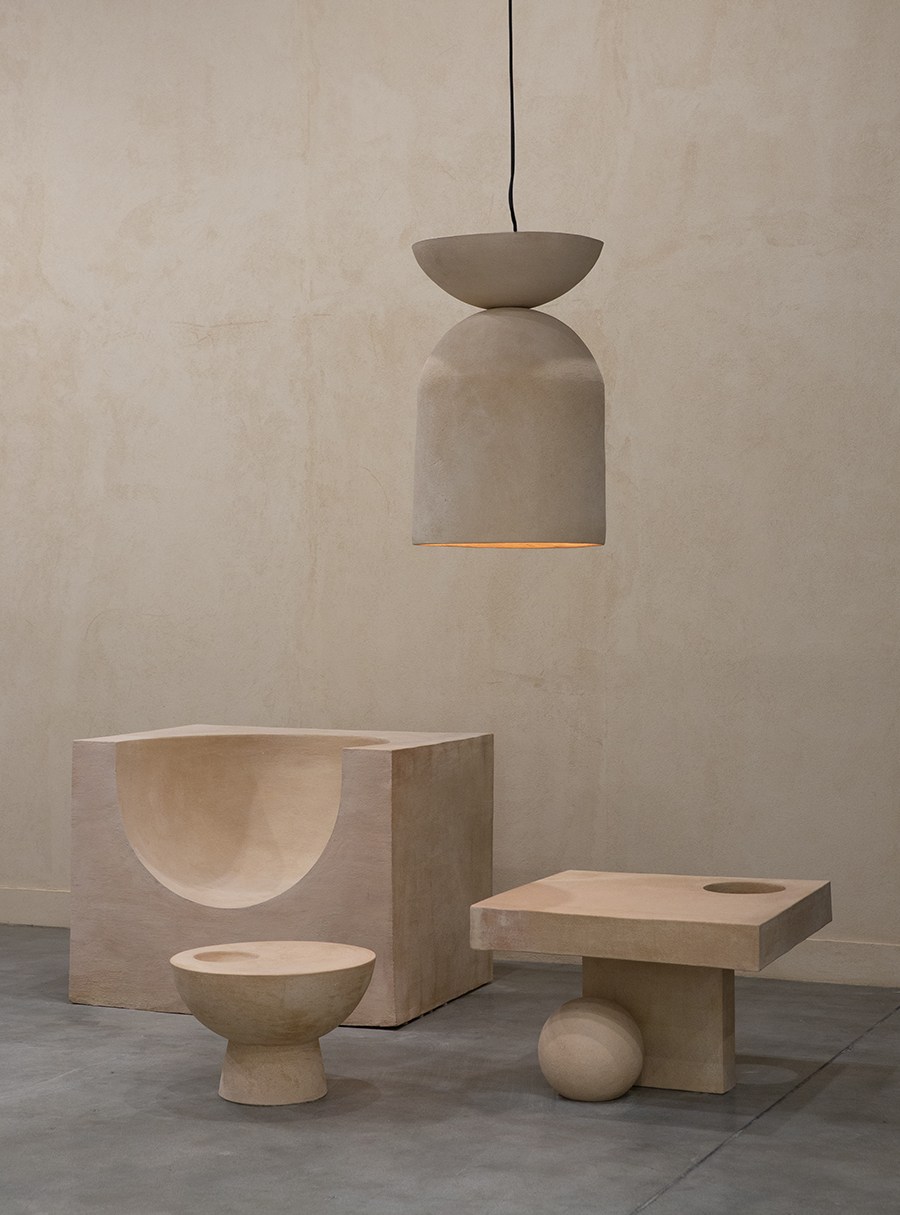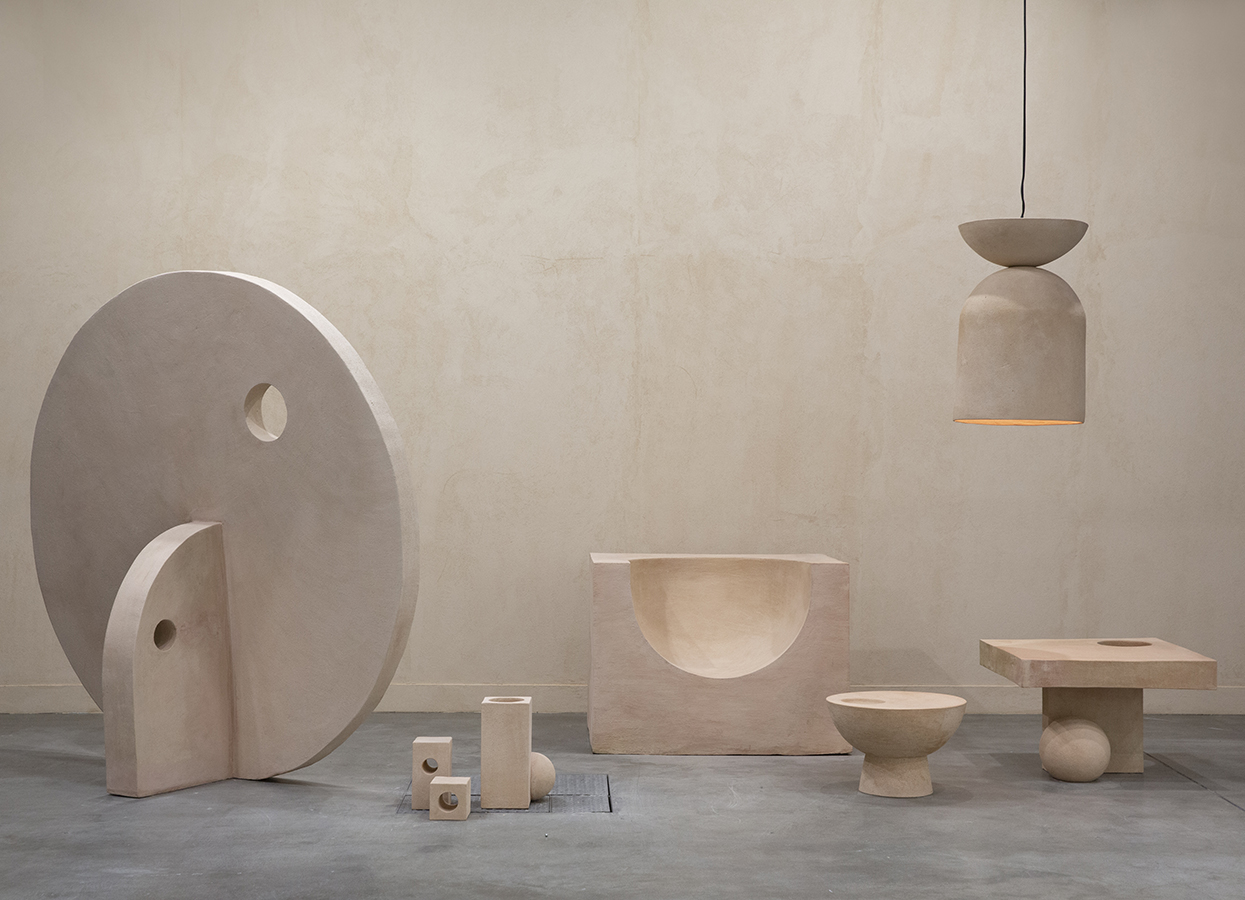 The Circle was Elisa Ossino's creation last month for miart, showing with Officine Saffi, an experimental hub with a focus on contemporary ceramics. The armchair, lamp, tables, and sculptural screen are all made from a neutral clay that calls to mind unstained wood. The result is at once austere and deeply inviting. I would very much like to sink into the cool, hollowed bowl of that bucket chair, wouldn't you?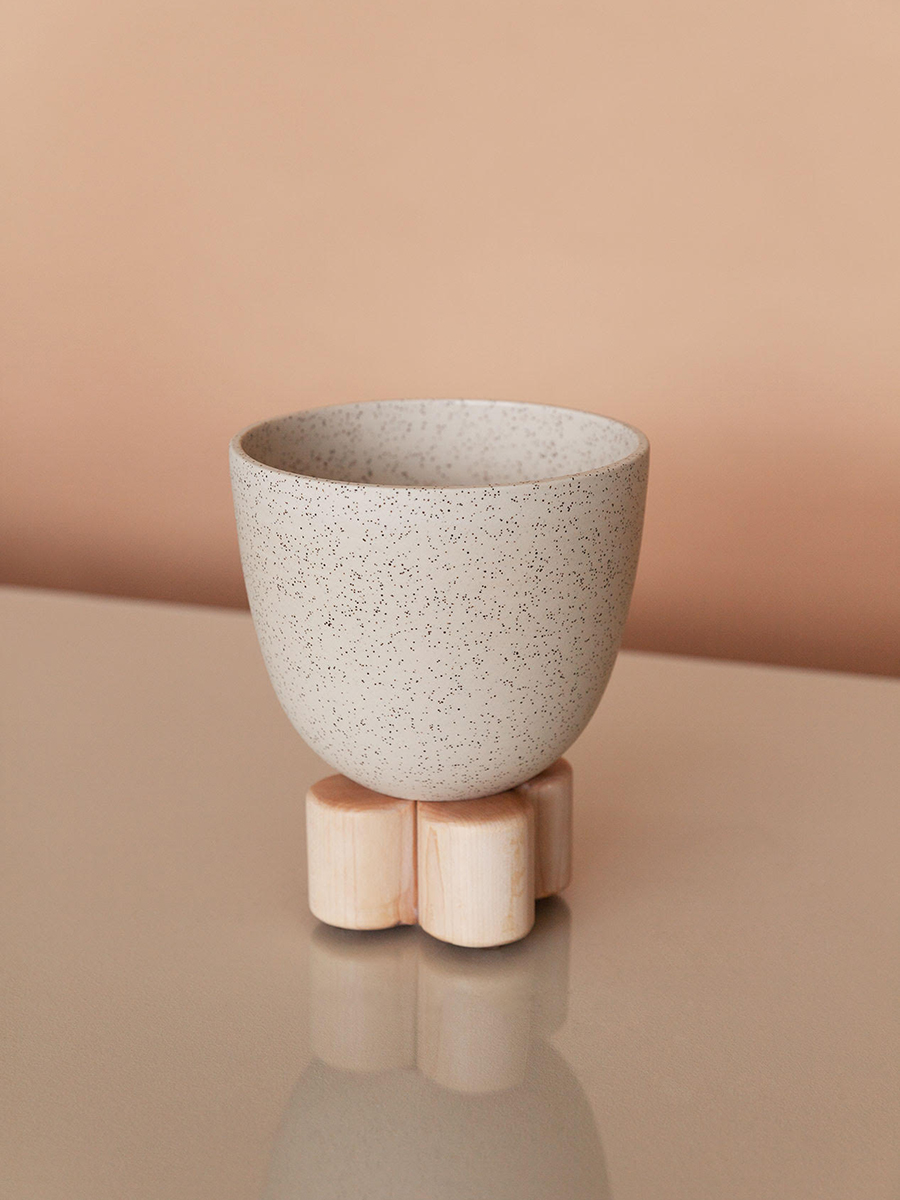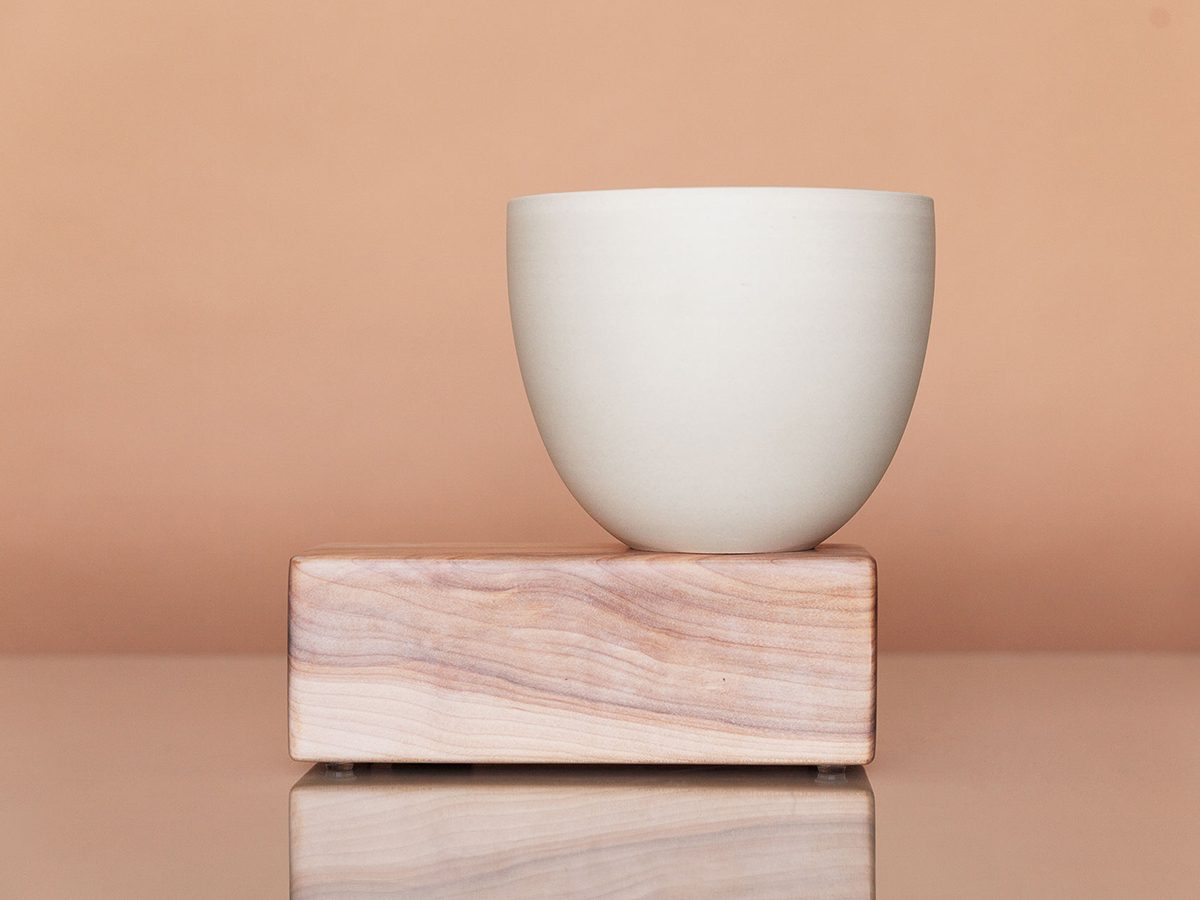 What can we say? We like a good material juxtaposition. This little cutie comes from mpgmb, the joint creative venture of Québécois duo Marie-Pier Guilmain and Maud Beauchamp. Part of their new Monument Collection, the decorative jars explore natural materials and their inherent, imperfect, yet soothing harmony.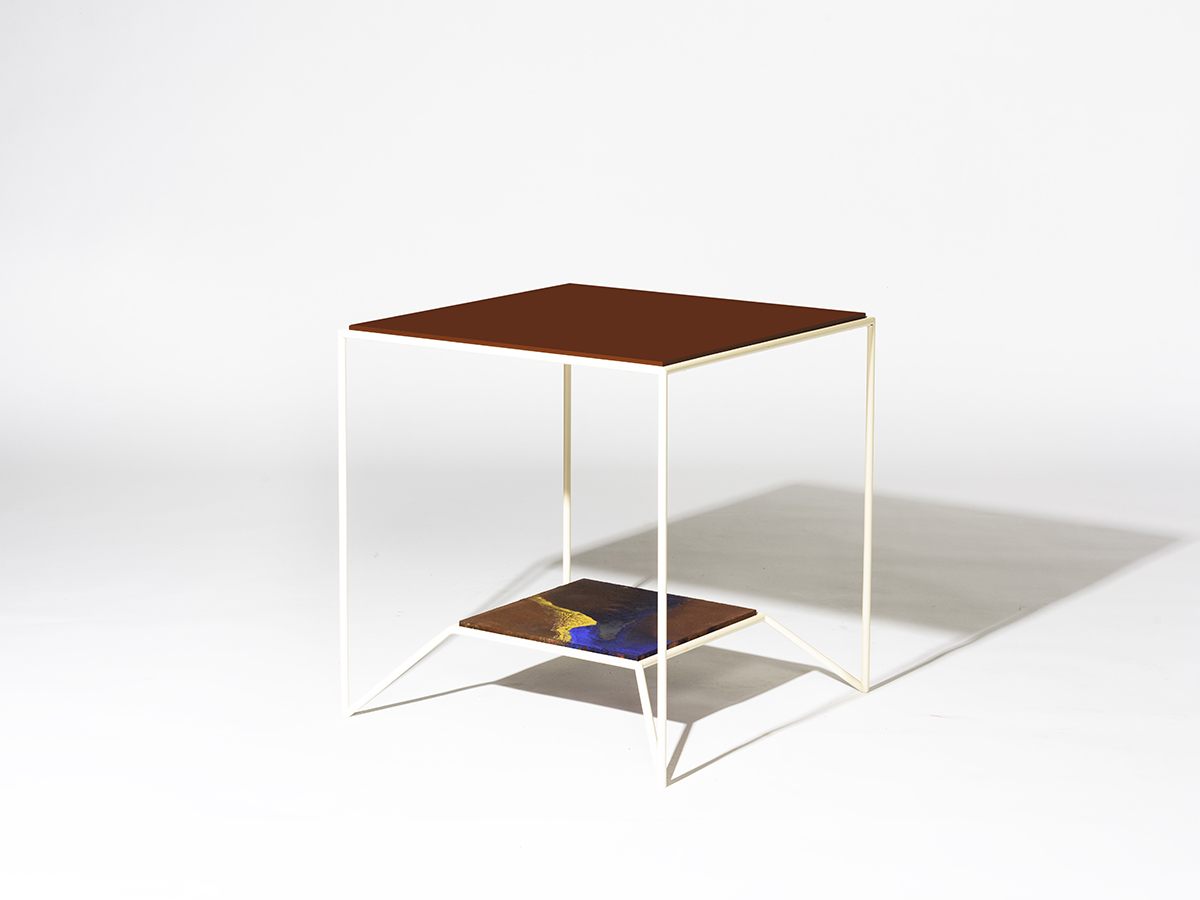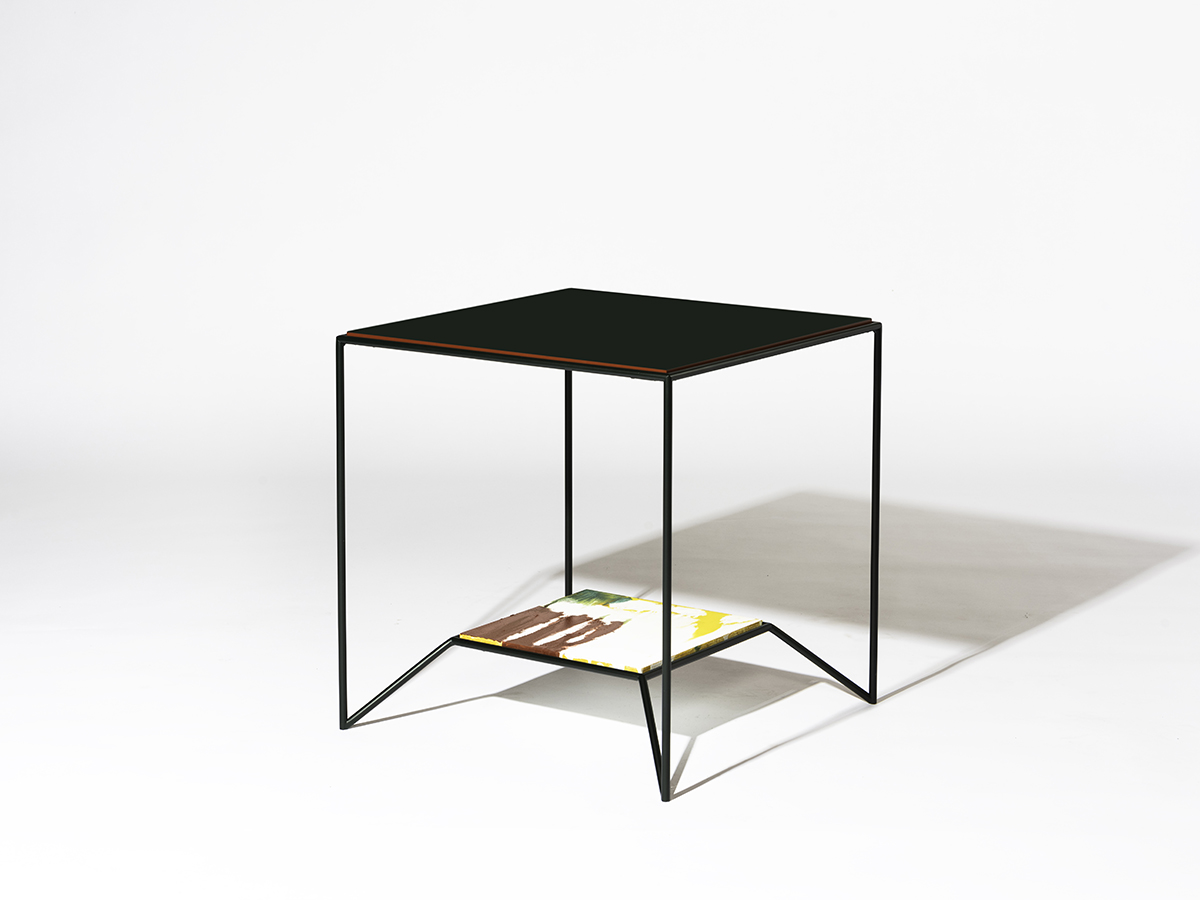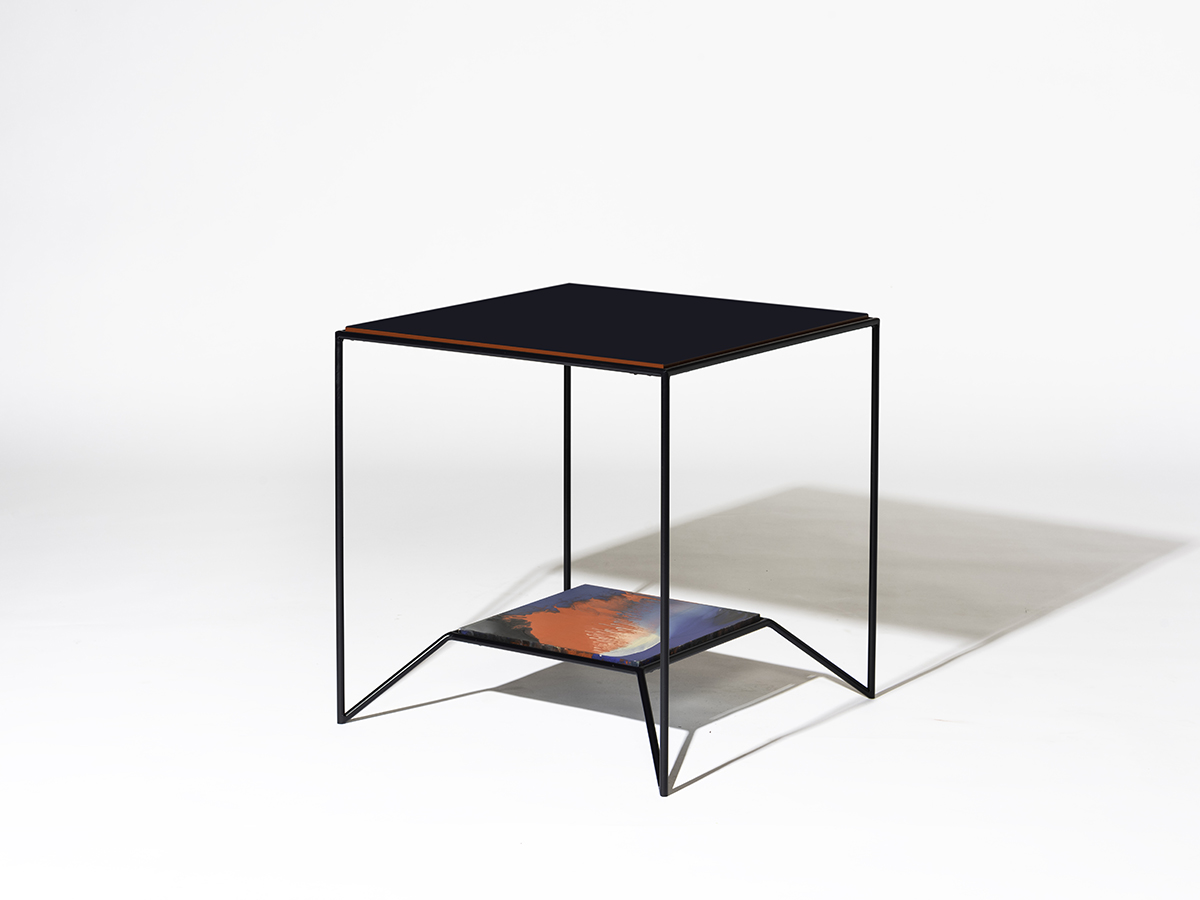 Rising Belgian designer Maria Scarpulla recently introduced a limited edition of 30 signature tables, each incorporating an abstract painting by the artist at their base. Named "You Know The Way, Right?," the lacquered steel tables explore precision and intuition, contrast, and color pairings.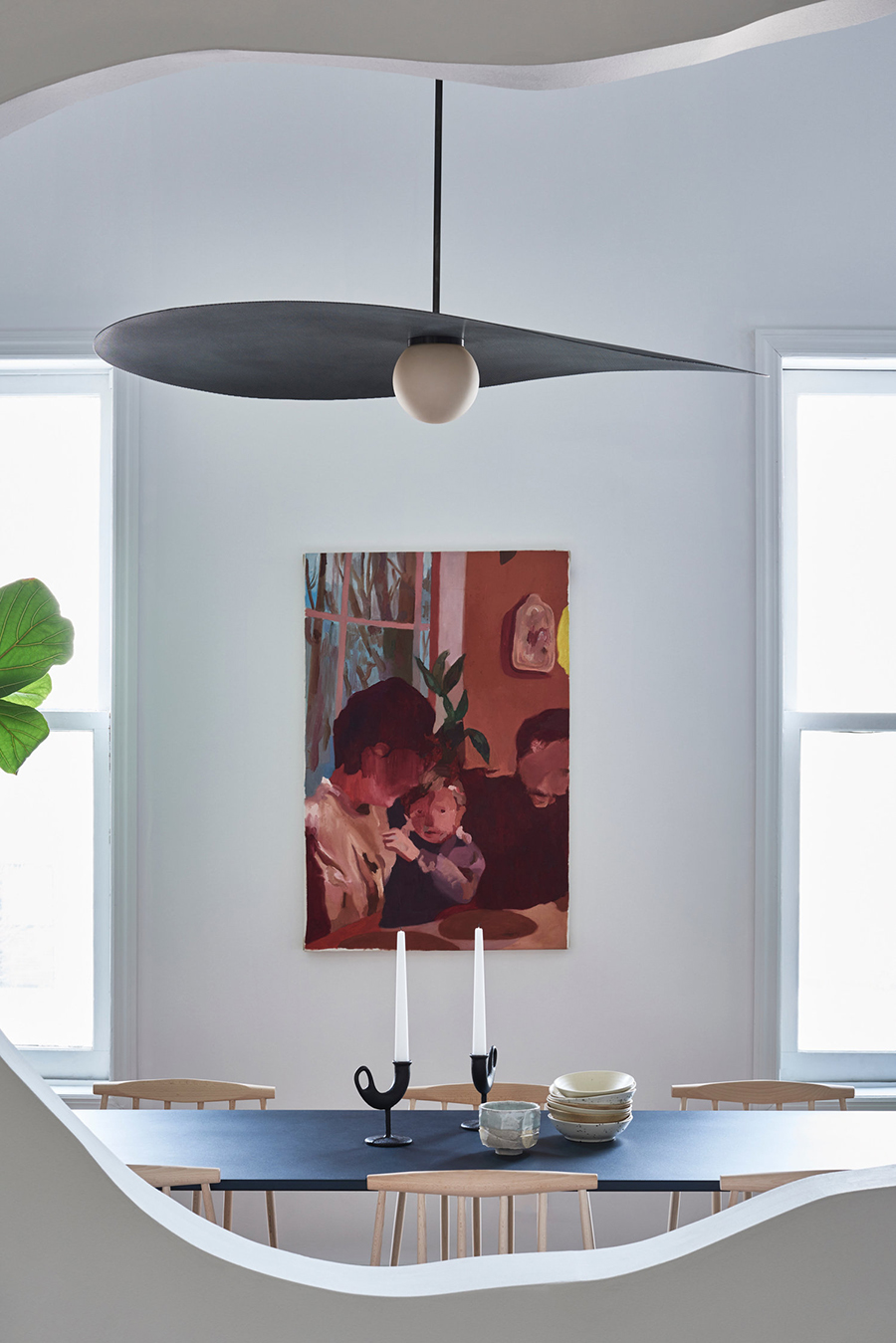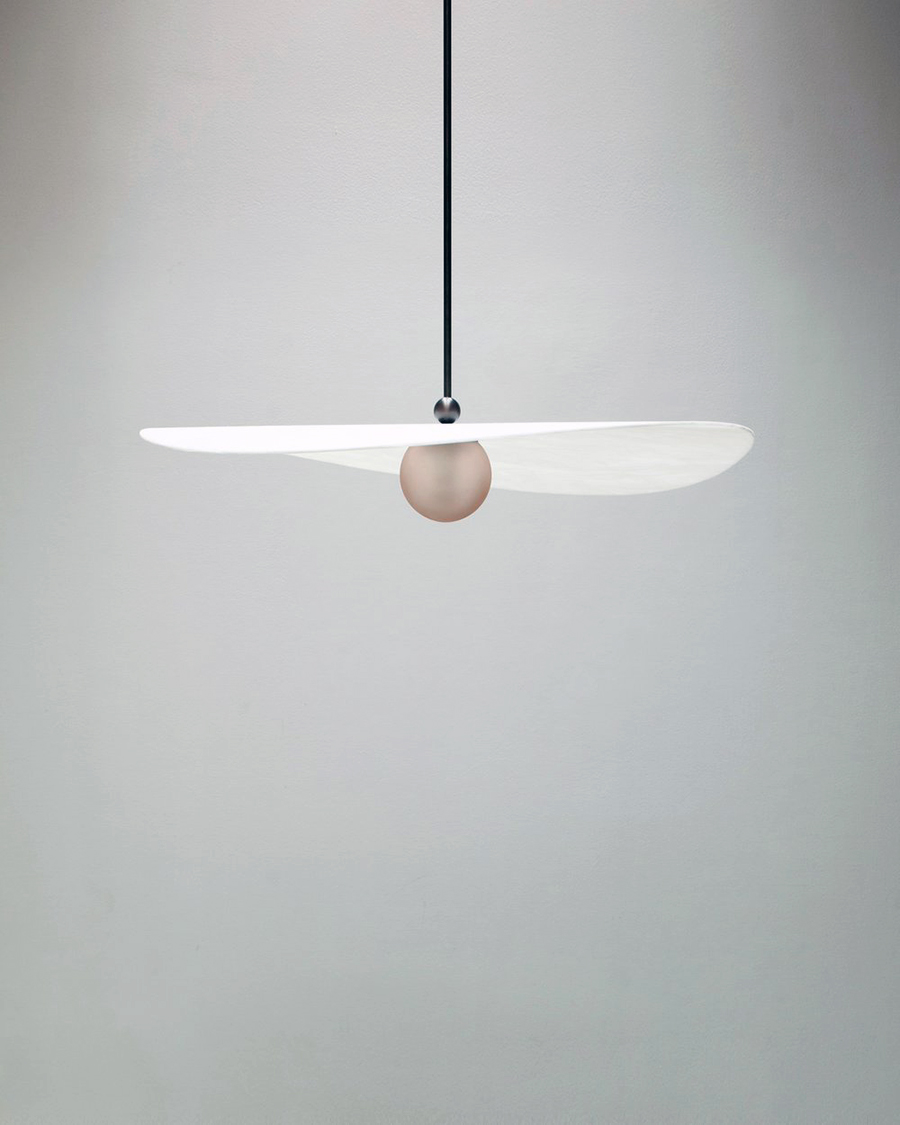 Ladies & Gentlemen designed the precursor to this lamp in contoured brass, steel, or sandblasted glass for the home of Giancarlo Valle last year, but it's lately been popping up in all the right places, including this cute remodel by Michael Yarinsky. The source of inspiration happens to be actress Myrna Loy's iconic, elegantly sloping hats; like any good hat, the angle is adjustable to suit your mood.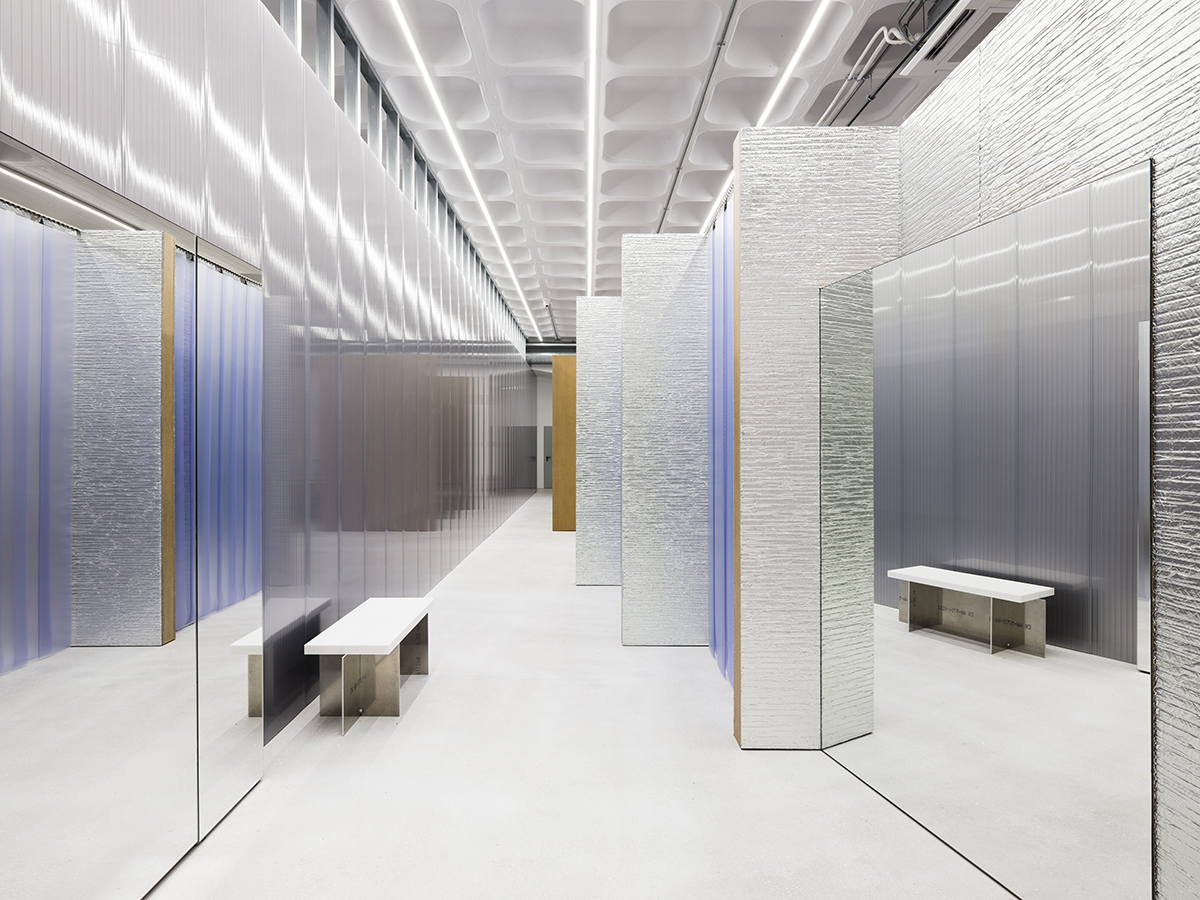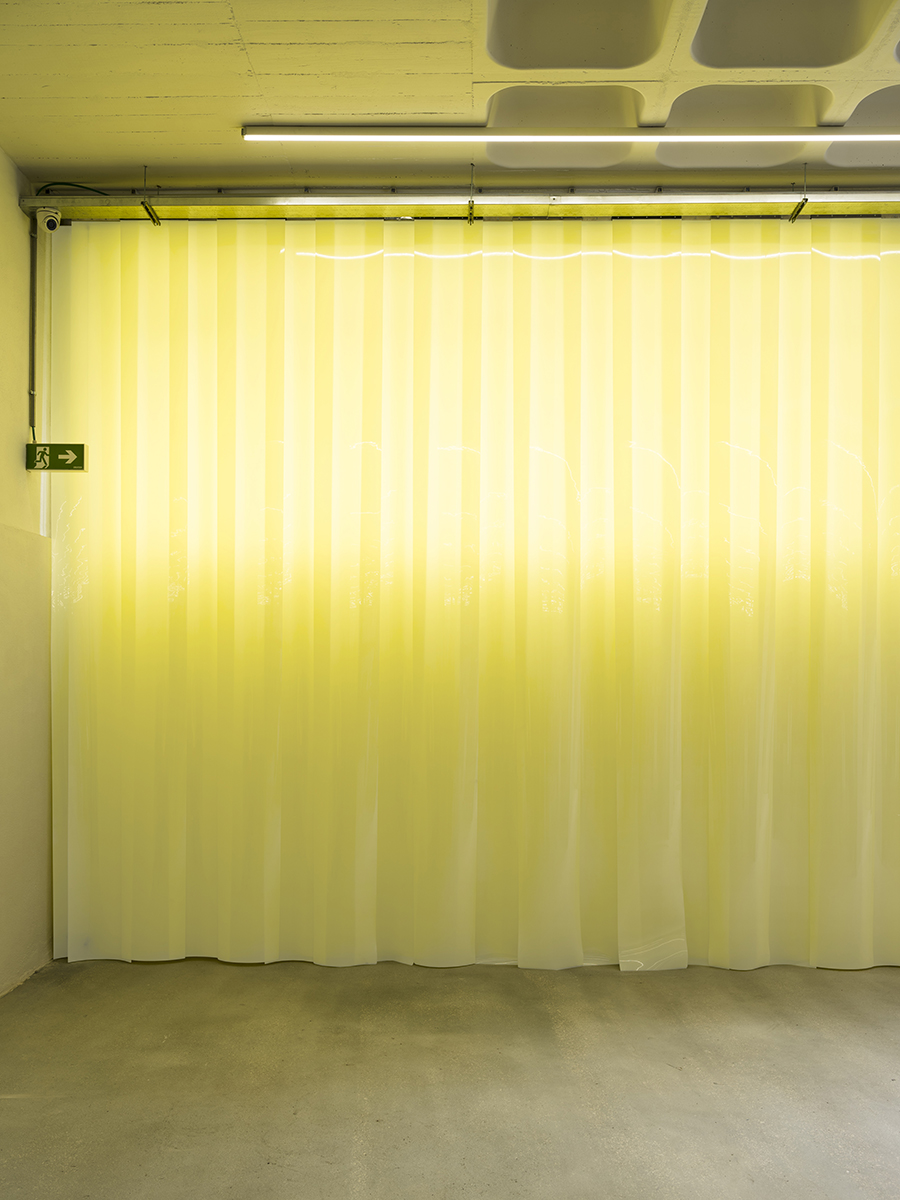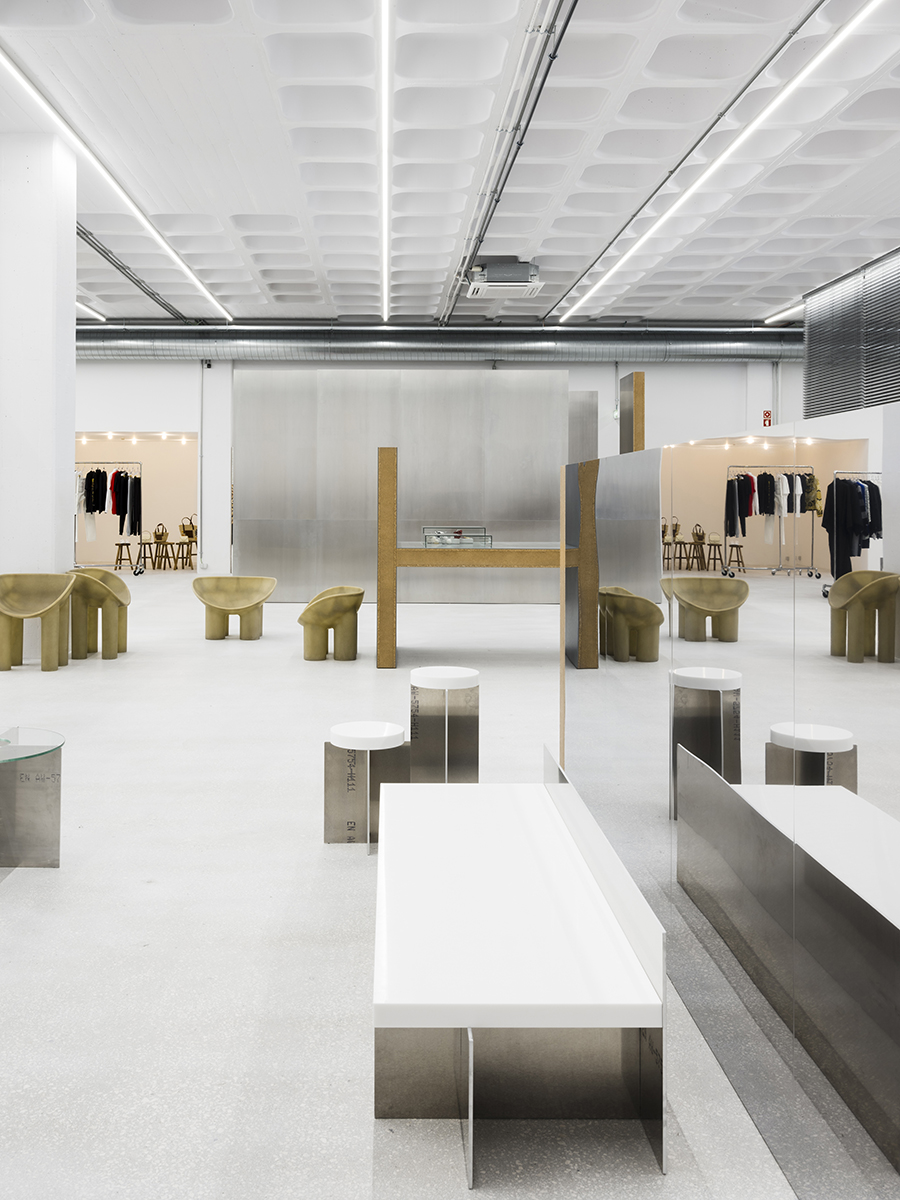 In the rising creative district of Marvila, an industrial, coastal suburb of Lisbon, a deserted storage warehouse has been given new life so that it can serve as a better canvas to a growing artist community. The Berlin-based studio Gonzales Haase AAS envisioned TEM-PLATE, a concept shop where objects and layout will evolve on a monthly basis, as a minimalist and fluid space punctuated by mirrored, matte, transparent, and metallic elements — all the better for ensuring that the designs inside shine. (Photos © Thomas Meyer-Ostkreuz)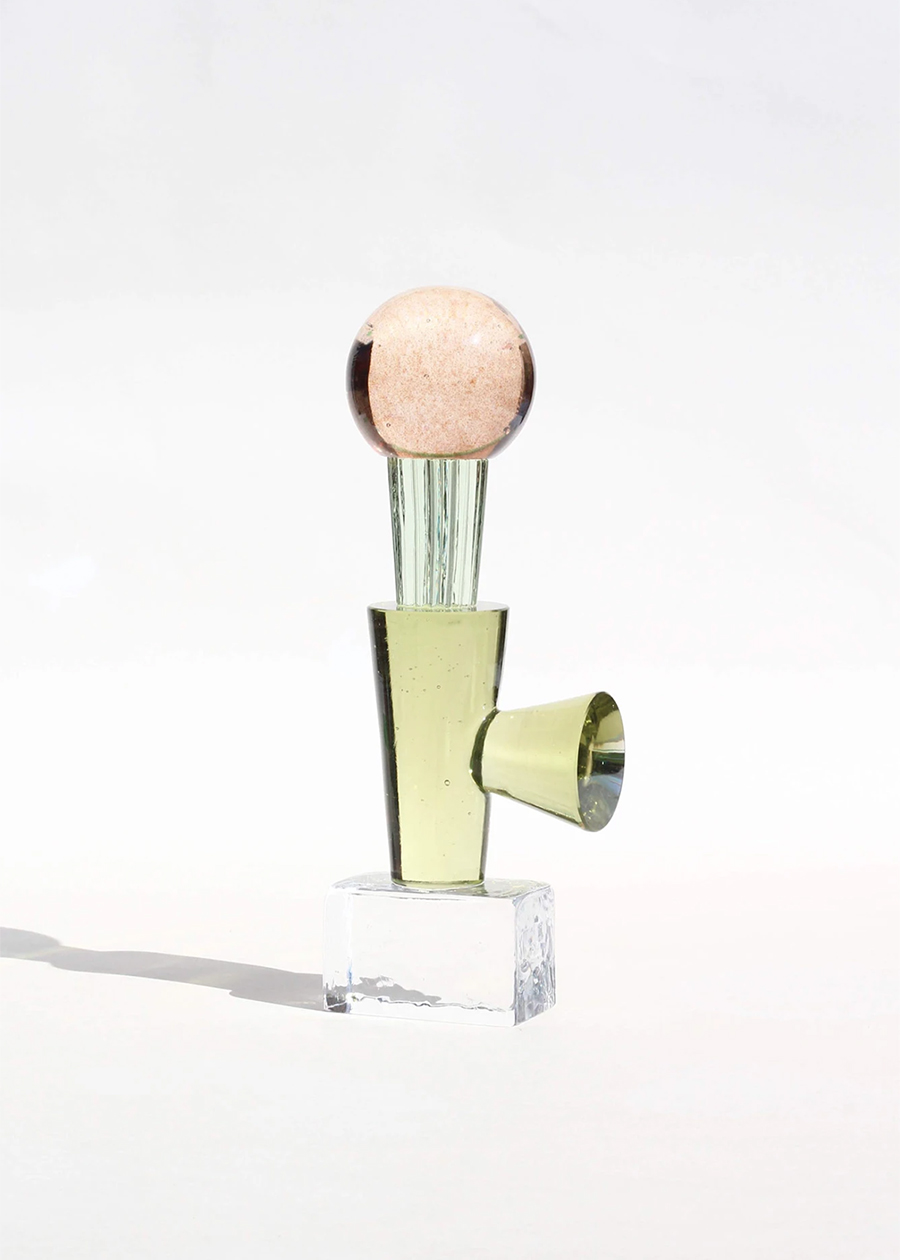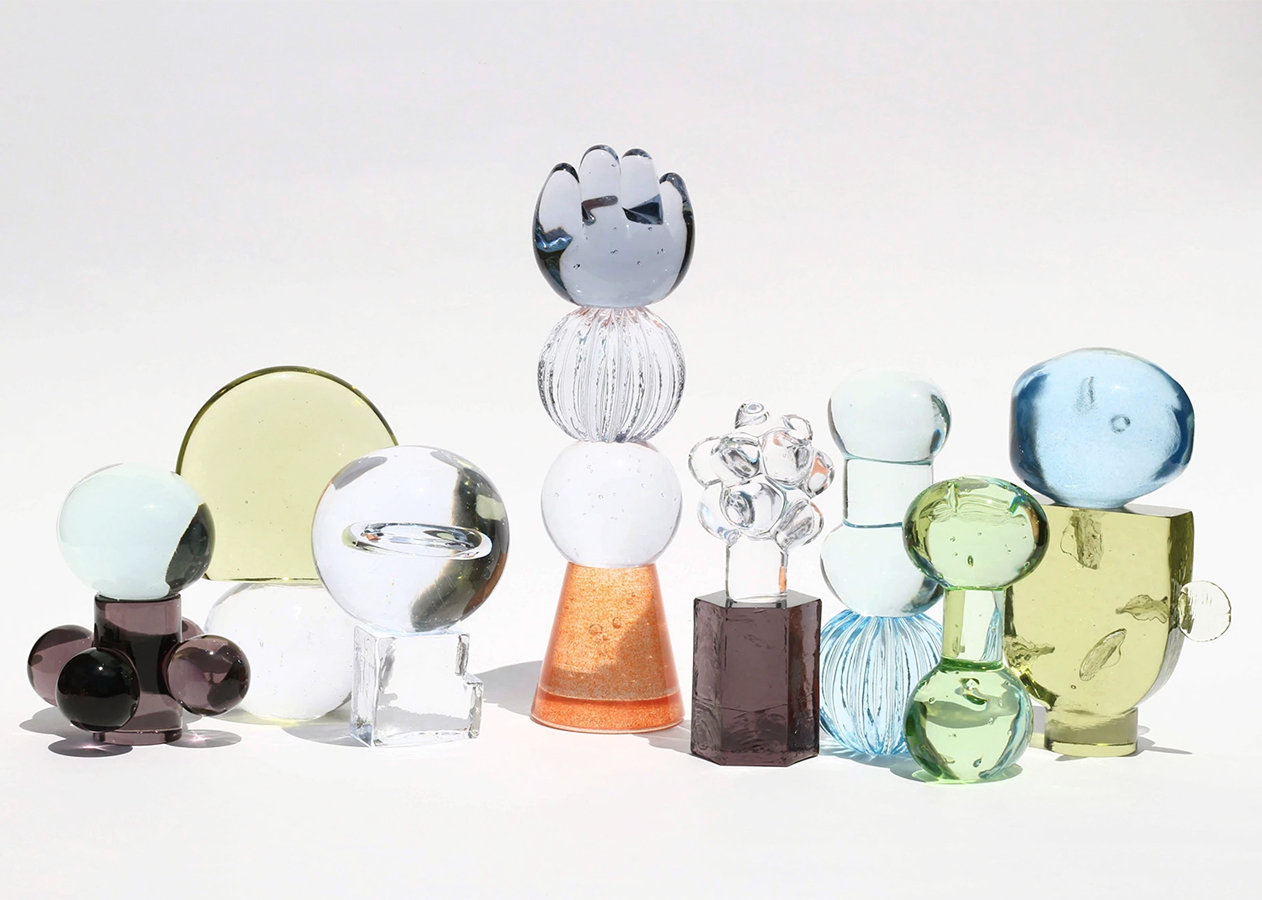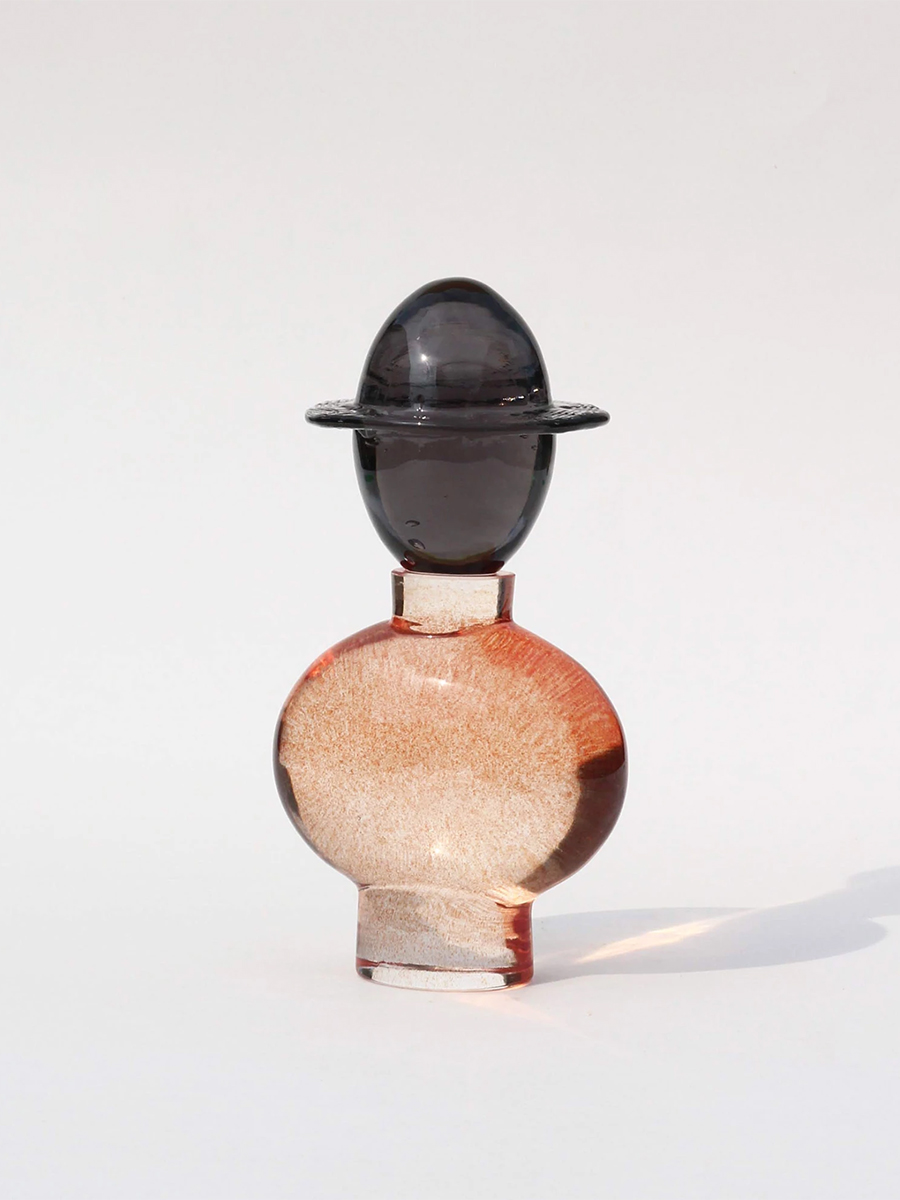 Much of the magic of glass comes from knowing it once resembled a molten-hot candy with a pliable, taffy pull. Then, peering at the solidity of a finished creation, you grasp the magical, material mutability of glass itself. Japanese glass artist Baku Takahashi's work makes my imagination swirl like that. With his 'Swim in the Light' series of Technicolor sculptures, color, transparency, and form have a bit of a party. The shapes he creates feel delightful and vaguely cartoonish. It would be difficult to choose a favorite.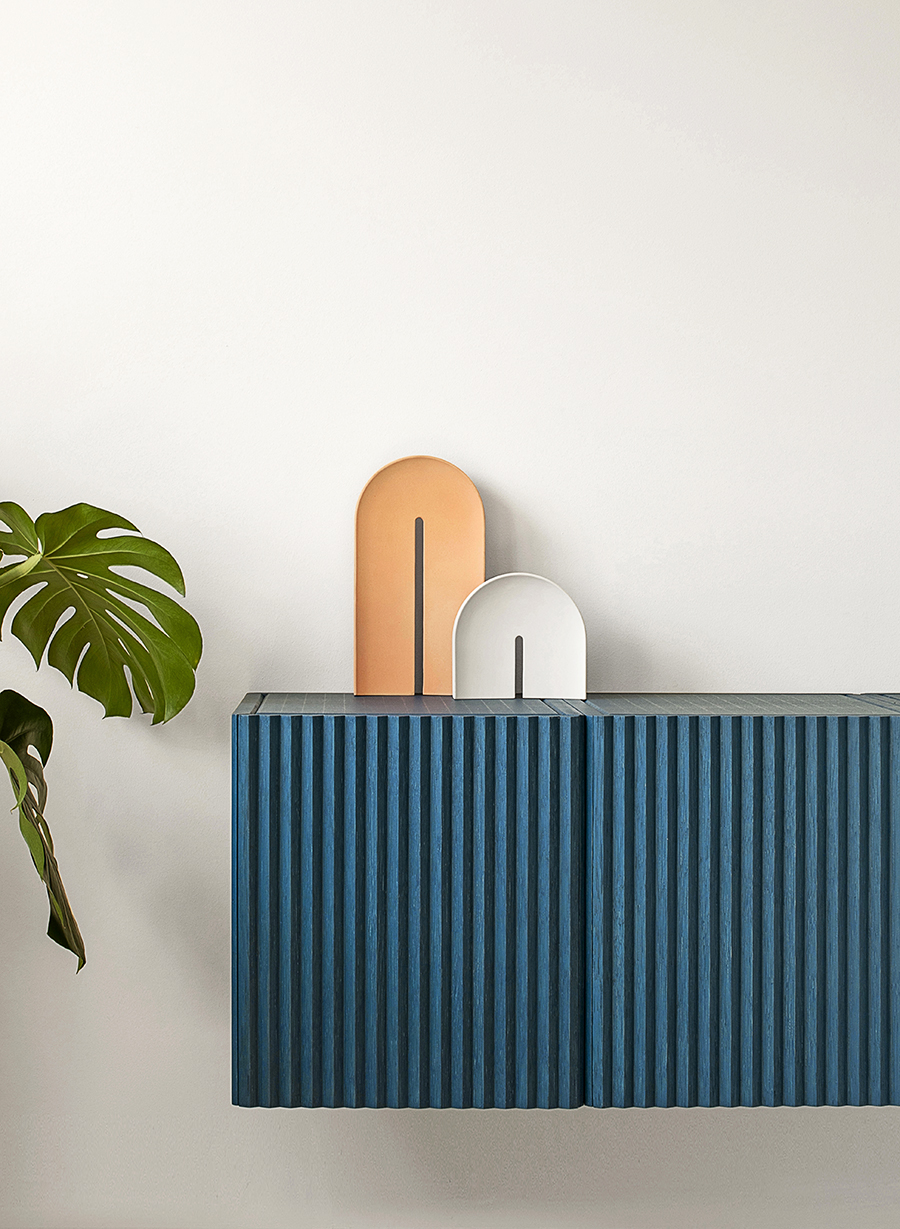 Who among us is impervious to the charms of a good tray? De Intuïtiefabriek's porcelain trays, inspired by the architectural principle of the arch, would be the perfect functional, tactile addition to any workspace or bathroom counter.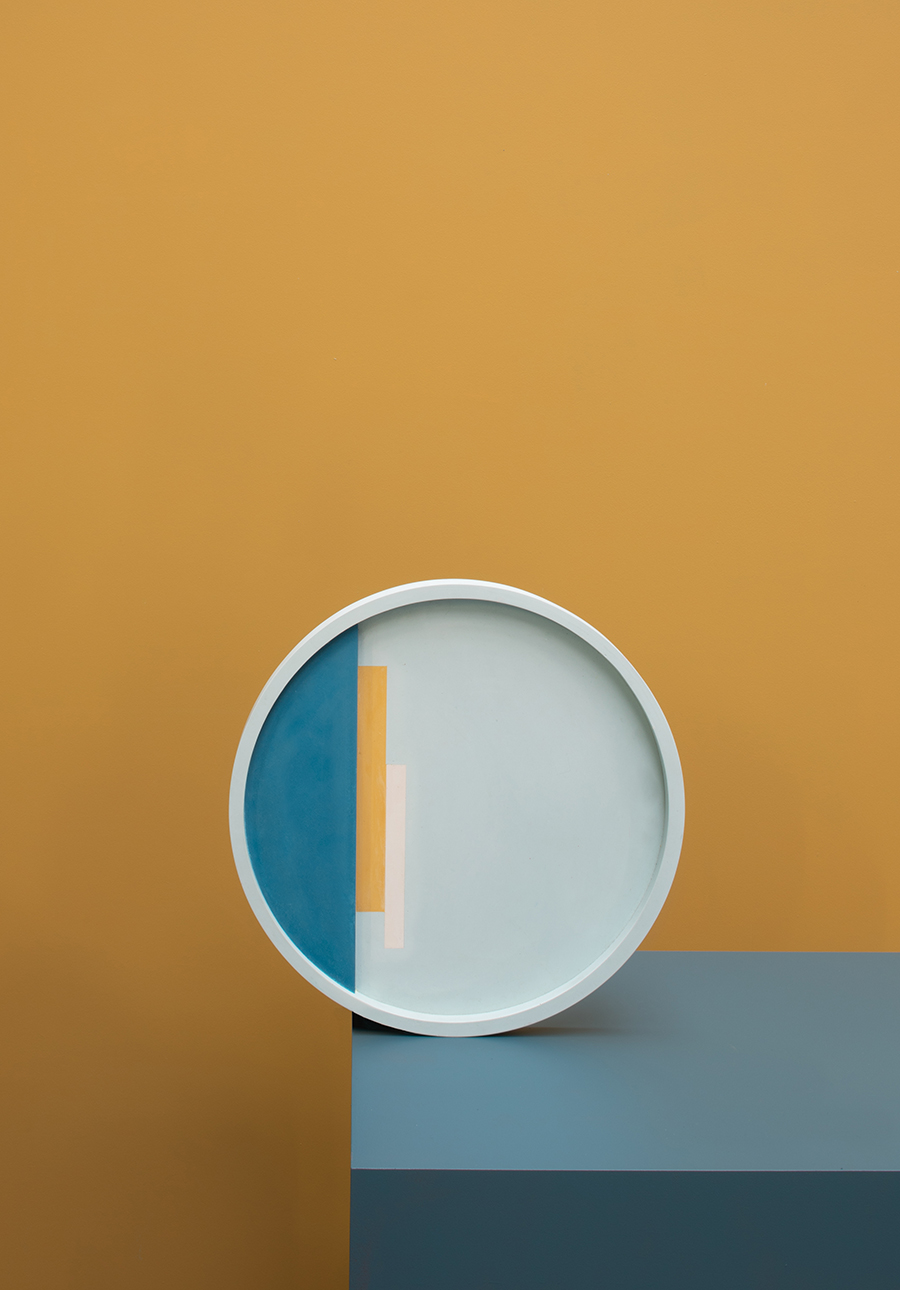 Here's another good one, this one by the Belgian duo Nortstudio, who have begun to translate their colorful, graphic aesthetic into housewares.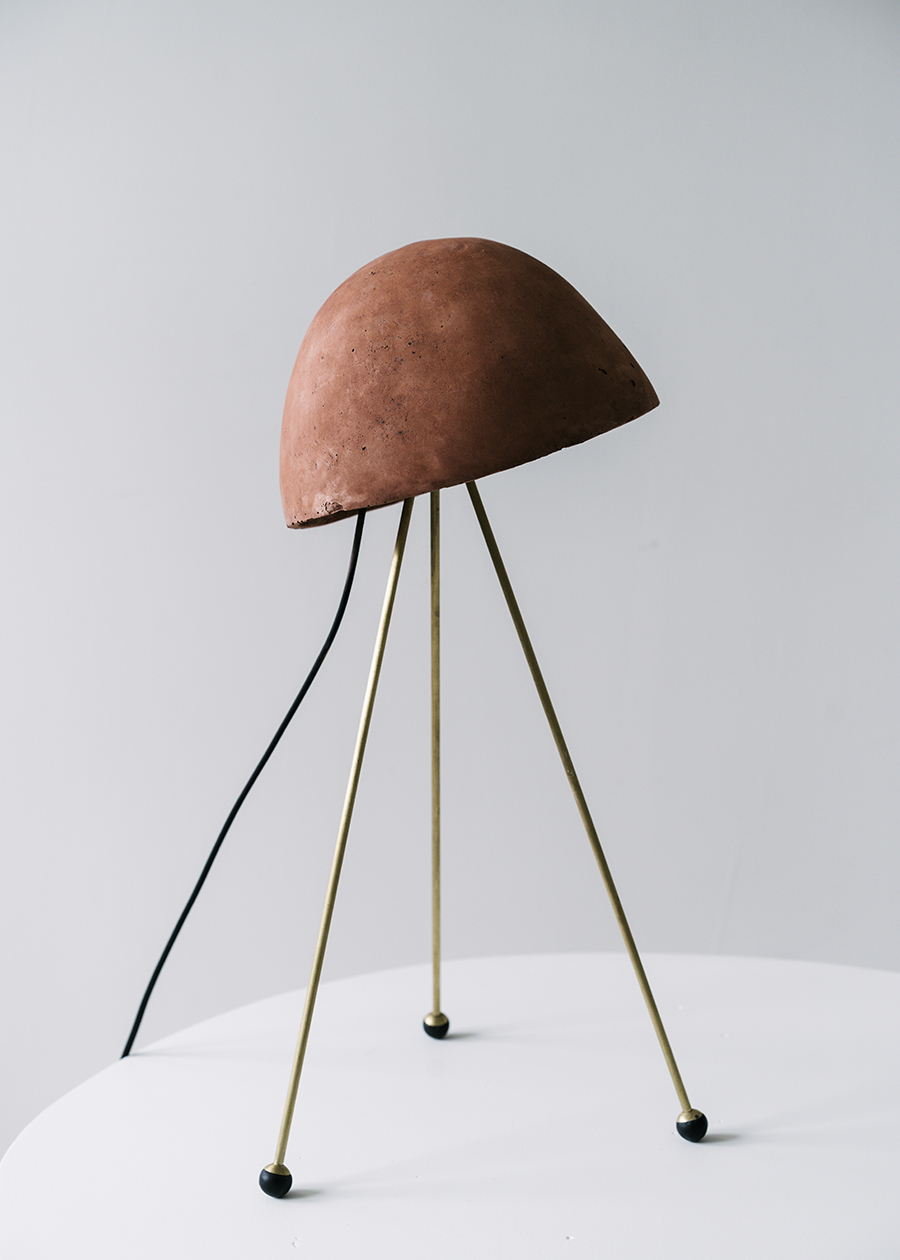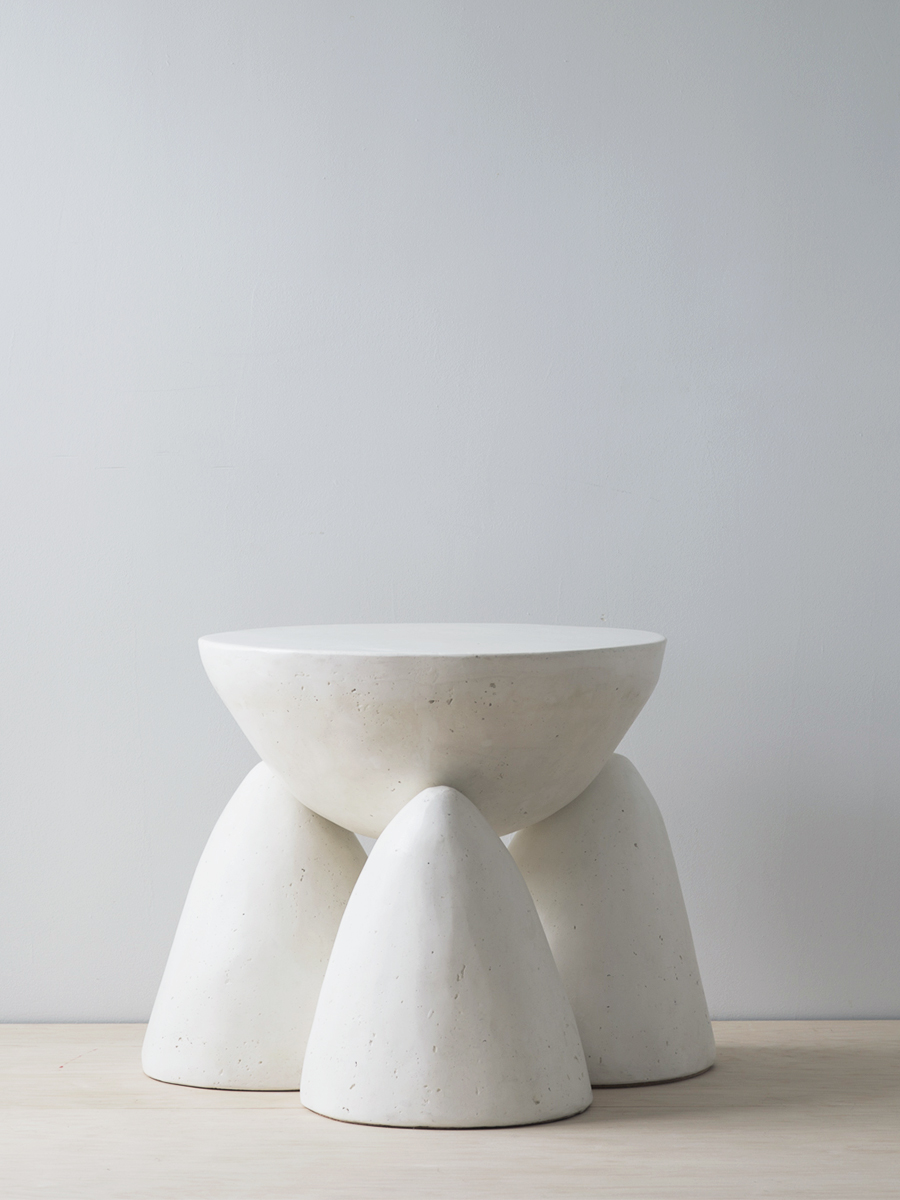 With a name like Blanche Jelly, how could we not pause to investigate? Named for principal designer Elizabeth Parker's paternal great-grandmother, Blanche Jelly explores the presence of forms and light found in the space of memory. Knowing this or not, I ask: How can you not fall for the knobbly textures and charming anthropomorphic proportions of Blanche Jelly's hand-sculpted Twyla table series and handcast Buddy lights? (Photos © Isaac Lane Koval)
Links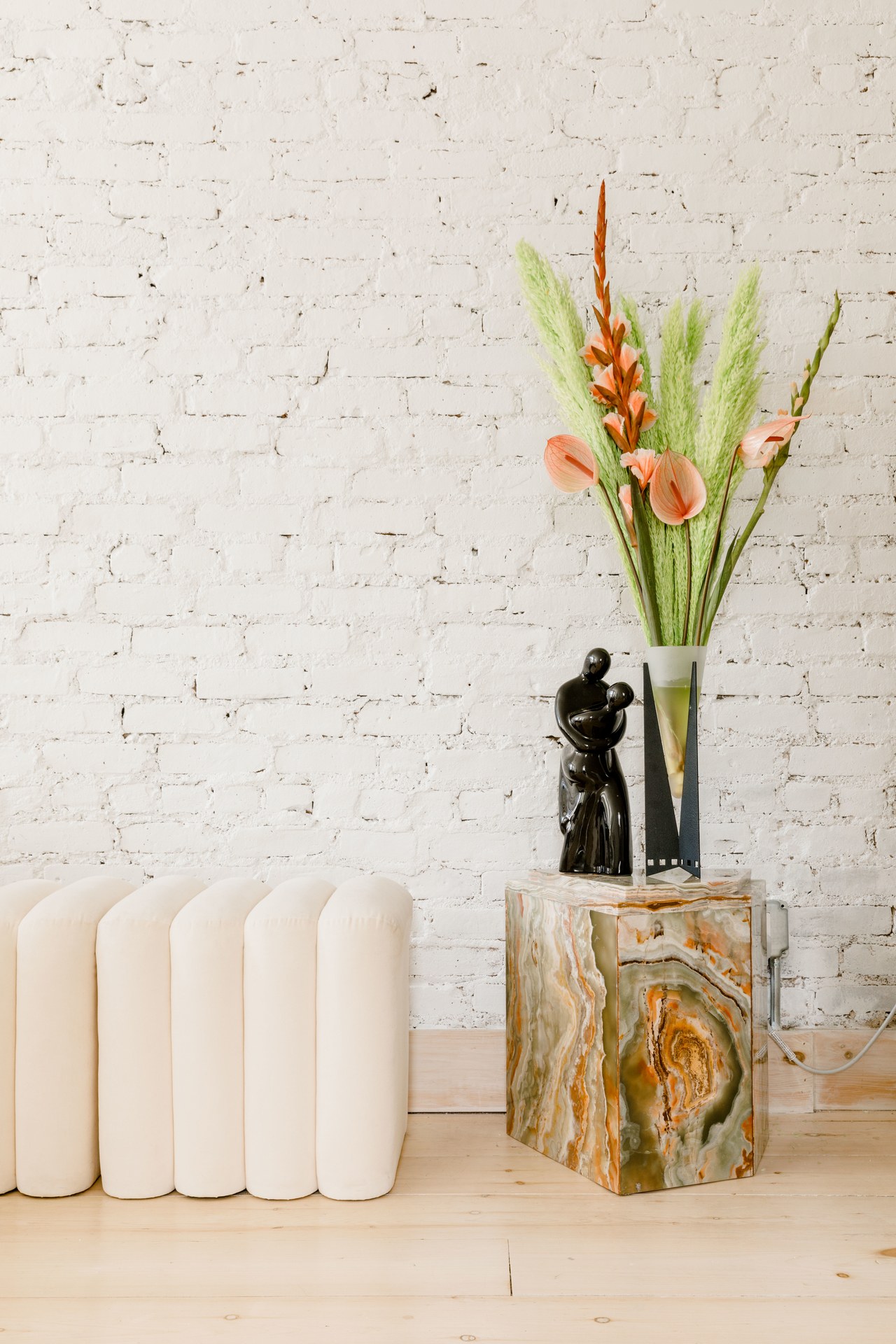 A fresh inhale of spring air—in apartment form. The Brooklyn home of Hillary Taymour, founder of ready-to-wear brand Collina Strada, was recently featured over on Clever, and we're feeling whitespace envy. She shares, "I wanted to have a place to stare off at a blank wall for hours so I could come up with new designs and collections." We imagine the duo of cream Eny Lee Parker Bb Stools, alongside that onyx side table, make a pretty good nook for ideating, too.