03.01.14
Week of February 24, 2014
A weekly Saturday recap to share with you our favorite links, discoveries, exhibitions, and more from the past seven days. This week: furniture worthy of a "French Fries Party," super-minimalist $99 lamps, candy-colored stools by Jeff Martin (above), and incredibly styled images by the likes of Gemma Tickle and the Bouroullec brothers.
Pinterests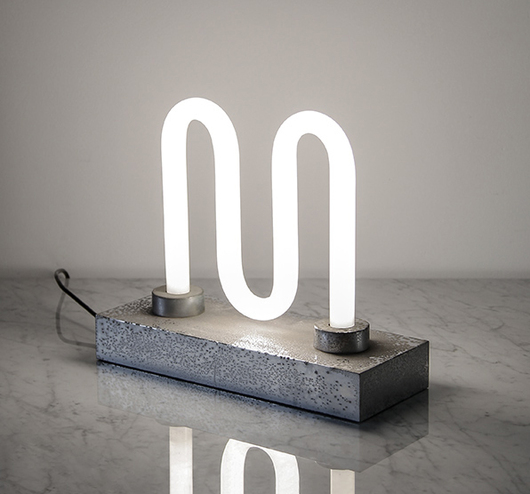 I may be biased (my name begins with M), but if I had $12,000 lying around, I'd be tempted to spend it on this lamp by Ingo Maurer, for sale at the Belgian shop City Furniture and found on the "neon" board of a one Nate Rasmussen from Seattle.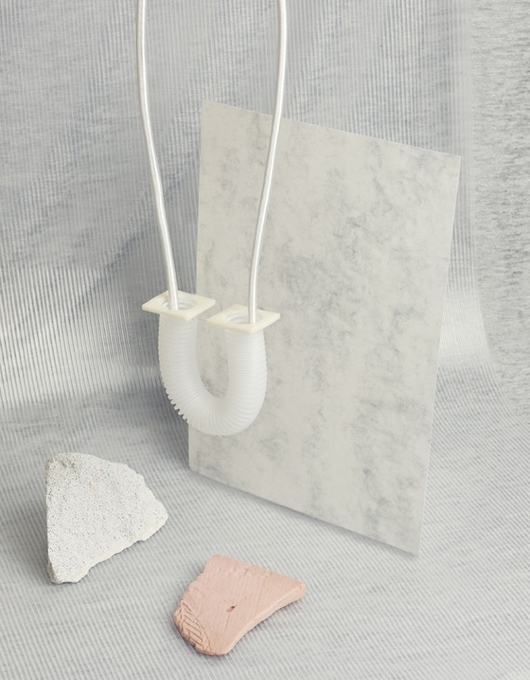 Portuguese graphic designer Catarina Carreiras (whose new studio we profiled at the start of this year) posted this beautifully styled scene, featuring jewelry made and styled by the Dutch studio Vowel — aka Beau Bertens and Eline Ceelen, both of whom straddle the fields of graphic and textile design.
Discoveries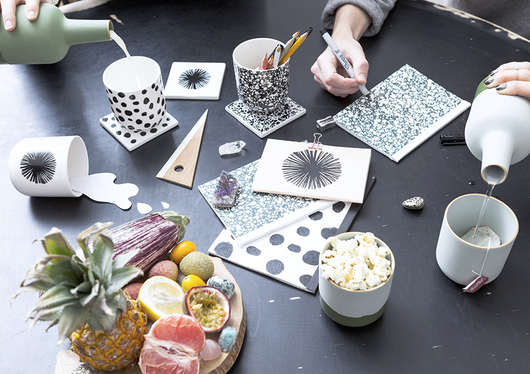 We found out about the graphically embellished housewares of Marika Giacinti, a Parisian designer living in Belgium, when she emailed us earlier this week to show us her newest collection. It includes cute notebooks, ceramics, and soft goods, all of which are available for sale in her online shop. We especially love the mugs and notebooks with that classic mottled composition-book pattern.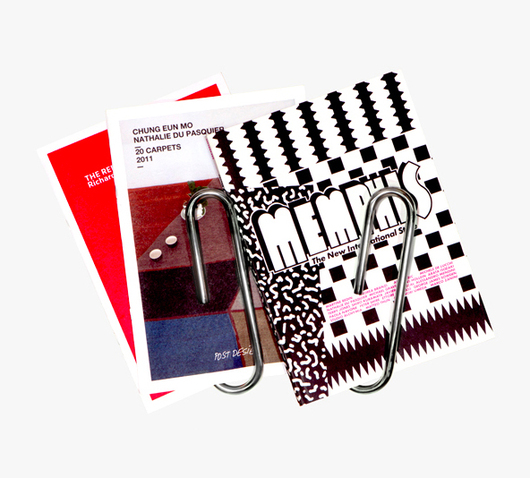 Again, some bias here, but as children of the '80s, we flipped when we saw these new jumbo paperclips now for sale in Memphis Milano's online shop. Each one is 11 inches long and 100 Euros per pair, and the website suggests you can buy a bunch and hang them in a big chain from the ceiling for an inventive hallway storage or magazine rack solution.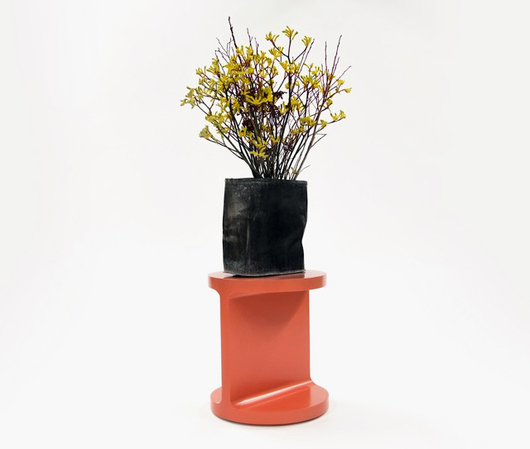 Another great email submission this week came from designer Jeff Martin, of the Vancouver studio Jeff Martin Joinery, who pinged us to show off his colorful new Radius Series (also pictured at the top of this post). The stools will debut at this month's AD Home show.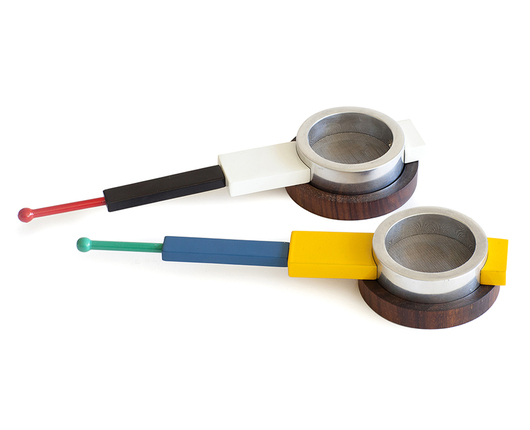 Fellow Canadian Tahir Mahmood just added several new wares to his collection — which he has produced by artisans at his other studio, in Lahore, Pakistan — including the Poni Tea Strainer shown here. It sells for $20 in his online shop and is a perfect example of how Mahmood merges his two biggest influences: Memphis design and his Indian heritage.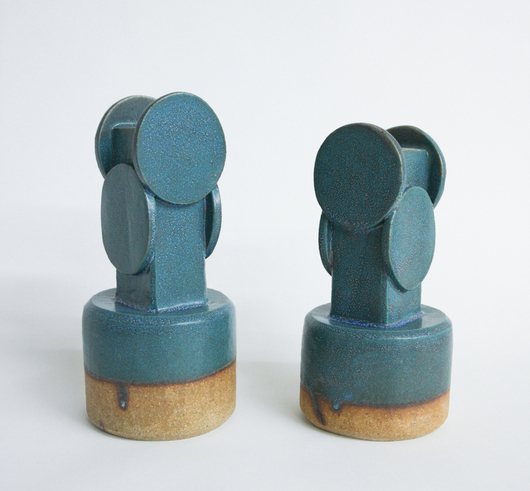 This week also marked the launch of L.A. artist Bari Ziperstein's new online shop, which sells housewares from her BZippy & Co collection. We love these Brutalist Circle Top Vases ($175 each), but we also encourage you to check out her Pyramid Lamp, available for sale right here in the Sight Unseen Shop.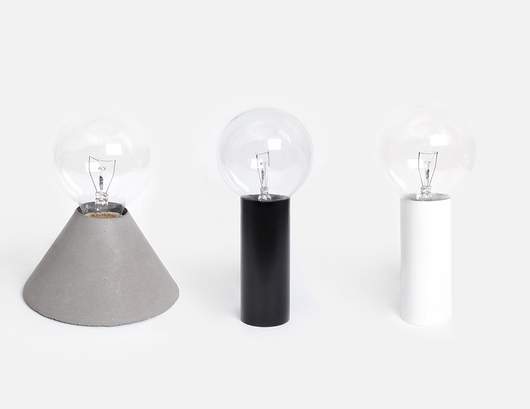 If you're looking for a more minimalist method of illumination, check out the latest lamps by designer Andrew Neyer, who runs the super-cool Cincinnati shop YES. His handmade Stone and Goodnight lights are available for sale there for only $99 each.
Exhibitions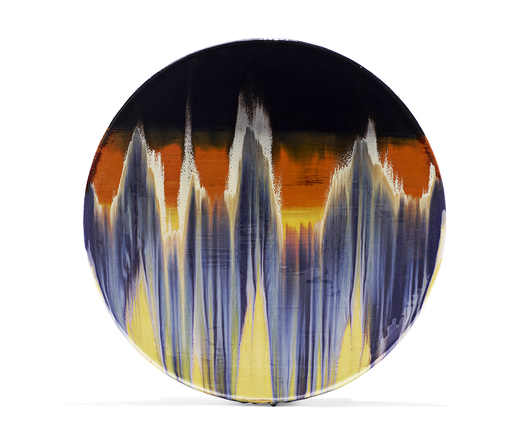 Thursday saw the opening of a new show at the Danish gallery Copenhagen Ceramics, featuring two very different yet equally innovative takes on glazing by artists Gunhild Rudjord and Nils Erik Gjerdevik. The wall piece above is by Rudjord; Gjerdevik's are more like weird, lumpy table sculptures.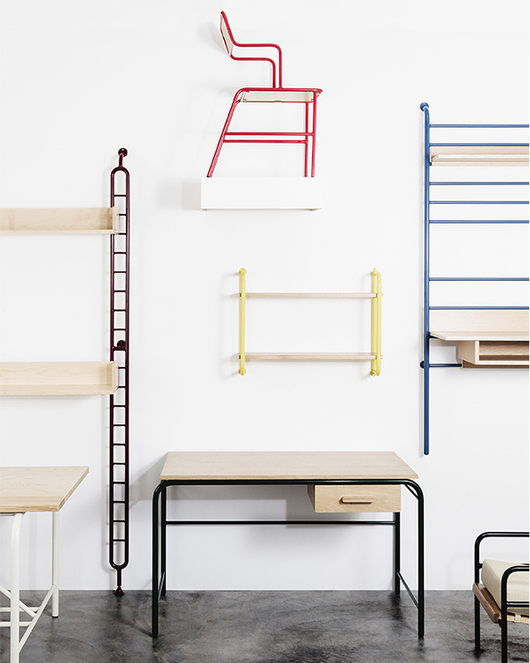 Galerie Rodolphe Janssen in Brussels is currently showing off furniture by Ateliers J&J, whose work we only just discovered (OMG). The best part: They celebrated the show opening on Thursday with a "French Fries Party." That's one party we'd never miss!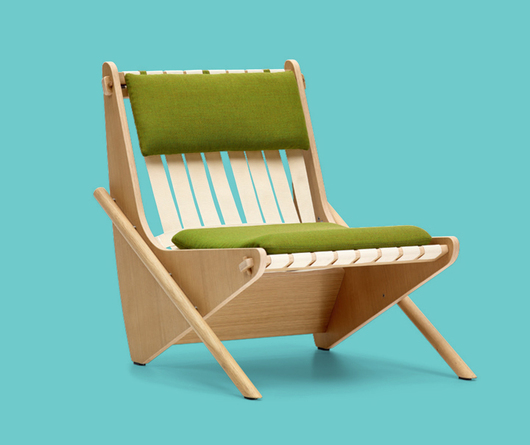 The new Richard Neutra furniture show at L.A.'s A+D Museum features 27 designs he created from the '20s to '40s that are now being produced by the German company VS, who worked with Neutra's son and architectural partner, Dion, to realize the pieces. Apparently the collection launched at IMM Cologne in January, but there seems to be almost no press on it, which is surprising.
Links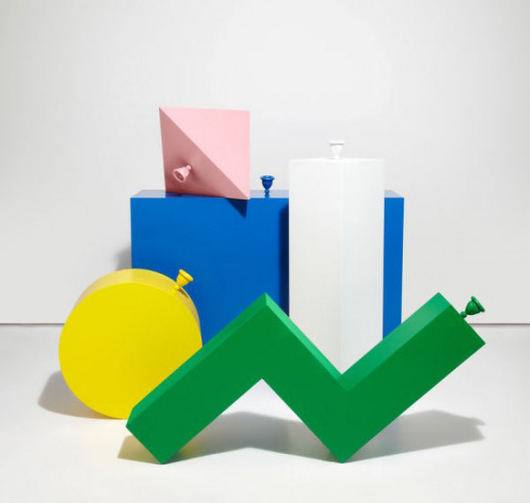 The London shop Present & Correct not only sells gorgeous office supplies, it also has an always-inspiring blog and Pinterest account. The former introduced us this week to the Pop series of geometric balloons by Gemma Tickle (great name), a set designer whose portfolio we're kind of obsessing over.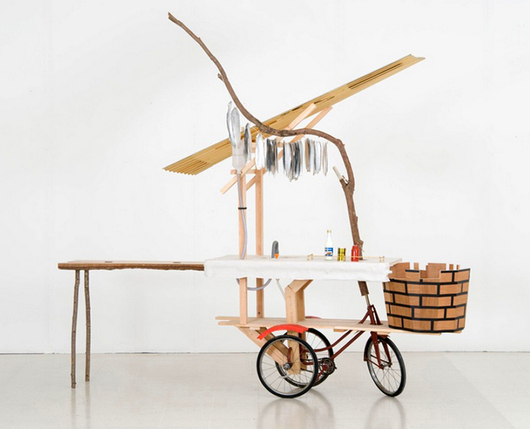 We went to Boisbuchet last summer to observe a workshop by Snarkitecture, and it was an amazing experience. Having seen this year's all-star lineup of designer hosts, though, just announced on the program's website, we're totally dreaming of going back. It includes folks like Anton Alvarez, Peter Marigold, Max Lamb, Studio Glithero, Scholten & Baijings, Formafantasma, Jerszy Seymour, Philippe Malouin, Nacho Carbonell, and many more — Studio Swine's "Mobile City" workshop, reference image pictured above, looks especially fun.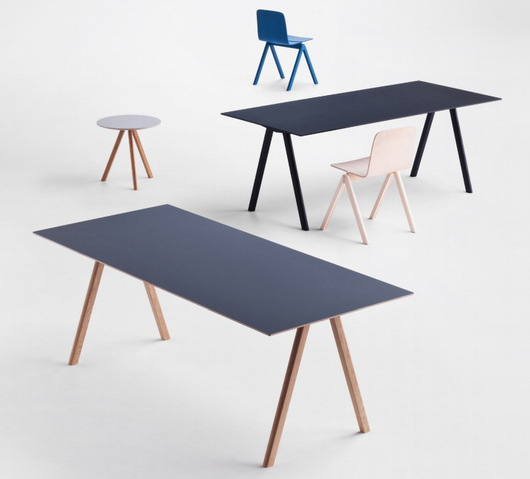 Elsewhere on the internets, the Bouroullec brothers just posted a PDF of the catalog for their new Copenhague collection for Hay, which they themselves styled and photographed. Download it here.
Instagrams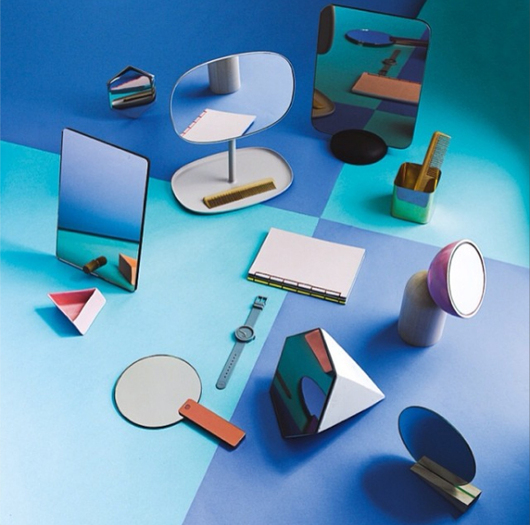 More incredible styling: This image appeared on the Instagram account of the featured watch company Aark Collective, who regrammed it from stylist Jessica Hanson, who created it for the Australian magazine Inside Out.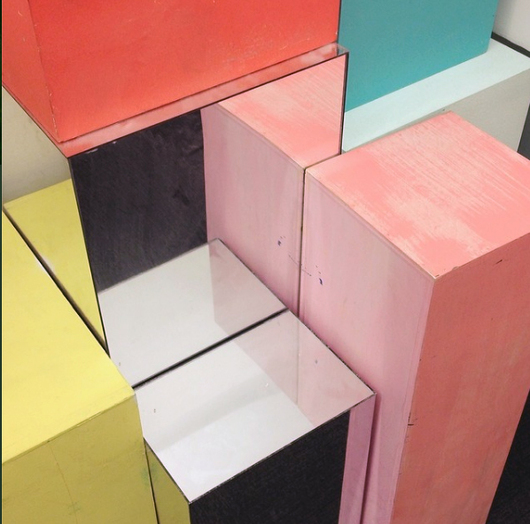 We have no idea, on the other hand, what this gorgeous arrangement is for, just that it was posted by our former co-worker, graphic designer Maayan Pearl, who snapped it in the offices of her employer, J Crew. We'll be on the lookout.