12.05.15
Week of November 30, 2015
A weekly Saturday recap to share with you our favorite links, discoveries, exhibitions, and more from the past seven days. After spending the week culling our gift guides to just 75 items, we're still including a Shopping section — there's just too much good stuff! Plus: a sneak peek at our LA show, a mega-design auction preview, and Oyyo's new rug collection (above) styled by one of our favorite photographers.   
Shopping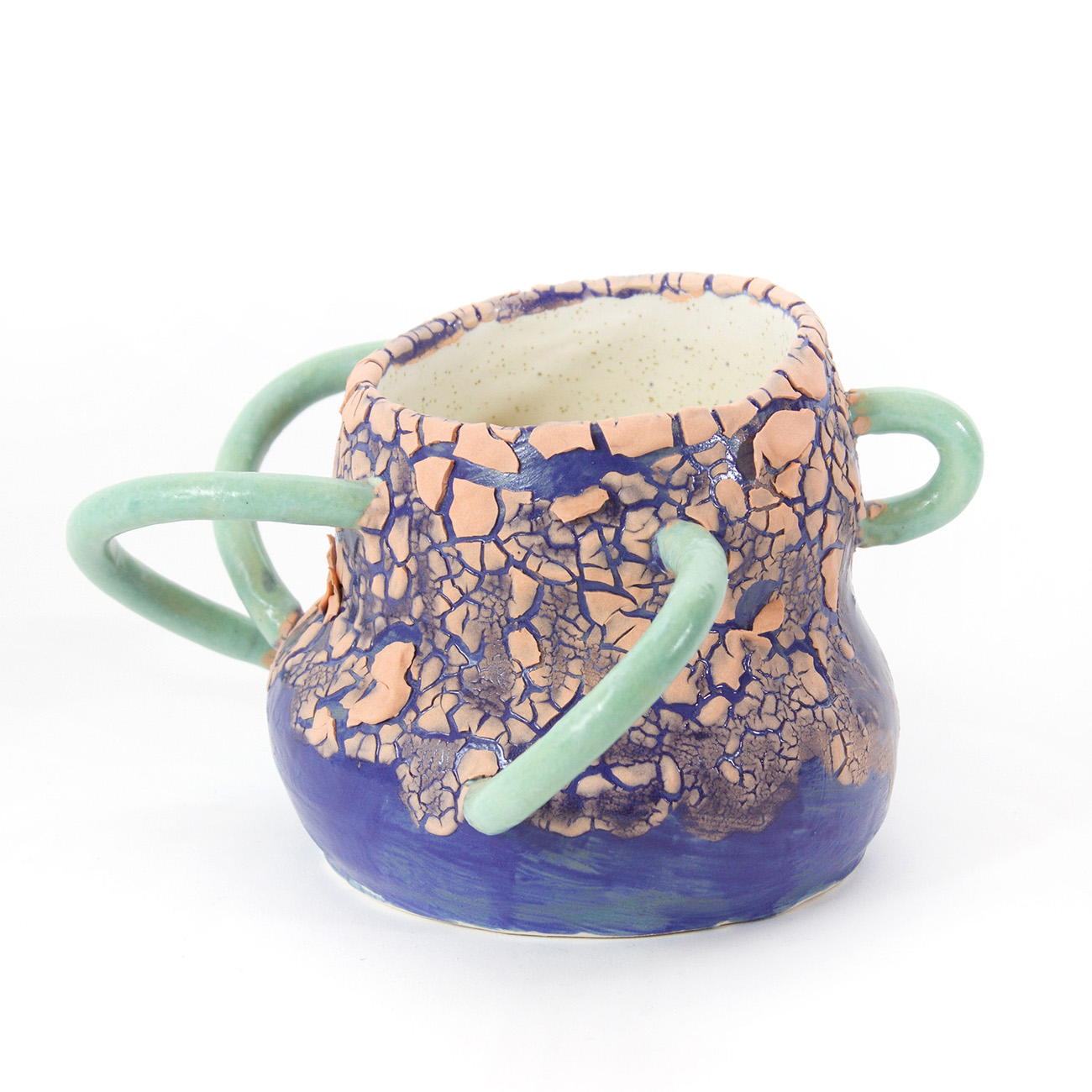 The newest edition from Zoe Fisher's Handjob Gallery/Store is a series of pots commissioned from Chicago-based artist Manal Kara. Each one features a crackly, peeling glaze (so in right now) as well as a panoply of handles. Available in an edition of 5, $120 a piece.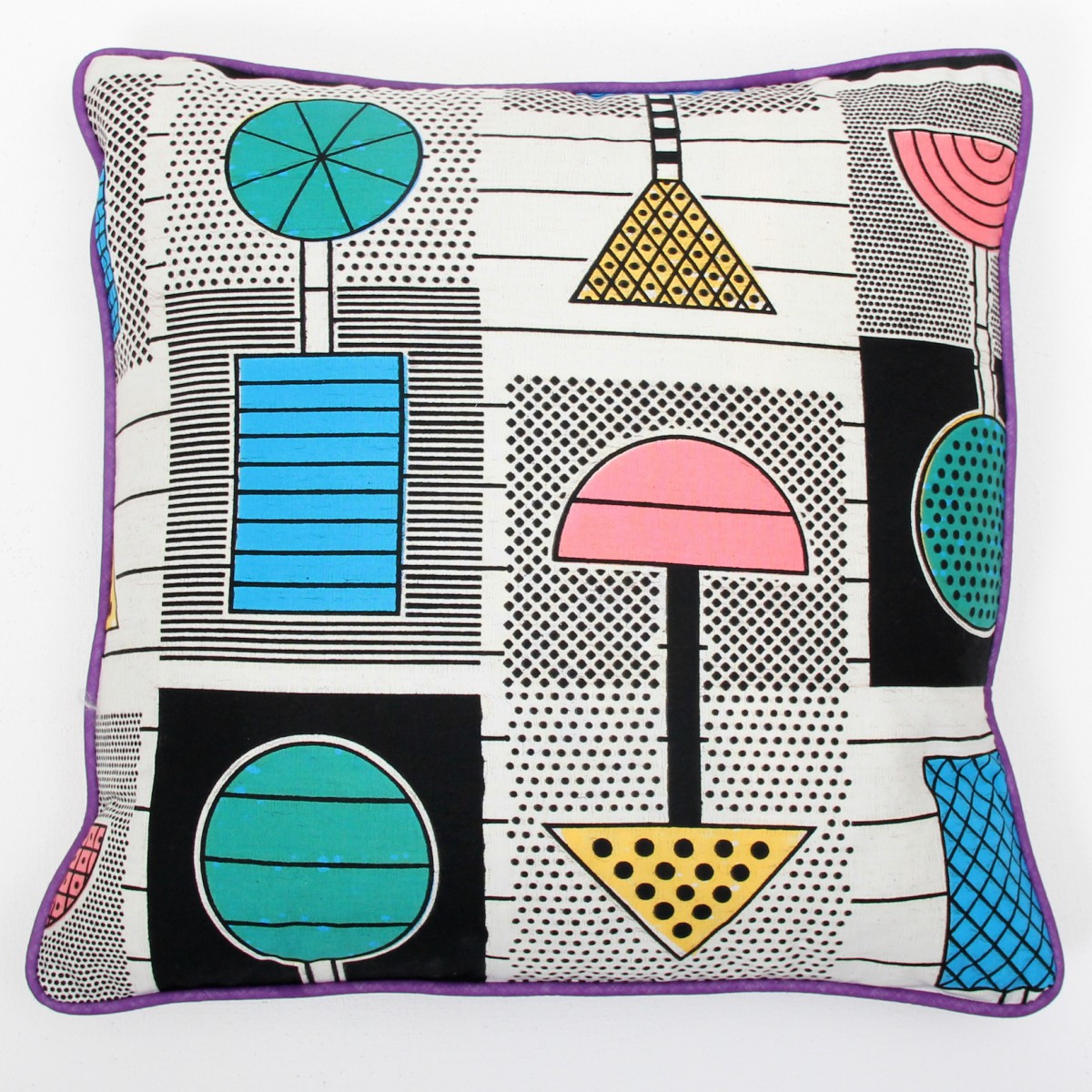 How cute are these Adé cushions from Darkroom London? Each colorful African print in the collection is hand-picked by Darkroom founders Rhonda and Lulu from a London-based supplier of Hollandais fabric, but this is our favorite by far.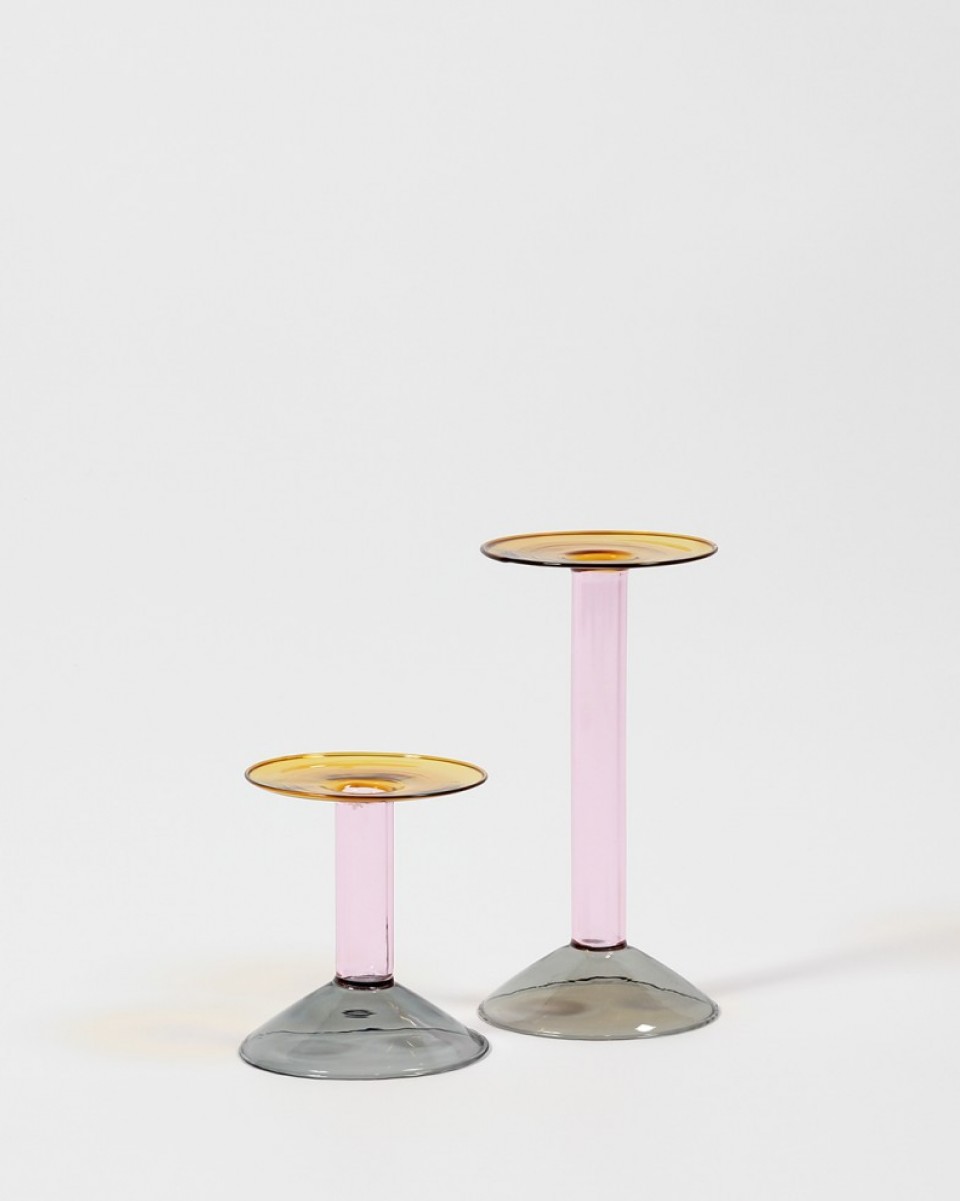 We somehow missed these sweet, borosilicate candleholders from Ichendorf Milano at Makers & Brothers, but apparently they caught someone's eye — they're out of stock right now, but you can be notified when they're back online here.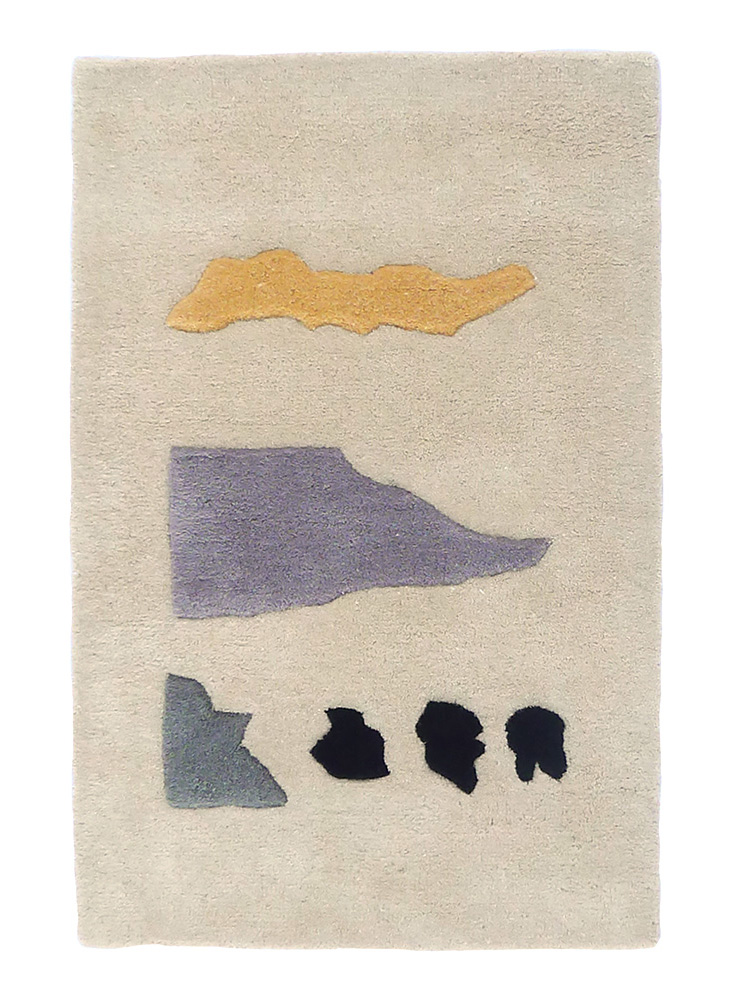 Our friends at Cold Picnic sent out a newsletter this week that included a sneak peek at their new geology-inspired rugs, available in January. It also included this hot tip: Their wall hangings are on mega-sale right now.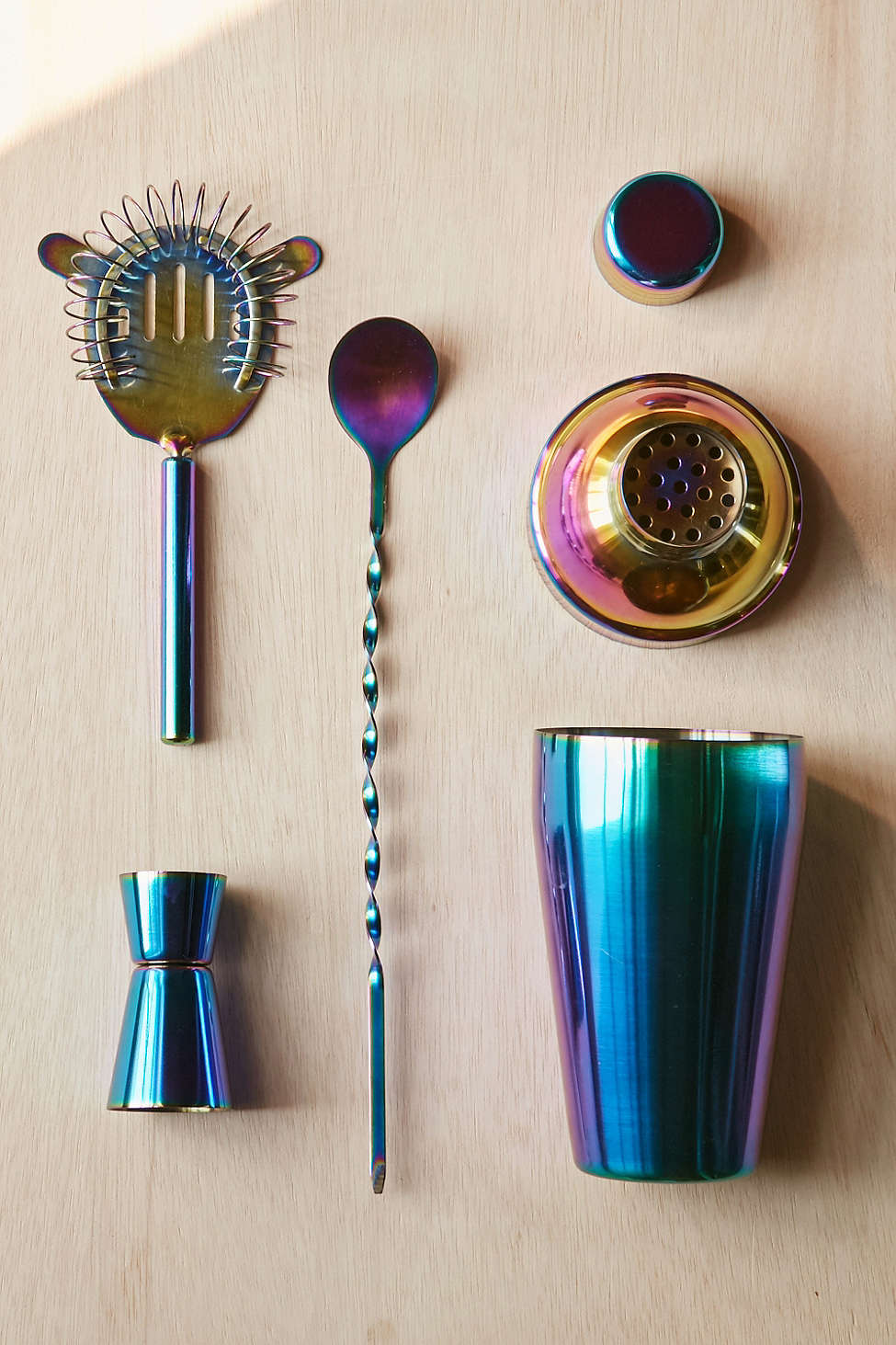 Ryland included an electroplated flask from Urban in his gift guide this week but if you really want all-in on the iridescent trend, there's a whole barware set for just $50.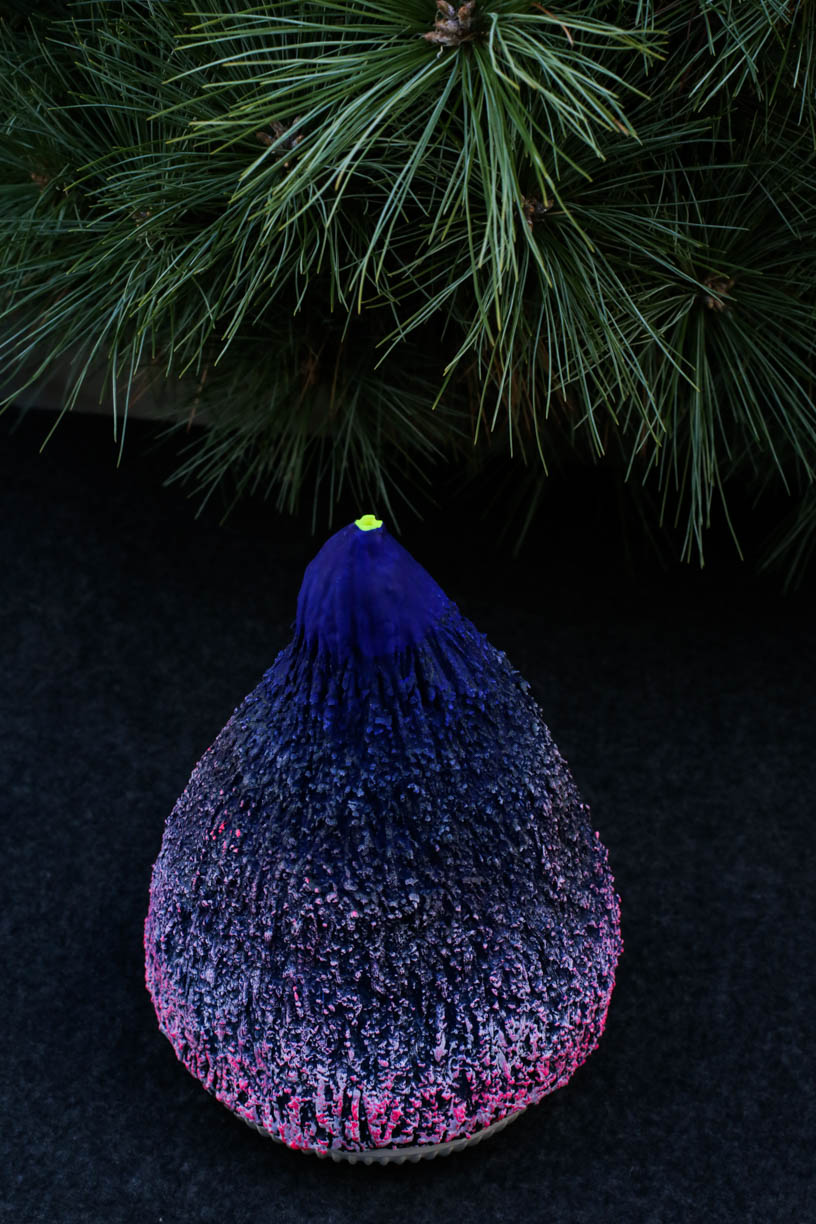 This holiday season, one of our favorite New York boutiques, Coming Soon, began offering gift boxes. We're partial to the Andy, $310, which features a Marilyn Minter art book, a Tipsy by Bower, and this supergalactic Lump Nubbin by CHIAOZZA.

Meanwhile our favorite purveyor of minimalist staples, Everlane, launched its first-ever print this week — a black-and-white abstract by Brooklyn illustrator Julia Dault that adorns everything from silk blouses to structured pouches.
Exhibitions
The 20th-century design auction at Wright next week will feature tons of Serge Mouille, Pierre Jeanneret, and Isamu Noguchi — natch —but scroll all the way to the bottom and you'll find eight incredible lots by the LA glass artist Vasa, including these four amazing acrylic columns.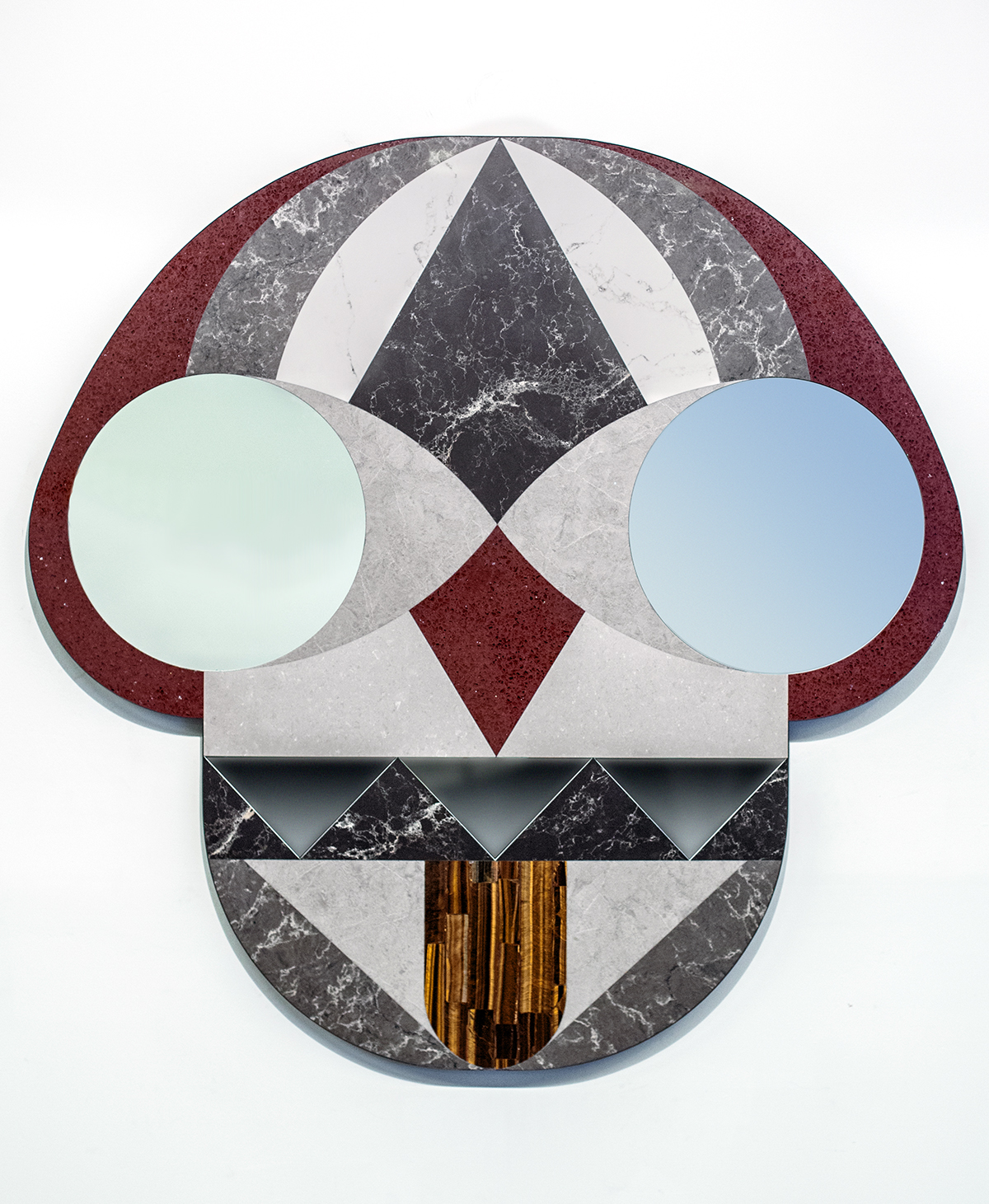 For Funtastico — Jaime Hayon's solo exhibition at the Design Museum Holon, on view until April — the Spanish designer created this Face Mirror using Caesarstone marquetry. "I decided to use mirror together with stone to create different textures and feelings," explains Hayon. "Together, the two characters create an imaginary composition. They become mysterious objects, masks that tell a story from my own fantasy civilization."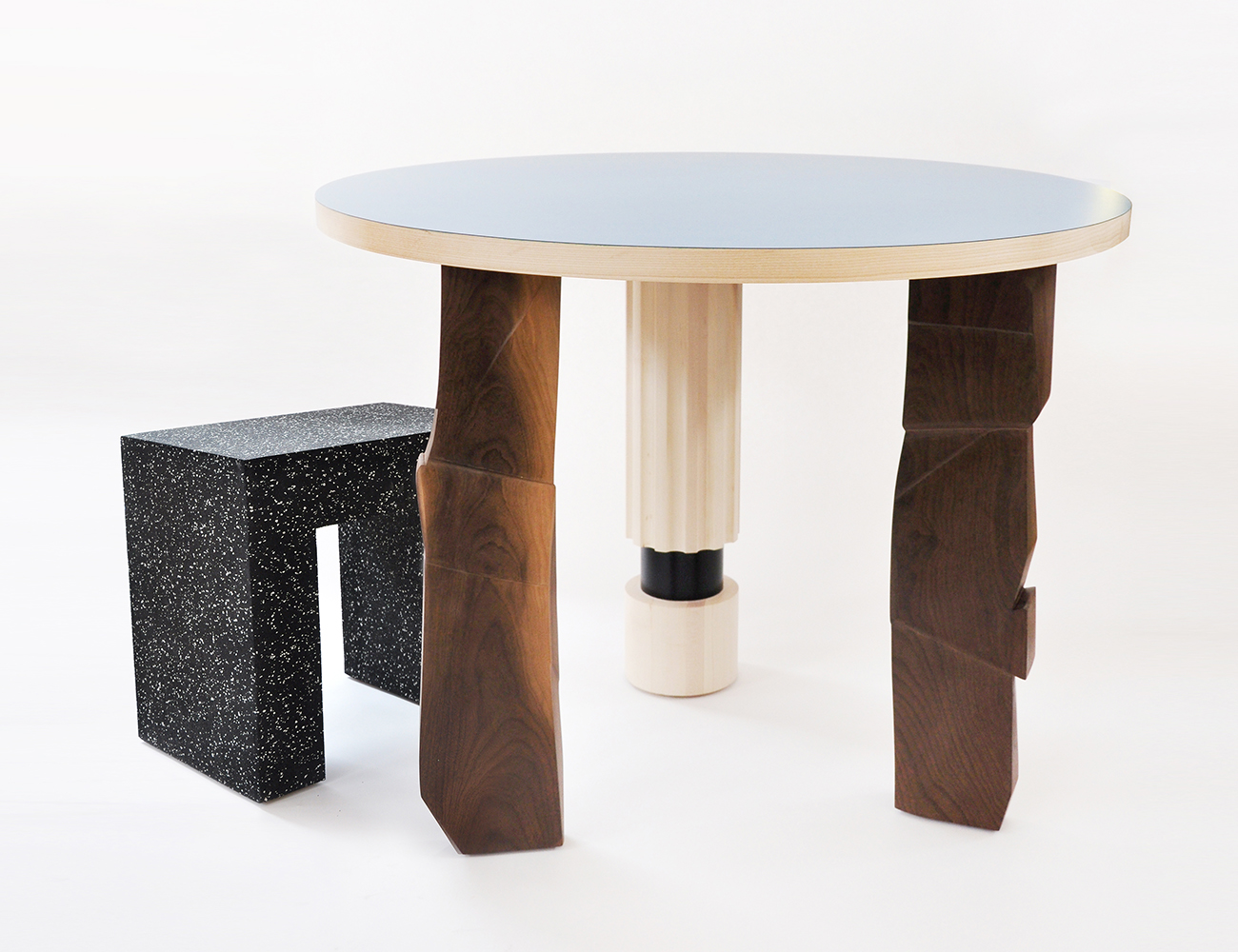 In downtown Los Angeles tonight? Stop by Austere from 6-9PM to see Site Specific: LA, curated by yours truly and featuring new work by our favorite up-and-coming Angelenos, including B.Zippy, Brendan Ravenhill, Ben Medansky, and Ouli, whose new stool and table are shown above.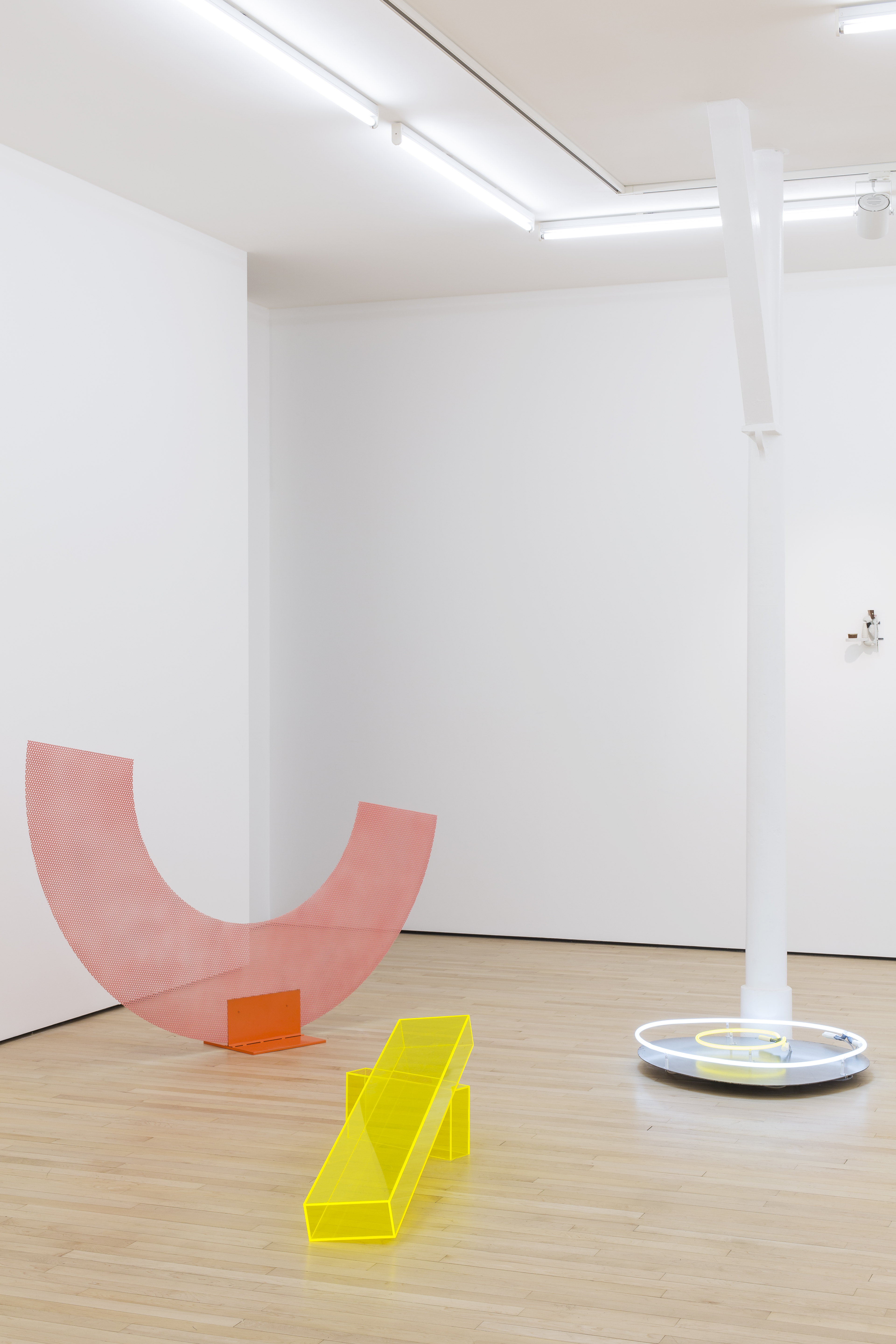 It's your last week to catch Mut Mut — an exhibition featuring SU faves Nous Vous, Peter Nencini, and Anna Lomax, among others — at the new contemporary arts space Assembly Point in London. The premise of the exhibition is to bring illustration into sculptural, 3D form, including these pretty acrylic and neon pieces by Lomax.
Discoveries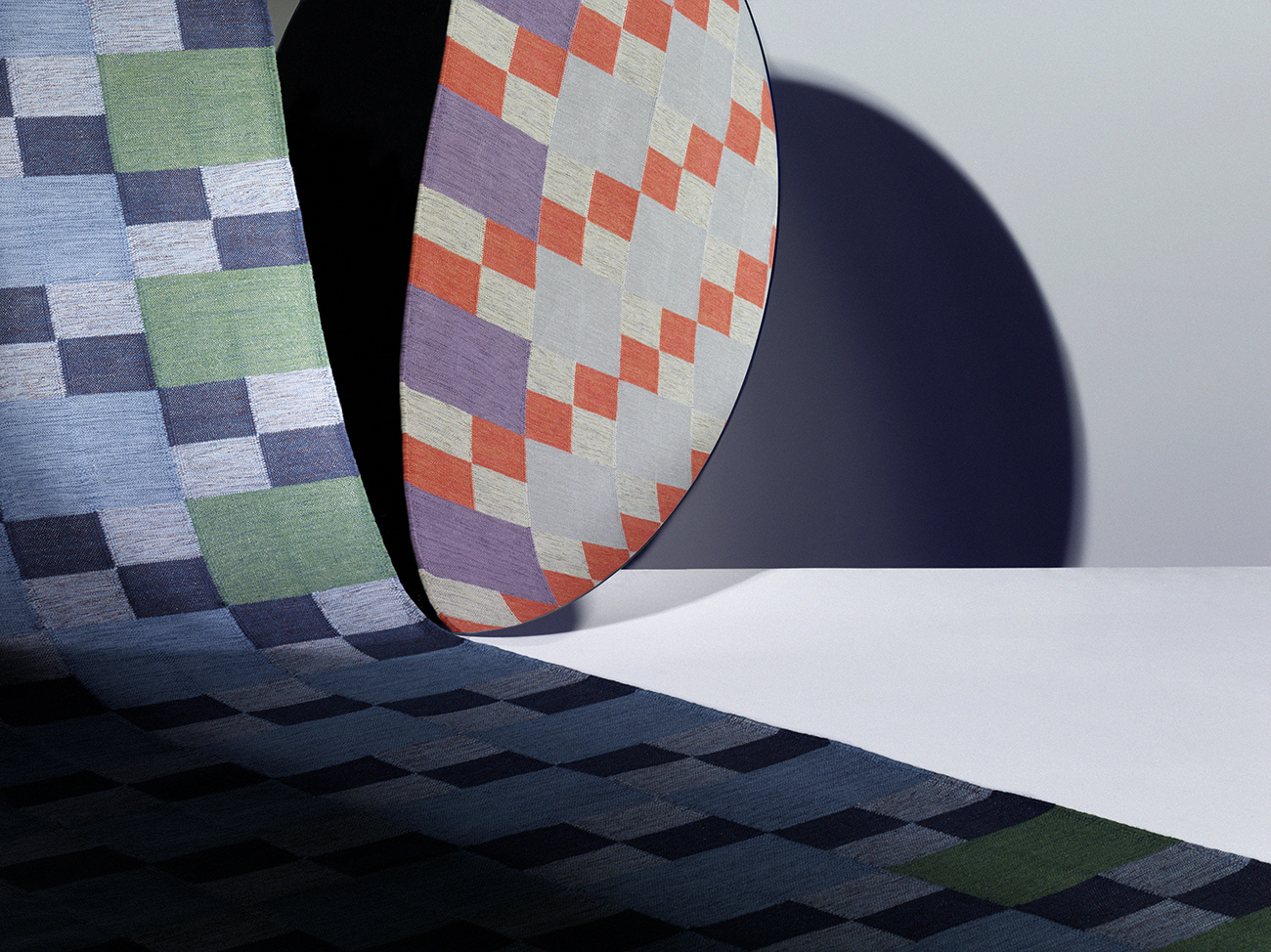 We've long been fans of the Swedish rug brand Oyyo, and their first photo shoot — which found the patterned dhurries hovering beautifully in the desert air — would be hard to beat. For their new sophomore collection, then, the duo turned to London stylist and photographer Kate Jackling (another former SU subject) who played with light, shadow, and mirrors to turn the patterned textiles into an abstract funhouse.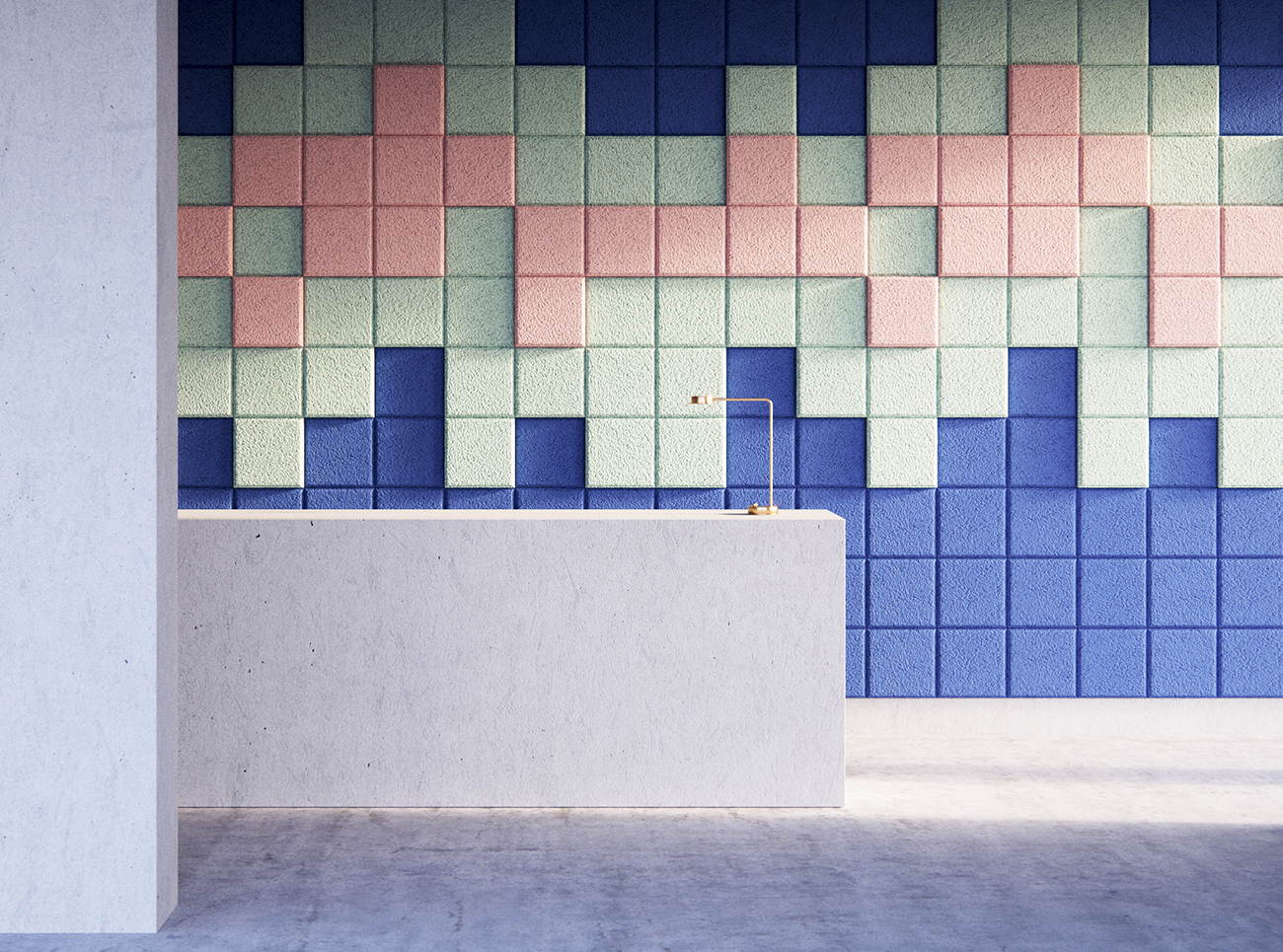 We still can't believe there's an acoustic wall tile out there that would justify not one but FOUR swooning mentions, but these are just that pretty. Baux's architectural wood-wool tiles are now available in 3D, allowing users to mix and match not only colors and shapes but also varying heights.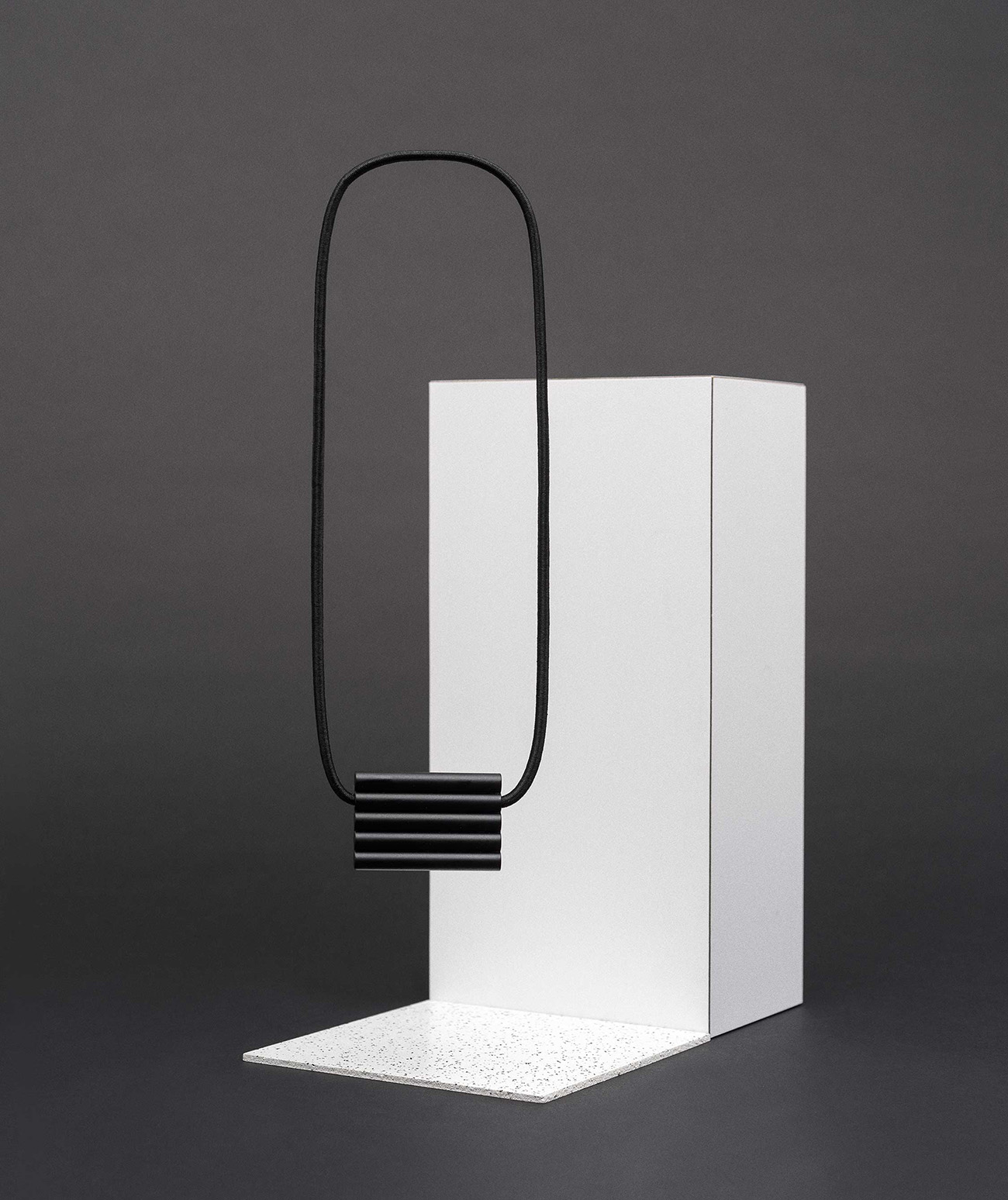 An update from our friends at MBMPG in Canada this week: new versions of their Ona necklace (we have one of the originals available for sale in our shop!), shot by Daphné Caron.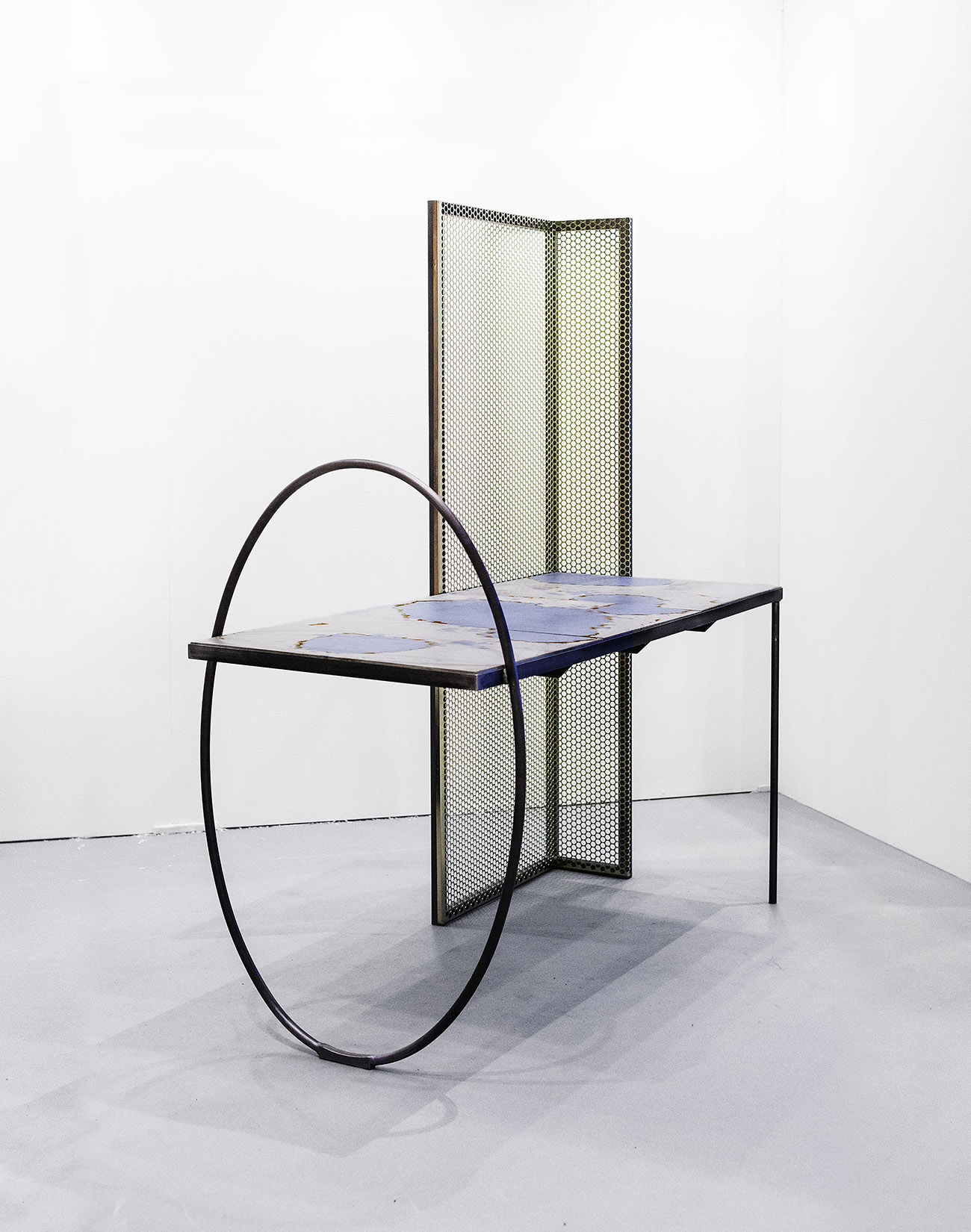 Lastly, after a few months of maternity leave — when my Instagramming consisted primarily of checking how many likes Sight Unseen's newest family member had gotten — I logged back into the SU account to see what I'd been missing. I was greeted with this amazing piece by the Copenhagen-based duo Pettersen Hein. Welcome back to me!