02.22.14
Week of February 17, 2014
A weekly Saturday recap to share with you our favorite links, discoveries, exhibitions, and more from the past seven days. This week: inside the homes of two design powerhouses, a visit to fave duo New Friends (above), and a Richard Serra parked in the middle of Manhattan.
Links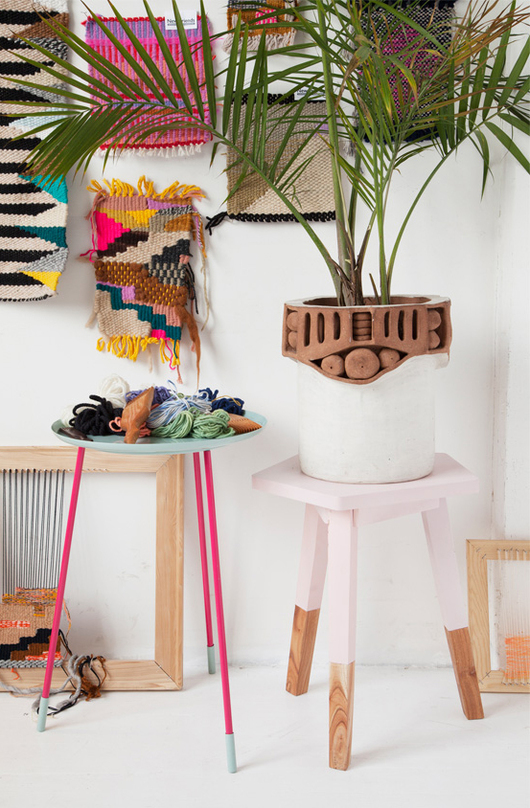 When we visited New Friends' studio back in 2012, they were working out of a tiny front room in co-founder (and former SU contributor) Kelly Rakowski's apartment. Now they've moved up to considerably plusher digs — a plant-filled all-white studio in Brooklyn photographed this week by Jody Rogac for Urban Outfitters (co-founder Alex Segreti's former employer, and the retailer of those cute side tables above!). Click here for an interview with the duo, as well as a look at what they're working on next.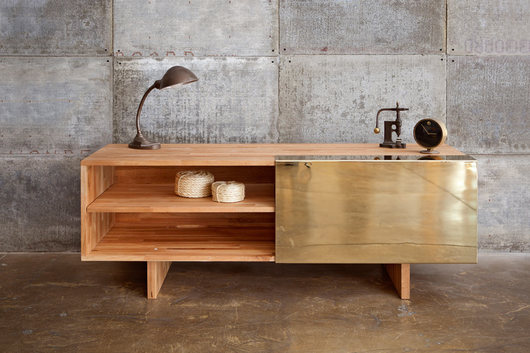 Design Milk introduced us this week to Venice, California–based MASHstudios, who added to their LAXseries of minimalist wood furnishings with special editions in electroplated brass, copper, and nickel.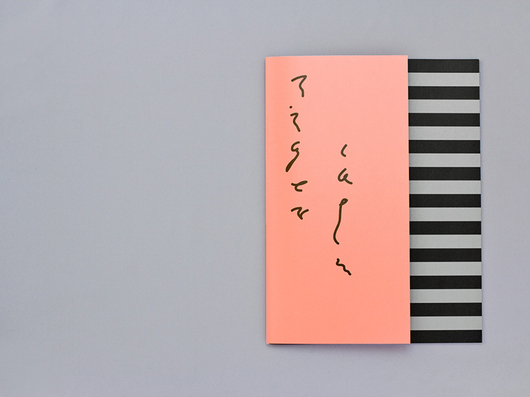 And Designboom introduced us to the great Tokyo- and Berlin-based graphic design studio Simple Society. That's their lookbook above for Reality Studio, the fantastic Berlin-based fashion brand we'll be featuring on Sight Unseen in the next few weeks!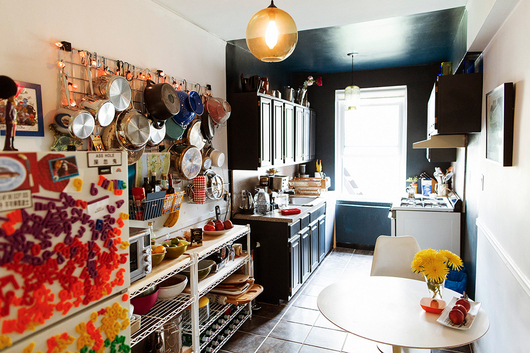 Over on The Selby, we got a glimpse inside Ambra Medda's New York apartment. Who knew the curator and L'Arcobaleno founder was such a hoarder?! We expected something minimal but in fact her apartment is an explosion of native textiles, kids' toys turned decor, and actual design pieces, like a Maarten Baas Clay Chair and a light by Massimiliano Adami. We love it.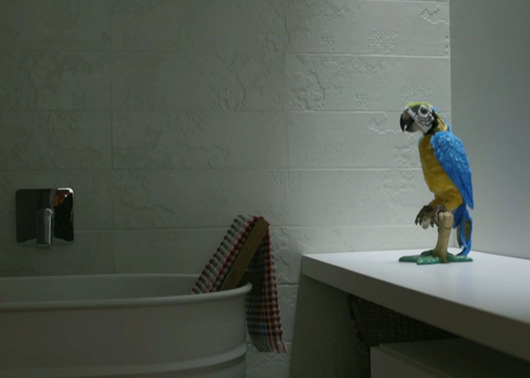 If you're looking for something more minimal, take a look at this Nowness video, which goes inside the home and studio of Milanese designer Patricia Urquiola. Also unexpected? This funny little bird, which sits perched over Urquiola's bath.
Discoveries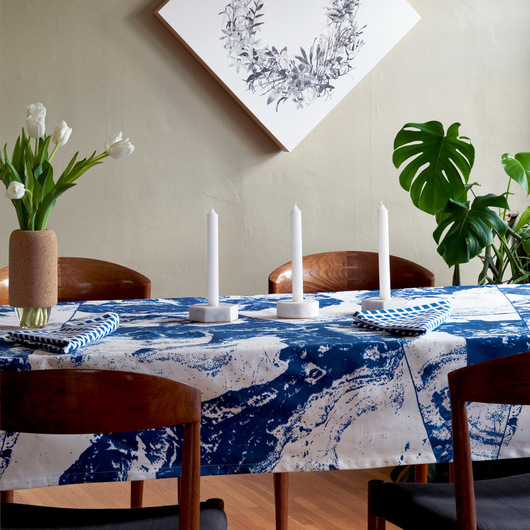 We've long been fans of the Chicago-based housewares brand Unison — seriously, we have three sets of their bedding! — so we were extra happy this week to see news of the brand's collaboration with one of our favorite up and coming artists, Stephen Eichhorn. This gorgeous cobalt tablecloth looks marbled but it's actually a manipulation of several found photos of canyons. There's a great, in-depth interview with the designer about his process and inspiration on Unison's blog.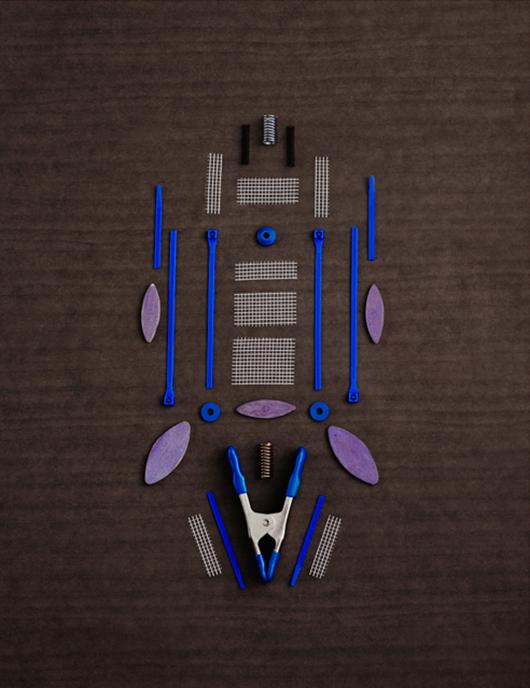 Remember these great beauty-tool compositions we featured last summer from photographer Pippa Drummond and stylist Rebecca Bartoshesky? The two have released the second collection in that series, which this time uses actual tools, like zip ties and the amazing clamp above that's been sheathed in electric blue Plasti Dip.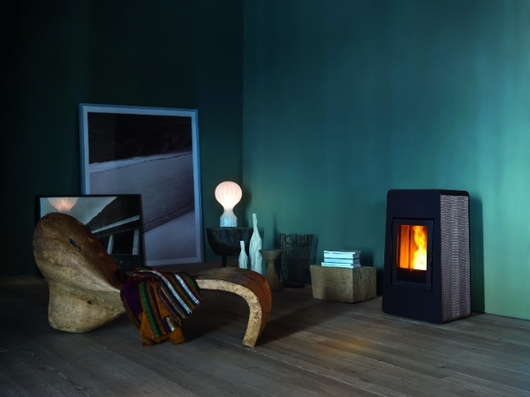 The focal point of this nicely styled photo, which showed up in our inbox this week, is Lam, a pellet stove that's basically the prettiest space heater we've ever seen. Designed by Italian studio Emo, the stove's primary innovation is a metallic textile that covers both sides in a herringbone pattern.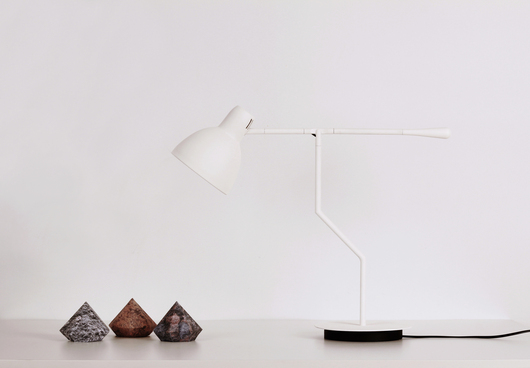 Also in our mailbox this week: this cute Flamingo table lamp by David Galvañ and Manuel Bañó of LaSelva, a new studio based in Spain and Mexico.
Exhibitions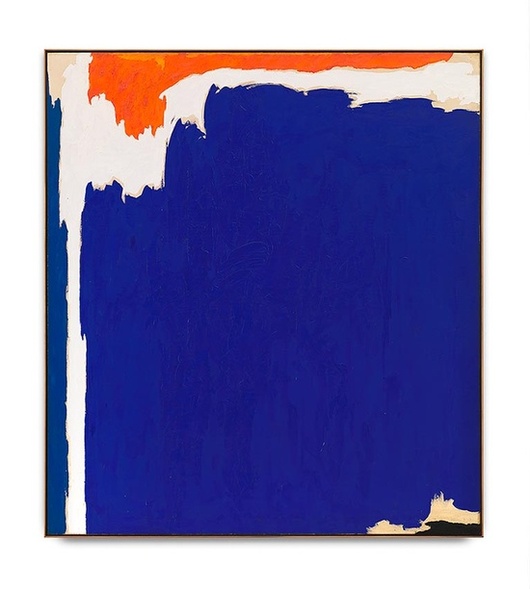 We did a little Chelsea gallery-hopping this Thursday afternoon, and while the real news is the incredible but photo-less Doug Wheeler infinity room at David Zwirner (seriously you must go see it) we also became smitten with this abstract painting by Clyfford Still at Hauser & Wirth. Go ahead, play hooky this week! We won't tell.

Meanwhile, further uptown, an exhibition of contemporary Nordic photography opened at Scandinavia House. Called Darkness & Light, it features artists from Sweden, Finland, Denmark, Norway, and Iceland, represented here by Bara Kristinsdottir, the photographer whose Hot Spots 4 photo is featured above.
Instagrams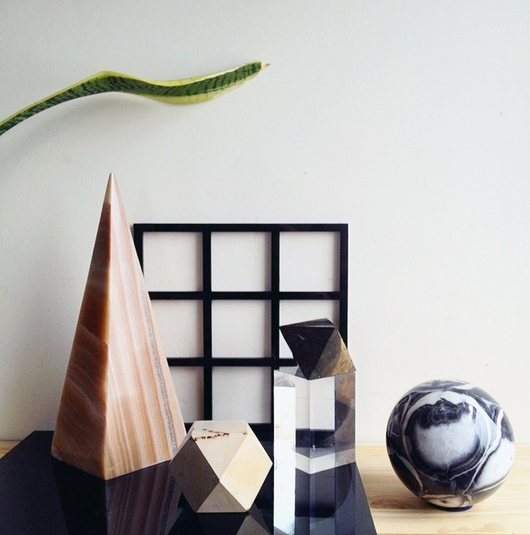 Josephine Heilpern of Recreation Center has a reliably great Instagram feed. Often it's pictures of her ceramic experiments (oh, how we long for these) but this one, of Heilpern's ever-growing collection of geometric stones, made us the most jealous this week.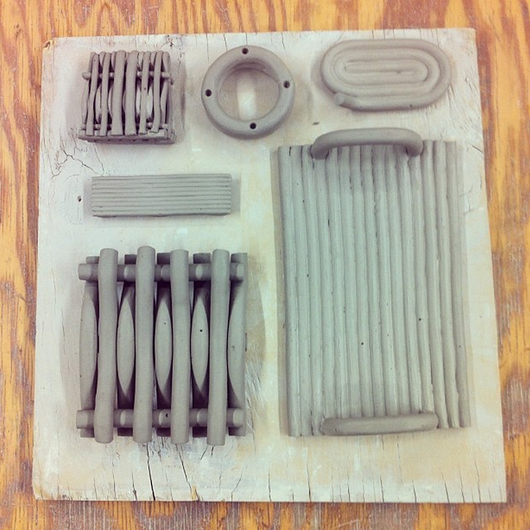 Speaking of ceramics, the new brand Beleu has us searching in vain all over the internet for more info. These are going to be trivets and trays! Amazing.

Patrick Parrish of Mondo Blogo officially wins at eBay.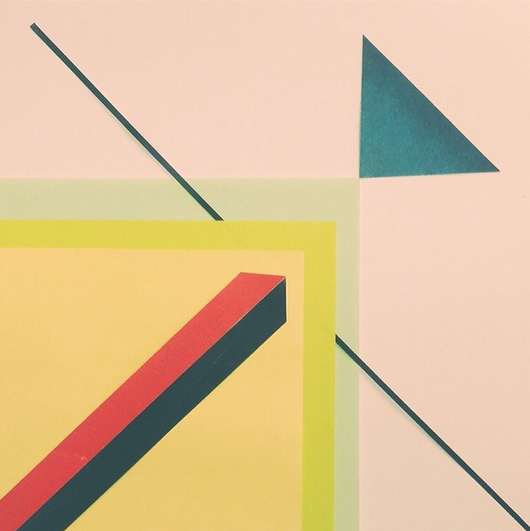 We're also digging this paper composition by Alejandro Chavetta (one of Sight Unseen's first-ever subjects), whose Instagram also features a terrific series of portraits of strangers.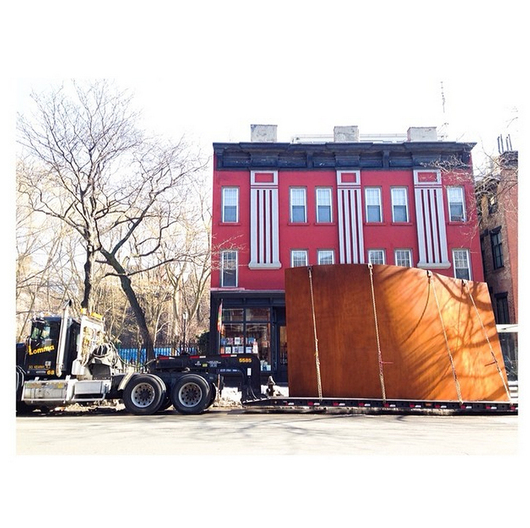 And we couldn't leave off without the most memorable photo from our Chelsea outing. A Richard Serra, arriving on a flatbed in Chelsea for installation, has been all over Instagram this week. But the best of the lot, in our opinion, was snapped by Monica. Follow her here!